With these easy vegan recipes you can make Veganuary as tasty as can be! Whether you're doing Veganuary for the first time, or have taken part in multiple already - you are sure to find something delicious to cook up in the kitchen in this list of more than 100 Easy Veganuary Recipes.
To help you get through the month of Veganuary, I've put together this list of easy vegan recipes that are not only delicious but also easy to prepare - and you don't have to be a master chef in the kitchen.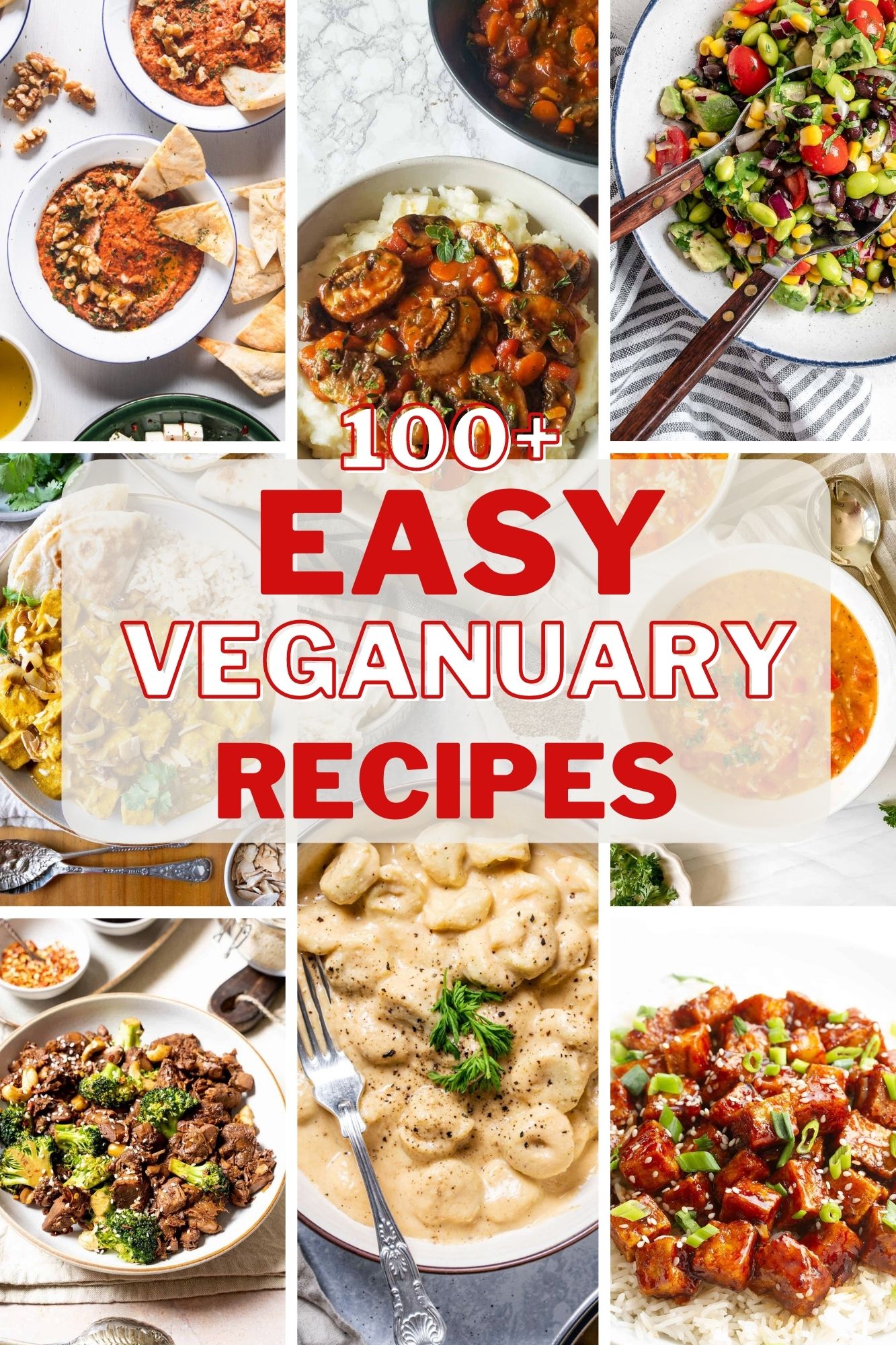 I've divided the recipes into different categories to separate the recipes for Vegan Basics such as Homemade Oat Milk or Vegan Sour Cream, Vegan Breakfast recipes, Side Dishes, Lunch and Dinner Recipes and Vegan Bakes and Sweet Treats. This list includes both healthy vegan recipes as well as vegan versions of comfort food classics, so - no matter what you're looking for - you're in the right place.
Use the table of contents below to jump to the section you are interested in:
Why Vegan?
There are many different reasons why people might choose to follow a vegan diet or live a vegan lifestyle and what makes people go vegan can vary from person to person.
Some of the reasons for going vegan that people mention often are:
to prevent the exploitation and harm of animals
for the environment
for people
to live healthier
I won't go into too much detail on any of these reasons as they can be complex to explain, but if you want to find out more about why someone would choose to go vegan for one of the reasons above, have a look at this article on "Why Go Vegan" by the Vegan Society.
No matter where you are on your personal vegan journey, you can find some delicious veganuary recipes here to inspire your next cooking session!
What is Veganuary?
Veganuary takes place once a year in January. It's an initiative that tries to inspire people to try going vegan for one month and supports them throughout their journey.
The Veganuary campaign is particularly great for people that have been dabbling with a plant-based diet or people that are already trying to eat less meat and consume less animal products as part of their new year's resolutions - but overall, Veganuary is for everyone who is up for the challenge.
Veganuary first launched in 2014 and is taking place for the 10th time in 2023. The campaign has been growing every year since it first started and is expecting record-breaking sign ups for 2023!
If you've found your way over to this list of Easy Veganuary Recipes, you are probably one of those people that signed up to give vegan a go - congratulations!
Whether you're just dabbling in plant-based food or going all the way for the month of January - I hope you will find something delicious in this list filled with some of the best vegan recipes!
What to eat on a Vegan Diet
Vegans generally don't eat anything that comes from an animal. This includes meat, fish, cow's milk (& other animal derived milks), eggs, honey, gelatine, and more.
A vegan diet mostly relies on a mix of plant-based foods, such as fruit, vegetables, legumes, nuts or products that are derived from these foods, such as tofu and seitan for example.
The good news is that going vegan is easy in 2023 with plenty of grocery stores and supermarkets stocking a large variety of convenient vegan products for you to enjoy.
Vegan Breakfast Recipes
Sweet Vegan Breakfast Ideas
Savory Vegan Breakfast Ideas
Vegan Morning Drinks
Vegan Lunch and Dinner Recipes
Find a selection of delicious vegan recipes to serve up for lunch or dinner here! These healthy meals are a great way to get those extra veggies into your diet and all of these perfect Veganuary meals are easy to make.
Pasta and Noodle Dishes
Vegan Curry and Co
Soup Recipes and Stews
Salads and Light Dishes
Fantastic Tofu Recipes
Vegan Bakes and Sweet Treats
Small Sweet Bites
Vegan Chocolate Treats
Vegan Cookies and Co
Cakes, Pies and Tarts
New Recipes on the Blog
*Disclosure: This page may contain affiliate links and sponsored links that earn me a small commission, at no additional cost to you. You can find more information in my Privacy Policy.
 © Romy London / Romina Callwitz | All images and content are copyright protected. Please do not use my images and content without permission. If you wish to re-publish any recipes or images, please get in touch via email. Thanks for your support!