Vegan Mushroom Risotto Recipe with Chestnuts - Deliciously creamy vegan risotto full of rich and earthy flavours and is ready in 30 minutes! Who could resist?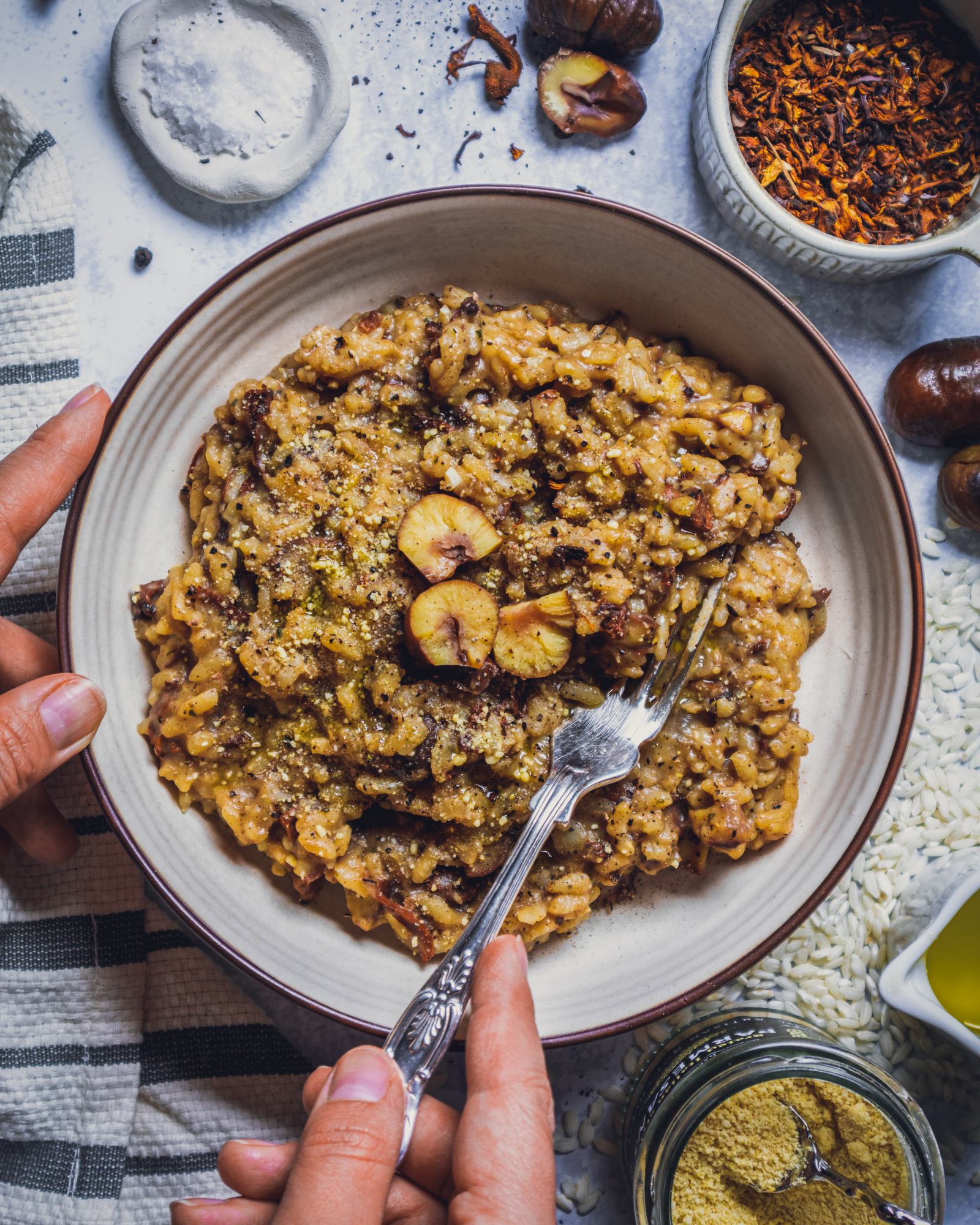 Vegan Mushroom Risotto
Risotto is one of those moreish and comforting dishes that I love during the winter season - especially when it's a creamy vegan mushroom and chestnut risotto recipe!
The natural creaminess of cooked risotto rice simply works so well with the earthy flavors of mushrooms and chestnuts - in my opinion, they're a match made in heaven! Besides Roasted Tomato Risotto, mushrooms are my next go-to ingredient for creating a delicious mid-week dinner that feels fancier than it is complicated.
I love creating this risotto for dinner as well as simple meal prep, as it still tastes fantastic heated up and will keep in your fridge for a few days (usually 2-3 if using dried mushrooms).
One of the important things in creating any risotto recipe is to continuously stir the rice and add liquid to the pan slowly and in small portions until the risotto rice is cooked and unleashing its natural creaminess. Once too much water is added the rice will be too watery and it cannot be undone, so small additions of water are key. Stir the dish regularly throughout the cooking time to prevent any rice from sticking to the bottom of your pan and to smoothly blend in any liquid and seasoning.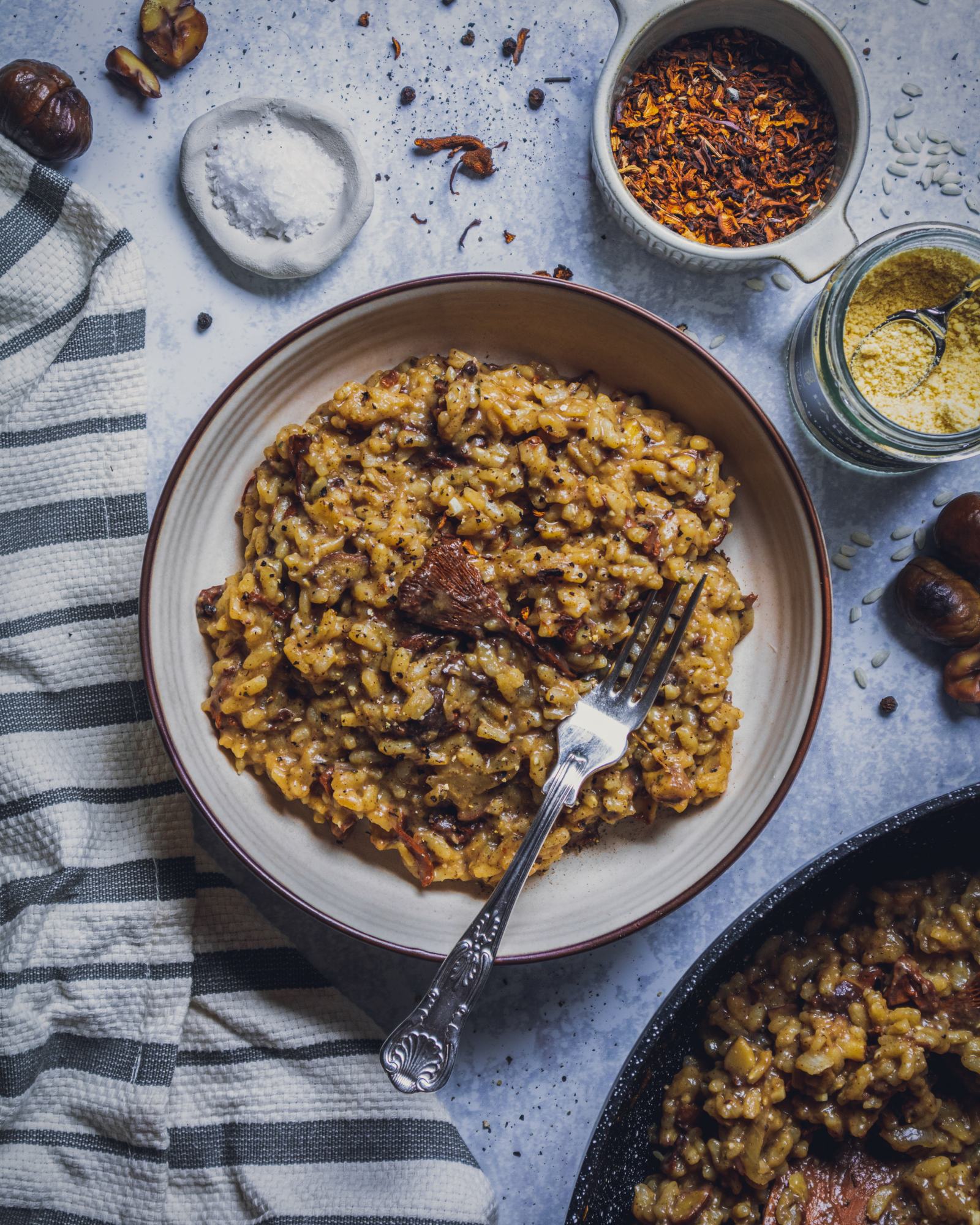 Ingredients
Yellow onion
Extra virgin olive oil
Garlic
Dried thyme
Vegan white wine
Risotto rice
White miso paste
Vegetable stock cube
Cooked chestnuts
Sea salt & black pepper
Vegan parmesan (optional)
For my mushroom risotto, you'll notice that I've used a combination of dried mushrooms and mushroom powder as it was what I had to hand. The dried mushrooms from Merchant Gourmet I had bought in a health food store and the porcini powder I got from Waitrose (where they also stock porcini paste!).
Alternatively, you can also use fresh mushrooms to create this recipe - they might be easier to come by for you. The type of mushrooms I'd recommend are chestnut mushrooms, porcini mushrooms or mixed wild mushrooms. Simply replace the mushroom ingredients in this recipe with a regular size box of the above-mentioned mushrooms (200g - 300g). Ensure to wash and slice them upfront and let them soften in your pan before adding the risotto rice.
Whilst I don't drink alcohol, I certainly enjoy cooking with it! Adding a splash of vegan white wine to this recipe gives it a wonderful umami flavor and that special something that it would otherwise be missing. If you're looking for vegan wine, check out the Barnivore website for some help! I usually buy small bottles of vegan white wine from my local Sainsburys - these are even clearly marked as vegan friendly (but not all wines are).
During the cooking process the alcohol will burn off - so if you're preparing this risotto for the entire family, you don't need to worry about anyone getting tipsy at the table. I'd definitely recommend white wine as a key ingredient in this recipe, so make sure to not leave it out.
Cooking Instructions
Cooking your mushrooms
To start with, finely chop your onion, and add it to a large pan with a splash of olive oil and cook on medium heat for about 2-3 minutes until the onion turns translucent before adding your minced garlic and cooking for another minute.
Next, you'll want to stir in your dried thyme before gently pouring in your vegan white wine. Let the wine bubble for a couple of minutes to burn off the alcohol and then reduce the heat to a low/medium heat before adding your risotto rice to the pan.
Cooking your risotto rice
Stir your risotto rice into the mixture and cook it for a minute or so until it turns ever so slightly translucent, then add in the dried mushrooms, white miso paste, stock cube and porcini powder. This will make every grain of rice taste delicious!
Now, add enough water to the pan to just about cover the rice. Stir it continuously and add more water whenever the pan gets too dry. Keep doing this for at least 20 minutes, or until the rice is cooked and creamy.
Next, sprinkle about a handful of crumbled chestnuts into the risotto, but be sure to keep a few for garnishing the dish later 😉. To make sure you're happy with the taste, add a little salt, pepper and some vegan parmesan if you've got some.
To finish off, top your risotto with some chestnuts, a dash of black pepper and a sprinkle of Thyme. All you have to do now is enjoy!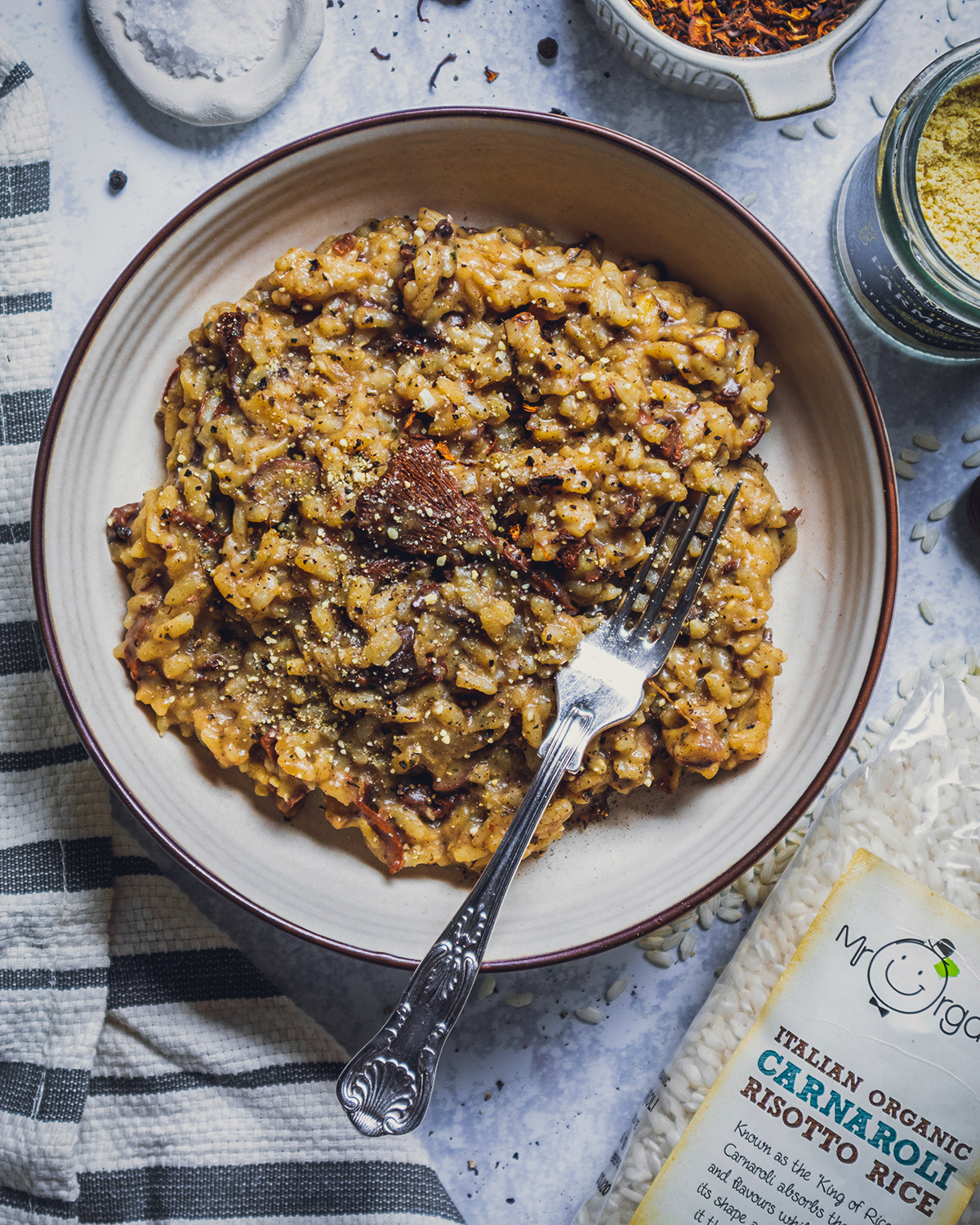 Serving Suggestion
o serve, you could sprinkle some crumbled vegan feta cheese on top for a tangy and salty flavor that would complement the earthy and savory flavors of the mushrooms.
This recipe is:
100% vegan
dairy free
egg free
super creamy & more-ish
naturally gluten free
earthy
delicious
comforting & warming
easy to follow
not requiring special equipment
You might also enjoy these vegan dinner ideas:
📌 If you love Pinterest you can pin any of the images to your boards!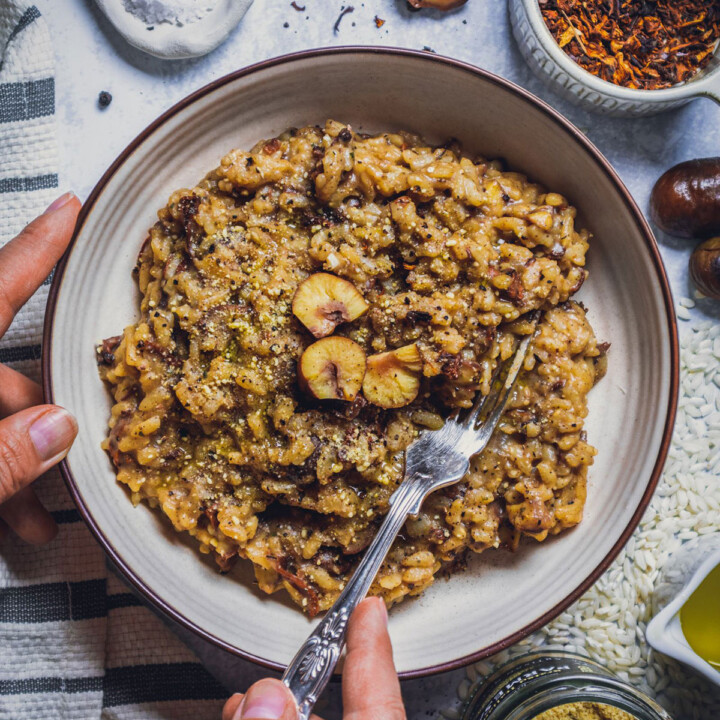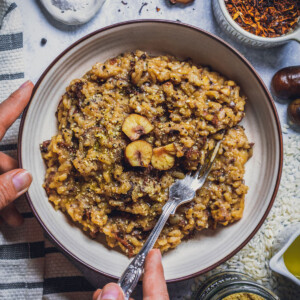 Vegan Mushroom Risotto
This creamy vegan risotto is a dinner classic in our household! It only takes around 30 minutes to cook and is a delicious mid-week dinner.
Equipment
1 large non-stick skillet
Ingredients
1

brown onion

finely chopped

2

tbsp

olive oil

3

cloves garlic

minced or grated

1

tbsp

dried thyme

or fresh

1/4

cup

vegan white wine (60 ml)

1

cup

risotto rice (200 g)

1.5

cups

dried mixed mushrooms (55 g)

1

tsp

white miso paste

1

tsp

bouillon powder

1

tbsp

porcini mushrooms powder

3

tbsp

cooked chesnuts

chopped

sea salt and black pepper to taste

1

tbsp

vegan parmesan

optional
Instructions
Start by adding the finely chopped onion to a large pan alongside the olive oil. Cook on medium heat until translucent (2-3 minutes), then add the minced garlic and cook for a further minute.

Add the dried thyme and stir, then gently pour in the vegan white wine. Let it bubble for 2 minutes, then reduce the heat to low/medium and add your risotto rice to the pan.

Stir to combine and cook the rice for a minute or until it becomes lightly translucent. Add in the  dried mushrooms, white miso paste, stock cube and porcini powder, then begin to add water to the pan to just about cover the rice. Stir continuously and proceed to add a little water whenever the pan gets dry. Cook for at least 20 minutes with this method - or until the rice is cooked and creamy.

Crumble in the chestnuts - about a handful - and keep any additional chestnuts for decoration later. Season to taste with sea salt & black pepper.

(Optional) sprinkle in 1-2 tsp of vegan parmesan.

Serve with chestnuts on the top, a fresh sprinkle of black pepper and thyme. Enjoy!
Notes
Mushrooms - Instead of mushroom powders or dried mushrooms you can also use fresh mushrooms. Replace it with 250g of chestnuts mushrooms or wild mixed mushrooms and let them cook & soften in the pan prior to adding the risotto rice.
Looking for more vegan mid-week dinners? Check out the easy vegan mains section on my website!
*Disclosure: This page may contain affiliate links and sponsored links that earn me a small commission, at no additional cost to you. You can find more information in my Privacy Policy.
 © Romy London / Romina Callwitz | All images and content are copyright protected. Please do not use my images and content without permission. If you wish to re-publish any recipes or images, please get in touch via email. Thanks for your support!