Delicious and simple, this Vegan Cauliflower Alfredo Recipe is the perfect recipe to make for dinner in the middle of the week! It only requires minimal input, is loaded with nutrients from the cauliflower and creates the creamiest pasta sauce you could dream of.
This alfredo sauce recipe is super versatile and you can simply use it alongside your favorite type of pasta, making it a great all-rounder and the perfect pasta sauce recipe to add to your regular meal plans.
This recipe is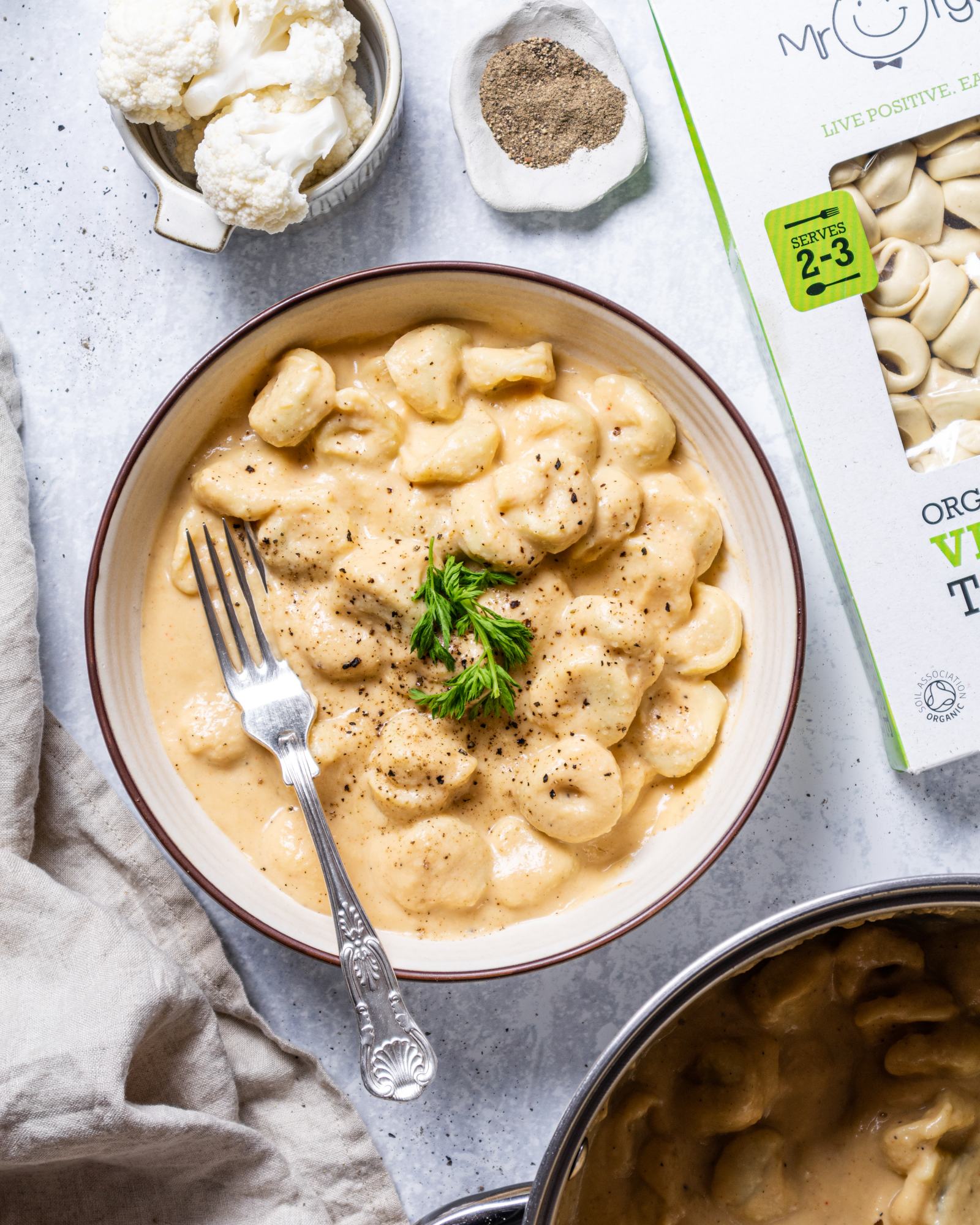 Jump to:
This recipe for vegan alfredo sauce simply makes the perfect creamy pasta sauce - and it's healthy too as it is loaded with cauliflower. It's definitely a delicious way to add more vegetables to your diet!
I love pairing this delicious vegan pasta sauce with plant-powered tortellini, but the sauce is fantastic with any type of pasta, including gluten-free. See the extra tipp below to read which type of pasta I recommend most with this creamy pasta sauce.
The sauce is mainly made from cauliflower and ingredients such as nutritional yeast and white miso paste and holds a tasty load of healthy nutrients. Indulgence plus nutrition whilst keeping it simple - a perfect combo!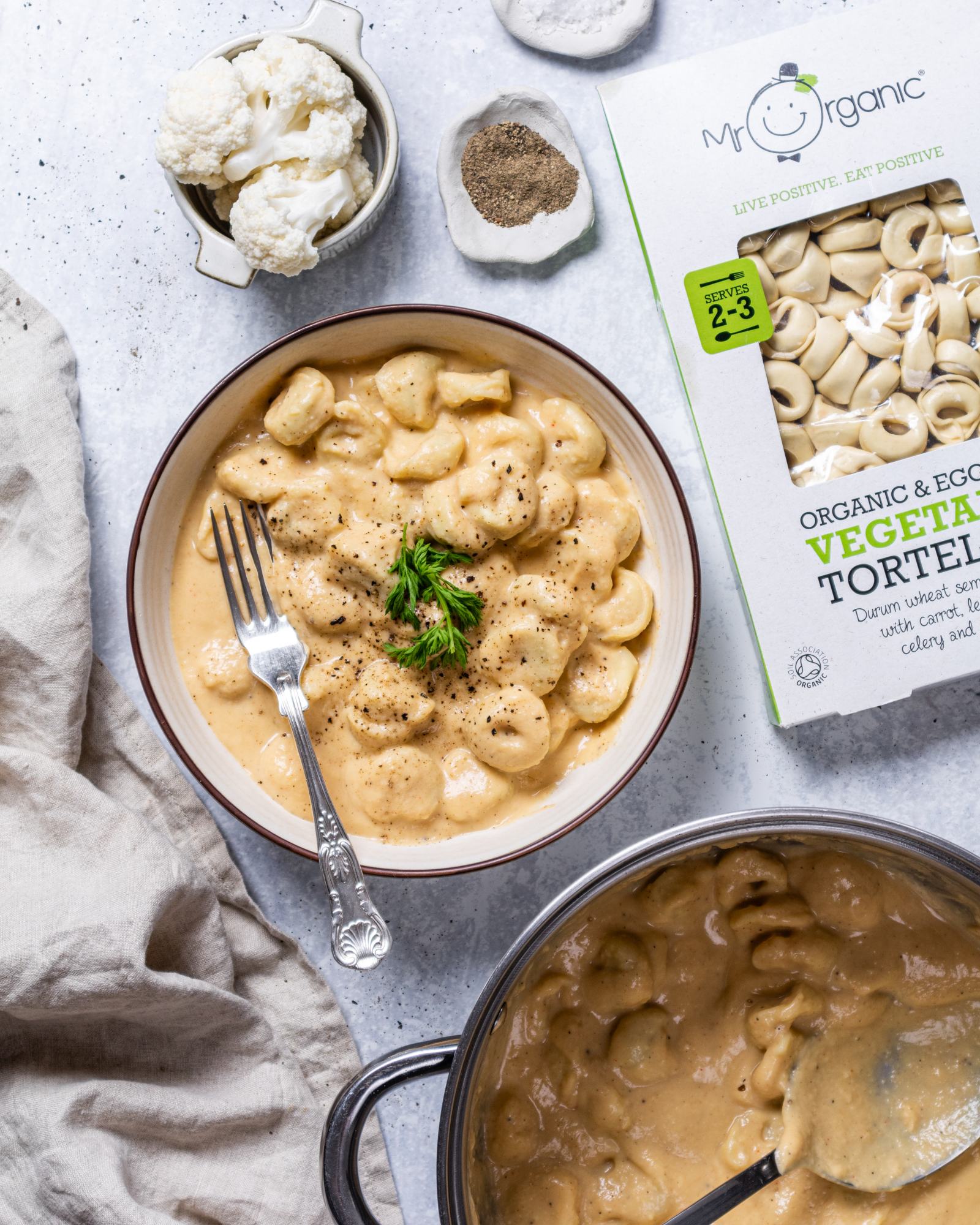 Ingredients and Notes
This recipe calls for half the head of a medium-sized cauliflower - that should be between 300-400g of cauliflower florets. The full recipe creates enough sauce to cover 2-4 portions, depending on how saucy you like it.
Equipment
If you're looking to buy a new blender, you might want to consider buying from Greenis. I have used one of their blenders for years - it's super powerful and has never let me down. Not only do they have a range of great blenders, but if you use my affiliate link, you'll be supporting this recipe blog.
Alternatively, you can also use a stick blender to blend up the sauce ingredients, though the result might not be quite as smooth as using a high-speed blender.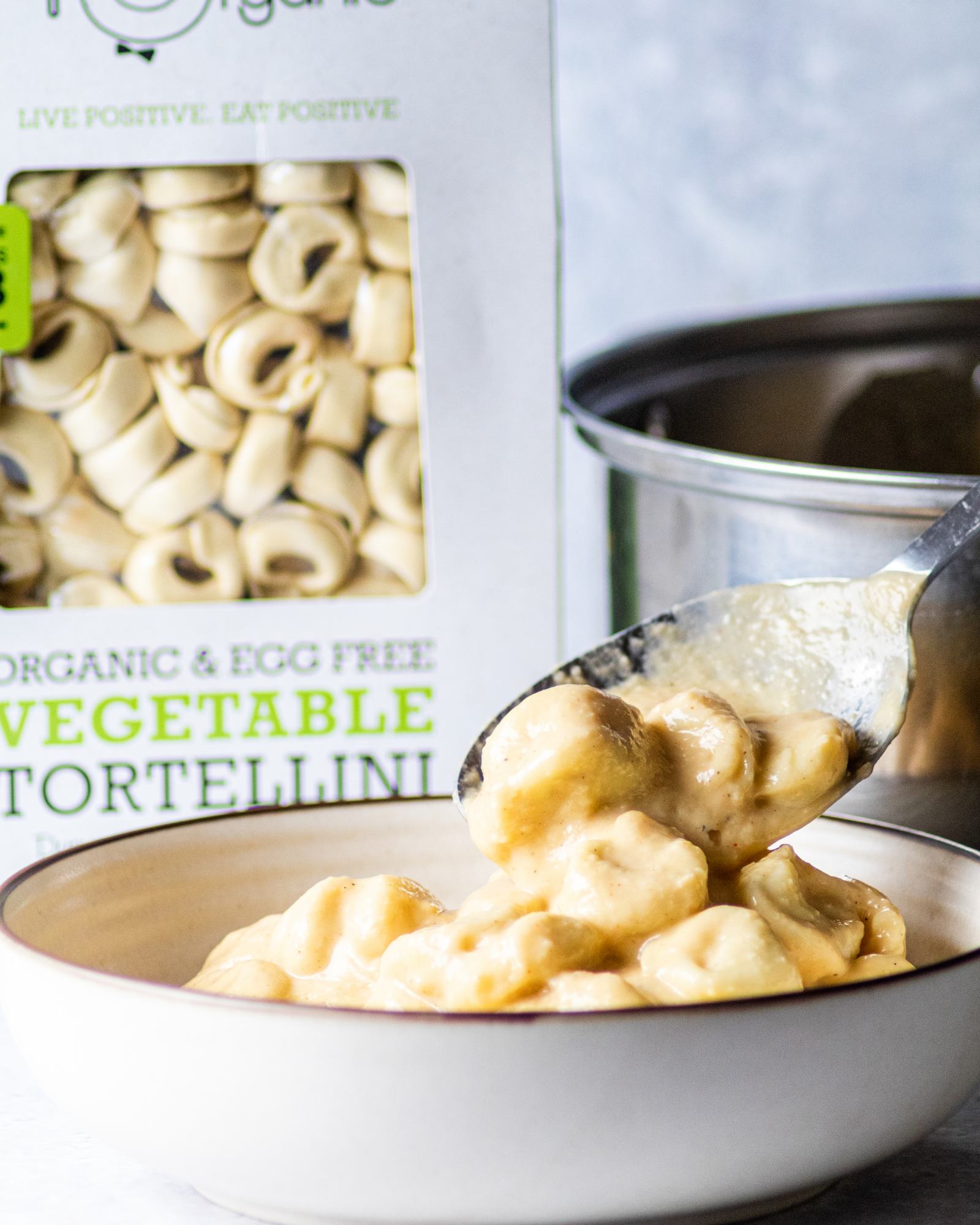 Instructions (Step-by-Step)
Step 1: Preparing the cauliflower
You can either cook, steam or roast the cauliflower for the sauce. I prefer the steaming process as it treats the cauliflower a little more gentle than the other options. If you don't have a steamer, you can cook or roast it instead - which will slightly change the taste of the sauce, but still be delicious.
In the meantime, cook your favorite pasta according to packaging instructions.
Step 2: Blending
Sauté the onion and garlic until soft in a little oil or water.
Transfer the cooked onion and garlic to a blender alongside the cauliflower and the rest of the ingredients and blend until smooth. You can adjust the creaminess of the sauce by adding more pasta water to the blender.
Pour the smooth sauce into a saucepan to heat it all the way through (if needed) and season to taste with salt and pepper.
Step 3: Assembly
For best results, I recommending mixing the cooked pasta with the sauce in a saucepan before serving. That way the pasta will be wonderfully coated in the creamy sauce.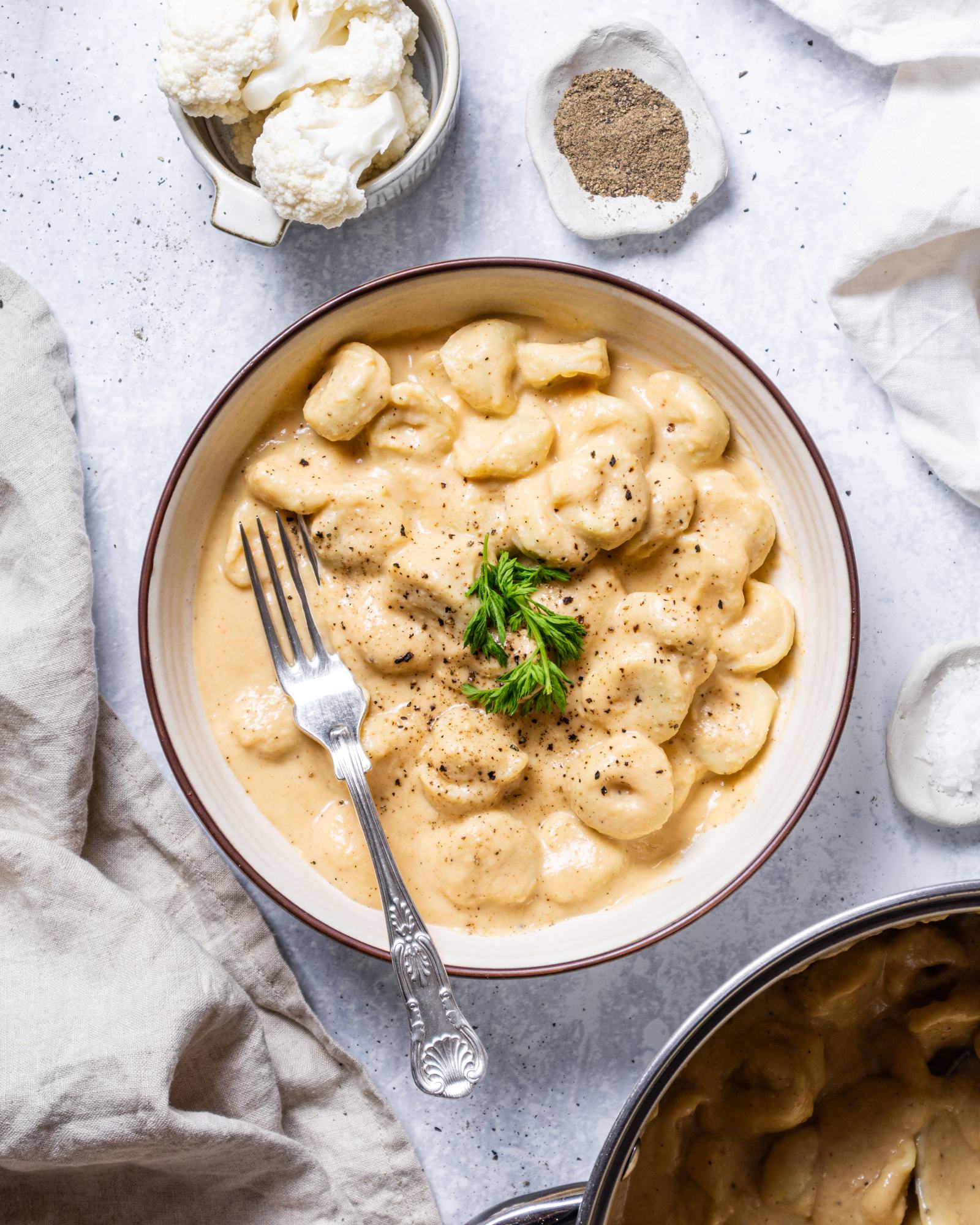 Extra tip: The right pasta for alfredo sauce
You can simply choose your favorite type of pasta alongside this cauliflower alfredo sauce. The sauce is also delicious alongside gluten-free pasta!
I prefer to choose pasta with ridges or pockets that holds the creamy alfredo sauce particularly well, such as fusilli, conchiglie, orecchiette, campanelle or vegan tortellini, like I've used on this occasion.
Similar recipes to try:
📌 If you love Pinterest you can pin any of the images to your boards!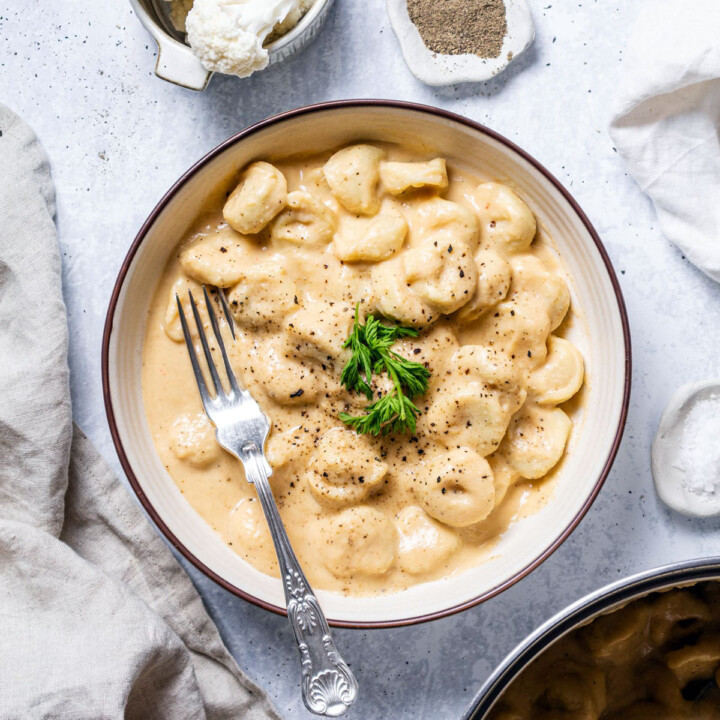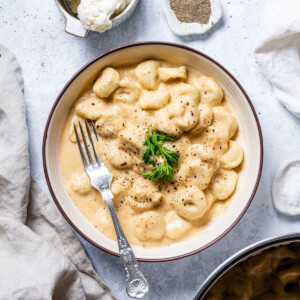 Vegan Cauliflower Alfredo Sauce
Deliciously creamy vegan cauliflower Alfredo pasta sauce - ready in minutes and full of delicious plant goodness!
Ingredients
1/2

medium

head of cauliflower

washed and leaves removed

1

small

brown onion

chopped

2

large

garlic cloves

1

tsp

sea salt

1/2

tsp

black pepper

3

tbsp

nutritional yeast

1

vegetable bouillon cube

100

ml

drained pasta water

70

ml

plant milk

1/2

tsp

smoked paprika powder

1

tbsp

sweet white miso paste

1

tbsp

refined coconut oil

deodorised
Instructions
Prepare your pasta according to packaging instructions. In the meantime, cook the onion and garlic in a little oil until translucent.

Cut the cauliflower into florets and steam them until softened. You can use the stem too in this recipe.

Transfer cauliflower, onion and garlic to a blender with the remainder of the ingredients. Blend until smooth.

Transfer the sauce to a medium size saucepan to heat through, combine with your pasta, season to taste with salt & pepper and serve hot.
Video
Notes
This recipe makes enough sauce to cover around 250g pasta
Ensure to cook your onions & garlic in a little oil until translucent before adding them to the blender with the rest of the ingredients. Alternatively replace them with onion & garlic powder.
Looking for more vegan pasta recipes? Try some of my personal favorites such as Gnocchi Carbonara, Vegan Seafood Pasta, and Baked Boursin Pasta.
Recent Recipes
*Disclosure: This page may contain affiliate links and sponsored links that earn me a small commission, at no additional cost to you. You can find more information in my Privacy Policy.
 © Romy London / Romina Callwitz | All images and content are copyright protected. Please do not use my images and content without permission. If you wish to re-publish any recipes or images, please get in touch via email. Thanks for your support!