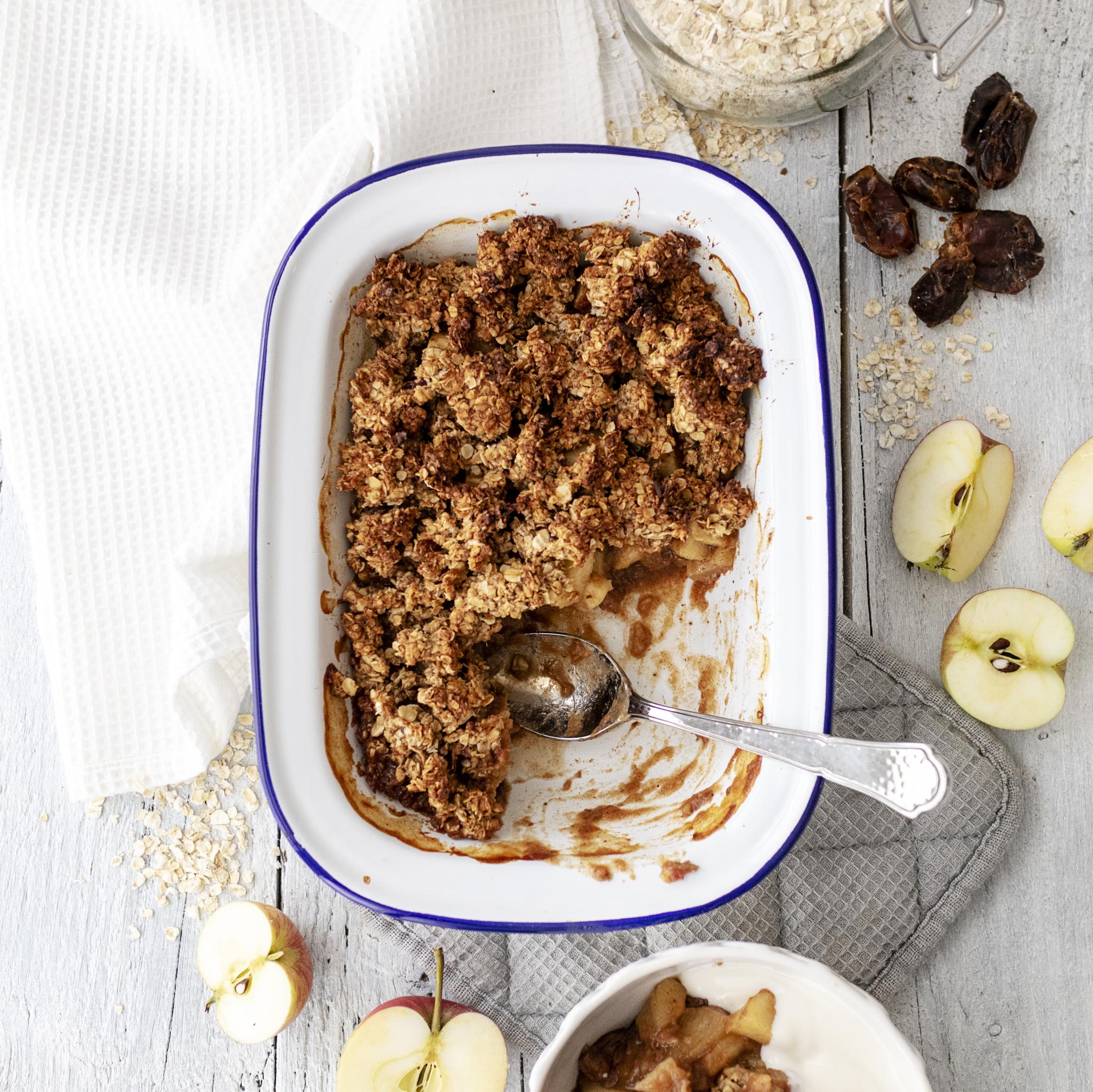 Vegan Breakfast Crumble Recipe
There's hardly anything that I generally don't like food-wise (as long as it's vegan of course ;)), but dried fruits have always been something that I just couldn't get my tastebuds around - especially raisins/sultanas! They're something you can truly chase me away with - however, there's also one exclusion: warm apple pie and apple crumble!
They are the true exception to the rule and the only way I really accept having them in a dish - so don't be surprised to find them in this breakfast crumble recipe here! If you of course can't deal with them at all, be it in a crumble or elsewhere, you're of course more than welcome to simply leave them out. Believe me: This crumble will turn out just as tasty!
This recipe is:
Vegan
Refined Sugar Free
Gluten Free (if using gluten free oats)
Dairy Free
Egg Free
High in Fibre
Delicious
Naturally Sweet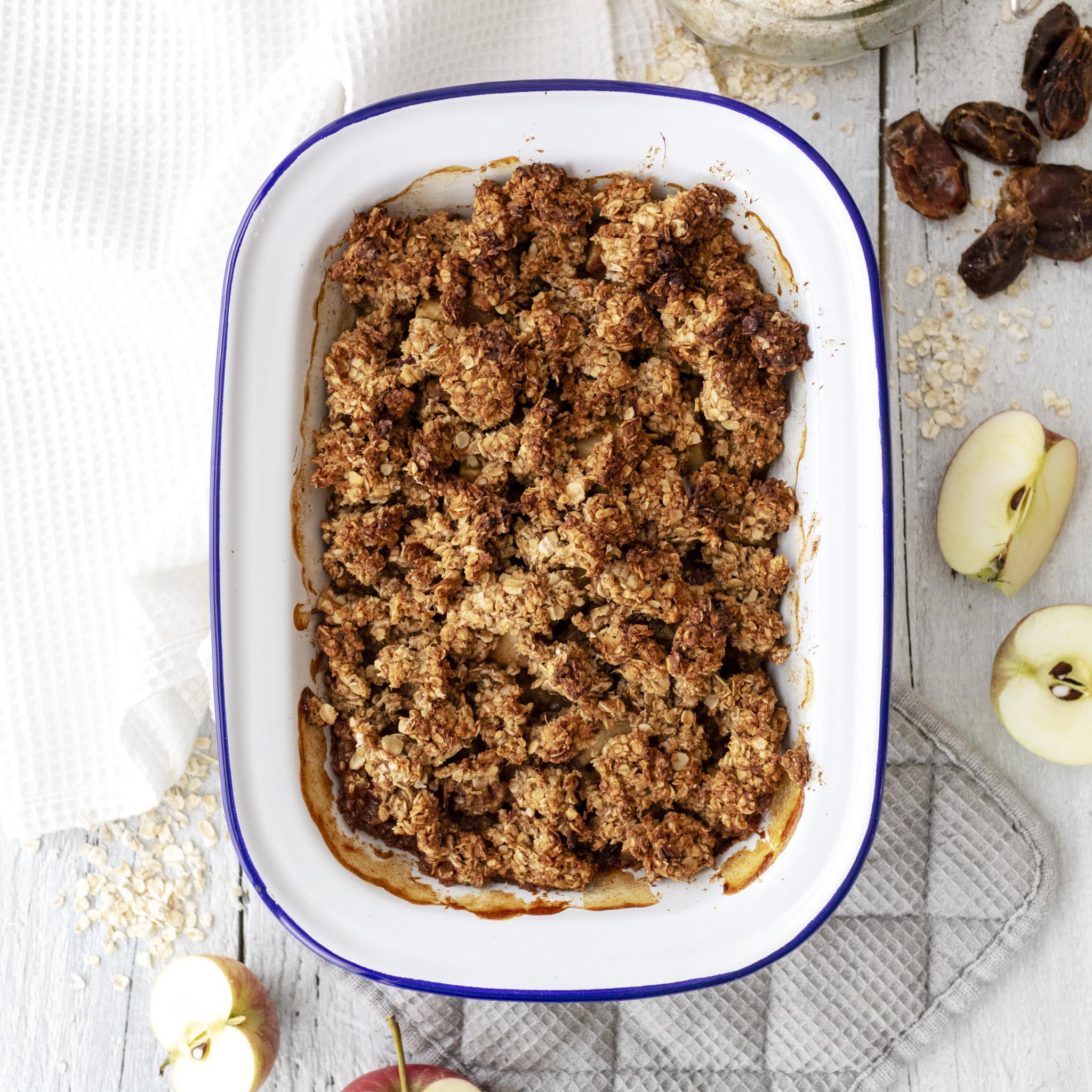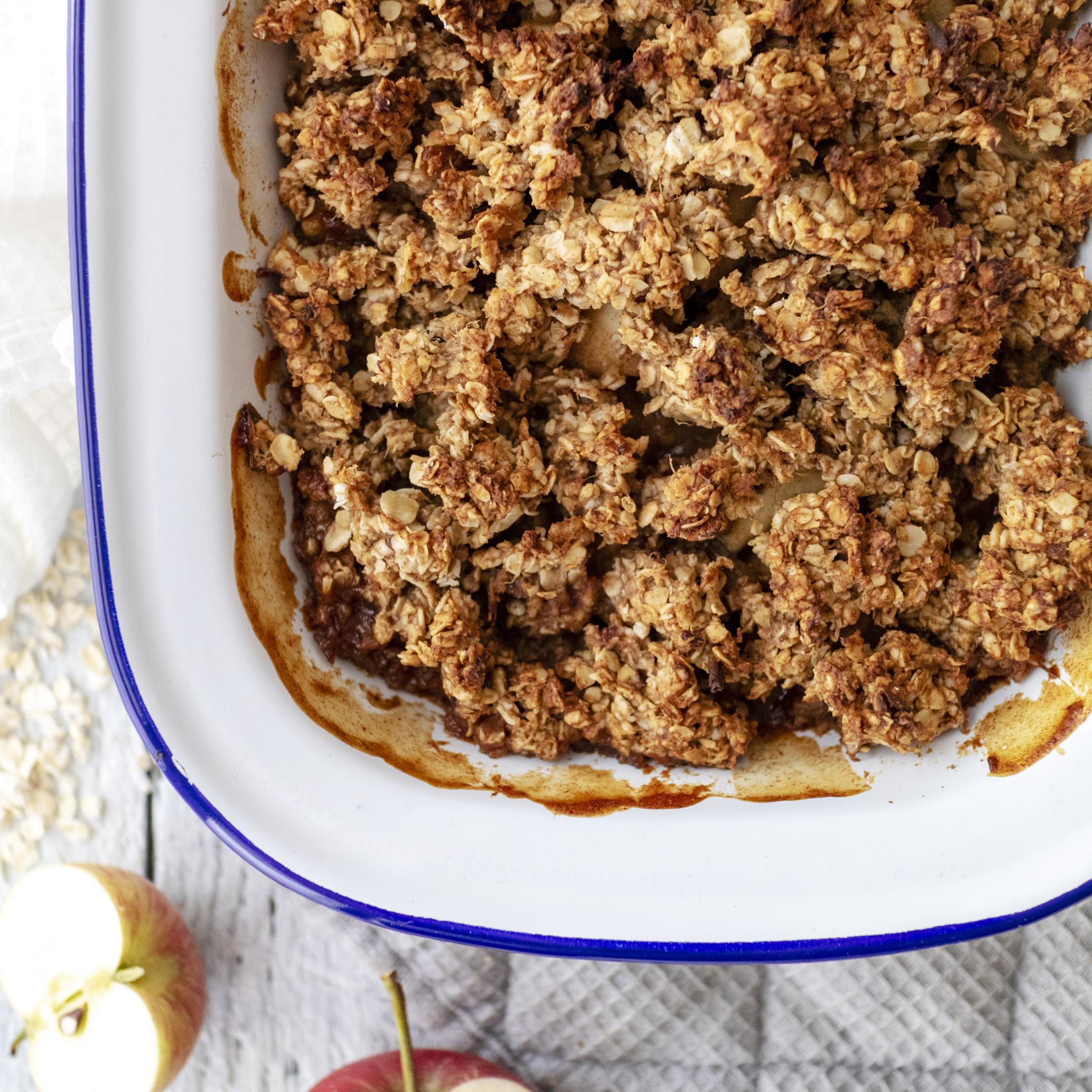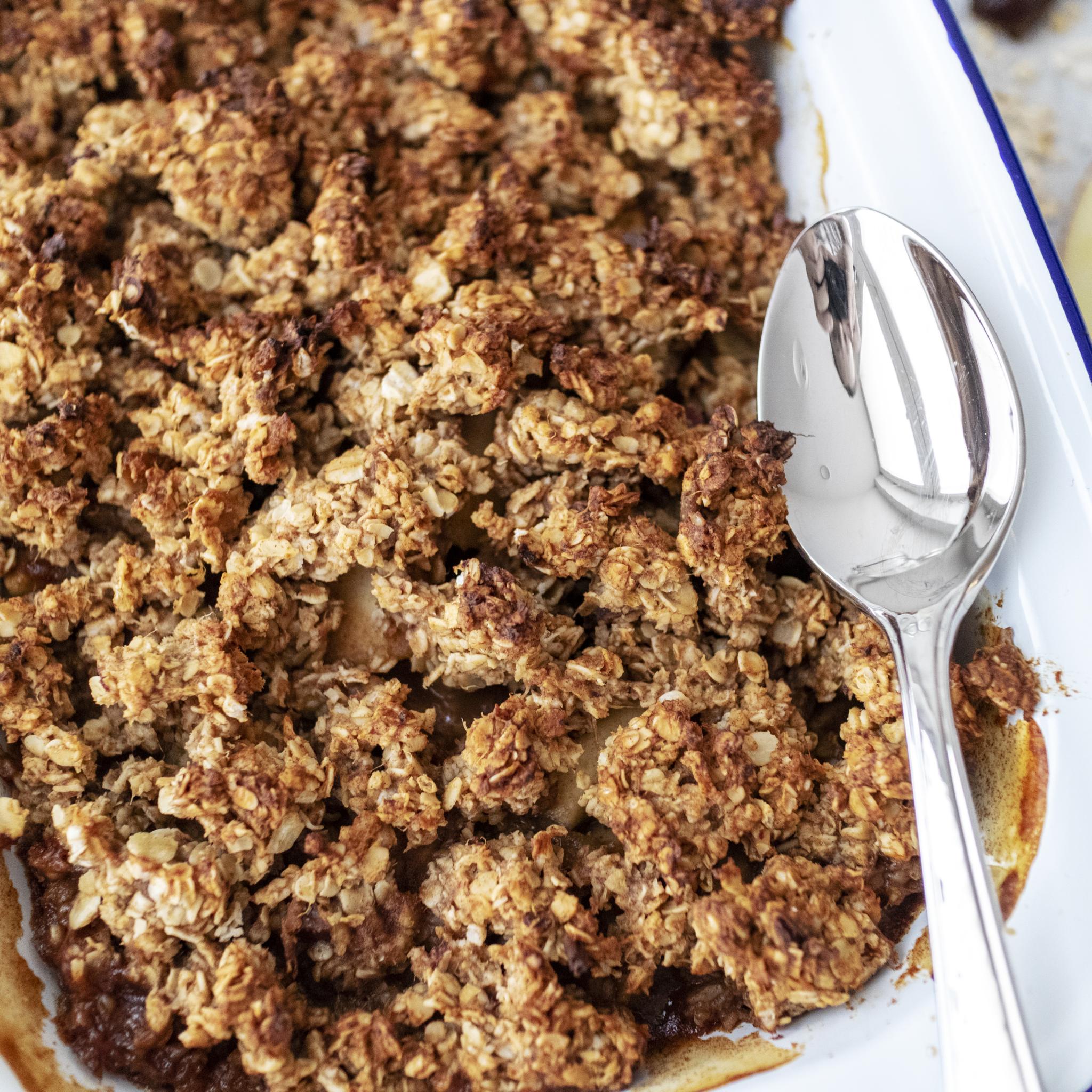 The idea for this crumble actually came to me after Nick and I went to Garson's Farm in Esher last weekend and picked our own apples there - and by that, I mean that we picked 5kg of apples in total!
So, we came home with a massive load of apples, and I have to use them somehow, right?
Making a crumble almost instantly crossed my mind, though I really wanted to take a healthier twist on a traditional crumble. As you know I do occasionally enjoy food including refined sugar (especially vegan donuts!) but I also try to leave it out of my own cooking at home and my recipes nowadays very rarely call for caster sugar or similar.
In this delicious recipe, I am using dates to add some more sweetness to the dish & make it taste like a real treat. It's the perfect autumn morning breakfast and it makes your kitchen smell absolutely amazing - I'm sure I don't know anyone who wouldn't want to get up for this!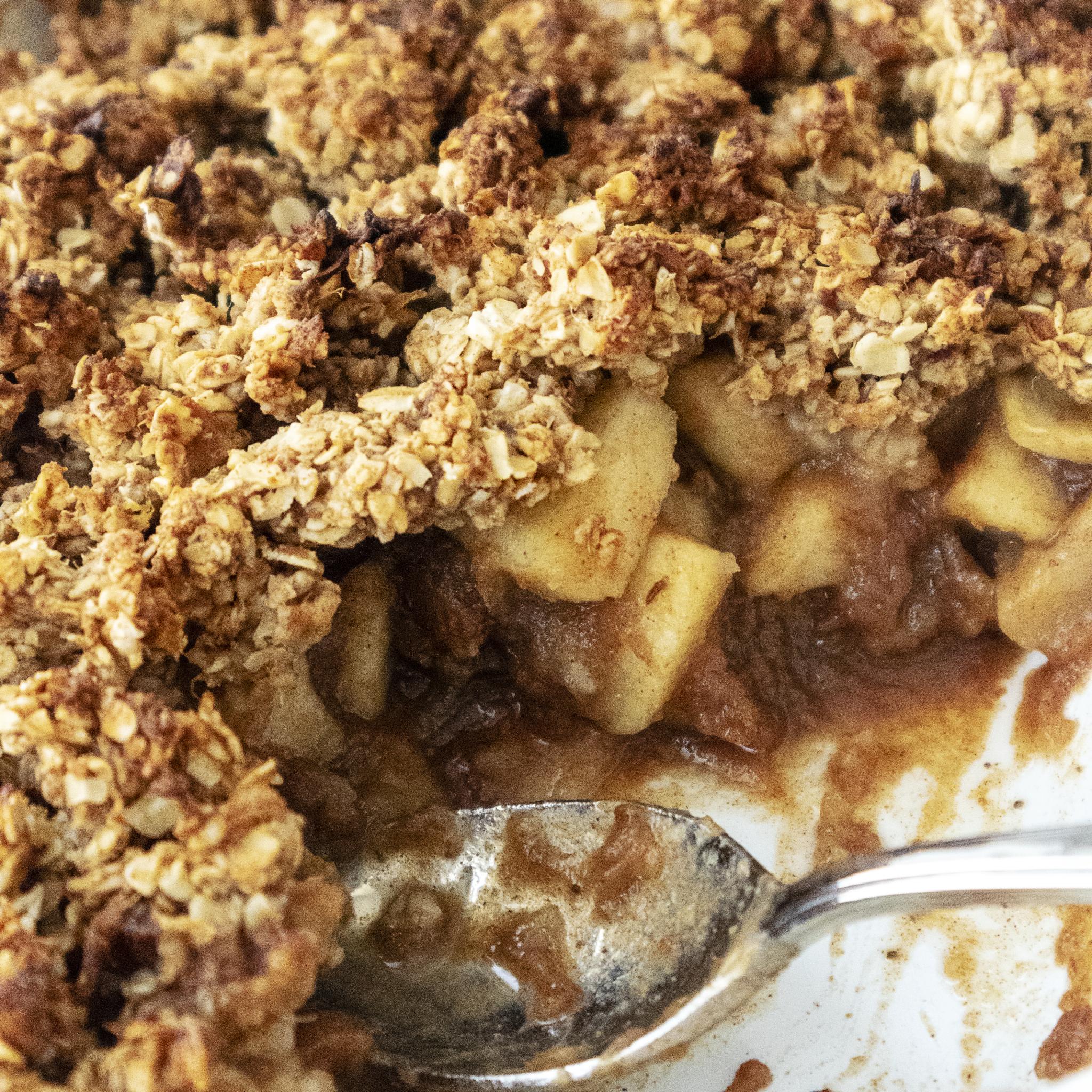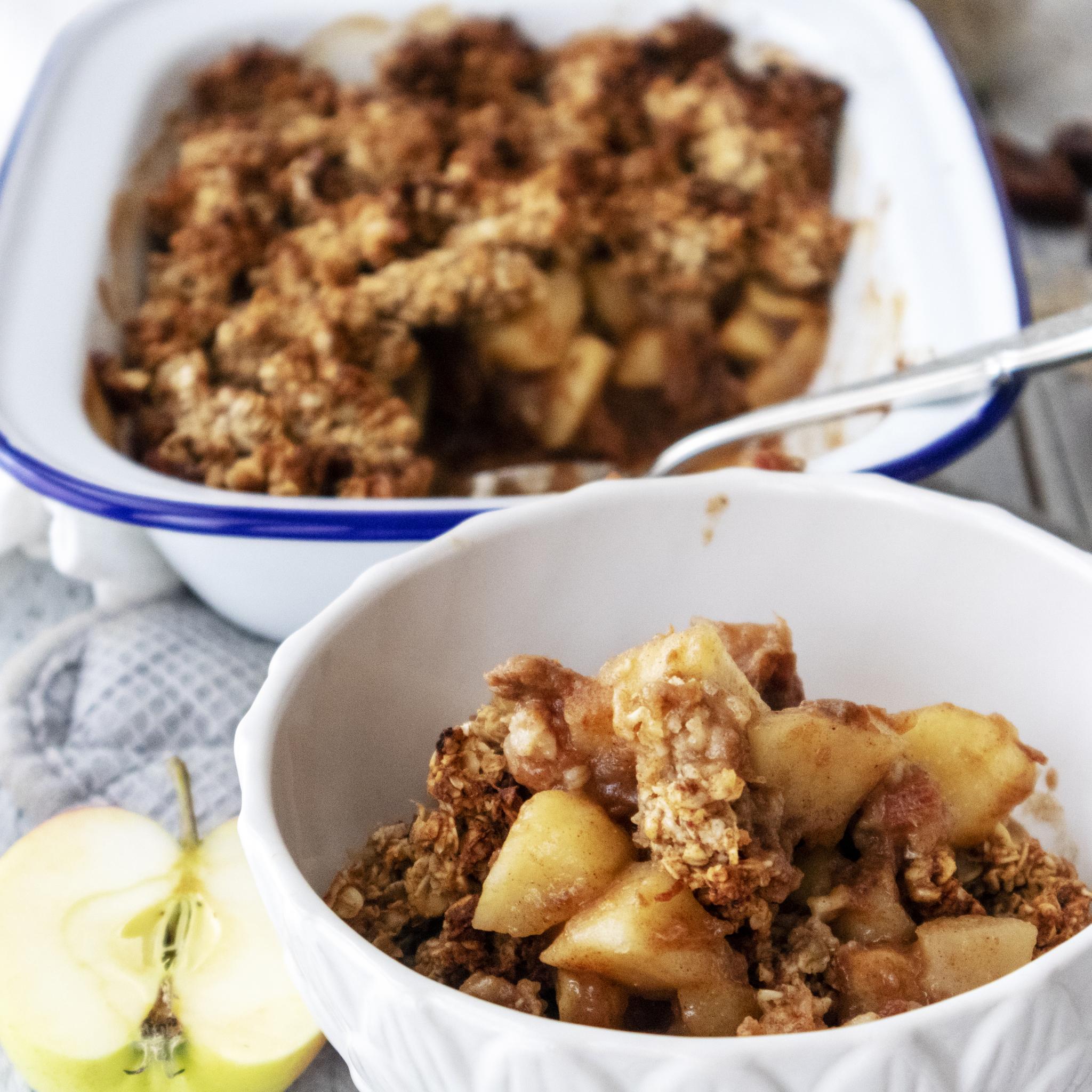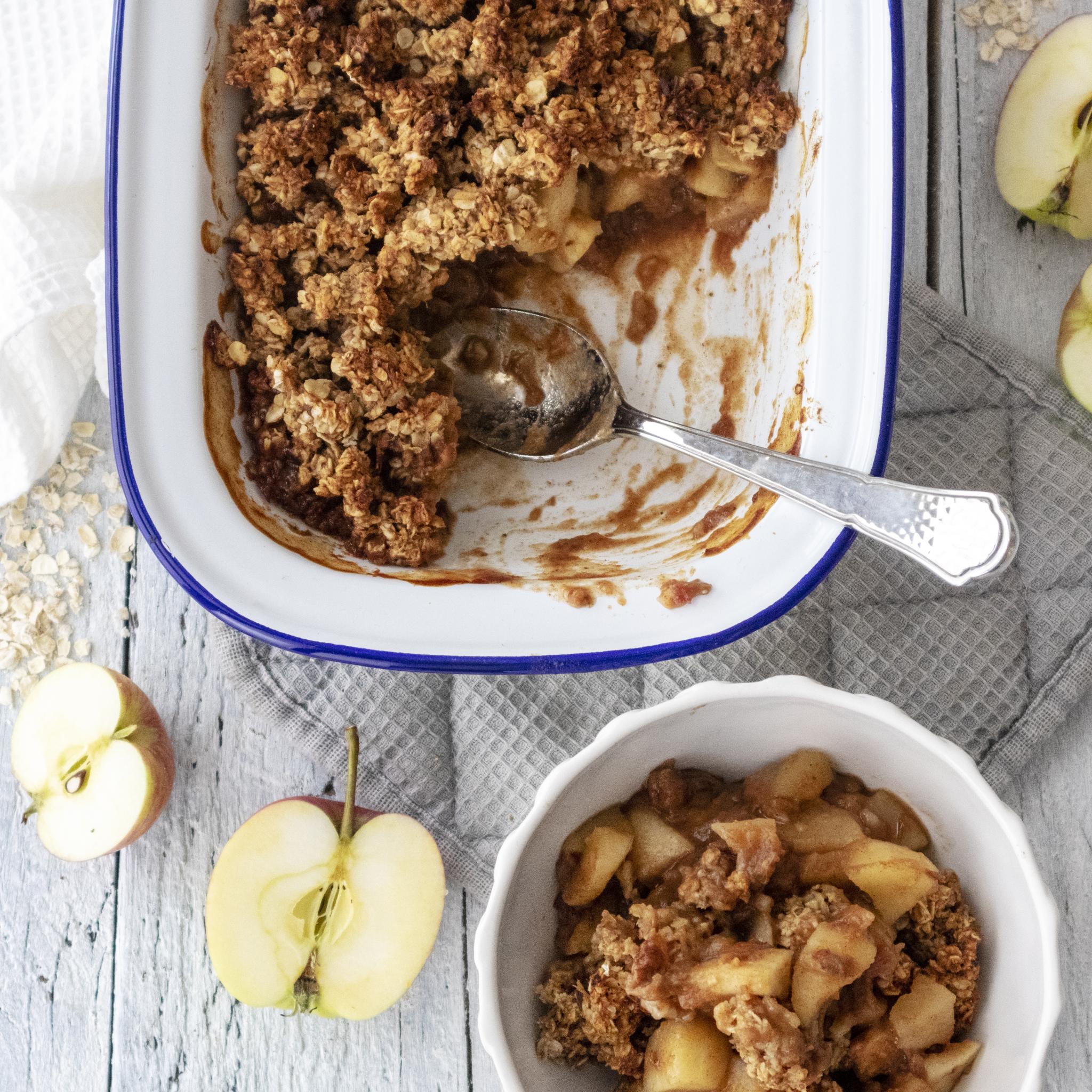 📌 If you love Pinterest you can pin any of the images to your boards!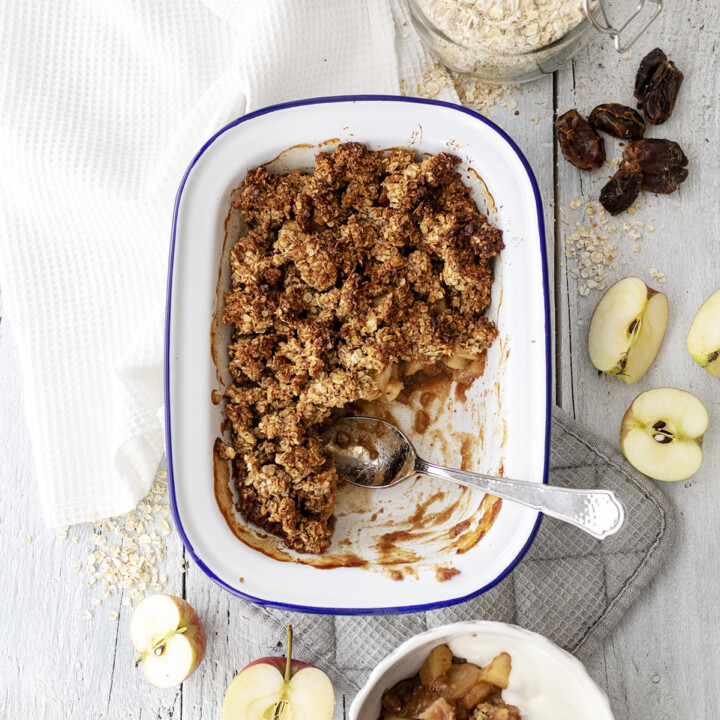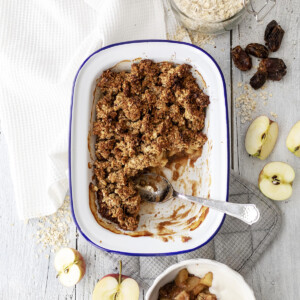 Breakfast Crumble Recipe (Vegan & Refined Sugar Free)
Deliciously sweet, filling breakfast crumble recipe - vegan, refined sugar-free & with gluten-free option. The perfect start into the day!
Ingredients
For the filling:
5

medium-sized apples

I used Falstaff apples

4

Medjool dates

pitted

1

tbsp

raisins or sultanas

optional

1

tsp

ground cinnamon

1/4

tsp

ground ginger

1/2

tsp

ground nutmeg

1

cardamom pod

5

whole cloves
For the crumble:
150

g

porridge oats

gluten-free

4

Medjool dates

pitted

1/2

tsp

ground cinnamon

1

tbsp

coconut oil
Instructions
Wash, peel and core the apples, then cut them into bite size pieces.

Chop all 8 Medjool dates into small chunks and add them to a medium sized saucepan over medium heat. Toast them for about 1 minute whilst stirring occasionally, then pour in just enough water to cover the dates.

Cook the dates for about 10 minutes, whilst continuing to stir occasionally. The dates will start to deconstruct and melt into the liquid of the pan as it heats and you will end up with a date syrup as the water reduces. Pour half of it into a medium sized bowl and set aside (this will be used for the crumble later!)

Add the chopped apples to the pan, then pour in about 100ml water, so they don't burn at the bottom of the pan, and gently stir.

Now it's time to add the spices and sultanas: Sprinkle in the cinnamon, nutmeg and ginger, then add the whole cardamom pod and 5 cloves (don't worry, these will be removed later!)

In the meantime, prepare the crumble: In a large bowl, combine the oats with the ground cinnamon, then use a spatula to stir in the coconut oil. Pour in the date mixture and mix well. If the mix is too wet to crumble, simply add a little more oats until you get a sticky, but crumbly texture.

Once the apples have softened, remove the cardamom pod & cloves from the pan and pour the apple mixture into an oven proof dish. Using your hands, add the crumble onto the top and transfer the dish to the oven for about 15-20 minutes at 350°F (180°C/fan 170°C/gas).
Top tip: You can easily prepare this delicious vegan breakfast crumble recipe in advance - simply remove it from the oven and let is cool down, then set in the fridge overnight and reheat in the oven the next morning.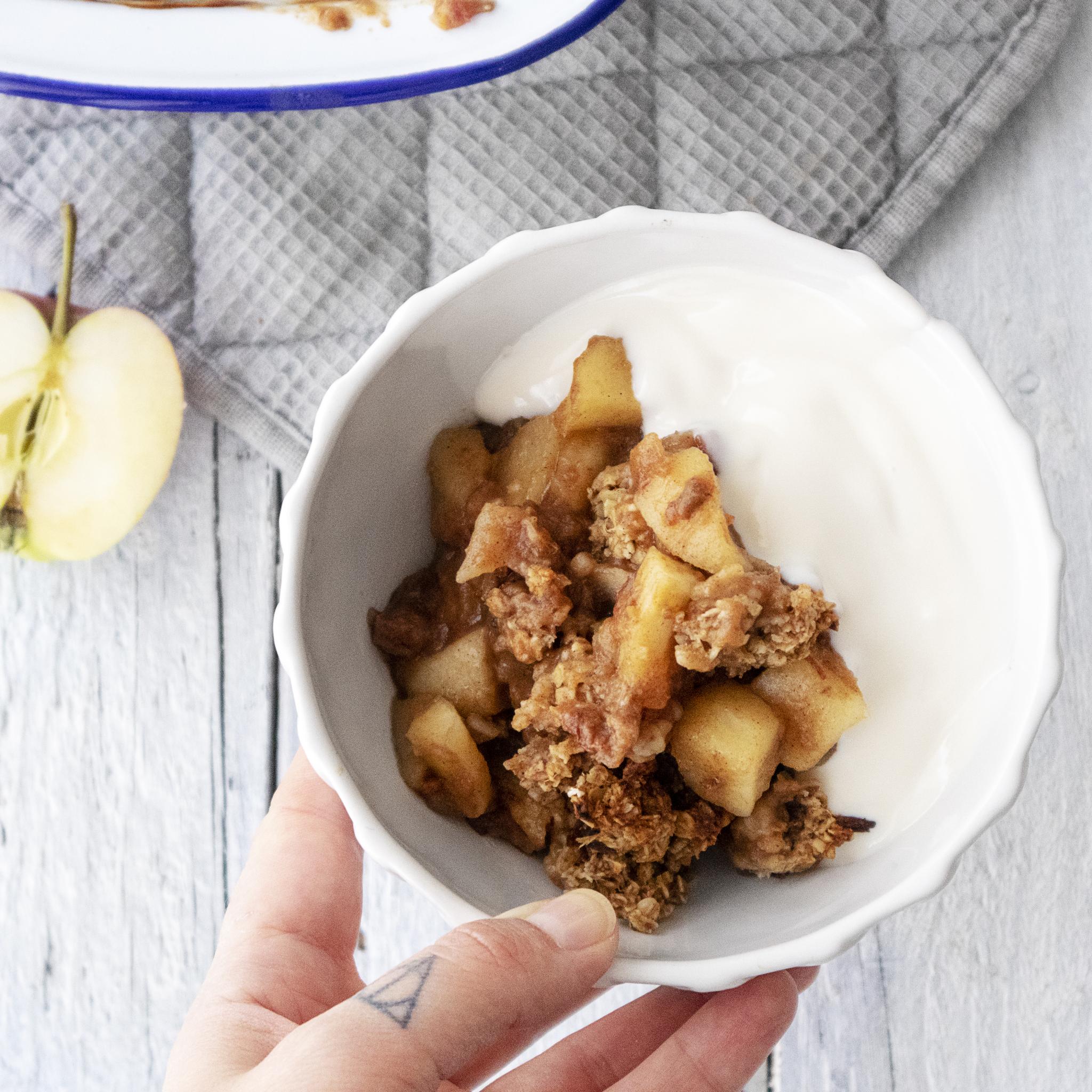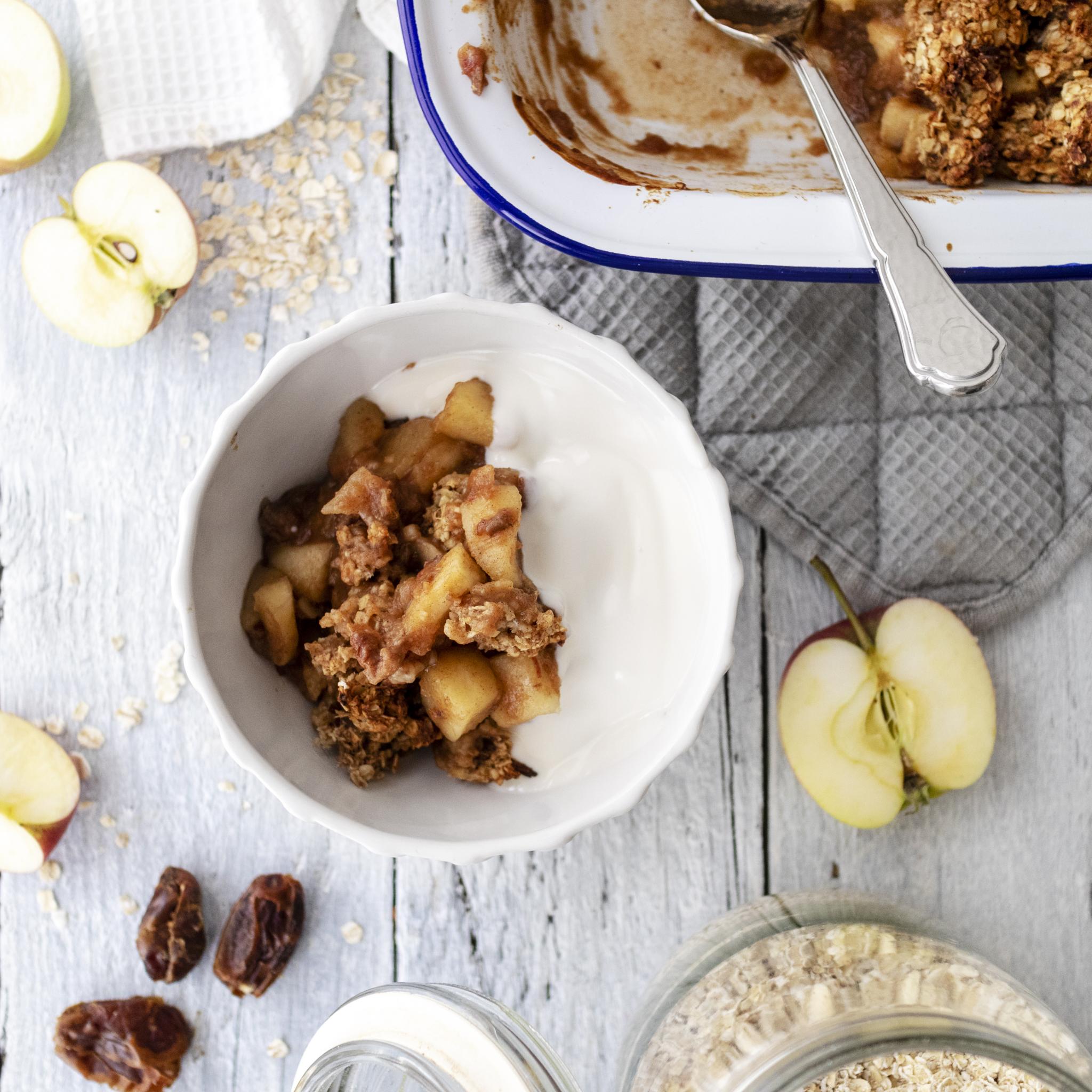 Also seen in:
I hope you've enjoyed this Vegan Breakfast Crumble Recipe! On the lookout for more vegan breakfast recipes? Check out my breakfast recipe section!
*Disclosure: This page may contain affiliate links and sponsored links that earn me a small commission, at no additional cost to you. You can find more information in my Privacy Policy.
 © Romy London / Romina Callwitz | All images and content are copyright protected. Please do not use my images and content without permission. If you wish to re-publish any recipes or images, please get in touch via email. Thanks for your support!