With this copycat Starbucks recipe, you can bring the delicious sweet and refreshing flavor of the Iced Starbucks Matcha Latte at home! This drink is super easy to make in a blender or milk frother and ready in just 5 minutes or less.
This copycat recipe is:
inspired by the Starbucks Iced Matcha Green Tea Latte
cool and refreshing
sweetened
vanilla-flavored
so easy to make at home
ready in just a few minutes
frothy and creamy
containing a healthy caffeine kick
super vibrant
simply delicious
perfect to start the day
a great refreshment especially in summer!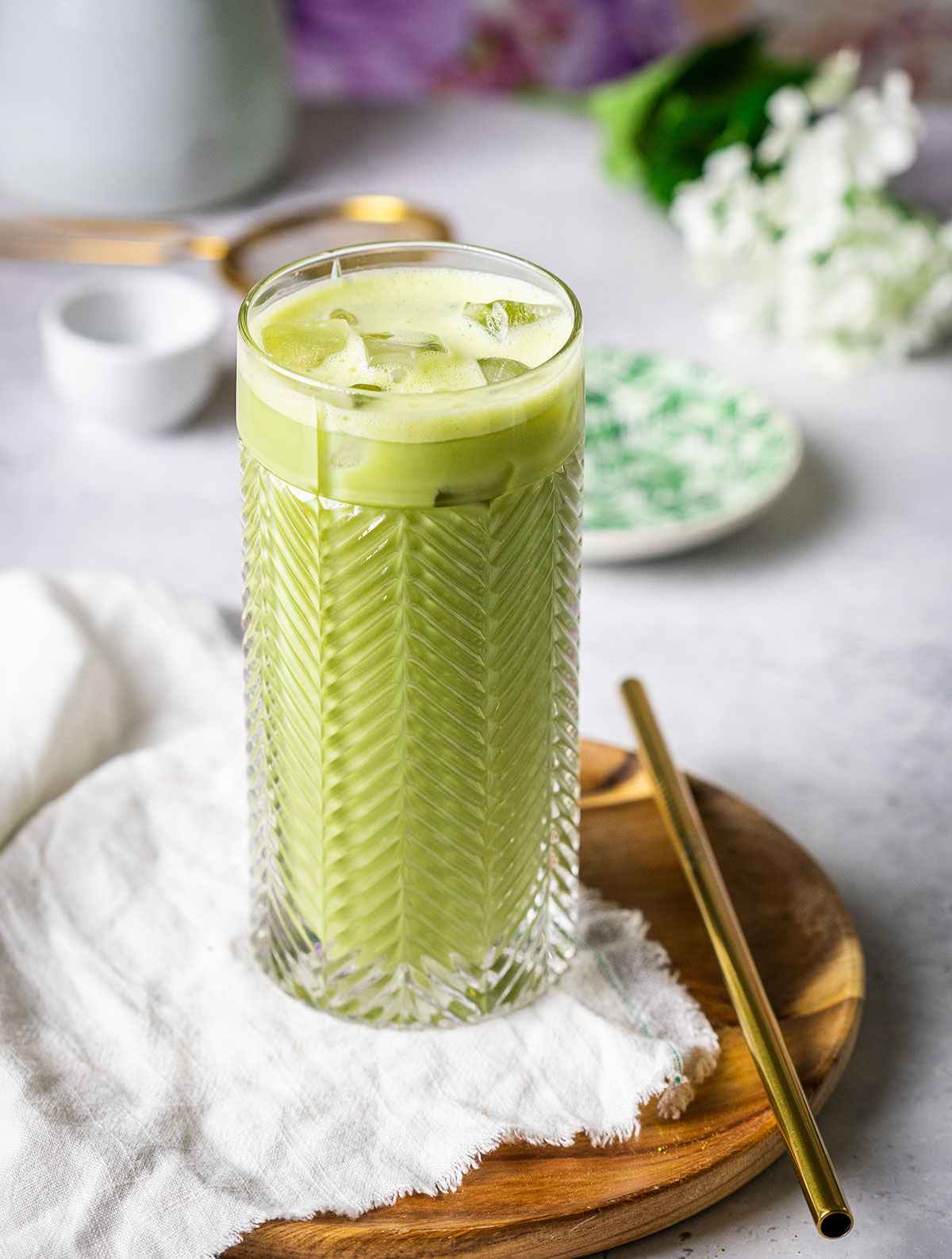 This recipe allows you to make the best Starbucks Iced Matcha Latte in the comfort of your own home, using just 4 simple ingredients! It's deliciously creamy and refreshing and perfect on a hot summer day (or any time really!).
Jump to:
Why this recipe works:
It's ready in just a few minutes, making it the perfect quick & easy morning or afternoon pick-me-up
It's super creamy and refreshing, and simply addictive if you ask me!
you only need 4 ingredients and the recipe is easily adaptable to your own taste
What is matcha powder?
Matcha is a Japanese green tea. Matcha powder is made from the whole green tea leaves - after harvest, they are dried and then ground into powder, giving it a distinctive green color.
Matcha is mainly produced in Japan. It is high in antioxidants and contains natural caffeine. It is traditionally used to make matcha tea, but can also be used in a variety of cooking and baking recipes.
If you want to experiment with matcha, why not give these recipes a go:
Where to buy matcha powder?
Matcha can come in all kinds of grades and qualities. My personal favorites are Clearspring and Teapigs, but if you're unsure where to get great quality matcha powder from, check Amazon or your local health food store.
Ingredients & Notes
For this easy iced matcha latte, you only need 4 ingredients: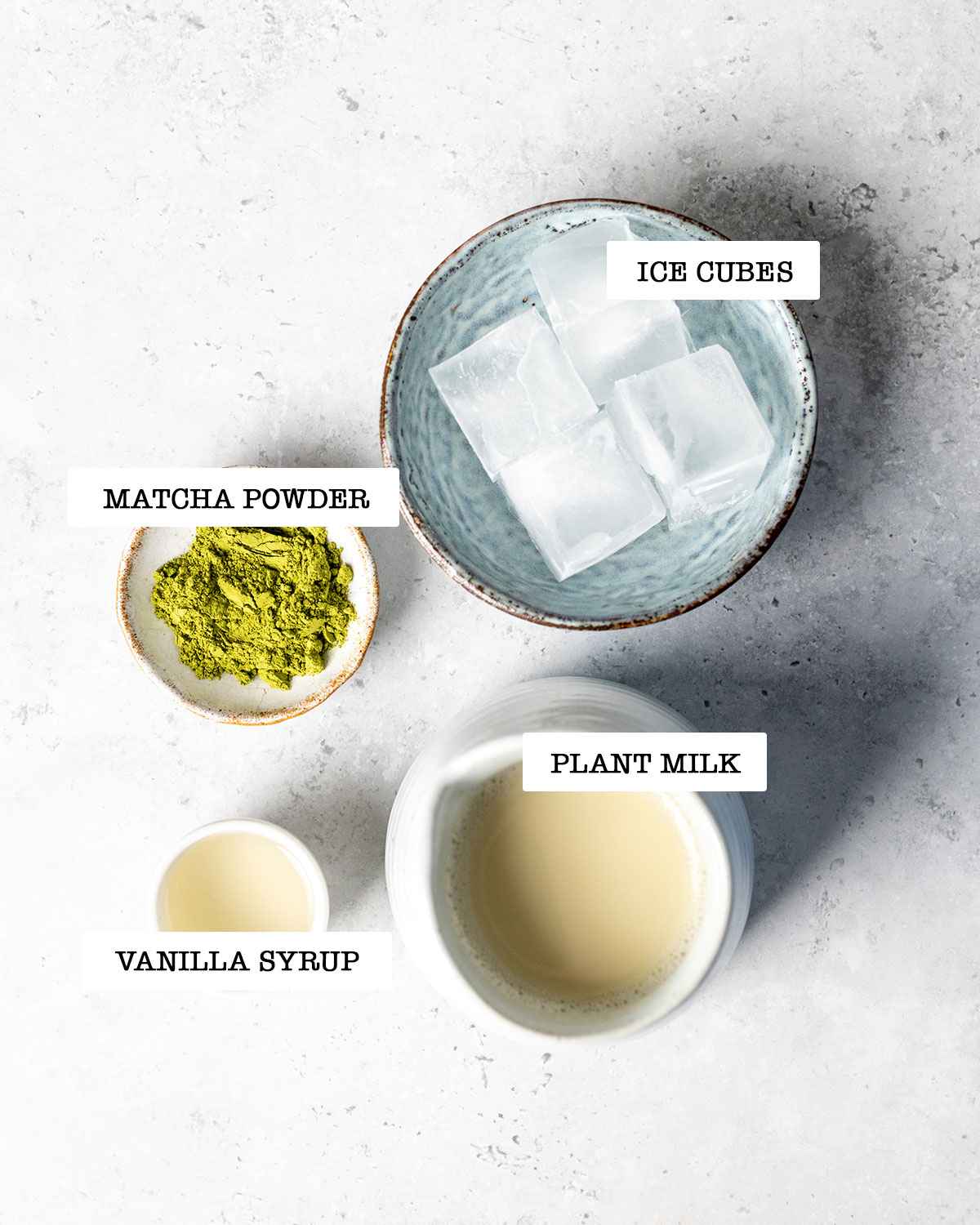 Ingredients:
Matcha Powder: For best results, use a high-quality matcha powder, my personal favorites are the ones from Clearspring and Teapigs.
Plant Milk: I like to use oat milk or coconut milk (the kind intended for drinking) for this recipe. Both are pretty flavor-neutral compared to other dairy-free alternatives.
Vanilla Syrup: I love to use 2 pumps of sugar-free vanilla syrup for the perfect sweetness and flavor. You can also make your own homemade vanilla syrup from scratch!
Ice cubes: Use your favorite size, I personally love making this drink with small square cubes
Substitutions
There are a couple of things you can easily swap in this recipe, in case you don't have all ingredients to hand.
Plant Milk: I personally love making this drink with oat or coconut milk, but you can simply swap this for your favorite milk. Delicious options would be almond milk, which will give the latte a nuttier flavor, and also soya, which is a more flavor-neutral option.
Vanilla Syrup: you can swap the sugar-free syrup for another vanilla syrup you have to hand. Instead of vanilla syrup, you can also mix maple syrup and vanilla extract and mix it into the drink. Or simply make your own from scratch!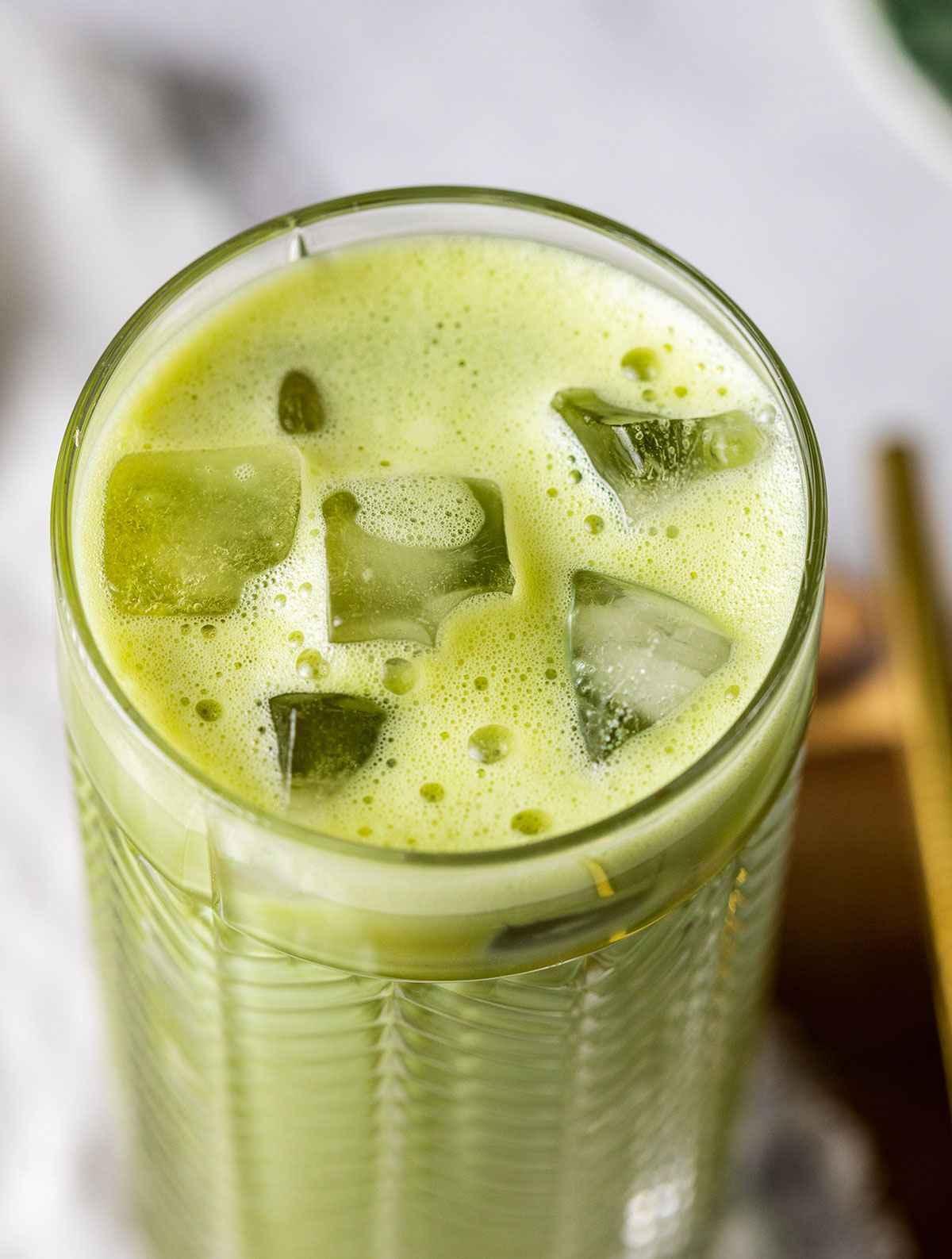 How to make Iced Matcha Latte (Step-by-Step)
Simply follow the below steps to make a delicious Starbucks iced matcha latte in 5 minutes or less. Please read the full instructions for the recipe before you start.
I hope you enjoy your homemade Starbucks iced matcha latte!
Version 1: Making Iced Matcha in a blender
Step 1: Preparation
Place all ingredients into a blender: plant milk, matcha powder, vanilla syrup. For best results, add the liquids to the blender first, and the matcha powder last. This way, the powder will not get stuck in any corners at the bottom of your blender.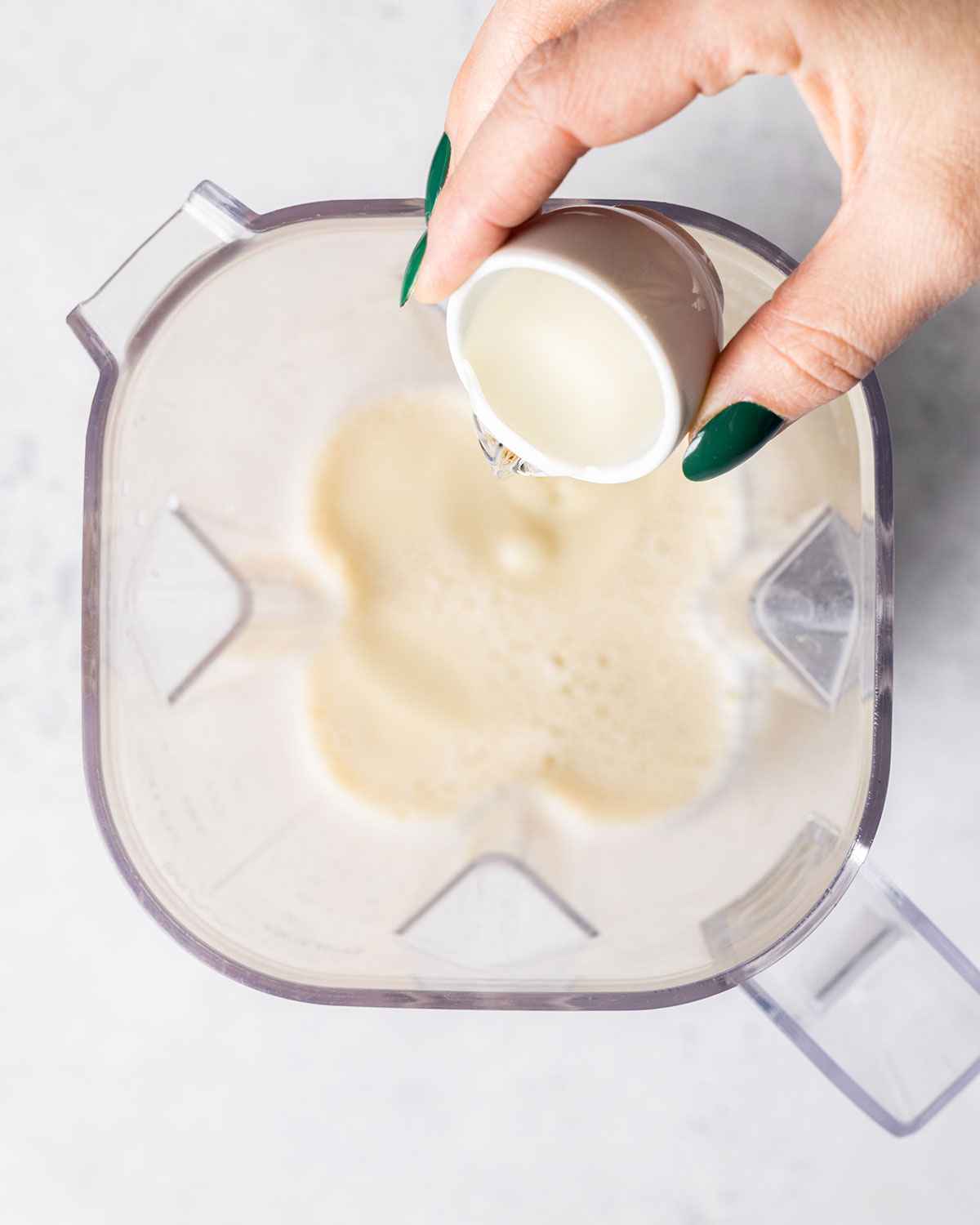 The same applies if you're making this drink in an electric milk frother. Before using one, make sure it can create cold froth as not all frothers have that option. I personally use the milk frother from Dualit, which is brilliant and can make both hot and cold froth.
Step 2: Blending
Blend the iced matcha latte on a high-speed setting for 1 minute or until smooth and frothy.
Step 3: Serving
Add your ice cubes to a tall glass and pour in your iced matcha. Serve your iced matcha latte cold and enjoy the refreshment.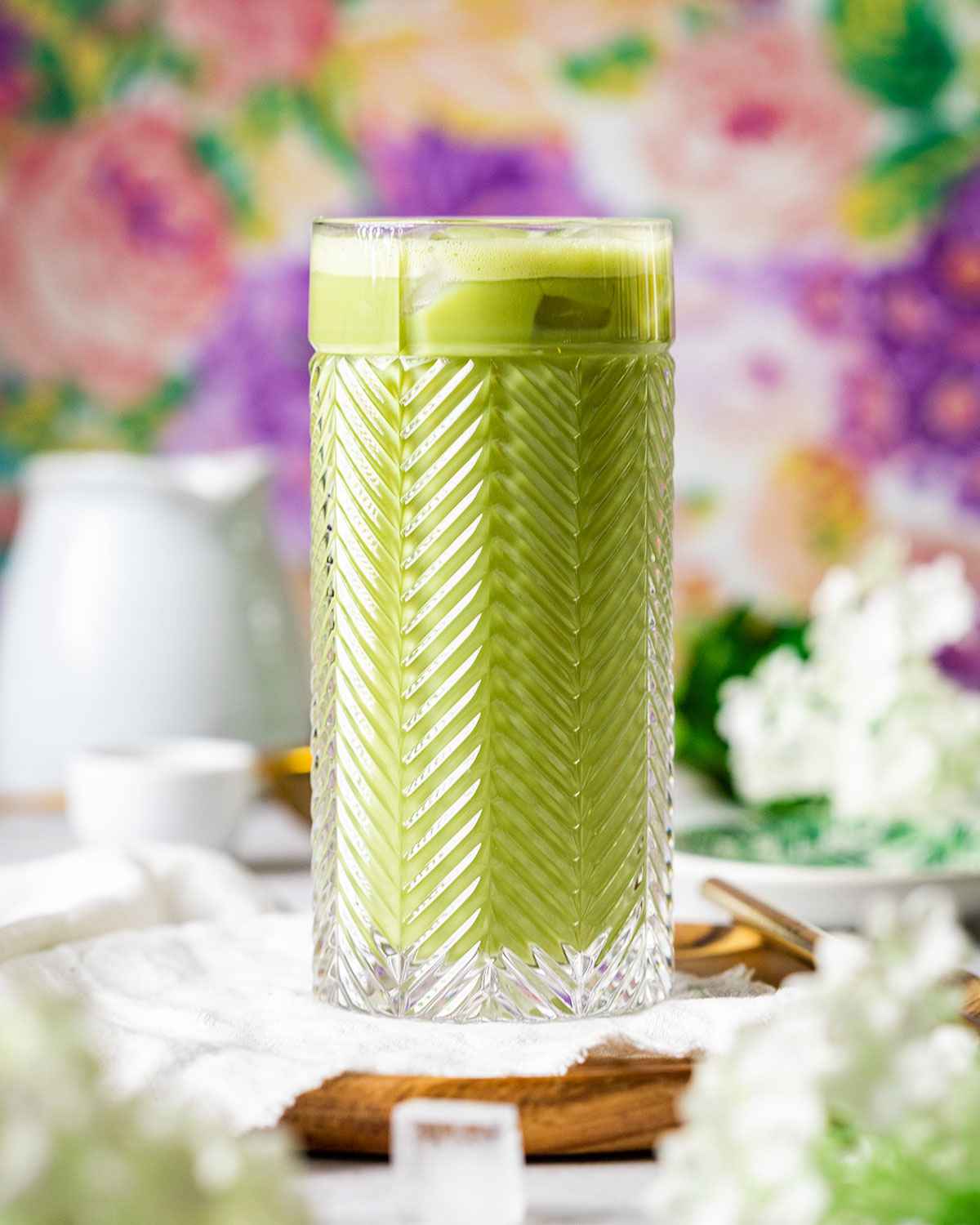 Version 2: Making Iced Matcha in a milk frother
If you have a milk frother, then you can also use it to make a perfectly smooth matcha! I personally use a Dualit milk frother, which has the ability to make both hot and cold froth, which is perfect for making this Starbucks-style Iced Matcha.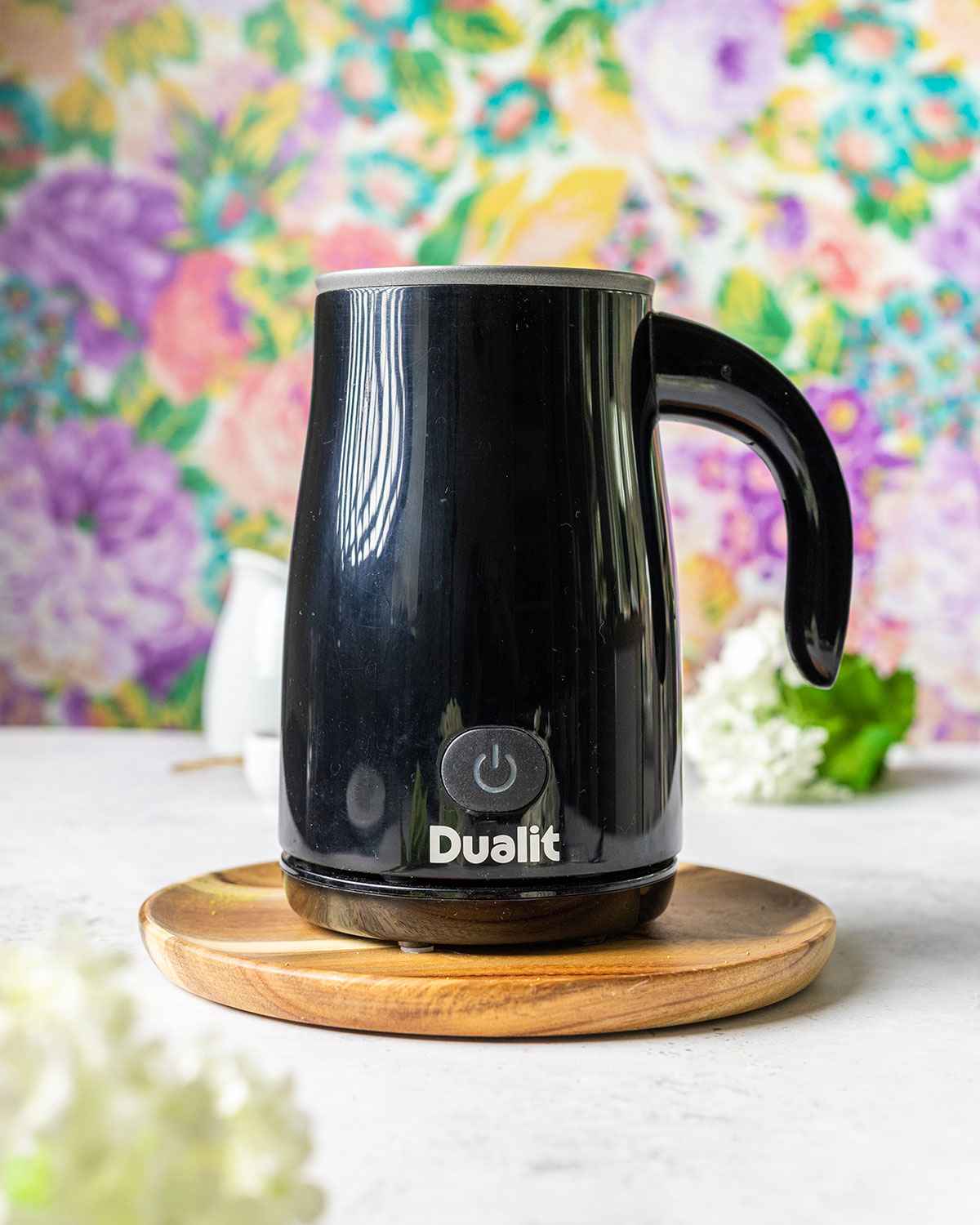 If your frother does not froth milk cold, then it's best to use a blender - or you have to wait for the matcha to cool down completely before serving.
How to make Iced Matcha without a blender or milk frother
If you don't have a blender or milk frother to hand, don't you worry! Here's how you can still make this delicious drink:
Whisk the matcha powder in 2 tbsp of the plant milk until no lumps are left.
Slowly stir in the vanilla syrup.
Carefully add the rest of the milk and continue to whisk more vigorously to combine all ingredients.
Place the ice cubes into a tall glass and pour the iced matcha latte over the top, then serve cold.
Optional additions
If you want to take your Starbucks matcha latte to the next level, there are a couple of delicious additions you can make:
Serve your Iced Starbucks Matcha Latte with whipped cream on top!
Sprinkle a little extra matcha powder over the top of the drink before serving. I only recommend this if you're already a matcha pro and love the taste, as the powder itself can be a little bitter.
Add a drizzle of almond syrup to make a matcha marzipan latte
Sweeten your matcha with flavored syrups such as Brown Sugar Syrup or Strawberry Syrup!
Mix in a dollop of vanilla protein powder to make protein matcha! Adjust the amount of plant milk in this case if the drink becomes too thick.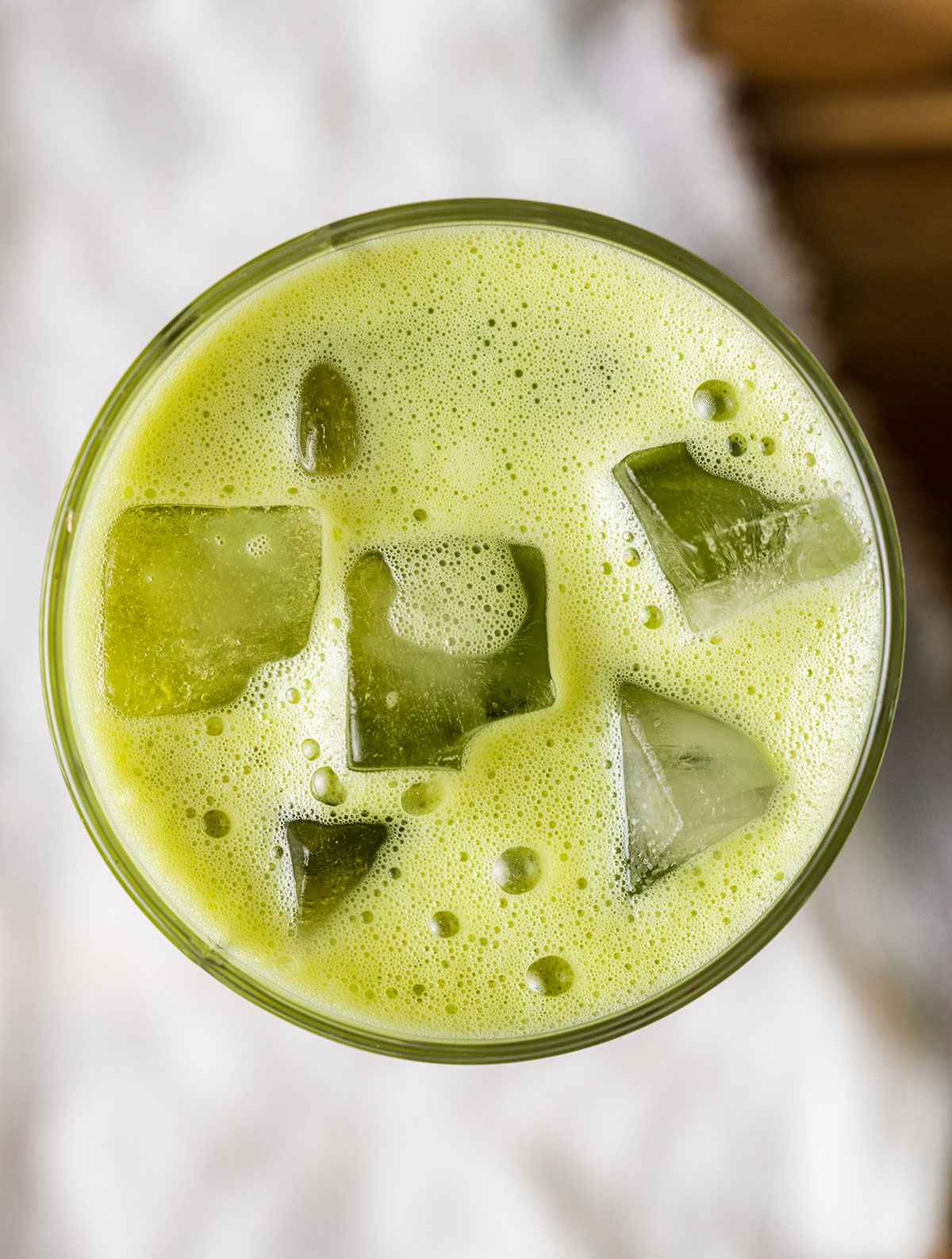 Frequently Asked Questions
Why does matcha powder not dissolve?
Matcha powder is essentially made from green tea leaves. They are dried and ground up into a powder that does not dissolve in water. When making drinks such as this Starbucks Matcha Latte, the matcha powder is whisked into the drink, and the tiny powder particles are basically suspended in the liquid.
To smoothly blend in the matcha powder, you need to whisk it vigorously.
Is there caffeine in matcha?
Yes, matcha contains caffeine. A matcha latte contains roughly half the caffeine of an equally sized latte.
Which milk is best for making matcha latte?
You can use your favorite milk to make a matcha latte! My personal favorites are sweetened soya or plain oat milk. Almond milk gives the matcha latte a nuttier taste, whilst coconut will make it more creamy and sweet. But please feel free to use your favorite one for this recipe.
Can I make a matcha latte with green tea bags?
No, in order to make a matcha latte, you need matcha green tea powder. Matcha latte can't be made with green tea teabags - sorry!
What type of matcha does Starbucks use?
Starbucks uses pre-sweetened matcha which is essentially a mix of matcha green tea powder and sugar. Because the Starbucks matcha is already sweetened you, unfortunately, it's not possible to order an unsweetened version at Starbucks.

Starbucks currently uses a Starbucks VIA Matcha tea blend. VIA is their own line of instant drink powder and it comes in portioned packs for individual use. That's how they manage to make the Starbucks Matcha Latte taste the same throughout their cafés.

The Starbucks Instant Matcha blend is not sold in the UK or US, and can only be found in some locations around Asia, such as Singapore and Japan.
Can I make the Starbucks Matcha Latte without sugar?
The two ingredients in the Starbucks Matcha Tea blend are sugar and matcha green tea powder. As sugar is the main ingredient in the matcha blend, it cannot be ordered unsweetened at Starbucks. However, you can easily make this homemade version unsweetened by skipping the sweetener.
Is matcha healthy?
Matcha in itself is packed with antioxidants and considered healthy, but the Starbucks version is sweetened matcha and contains sugar and is therefore considered less healthy.
You might also enjoy these recipes:
More matcha recipes:
If you are also obsessed with Matcha then you will definitely enjoy my homemade Matcha cookies with white chocolate or my matcha energy balls!
📌 If you love Pinterest you can pin any of the images to your boards!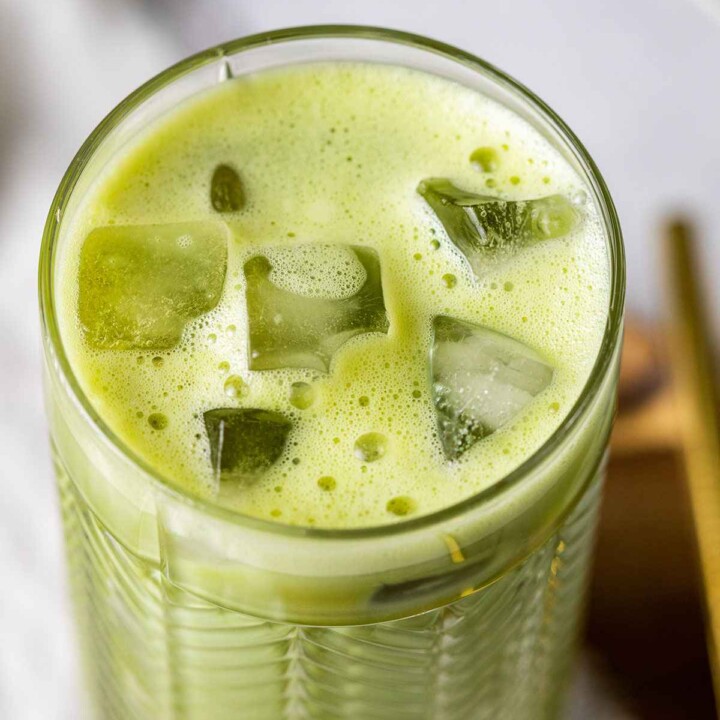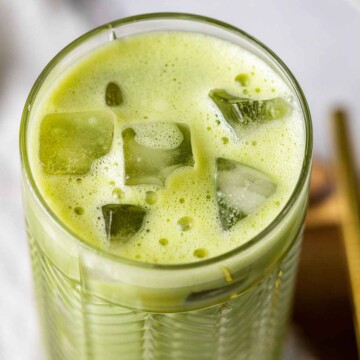 Starbucks Iced Matcha Latte
This Matcha Latte Starbucks Copycat recipe brings the delicious, sweet flavors of the Starbucks favorite to the comfort of your own home!
Ingredients
1

tsp

green tea matcha powder

1

cup

plant milk (250 ml)

1

tbsp

sugar-free vanilla syrup
Instructions
Place the plant milk into the blender alongside the vanilla syrup and matcha powder. Blend on a high speed for roughly a minute or until all ingredients are well combined and the milk frothy.

To serve, place your ice cubes in a tall glass and pour the matcha on top.
Notes
instead of a blender, you can also use an electric milk frother. Please see the equipment and instruction notes in the blog post's main text.
You can replace the sugar-free syrup with any vanilla syrup you might have to hand or simply make your own by mixing maple or agave syrup with vanilla extract.
*Disclosure: This page may contain affiliate links and sponsored links that earn me a small commission, at no additional cost to you. You can find more information in my Privacy Policy.
 © Romy London / Romina Callwitz | All images and content are copyright protected. Please do not use my images and content without permission. If you wish to re-publish any recipes or images, please get in touch via email. Thanks for your support!