Zesty, sweet and delicious: This Vegan Lemon Curd is a delicious staple to use in Vegan Baking, pour-over cupcakes, muffins, pies or simply use as a spread on top of a freshly toasted slice of sourdough. Divine!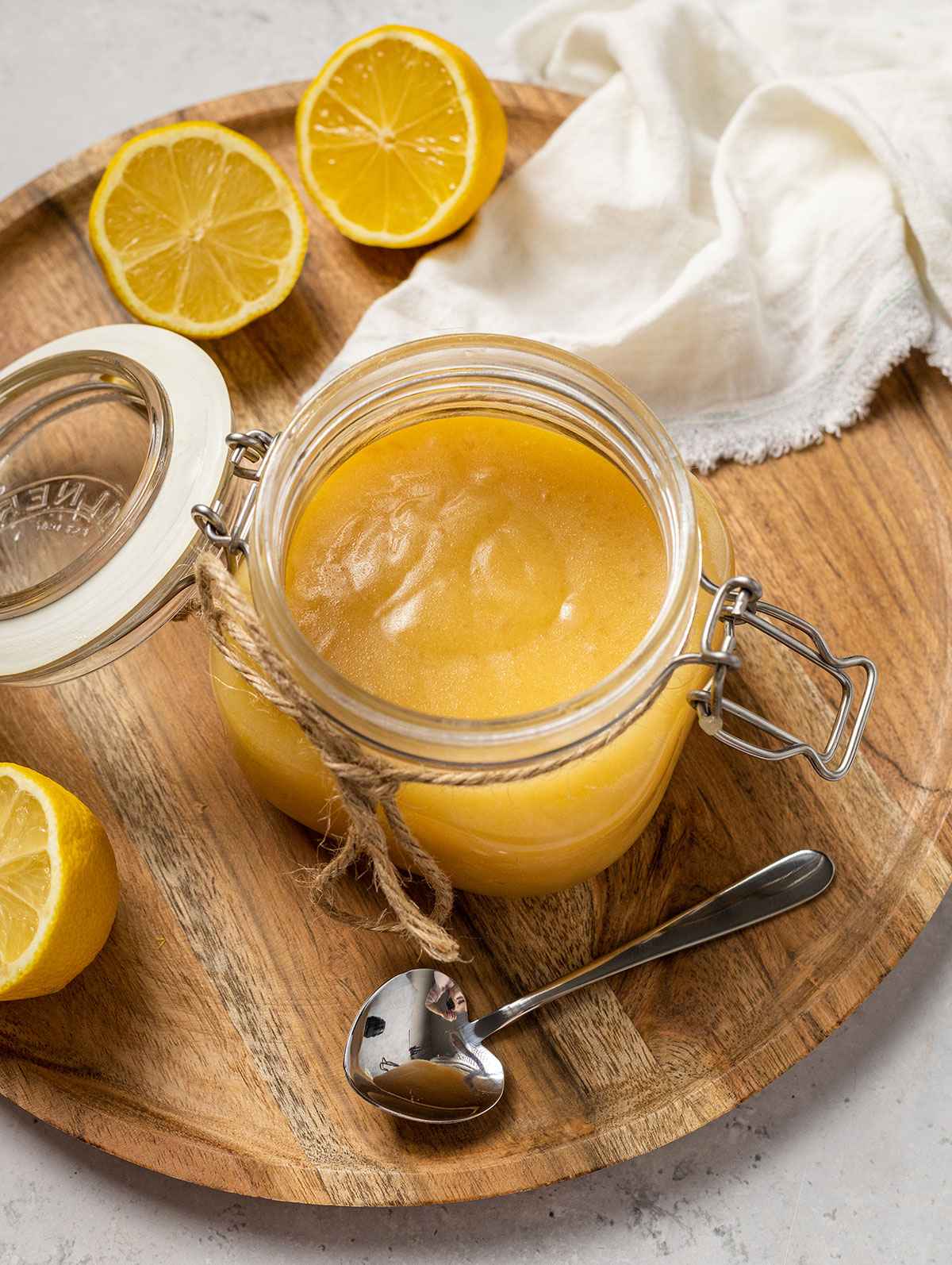 This Vegan Lemon Curd recipe is:
100% vegan
quick and easy to make
simply delicious!
zesty and sweet
fresh
easy to store
perfect for Vegan Lemon Meringue Pie
Vegan Lemon Curd Recipe
Vegan Lemon curd is a great staple recipe to add to your repertoire! The curd is deliciously sweet and naturally zesty, making it perfect for a variety of tangy recipes, such as Vegan Lemon Pie.
Personally, I love everything zesty, so it's only natural for me to share a simple vegan lemon curd recipe with you all! Don't be alerted though - the lemon curd is not sour, but simply the perfect combination of sweet and zesty. It tastes wonderfully refreshing and is great for a variety of delicious recipes.
Ingredients and Tips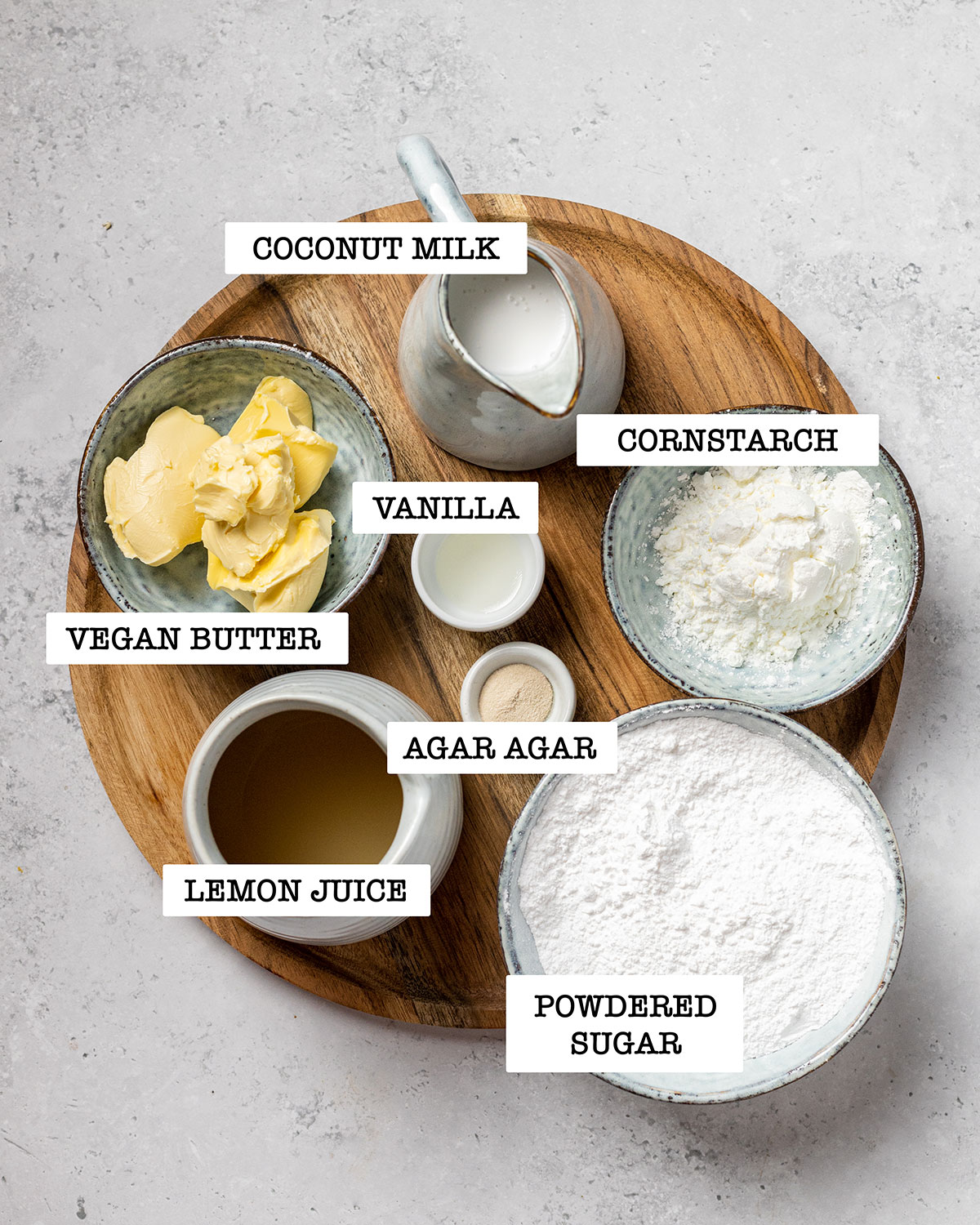 This vegan lemon curd is super easy to make and you just need the following ingredients:
Vegan Butter: I like to use Flora Plant Butter (the unsalted kind!) for recipes such as this one.
Fresh Lemon Juice: For best results use freshly squeezed lemon juice for your vegan lemon curd.
Coconut Milk: Adds the wonderful creaminess to this lemon curd.
Vanilla Essence: not essential for creating vegan lemon curd, but I highly recommend adding a little bit of vanilla to create a divine and more interesting flavor profile for your curd.
Powdered sugar: I love to use powdered sugar for vegan lemon curd. It simply melts into the mix perfectly and doesn't leave a grainy texture.
Cornstarch: We use cornstarch to thicken the vegan lemon curd in this recipe. You can adjust the amount of cornstarch to adjust the curd texture you're looking for
Agar-agar: Agar is made from an algae and commonly used in vegan baking as a replacement for gelatine. In this lemon curd recipe, the agar-agar helps thicken the mixture and give it a more jelly-like texture. Agar can be very strong, so only small amounts are needed in recipes. For best results for your lemon curd, use the Agar-agar powder, not the flakes.
For easy swaps and replacements, please check out the notes below.
How to make Vegan Lemon Curd (Step-by-Step)
This recipe for vegan lemon curd is really simple to make. You basically just need a non-stick saucepan, a whisk and an air-tight container to store your homemade lemon curd in. Please read all the detailed steps for making lemon curd below before getting started.
Step 1: Combine ingredients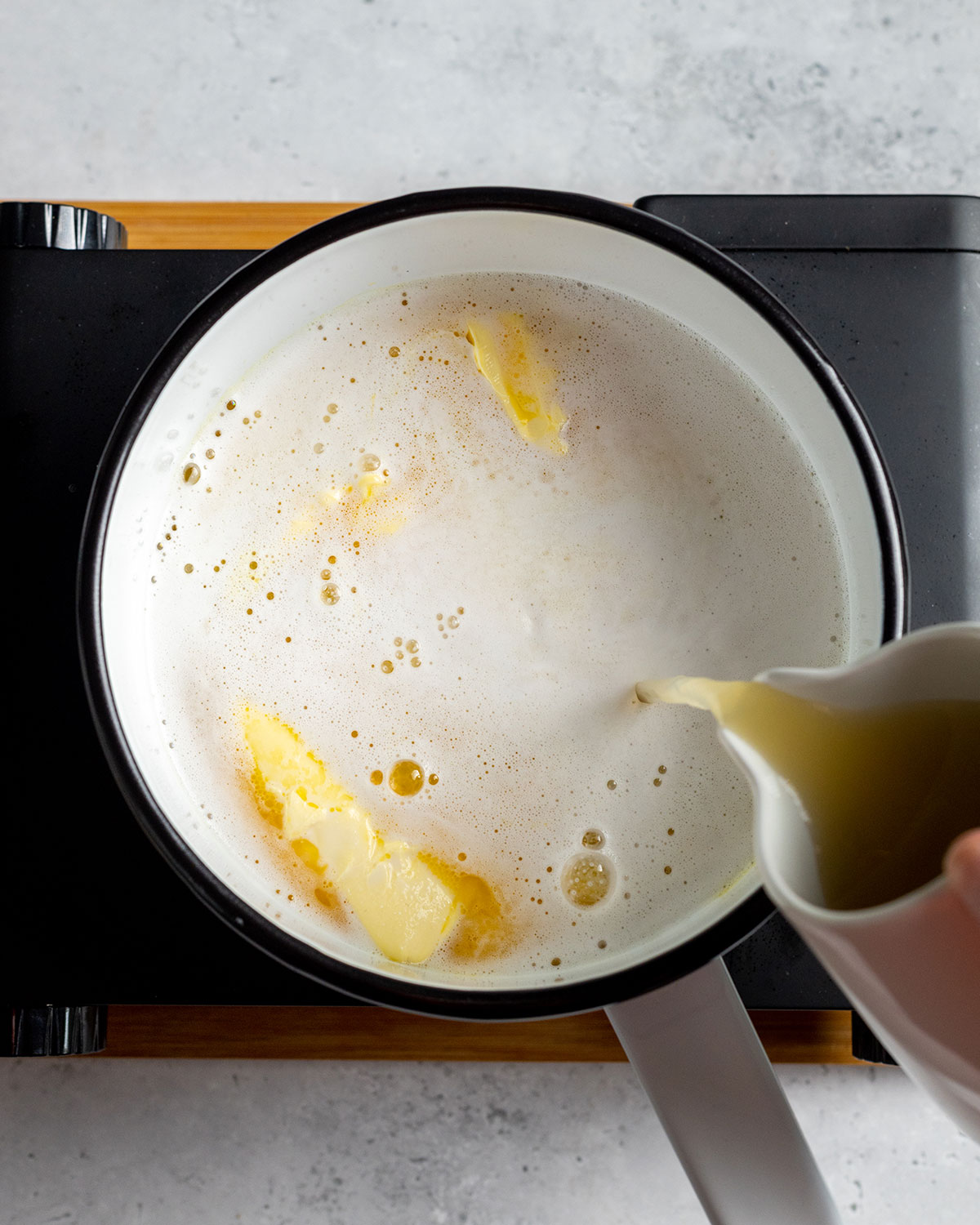 To get started with your vegan lemon curd recipe, place a medium-size saucepan over low heat and combine the butter, fresh lemon juice, coconut milk, vanilla essence, and powdered sugar.
Heat the mixture and stir regularly with a whisk until the dairy-free butter and sugar have dissolved.
Step 2: Create a cornstarch slurry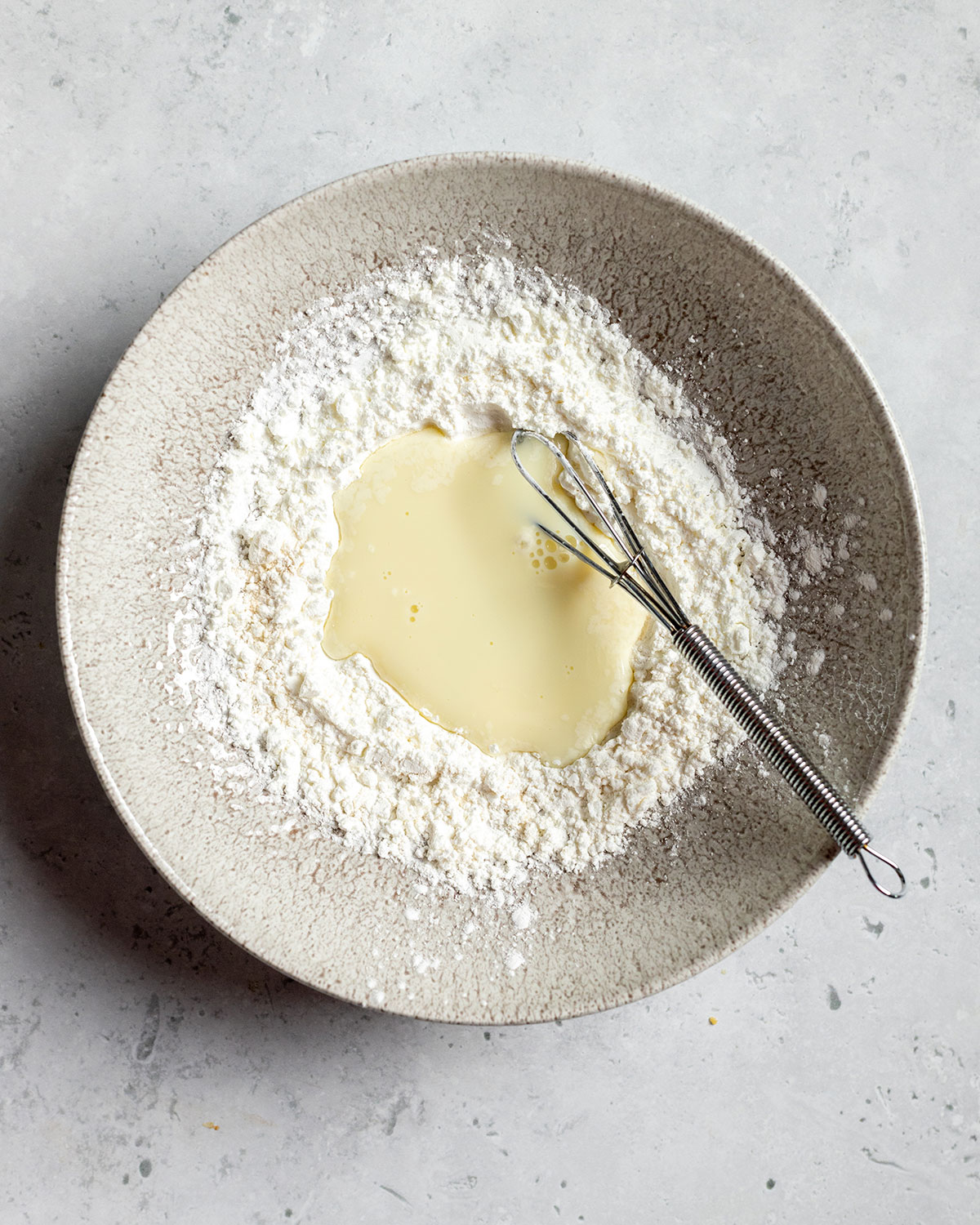 In a small bowl, combine the cornstarch and agar-agar powder with a little liquid. You can use either water or plant milk for the best results. Add only just enough liquid to dissolve the cornstarch and create a thick slurry.
Stir or whisk to ensure there are no chunks left in the slurry.
Step 3: Thicken Vegan Lemon Curd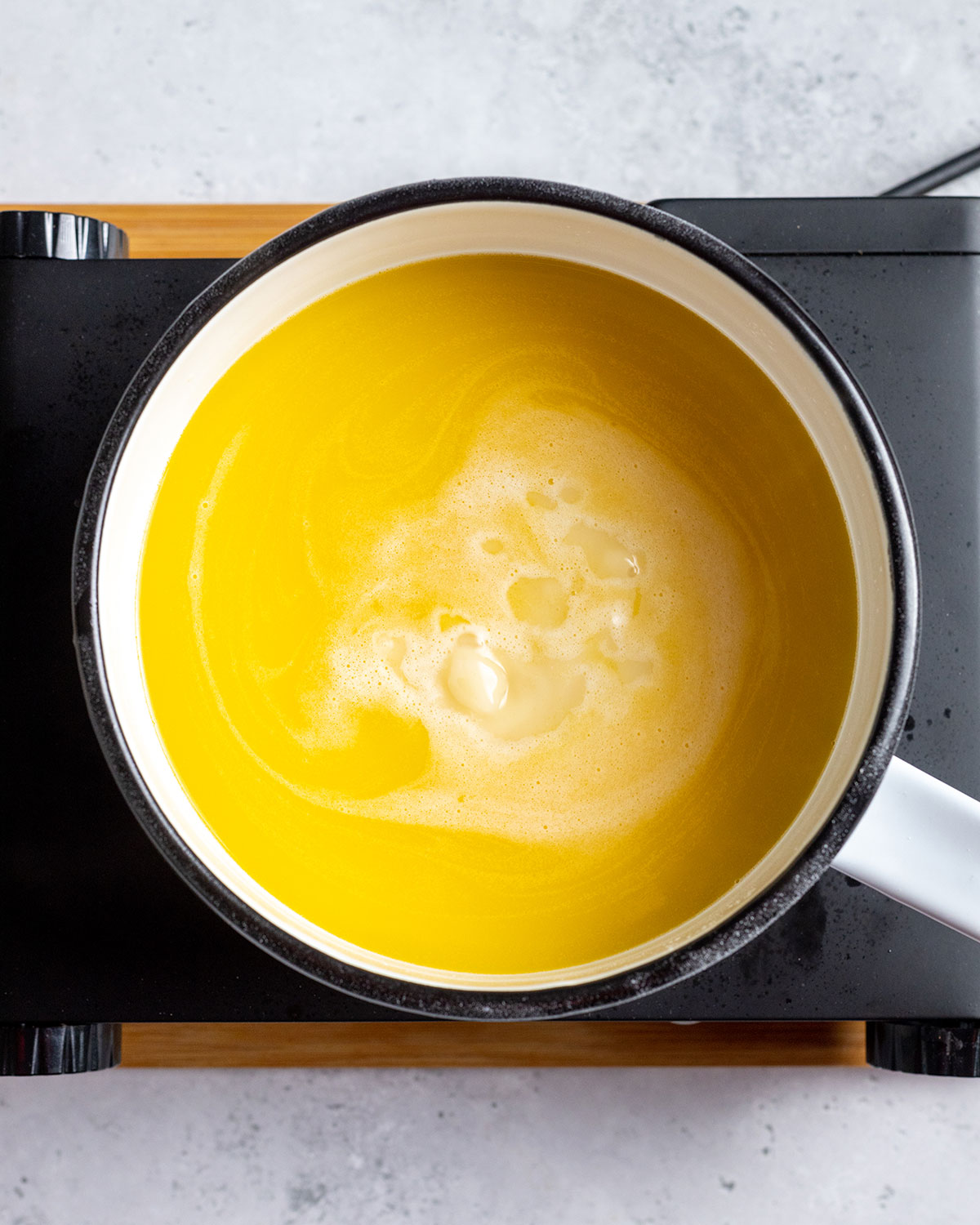 Carefully pour your cornstarch/agar slurry into the saucepan.
Continuously stir to and heat the mix on low heat until the lemon curd begins to thicken. Cornstarch and agar-agar both need heating to be 'activated', so ensure not to rush this step. It should usually take about 5-10 minutes to reach a thickened texture.
Once the mix begins to thicken, remove the saucepan from the heat and pour your vegan lemon curd into an air-tight container or use in a recipe of your choice.
How to use Lemon Curd
Lemon curd has a variety of delicious uses. If you need some ideas, here are some tasty serving recommendations: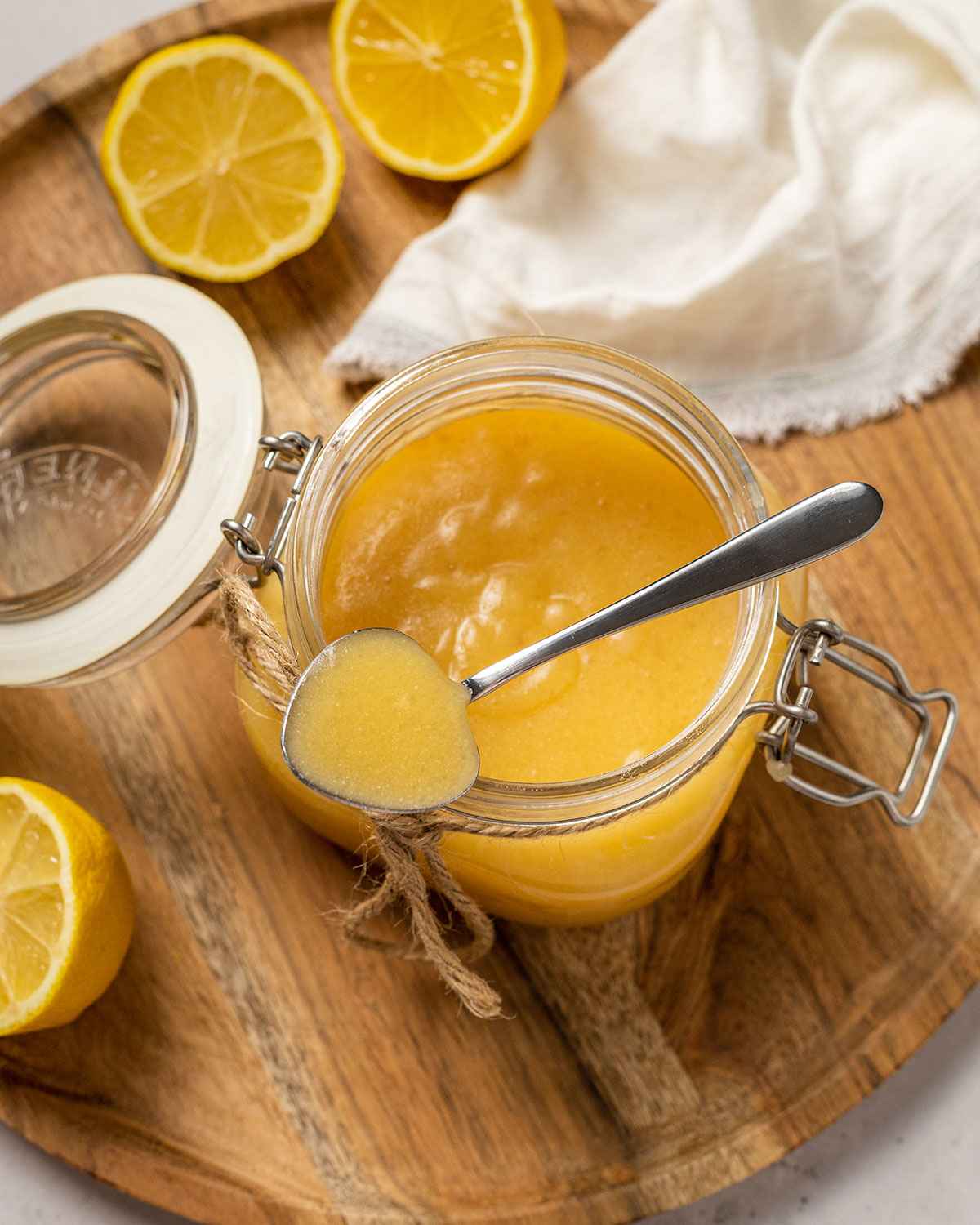 Variations and Simple Swaps
Butter: For best results I recommend using vegan butter, such as the unsalted Flora Plant Butter in this recipe. You can also use other brands of plant butter or simply replace it with thick coconut cream.
Lemon Juice: For the most delicious and zesty results, use freshly squeezed lemon juice for this Vegan Lemon Curd. If you don't have any to hand, the recipe will also work out with store-bought lemon juice - but always go fresh if you can!
Coconut Milk: Simply replace with your favourite plant milk! As it's likely to be less thick and creamy, you might have to add a little extra cornstarch to get the same texture for your lemon curd.
Agar-agar: This is really needed for the best texture. However, if you're in desperate need for Vegan Lemon Curd and don't have Agar-agar to hand, replace it with an extra tablespoon of cornstarch to thicken your curd.
Powdered sugar: swap for caster sugar if needed, but ensure to stir thoroughly so it fully dissolves and doesn't leave a grainy texture.
Frequently Asked Questions
How to store lemon curd?
Homemade lemon curd is best stored in an air-tight container or jar in the fridge and lasts up to 1 week.
How to make lemon curd without eggs?
In this vegan lemon curd recipe, we're replacing the eggs with a mix of vegan butter and plant milk and thickening our curd with cornstarch and agar-agar.
What is agar-agar?
Agar-agar is an algae that is commonly used in place of gelatine in vegan baking and cooking. You can get it on Amazon and most Health Food Stores.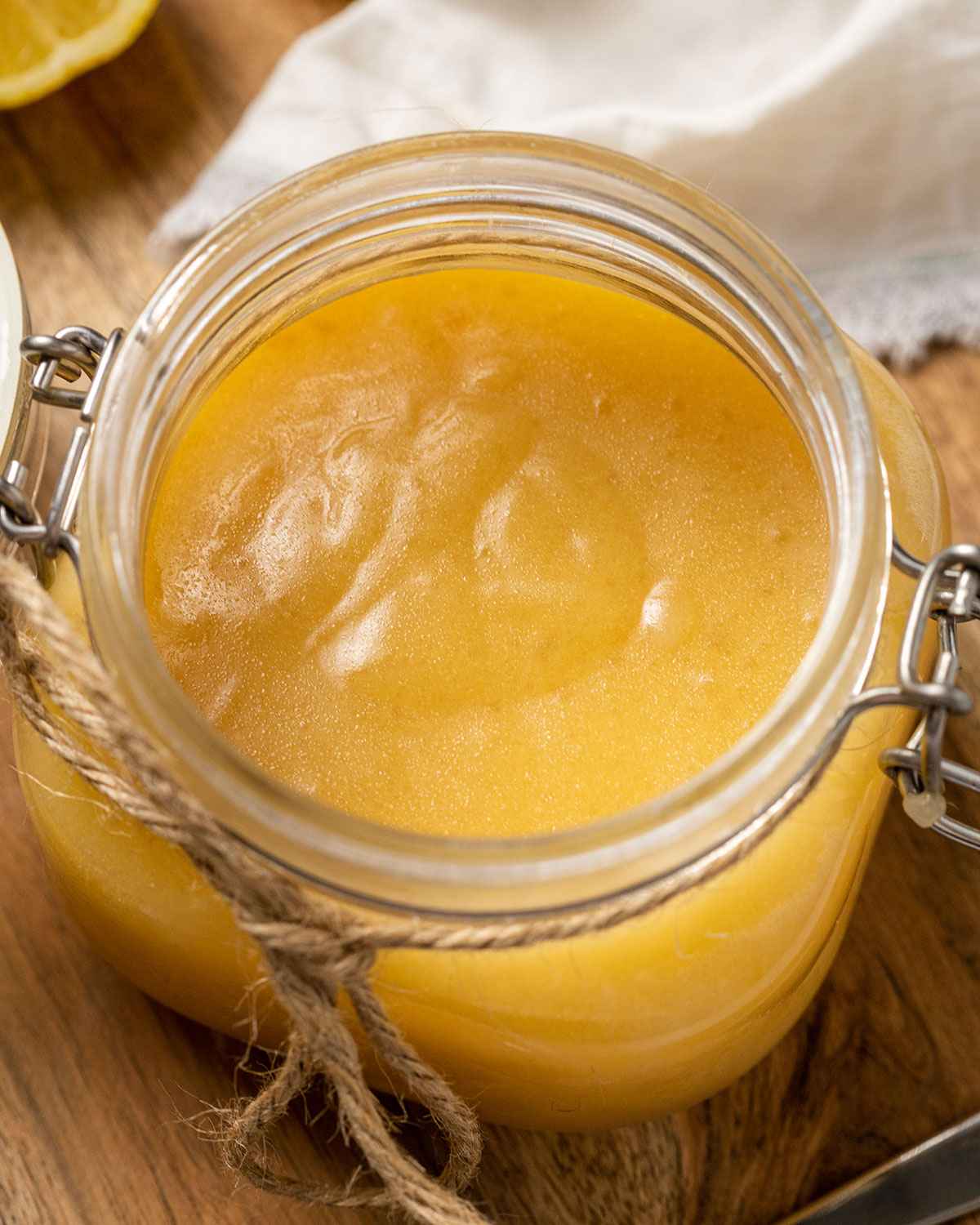 If you've tried and loved this recipe, I would love for you to leave a star rating and short review at the bottom of this recipe post ❤️
You might also enjoy these recipes:
If you have any lemons left over from making this lemon curd, try my Vegan Lemon Cookies! They are zesty & fresh at the same time and a beautiful afternoon snack. Or how about my Pistachio Loaf with Lemon & Cardamom? 😍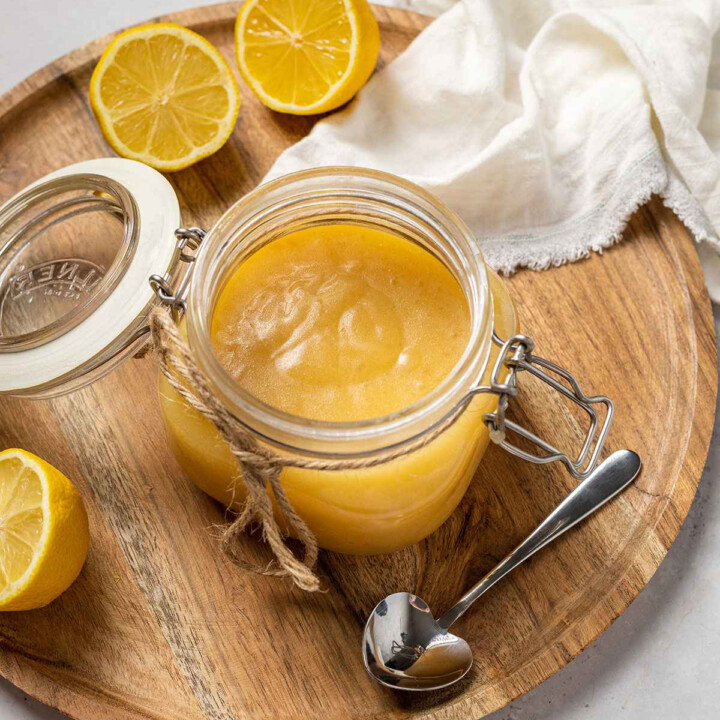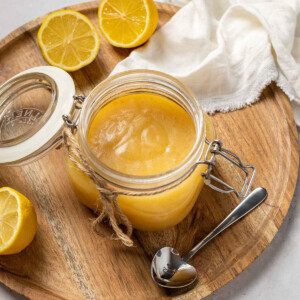 Vegan Lemon Curd
Sweet and zesty vegan lemon curd recipe - perfect for a variety of recipes in vegan baking or simply served on freshly toasted bread.
Equipment
1 small mixing bowl

1 whisk

1 medium-size saucepan
Ingredients
1/3

cup

vegan butter, unsalted

(90 ml)

1

cup

fresh lemon juice

(237 ml)

1

cup

tinned coconut milk

(237 ml)

1

tsp

vanilla extract

1

cup

powdered sugar

(130 g)

3

tbsp

cornstarch

1/2

tsp

agar-agar powder
Instructions
Place the vegan butter, lemon juice, coconut milk, vanilla extract and powdered sugar into a medium-size saucepan over low heat.

Bring to a simmer whilst stirring regularly until the butter and sugar have dissolved.

In a separate bowl, whisk the cornstarch and agar-agar powder with a little water or plant milk (roughly 3 tbsp) to create a smooth slurry.

Pour the slurry into the saucepan and continuously whisk until the lemon curd thickens. This should take roughly 5-10 minutes.

Remove from the heat once your curd is thickening and transfer to an air-tight container (or use in a recipe).
Notes
Please note that the lemon curd continues to thicken as it cools down. 
It's important to stir until the curd begins to thicken, as both cornstarch and agar-agar need to reach a certain temperature to be 'activated'. 
If - like me - you love Pinterest, you can find me here & if you like, you can pin the image below 😊
Latest Recipes
© Romy London / Romina Callwitz | All images and content are copyright protected. Please do not use my images and content without prior permission. If you wish to re-publish this recipe, please get in touch via email. Thank you so much for supporting romylondonuk.com!
*Disclosure: This page may contain affiliate links that earn me a small commission, at no additional cost to you. You can find more information in my Privacy Policy.