My absolute favourite dish! This Vegan Peanut Noodles recipe is simply addictive and will have got you asking for seconds! Inspired by Thai peanut noodles.
Why this recipe works
There are a few things that make this recipe absolutely fantastic, and here are some of them:
it's 100% Vegan and plant-based
there is a simple gluten-free option (simply swap the pasta and make sure to use gluten-free tamari soy sauce)
the peanut sauce is super creamy and more-ish
it's simply delicious and totally addictive (be warned, ha!)
it's great loaded with veggies
the recipe is easy to follow
it's the perfect dish for lunch and dinner - or to share!
I have brought this dish to work a few times and man - my colleagues were jealous! They could all smell that awesome peanut sauce and everyone constantly asked me what I am eating there. Even my partner who normally dislikes peanut butter eats and enjoys this dish!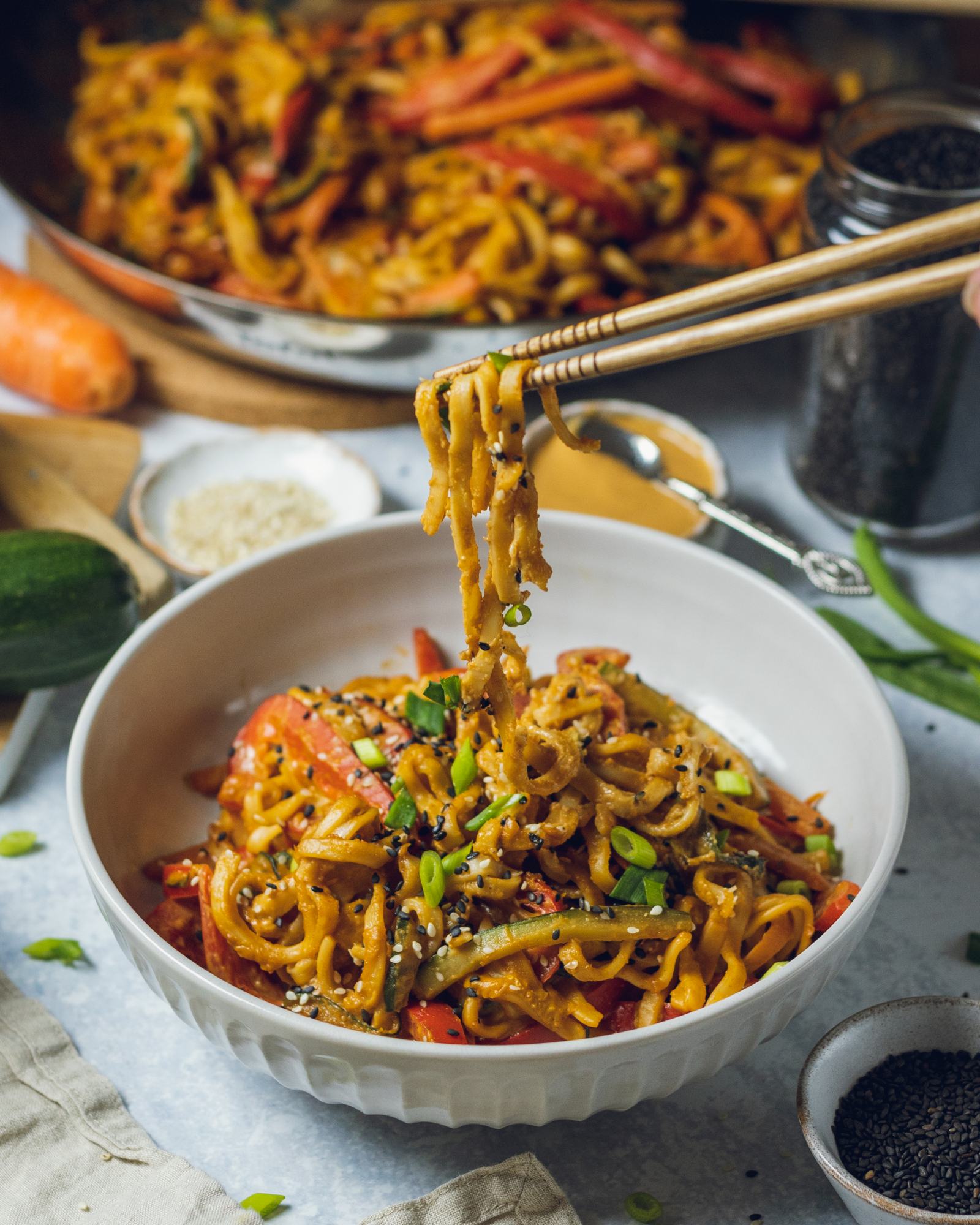 Find the recipe for my all-time favourite comfort food dish below: Vegan Peanut Noodles! I've first made this dish a couple of years ago and it was inspired by a Thai peanut salad I saw on Facebook (sadly I don't recall the source!). Over the years I've made this dish plenty of times. It has easily become my favourite dish to make and I've even served it to family and friends.
Everyone who's had these Vegan Peanut Butter Noodles over the years has been absolutely wowed by how delicious this recipe is. It also smells amazing, so whenever I ate this dish as an office lunch before, I've always received plenty of questions about what great smelling lunch I'm having. Everyone that's tried them loved them so far and I regularly get messages from people asking for the recipe as they have some serious cravings for this dish.
This is my absolute number 1 favourite dish - and not just because I love peanut butter... This dish is simply fantastic and so easy to make - and it is also the most delicious peanut sauce recipe that I have tried so far!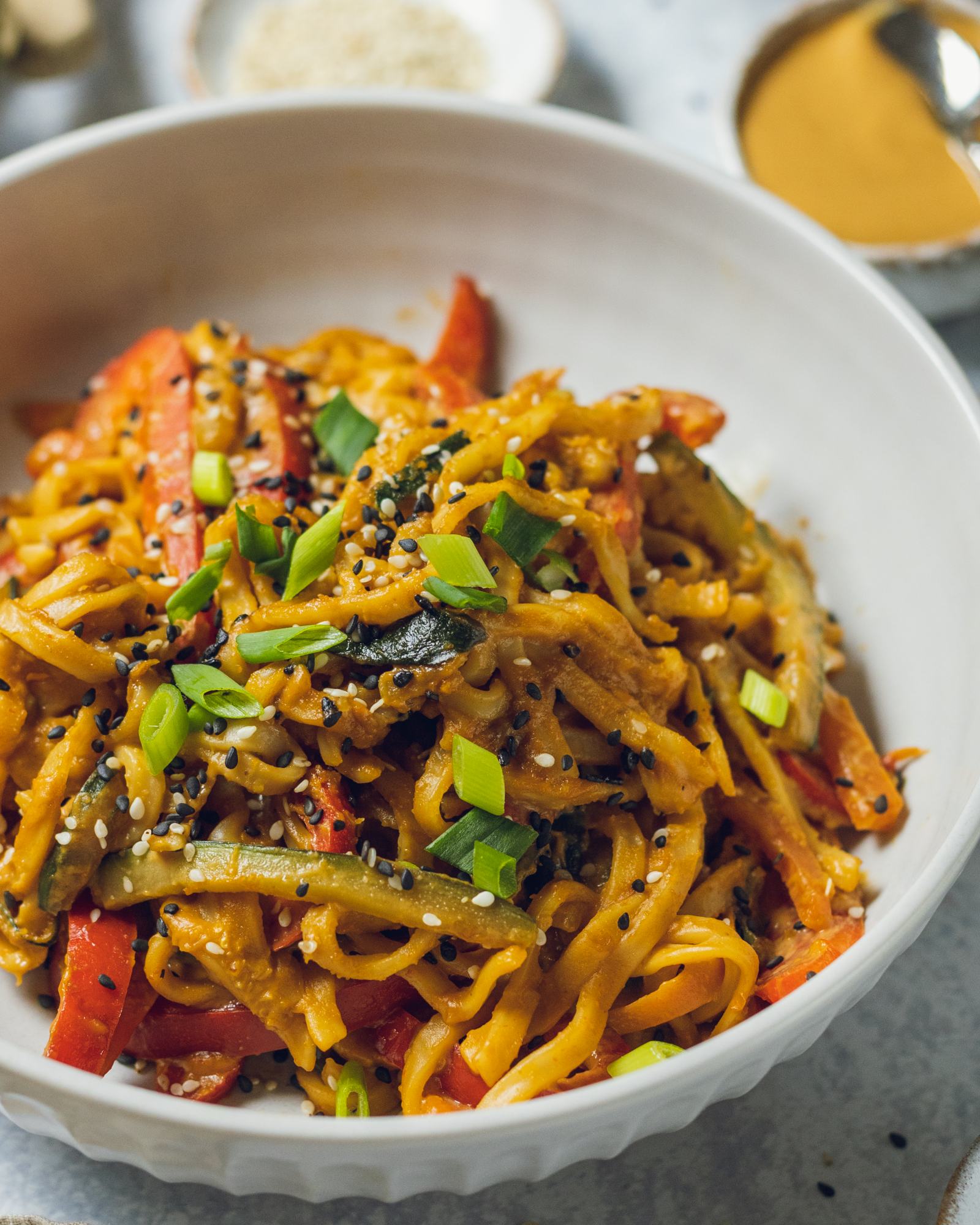 Ingredients
You only need a few simple ingredients and pantry staples to make this easy dish:
Noodles - Udon noodles are my personal favourite noodles to use in this recipe! But I've tried a whole bunch of different options throughout the years and they've all been delicious. See some alternatives in the variations below!
Courgette - Adding some colorful veg to the dish! I always cut my courgette into strips and then into thin sticks. This way they mix really well with the noodles and sauce! If you have a spiralizer, you can also spiralize them.
Carrot - Julienne style! Simply peel and slice your carrots into strips, then cut them into 2- inch long strips. I've found that this shape works best in this dish and would recommend cutting them long and thin instead of chunky, so they mix well with the whole dish. If you have a spiralizer, you can also spiralize them - or roughly shred them in a food processor to make it quicker.
Peppers - I like to use red bell peppers and yellow bell peppers for this recipe, they're my favourite and add a great mix of colors to this dish! Make sure to thinly slice the peppers, this way they work best in this dish.
Peanut butter - An essential for this delicious recipe! Use smooth peanut butter in this dish to create a delicious and smooth sauce! Aim for unsweetened, natural peanut butter - however, if you only have sweetened to hand, simply omit the sweetener from the ingredients below. I love to use Pip&Nut Smooth Peanut Butter for this noodle recipe.
Soy sauce - I use tamari, which is usually a little stronger in flavor than regular soy sauce. If you're using regular soy sauce, simply add a little more than the recipe calls for to get the same flavor effect from the sauce. Remember that you can always season with more soy sauce later, so don't go too overboard.
Vinegar - When I first created this recipe I liked to use rice vinegar, but over the years I've not always had rice vinegar to hand and realised that this dish turns out just as delicious with apple cider vinegar, white vinegar, coconut vinegar and pomegranate vinegar. Just stay away from any thick and balsamic vinegar, basically.
Oil - I love to use toasted sesame oil in this recipe - the lightly toasted, nutty and smokey flavor is simply something that compliments the dish really well! You can also use peanut oil, regular sesame oil or a flavor-neutral alternative such as canola oil (rapeseed oil).
Sriracha - Adding a subtle kick to the dish! Please feel free to leave this out, if you're sensitive to spice. I love a little sriracha, but I wouldn't classify this dish as spicy. I think a small amount like I used in this recipe is perfect to compliment the flavor profile, but you can adjust the spice level to your personal preference. And if you like super spicy food, you can always drizzle more on when serving!
Maple syrup - Adding a little sweet balance to the sauce flavor! You can replace it with brown sugar or agave syrup or leave it out entirely. Check if the peanut butter you're using already contains sugar - maybe you don't need to add any sweetness at all.
For garnish (optional):
green onions
fresh cilantro
crunchy peanuts
sesame seeds
red pepper flakes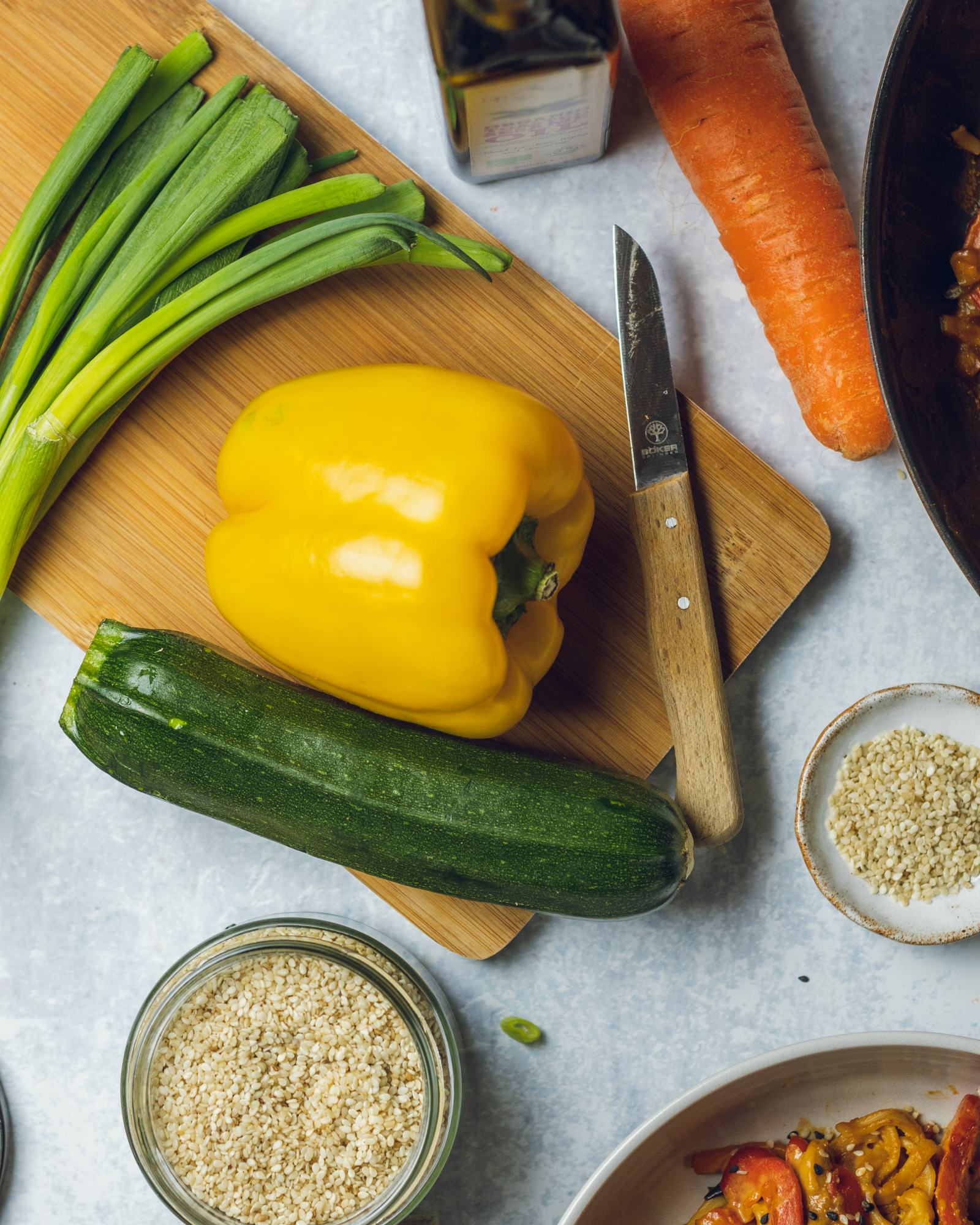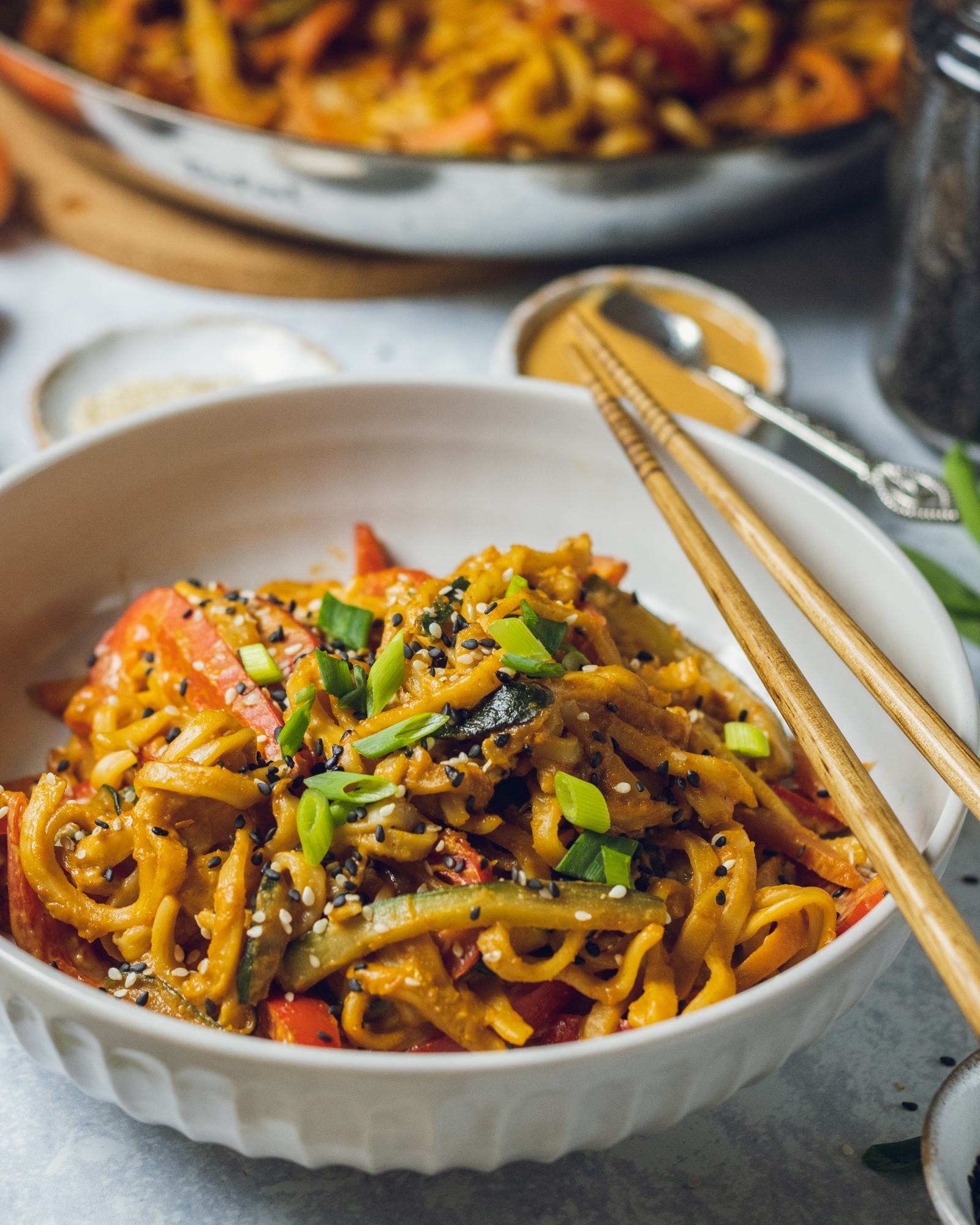 Equipment
sharp knife
frying pan or skillet
saucepan
large bowl & whisk (or a fork)
Optional: spiralizer & food processor
Recipe Instructions (Step-by-Step)
If you're making this dish for the first time, make sure to fully read all instructions first.
Step 1 - Noodles & Preparation: Prepare the noodles according to packaging instructions. Whilst they're cooking, wash and chop up all the veg into thin strips.
Step 2 - Vegetables: Add a little (sesame) oil to your frying pan over medium heat and sauté the veg whilst you're whipping up the vegan peanut sauce.
Step 3 - Peanut Butter Sauce: For the peanut sauce simply combine all ingredients in a bowl and slowly begin to whisk them up. The vinegar in the sauce will help in breaking down the thick peanut butter, but you will need to slowly whisk for a few minutes to break it all down. Continue to whisk until smooth.
Step 4 - Assembly: Once your noodles are cooked, drain them and add them to the softened veg in the frying pan. Remove the pan from the heat and add your peanut sauce. Stir well to combine.
Step 5 - Garnish (optional): Serve your vegan peanut noodles with crunchy peanuts, a sprinkle of sesame seeds or green onions.
Serving
You can serve these peanut noodles on their own or top them with crunchy peanuts, a sprinkle of sesame seeds or green onions and fresh cilantro.
If you love a bit of spice, you can also add some chili flakes aka red pepper flakes, sriracha or sprinkle with shichimi seasoning.
Storage
You can store the finished dish in an airtight container and enjoy it the next day - just as delicious! This recipe also tastes fantastic with cold noodles and it's delicious as a cold noodle salad in summer!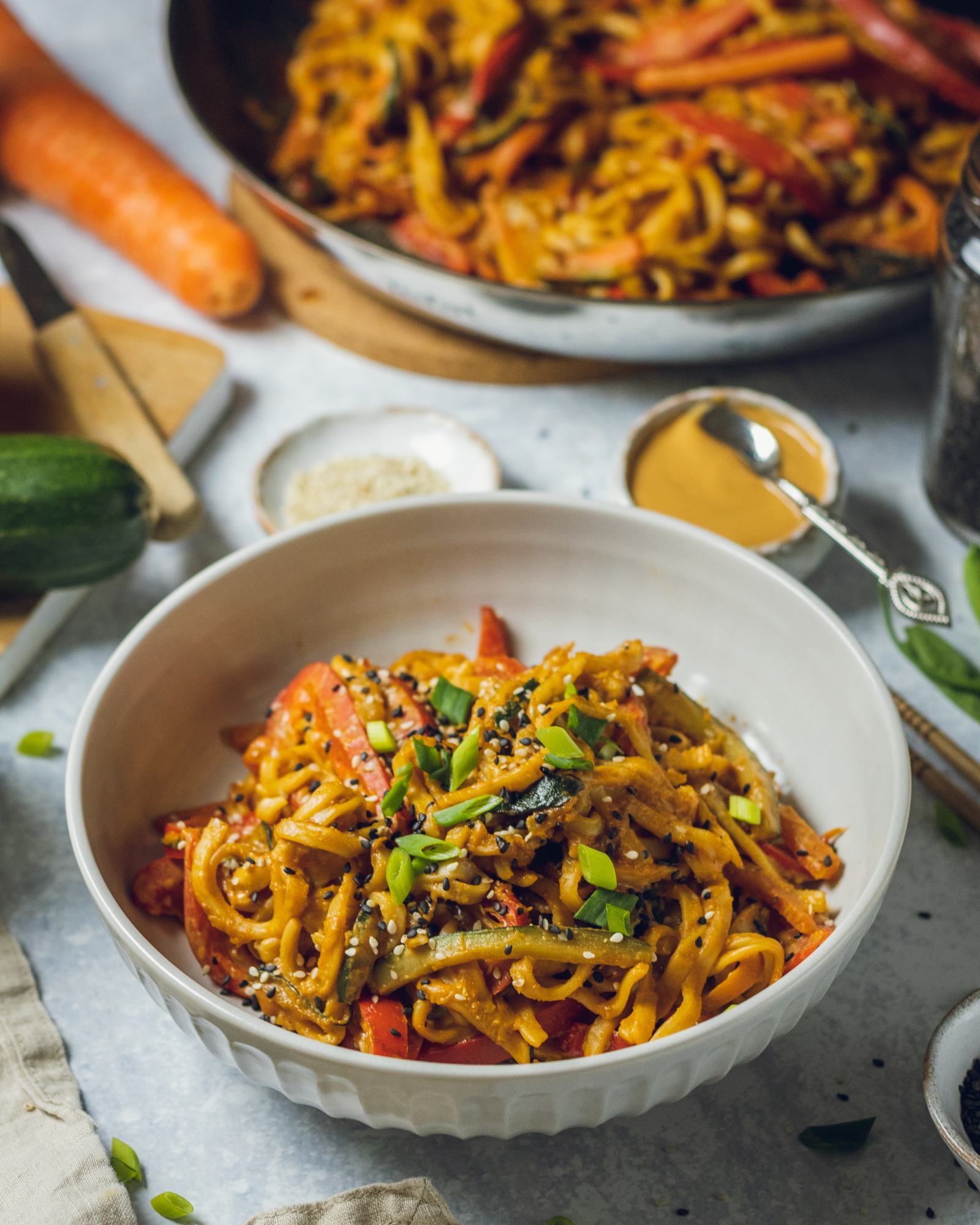 Variations & Substitutions
Of course, you can replace a few ingredients if you don't have them handy - however, swapping the peanut butter would be tricky 😉
Noodles - I love this dish with udon noodles, but if you don't have them to hand, you can easily go with your noodles of choice. Here are some I've tried and tested, and they were all delicious:

rice noodles
tagliatelle
stir fry noodles (those ready-made packs from the grocery store!)
edamame pasta
buckwheat spaghetti
soba noodles
thai noodles
ramen noodles
courgetti (spiralized courgette)
Check the package instructions of your noodles to see if they need to boil or simply be covered in hot water to cook. If you want to use gluten free noodles, I recommend choosing rice noodles.
Hot Sauce - If you do not have Sriracha at home, simply use another hot sauce you have to hand or if you're not a fan of a little spice, just leave it out entirely! The amount depends on how spicy you like your food to be of course and is down to trial and error - better start with a little, you can always add more hot sauce later, if you are one of that sort.
Vegetables - You can swap out any of the veggies (carrots, peppers & courgettes) for other vegetables of your choice! Broccoli florets, peas, baby corn and mangetout all work really well, just make sure to cut them up into bite-size pieces and steam them upfront where needed.
Vinegar - The vinegar serves 2 main. roles in this recipe: Adding acidity and breaking down the peanut butter into a smooth sauce. If you don't have any suitable vinegar to hand, you can also use the juice of a lemon.
Ginger - add a naturally spicy kick by grating fresh ginger into your peanut sauce
Coconut - For an extra creamy peanut sauce, stir 2 tablespoons of coconut milk into the sauce!
Garlic - grate 1-2 cloves garlic into the sauce, delish!
Oil - if you love the taste of toasted sesame, add a few teaspoons of toasted sesame oil into the peanut sauce or simply drizzle the oil over the finished dish.
Protein - add some tofu for extra protein or some Seitan such as my Vegan Chicken pieces!
Optional additions for this easy vegan recipe
lime juice: drizzle the dish with a little fresh lime juice before serving for an extra zing!
sesame seeds: like it crunchy? Me too! I love adding a sprinkle of sesame seeds on top, so delicious!
chopped peanuts: another delicious and crunchy addition for your bowl of peanut noodles! Go for the raw or roasted kind, both add a tasty nuttiness.
green spring onions
Extra tip
This recipe is also perfect for cooking in bulk as it stays fresh in the fridge for a couple of days. So help yourself to double/triple/etc the recipe to get the perfect portion size. It's also delicious cold!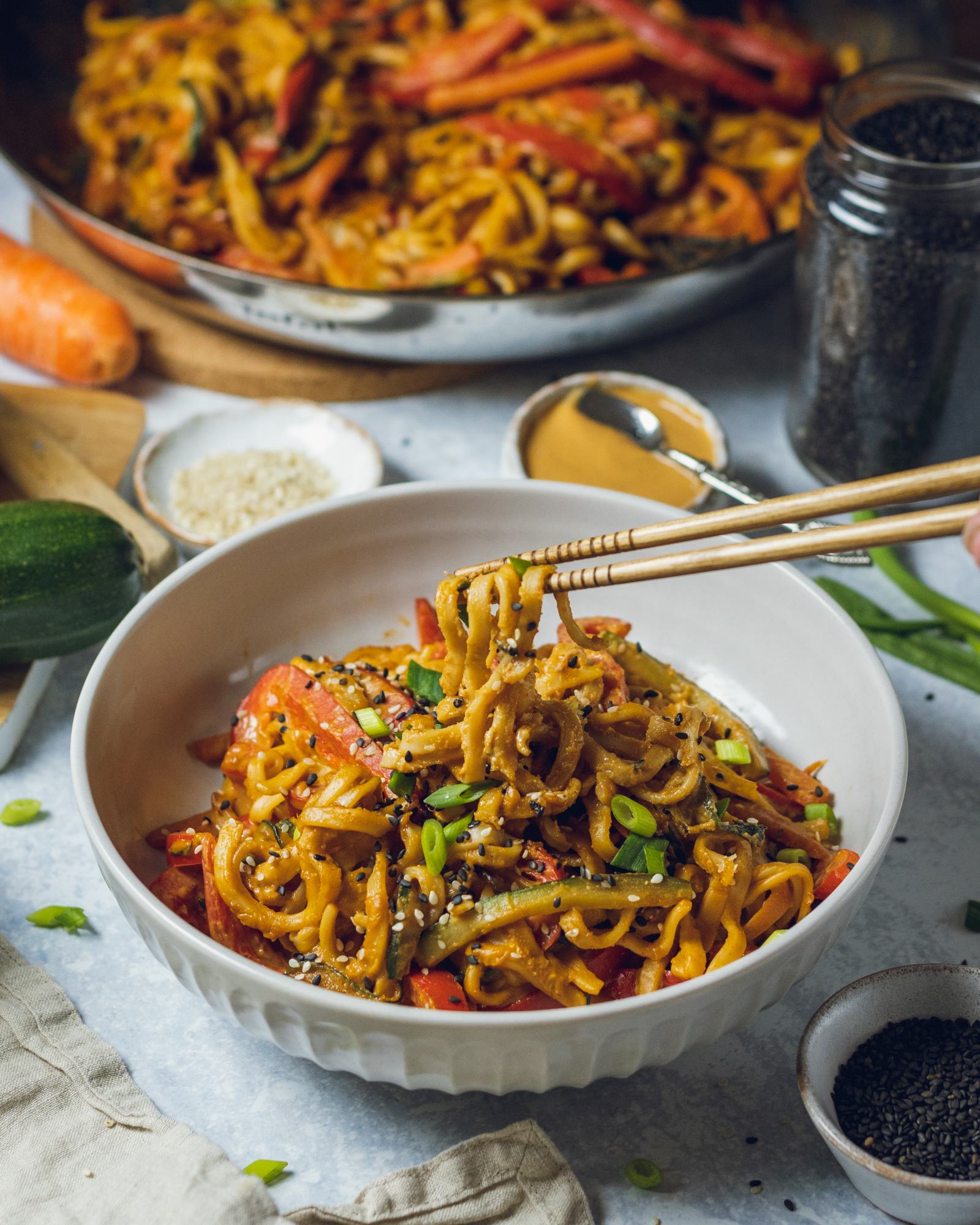 Related Recipes
If you love noodles just as much as I do, try my Vegan Pad Thai with tempeh or this flavor-loaded Vegan Black Bean Ramen. And I'm sure you're also going to love this easy recipe for vegan Sesame Noodles for dinner this week.
📌 If you love Pinterest you can pin any of the images to your boards!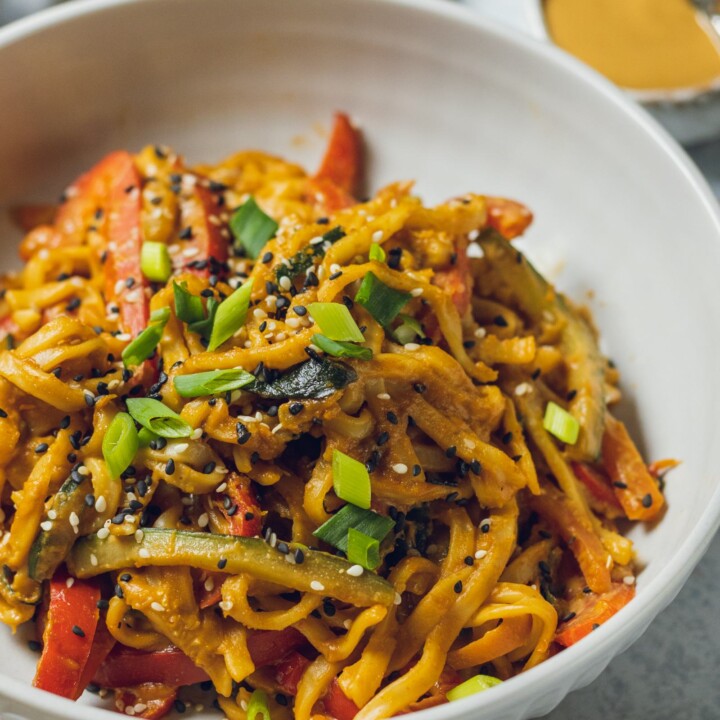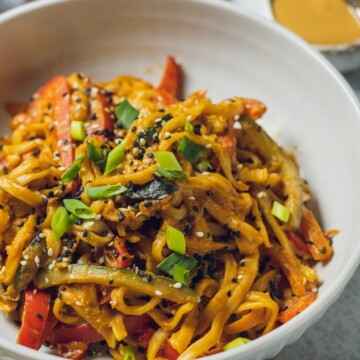 Vegan Peanut Noodles
Vegan Peanut Noodles - or as I also call them: heaven on a plate! Scrumptiously creamy, nutty and deliciously addictive, perfect with veggies and a sprinkle of sesame seeds. Made with smooth peanut butter, soy sauce, toasted sesame oil, udon noodles and more.
Equipment
1 large skillet or wok

1 bowl

1 whisk

1 sharp knife
Ingredients
udon noodles (300 g)

1/2

large courgette (or 1 small)

1

large carrot

1

yellow bell pepper

1

red bell pepper
For the peanut sauce:
1/2

cup

smooth peanut butter (4 oz, 110 g)

1/4

cup

tamari soya sauce (60 ml)

1/4

cup

rice vinegar (60 ml)

1

tbsp

toasted sesame oil (14 ml)

2

tbsp

sriracha (28 ml)

1

tbsp

brown sugar or maple syrup

optional

1/4

cup

cold water (60 ml)
Optional toppings:
crunchy peanuts

sliced green onions

sesame seeds

fresh cilantro
Instructions
Prepare the noodles according to their packaging instructions.

At the same time, wash and chop up your vegetables - carrots, courgette and peppers - into thin strips.

Add a little sesame oil to a frying pan over medium heat and sauté the vegetables until soft.

In the meantime, prepare your peanut sauce: simply combine all ingredients in a bowl and slowly whisk up the sauce until smooth. It will need a little whisking for the peanut butter to break down - just continue whisking for 1-2 minutes until it's all smooth and creamy.

Drain the cooked noodles, add them to the pan with the vegetables and remove the pan from the heat. Pour in the peanut sauce and stir well to combine.

Serve hot or cold and top with crunchy peanuts, a sprinkle of sesame seeds or fresh spring onions.
Notes
Noodles - this peanut noodles dish will taste best in combination with Udon Noodles (they're my personal fave!) but you can also substitute for any other rice or wheat pasta that you have to hand.
Vinegar - swap out the rice vinegar for apple cider vinegar if you don't have any rice vinegar to hand. The vinegar will help break down the peanut butter in the mixing process and also add a subtle tart flavor that works perfectly with the creamy texture of the dish.
Storage - You can store the finished dish in an airtight container and enjoy it cold or reheated the next day - just as delicious!
Serving - Serve these noodles on their own or top them with crunchy peanuts, a sprinkle of sesame seeds or green onions and fresh cilantro. For a bit of spice, you can also add some red chilli flakes aka red pepper flakes, sriracha or sprinkle with shichimi seasoning.
Latest Recipes
Looking for more delicious vegan dinner recipes (or lunch)? Make sure to check out my vegan recipe section!