Mamma Mia! This Vegan Carbonara is inspired by the traditional Italian dish - with a Vegan Carbonara Sauce that is both creamy and eggy and served with delicious smoked tofu bacon bits. Bellissima!
Carbonara has been hands down my favorite pasta dish growing up! As a family, we would spend lots of time during our summers visiting Italy and enjoying the most delicious and fresh Italian Carbonara, so I've grown up to be a connoisseur when it comes to this traditional Italian dish.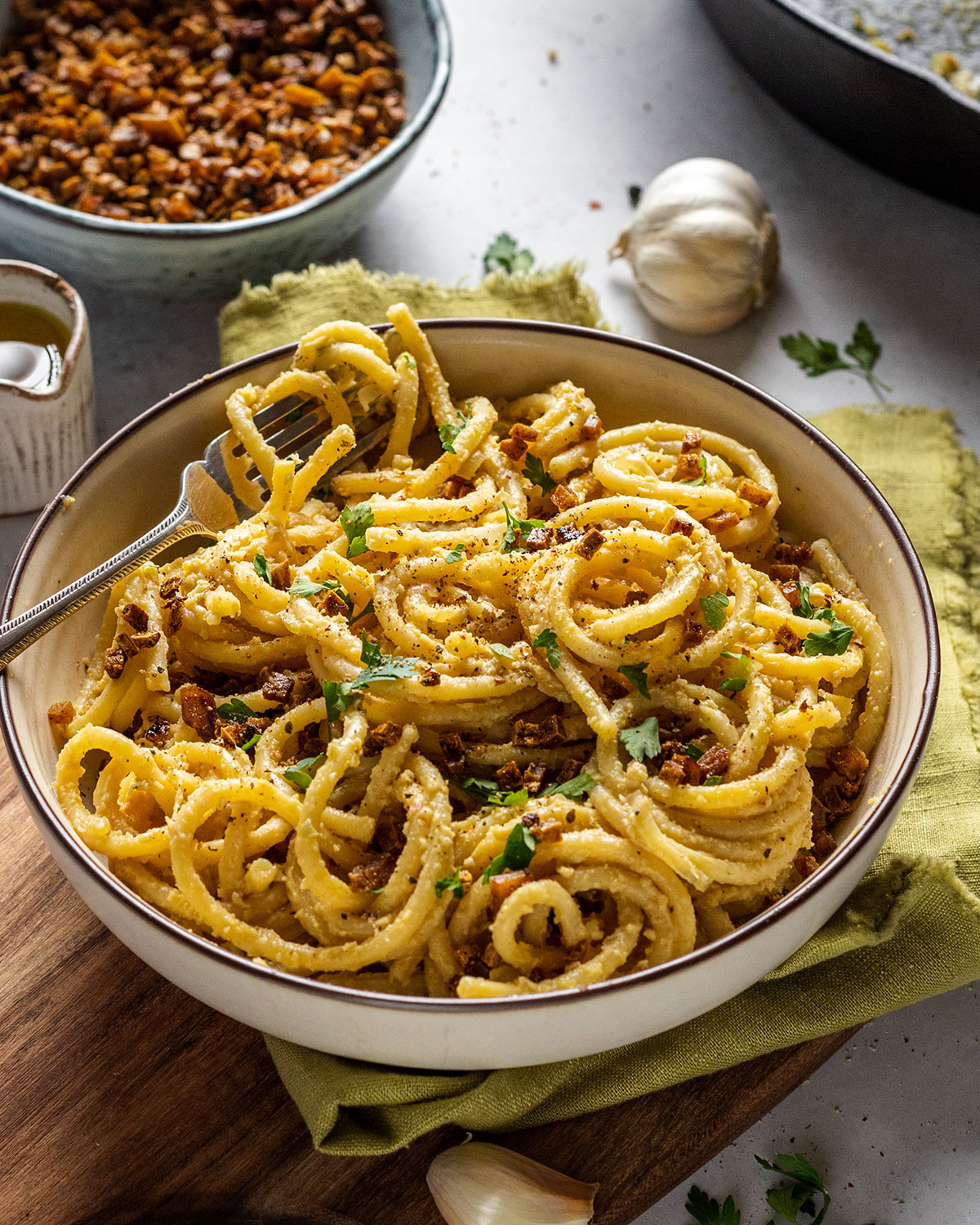 This Vegan Carbonara Pasta Recipe is:
100% vegan and plant-based
inspired by authentic Italian Carbonara
made completely without eggs!
eggy and creamy
egg-free
dairy-free
usable with gluten-free pasta
easy to make
a perfect midweek dinner
In its traditional form, Carbonara is probably one of the most un-vegan dishes in Italian cuisine. Traditionally, it is made with pasta, eggs, and pancetta (aka bacon bits), but let me tell you: with this Vegan Spaghetti Carbonara recipe you will soon enjoy a delicious vegan pasta dish that tastes just as close to the real deal as it can be!
Wait, why is there no cream in Carbonara? Yes, this one might surprise you - and it has always baffled me why (especially British) people would add cream to this Italian pasta dish. In its original form, this dish does not contain any cream! The creaminess in the sauce comes solely from egg, mind-blowing, right?
Ingredients and Tips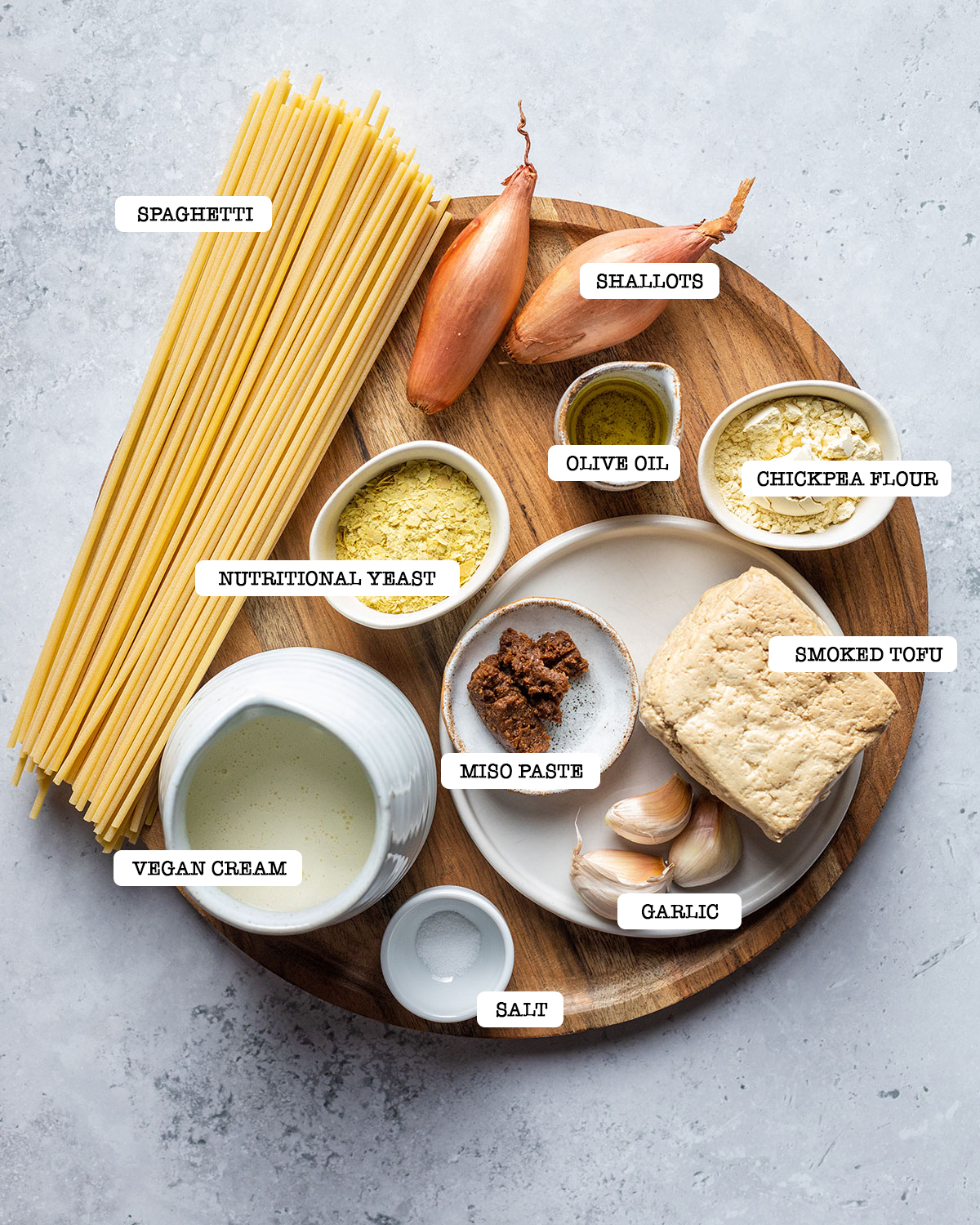 For this creamy, Italian-style Vegan Carbonara, you will need the following ingredients:
Spaghetti: For a traditional Carbonara recipe I love to use Spaghetti, but you can easily use other vegan pasta such as Tagliatelle, Linguine or even short pasta such as Fusilli or Penne. This sauce also works deliciously alongside whole wheat or gluten-free pasta alternatives.
Olive oil: simply adds the best flavour to this dish and I use it for both the shallots as well as the smoked tofu 'bacon' bits.
Shallots: I love adding a few sliced shallots to my skillet when starting the sauce. As they sauté and slightly caramelize, they add a delicious, subtle and sweet flavour to the vegan Carbonara Sauce. Next Level!
Garlic: There's no pasta sauce recipe without garlic in my house! It adds a wonderful overall flavor to the Carbonara pasta sauce, even though it is not an ingredient in traditional Carbonara. Feel free to leave this out if garlic is not your thing.
White miso paste: The white miso paste in this recipe adds a subtle cheesiness and umami notes to the sauce, which is simply perfect in combination with nutritional yeast.
Nutritional yeast: The holy grail in any vegan kitchen! Nutritional yeast is non-active yeast and it has a naturally nutty and cheesy flavor. It works a treat in this carbonara sauce.
Chickpea flour: To replace the eggy texture in this vegan Carbonara I love adding chickpea flour. Not only does it resemble the color of cooked egg, it also recreates the traditional texture of carbonara sauce as it heats - making your vegan Carbonara sauce eggy, thick, and creamy at the same time.
Black salt (Kala Namak): black salt adds the eggy flavor for the sauce, and replaces the egg flavor in traditional Italian Carbonara. You can find it in most health food stores or on Amazon. A little can go a long way and it's a great addition for making vegan dishes get that eggy flavor.
Dairy-free cream: I know I've said that cream does not belong in any traditional, Italian Carbonara recipe, but hear me out: if this recipe wasn't vegan, it totally wouldn't list cream here. In this Vegan Carbonara recipe however, the vegan cream replaces the creaminess of the egg and it's vital for the thick and creamy texture of our sauce. You could replace it with silken tofu or simply plant milk, I however definitely prefer the texture and flavour of vegan cream. I usually use Elmlea Vegan Double Cream.
Black pepper: Simply delicious! I love seasoning with black pepper right before serving - freshly cracked black pepper works best, if you ask me.
Fresh parsley: A delicious final garnish!
Smoked tofu: For me personally, smoked tofu is the best way to replace the traditional pancetta or bacon bits for your Carbonara.
Tamari: The tamari soya sauce adds that wonderfully salty and sweet flavor to our tofu 'bacon'. By adding it into the hot skillet it lightly caramelizes and is simply the perfect addition to the smoked tofu.
How to make this recipe from scratch (Step-by-Step)
This vegan pasta recipe is super simple to make, and perfect for a delicious and comforting midweek meal! You can print the recipe card below and don't forget to leave a quick review.
Preparation
Prepare the pasta: Prepare the spaghetti according to the packaging instructions. Set a timer and whilst your spaghetti are cooking al dente, you can prepare the tofu bacon pieces and carbonara sauce.
Prepare the smoked tofu bacon bits: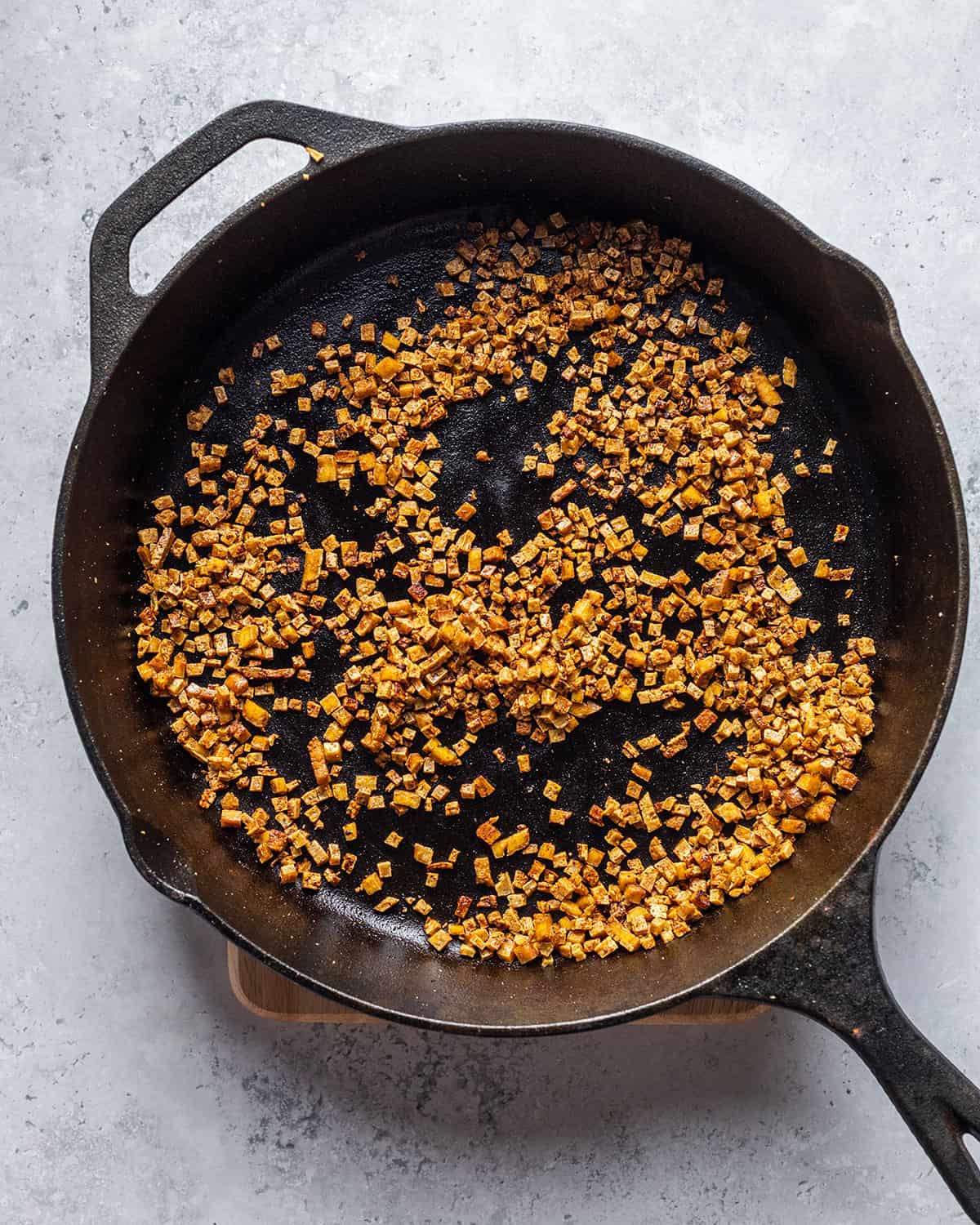 Finely dice the smoked tofu. Heat the olive oil in a non-stick skillet and once hot, add the diced tofu pieces. Fry on medium heat, stirring regularly until the tofu pieces are crispy all around.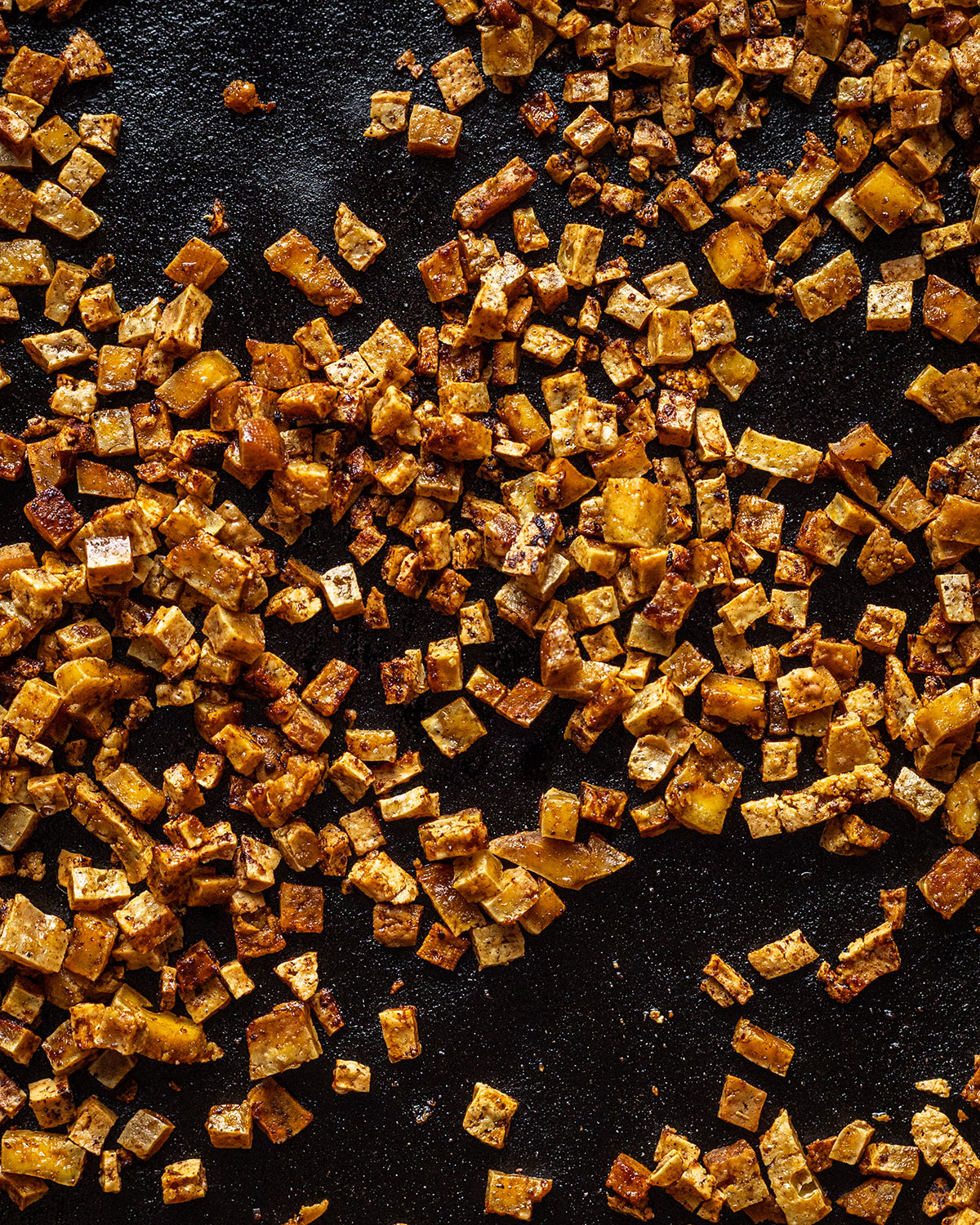 Drizzle in the tamari. Stir to evenly coat the tofu pieces and remove the skillet from the heat after 1-2 minutes or once the tamari has lightly caramelized.
Set the tofu pieces aside until you're ready to serve up your pasta.
How to make the sauce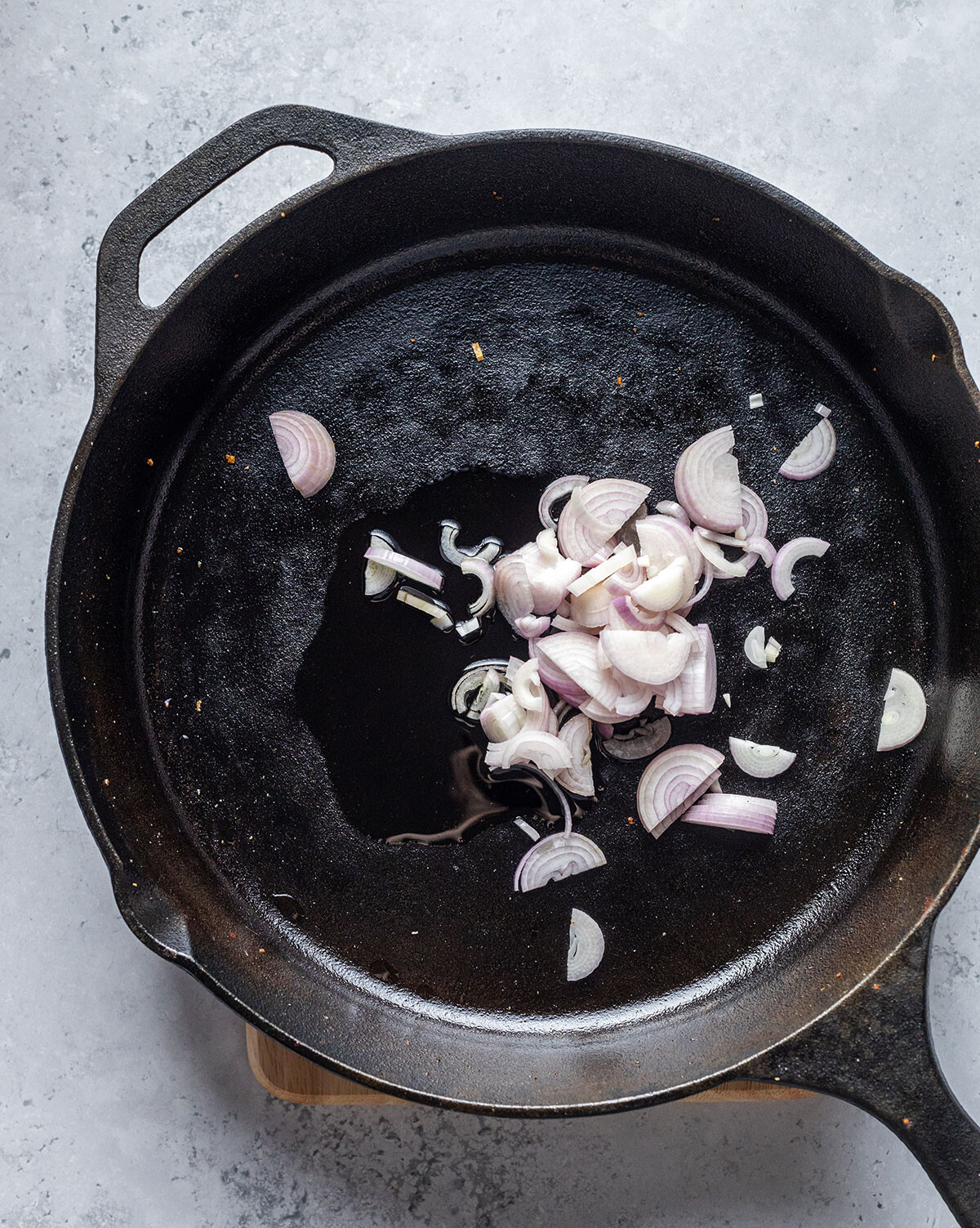 To a large skillet add the remaining olive oil, and sauté the sliced shallots for 3 to 4 minutes or until soft.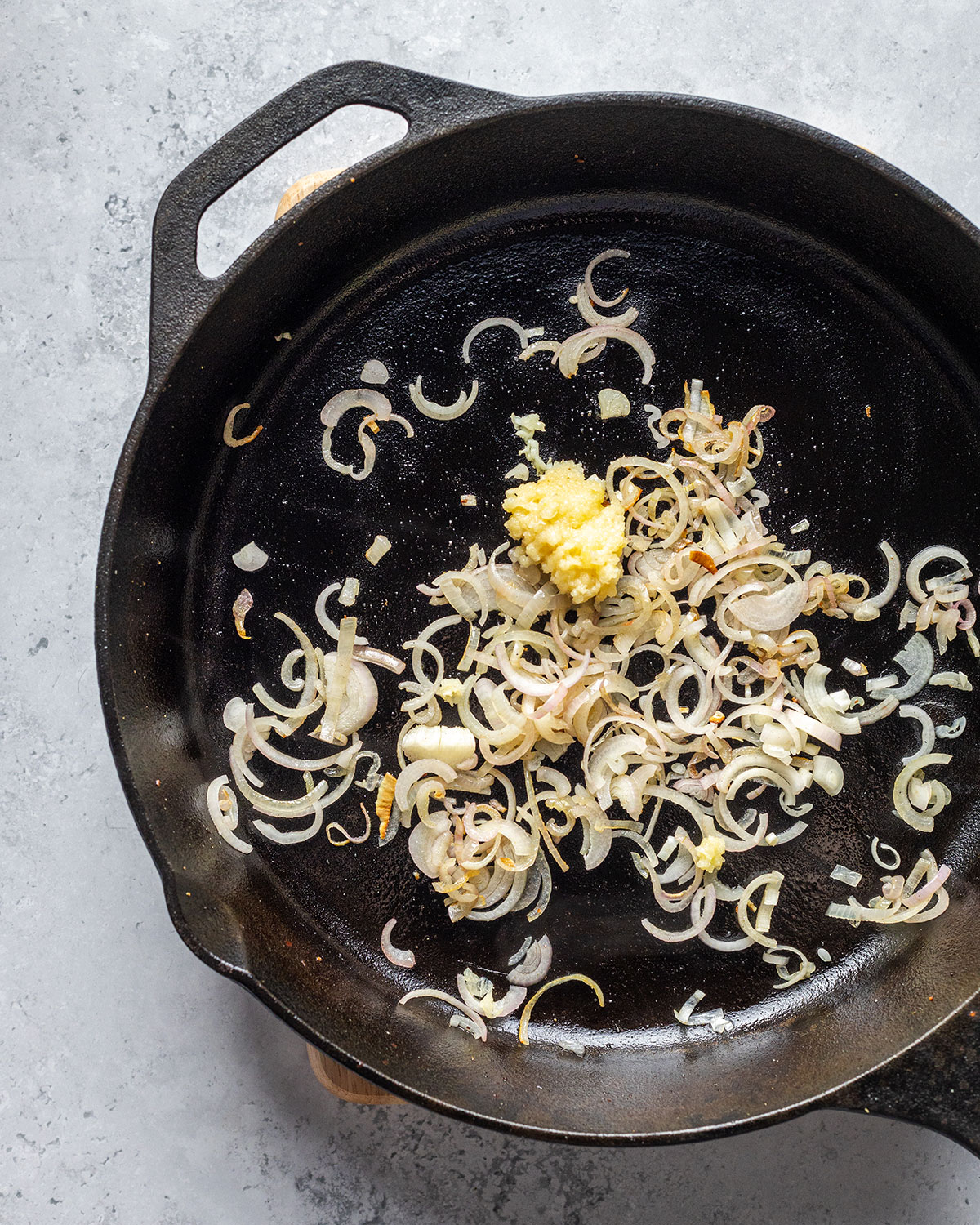 Sprinkle in the salt and crushed garlic. Cook for 1-2 minutes or until fragrant.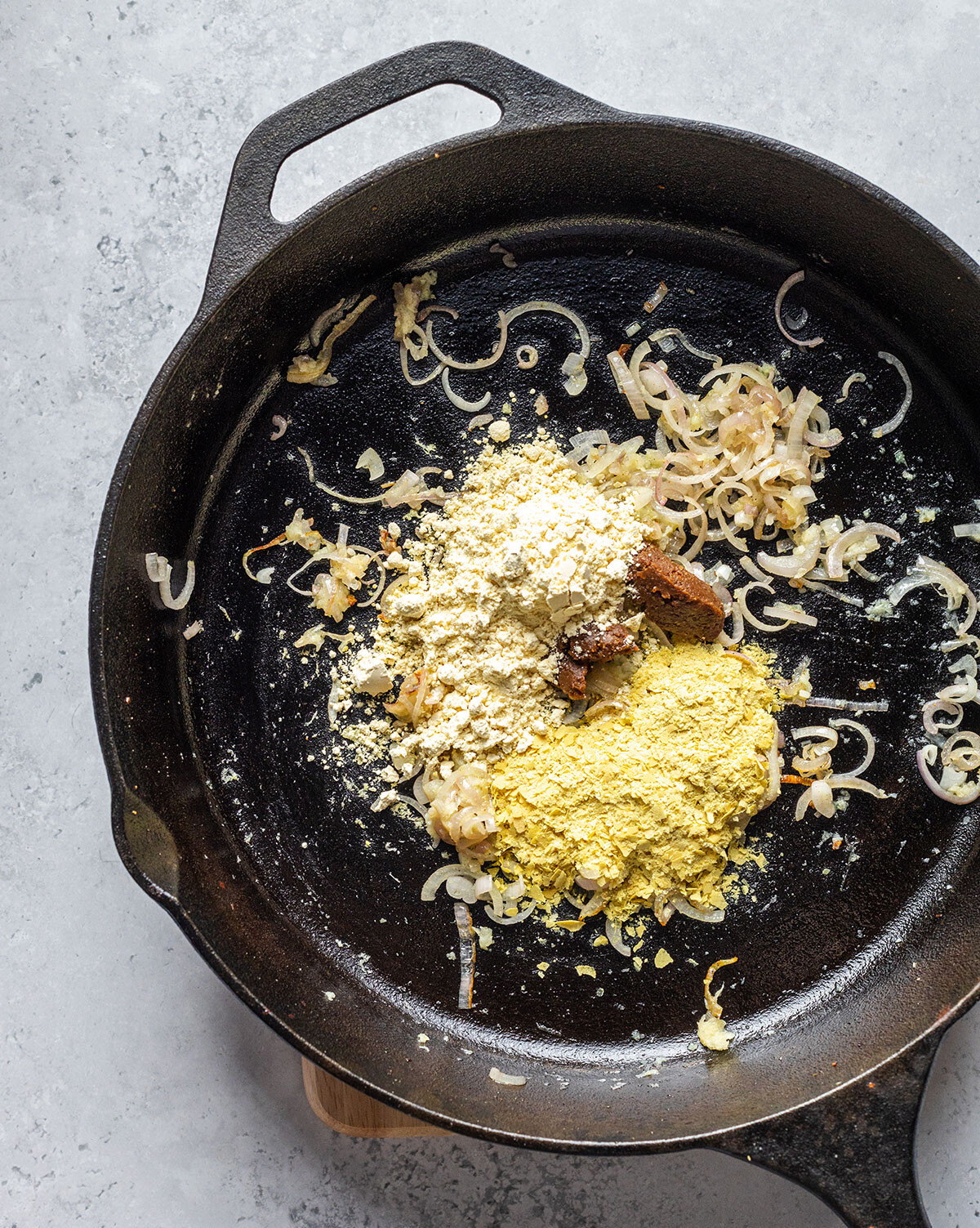 Sprinkle in the salt and crushed garlic. Cook for 1-2 minutes or until fragrant.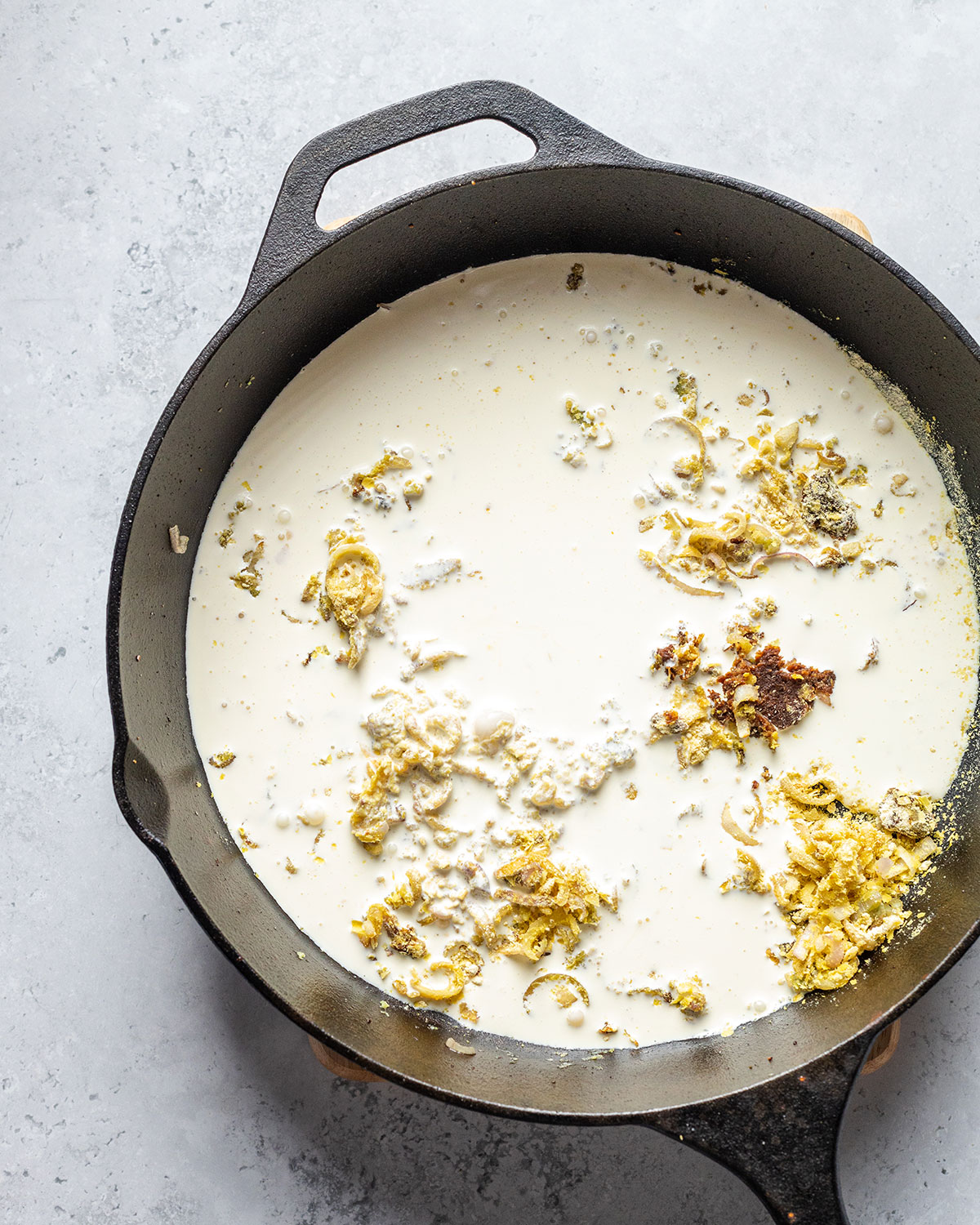 Pour the dairy-free cream into the skillet and stir to combine.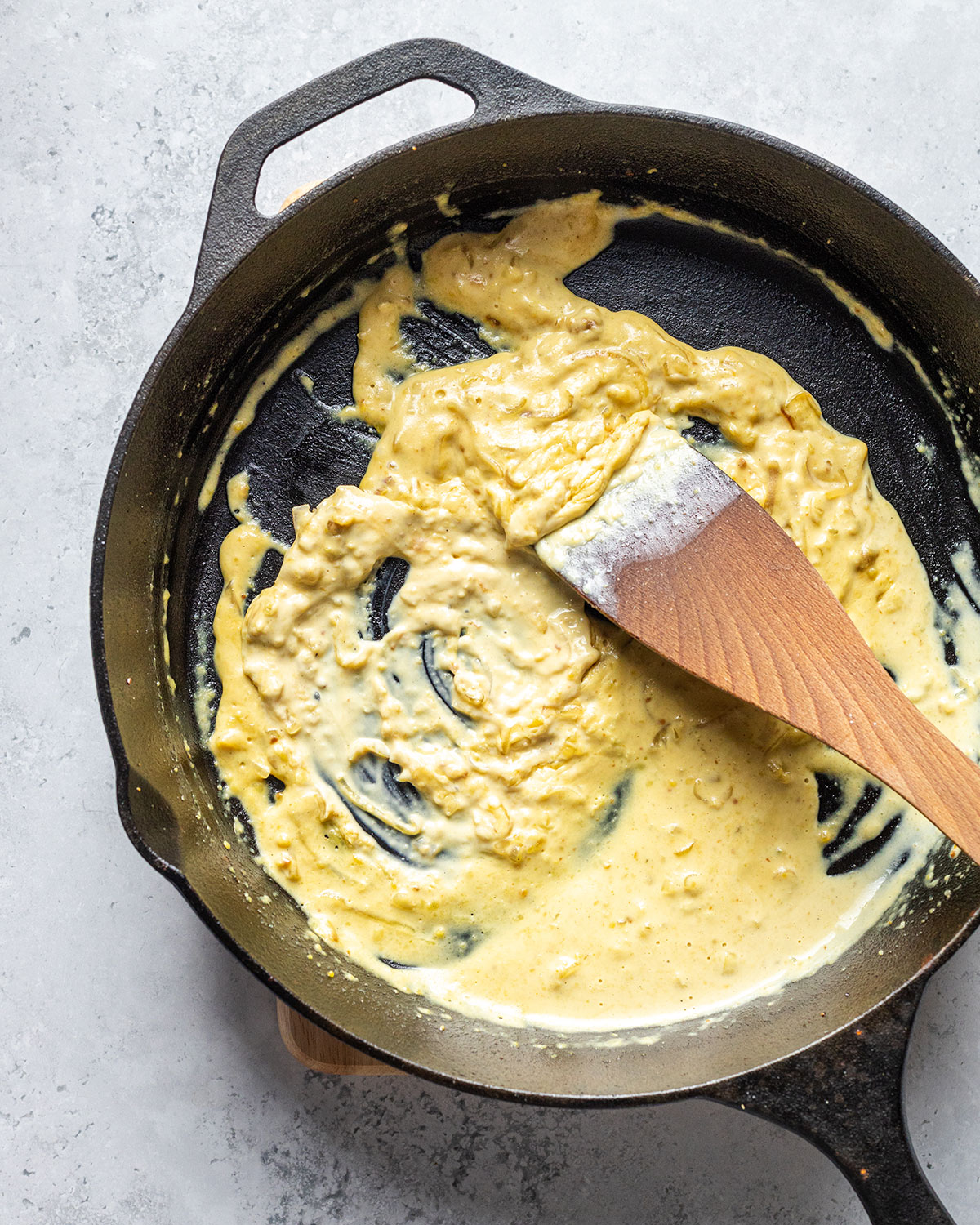 Allow for the mix to heat for 1-2 minutes, whilst stirring regularly or until the mix thickens.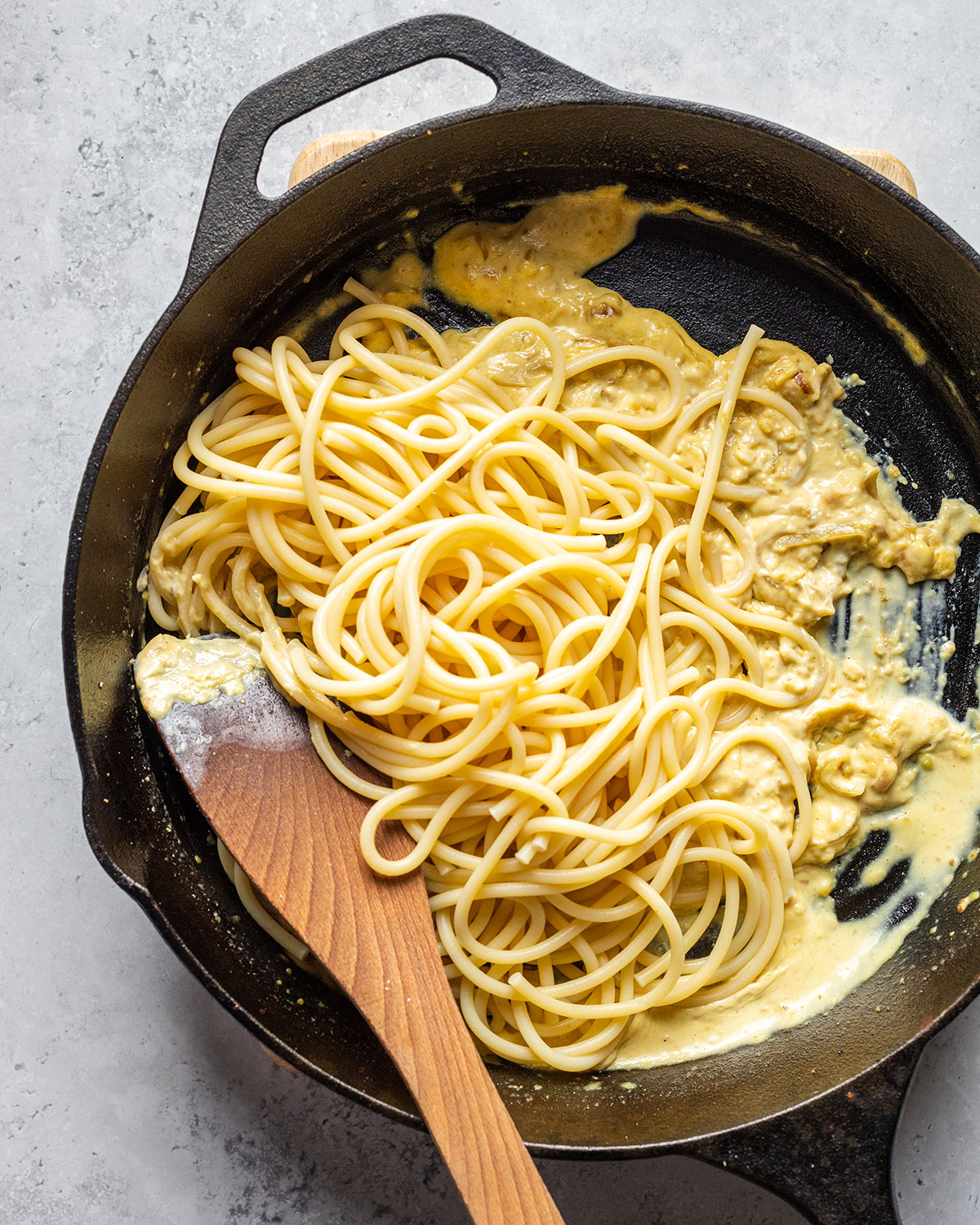 Add in the cooked and drained spaghetti. Adjust the texture of the sauce to your preference by adding small amounts of pasta water.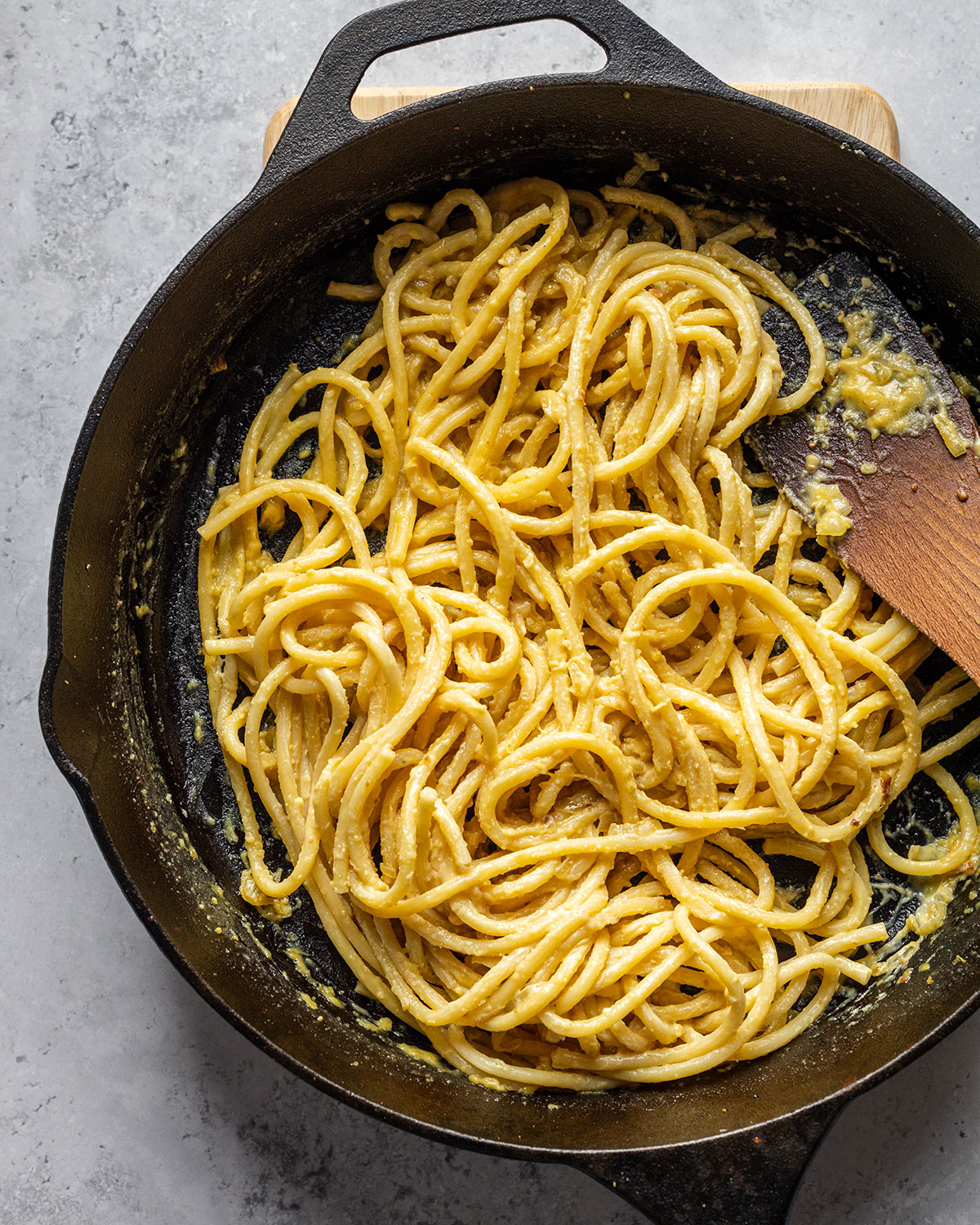 Remove the skillet from the heat and season with freshly cracked black pepper.
Serving
To serve, simply transfer the creamy pasta into pasta bowls and sprinkle with the smoked tofu bacon bits.
Garnish with fresh parsley and you're ready to dig in!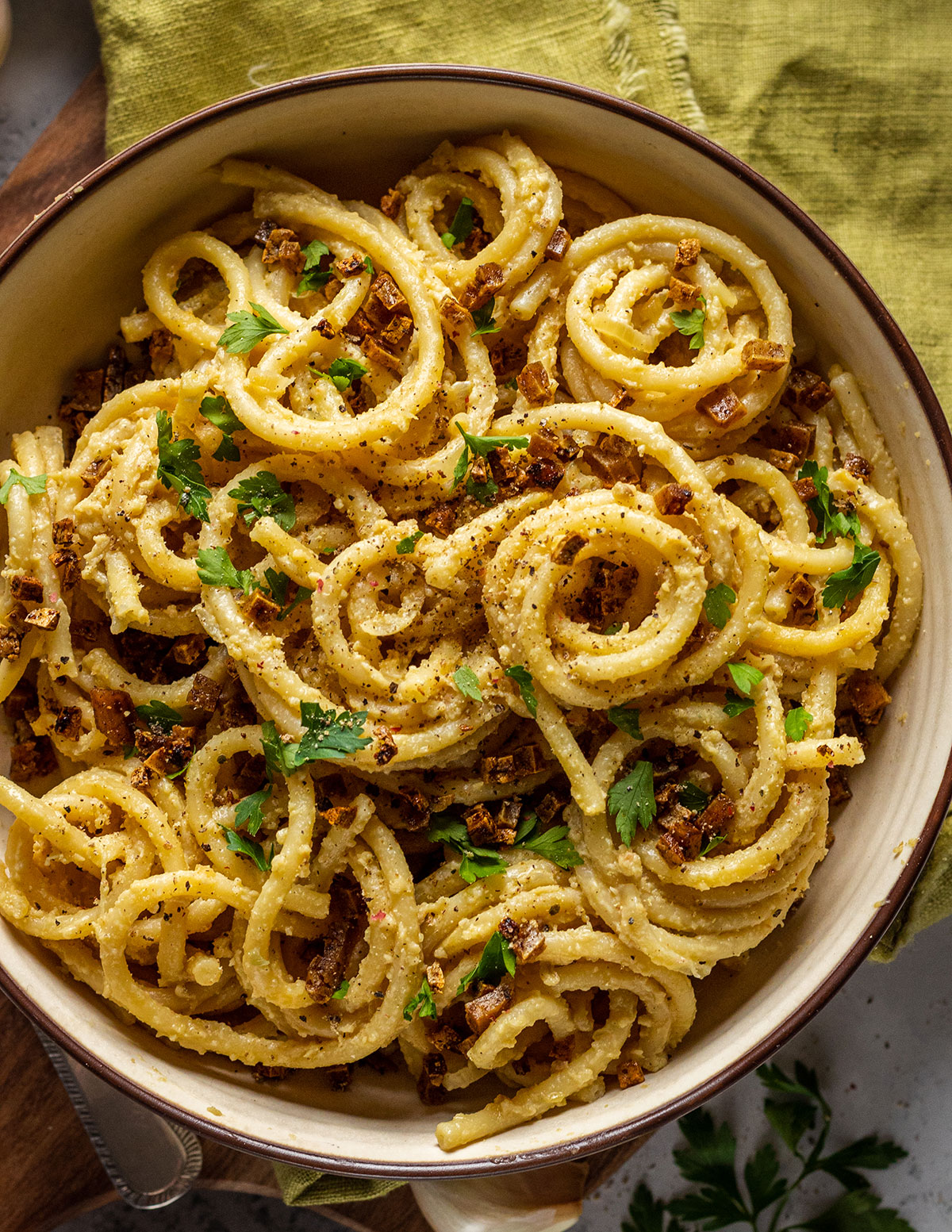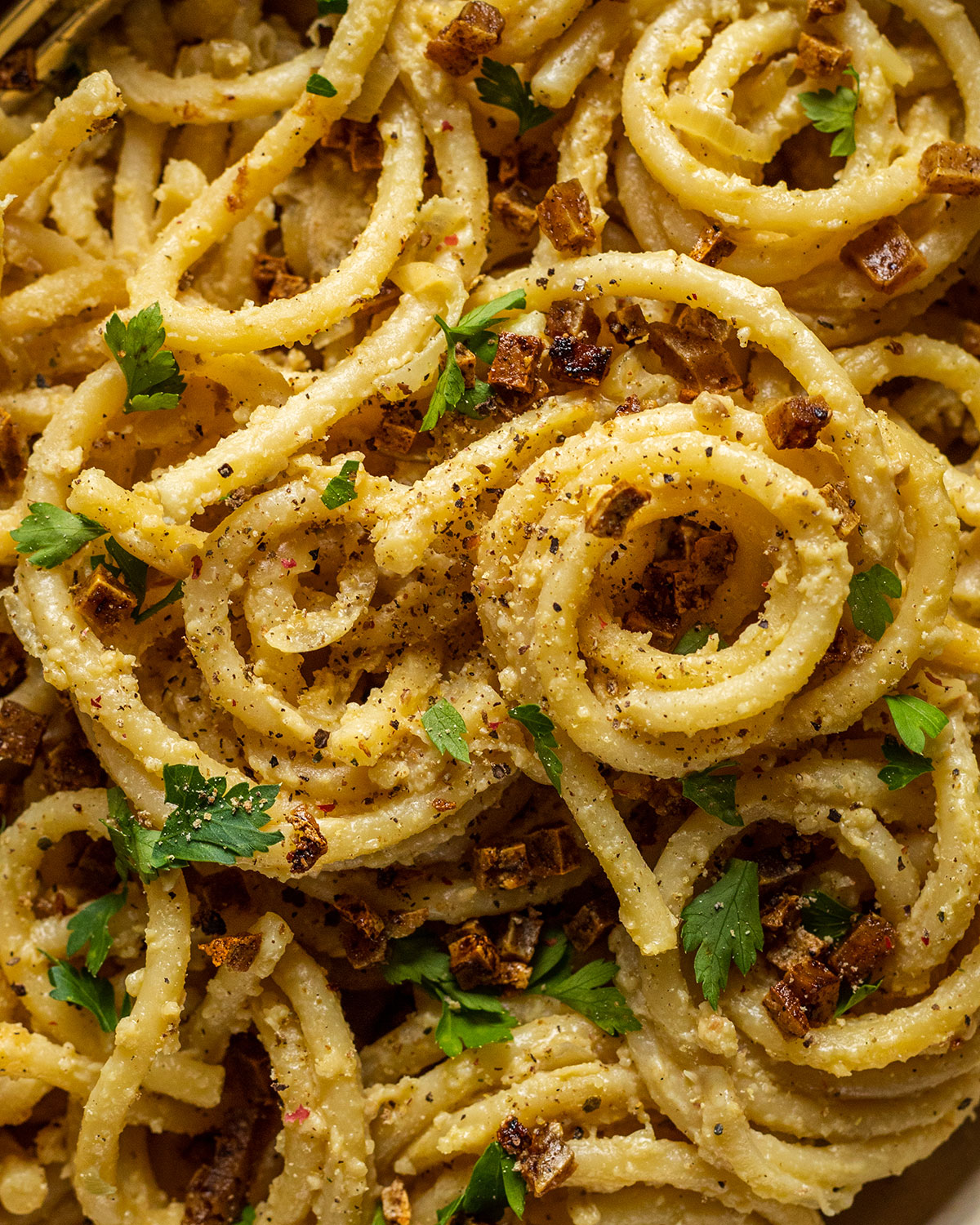 Substitutions
Here are some ideas and easy swaps for this vegan Carbonara:
Smoked tofu: if you have some store-bought vegan bacon pieces to hand you can easily use them instead of smoked tofu.
Fresh or dried herbs: In traditional Carbonara, no herbs are added to the sauce (just garnish), but if you wanted to personalize this recipe further, you could add some fresh or dried sage, basil, rosemary or thyme to the sauce.
Vegetables: Veggies can be a delicious addition to this Carbonara recipe! Traditional Carbonara does not include added vegetables, but they can be tasty for sure. Some of my favorite additions include mushrooms, peas, roasted aubergine (eggplant) and sundried tomatoes.
Flavor: To adjust the flavor of the sauce to your personal preference, here are a few ideas of ingredients you could add: mustard, smoked paprika powder, lemon juice, or more nutritional yeast.
Vegan Cream: Instead of dairy-free cream you can also use plant milk or silken tofu in this recipe. However, personally, I definitely prefer the flavor and texture that you get from vegan cream.
Frequently Asked Questions
Is there cream in Carbonara?
Traditional Carbonara does not use any cream. The creaminess in the dish is simply created with egg and the traditional cooking technique of this delicious pasta.
How do you make Carbonara without cooking eggs?
In this vegan Carbonara recipe, we're using a mix of chickpea flour, kala namak (black salt) and dairy-free cream to re-create the flavor and texture of eggs from the traditional recipe.
What can I use instead of bacon in Carbonara?
For vegan and vegetarian Carbonara, smoked tofu is the best replacement for bacon or pancetta. Simply cut into small cubes and fry until they get crispy, then toss them in tamari soya sauce in the hot skillet. Perfectly crunchy, chewy, sweet, smokey and salty all at the same time.
If you've tried and loved this recipe, I would love for you to leave a star rating and short review at the bottom of this recipe post ❤️
You might also enjoy these recipes:
If you love to try Carbonara with a fun twist, then you should try these Gnocchi Carbonara as well! The sauce works beautifully alongside the soft, fluffy gnocchi.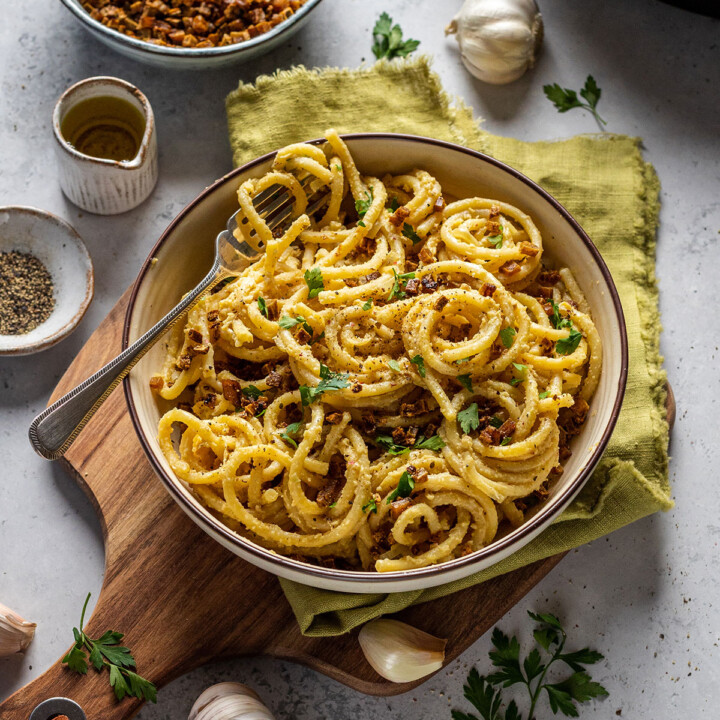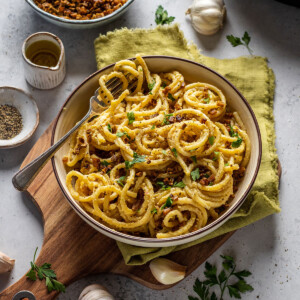 Vegan Carbonara
This Vegan Carbonara is inspired by the traditional Italian dish - with a Vegan Carbonara Sauce that is both creamy and eggy and served with delicious smoked tofu bacon bits.
Equipment
1 large skillet

1 medium-size non-stick skillet

1 large saucepan
Ingredients
17.6

oz

spaghetti

(500 g)
For the Vegan Carbonara Sauce
1

tbsp

olive oil

2

shallots

finely sliced

1

pinch of salt

3

garlic cloves

crushed

1

tsp

white miso paste

2

tbsp

nutritional yeast

3

tbsp

chickpea flour

1

pinch of black salt (kala namak)

1

cup

dairy-free cream

(250 ml)

black pepper to taste

freshly cracked

parshley to garnish

fresh
For the Smoked Tofu Bacon
8

oz

smoked tofu, drained

(225 g)

1

tbsp

olive oil

1

tbsp

tamari soya sauce
Instructions
Cook the pasta
Prepare your spaghetti according to packaging instructions.
Prepare the Smoked Tofu 'Bacon'
Cut your smoked tofu into tiny cubes.

Heat the olive oil in a non-stick skillet and fry the tofu cubes on medium heat until crispy on all sides.

Drizzle in the tamari and stir to evenly coat the tofu cubes.

Remove from the heat after 1-2 minutes or once the tamari has started to caramelize. Set aside until ready to serve.
Create the Carbonara Sauce
In a large skillet, heat the olive oil and sauté the shallots for 3-4 minutes until soft.

Sprinkle in the salt and garlic. Once fragrant, add the white miso paste, nutritional yeast, chickpea flour and black salt (kala namak).

Give everything a brief stir to combine, then pour in the dairy-free cream.

Heat whilst stirring regularly until the vegan Carbonara Sauce thickens, then add in the cooked pasta. Adjust the creaminess of the sauce with a little pasta water.

Remove from the heat and season with black pepper.
Serving
Serve garnished with fresh parsley and the smoked tofu bits.
Notes
This carbonara recipe is also delicious with Tagliatelle, Linguine, or even short pasta such as Penne or Fusilli!
Feel free to add some extra veg to the sauce, such as peas or sundried tomatoes.
For the ultimate Carbonara flavor, I really recommend not skipping on the black salt (kala namak). It creates the signature eggy taste of this dish and is also fantastic in a variety of other vegan egg recipes.
If - like me - you love Pinterest, you can find me here & if you like, you can pin any of the images on this page to your boards 😊 
© Romy London / Romina Callwitz | All images and content are copyright protected. Please do not use my images and content without prior permission. If you wish to re-publish this recipe, please get in touch via email. Thank you so much for supporting romylondonuk.com!
*Disclosure: This page may contain affiliate links that earn me a small commission, at no additional cost to you. You can find more information in my Privacy Policy.