Wondering how to make the Starbucks Iced Vanilla Latte at home? Then this recipe is for you! Make this refreshing coffee drink in the comfort of your own home with only 4 ingredients.
This recipe is:
super refreshing
best served ice cold
easy to adjust
ready in 2 minutes or less
made with espresso
a copycat of the famous Starbucks drink!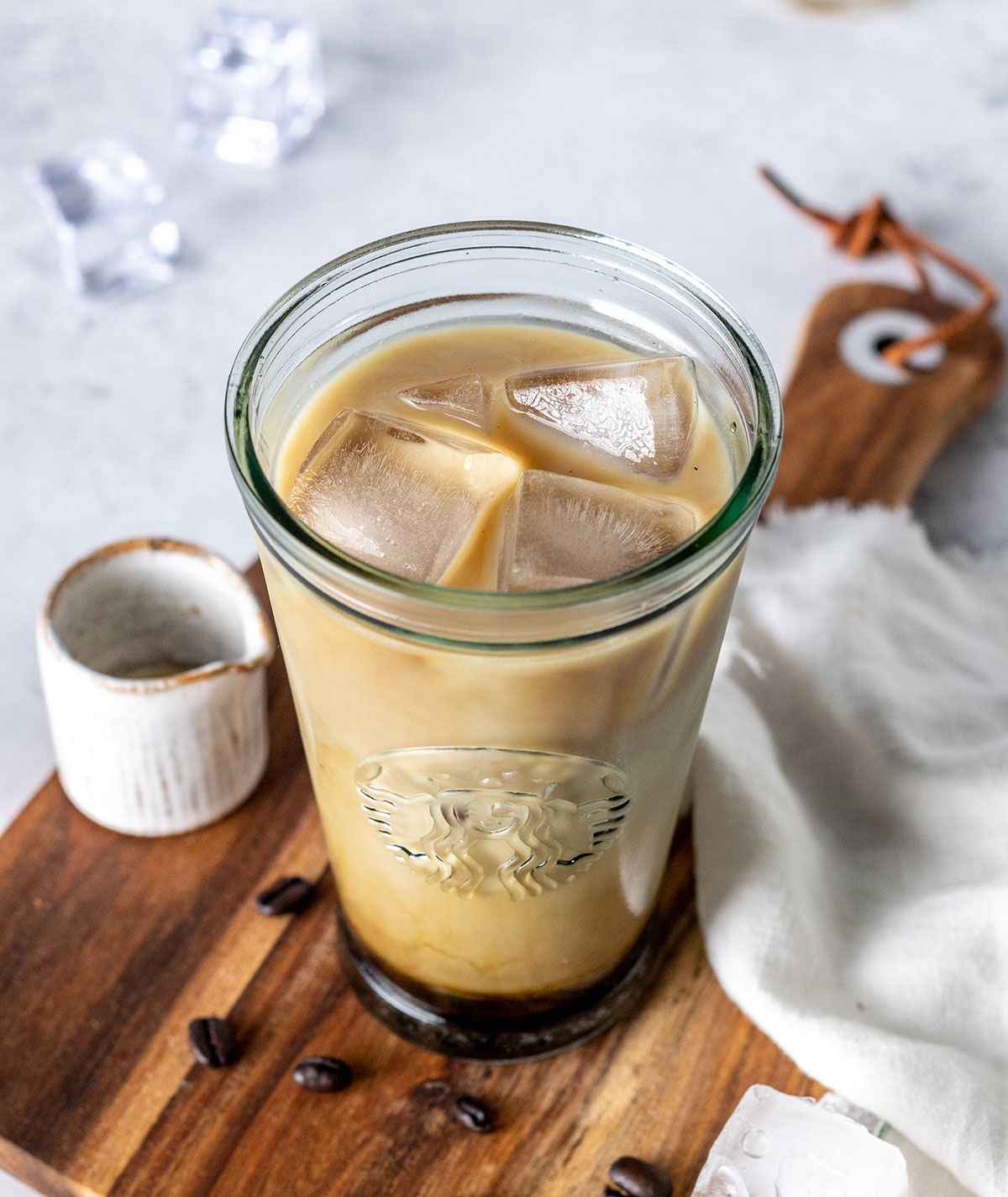 Iced coffee is simply great all year round, but especially on those hot summer days. For me, it's a much welcome refreshment when I'm out and about and I see myself heading to Starbucks more often than I'd like to admit for a cold coffee drink.
You probably already know that I love replicating my favorite Starbucks drinks at home, such as this Iced Matcha Latte, Vanilla Matcha Latte or Matcha Lemonade and an Iced Vanilla Latte is simply a must-have for your coffee recipes to make at home!
And whilst you're at it, why not serve this refreshing drink alongside a sweet treat like Vegan Pistachio Cheesecake, Vegan S'mores Cookies or Blueberry Oat Crumble Bars?
Table of Contents
What makes this recipe special
this recipe is a copycat of the famous Starbucks favorite!
it's made with homemade vanilla syrup, but you have the option to use a store-bought version too (see notes below!)
it's sweet and refreshing - perfect for a pick-me-up on a hot summer's day
the latte is created with espresso, just like the Starbucks version
it allows you to enjoy this drink in the comfort of your own home
this recipe makes a 16-oz (450 ml) drink, which is equal to a Starbucks Grande
the homemade syrup used in this recipe is naturally dairy-free, making it easy to enjoy this drink with milk alternatives
Ingredients and Notes
For this recipe you only need 4 ingredients: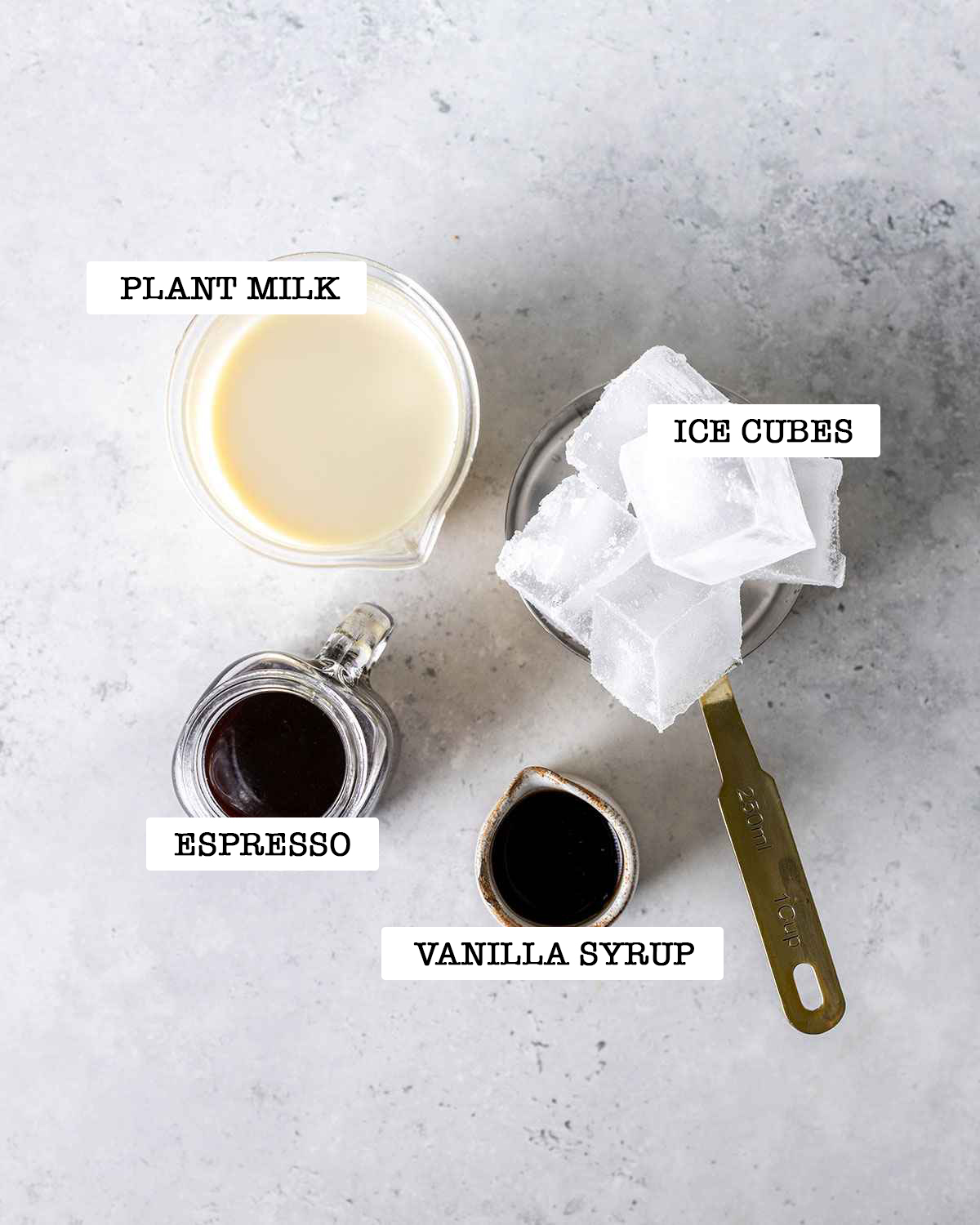 Espresso: Starbucks uses its signature espresso for this drink. To replicate the delicious flavor at home, it's important to use espresso. I've used the great-quality Caprissimo Espresso from Coffee Friend for this recipe.
Vanilla Syrup: Starbucks uses its Starbucks-branded vanilla syrup in-store, but it's made by a company called Fontana. You can buy this syrup online or simply use homemade vanilla syrup.
Milk: In-store, a 2 % fat reduced milk is used to make this drink, but you can choose your favorite milk alternative! My favorites are soya and oat, but you can also go for almond, coconut or your favorite alternative milk blend!
Ice Cubes: Big ice cubes work best for this iced drink! If you're making your own, make sure to use filtered water for the best overall flavor of your copycat drink.
See the recipe card for quantities.
What is Coffee Friend?
Coffee Friend is an international retailer specializing in coffee and coffee machines. They are basically your go-to place for all things great quality when it comes to coffee.
They operate in Europe and ship worldwide (even with free shipping for orders of over £45!)
Their mission is to bring a great coffee experience home and their focus is on high-quality, coffee products that allow you to easily enjoy the pleasures of fresh and aromatic coffee in the comfort of your own home.
What coffee can I get from Coffee Friend?
Coffee Friend stock a variety of great coffee, depending on your needs and personal preferences - beans, ground, pads, pods, espresso, decaf - whatever you desire!
If you are overwhelmed with the choice they offer, I recommend their coffee beans set, which gives you 4 different beans to try, including an espresso blend, which is perfect for this Vanilla Latte Recipe.
Where to order Coffee Friend coffee?
You can order Coffee Friend via their website. They deliver worldwide (yay!). Check out their local websites for Lithuania, Latvia, Estonia, Poland, Finland, United Kingdom, Germany, Austria, the Netherlands and France.
Preparation
Instructions (Step-by-Step)
Here's how to make this simple recipe: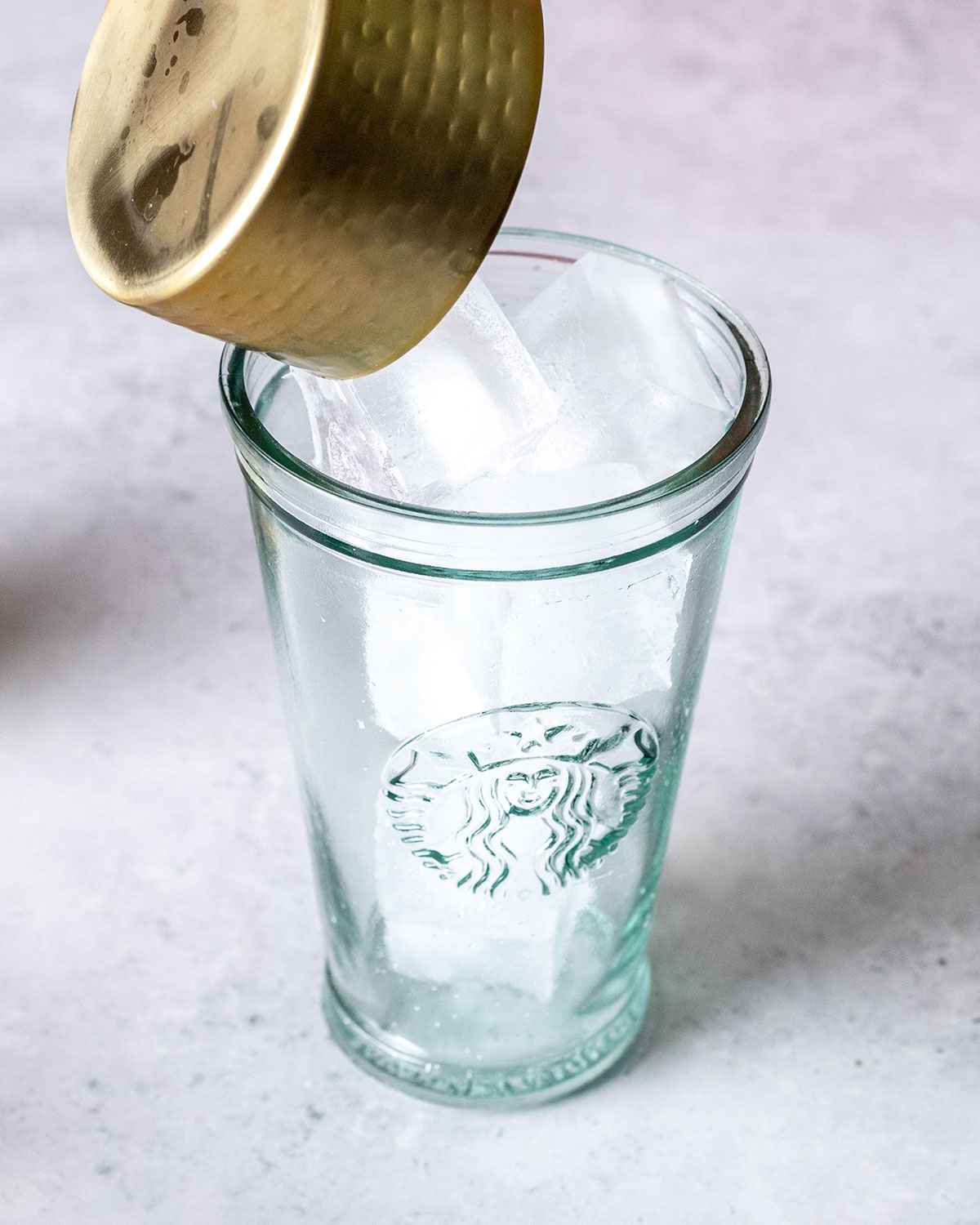 Place the ice cubes into your cup.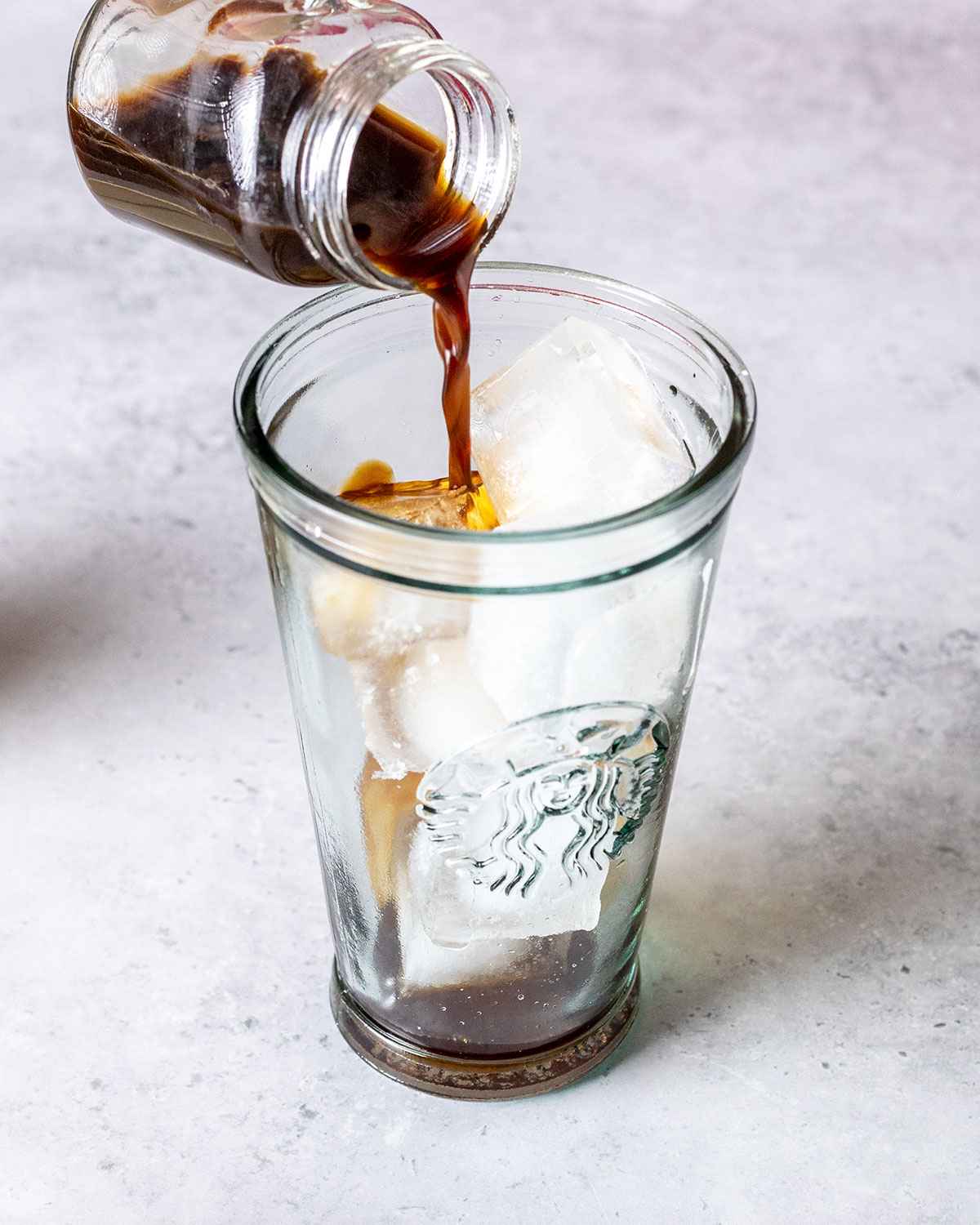 Add espresso.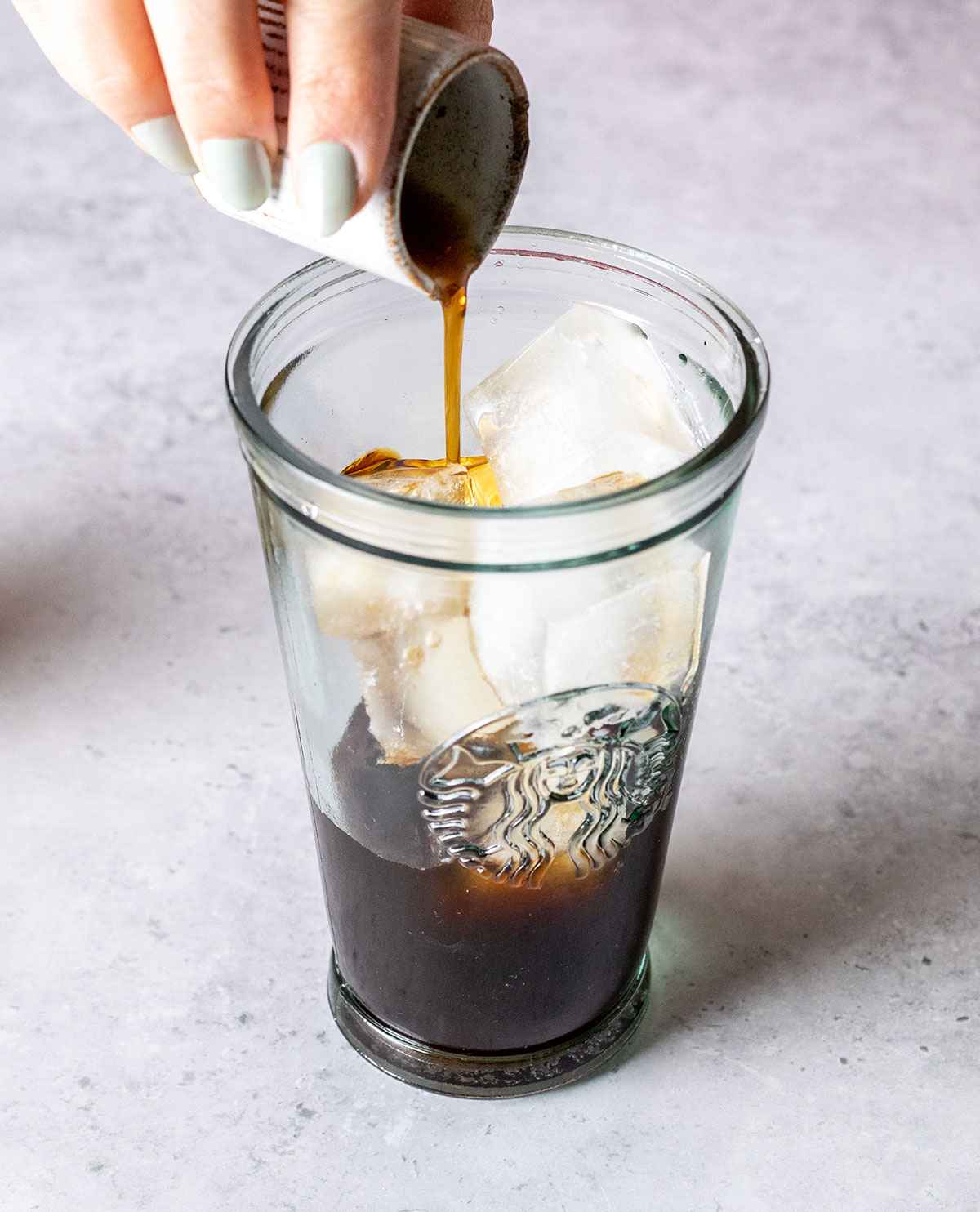 Add the vanilla syrup.
Top up with milk.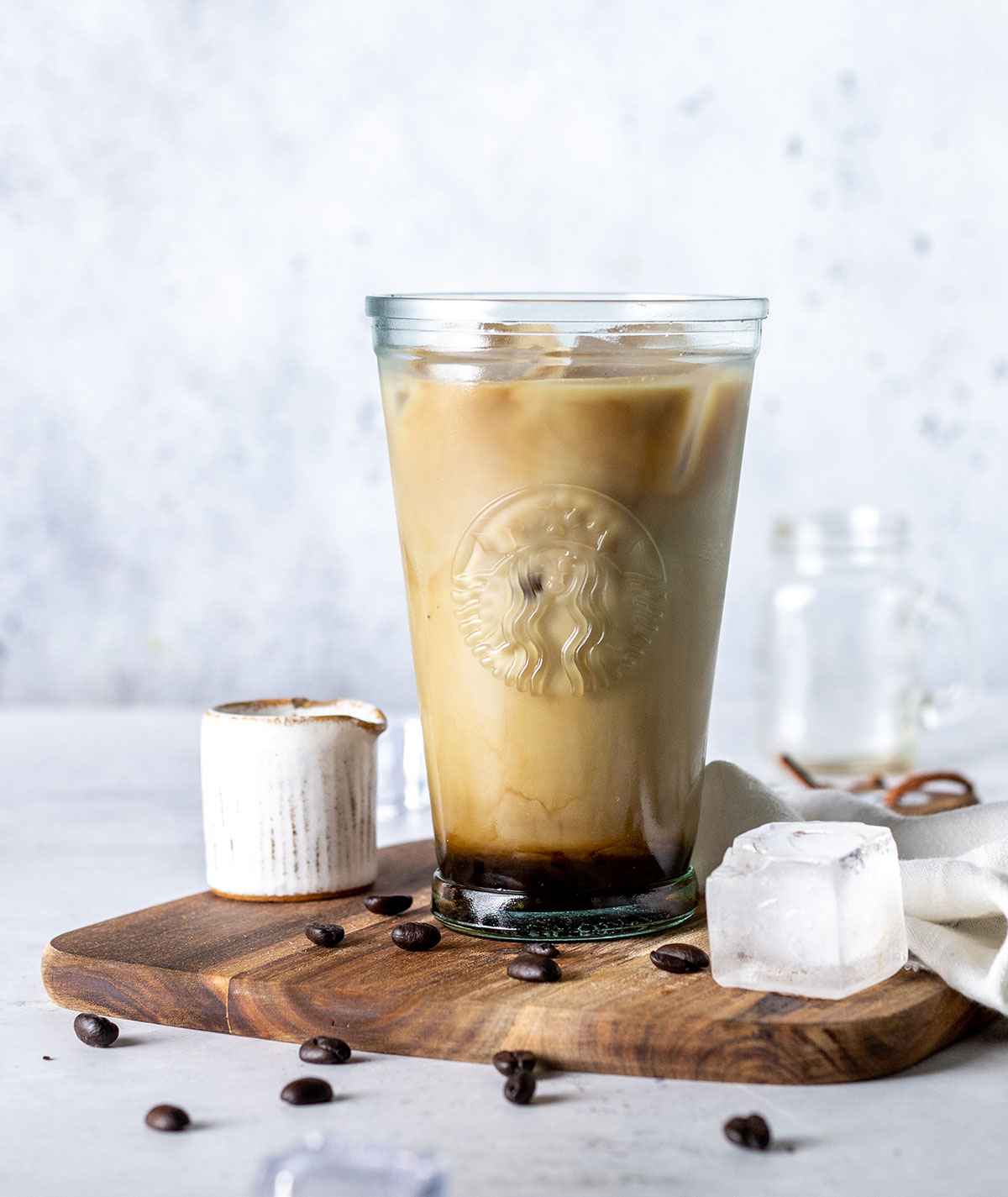 To serve the drink, give it a good stir and enjoy!
Hint: Allow for the espresso to cool down after brewing for an ice-cold and refreshing drink!
Substitutions
If you have any dietary requirements, here are some ideas of how to adjust the recipe to your needs:
Nut-Free - the homemade vanilla syrup is naturally nut-free, so to make this drink entirely suitable for a nut-free diet, simply make sure to use a nut-free milk alternative, such as oat or soya. When using store-bought syrup, check the label to see if it's safe to consume.
Decaf - swap the espresso for decaf, if you want to enjoy this drink without the buzz of caffeine! Coffee Friend has a selection of decaf coffee beans available, which are fantastic to make this drink decaf.
Soy Free - pick a soy-free milk alternative
Gluten-Free - simply pick a gluten-free milk alternative!
Sugar - Use a sugar-free vanilla syrup alternative
Variations
There are a couple of great ways to adjust the recipe and make it your own:
Sweet - adjust the amount of vanilla syrup you add to the recipe and add more or less depending on your personal preference.
Frothed Milk - froth your milk in a cold milk frother, a blender or a french press
Spices - add a dash of cinnamon, nutmeg, clove and ginger, if you want to spice it up
If you love Starbucks drinks, then please check out my recipes for Pumpkin Spice Syrup, Matcha Latte and Iced Matcha Latte.
Equipment
You don't need any complicated equipment for this recipe, but I recommend you use:
a coffee grinder, I've used many throughout the years, but this one from Cuisinart is by far my favorite and has never let me down
an espresso maker, I like to use my stove-top Moka pot to make espresso
an ice cube tray, I always use silicone ice cube trays, they are the easiest to remove the cubes once frozen
a 16-oz glass or tumbler (450ml) to serve your drink
Storage
This drink is best served ice cold and right away, but if you want to prepare for busy mornings, simply mix the espresso, syrup and milk and place the iced vanilla latte into the fridge overnight without ice. In the morning, just add the ice cubes right before serving.
Top tip
If you're looking to keep your drink cool whilst out and about, I can recommend getting an insulated thermal travel cup. Mine keeps the drink cool for a long time and I can still hear the ice cubes move about after a few hours!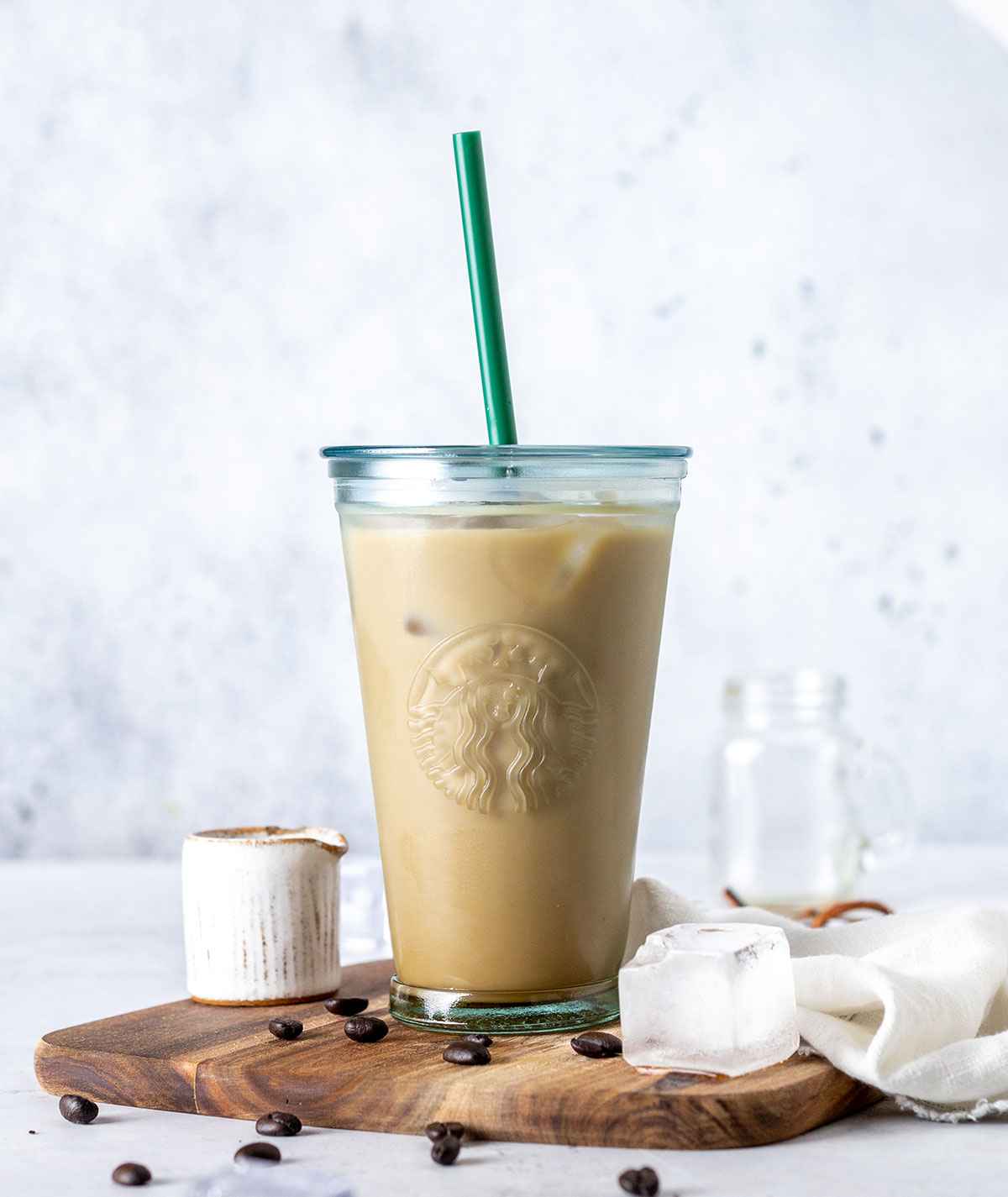 Frequently Asked Questions
What's in a Starbucks Iced Vanilla Latte?
The standard iced vanilla latte at Starbucks uses their signature blend espresso, their own brand vanilla syrup, 2% milk (skimmed) and ice cubes. Roughly half of the drink is ice cubes.
Which vanilla syrup does Starbucks use?
Starbucks uses its own branded vanilla syrup in its drinks, but all its syrups are made by Fontana. You can purchase it online, or by asking in-store if they have stock to spare.
How much syrup is in a Starbucks Vanilla Latte?
Starbucks usually uses 3 pumps of syrup in a tall latte (12oz), 4 pumps in a grande (16oz), and 5 in a venti (20oz). Standard syrup pumps usually dispense 1/4 ounce of syrups, so 1/2 tablespoons each. 4 pumps are the equal amount to 2 tablespoons of syrup.
How much sugar is in a Starbucks Iced Vanilla Latte?
There are 15g of sugar in a tall order, 20g sugar in a grande, and 25g sugar in a venti size latte.
Can I make a Starbucks Latte with cold coffee?
To get the typical flavor of this Starbucks drink, it's vital that you use espresso for this recipe, not cold coffee. For best results, should be freshly brewed on the day.
Related recipes
If - like me - you love Pinterest, you can find me here & if you like, you can pin any of the images on this page to your boards 😊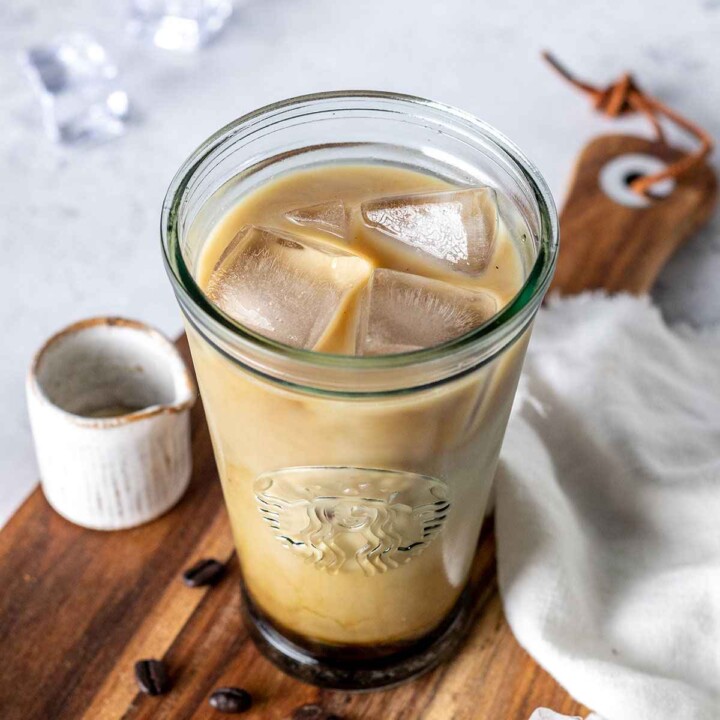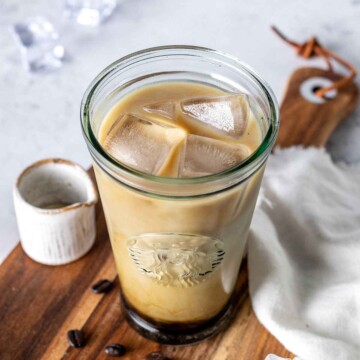 Iced Vanilla Latte (Starbucks Copycat)
Make this refreshing Starbucks drink at home with this Iced Vanilla Latte recipe! This super easy recipe is created with espresso, homemade vanilla syrup & plant milk.
Ingredients
2

shots

fresh espresso (2 oz, 60 ml)

2

tbsp

vanilla syrup (30 ml, 4 pumps)

homemade or store-bought

3/4

cup

dairy-free milk (180 ml)

e.g. oat, almond etc.

1

cup

ice cubes
Instructions
Add the ice cubes to a 16-oz glass.
Notes
This drink is best enjoyed ice cold. So refreshing on a hot summer day!
You can prepare the drink the night before by mixing the espresso, syrup and milk in an airtight container in the fridge. Simply top with ice cubes before serving.
Feel free to adjust the sweetness of the drink to your personal taste by adding more or less vanilla syrup.
I highly recommend making your own homemade vanilla syrup for these kinds of drinks! My syrup recipe is created with high quality vanilla pods, giving the syrup a gorgeous vanilla flavor!
*Disclosure: This page may contain affiliate links and sponsored links that earn me a small commission, at no additional cost to you. You can find more information in my Privacy Policy.
© Romy London / Romina Callwitz | All images and content are copyright protected. Please do not use my images and content without prior permission. If you wish to re-publish this recipe, please get in touch via email. Thank you so much for supporting romylondonuk.com!