Here's how to make this vegan chicken alternative from scratch using Seitan! For this recipe, I've used the flour washing method to create delicious, juicy homemade Seitan that reminds you of chicken shreds.
The Seitan making guide below is suitable for beginners and includes easy step-by-step instructions to help you make delicious vegan chicken shreds at home.
Check out the introduction to Seitan, full instructions and FAQ below for any questions you might have!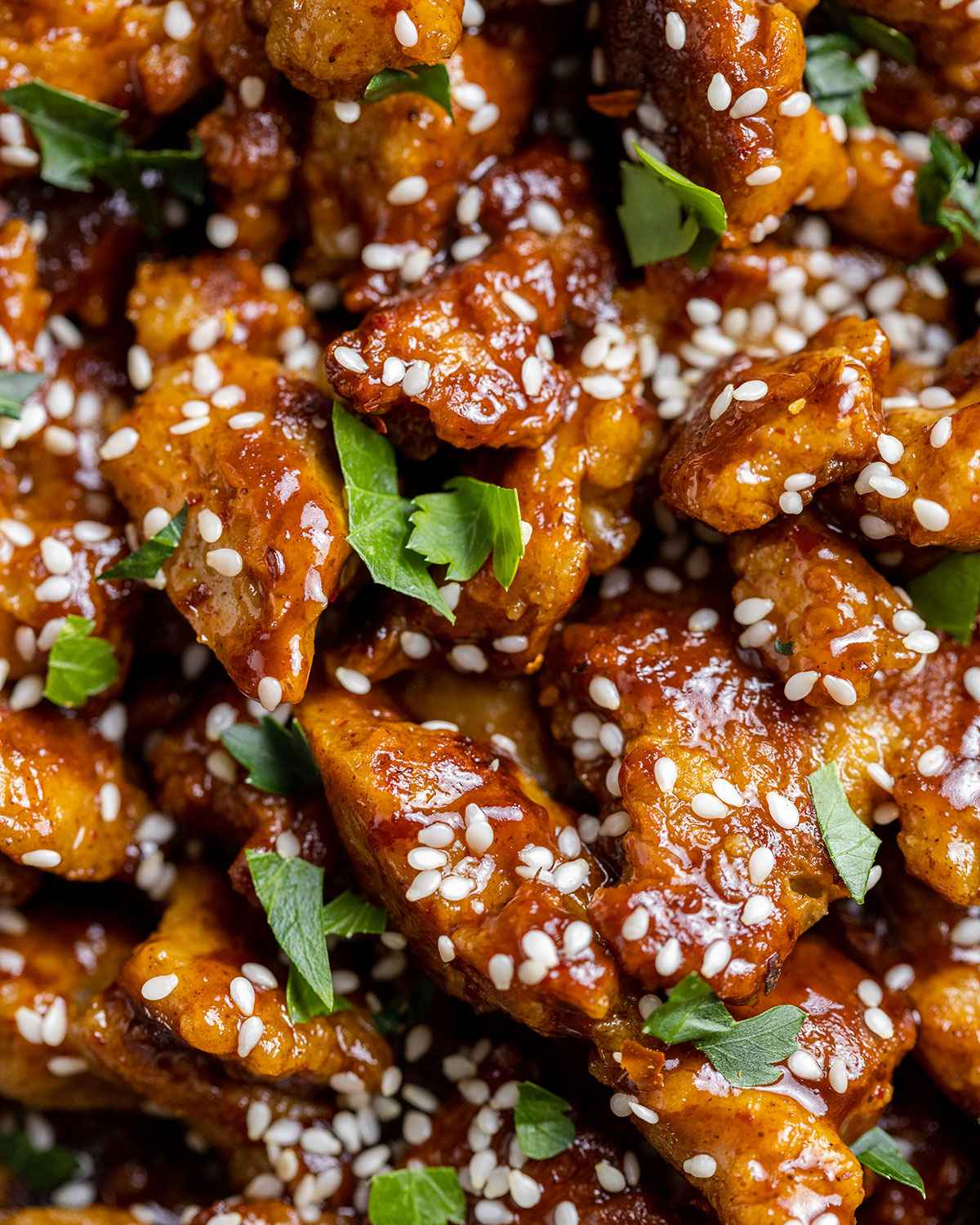 Why this recipe works
Here are a few things I really love about this Seitan recipe:
it has a fantastic texture
it only uses a few, simple ingredients
it is great for batch cooking, so you can always have some vegan chicken pieces to hand
it's freezer friendly
this base recipe works great with a variety of sauces and dishes
it's a great all-rounder
it's great if you're new to making Seitan from scratch
it comes with simple step-by-step instructions
Jump to:
What is this vegan chicken made of?
These vegan chicken shreds are made out of seitan, using the flour washing technique for the best taste and texture.
Introduction to Cooking with Seitan
What is Seitan?
Seitan is made from wheat gluten, which is a protein found in wheat flour. It's often used in vegetarian dishes because it has a chewy texture similar to meat. Seitan has been around for thousands of years. First detected in Asian cuisines, it was used by Buddhist monks as a protein source.
It's also often called 'wheat meat' and is considered part of the so-called mock meats alongside tofu, tempeh and jackfruit.
How to make Seitan
There are 2 main techniques for making Seitan: Flour-washing and using store-bought Vital Wheat Gluten. Both techniques result in different Seitan flavors and textures, you can read a little more in depth about the differences in my Vegan Steak Recipe.
For this vegan chicken recipe, we're using the flour washing technique. It is based on creating a flour & water dough ball and then washing out the starches. Please read the instructions below in detail.
If you love cooking with Seitan, definitely try some of my other recipes, such as Vegan Kebab Meat, Vegan Kabobs or Vegan Steak!
Ingredients & Ingredient Notes
Here's everything you need for this recipe:
Base Ingredients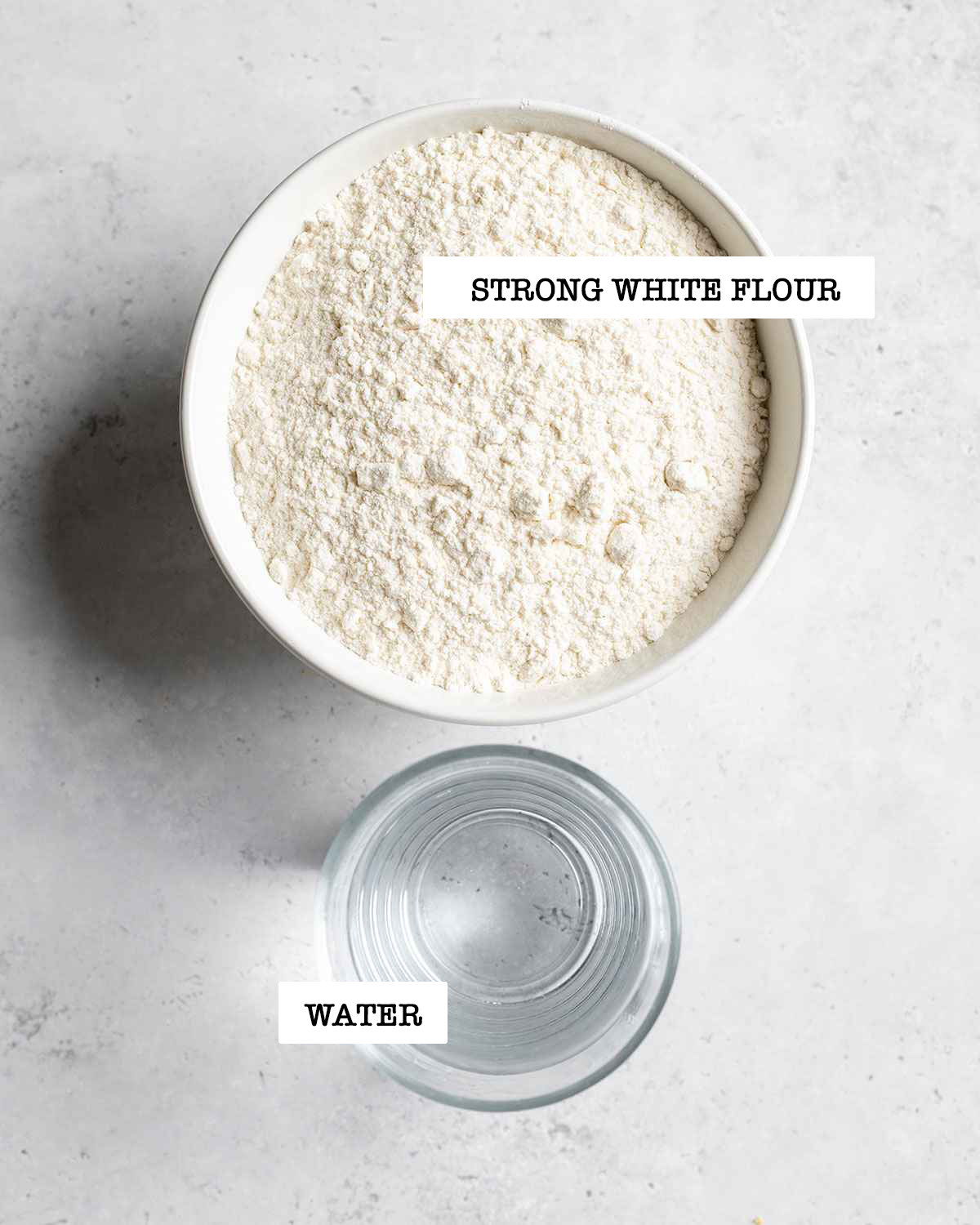 Strong White Flour - Flour is the main ingredient for this recipe. Ideally the flour should have at least 12 grams of protein per 100 gram (12%). I like to use the strong white bread flour from Allinsons. You should be able to get a simple bread flour in most grocery stores that serves the purpose. Make sure to use a plain flour / all purpose flour - nothing with seeds or grains.
Water - to create a dough ball, which we will be washing later on. You also need quite a bit of water to wash the flour.
Seasonings
Spices & Seasonings - Sea salt, onion powder, garlic powder, white pepper, nutritional yeast, white miso paste
Oil - for the flavor paste & for grilling, use a flavor-neutral oil suitable for high heat, such as canola oil
See the recipe card below for the full quantities.
Equipment
There are a couple of simple items you will need to make this recipe:
steamer - this could be a large steamer basket, a steamer pot or a steamer device such as a Cuisinart Cook In (which is what I like to use!). If you don't have a steamer at all, you can also steam Seitan in your oven by placing the wrapped Seitan loaf in the middle of the oven and an oven dish filled with water underneath.
food processor - it's optional when creating the dough ball (but makes it much easier!). It is however needed to thoroughly blend the flavor paste into the dough. I personally use a Magimix.
Instructions (Step-by-Step)
If you are making homemade vegan chicken from Seitan for the first time, make sure to read all of the steps in detail beforehand.
Here's how to make chicken-like Seitan from flour in just a few simple steps:
Flour washing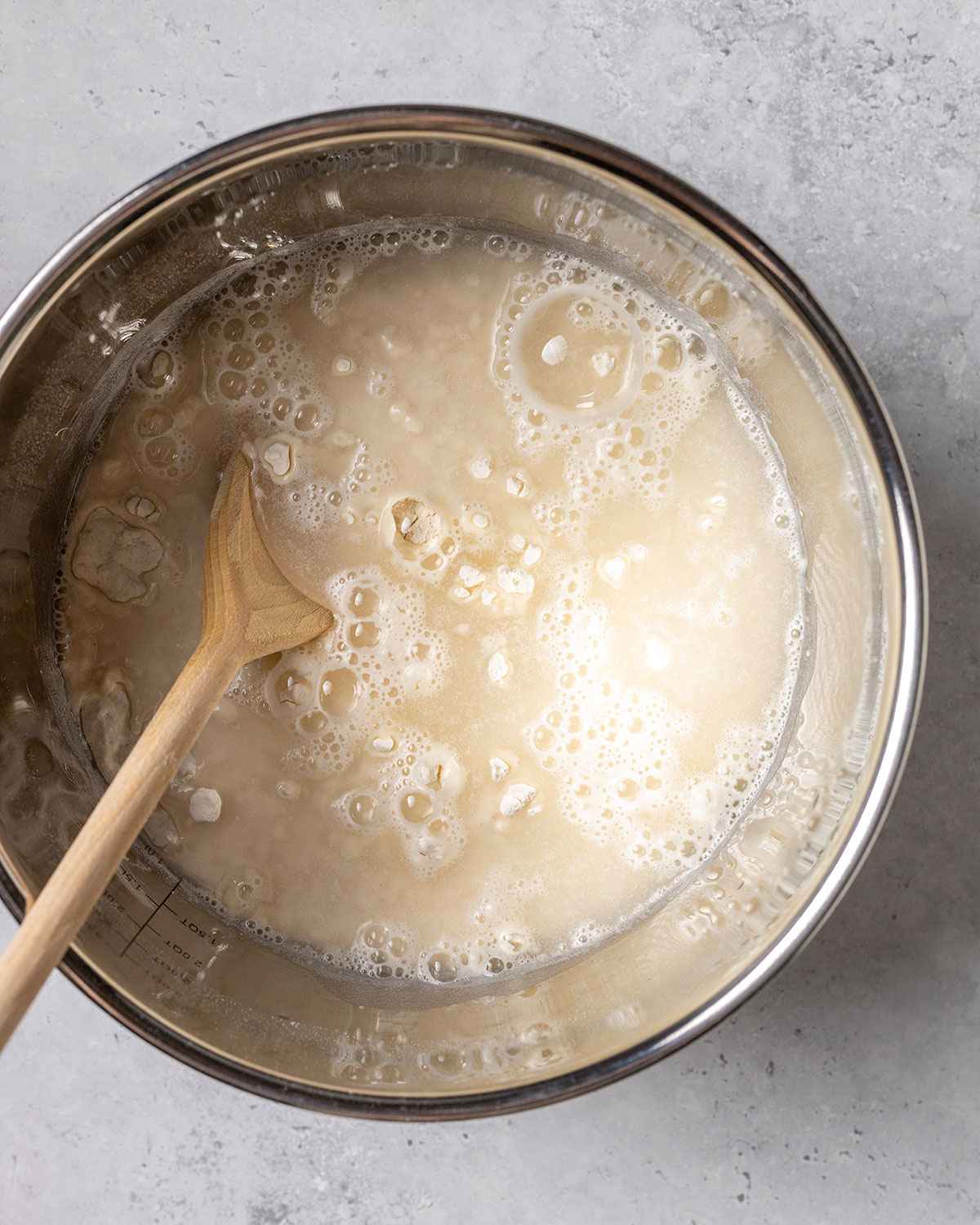 Create a dough ball with flour and water, briefly knead until smooth.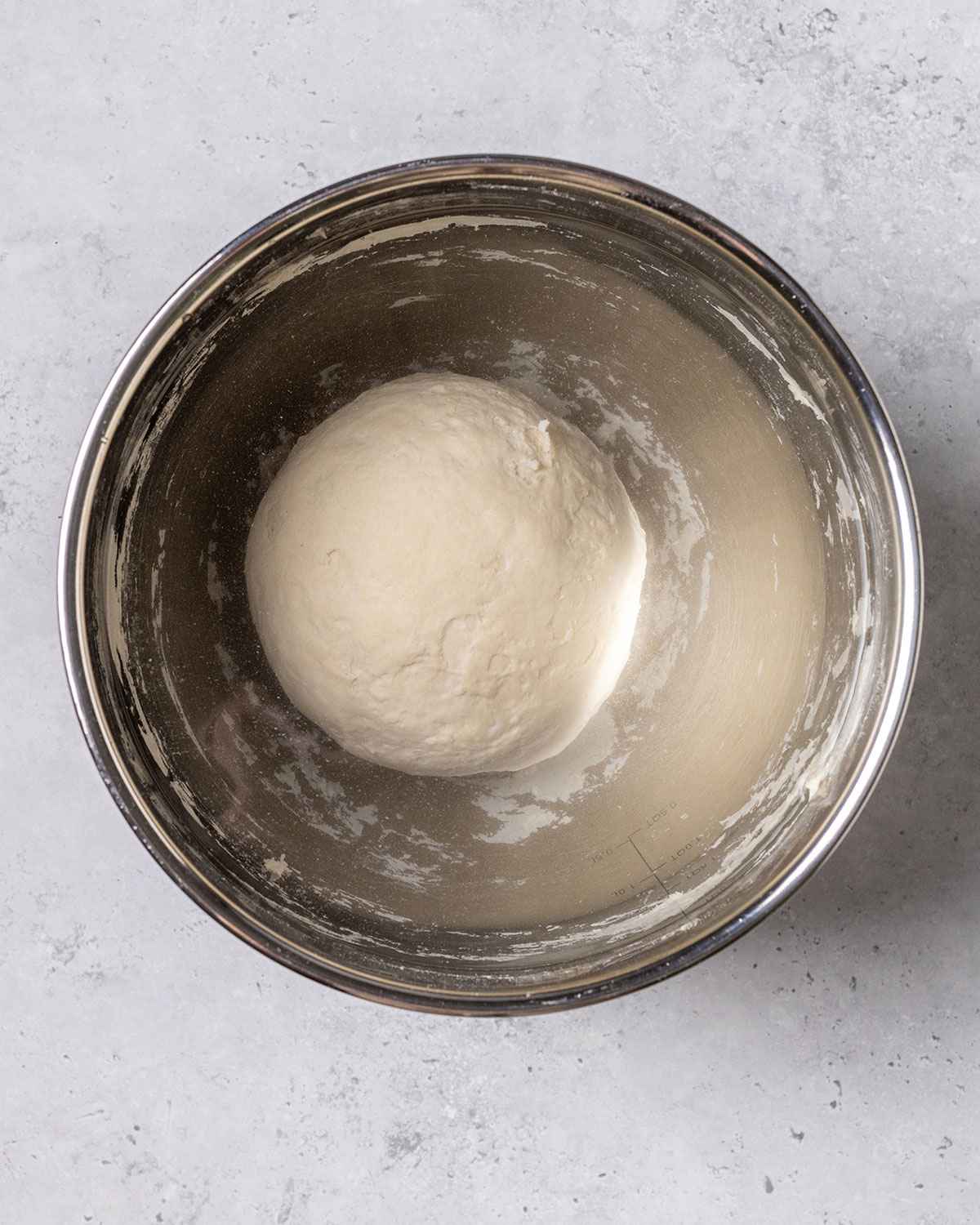 Place it into a bowl and cover with water.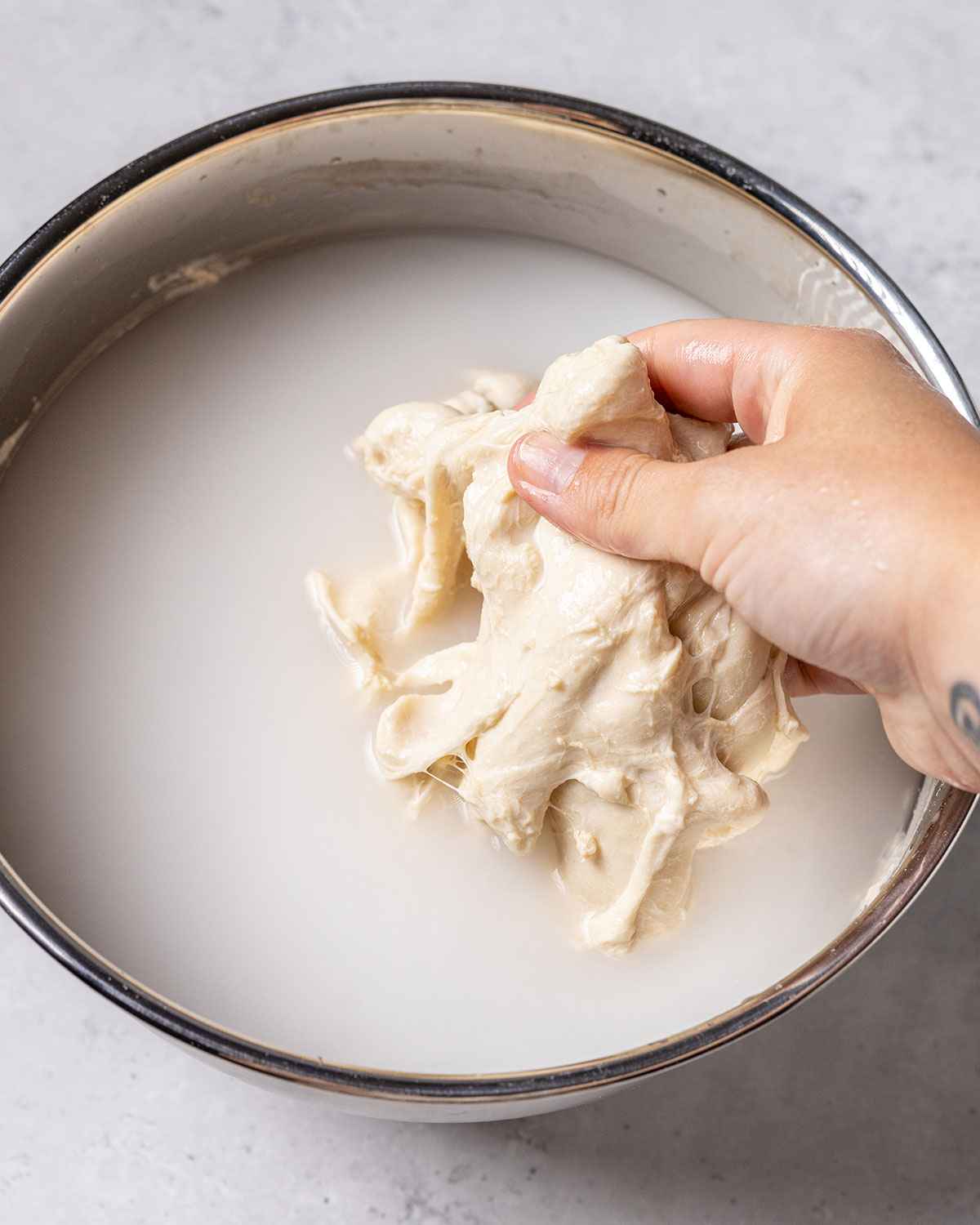 After 30 minutes of soaking, start washing the dough ball under water. Do this firmly so the flour releases its starches into the water. Once the water gets white and creamy, drain it and add fresh water. Repeat 4-5 times or until the water remains mostly clear and most starches have been washed out.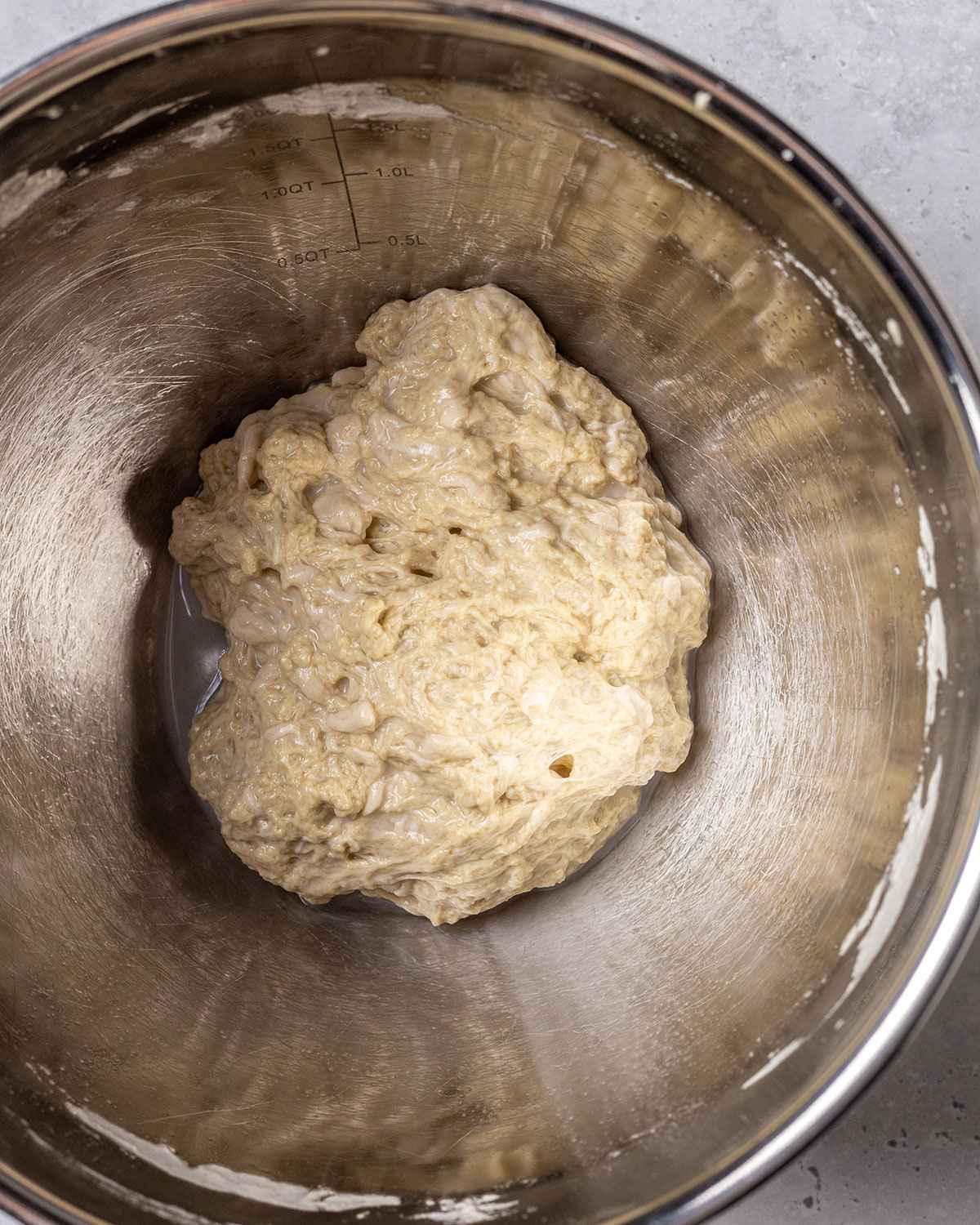 After washing, rinse the dough and place it into a sieve to drain excess liquid. This is what the texture should look like.
Flavoring and Texturing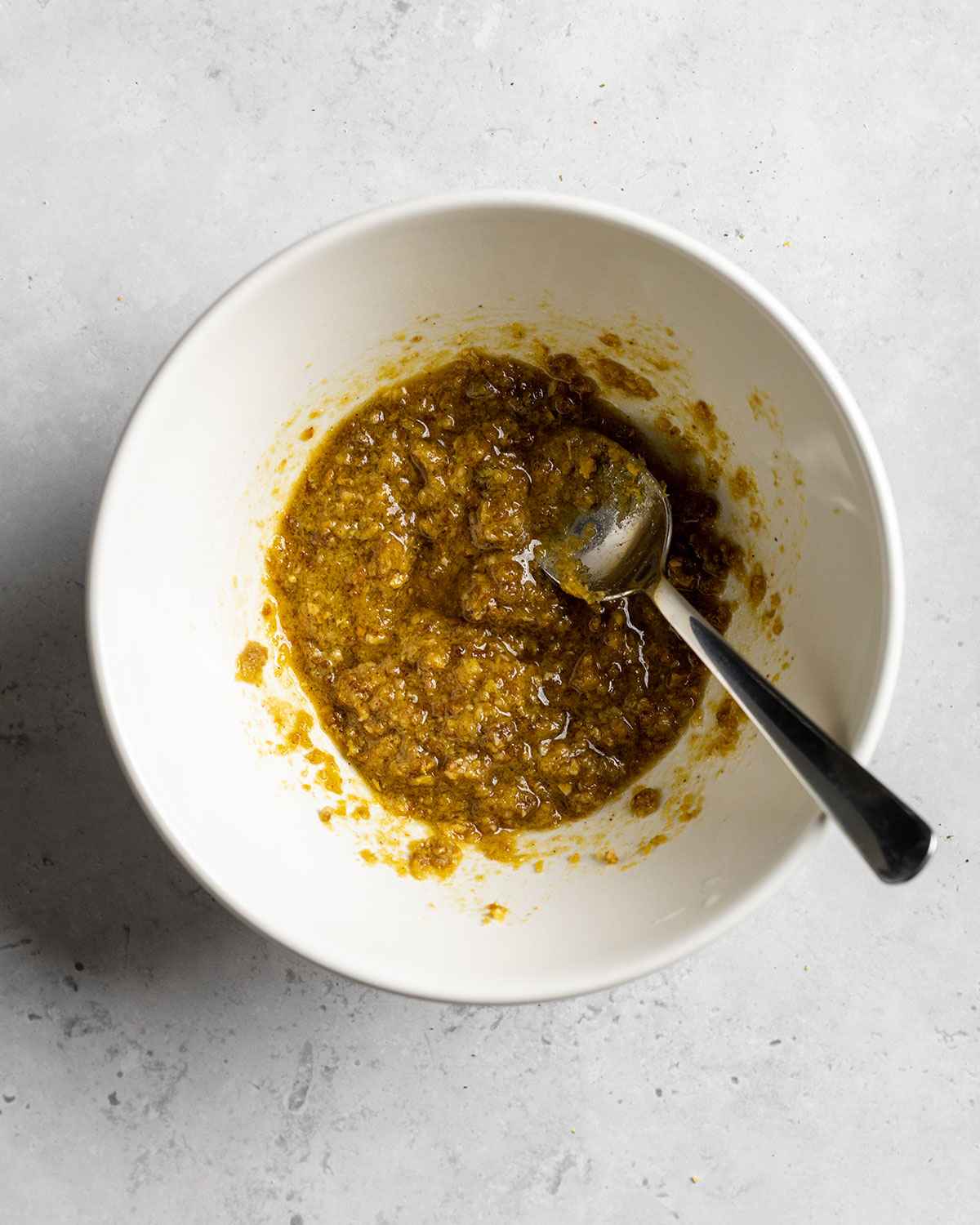 In a small bowl, combine all ingredients for the flavor paste.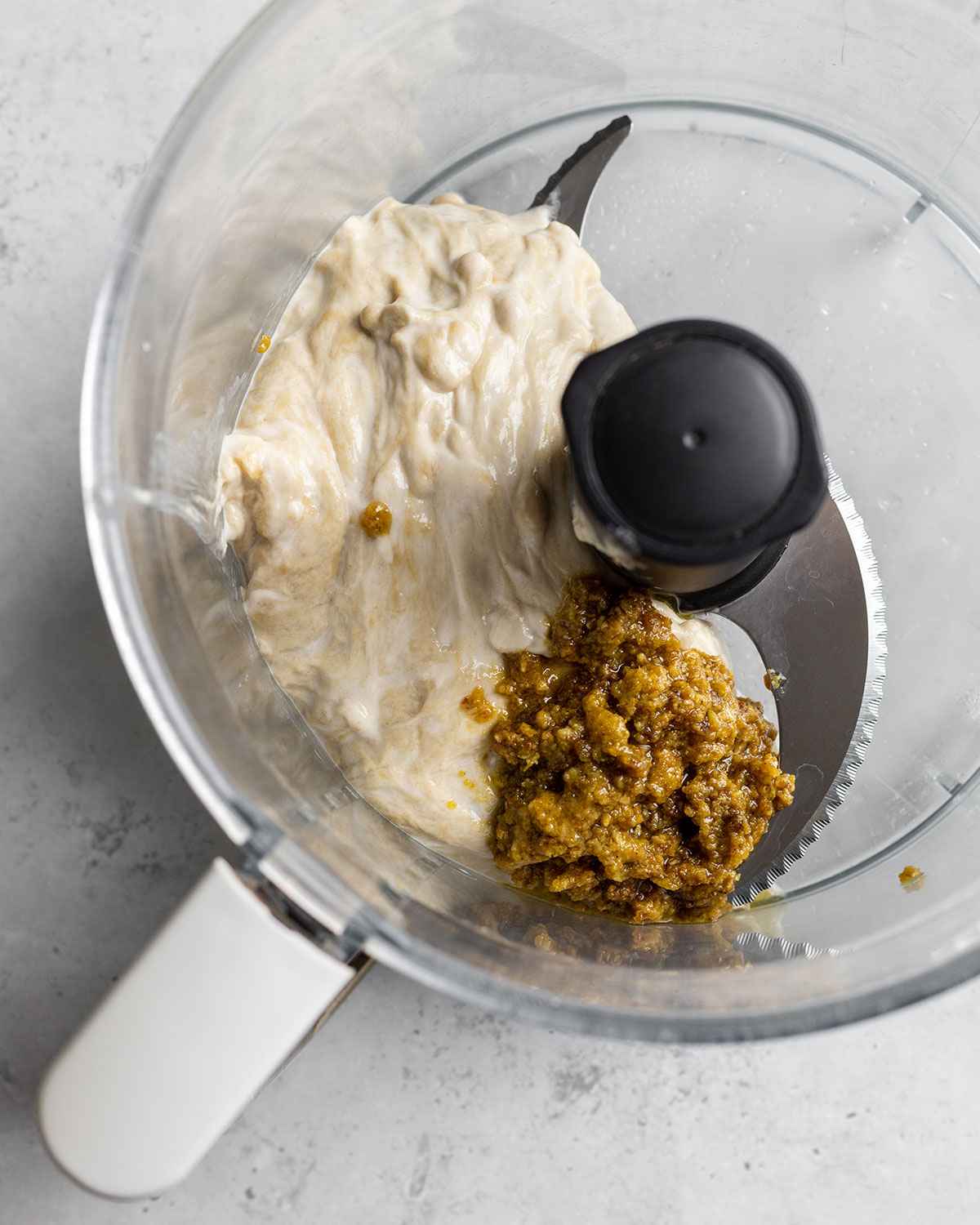 Place the dough and flavor paste into a food processor.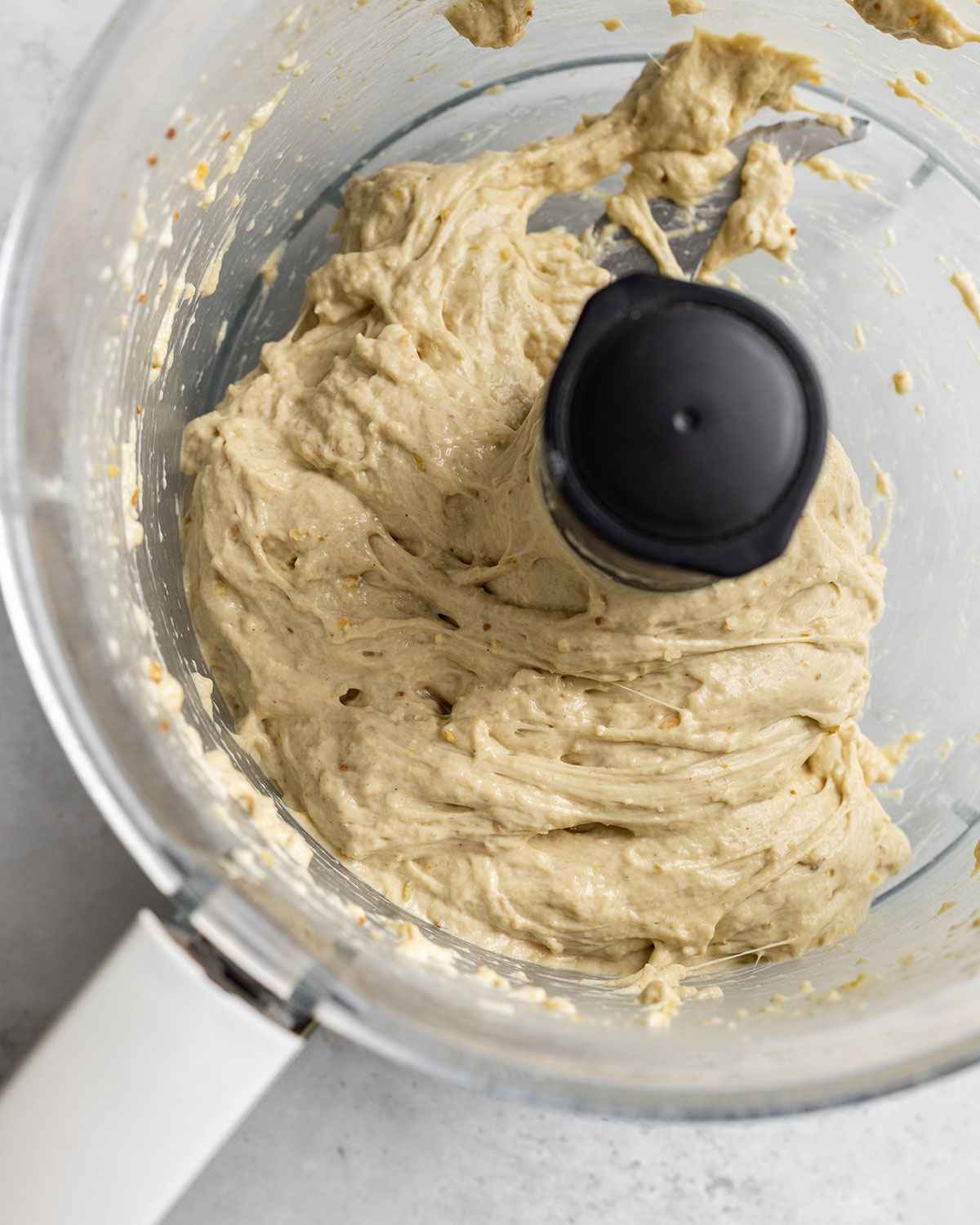 Pulse 10-15 times or until well combined. Set aside in a colander for at least 4 hours after, or ideally place in the fridge overnight.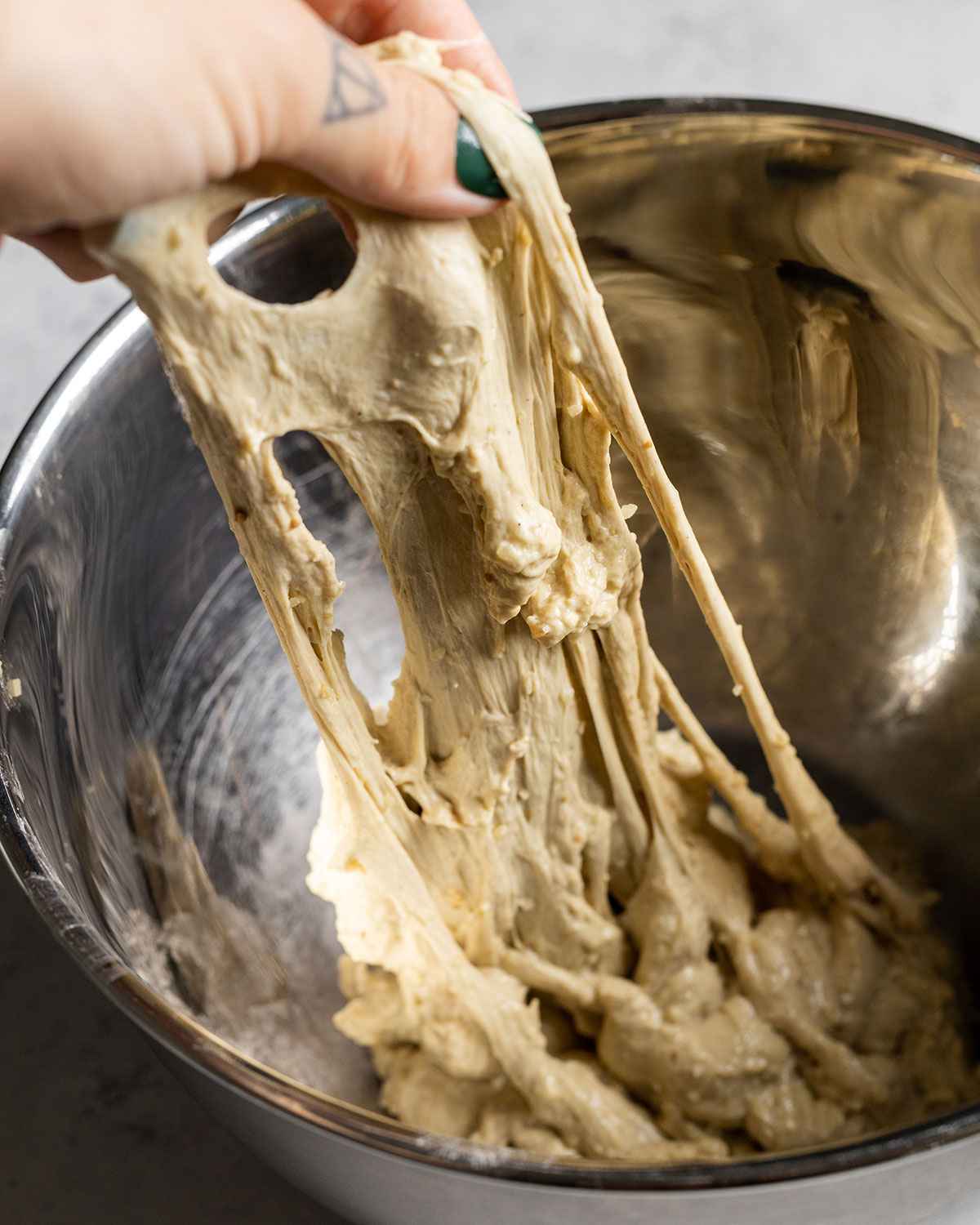 Using your hands pull and twirl the gluten strands to create a pulled texture, then roll the loose strands back into a ball shape.
Steaming & Shredding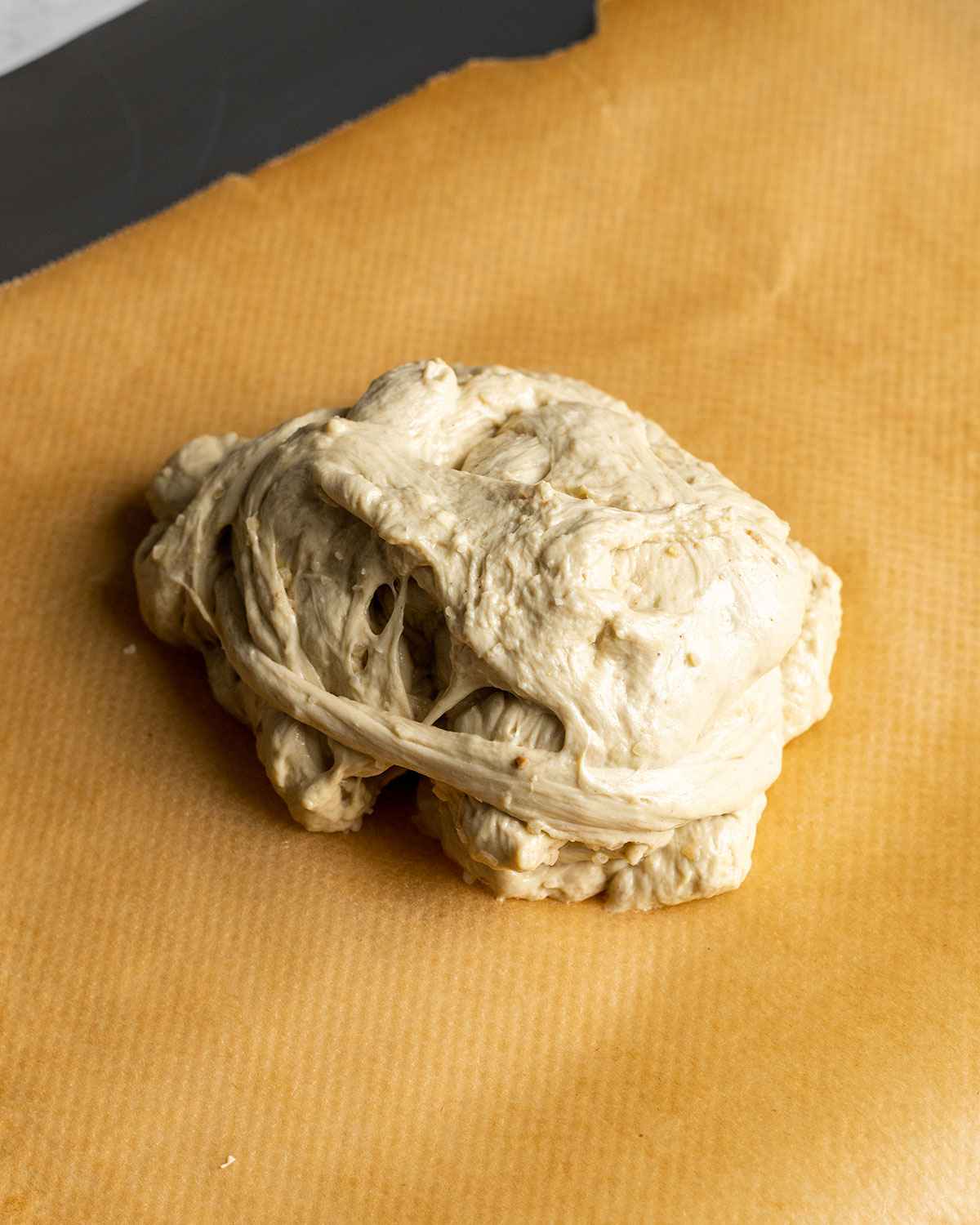 Place the ball onto parchment paper and firmly wrap it, then cover firmly with aluminum foil.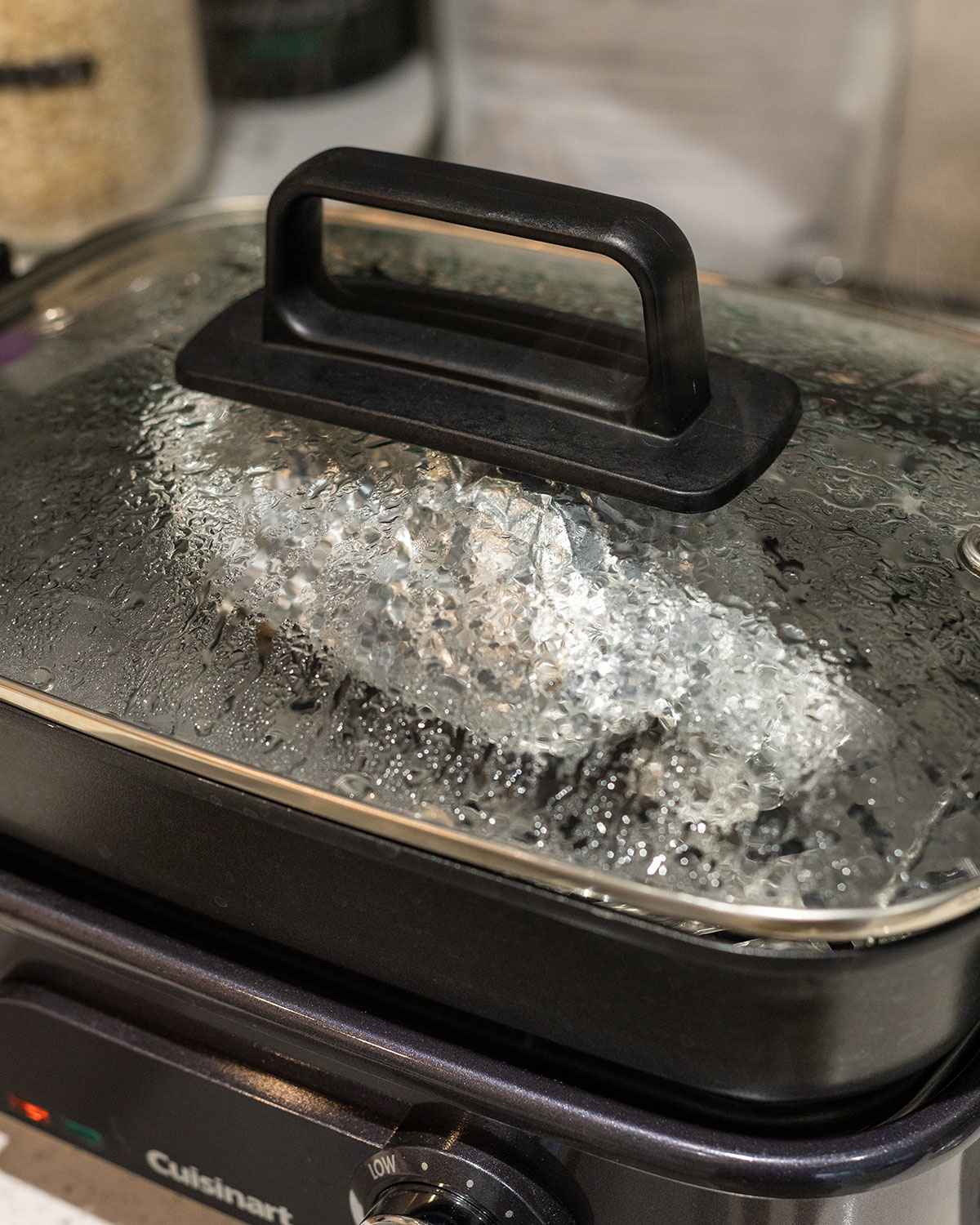 Steam the wrapped seitan for roughly 1 hour.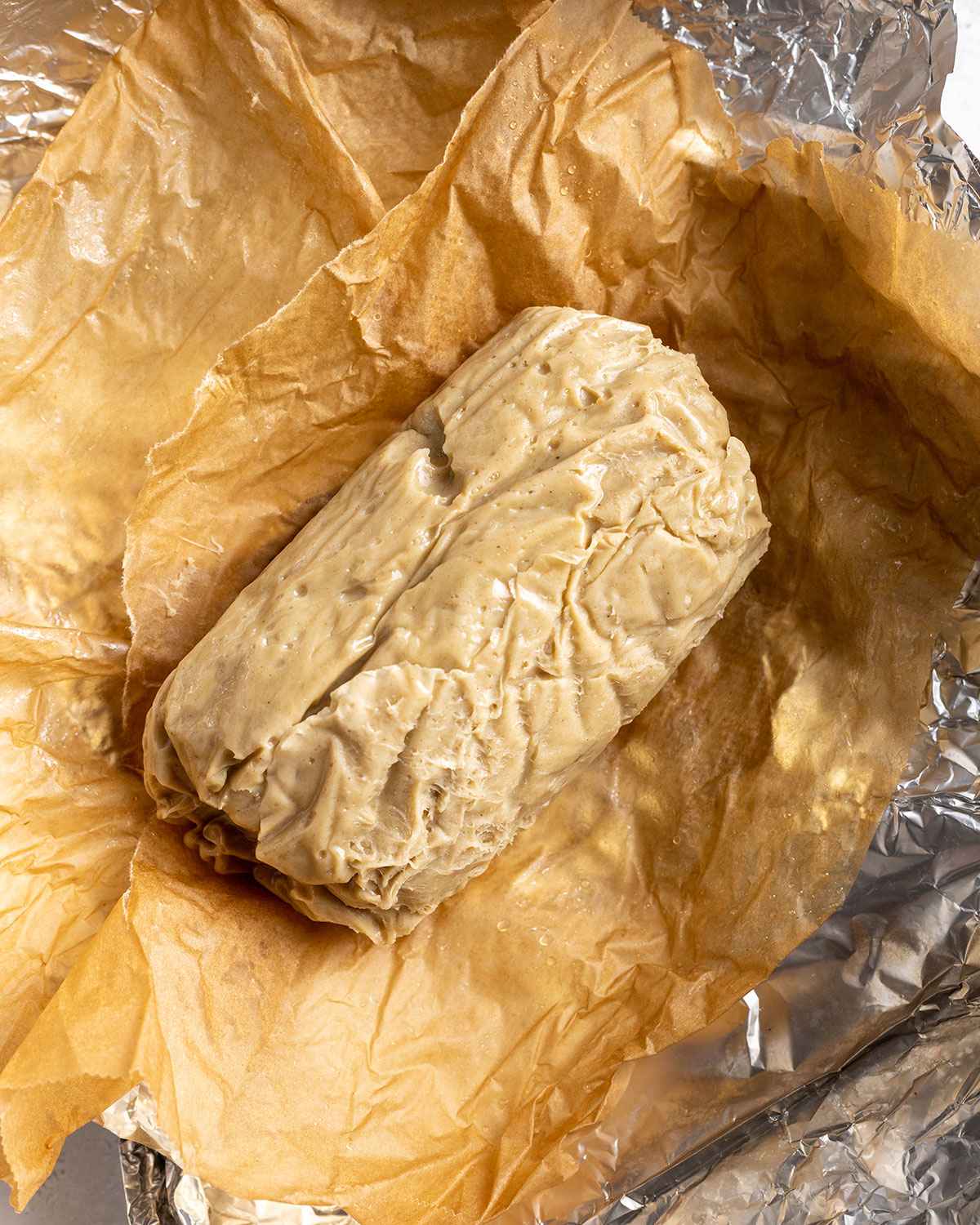 Allow for the seitan to cool down, then carefully unwrap.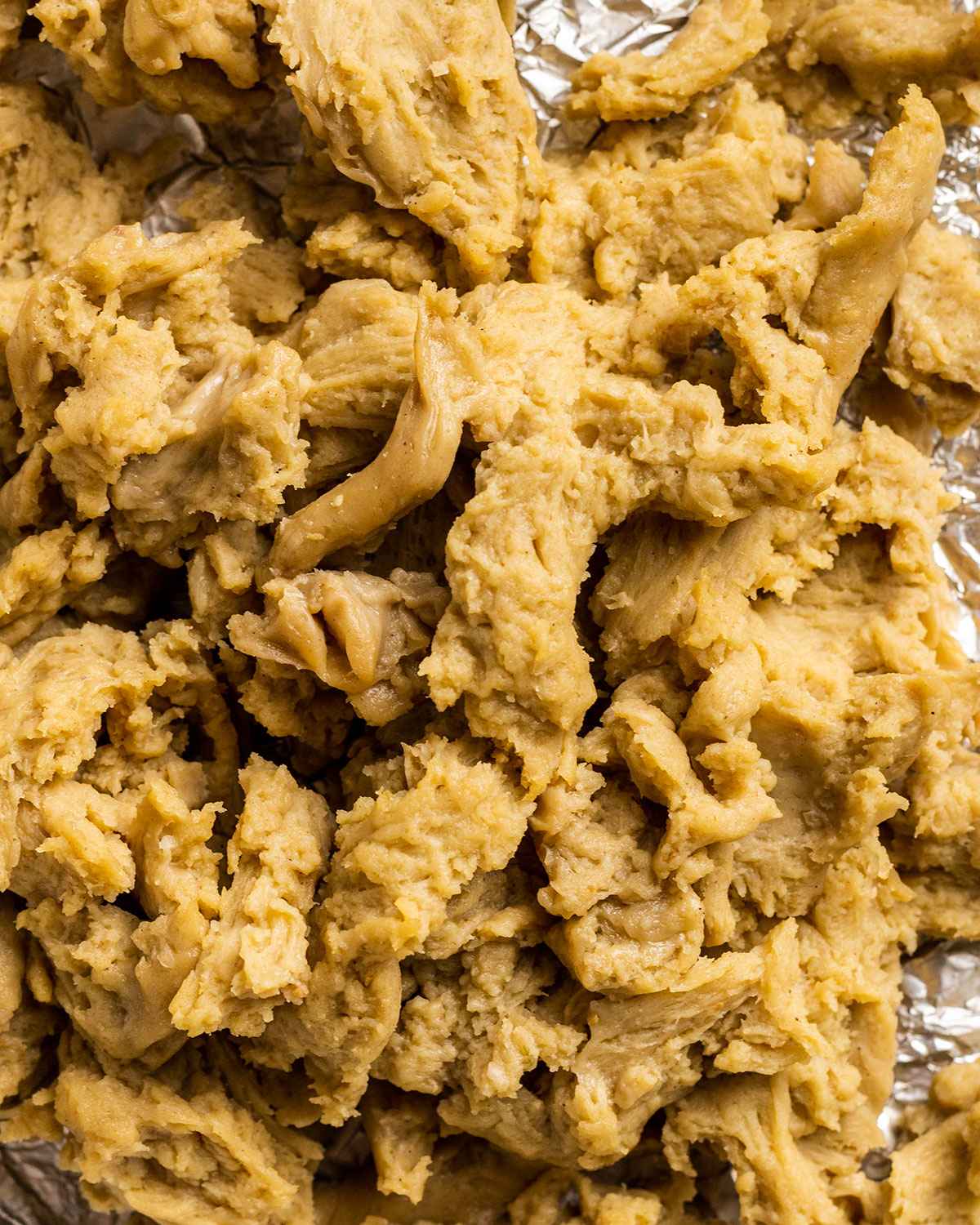 Once cool, use two forks to shred the dough into bite-size chunks. Alternatively, you can also slice or cube it.
Using the FSF method (Fry-Simmer-Fry)
Whilst steaming is a classic technique to cook and firm Seitan, I personally prefer the so-called 'Fry-simmer-fry' method. I first stumbled across this naming in the 'Seitan Appreciation Group" on Facebook, but not sure who originally came up with it.
Here's how it works:
The dough is not steamed, but placed into a hot skillet with a little oil. It is seared until a light skin forms.
A flavorful liquid such as vegetable stock, vegan-friendly ale or wine (or a mix of different liquids and seasonings!) is added to the hot skillet.
The skillet is covered with a lid and the heat reduced. The Seitan is simmered in the liquid for 30-40 minutes or until cooked, and flipped 3-4 times in the process.
Let the vegan Seitan cool down to create a firmer texture. You can store it in an airtight container in the fridge over night.
To serve the FSF Seitan, you can or shred it into your desired shapes, then pan-fry it and add your favorite sauces and marinades.
Serving
To easily prepare this vegan seitan chicken for a meal, pan-fry the strips in a little oil until crispy, then add a sauce to the skillet before removing from the heat.
Some of my favorite, simple additions are:
soy sauce - this caramelizes wonderfully and creates flavorful, crispy edges on the seitan
bbq sauce - by adding barbecue sauce to the seitan pieces, you get a super quick & simple bbq seitan!
garlic butter - simply delicious and a firm favorite of mine!
teriyaki sauce - simple and delicious! Use store-bought vegan-friendly teriyaki sauce or simple make your own at home
sriracha - great, if you love it spicy!
For an extra crunch, add some sesame seeds!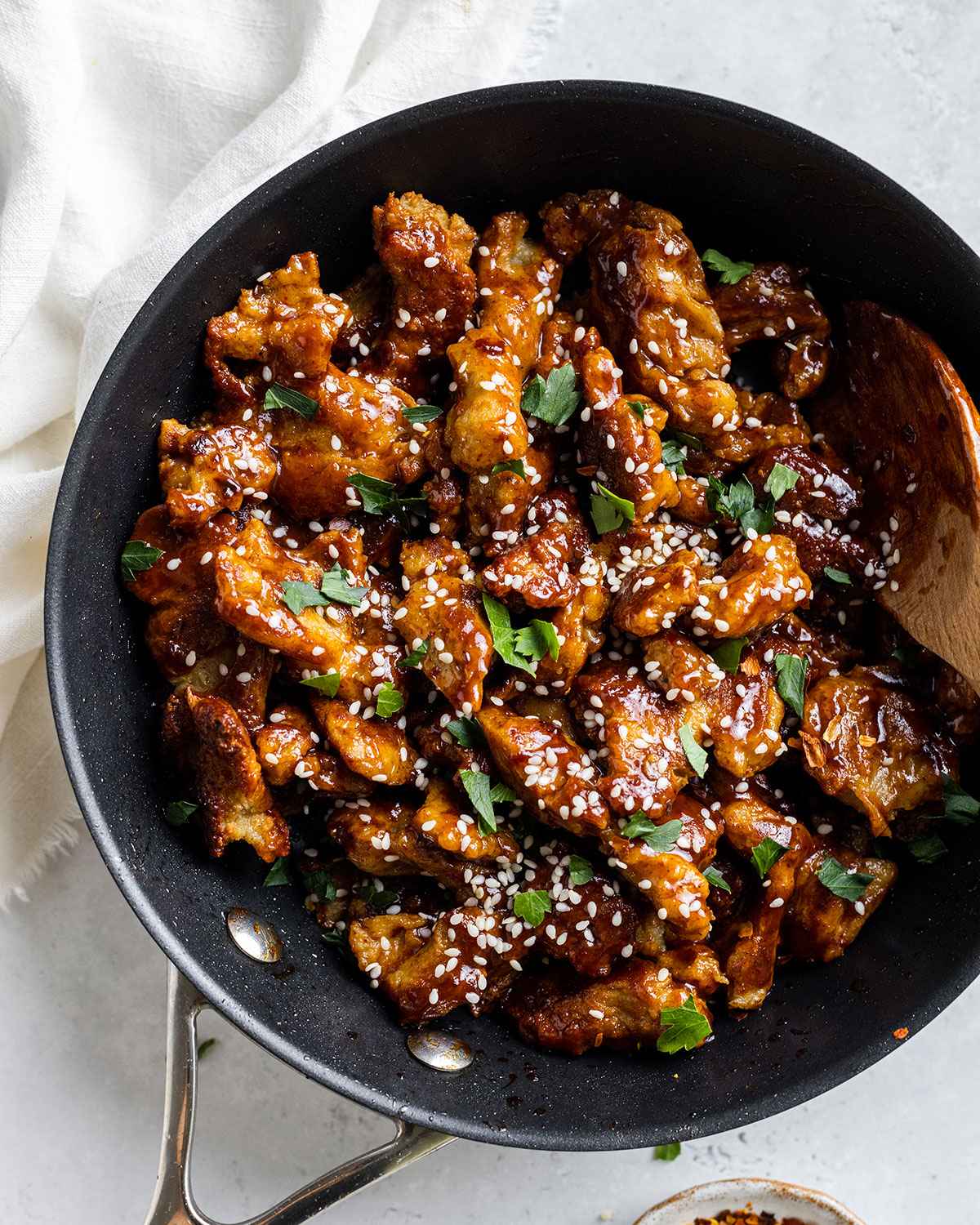 How to Serve Seitan Chicken Pieces
Just like real chicken, you can also add these plant-based chicken pieces to other dishes and recipes. It does not need to be pan-fried beforehand, but for the best results, briefly fry the pieces until crispy, it definitely adds a wonderful texture.
A few delicious dishes to add these to include peanut noodles, pad thai (instead of tempeh), sesame noodles, katsu curry, butter bean curry, stir fry, this Vegan Black Bean Ramen Recipe and many more.
Storage
Store the homemade vegan chicken pieces in an airtight container and keep them in the fridge for up to 3 days.
For storage up to 3 months, place the small pieces into freezer bags and keep them in the freezer until ready to use.
How to reheat Seitan Chicken
To reheat the seitan pieces, simply place straight from the fridge into a hot skillet and pan-fry them in a little oil until crispy. Add sauces as you please. Alternatively, add the pieces straight to your recipes.
If reheating from frozen, allow for the pieces to thaw for 30 minutes before cooking.
Substitutions
For this recipe to work out, I recommend sticking to as much of the original ingredients list as you can, but if you need to make a few little adjustments, here are a few tips:
white pepper - I use white pepper in this recipe as it adds a lovely peppery flavor without the heat of black pepper. If you don't have any to hand, just leave it out - or if you don't mind the heat, replace it with black pepper.
olive oil - you can replace the olive oil with either canola oil or ground nut oil.
onion & garlic powder - there are only small quantities used in this recipe, but if you're intolerant to either, just leave them out and make sure to flavor your vegan chicken with sauces and marinades.
nutritional yeast - instead of nutritional yeast, you can add 1 teaspoon of white miso paste.
Overall, the flavoring of this recipe is simple, which makes these vegan chicken pieces perfect for use in other recipes and for coating in sauces, marinades & Co.
Variations
Using this basic seitan chicken recipe, you can create a variety of vegan chicken inspired styles to use in your recipes:
Vegan chicken shreds
Seitan cutlets
Vegan chicken breasts
Vegan chicken fillets
and many more
The main difference between these types is the shape of your seitan chicken and how you cut the pieces but this base recipe works for all of these styles.
For this recipe, I've created Seitan chicken shreds by simply tearing the cooked Seitan into bite-size pieces using 2 forks.
Frequently Asked Questions
My vegan chicken dough is falling apart after washing, what to do?
This is normal! It will become super soft and shaggy and easily fall apart. It will come back together in the resting phase after blending in the flavor paste, so trust the process!
It is possible to make gluten-free Seitan?
Unfortunately no, as Seitan is made from pure gluten - it's what gives it its typical texture and bite.
How do I serve this Vegan Chicken?
There are so many different ways to serve this vegan chicken replacement. You can shred it, slice it, dice it, chop it - whatever the recipe you're looking to make calls for! One of my personal favorite ways to enjoy this vegan chicken, is pan frying the pieces and then adding a delicious, sticky sauce to the pieces, such as homemade teriyaki sauce!
Related Recipes
If you enjoy making homemade plant-based meat alternatives or similar recipes, then give these favorites from the blog a go:
If - like me - you love Pinterest, you can find me here & if you like, you can pin any of the images on this page to your boards 😊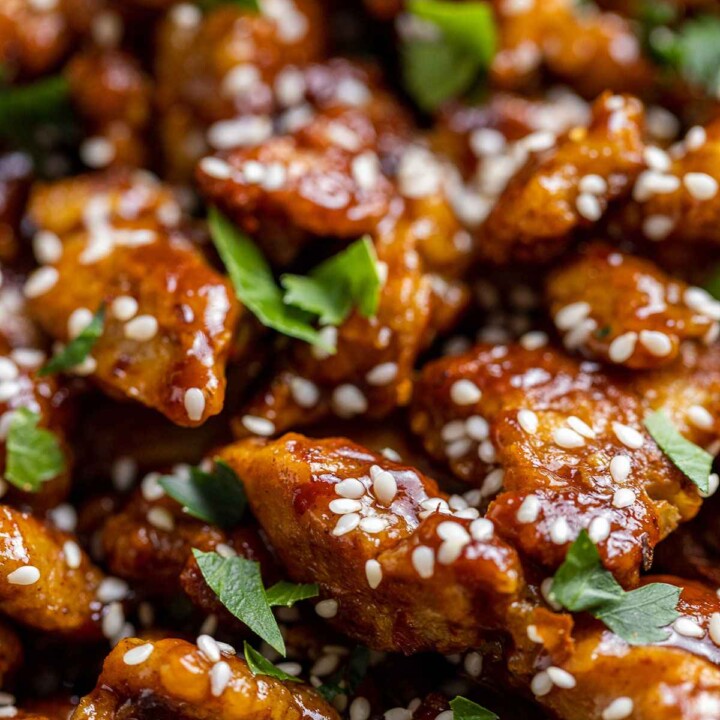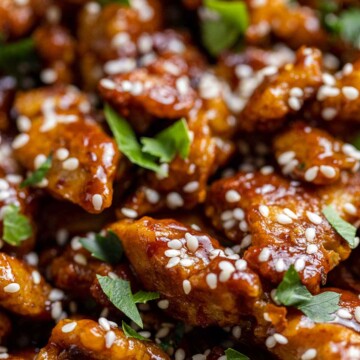 Vegan Chicken
This homemade vegan chicken is made from Seitan and perfect for replacing chicken in all kinds of recipes. It has a great bite and is easy to make using the flour washing technique.
Equipment
1 large mixing bowl

1 small mixing bowl

1 spatula

parchment paper

aluminum foil

1 steamer

1 food processor
Ingredients
2

cups

strong white flour (500 g)

1

cup

water (250 ml)

plus extra if needed

1

tsp

onion powder

1/2

tsp

garlic powder

1/2

tsp

salt

1/4

tsp

white pepper

2

tbsp

nutritional yeast

1

tbsp

olive oil
Instructions
Creating the flour washed Seitan base
Create a dough ball using the flour and water. Knead it on a lightly floured surface for 2 minutes until smooth. Place the dough ball into a large mixing bowl and cover it with water. Set aside for 30 minutes.

Place the bowl into a sink and begin to knead the dough under water. This process is called 'washing the flour' (WTF = wash the flour). The wheat starches from the flour will dissolve into the surrounding water, making it white and creamy. What you are left with is wheat gluten, aka Seitan.

When the water gets super creamy, you will want to drain the water and refill with fresh water. Thoroughly 'wash' the flour under water and repeat the process until the water is only a clear white color and not creamy anymore. Then your dough ball will be washed. During the flour washing, the dough ball can get really loose and soft and fall apart. Don't worry, this is normal, just continue washing the pieces, it will all come back together in the next steps.

Rinse the dough and place it into a colander to drain any excess liquid. If you use a fine mesh colander you might want to add a small sheet of parchment paper or something similar to prevent it from sticking to the mesh.
Creating the flavor past
To create the flavor paste, combine the onion & garlic powder with the salt, pepper, nutritional yeast and oil in a small bowl. Stir until you get a paste and add a little extra oil if needed.

Transfer the Seitan into a food processor. Add the flavor paste and pulse 5-10 times or until the flavor paste is evenly mixed into the Seitan dough.

Place the Seitan back into the colander and let it rest for 2 hours or ideally overnight. During this resting time the gluten strands will come back together and create a firmer texture.
Texturing the Seitan
To create the typical chicken-style texture, pull the Seitan dough with your hands, twirl the strands and wrap the dough around itself. If you can pull the dough into a long sausage shape, you can also create little knots which will form stronger shreds later on. Continue to pull, twirl and knot until the dough is a ball full of twirls.

Wrap the Seitan ball in parchment paper, then firmly cover it in aluminum foil.

Steam the Seitan for 1 hour using a steamer basket or a steaming device, then allow for it to cool down before unwrapping it carefully.
Portioning & Serving
From here on, you can divide, cut, and shred the Seitan into your desired pieces. I find it has the best texture, when the steamed dough is briefly pan-fried in a little oil first - it gives it a little 'skin' and makes it easier to divide the vegan chicken Seitan.

Before serving, you need to pan-fry your individual vegan chicken pieces in a little oil and then add your favorite sauces. You can also add the pan-fried pieces to your favorite recipes, such as curries & pasta dishes.
Notes
This recipe is for 2 portions, but you can easily multiply the ingredients if you want to batch cook them. I would recommend cooking & steaming them in the portion-sizes though, to ensure the Seitan is cooked all the way through.
When just steaming the Seitan, it will have a very soft texture. Use a sharp knife or fork to cut it into your desired portion sizes and fry your Seitan chicken pieces before adding them to your dishes.
When texturing the Seitan dough, I like to stretch one end of the Seitan and pull it over the entire Seitan ball. it gives it a skin-like texture and makes it easier to handle.
Store the homemade chicken pieces in an airtight container and keep them in the fridge for up to 3 days. For storage up to 3 months, place the small pieces into freezer bags and keep them in the freezer until ready to use.
To reheat the Seitan pieces, simply place straight from the fridge into a hot skillet and pan-fry them in a little oil until crispy. Add sauces as you please. Alternatively, add the pieces straight to your recipes.
Using this basic recipe, you can create vegan chicken shreds, cutlets, vegan chicken breast, vegan chicken fillet and many more shapes to replace chicken in alternative recipes.
Latest Recipes
*Disclosure: This page may contain affiliate links and sponsored links that earn me a small commission, at no additional cost to you. You can find more information in my Privacy Policy.
 © Romy London / Romina Callwitz | All images and content are copyright protected. Please do not use my images and content without permission. If you wish to re-publish any recipes or images, please get in touch via email. Thanks for your support!