Super creamy Sun-Dried Tomato Pasta Sauce Recipe - next level (vegan) comfort food! Created with only 5 simple ingredients. Perfect with vegan tortellini.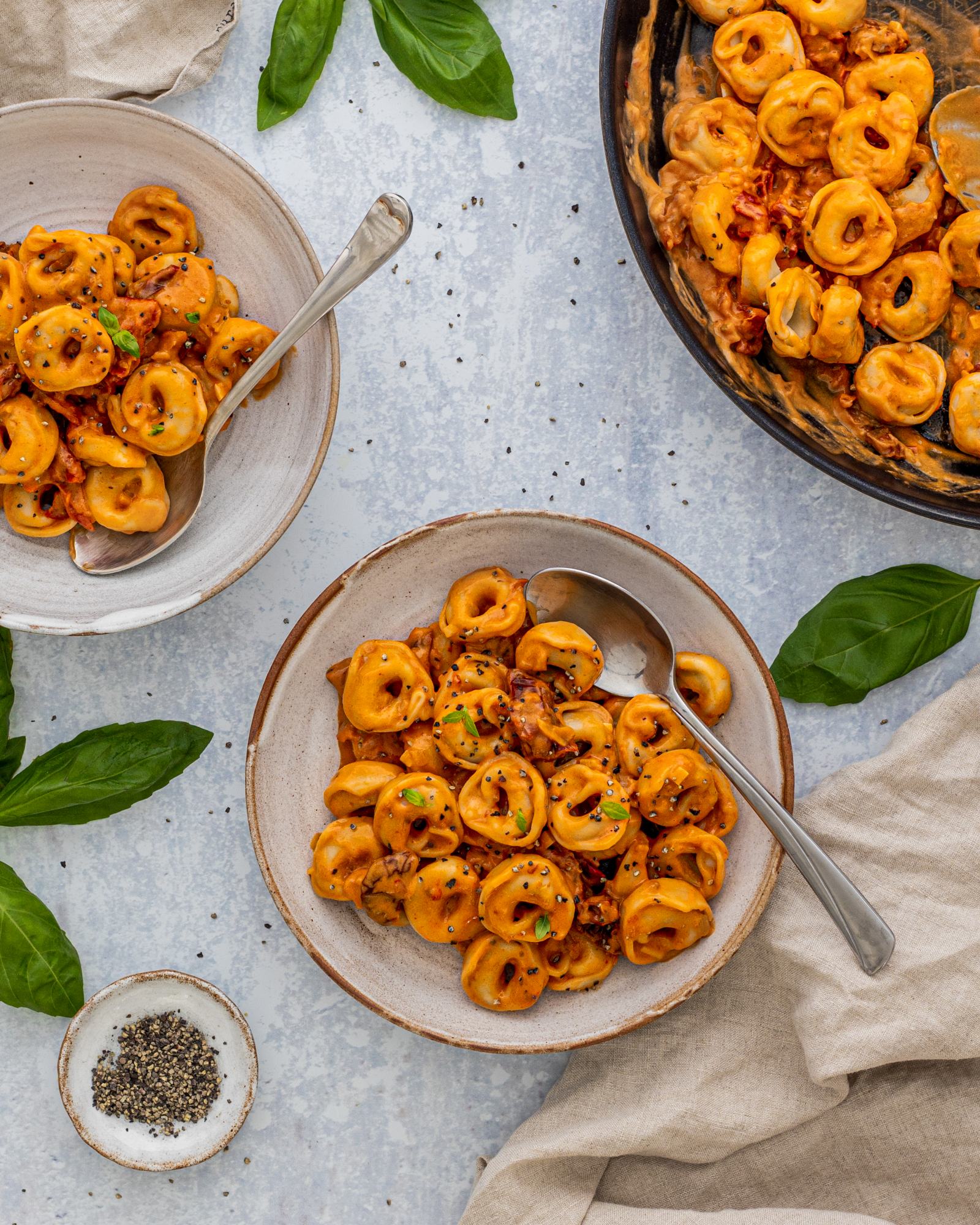 Don't well all know those eves? Hungry for a more-ish comforting meal, but only a handful of ingredients in the house and no bother to spend much time in the kitchen. Well let me tell you, that's a perfect eve for this super quick & easy, but totally mouth-watering Creamy Sun-Dried Tomato Pasta dish. Great with vegan tortellini (like the ones from Mr Organic I used here) but also amazing with any other type of pasta you have to hand.
The sun-dried tomato sauce also works beautifully with vegan gnocchi, and if you have any gnocchi leftovers, you can make this Gnocchi Carbonara for dinner the next day.
Ingredients and Notes
any pasta (preferably some small/medium shapes that hold sauce well!)
onion
garlic
a little oil
sun-dried tomatoes
tomato paste
dairy-free cream
salt & pepper
herbs to garnish
Equipment
1 large non-stick pan
either ready-cooked pasta or a saucepan to cook your pasta in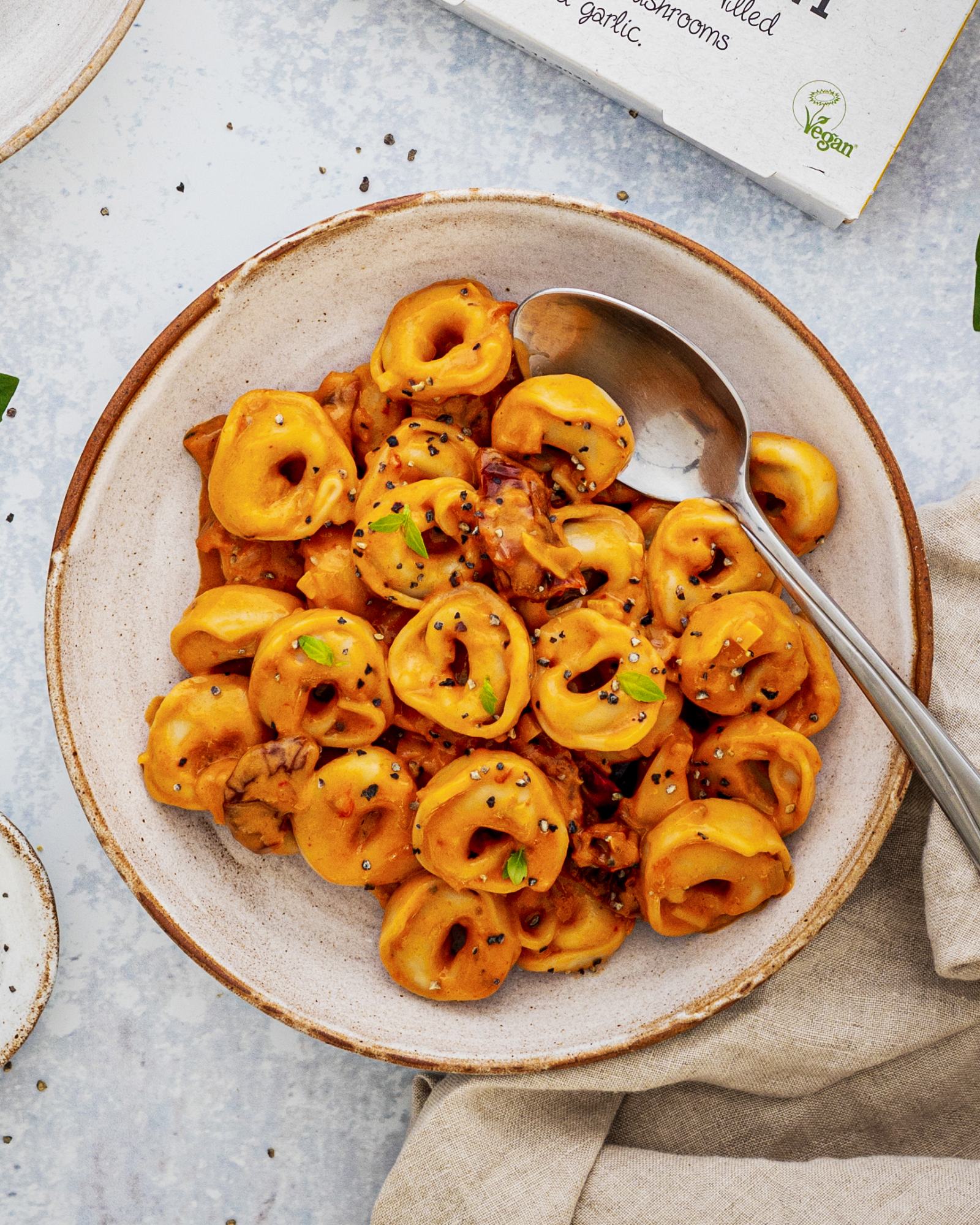 Instructions (Step-by-Step)
First start by preparing your pasta according to packaging instructions.
The sauce can be created easily in a single pan: start by heating your oil in the pan over high-heat. For best results use a non-stick pan! Add in the chopped onions and cook until translucent - this should take about 2 minutes once the oil is hot. Add in the minced garlic and cook it for a further minute, stirring to ensure it does not burn in the pan.
Afterwards add in the chopped sun-dried tomatoes. This doesn't need to be a fine chop, I usually just roughly slice them - about 2 tablespoons worth of sun-dried tomatoes.
Stir in the tomato paste and then reduce the heat to a minimum. Pour in the vegan cream and bring to a simmer over low heat. Allow to simmer for 5 minutes whilst stirring regularly to combine.
Add in the cooked pasta and season with salt and pepper. Serve hot and garnish with some fresh herbs (totally optional of course). Basil, thyme, rosemary or sage are all a great fit for this dish!
The pasta is delicious on its own or alongside a slice of freshly baked, fluffy focaccia. Enjoy!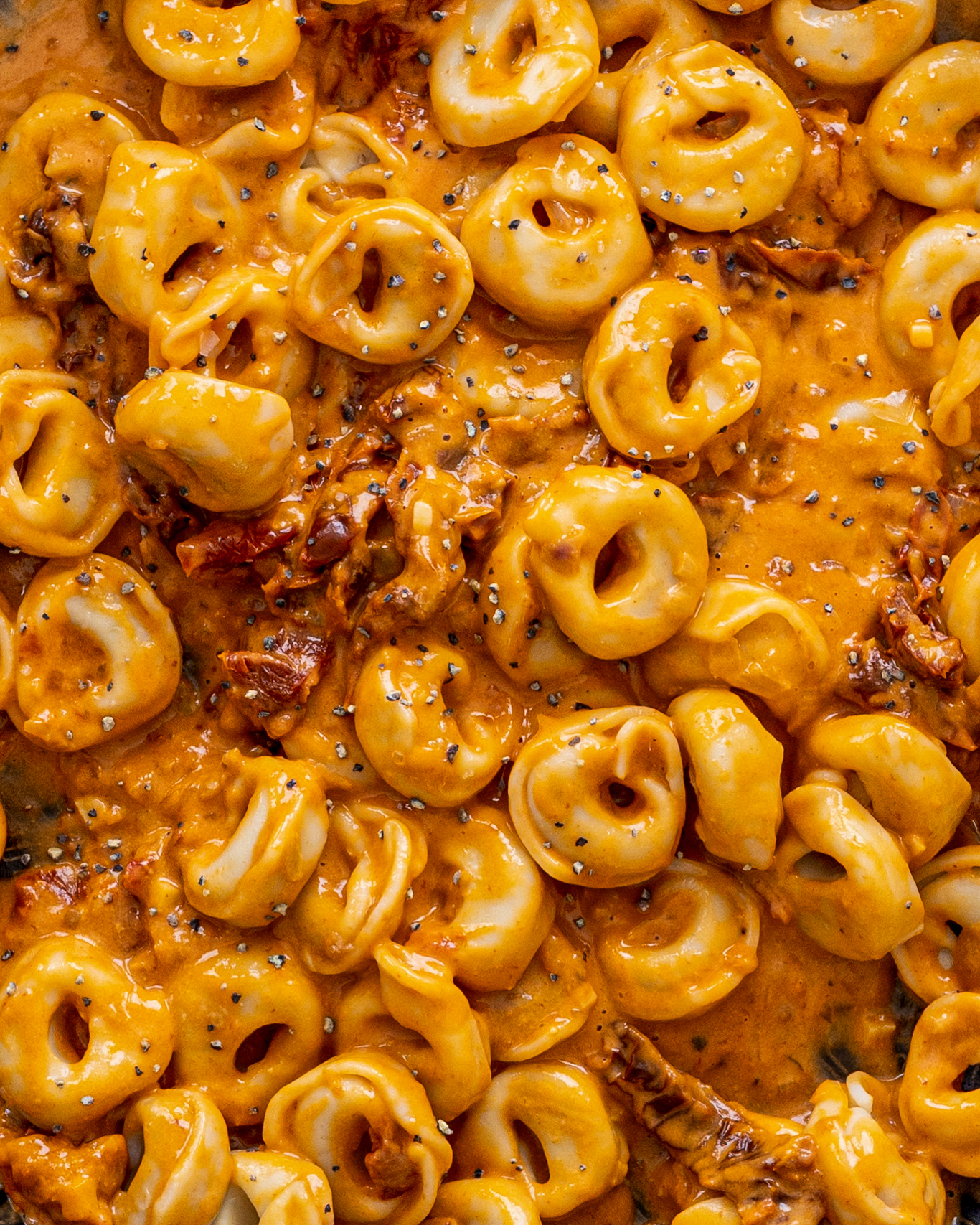 Where to buy vegan tortellini and ravioli in the UK
A few years ago I probably would have told you that you'd have to make them from scratch but luckily nowadays there are a whole bunch of brands that create ready-made vegan tortellini for an easy and quick tasty dinner to create at home!
Here are a few brands/stores that currently stock them: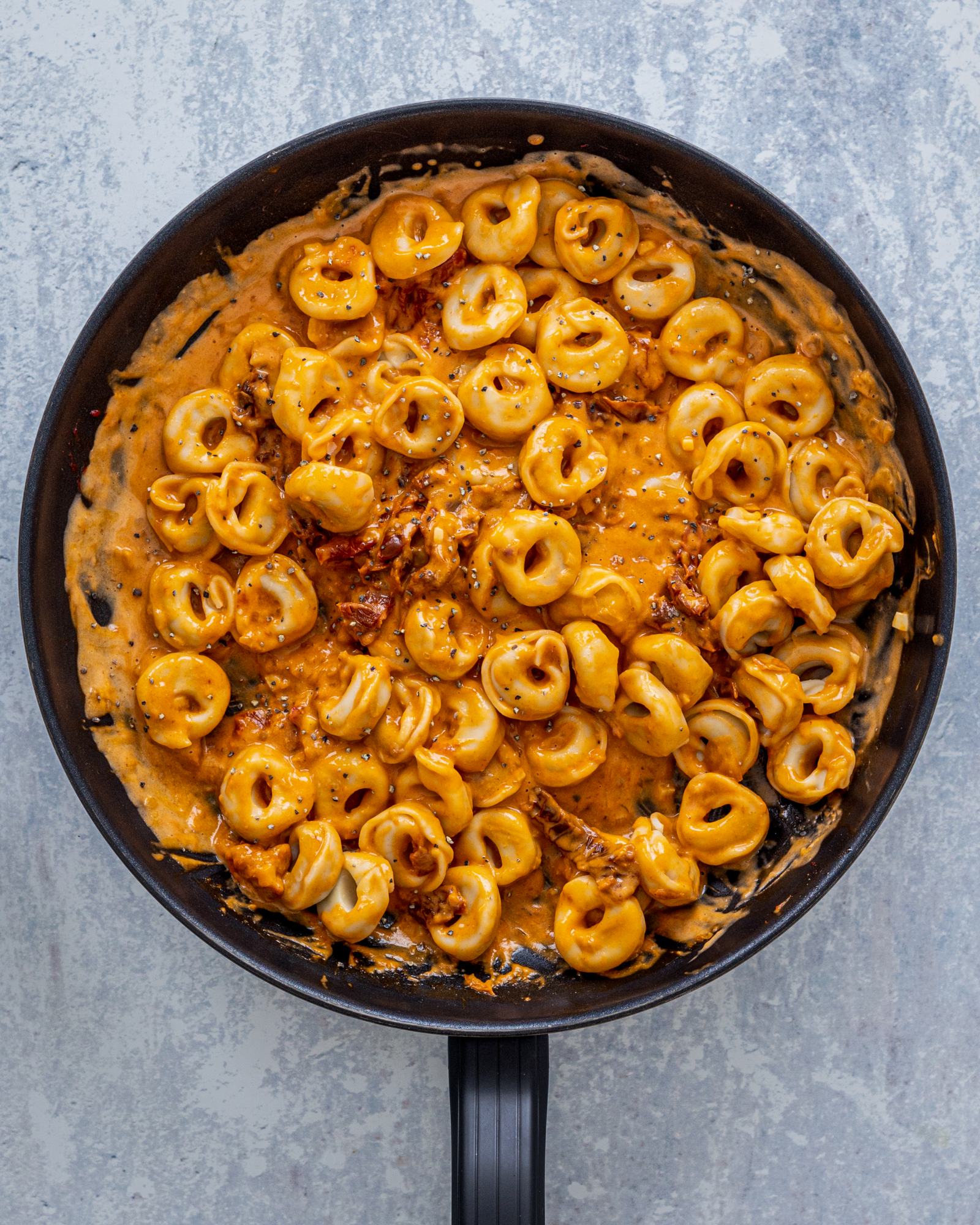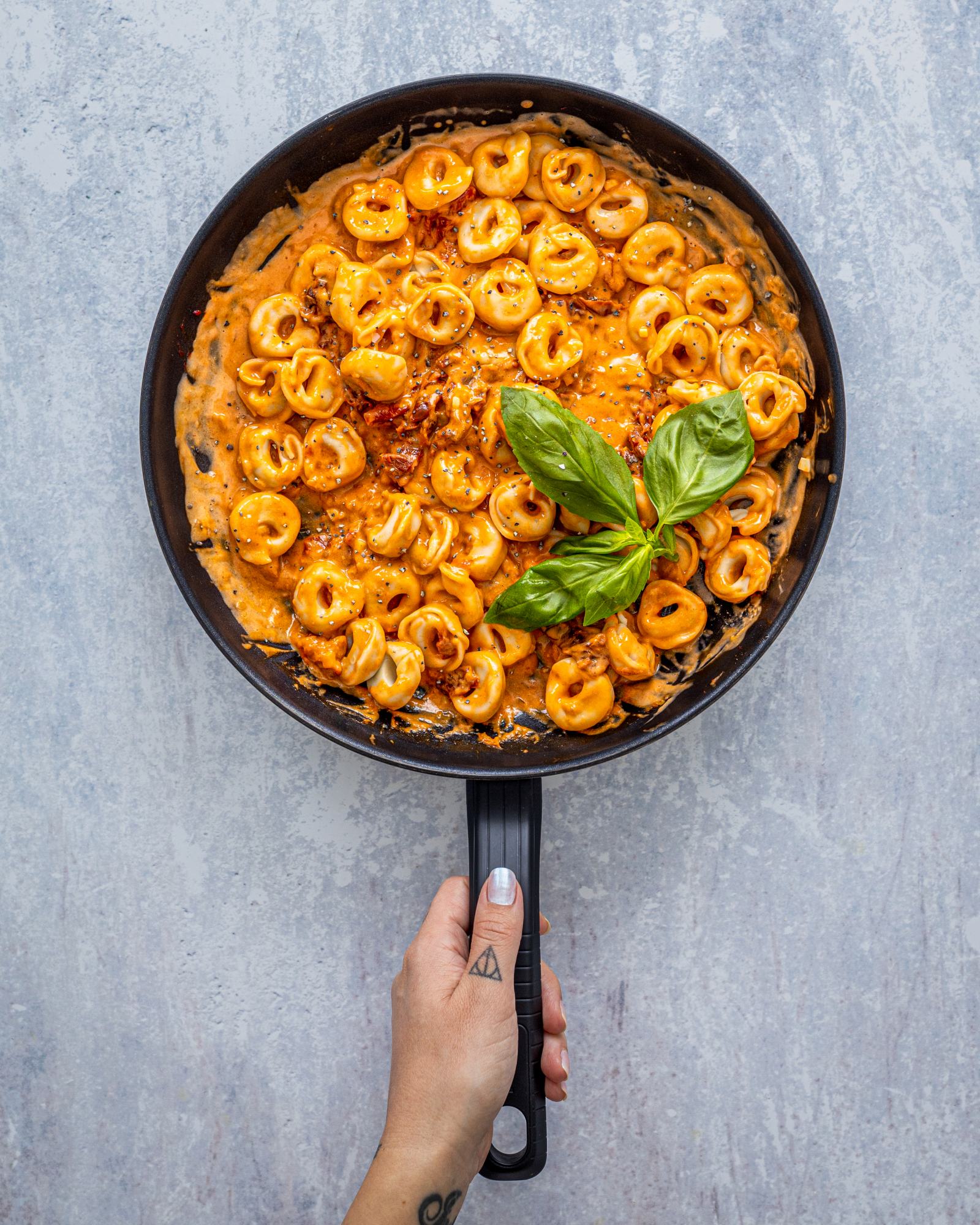 What you'll love about this recipe:
it's 100% vegan
it's super quick & easy to make
it's full of flavour
it will have you wanting more
you can use whatever pasta you have at home - though it tastes simply fab with vegan tortellini!
you can pre-make and freeze this sauce
it still takes fantastic re-heated, which makes it perfect for meal prep!
You might also enjoy these recipes:
Pasta for dinner is always a good choice! If you're looking for some new pasta-licious recipes to try, then why not give my Boursin Pasta, or my proper Vegan Carbonara Recipe!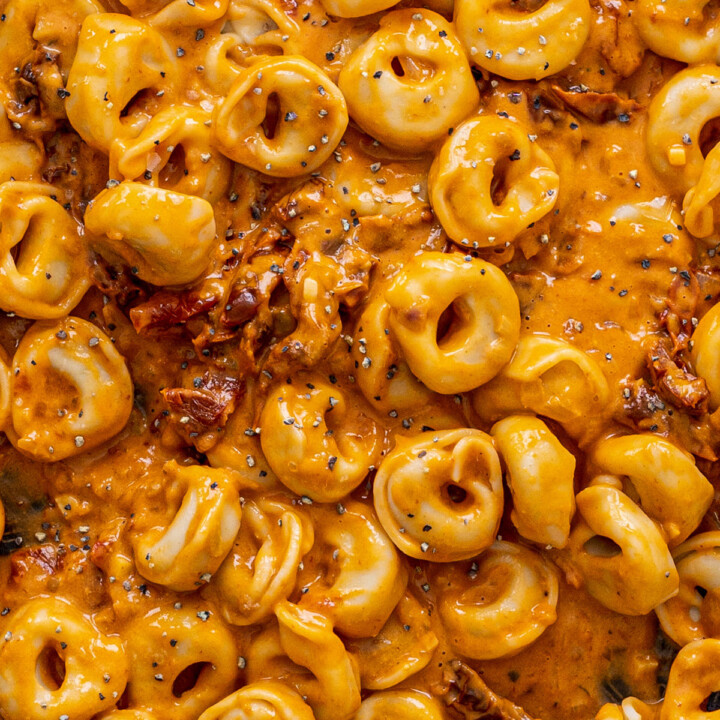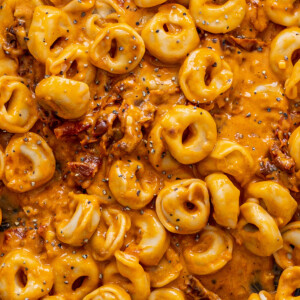 Vegan Sun-dried Tomato Pasta
Super creamy Sun-Dried Tomato Pasta Sauce Recipe - next level (vegan) comfort food! Created with only 5 simple ingredients. Perfect with vegan tortellini.
Equipment
1 large non-stick pan

1 large saucepan

to cook the pasta

1 sharp knife
Ingredients
2

portions

vegan-friendly pasta

1

tbsp

sunflower oil

1

large

brown onion

finely chopped

2

cloves of garlic

minced

2

tbsp

sun-dried tomatoes

roughly chopped

1

tbsp

tomato paste

1

cup

vegan cream (250 ml)

salt and pepper to taste

fresh herbs to garnish
Instructions
Prepare your pasta according to the packaging instructions.

In a large non-stick pan heat the sunflower oil and fry the chopped onion for 2 minutes until translucent. Add in the minced garlic and cook for another minute.

Roughly chop up the sun-dried tomatoes and add them to the pan. Stir through the tomato paste, then reduce the heat to low and pour in the dairy-free cream.

Stir the sauce until it's a creamy red colour & allow to simmer for 5 minutes. Season with salt & pepper, then add in the pasta and stir to combine.

Serve hot & garnish with fresh herbs, such as basil, thyme, rosemary or sage.
Notes
No cream? no problem! Add 1 Tbsp almond butter and 2 Tbsp dairy-free yoghurt instead, then add a few tablespoons of water until you can stir everything together into a sauce.
Also tastes great with a sprinkle of nutritional yeast on top!
Looking for more vegan pasta recipe inspiration? Let me help you with that! Give these a go:
Easy Avocado Pasta
Creamy Roasted Red Pepper Pasta
*Disclosure: This page may contain affiliate links and sponsored links that earn me a small commission, at no additional cost to you. You can find more information in my Privacy Policy.
 © Romy London / Romina Callwitz | All images and content are copyright protected. Please do not use my images and content without permission. If you wish to re-publish any recipes or images, please get in touch via email. Thanks for your support!