Super creamy and easy Baked Boursin Pasta - just like you know it from Tiktok, but even easier! Made in a single oven dish for the ultimate convenient midweek meal, and this recipe doesn't require you to precook your pasta.
This recipe is:
easy to make
super low effort
quick
creamy and delicious
baked
made in one pot
convenient as you don't need to pre-cook your pasta with this recipe!
100% vegan
made with vegan boursin cheese
baked in the oven
inspired by the famous Tiktok recipe
veganised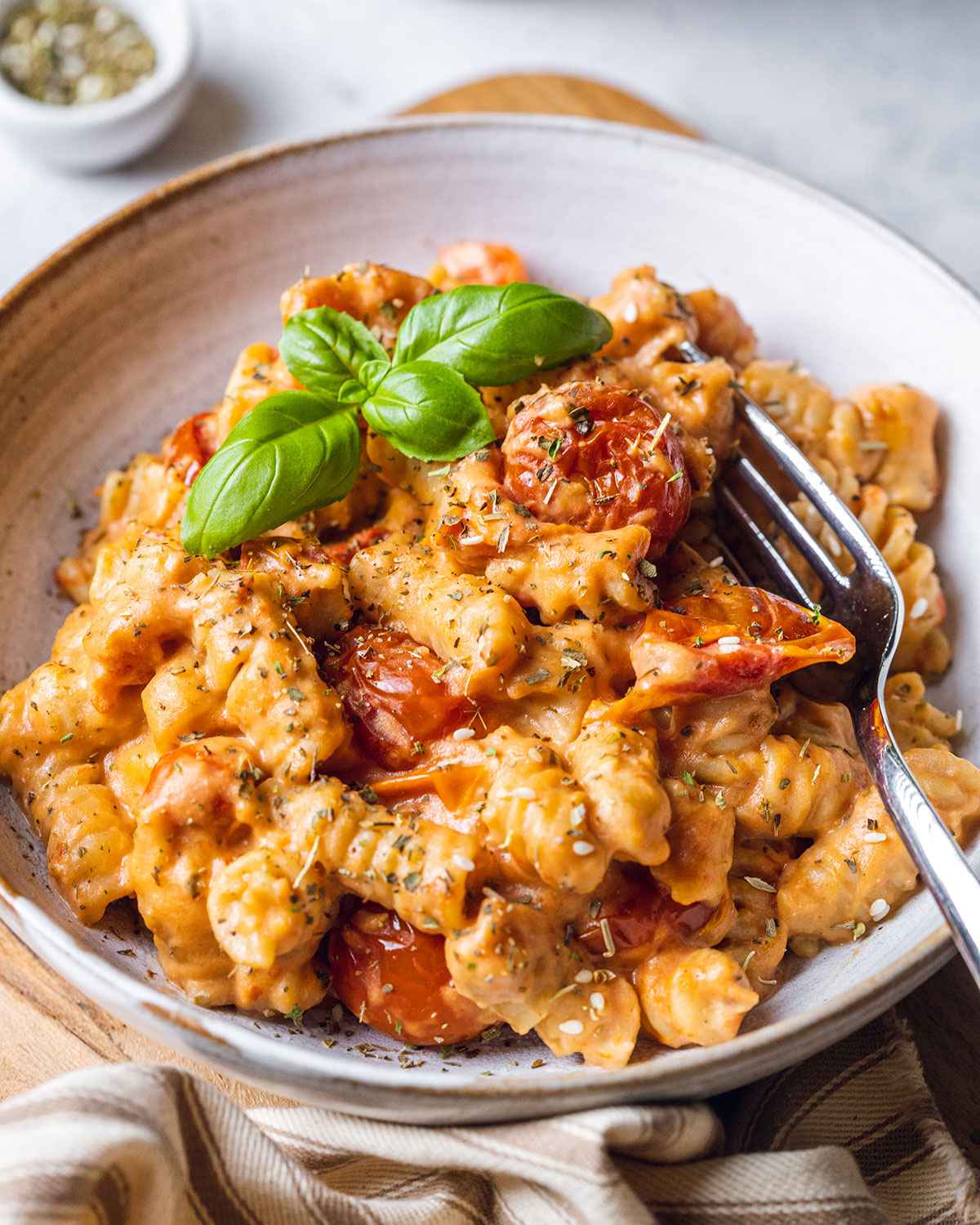 We probably all remember when this simple Boursin recipe went viral on Tiktok in 2021! And rightly so - it's an amazing idea to make Baked Boursin Pasta simply with tomatoes, a block of Boursin cheese, and pasta.
I don't know who exactly was the original creator of this Tiktok-famous pasta, but I definitely bow to their genius idea! This recipe here is my own take on the creamy Boursin pasta - but a plant-based version using convenient tinned cherry tomatoes for this delicious next-level tomato pasta and with less washing up to do after, which is always a big plus, if you ask me!
If you love to try more TikTok recipes, definitely try the BEST Mini Pancakes - aka pancake cereal - or this amazing TikTok hack for making the tastiest Cinnamon Rolls! So easy and fun!
Why this recipe works
There are a few things I truly love about this recipe - and I'm sure you will too:
it's so handy and easy to make in one single oven dish, resulting in minimal washing up after!
all you need is a baking dish and your oven, so little manual work involved!
this recipe uses tinned cherry tomatoes and cooks the dry pasta in the baking, given the pasta the ultra creamy and delicious flavor it deserves.
it's super creamy and full of flavor from the Boursin cheese and roasted tomatoes, simply dreamy and definitely a dinner delight.
it makes the kitchen and the entire house taste fantastic!
Ingredients & Notes
The ingredients for this recipe are super simple and nothing complicated is required to make this delicious dinner dish.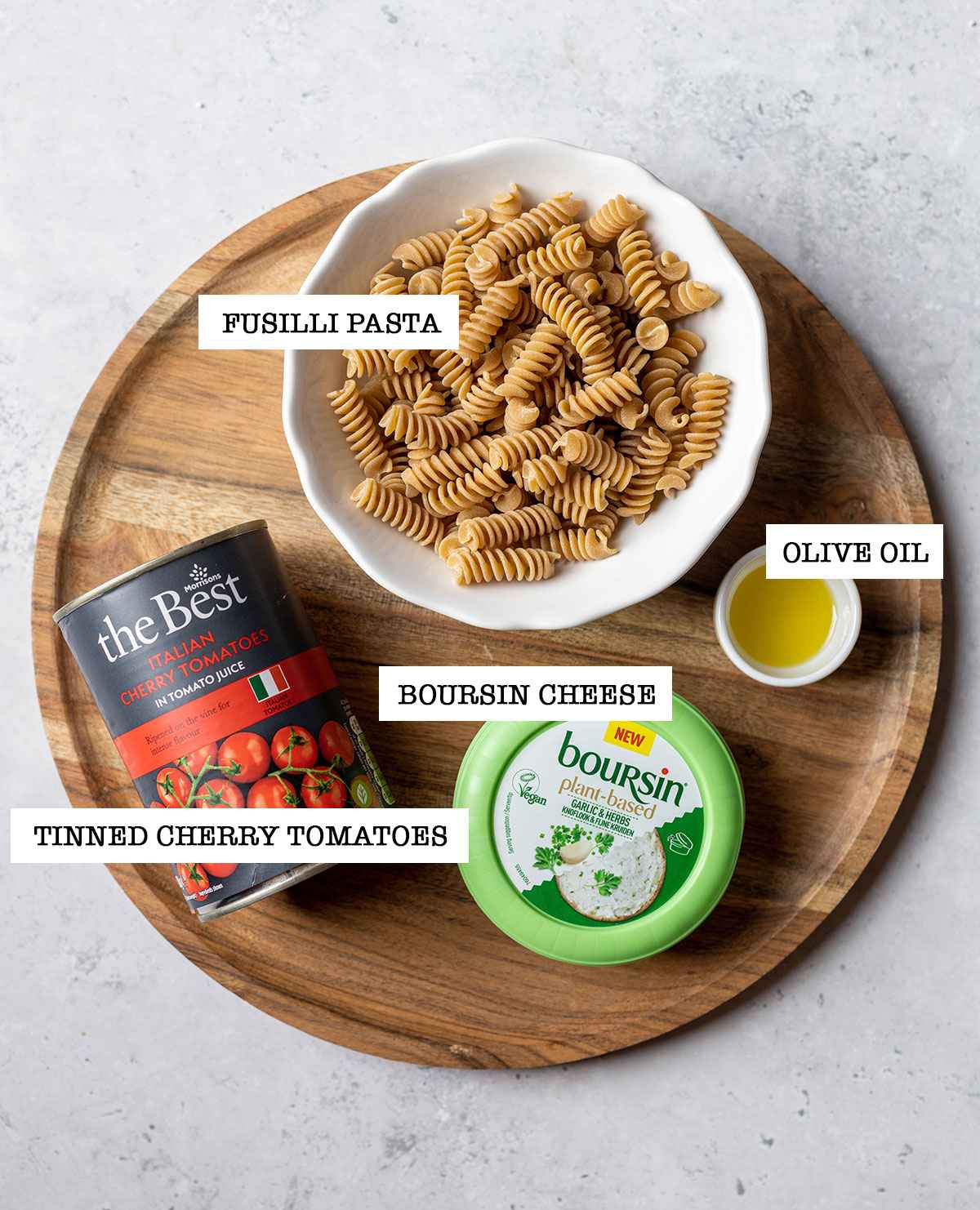 Olive oil - a little olive oil to grease the oven dish
Boursin Cheese - For this recipe I've used the plant-based Boursin version available in the UK. Feel free to use whichever alternative you have to hand.
Pasta - I like to use short-grain pasta for this recipe as it cooked evenly and really takes on the sauce so well!
Tinned cherry tomatoes - Tinned cherry tomatoes are simply perfect for this recipe, and so convenient.
Salt and black pepper to taste
Equipment:
Oven dish
Oven
Wooden spoon or spatula
That's it!
How to make Boursin Pasta (Step-by-Step)
This recipe is delicious and super simple to make as you will see from the steps below!
Step 1 - Preparation
Preheat your oven to 390°F (200°C). Lightly grease your oven dish with olive oil.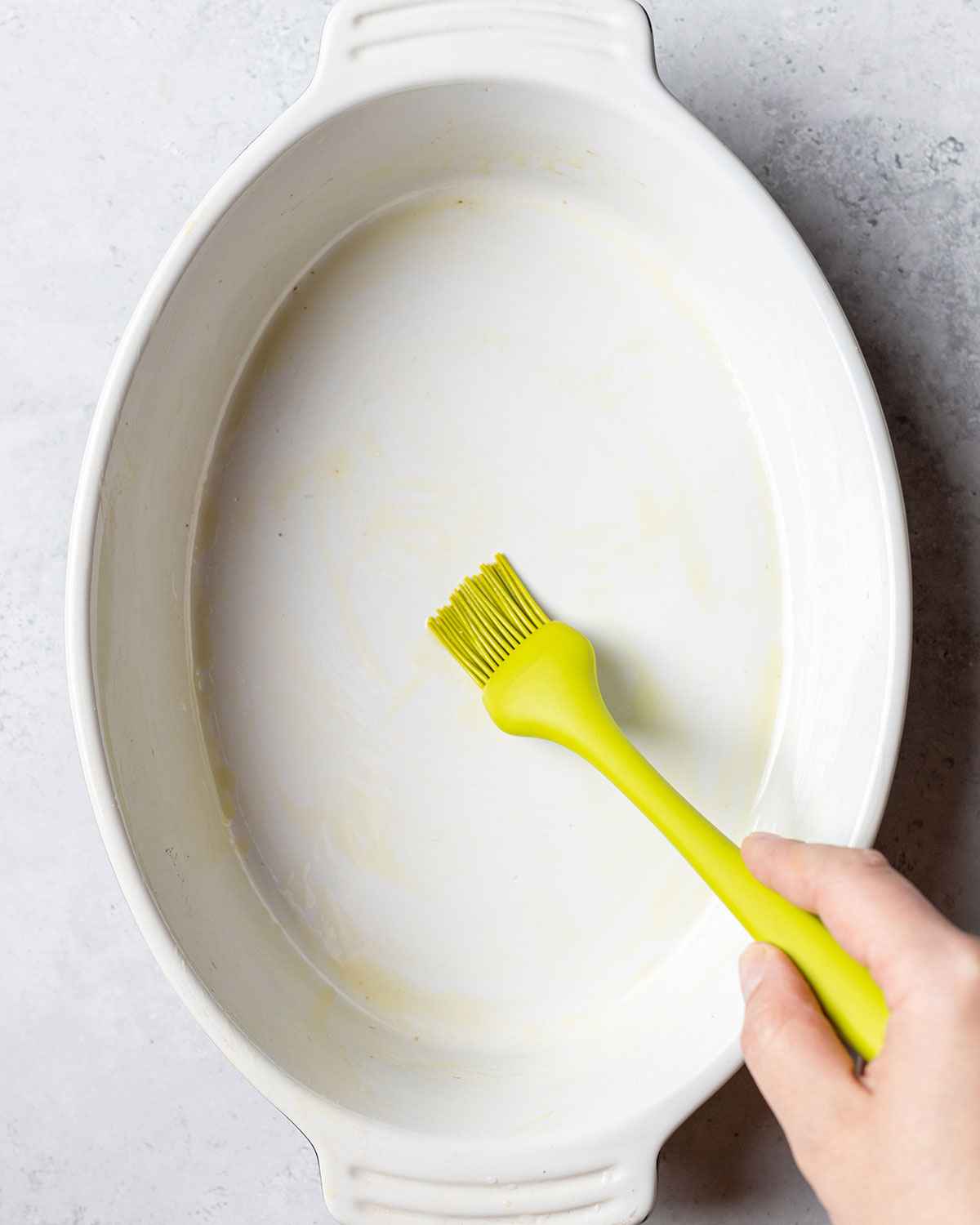 Step 2 - Assemble ingredients
Empty the Boursin Cheese into the center of your oven dish.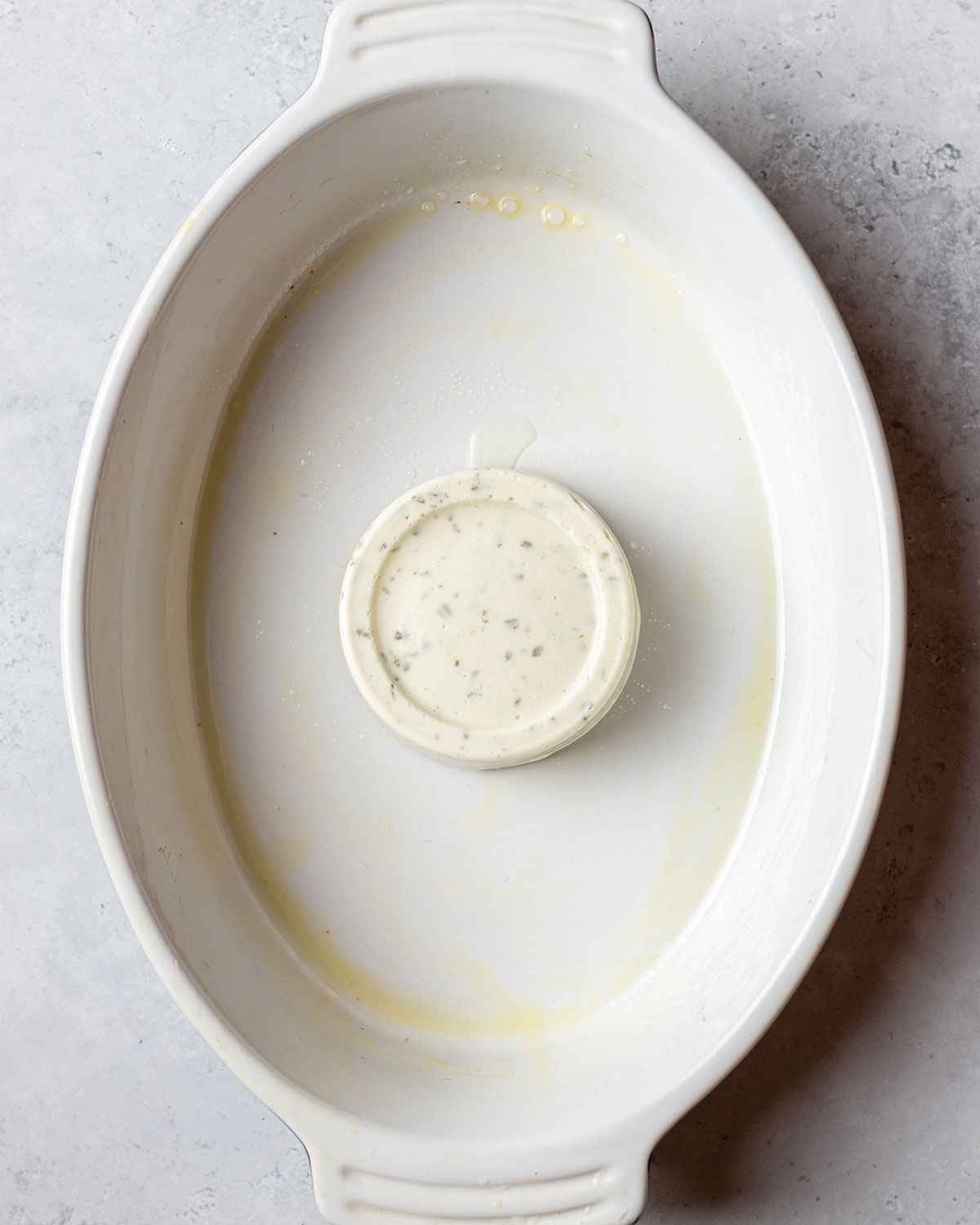 Place the dry pasta around the cheese and pour the tin of cherry tomatoes over the top.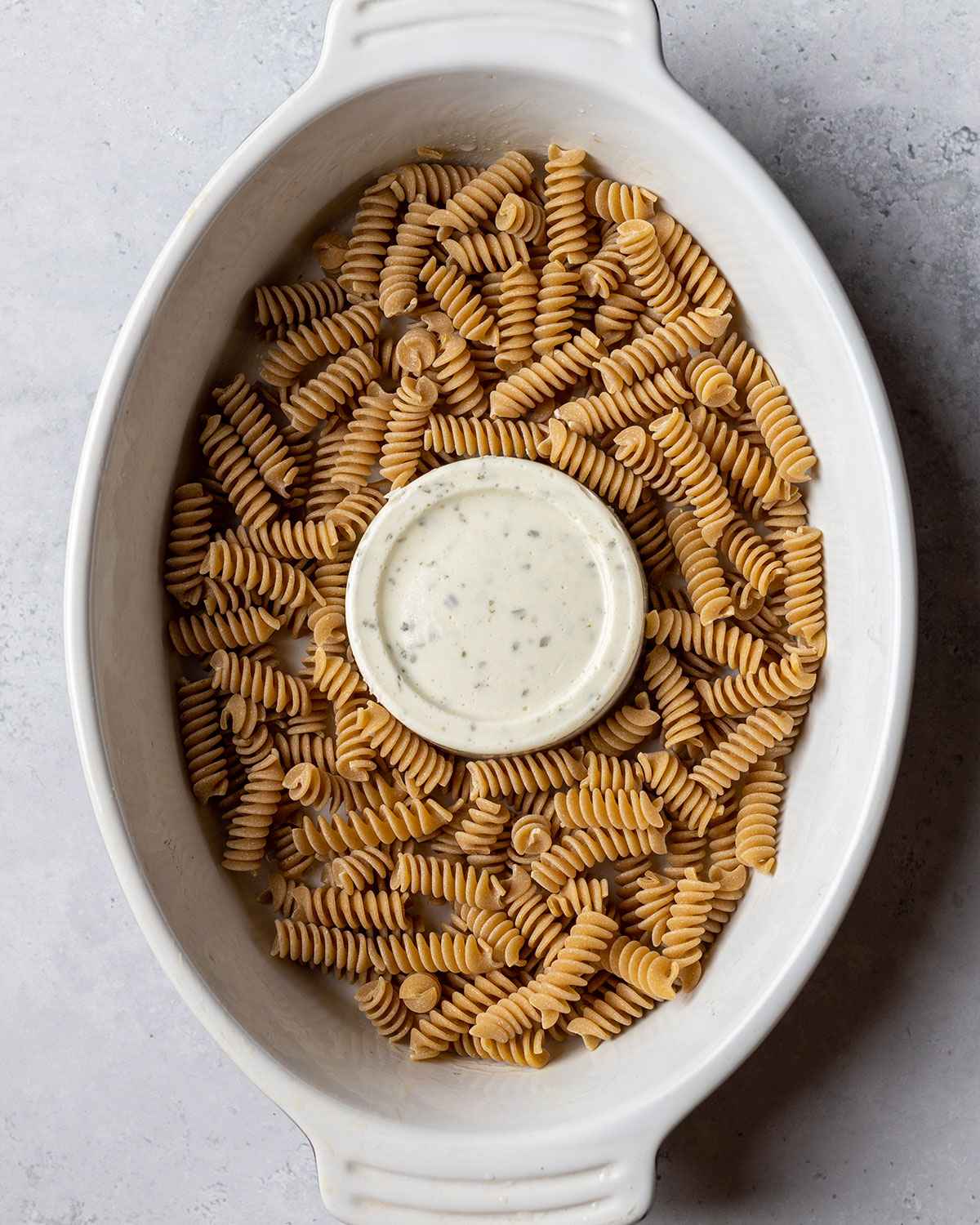 Refill the empty tin with clear water about 3/4 all the way up and pour the water into the oven dish. It should roughly cover the fusilli pasta in the dish.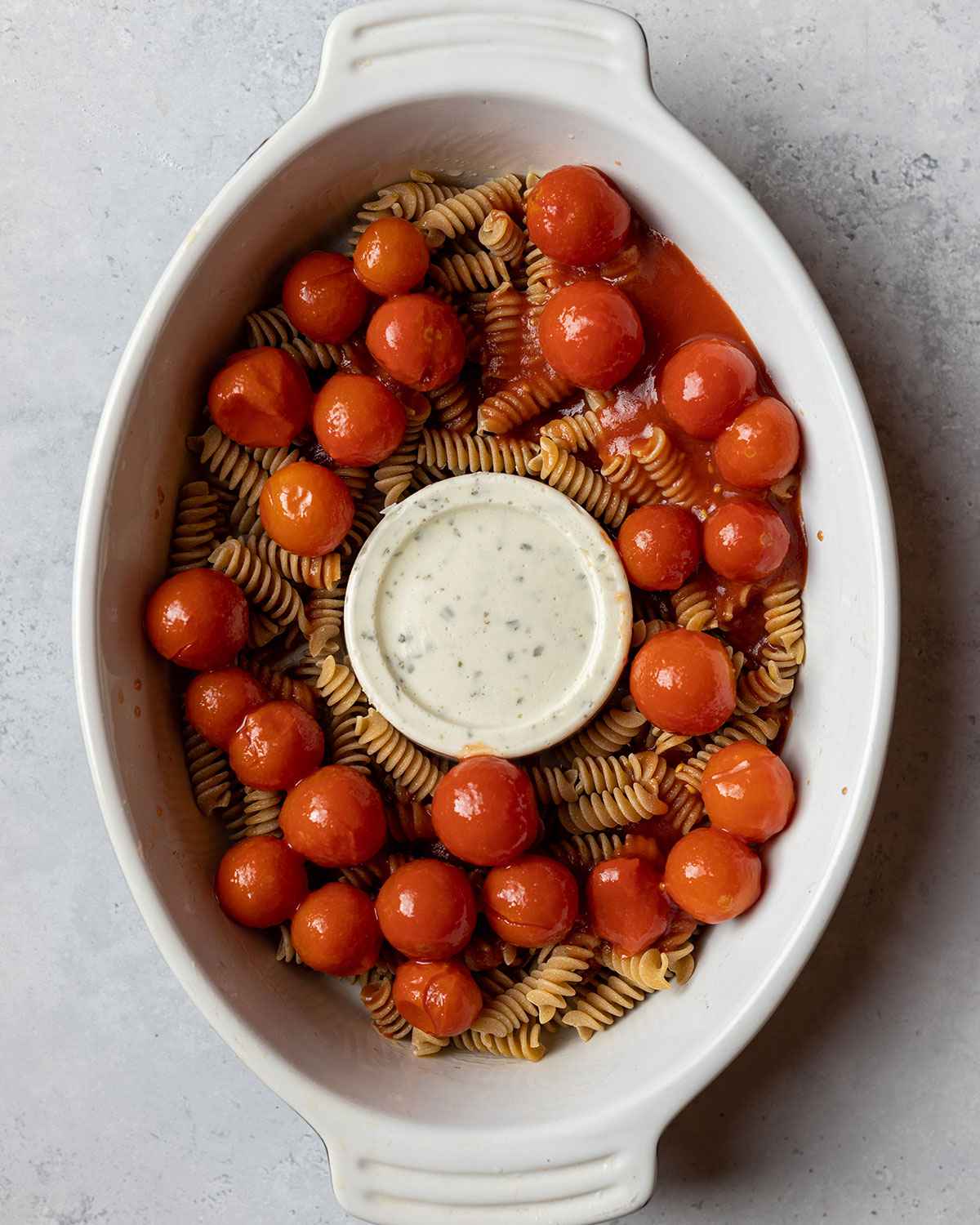 Step 3 - Bake
Transfer the dish to the oven and bake for 20-25 minutes or until the tomatoes on top look wonderfully roasted and the pasta has soaked up the majority of liquid.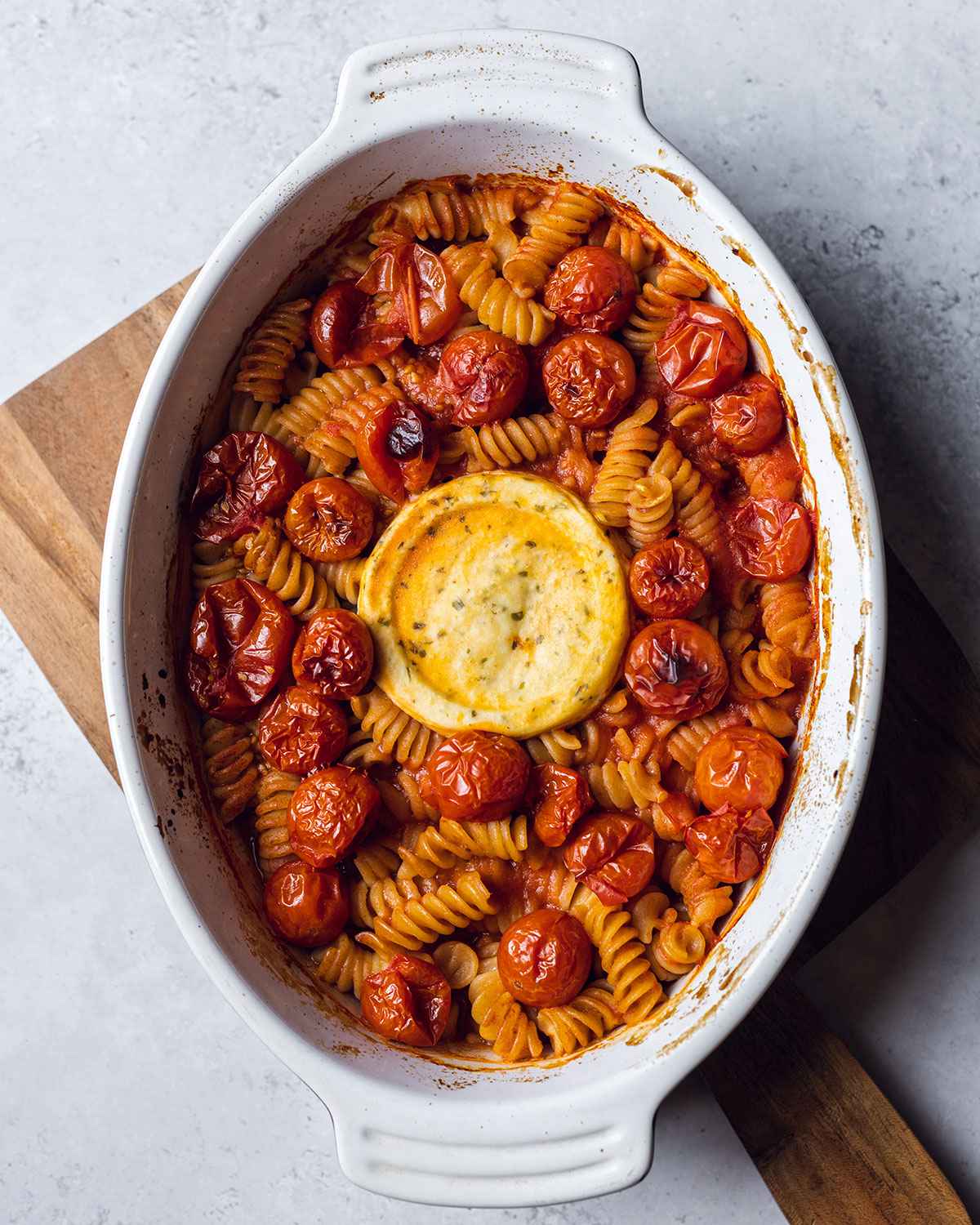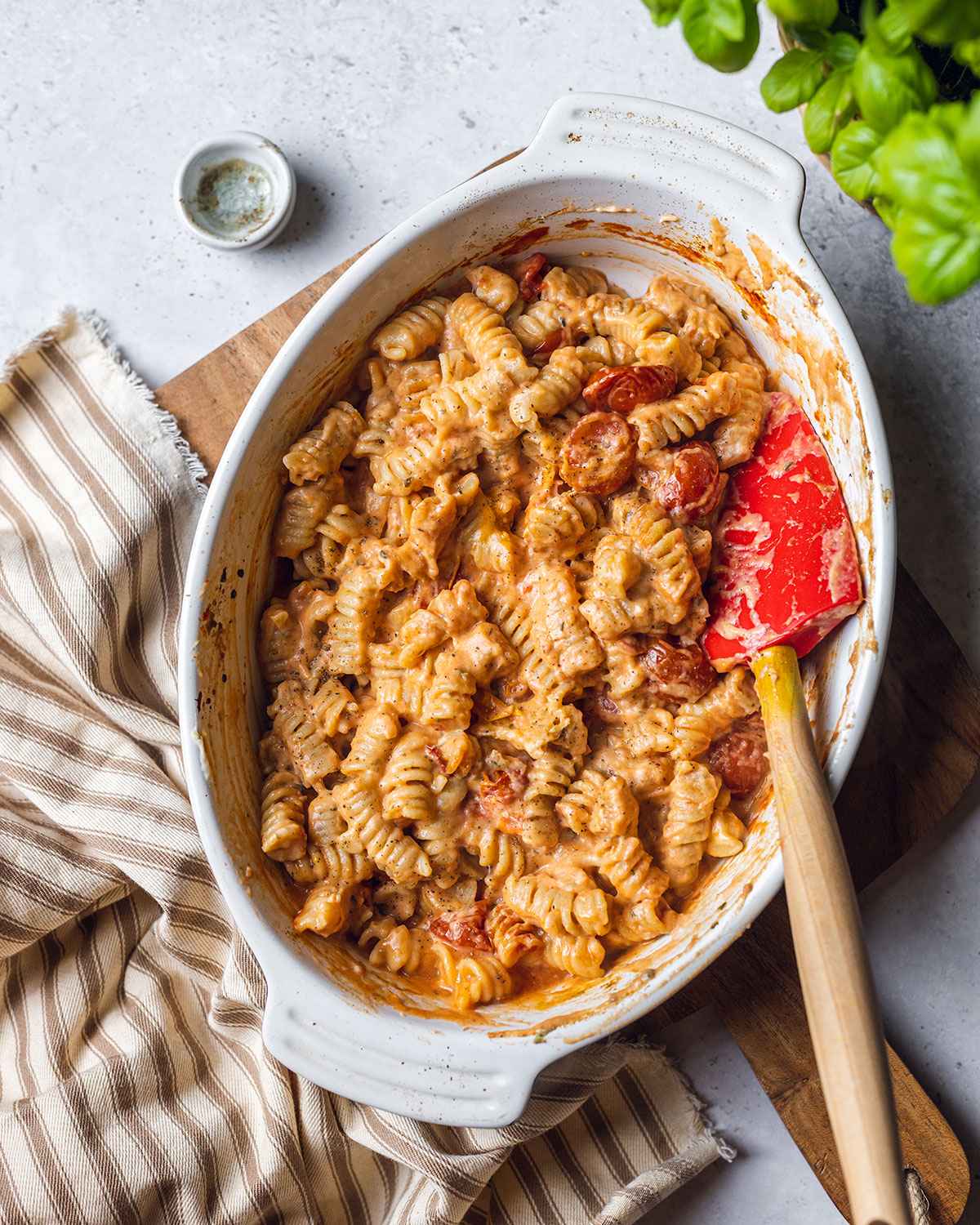 Serving
Carefully remove the dish from the oven and use a wooden spoon or spatula to stir the pasta and sauce until evenly distributed.
Season to taste with salt and pepper (if needed) and serve immediately. This is delicious on its own and with a side of freshly baked focaccia bread.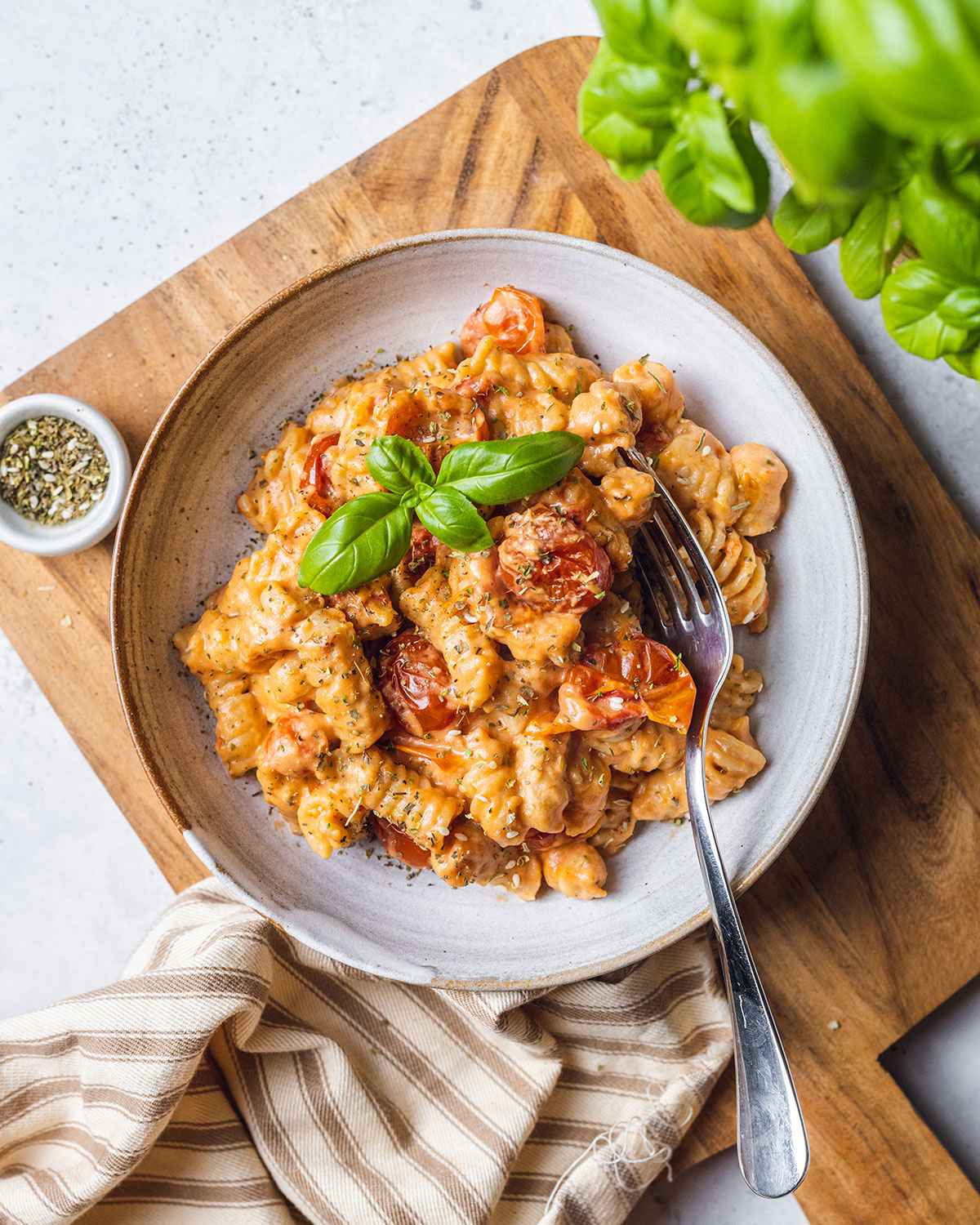 Frequently Asked Questions - Boursin Pasta
Which Boursin Cheese can I use for this recipe?
I've used Boursin Plantbased for this recipe, but you can use any Boursin soft cheese with this recipe. You can also try other brands of soft cheese, but I have to admit that I've not tested the recipe with another brand. I would guess, that as long as it melts under heat, it should work out!
Can I use tinned chopped tomatoes instead of cherry tomatoes?
You can, but I find that the tinned cherry tomatoes give a wonderful roasted flavor and more interesting texture to the dish. If you can't find tinned ones or are simply out of stock, then definitely try this dish with tinned chopped tomatoes instead, it'll be delicious too!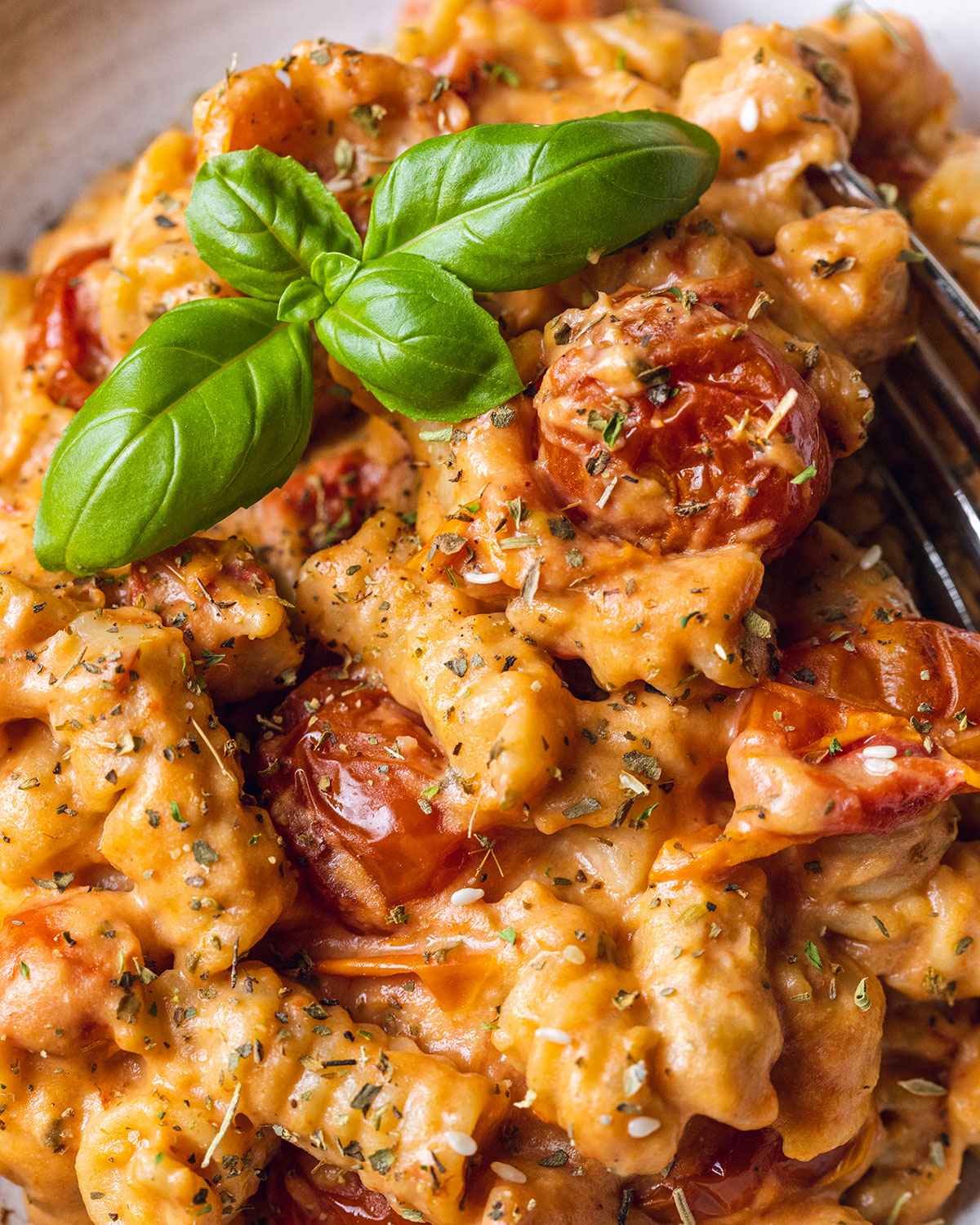 You might also enjoy these pasta recipes:
📌 If you love Pinterest you can pin any of the images to your boards!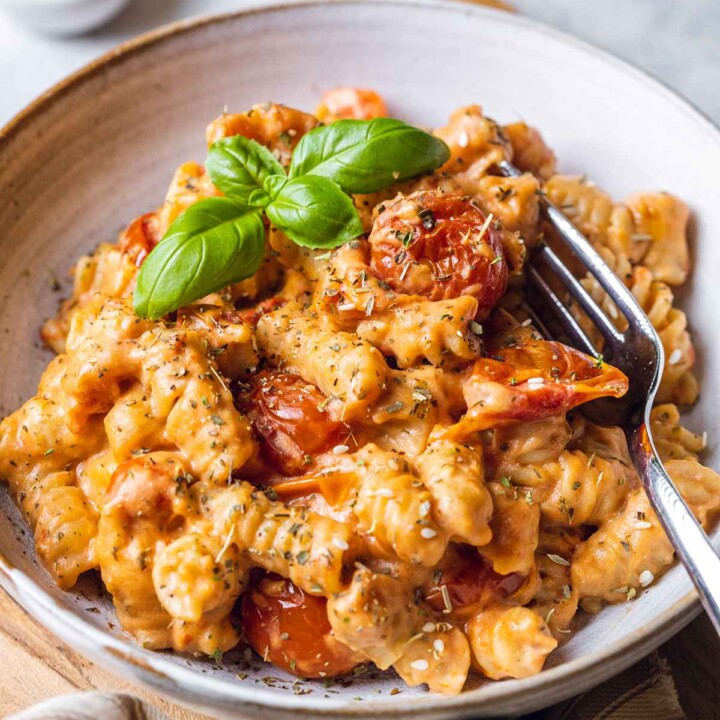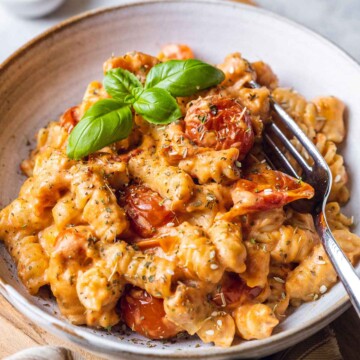 Baked Boursin Pasta
Super creamy Baked Boursin pasta - made in a single oven dish! Super easy and convienent and so delicious. Inspired by the viral recipe from TikTok.
Equipment
1 oven dish

1 oven

1 wooden spoon or spatula
Ingredients
1-2

tsp

olive oil

for greasing

1

block

Boursin Cheese

plant-based

1

cup

Fusilli pasta (150 g)

1

14-oz tin

cherry tomaotes (400 g)

salt and pepper to taste
Instructions
Preheat your oven to 390°F (200°C) and lightly grease the oven dish with olive oil.

Place the Boursin into the middle of the dish and surround it with the pasta.

Pour the tinned cherry tomatoes on top. Refill the empty tin roughly 3/4 with fresh water and add it to the oven dish covering the pasta.

Bake in the preheated oven for 20-25 minutes or until the cheese is soft and partially melted. Remove from the oven and stir with a wooden spoon or spatula to combine.

Season to taste with salt and pepper and serve immediately.
 © Romy London / Romina Callwitz | All images and content are copyright protected. Please do not use my images and content without permission. If you wish to re-publish any recipes or images, please get in touch via email. Thanks for your support!
*Disclosure: This page may contain affiliate links and sponsored links that earn me a small commission, at no additional cost to you. You can find more information in my Privacy Policy.