Delicious easy vegan apple turnovers - filled with more-ish apples, cinnamon & marzipan taking these little wonders to the next level!
If you love the scent of apples & cinnamon in your kitchen (or the entire home). then you definitely need to give these Vegan Apple Turnovers a go 😉 With a warming spiced filling including ginger, cinnamon, and lemon juice, it's the added marzipan that melts in the oven and takes these vegan apple turnovers to the next level.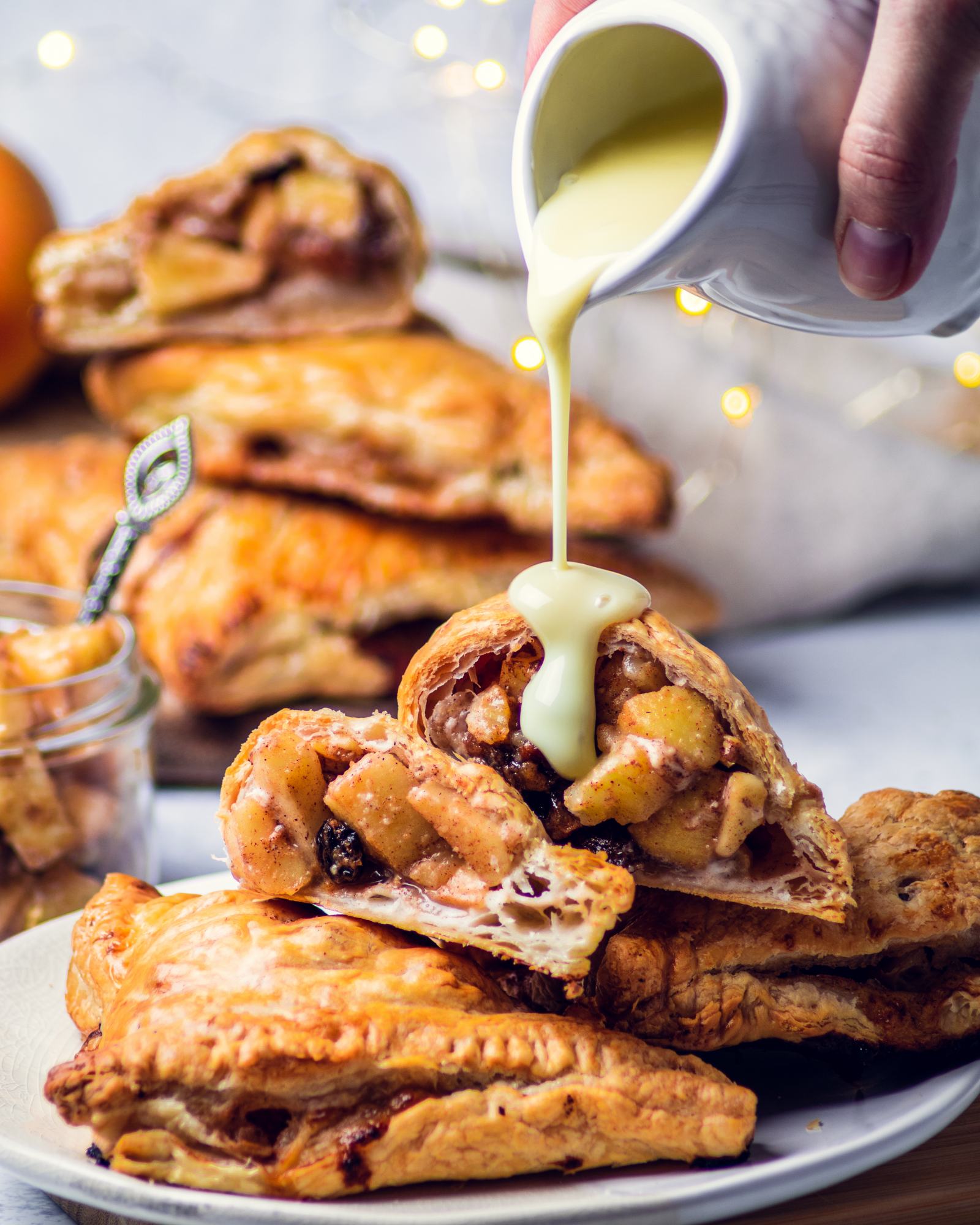 I love baking with marzipan, especially around the festive season, so I usually stock up with a pack from BuyWholeFoodsOnline as the season starts. For someone that doesn't like raisins, you might be surprised that I have included raisins in this recipe - and let me be honest: warm apple pie is the only way I like . to eat raisins. They add a subtle sweetness to apple pie (and also these turnovers!) and become wonderfully soft when served warm. In fact, you can serve these turnovers both hot and cold, but if you have the chance to give it a quick heat, I would definitely recommend the first option. Also, your kitchen will smell wonderful when heating these turnovers, just saying.
Ingredients
The filling in these delicious little pockets is pretty straightforward and consists of only simple ingredients:
vegan puff pastry sheet
apples
raisins
cinnamon
ginger
marzipan
lemon juice
To create this more-ish filling, you can simply combine and fill it into the pastry - no need to pre-boil anything as the apple will soften and the marzipan melt in the oven as the pastry puffs.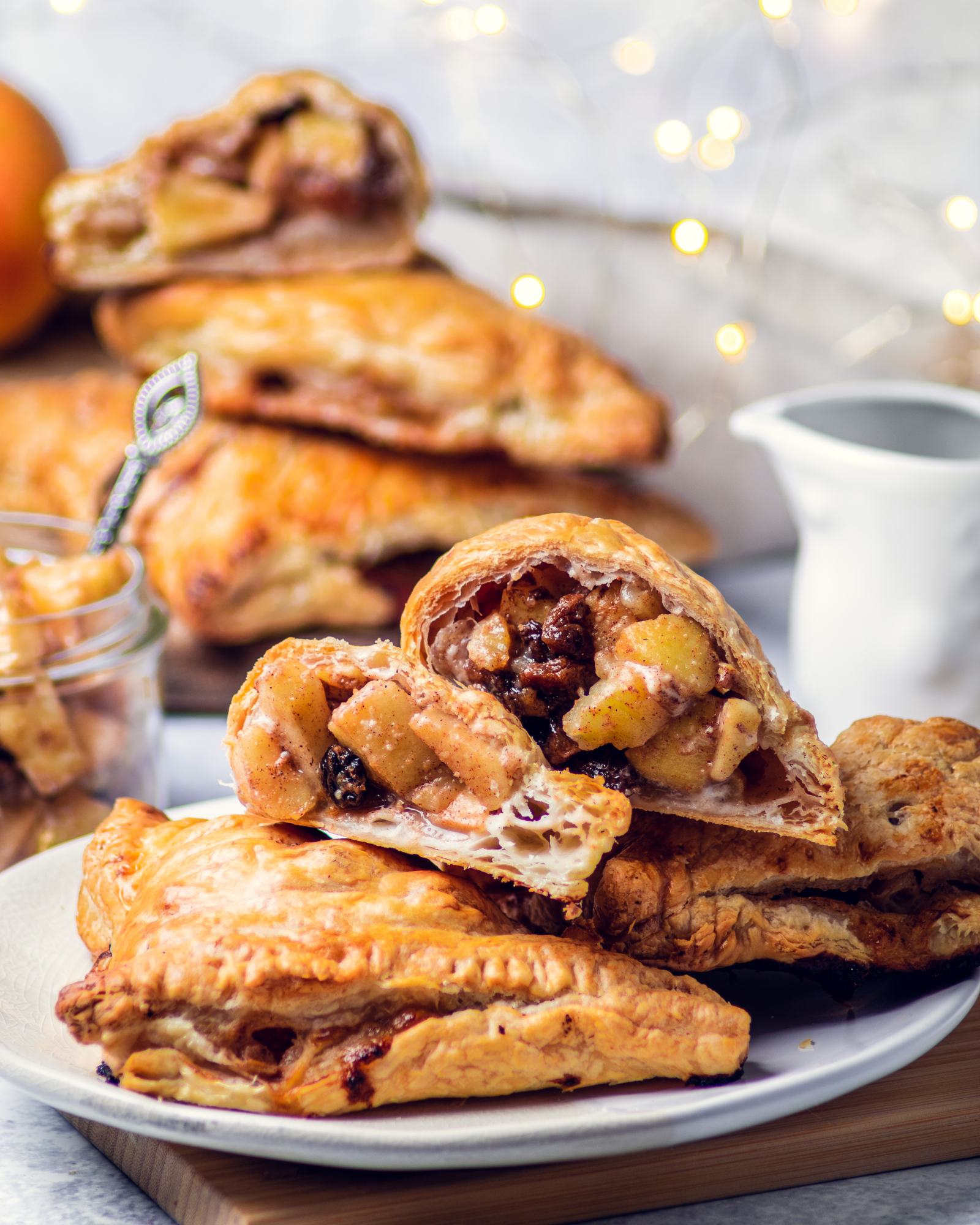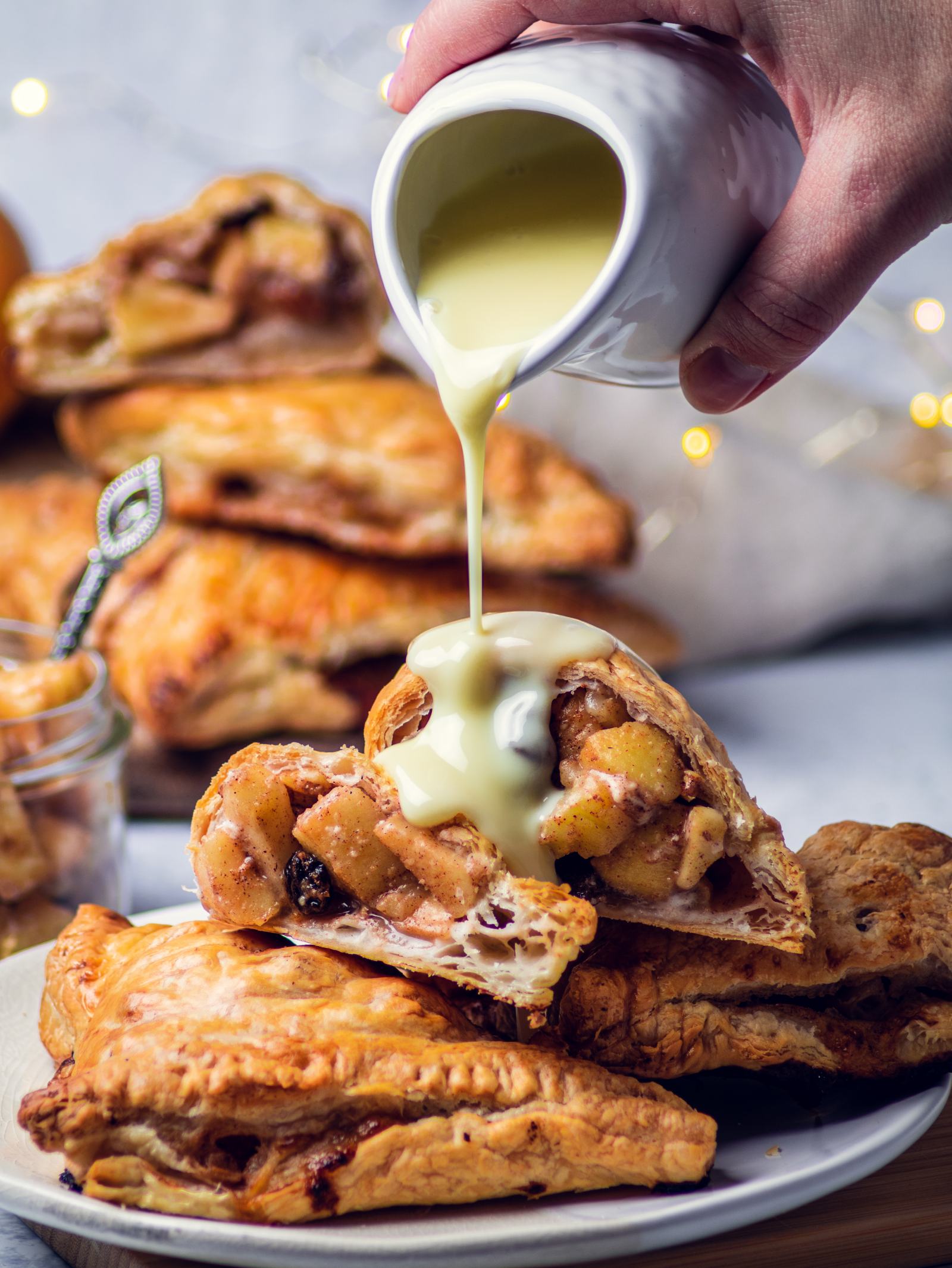 How to fold the hot pockets
For the pastry I like to use a ready-made pre-rolled puff pastry sheet - Jusrol is vegan for example, and just super handy to use. Of course, if you're feeling extra fancy, I'm not holding you back from making your own puff pastry 😉
One regular size Jusrol puff pastry sheet lasts me for about 6 pockets. I like to use a pizza cutter to easily cut my unrolled sheet into 6 equal rectangular shapes, trying to make them as square as possible (this will make the folding easier later!). Spooning the filling onto your pastry rectangular, you can add about 1-2 tablespoons full of the filling to each pocket. Don't overdo it as it'll be difficult to close the pocket otherwise. Ideally, leave about 1-2 cm free around the edges.
Once the filling is in place, gently brush the outer corners of the pastry sheet with a little plant milk and simply fold over one edge of the pastry to the opposite one, pressing the edges together carefully. Use a fork to press the edges together securely, then place on a baking sheet and repeat until all pockets are filled. If you like to decorate the top of your pockets - now is the time! I love to gently cut a pattern into the top of my pockets, but of course, this is completely optional. Once ready, brush the pockets with a little plant milk (this will make them nice and golden in the oven!) and bake them in a pre-heated oven at 180C for 15-20 minutes or until golden.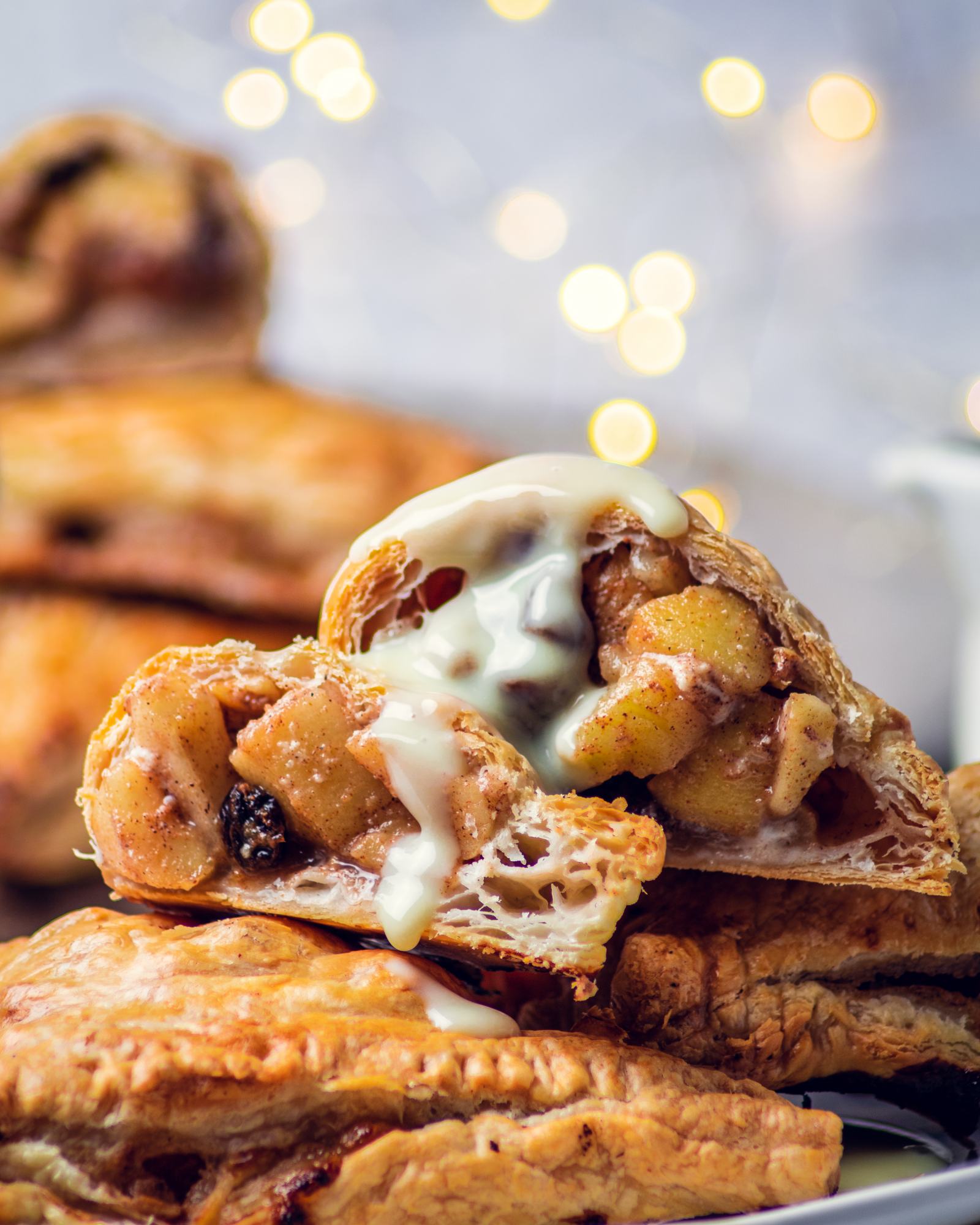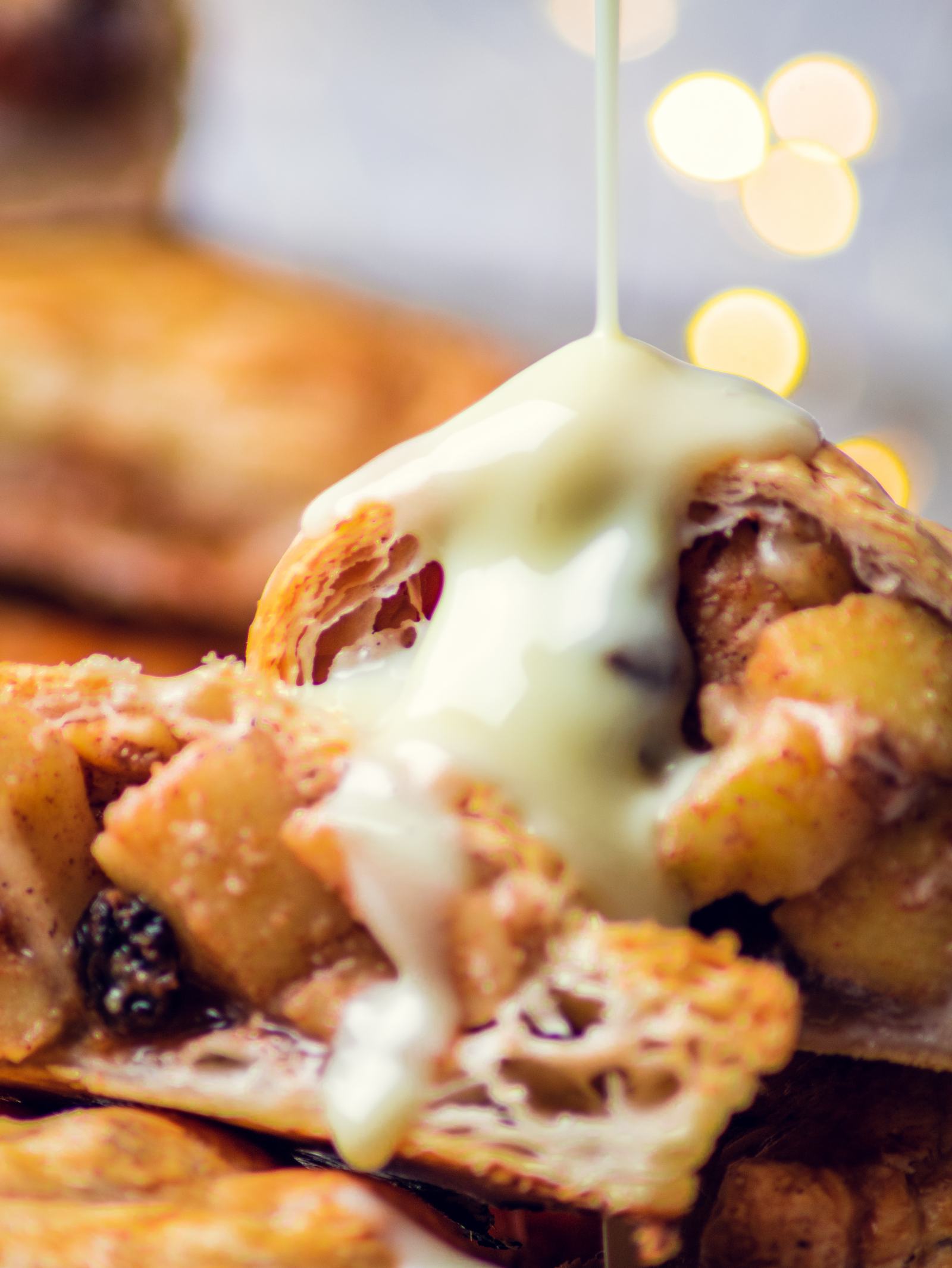 Related Recipes
If you're looking for a delicious dessert for Christmas or Thanksgiving, check out these vegan dessert recipes: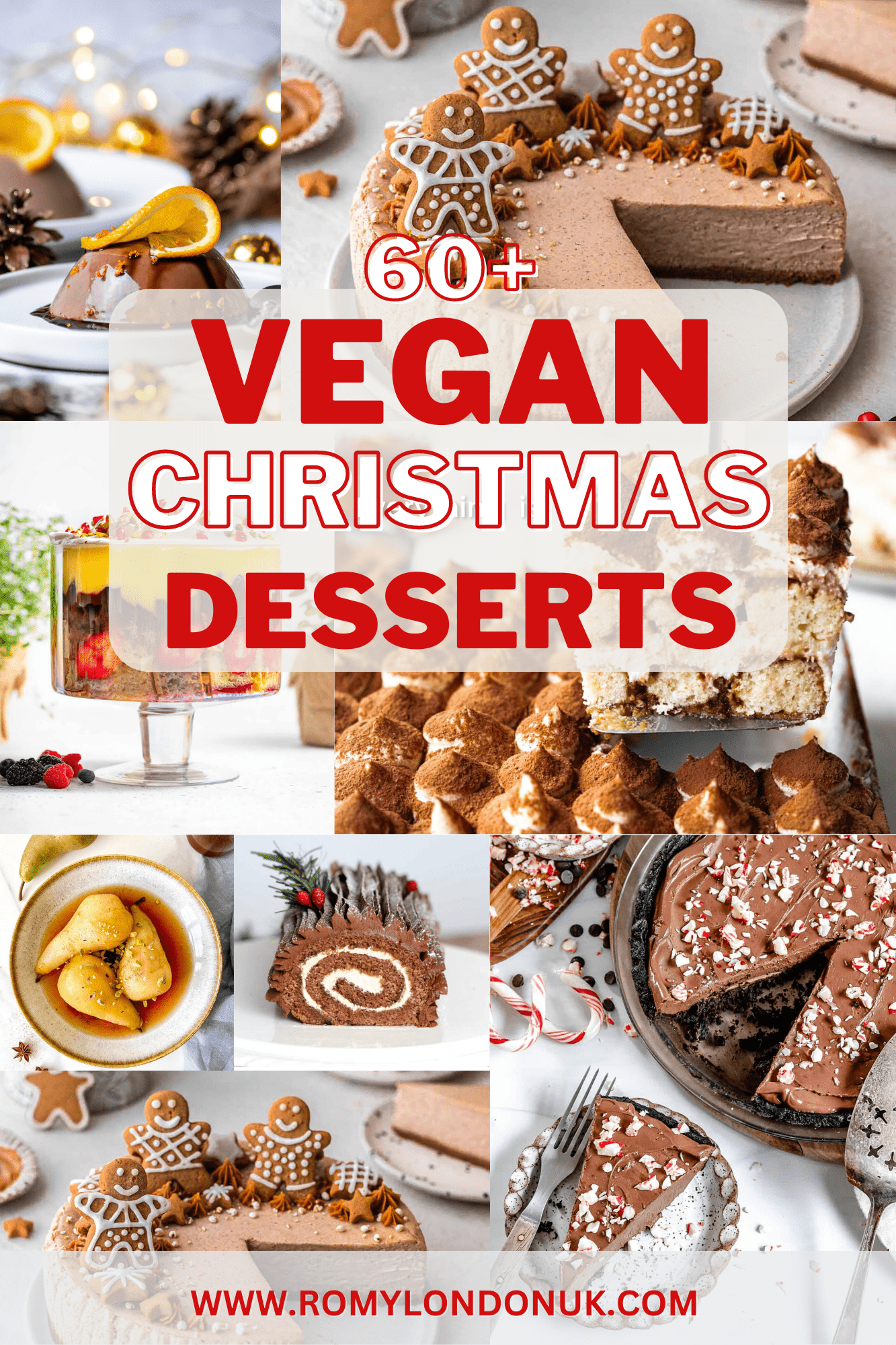 📌 If you love Pinterest you can pin any of the images to your boards!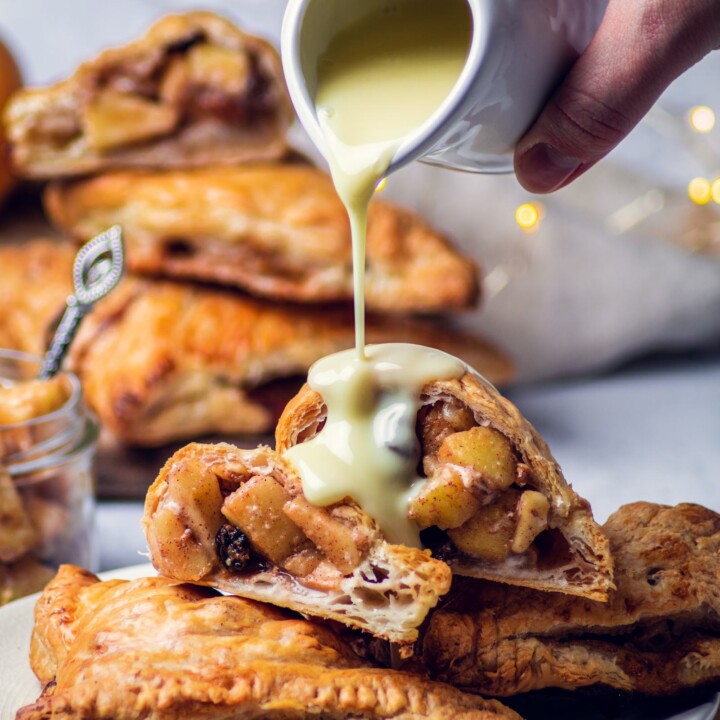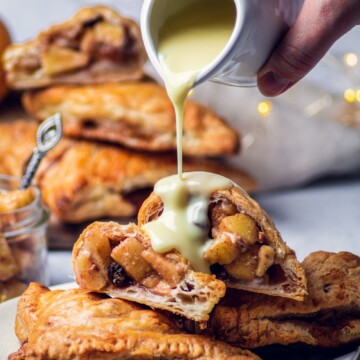 Vegan Apple Turnovers
Deliciously easy spiced vegan apple pockets - indulgent and more-ish with a special ingredient: marzipan!
Ingredients
1

sheet

vegan-friendly puff pastry

I use Jusrol

2

large apples

peeled & chopped

1

tsp

ginger powder

1

tbsp

raisins

optional

1/2

lemon

juiced

1/2

tsp

cinnamon

30

g

marzipan

1/2

tbsp

plant milk

for brushing
Instructions
Preheat your oven to 350F (180C).

Start by peeling, de-coring and chopping the apples into small chunks.

Cut the marzipan into small cubes and add them to a large mixing bowl alongside the apple chunks, ginger, raisins, cinnamon and lemon juice.

Unroll the pastry sheet on the kitchen counter and cut it into 6 even rectangles (almost square!).

Fill 1-2 tablespoons of the apple filling into the middle of each pastry rectangular, then fold over the edges to create a triangular, locking the filling in the middle. Brush a little plant milk on the outer edges and use a fork to press the edges together.

Decorate your pockets to your liking (optional). I like doing some light scoring across the top to create a nice pattern - but be careful not to fully cut through the pastry sheet or the apple filling will ooze out during the baking process.

Brush the top of the apple turnovers with a little plant milk and place in the oven at 180C for 15-20 minutes or until golden.

Serve hot or cold with vegan custard on the side.
Looking for more vegan bakes? Check out my vegan cakes & bakes here!
*Disclosure: This page may contain affiliate links and sponsored links that earn me a small commission, at no additional cost to you. You can find more information in my Privacy Policy.
 © Romy London / Romina Callwitz | All images and content are copyright protected. Please do not use my images and content without permission. If you wish to re-publish any recipes or images, please get in touch via email. Thanks for your support!
Recent Recipes