A super easy go-to midweek dinner: Miso Roasted Aubergine! It takes this delicious vegetable to a whole new level.
This recipe is:
100% vegan
naturally gluten free (make sure to stick to tamari soy sauce, which is gluten free)
easy to make
super quick, only taking 20 minutes from start to finish
healthy
low fat
full of fermented miso goodness
delicious
the star of your dinner plate!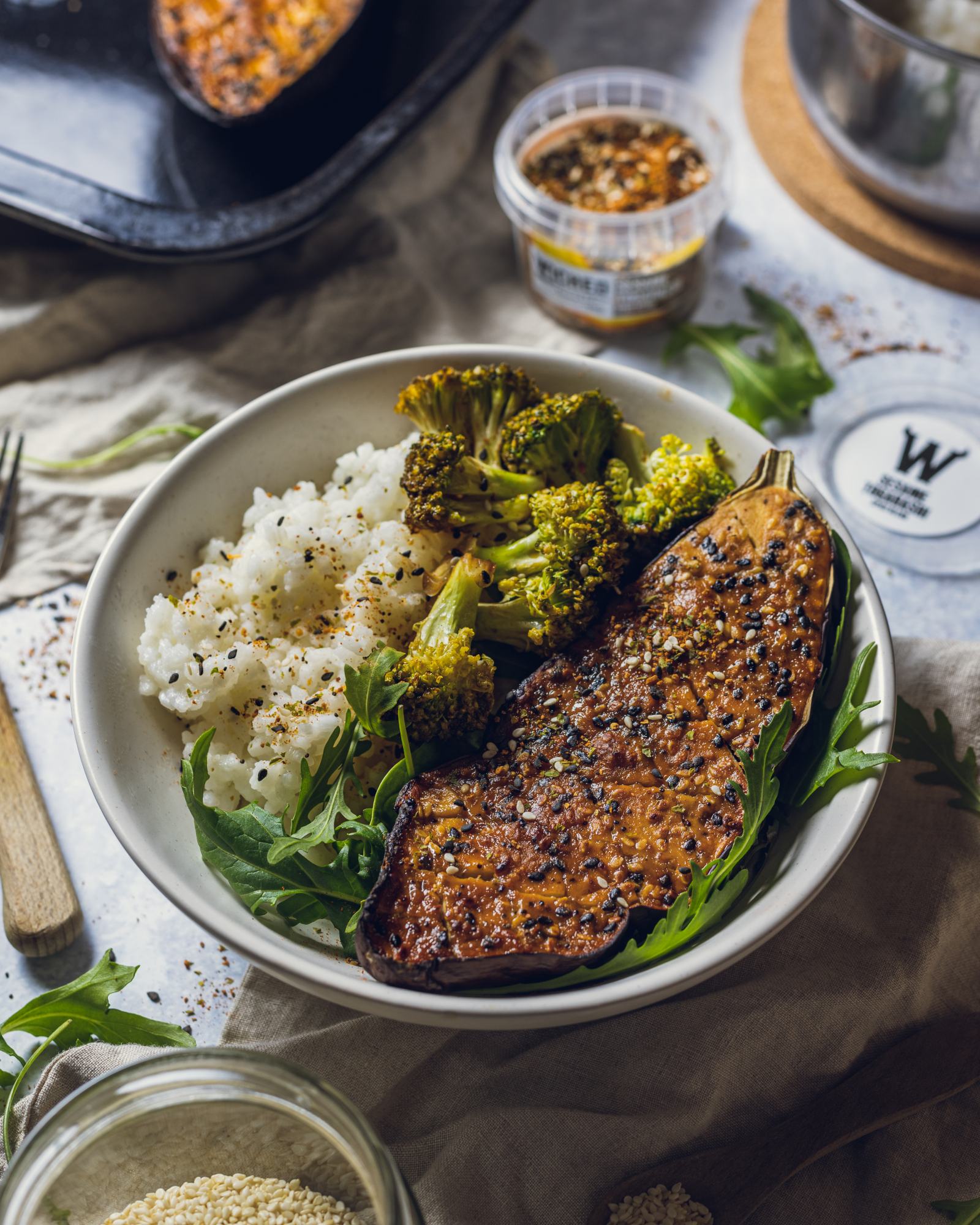 Miso Roasted Aubergine
I'm simply in love with the delicious vegetable that is aubergine - and roasting it in the oven with a delicious miso flavour is one of my favourite ways to enjoy this goodie for a mid-week dinner.
This Miso Roasted Aubergine recipe (or roasted eggplant if you're in the USA!) is often also called 'Miso Glazed Aubergine' and it's so simple to make you'll be surprised why you've not tried it sooner!
I always find that it makes the aubergine the star of the show on the dinner plate and I like serving mine with steamed vegetables and rice (sushi rice in the pictures, so delicious!) but it goes with all sorts of food!
Ingredients & Notes
aubergine - or 'eggplant' as people say over the pond! Any size of aubergine will work, but for this recipe, best keep an eye out for a medium to large aubergine
white miso paste - personally my favorite to use for glazed aubergine! It has a little sweet note and also a slight cheesiness, hence why it's often also used in vegan cheese dishes. See my notes below for any suitable replacements. Miso should normally always be vegan as it's made from fermented soya beans. If you're unsure of any additions, always check the label to make sure it's vegan miso.
tamari soy sauce - adds a wonderful caramelized tone to the glazed aubergine when roasted! I love using Japanese tamari sauce from Clearspring for this recipe.
apple cider vinegar - for a tangy flavor! You can substitute this with rice vinegar if you have any to hand.
sesame seeds - completely optional, but they add a wonderful crunchy finish!
Equipment
You only need a few simple items from your kitchen:
a sharp knife - to slice & criss-cross the aubergine
an oven dish - to roast the aubergine
Substitutions
miso paste - white miso is my personal favorite to use in this recipe, but you can swap it for brown miso, it's just as delicious!
tamari - substitute with dark soya sauce or use coconut aminos instead for a low salt alternative.
vinegar - use rice vinegar instead of apple cider vinegar
Variations
spicy - I love to add a little spice! Either by drizzling sriracha or sprinkling chilli flakes or shichimi over the glazed aubergine
toasted sesame - drizzling a small amount of toasted sesame oil onto the aubergine tastes absolutely next level!
diced - I find it easiest to just slice the aubergine in half, cut a criss-cross pattern and then add the miso mix onto the surface, but you can also roast some cubed aubergine (add a little oil to prevent it from sticking!) and
Instructions (Step-by-Step)
Step 1: Preparation
To start with, preheat your oven to 190ºC before washing your aubergine and gutting it in half, length-ways.
Step 2: Cut the aubergine
To start the recipe, one important step is how you cut your aubergine. I cut mine in half lengthwise and then create a criss-cross pattern along the inside flesh, keeping the cuts about 1cm apart. Be very careful when doing this, so that you don't cut yourself (been there, done that!).
Creating this cutting pattern on the insides of the aubergine will allow for the miso sauce to be properly absorbed and distributed across the aubergine, creating a delicious and flavoured aubergine, rather than just a roasted miso layer on the top. At the same time, it will also help your aubergine halves cook quicker - more surface area to be exposed to the heat in your oven, shorter cooking time. Perfect!
Step 3: Creating the miso marinade
I like to keep the miso glaze/marinade just as simple, using only a few key ingredients: white miso paste, tamari soy sauce, apple cider vinegar, sesame seeds and a little water to thin the marinade and make it spreadable.
All you have to do is blend all the ingredients for the miso marinade together until smooth.
Expert tips
Please ensure to use white miso paste over brown miso paste, if you're recreating this recipe. Both have an entirely different taste - white miso paste is smoother and has a naturally light sweet flavour, whilst brown miso paste is sourer. The sweet-ish white miso flavour will work perfectly with the addition of tamari soy sauce to create a sweet-salty flavour explosion for you.
The apple cider vinegar adds a nice acidity to the marinade and also aids in breaking down the thick miso paste into a smooth marinade. If you don't have apple cider vinegar to hand you can also use lemon juice - though this will alter the taste (not negatively, if you like lemon though!).
For a little crunch and addition of some texture, I like to add sesame seeds to my marinade - and add a little more onto the finished dish.
Step 4: Getting oven ready
Let's get your aubergine ready for the oven. Place the halves on a lightly greased baking tray (or a baking sheet) with your criss-cross pattern facing upwards before gently spooning on the miso mixture onto each half.
Step 5: Roasting
Once you've roasted your aubergine for 15 minutes, serve up with rice, steamed vegetables and a sprinkle of sesame seeds - if you like sesame seeds that is! I've used the Sesame Toragashi Spice Blend by Wicked Kitchen on this occasion, which gives it a special kick! Shichimi seasoning is also a delicious option to finish off the dish with a spicy flavor.
A little tip on the side: Drizzle a small amount of toasted sesame oil over your rice and vegetables - yum!
What to serve with miso aubergine
Here are a few suggestions of what you can serve with your glazed aubergine:
cooked rice, such as basmati rice, brown rice and also sushi rice!
roasted vegetables
steamed leafy greens, such as kale or chard
green salad
nourish bowls
noodles, such as peanut noodles
lentils or lentil salad
slaw or kimchi
Related Recipes
📌 If you love Pinterest you can pin any of the images to your boards!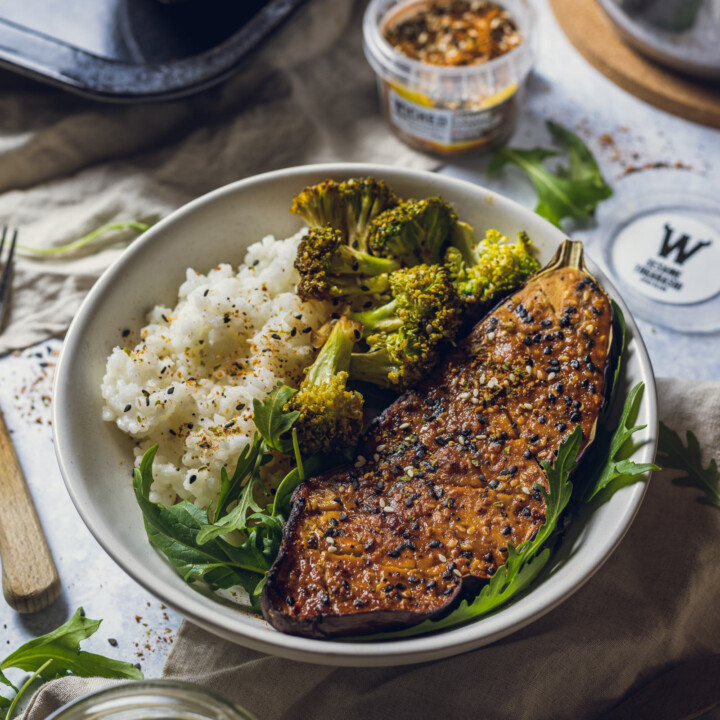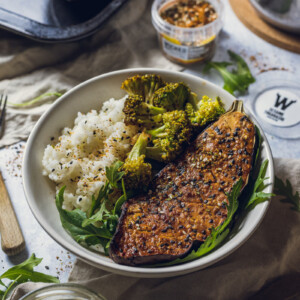 Miso Roasted Aubergine
A super easy go-to midweek dinner: Miso Roasted Aubergine! It takes this delicious vegetable to a whole new level.
Equipment
1 oven dish

1 sharp knife

1 small bowl
Ingredients
1

large

aubergine (eggplant)

1

tbsp

white miso paste

2

tsp

tamari soya sauce

1

tsp

apple cider vinegar

1

tbsp

sesame seeds

1

tbsp

water
Instructions
Preheat your oven to 190ºC (375ºF). Wash the aubergine and cut it in half lengthwise.

Using a small sharp knife cut a criss-cross pattern into each of the aubergine halves.

Mix the miso paste, tamari, vinegar and water in a small bowl until smooth.

Place your aubergine halves on a lightly greased baking tray, criss-cross pattern facing up. Gently spoon the miso mixture onto them, covering the top of both halves.

Roast in the oven for 15 minutes or until the aubergine is softened and caramelized around the edges.

Serve the aubergine halves with rice and steamed veggies.
Notes
vinegar: instead of apple cider vinegar, you can also use rice vinegar
miso paste: you can use brown miso to glaze the aubergine. The flavor will be slightly different, but still delicious!
spicy: I love to add a little spice! Either by drizzling sriracha or sprinkling chilli flakes or shichimi over the glazed aubergine
storage: the roasted aubergine is best enjoyed right away but you can also store it in an airtight container and reheat for up to 3 days.
Looking for more easy mid-week dinners? Check out this recipe section - or see some of my top picks below:
*Disclosure: This page may contain affiliate links and sponsored links that earn me a small commission, at no additional cost to you. You can find more information in my Privacy Policy.
 © Romy London / Romina Callwitz | All images and content are copyright protected. Please do not use my images and content without permission. If you wish to re-publish any recipes or images, please get in touch via email. Thanks for your support!