Deliciously gooey and chewy matcha cookies - made with matcha powder and white chocolate chips. If you're a matcha lover - like me - then these are the perfect cookies for you!
They have a sweet flavor with a delicious note of green tea which makes them the best cookies for a sweet tooth that also enjoys green tea flavor. The cookies have a chewy texture and lightly crunchy edges, and they are the perfect sweet treats for a snack or to share to friends and family - though the sharing is totally optional.
This matcha cookies recipe is super easy to make in just a few simple steps, and you can even prepare the cookie dough ahead of time and store it in the fridge overnight (or even the freezer, but please see the top tips below!).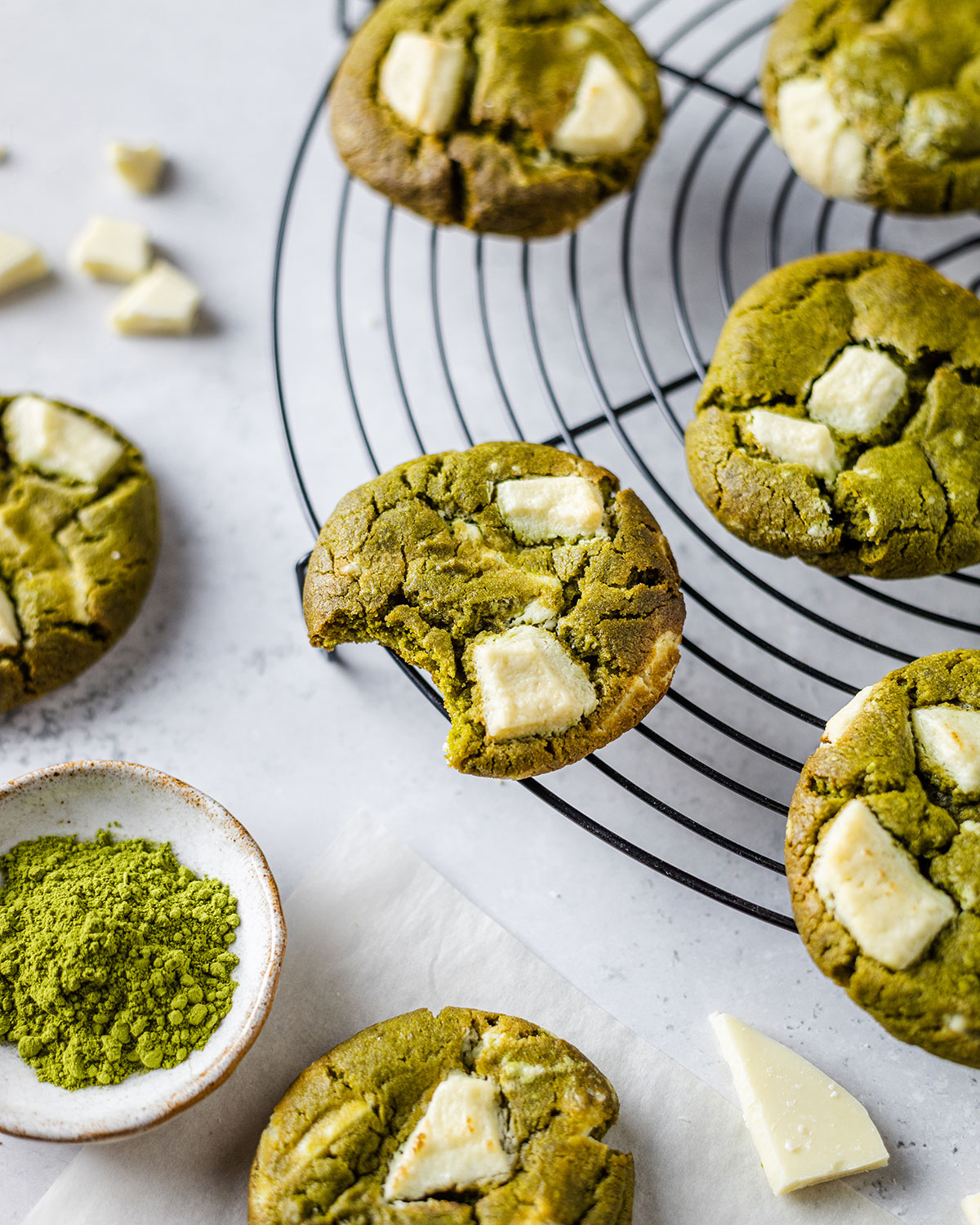 What's so great about this recipe
This cookie recipe is simply amazing and trust me: once you've taken a bite of those sweet, chewy cookies, you will never make them another way again, because:
they are a perfect mix of sweetness and matcha flavor
they have a chewy texture with lightly crispy edges, the perfect mix!
the recipe is super easy to follow and the cookie dough can be ready in just a few minutes.
if you're new to cooking with matcha, these cookies are the best way to start getting into it!
Jump to:
What is matcha powder?
Matcha powder is a Japanese green tea powder. It's a fine powder created from dried green tea leaves. The powder itself has a vibrant green color. As it's made from the tea plant, matcha powder contains caffeine. I personally recommend enjoying these cookies early in the day, so that the caffeine they contain does not disrupt your sleep.
When your matcha powder is a great quality and fresh, it will have a bright green color. With age, matcha powder loosed it's vibrancy, so for a beautiful green color use a ceremonial grade matcha powder for these green tea cookies.
What is the difference between green tea and matcha green tea?
To make green tea, green tea leaves are suspended into water and then removed before drinking. Matcha green tea, is made from finely ground, dried green tea leaves. The powder is mixed directly into water or other liquids and consumed as part of the tea.
What are the different grades of matcha?
The quality of matcha powder generally falls into 3 categories.
Ceremonial grade matcha is the highest quality matcha powder you will find. It has a rich bright green color, it's less bitter than other grades of matcha and contains the highest amount of caffeine - 34mg caffeine per 1g matcha to be precise. It's however pricier than other matcha grades. I am to use this grade in all of my matcha recipes for the best results, but you can also use other grades of matcha.
Premium grade matcha falls in between ceremonial and culinary grades of matcha. You could consider it to be a medium-quality matcha.
Culinary grade matcha is considered the lowest grade of matcha. It is often used in recipes as it's cheaper and therefore more economical than the ceremonial grade. The flavor however is more on the bitter side and its color tends to be less vibrant.
What does matcha taste like?
Matcha flavor is difficult to describe to someone trying it for the very first time. It has earthy and slightly bitter notes and a distinct green tea flavor that is pretty unique.
If you are trying matcha for the first time, it is best paired with sweet ingredients to get your tastebuds accustomed to the flavor. But let me tell you: Once you're hooked on the flavor, you're hooked for life!
Ingredient List & Notes
You only need a handful of ingredients for this recipe: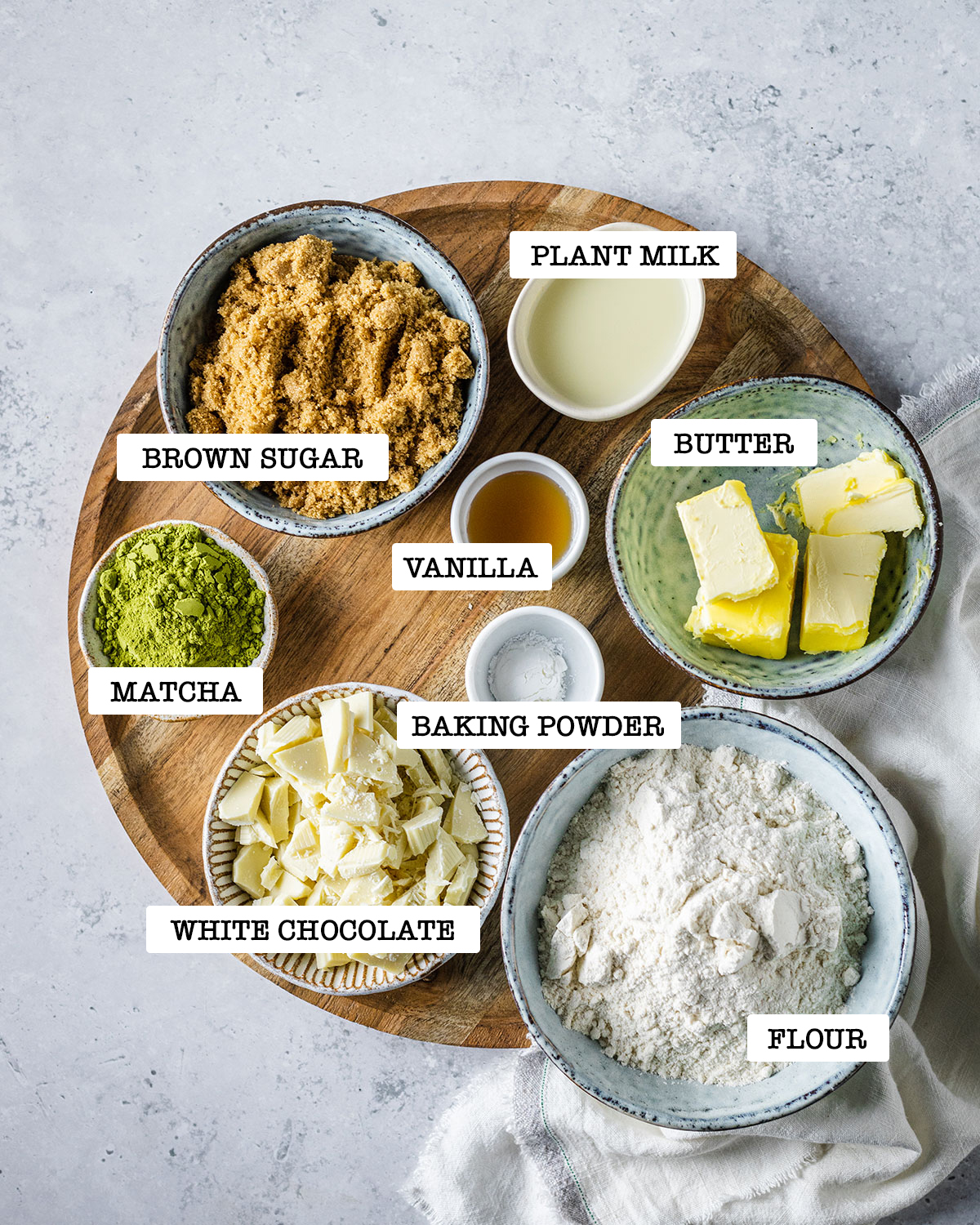 Butter - I use unsalted butter from Flora Plant Butter, which is a vegan butter, for most of my baking recipes. Make sure the butter is at room temperature.
Light Brown Sugar - I love using brown sugar for these cookies as I love them super chewy!
Milk - I used soya milk for this recipe.
Vanilla Extract - I used a liquid vanilla extract.
Flour - For the cookies, I used all-purpose flour (plain flour).
Matcha Powder - For best results, opt for a ceremonial grade matcha green tea powder, such as Clearspring.
White Chocolate Chips - I've used a dairy-free white chocolate bar and chopped it into white chocolate chunks for these cookies. The chocolate chips add a delicious sweetness to the cookies that balance the lightly bitter green tea flavor just perfectly!
Find the full quantities in the recipe card at the bottom of this post.
Equipment
Nothing out of the ordinary is needed for this recipe, but here's a list of everything so you can prepare your baking session:
large bowl + medium bowl
electric mixer
silicone spatula
baking sheet (parchment paper) or a silicone baking mat
cookie scoop or ice cream scoop (optional)
cooling rack (optional)
Instructions (Step-by-Step)
With just a few simple steps, the matcha cookie dough can be ready in just a few minutes! Here is what you need to do: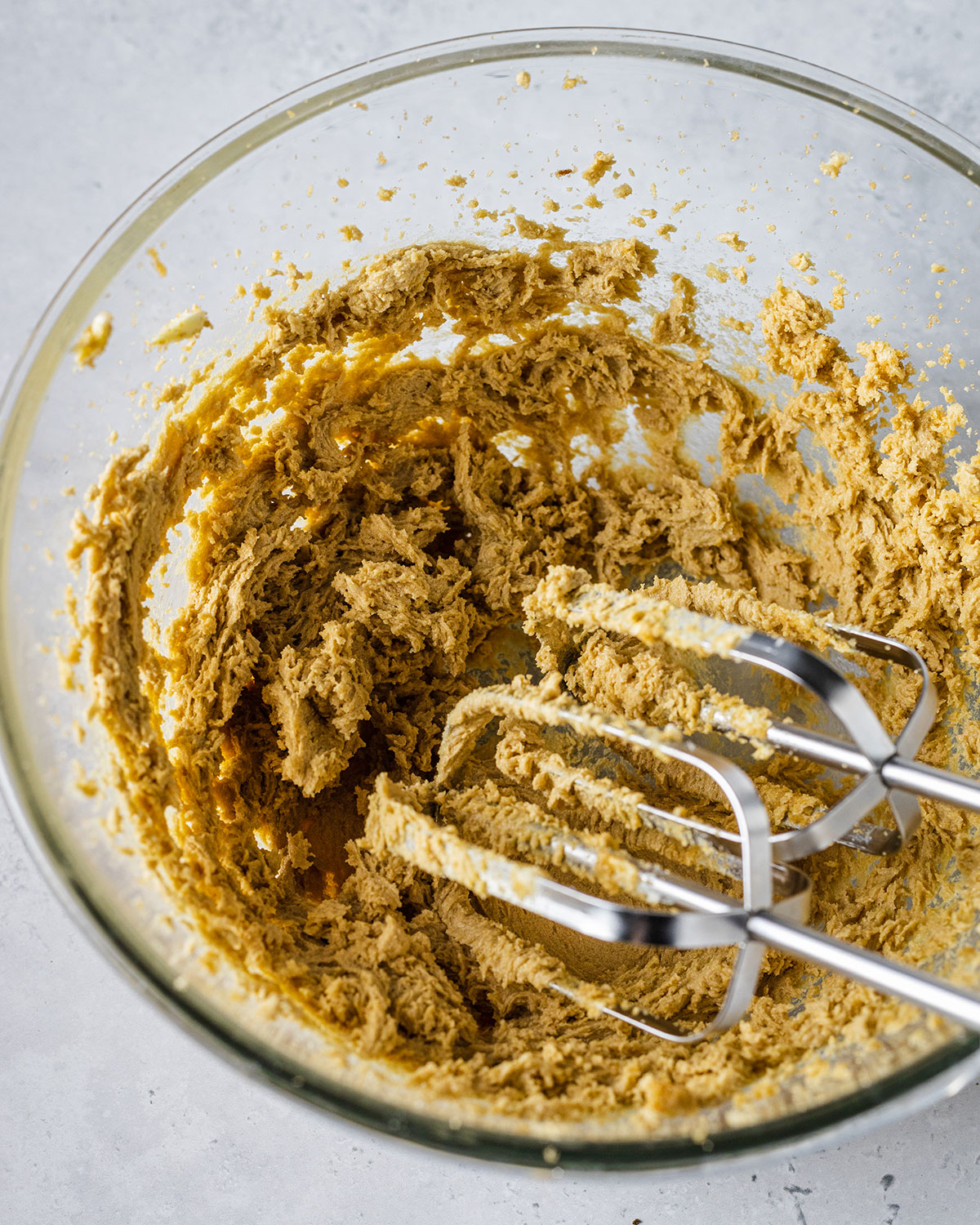 Using an electric hand mixer cream together the butter and brown sugar.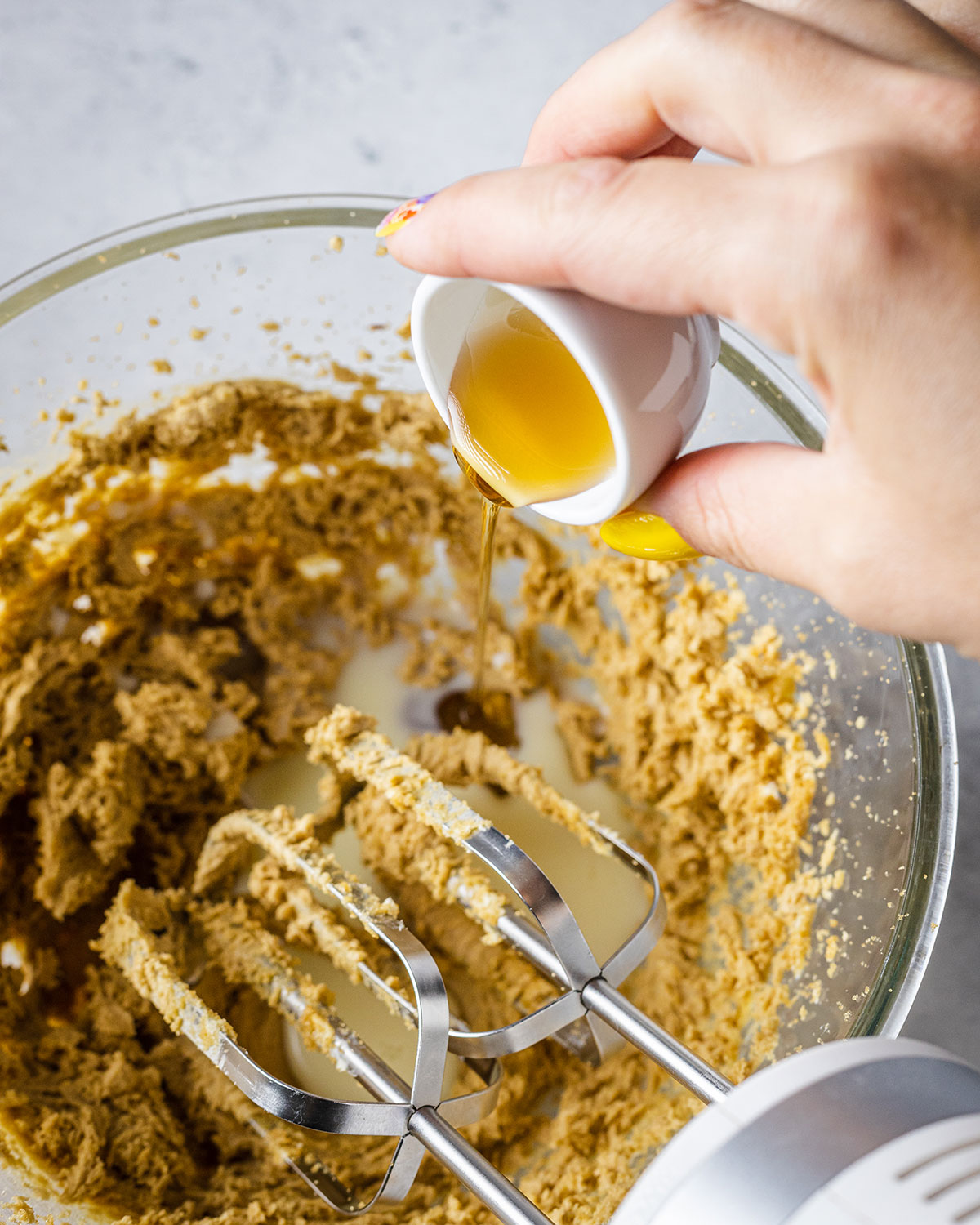 Add the milk and vanilla extract.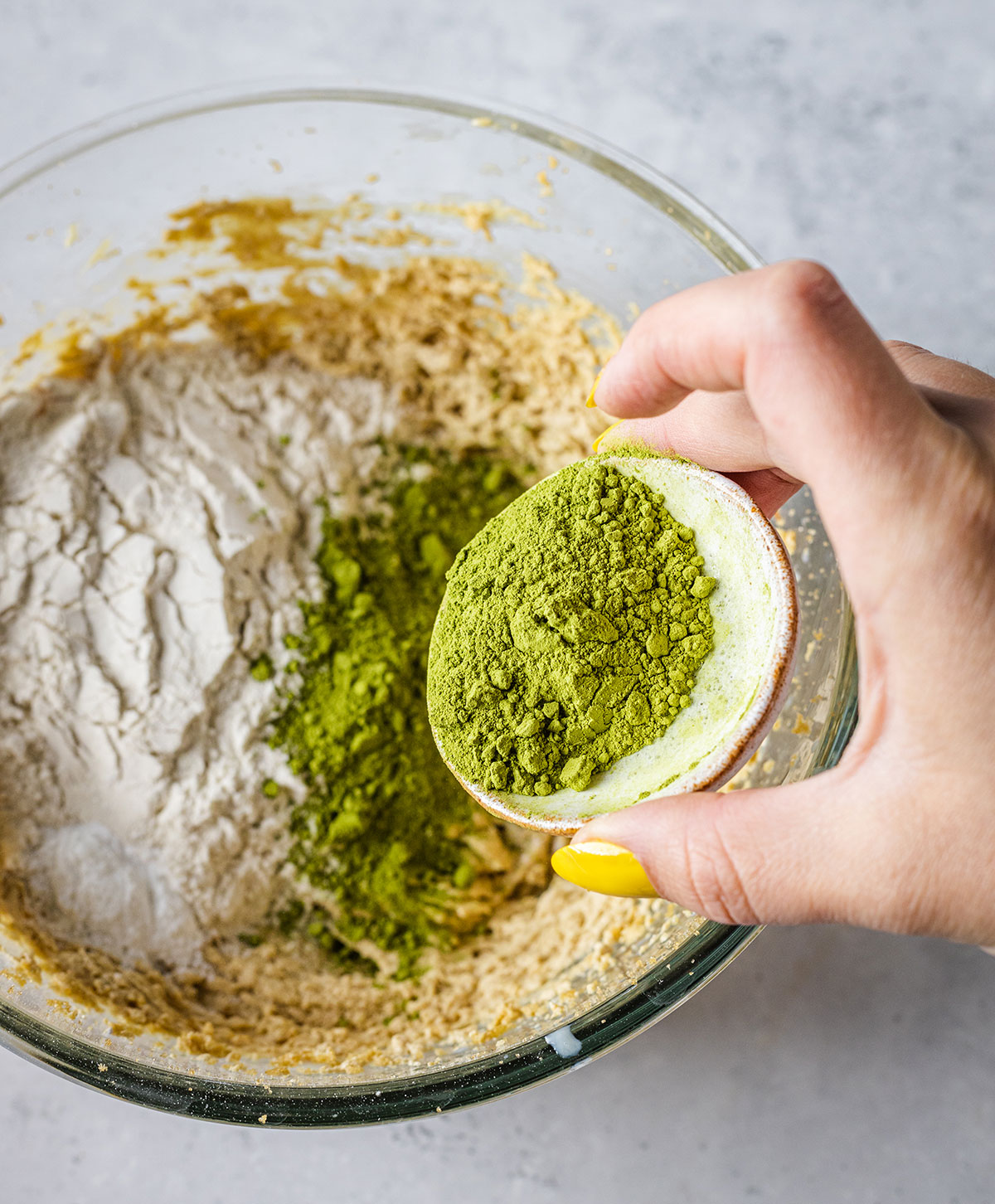 Add the flour, baking powder, and matcha.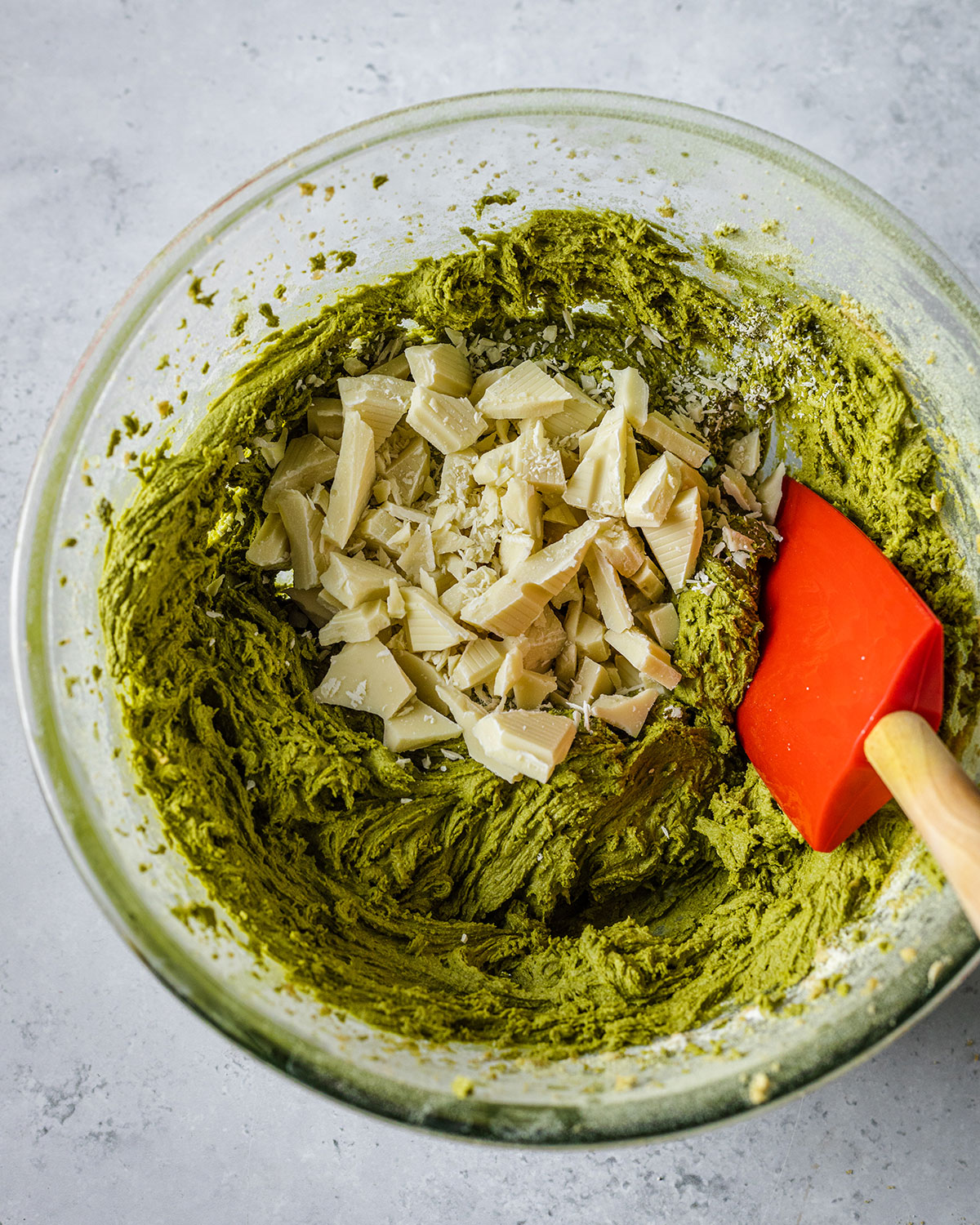 Fold in the white chocolate chips using a spatula.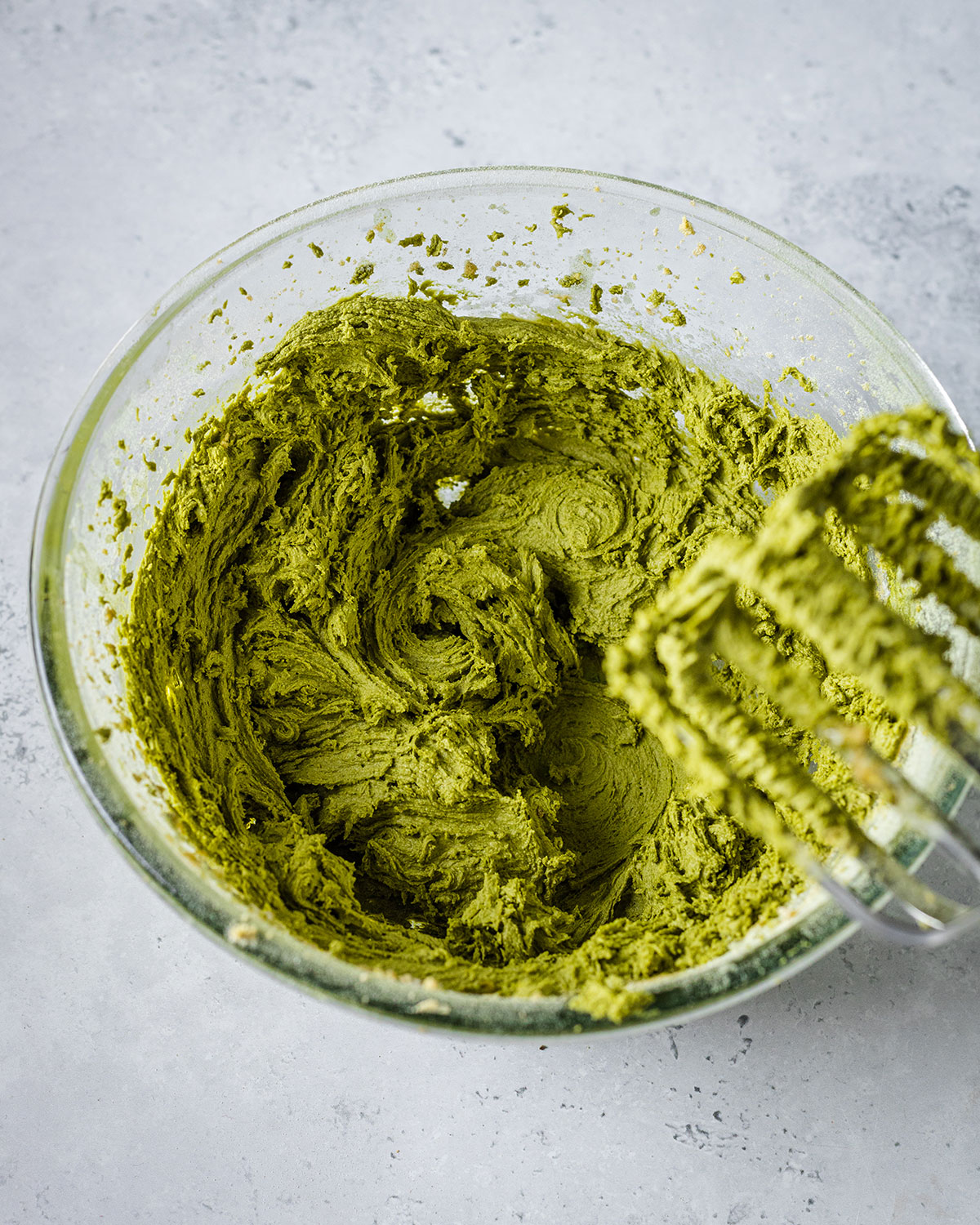 Chill the cookie dough in the fridge for at least 30 minutes.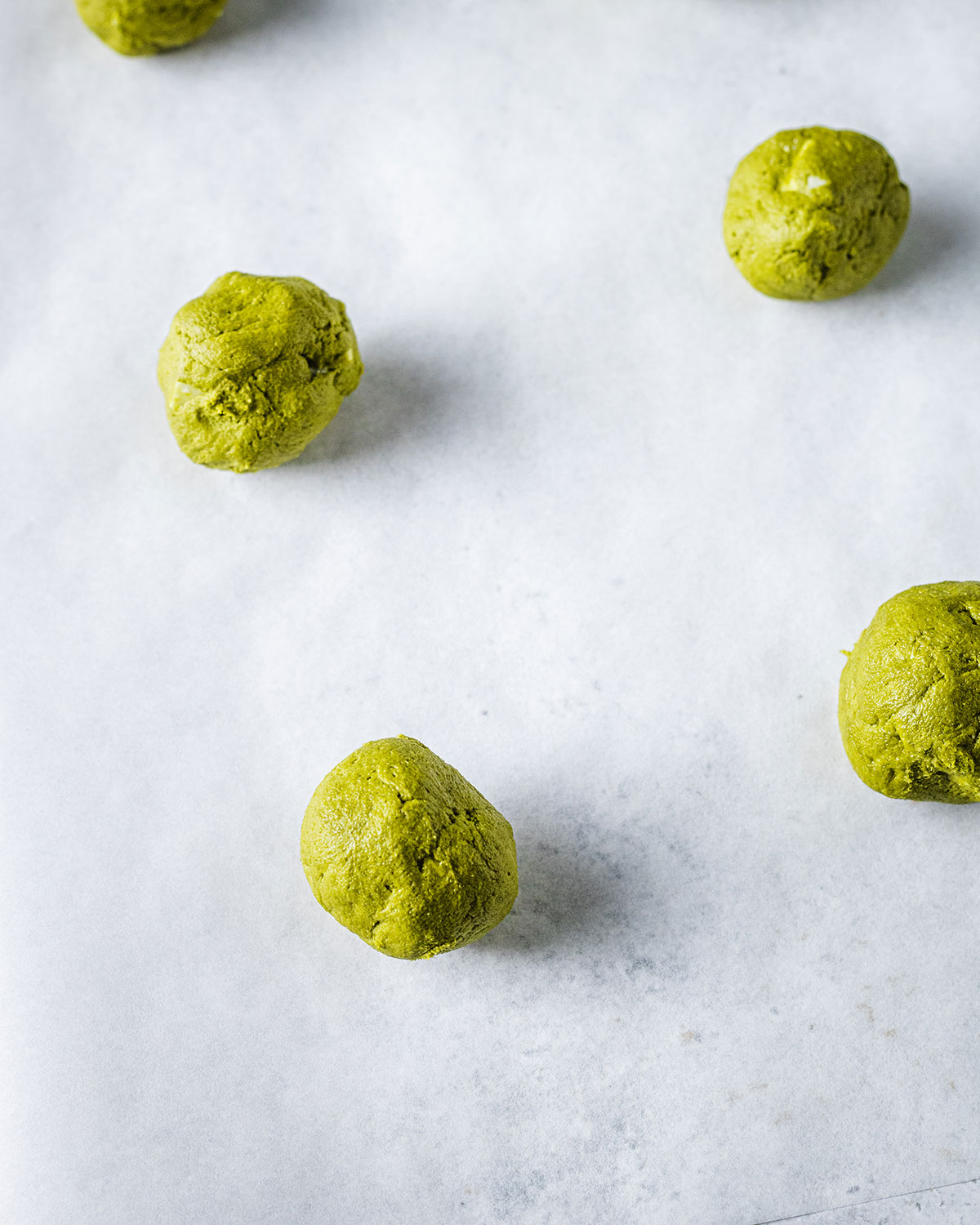 Place the individual cookie dough balls on a lined baking sheet. Add extra chocolate chips on top and transfer the sheet back into the fridge for at least 1 hour.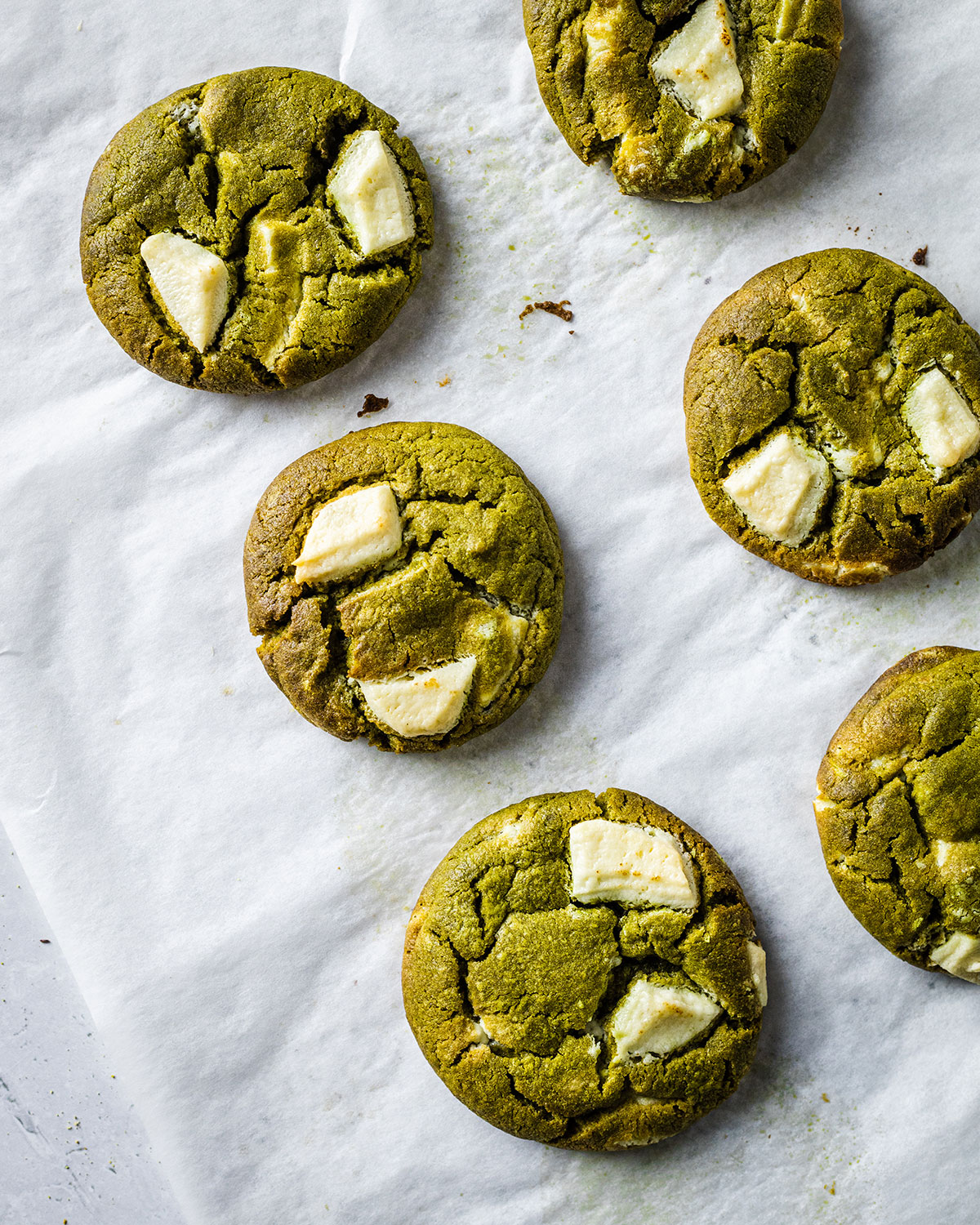 Preheat your oven to 180°C and bake the cookies for 12 to 15 minutes.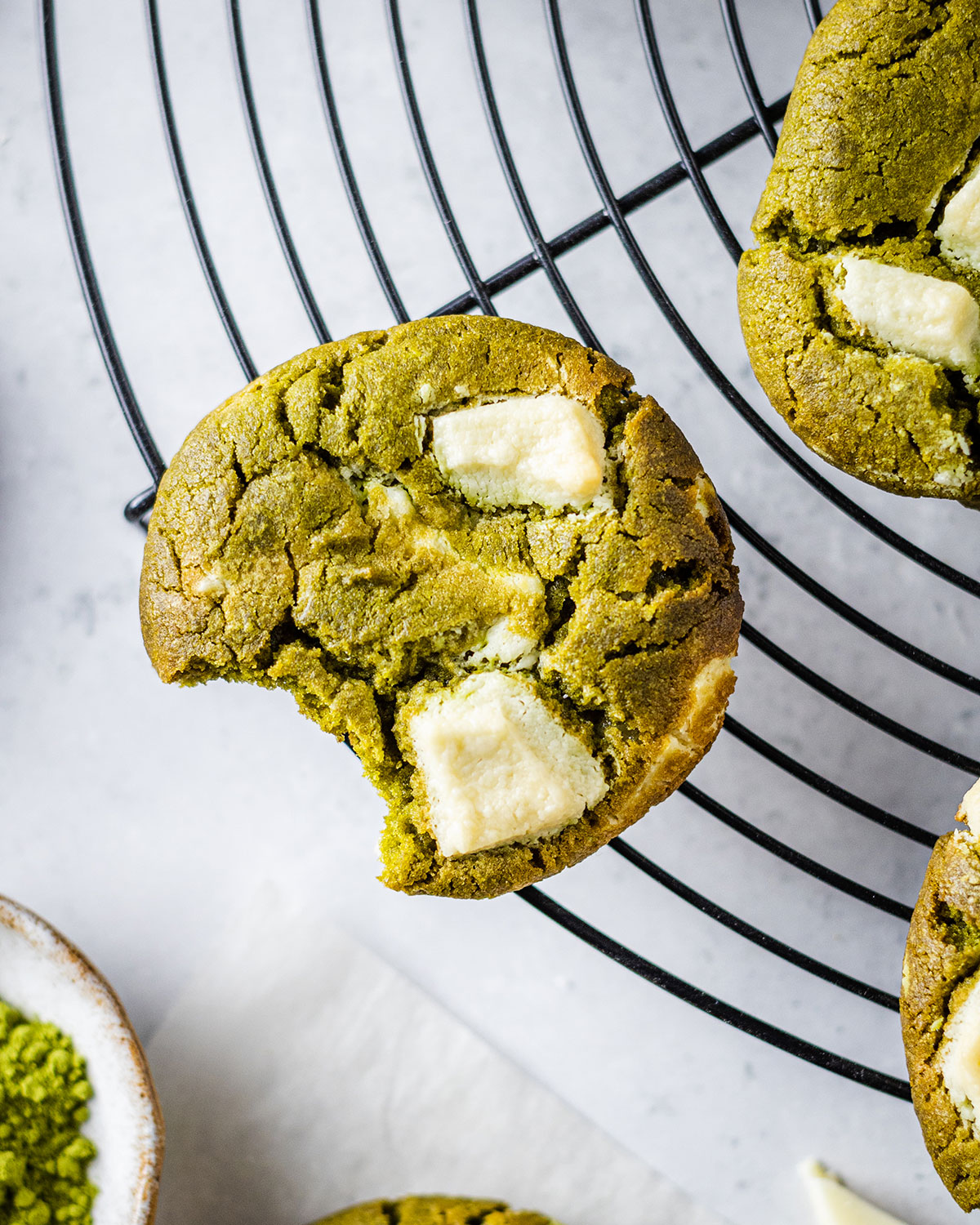 Allow for the cookies to cool down before removing them from the baking sheet.
Why not serve these delicious cookies alongside a delicious drink, such as a tasty Vanilla Matcha Latte or homemade Almond Milk Tea? It's perfect for dipping!
Storage
Store the cookies in an airtight container, such as a cookie jar or tin, for up to 2 weeks. For best results, enjoy these cookies within 5 days.
You can also freeze the cookie dough, if you want to prepare it ahead of time! It's always better to freeze the dough instead of the baked cookies. Allow for the dough to thaw in the fridge for a few hours or over night before shaping your cookies.
Substitutions
Chocolate chips: swap out the white chocolate chips for dark chocolate chips. Just as delicious!
Vanilla: instead of vanilla extract, you can also use 1/4 tsp vanilla powder or 1/4 tsp vanilla paste.
Sugar: these cookies are just as delicious using white sugar, however swapping the brown sugar for caster sugar will make them less chewy. You can also mix white and brown sugar for a crispy exterior and chewy center.
Butter: You can make this recipe with brown butter as well! Simply blend the brown butter and sugar in the first step until well combined, then continue with the recipe as per the instructions.
Variations
Almond flour: if you love nutty cookies, then you might want to try this one! Stir 1-2 tbsp or almond flour into the cookie batter!
Nuts: for an extra crunch, add some chopped nuts, such as macadamia nuts or almonds to the cookies.
Sprinkles: these can be a fun and colorful addition to these cookies!
Top Tips for perfect cookies
Don't skip refrigerating the cookie dough! This will not only make it easier to shape your cookie dough balls but also ensure you get a chewy cookie with slightly crispy edges. If your cookies turn out too flat, the dough mix was most likely not cold enough.
Don't add too much flour! When mixing, it's normal that the batter feels a little too soft to shape your cookies. Place the batter into the fridge for at least 30 minutes. During this time it will firm up and become perfect for shaping your cookies!
Use an ice cream scoop! If you want to make sure your cookies are equally sized, use an ice cream scoop to get the batter onto the cookie sheet.
Don't overbake the cookies! They should still be soft when they come out of the oven and they will firm up as they cool down.
For perfectly round cookies, use a round cookie cutter that's larger than your cookies and place it around each cookie after they come out of the oven. Give each cookie cutter a little wiggle to create a perfectly round shape and allow the cookies to continue cooling down.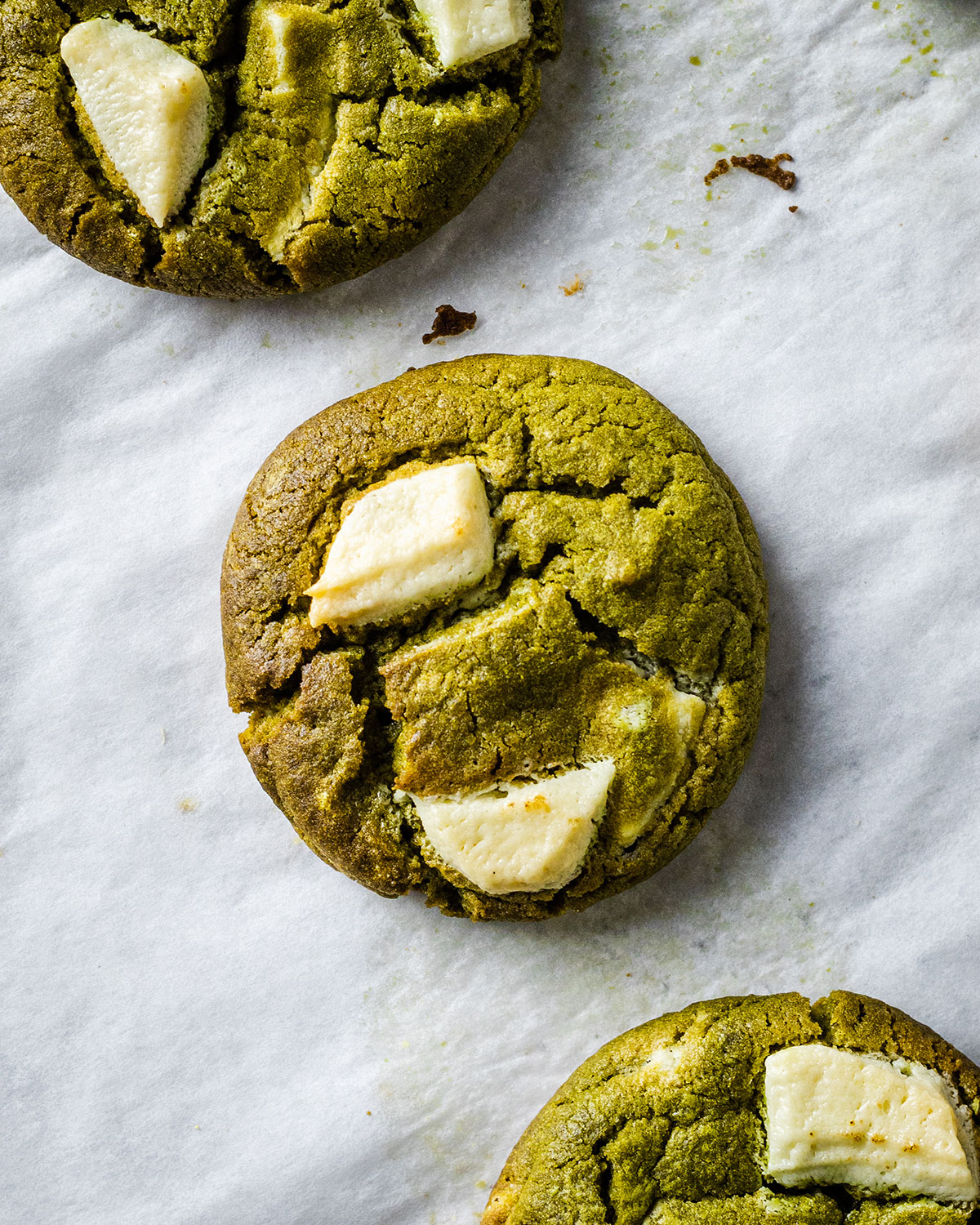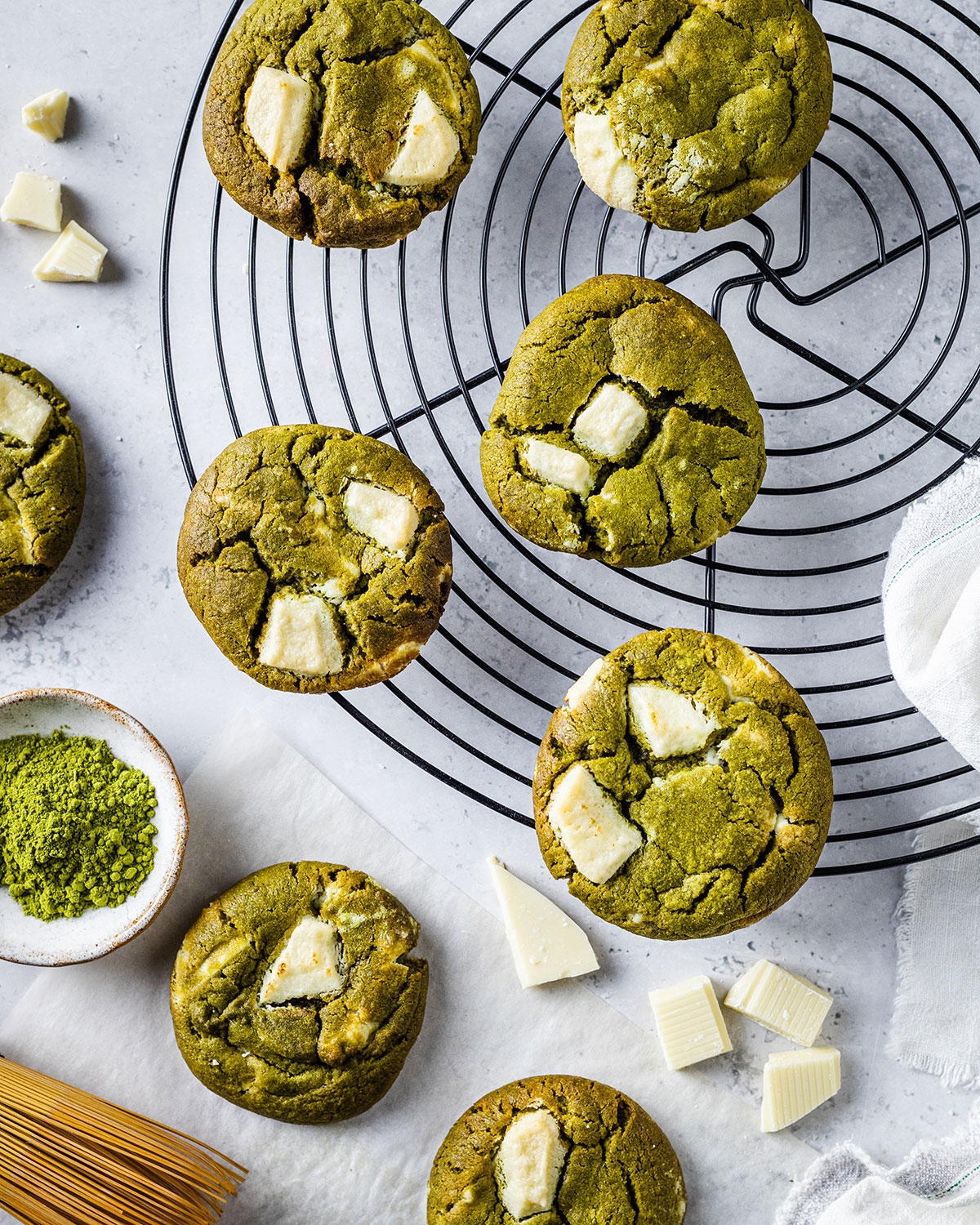 Related Recipes
If you love this matcha cookie recipe, then you might also enjoy my Vegan Double Chocolate Chip Cookies or my zesty Vegan Lemon Cookies! You can also browse all sweet bakes here.
If you're a fan of matcha, then definitely give my Starbucks Matcha Latte a go, or for the summer months, try my Iced Matcha Latte or Matcha Lemonade for a refreshing sip.
📌 If you love Pinterest you can pin any of the images to your boards!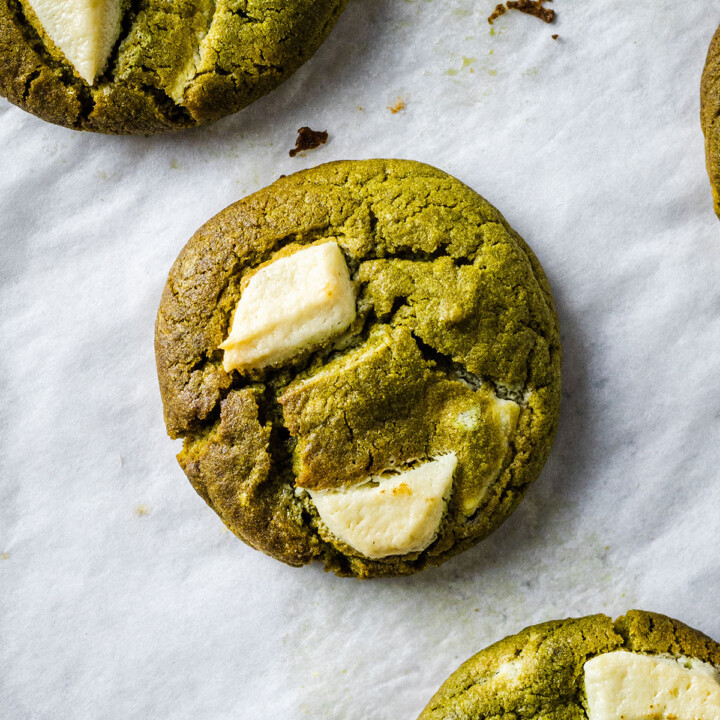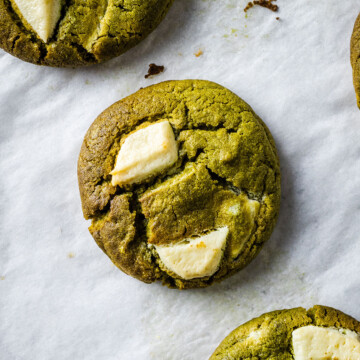 Matcha Cookies
Ultimately soft and chewy Matcha Green Tea Cookies, made with white chocolate chips and Matcha green tea powder. Perfectly crisp edges with a soft cookie centre - the best cookie texture there is!
Equipment
1-2 large mixing bowl(s)

2 lined baking trays

1 electric hand whisk

fridge

1 spatula

1 ice cream scoop

optional
Ingredients
1/3

cup

butter at room temperature (70 g)

1/2

cup

light brown sugar (100 g)

2

tbsp

milk (30 ml)

1

tsp

vanilla extract

1/2

tsp

baking powder

1

cup

all-purpose flour (120 g)

2

tbsp

matcha powder

1/2

cup

white chocolate chips + extra for the topping (80 g)
Instructions
Using an electric hand mixer, cream together the butter and brown sugar, then add the milk and vanilla extract.

Sift in the flour, baking powder and matcha powder into a second mixing bowl and stir to combine. Then slowly add the dry ingredients into the wet, and mix until well combined.

Fold in the white chocolate chips with a spatula.

Refrigerate the mix for at least 30 minutes, then gently shape the cookies and place them on a lined baking tray. Place the tray into the fridge for a minimum of 1 hour.

Preheat your oven to 350°F (180°C).

Transfer the cookie tray to the oven and bake for 12-15 minutes or until lightly golden. Remove the tray from the oven and allow for the cookies to cool down for at least 30 minutes before removing them from the tray.
Notes
Storage: Keep the cookies in an air-tight container for up to 2 weeks. 
Don't skip the fridge! Cooling down the cookie dough is vital in order to create the most perfect cookies. It will ensure that your edges will become nice and crisp and the cookie center will remain wonderfully chewy. The perfect combination!
Latest Recipes
*Disclosure: This page may contain affiliate links and sponsored links that earn me a small commission, at no additional cost to you. You can find more information in my Privacy Policy.
 © Romy London / Romina Callwitz | All images and content are copyright protected. Please do not use my images and content without permission. If you wish to re-publish any recipes or images, please get in touch via email. Thanks for your support!