These delicious & easy vegan air fryer cauliflower wings are a definite finger food staple in our household and easily made in your oven or air fryer.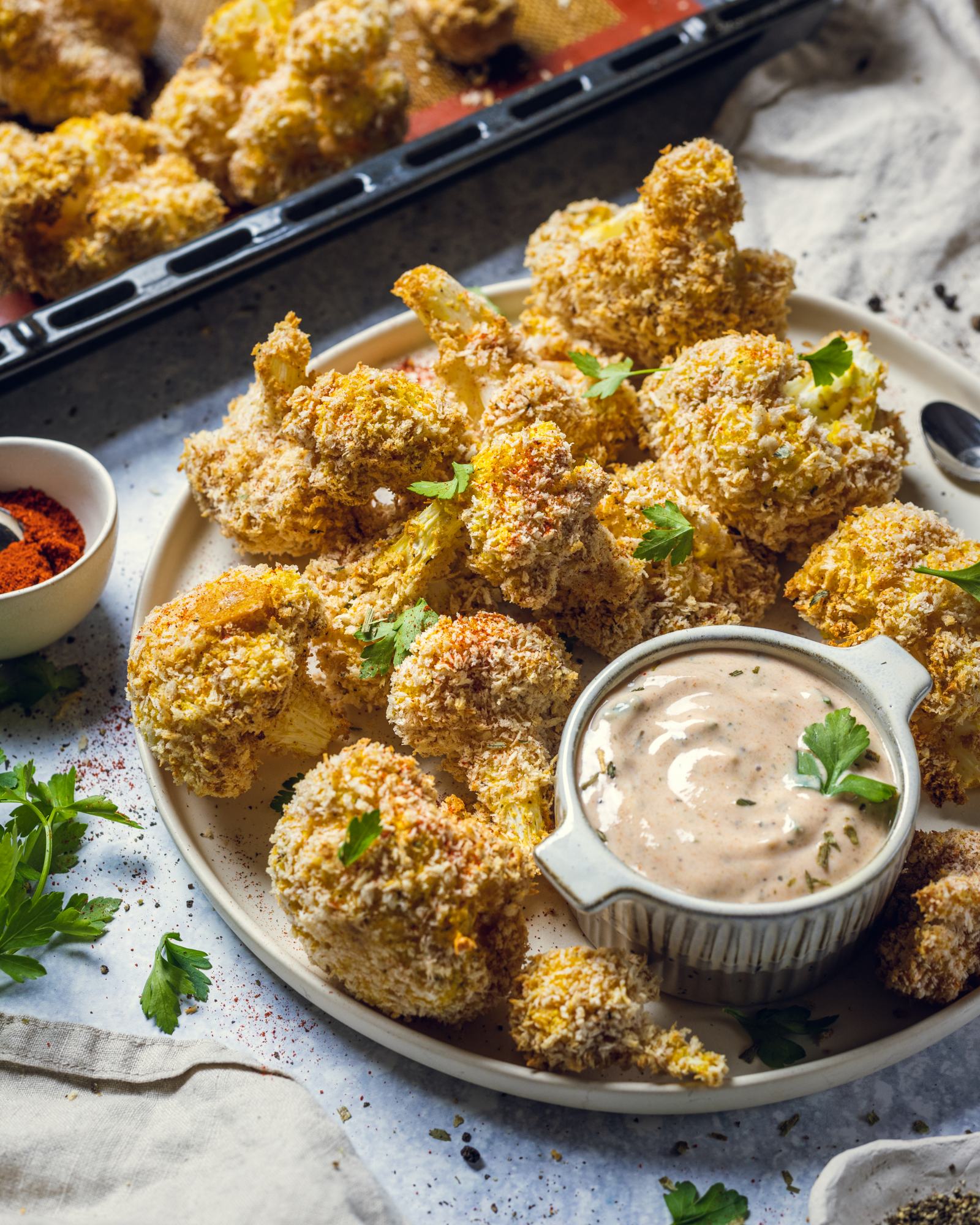 Air-Fryer Cauliflower Wings
Perfectly crunchy on the outside - and oh-so-delicious when dunked into our favourite dips! I think this simple Vegan Cauliflower Wings Recipe is the ultimate finger food and I love making these for Netflix nights, dinner parties or simply as a treat for dinner. They're simply so more-ish, no matter the occasion, you'll be wanting more of these delicious goodies!
For this recipe I've only used cupboard staples that you can easily get from any supermarket - it makes this recipe super easy to re-create as there are no complicated ingredients included. There are 3 main parts to this recipe: the cauliflower florets, the batter & the breadcrumb coating and as you will see I like to prepare these easy vegan cauliflower wings in the oven instead of a deep fryer. I used to deep-fry these wings, but very quickly realised that the crunchy outside gets soggy after sitting aside for 10 minutes and they come out at least just as tasty in the oven.
The exact amounts for the batter and coating depend on the size of your cauliflower. Just for reference: I've used a medium-size head of cauliflower for this recipe. If you end up with any batter leftovers, don't worry - they're perfect for some veg or you can also use the cauliflower stem and make it crisp up deliciously in the oven.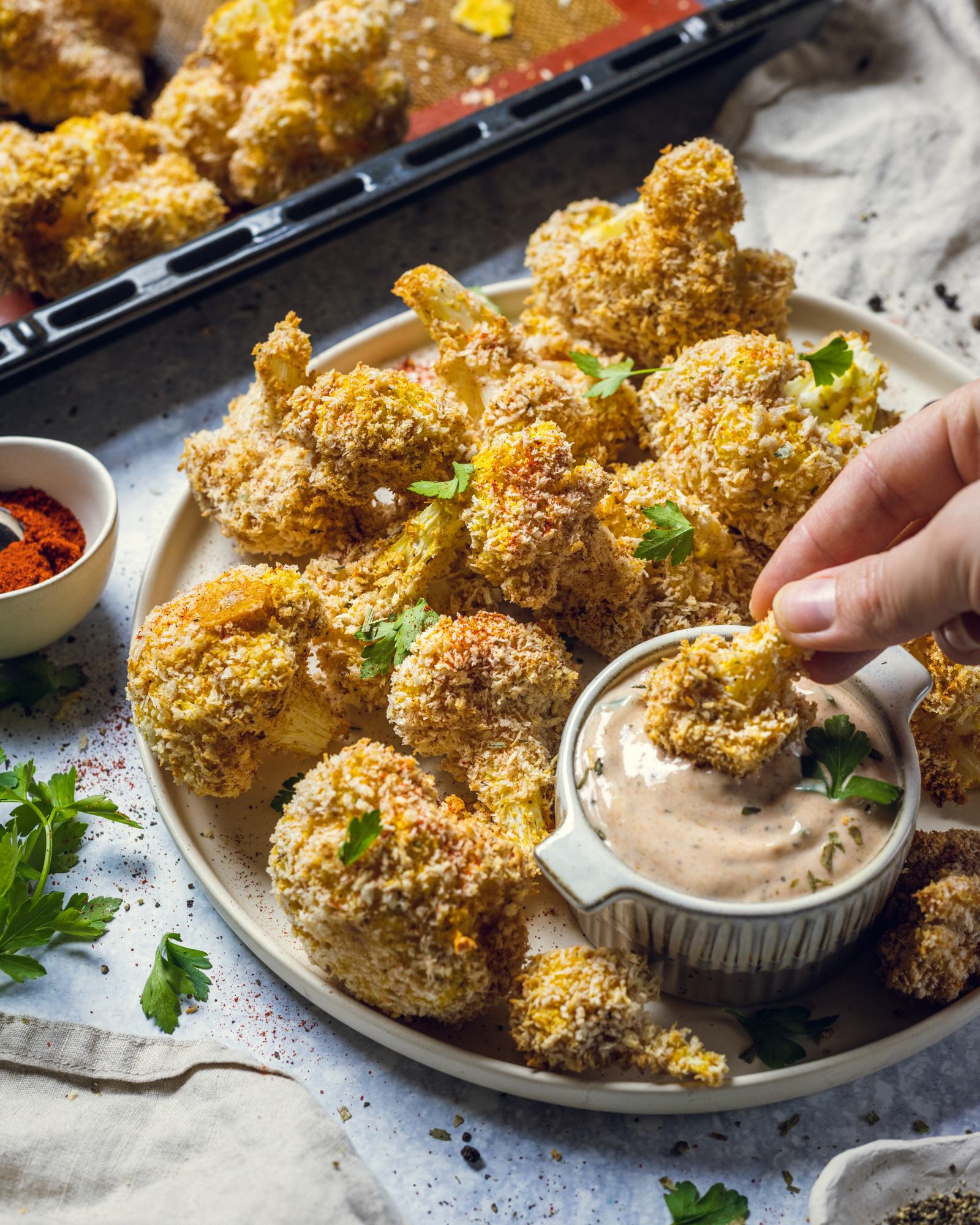 What you'll need to make these Cauliflower Wings
Ingredients for Cauliflower Wings
For the batter:
Chickpea flour
Smoked paprika powder
Black pepper
Chilli powder
Plant milk (I used soy)
For the breadcrumbs mix:
Panko breadcrumbs
Sea salt
Black pepper
Smoked paprika powder
Notes on the seasoning
I love to use a lot of seasoning in both batter and breadcrumb mix to create these delicious little bites full of flavour! Personally, I enjoy these easy vegan cauliflower wings with a slightly smoky flavour, hence I like to use smoked paprika powder in both my batter as well as breadcrumbs mixture. To add a little bit of a tang, I like to add chilli powder - if you're however on the totally mild side you can leave this out, or if you like it spicy, you can go to town with the chilli seasoning.
Equipment
Oven or air fryer
oven tray
mixing bowls
How to make Easy Cauliflower Wings
Step 1: Prepare the cauliflower
Firstly you'll want to wash your cauliflower and cut off each floret. If you've got any leftover cauliflower stem, this will be just as good for the recipe if you've got any spare batter at the end so try not to waste it!
Step 2: Create the batter
Next, you need to blend your batter, which you can do firstly by combining all your dry ingredients in a medium-sized bowl before slowly pouring in the plant milk and whisking it until you're left with a thick liquid.
Step 3: Mix the breadcrumbs and seasoning
Now, in a different bowl mix up the Panko breadcrumbs, sea salt, black pepper and smoked paprika powder.
Set the breadcrumb mix aside, line a baking tray with a baking sheet and preheat your oven to 180ºC.
Step 4: Assemble your cauliflower bites
Now that you have all your ingredients ready, dip each cauliflower floret into the batter and let it drip off for five seconds or so before dropping it into the breadcrumbs mix and making sure it's completely covered in breadcrumbs. All you have to do now is put it on the parking tray and repeat until all your florets are ready to be cooked.
Step 5: Bake or air-fry
Cook your cauliflower wings for 12-15 minutes at 180ºC in the oven or for 8-10 minutes in your air fryer.
Step 6: Serve
Once they're ready just take them out and serve with the sauce of your choice! I usually have these with tomato ketchup or a simple vegan yoghurt dip but it would work just as well with BBQ sauce or vegan ranch dressing.
How to easily make these Cauliflower Wings gluten-free
As this recipe uses breadcrumbs, it is not gluten-free in itself, there are however a couple of things you can do to easily adjust it:
Make sure to only use chickpea (gram) flour or gluten-free alternatives.
Replace the breadcrumbs with either gluten-free breadcrumbs or a mixture of gluten-free oats, flaxseed, hemp seeds
With these replacements, the outer layer of these cauliflower wings will still get crunchy whilst being perfectly gluten-free.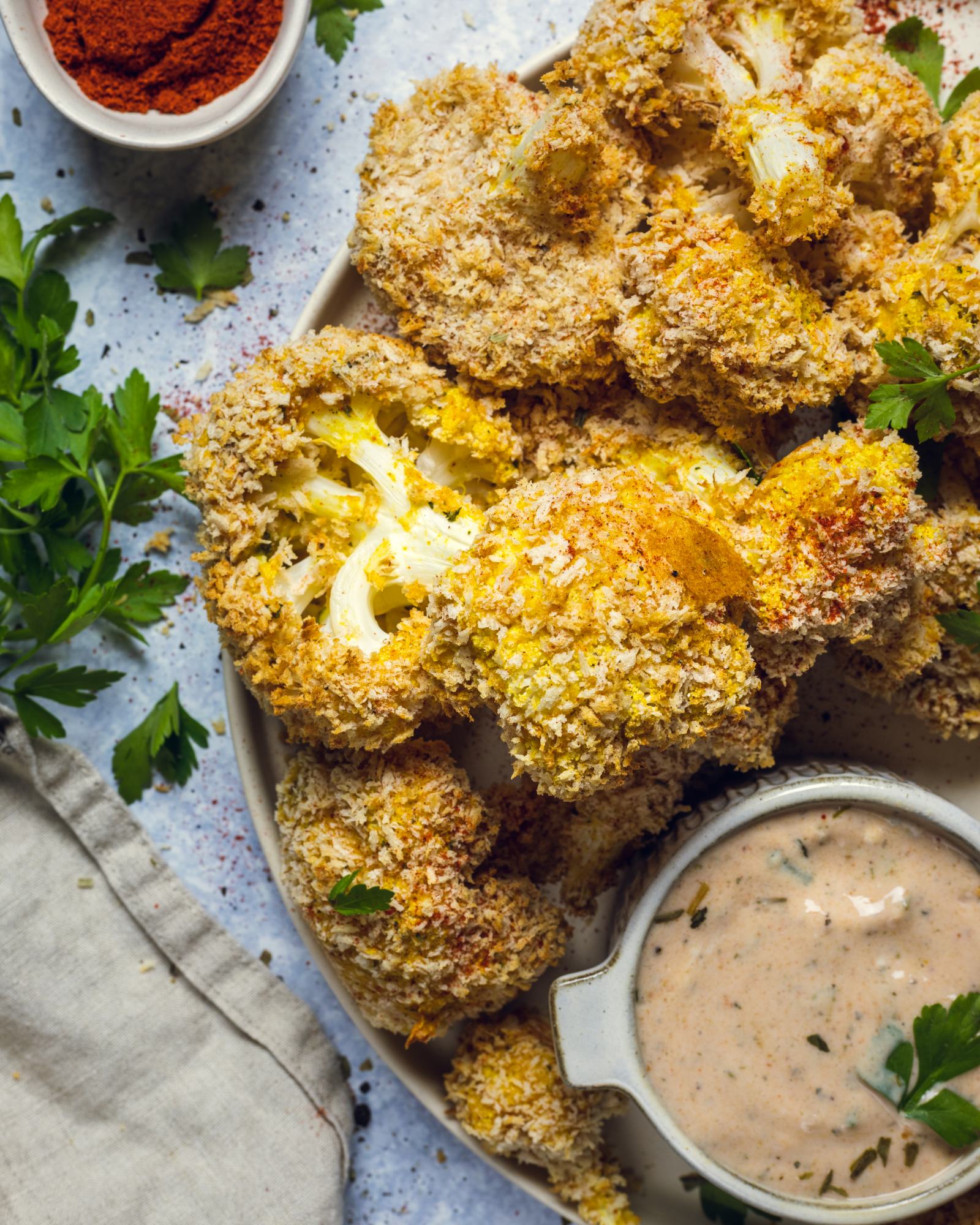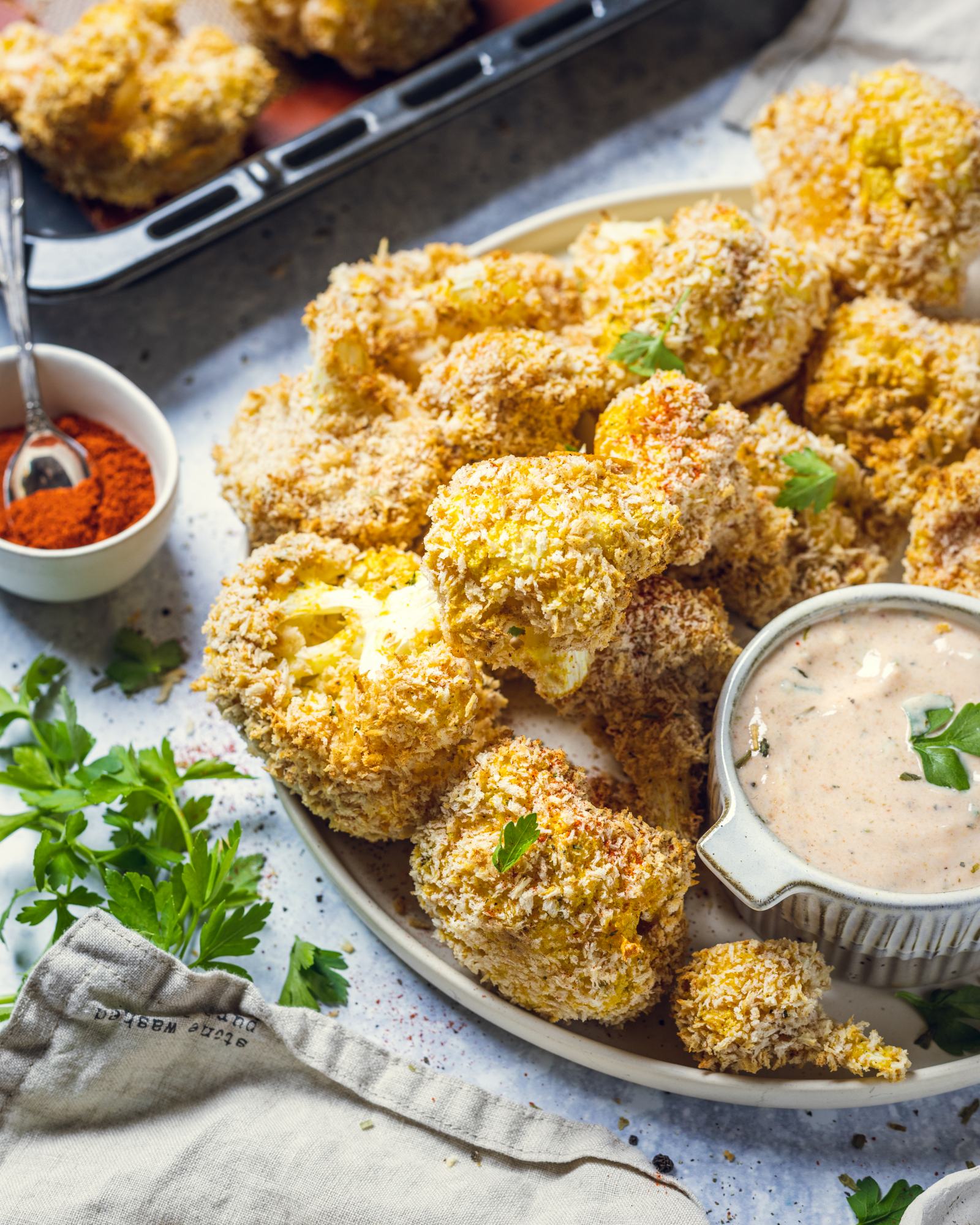 This recipe is:
vegan
more-ish
tasty
a delicious nibble
great for dipping
low fat
as spicy as you like it
the perfect finger food!
easy to make gluten free
📌 If you love Pinterest you can pin any of the images to your boards!
You might also like these: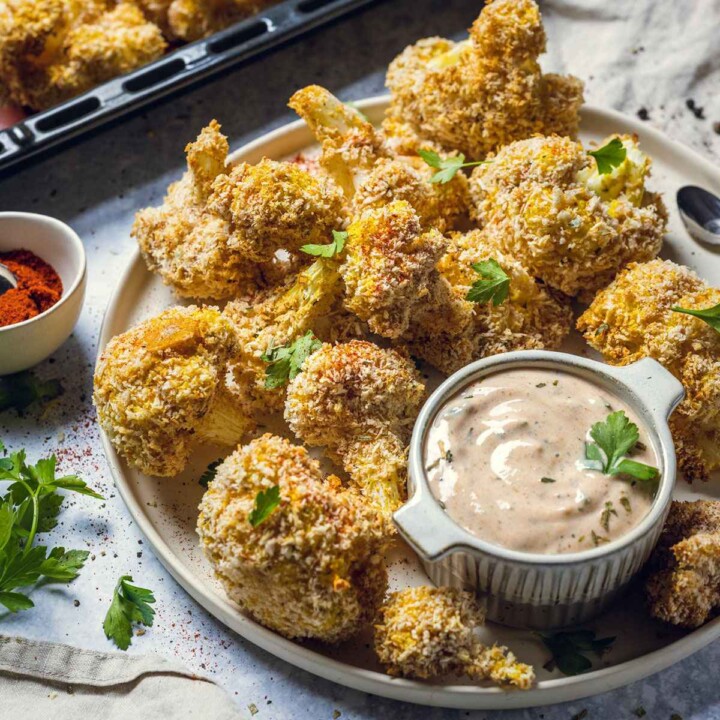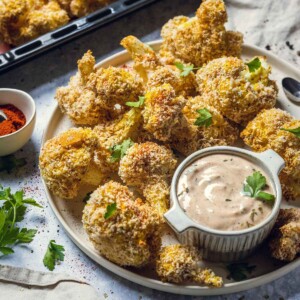 Air Fryer Cauliflower Wings
These super easy vegan cauliflower wings are a staple favourite in our household - super bowl, dinner parties, Netflix night - you name it! It's the perfect vegan finger food for so many occasions and you can be sure that people will be asking for more!
This recipe uses only simple ingredients from your pantry and it's easily adjustable if you're missing an ingredient.
Equipment
1 air fryer

1 1 medium mixing bowl

1 shallow plate or bowl
Ingredients
1

medium-size

head of cauliflower (roughly 600 g)

cut into florets
For the batter:
4

tbsp

chickpea flour

gram flour

2

tsp

smoked paprika powder

1

tsp

turmeric powder

1

tsp

ground black pepper

1

tsp

chili powder

red pepper flakes

5-8

tbsp

plant milk, e.g. soy

enough to get a thick, but runny texture
For the breadcrumbs mix:
6

tbsp

panko breadcrumbs

1

tsp

sea salt

1

tsp

ground black pepper

2

tsp

smoked paprika powder
Instructions
Start by washing your cauliflower & cutting it into separate florets. Don't waste the stem of your cauliflower - this is just as perfectly tasty and it's great to use up any leftover batter.

Blend up your batter: First, combine all the dry ingredients in a medium-size bowl, then slowly pour in the plant milk and whisk until you get a thick but liquid texture.

In a separate bowl combine the breadcrumbs mix.

Line a baking tray and preheat your oven to 350ºF (180ºC).

Dip each cauliflower floret into the batter, let it drip off gently for about 5 seconds, then drop it into the breadcrumbs mix and cover it all around. Place on the baking tray and repeat with the rest of the cauliflower florets.

Place the tray in the oven and bake for 12-15 minutes at 180ºC. Alternatively, place them into your air fryer for 8-10 minutes until golden and crunchy.

Serve with organic tomato ketchup or a simple yogurt dip. Enjoy!
Notes
The amount of batter and breadcrumbs you will need very much depends on the size of your cauliflower and it's florets. For reference I've used a medium size head of cauliflower on this occasion. If you have leftover batter/breadcrumbs you can use it for leftover veggies such as broccoli, carrots, asparagus, and even aubergines (eggplant) & potato!

If you don't have any chickpea flour to hand, you can substitute it with all-purpose  flour. (Or do a 50/50 if you don't have enough of either.

 

nutritional information for reference only.
Looking for more vegan snacks recipes? Here are a few of my favourites:
*Disclosure: This page may contain affiliate links and sponsored links that earn me a small commission, at no additional cost to you. You can find more information in my Privacy Policy.
 © Romy London / Romina Callwitz | All images and content are copyright protected. Please do not use my images and content without permission. If you wish to re-publish any recipes or images, please get in touch via email. Thanks for your support!