Take your tofu game to the next level with this deliciously spicy and Sticky BBQ Tofu recipe! It's created with a base of extra-firm tofu and the most delicious tofu marinade ever! So simple to make and no fancy equipment needed.
Vegan Sticky BBQ Tofu
This recipe is:
100% vegan
made with extra-firm tofu
super easy to make
gluten free
dairy-free
egg-free
delicious
addictive
full of flavor
great served alongside rice or a stir fry
perfect for tofu lovers!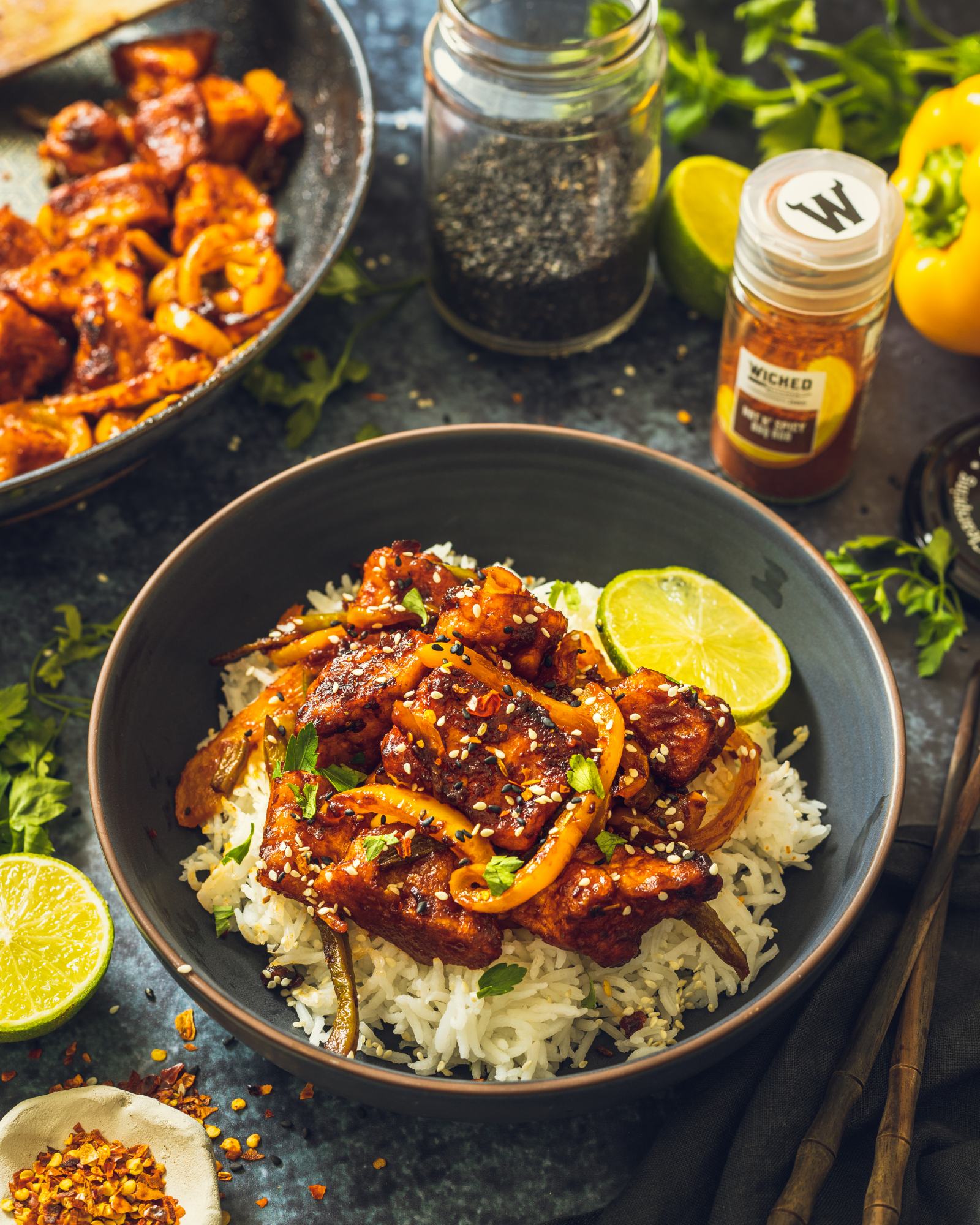 If you think you still can't make tofu taste great, then this Sticky BBQ Tofu Recipe is for you! Not only super easy but also delicious and if I'm completely honest: addictive. My favourite way to serve up this spicy and sticky tofu is alongside rice or a delicious stir fry with rice noodles, yum!
And don't worry, if spicy is not your thing, simply leave out the sriracha sauce from the recipe and your BBQ tofu will be wonderfully mild and gentle on your tastebuds, it might even become one of your favourite vegan recipes!
What you'll need to make this Sticky BBQ Tofu Recipe
Ingredients
Extra firm tofu: For best results with this recipe, use an extra-firm tofu, such as the authentic tofu from Cauldron.
Cornstarch: To create the perfect tofu base, I like to dust mine in cornflour before crispy frying it. The sauce is then added afterwards, creating all all-round perfect chewy and meaty texture for this BBQ tofu.
Rapeseed oil: To fry your fry, use a flavor-neutral oil, such as rapeseed oil (grapeseed oil). As an alternative you can also use avocado oil.
Carrots & peppers: I love to throw in some extra veggies into my BBQ sauce, such as carrots and peppers. Simply chose your favorite veggies!
One important part of a great tofu recipe is the texture. For tofu bites (such as this recipe) it's important to use extra-firm tofu. Other types of tofu, such as silken and soft tofu are great - but for other recipes. Do not even attempt to recreate this recipe with non-firm tofu, it will not be worth it (believe me!).
I love to use Cauldron, which is an organic tofu brand - it's available at Tesco, online and in-store, alongside lots of other places, and it's the perfect tofu base for this Sticky BBQ Tofu recipe.
For the vegan BBQ sauce:
Tomato puree: Tomato puree is the base for our homemade tofu marinade!
Extra virgin olive oil: Adding a little oil to the marinade ensures that the tofu doesn't get dry in the pan later on.
Maple syrup: For this sauce, we use maple syrup to sweeten.
Smoked paprika powder: this seasoning will add the sauce the perfect smoky flavor, turning it into a BBQ sauce!
Sriracha: For a spicy kick in this sauce, I like to use sriracha! Feel free to adjust it to your own tastebuds or leave it out entirely, if spicy is not your thing.
Cornstarch: To thicken the BBQ sauce and give the overall recipe the perfect 'sticky' texture that it's named after!
Water: To combine the ingredients into a smooth sauce!
The tomato paste creates the base for the sauce, I always use an organic tomato puree. The smoked paprika gives it the delicious smoky-ness of barbecue sauce and the maple syrup will caramelize the sauce wonderfully and give it that typical BBQ flavor. The sriracha adds a great kick to the sauce - if spicy is not for you, simply leave this one out. The cornflour is added to the sauce to make it nice and thick, so it sticks to the tofu bites just perfectly.
How to make Sticky BBQ Tofu Recipe
If you've ever thought 'oh I simply can't make tofu taste great', then this recipe is definitely one for you. There are a few simple steps you can take, that will make your tofu taste fantastic and before you know it, you'll be craving it. It's not rocket science 😉
Step 1: Cornstarch coating & crispy frying
Ad we've got the perfect tofu to use narrowed down, let's get down to business!
An important ingredient to creating a sticky & partially crispy tofu is: cornflour! Yes, just one ingredient. Simple, ay? What's also important however is to thoroughly coat your tofu chunks with cornstarch, don't be shy!
I also like breaking apart my tofu with my hands, rather than cutting it into perfect shapes. I find it gives it a more interesting texture and a better bite than having perfectly smooth rectangular pieces.
Once generously coated in cornstarch, heat the rapeseed oil in a non-stick pan - and ensure it's hot before adding the tofu chunks.
If you need, fry the tofu in batches, so you only have one layer in the pan as it will otherwise stick together and get messy. Flip the tofu chunks regularly so they become evenly crispy on all sides. I like to use chopsticks to easily flip and move the tofu bites in the pan.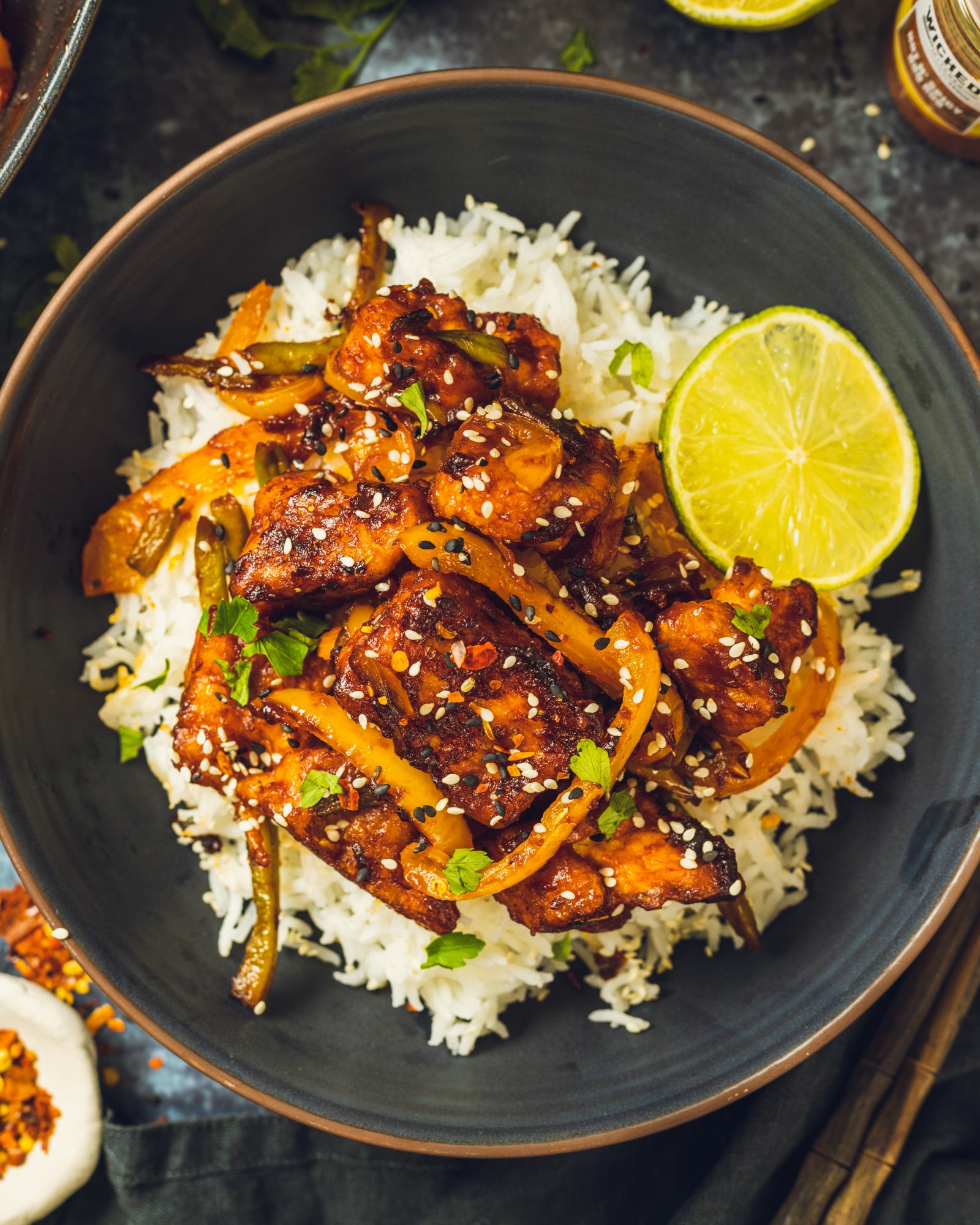 Step 2: Creating the BBQ Marinade
The next step is to create the sauce: simply combine tomato puree, olive oil, maple syrup, smoked paprika powder, sriracha and 1/2 tbsp cornstarch with a little water, until you get a thick but runny paste.
Step 3: Coating the tofu
Add all the crispy tofu to the pan, reduce the heat to low/medium, and pour in the sauce, covering the tofu.
Gently toss the tofu in the sauce until evenly coated. Stir and cook until the BBQ sauce thickens, then remove the pan from the heat.
How to serve the BBQ Tofu
You can definitely enjoy this BBQ tofu on its own - it's simply delicious!
I also like to serve it alongside rice or grains, in a stir fry or on a rainbow bowl (the options are endless!). Topping a bowl of umami-packed Vegan Black Bean Ramen with this tofu is also a fantastic idea!
You might also enjoy these recipes:
📌 If you love Pinterest you can pin any of the images to your boards!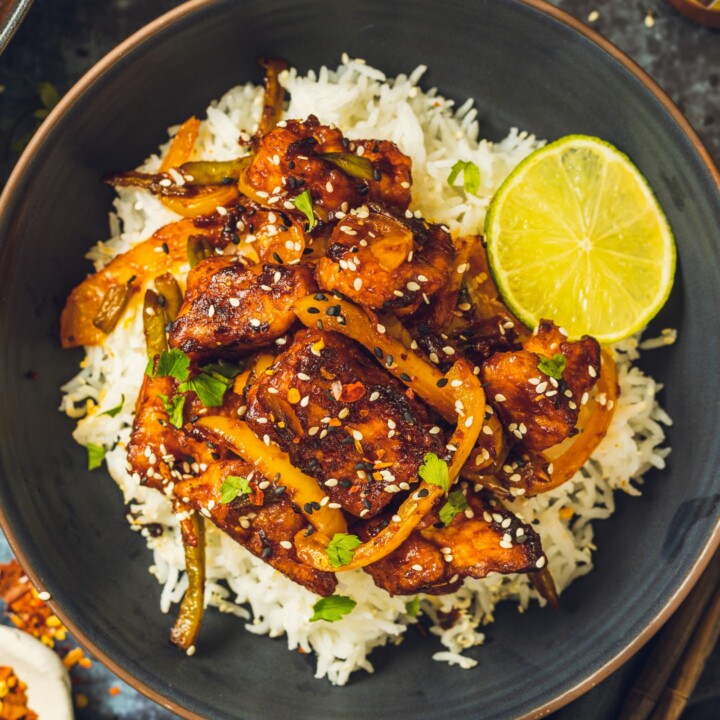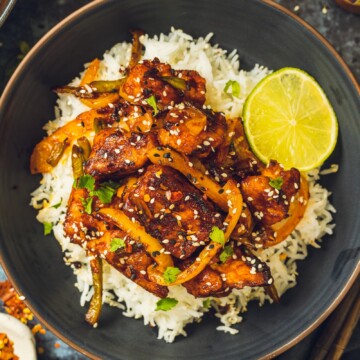 Sticky BBQ Tofu
Spice up your tofu game with this delicious Sticky BBQ Tofu recipe! Perfect served up with rice, on a buddha bowl, with a stir fry - or whatever your tastebuds desire.
Equipment
1 large non-stick frying pan

1 bowl
Ingredients
280

g

extra firm tofu (10 oz)

drained

3

tbsp

cornstarch

3-4

tbsp

canola oil

for frying

1

small

carrot (1/2 cup)

cut julienne

1

yellow pepper (1/2 cup)

thinly sliced
For the sauce:
1

tbsp

tomato puree

1

tsp

extra virgin olive oil

1

tbsp

maple syrup

1

tsp

smoked paprika powder

1

tsp

sriracha hot sauce

1/2

tbsp

cornstarch

a little water
Instructions
Heat a large non-stick frying pan over medium/high heat. Add canola oil for frying.

Prepare the firm tofu by pulling it into bite-size pieces with your hands. Coat each piece generously in cornflour and place the tofu into the hot pan in a single layer.

Flip the tofu pieces regularly and let them evenly cook until golden and slightly crispy.

Set the crispy tofu aside and add the carrots and pepper to the pan. Cook until softened, then add the tofu back in and reduce to low/medium heat.

Blend all ingredients for the sauce to create a thick, but runny paste, then pour the sauce over the tofu & veg. Toss and stir to evenly coat the tofu and remove from the heat as the sauce thickens and sticks to the tofu.

Serve alongside rice, a stir fry or a buddha bowl. Enjoy!
Notes
Serve with rice, as a stir fry, on a nourishing rainbow bowl - or alongside whatever your heart desires!

Ensure the pan and oil are hot before adding the tofu to avoid soggy, oily tofu bites.

Be generous with the cornstarch coating on your tofu!
Love cooking tofu? Check out these delicious tofu recipes - here are some of my faves:
*Disclosure: This page may contain affiliate links and sponsored links that earn me a small commission, at no additional cost to you. You can find more information in my Privacy Policy.
© Romy London / Romina Callwitz | All images and content are copyright protected. Please do not use my images and content without prior permission. If you wish to re-publish this recipe, please get in touch via email. Thank you so much for supporting romylondonuk.com!