Deliciously creamy vegan pumpkin spice porridge recipe - full of seasonal flavours! Made with pumpkin puree and homemade pumpkin spice mix.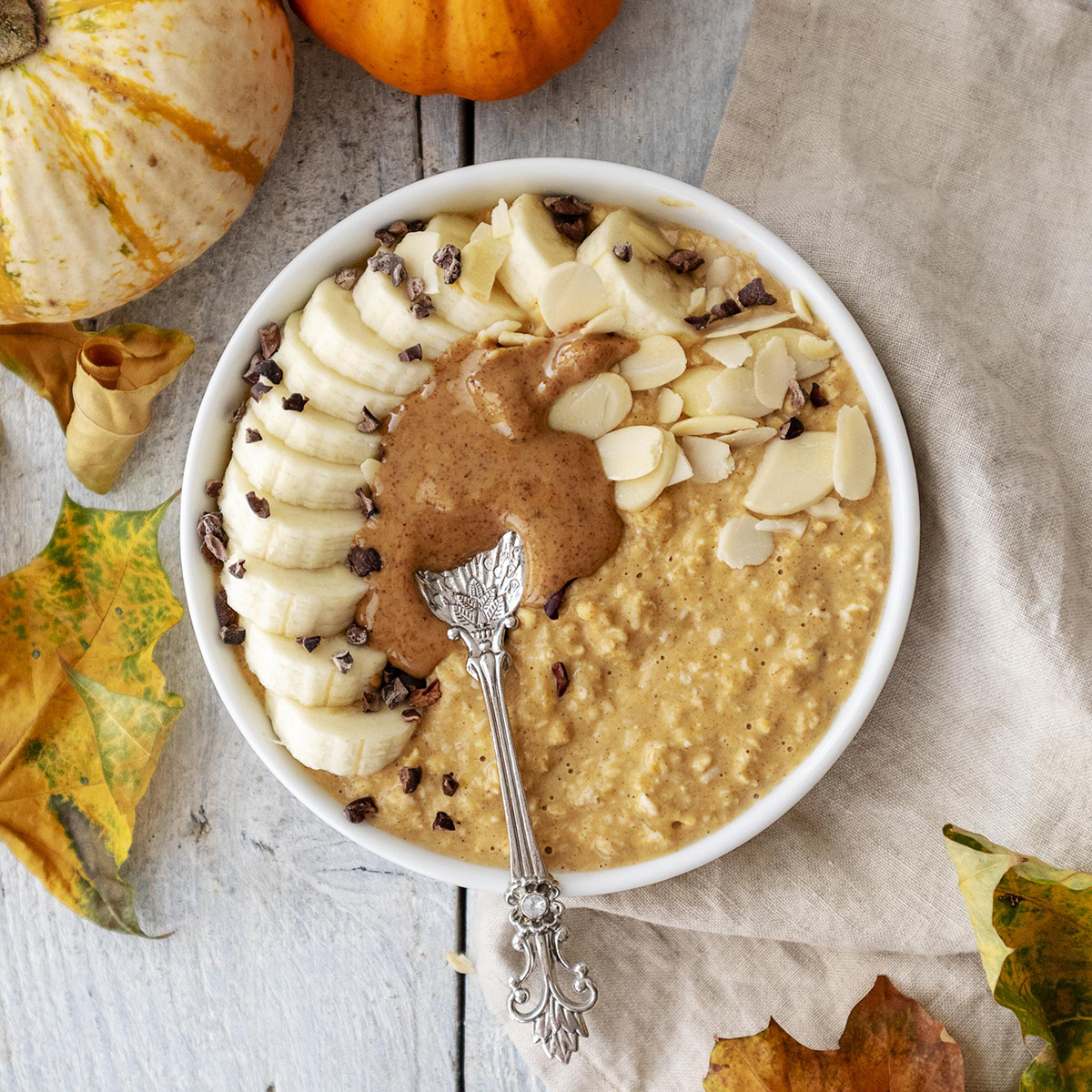 Vegan Pumpkin Spice Porridge
It's officially 'That time of the year!' and pumpkin-spiced everything is popping up everywhere. My blog is not an exclusion cause pumpkin season happens to be my ultimate favourite season of the year. This year I've been feeling super inspired and motivated to create more pumpkin recipes aside from the regulars of roasted pumpkin and pumpkin soup - so I've started including pumpkin in other dishes too, such as this Pumpkin Spice Porridge Recipe, which was super warming and creamy and the perfect start into an autumn day.
Every year I stock up on a bunch of pumpkins whilst they're available and create a bunch of recipes from them (such as this deliciously creamy pumpkin soup I created last year). As I usually have plenty of pumpkins left at the end of each autumn, I often create pumpkin puree from it and freeze it - so that I'm also able to enjoy this delicious goodness when it's not pumpkin season.
In this recipe I am using pumpkin puree & a pumpkin spice mix - these might be standard ingredients if you're based in the US, however, in the UK they're sadly not widely available. For years I have been wondering whether people would buy these from in the UK and after desperately searching around online, I just decided to find out how to make them myself. After a vote over on Instagram it turned out that I wasn't the only person unsure of where to get it/how to make it, so I decided to put up this post on how to make your own pumpkin spice & pumpkin puree. It's super easy - make sure to check it out in case you don't have these ready-made ingredients at home yet.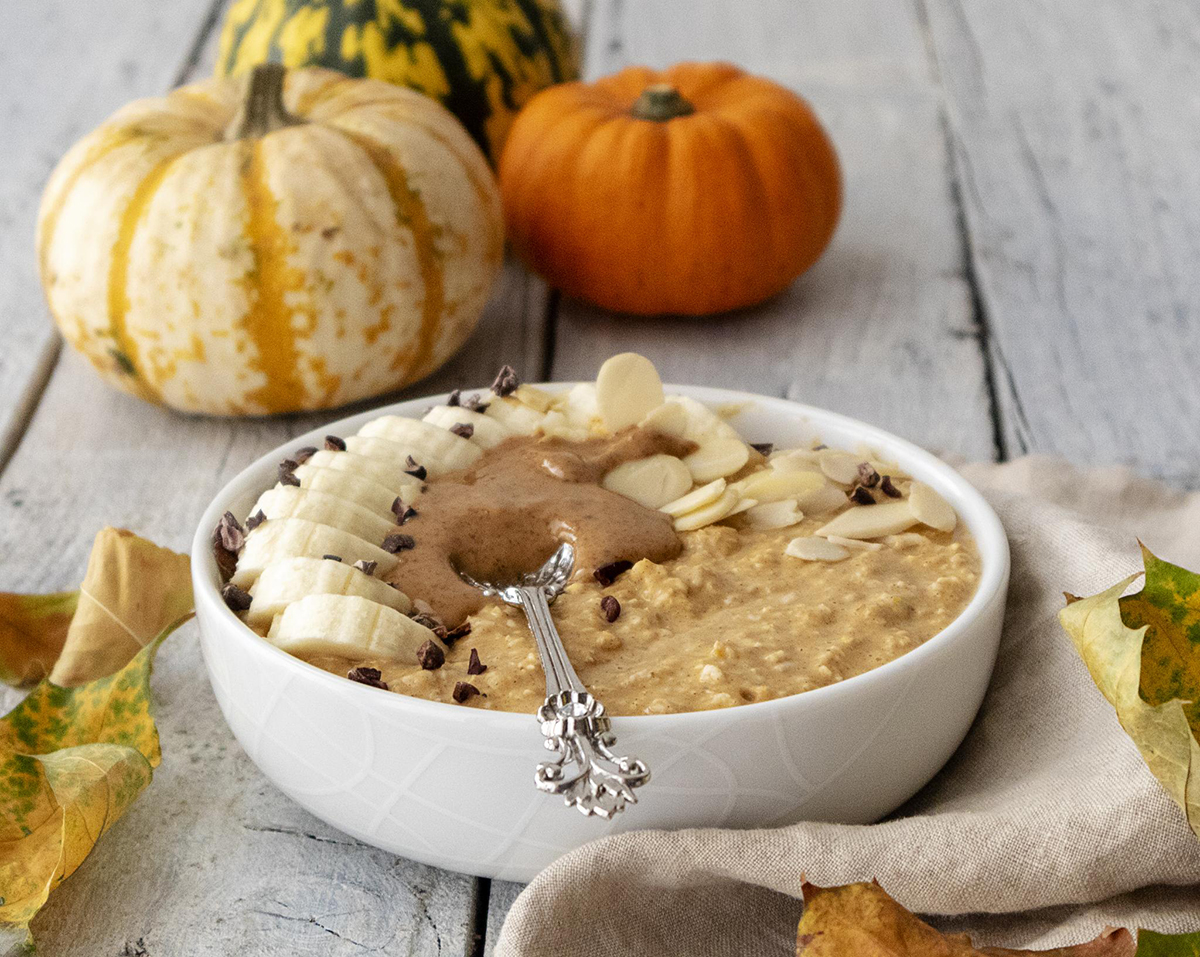 Ingredients
rolled oats
pumpkin puree
pumpkin spice mix OR cinnamon, ginger, clove, allspice, nutmeg
maple syrup
coconut milk
Equipment
small saucepan
measuring spoons
whisk or spoon
Instructions
Start with the oats and add them to a saucepan over low heat. Mix in the pumpkin puree and add the coconut milk - stir to combine until no pumpkin puree lumps are left.
Next, sprinkle in your spices: ground cinnamon, ginger, nutmeg, cloves, and all-spice - the latter being optional. I don't always have allspice available at home, so I often leave it out - it does, however, give the mix a great depth of flavour.
Cook for a few minutes whilst stirring regularly until the oats have softened and soaked up the majority of the liquid. Stir in your maple syrup. Your porridge should be thick and creamy - if it's too liquid, simply leave it on the stove for a few more minutes. In case it's too dry, add a little more coconut milk or a dash of water.
Lastly, transfer your porridge to a breakfast bowl and add your favourite toppings. Some of mine include banana slices, nut butter (such as almond or peanut butter), cacao nibs and flaked almonds.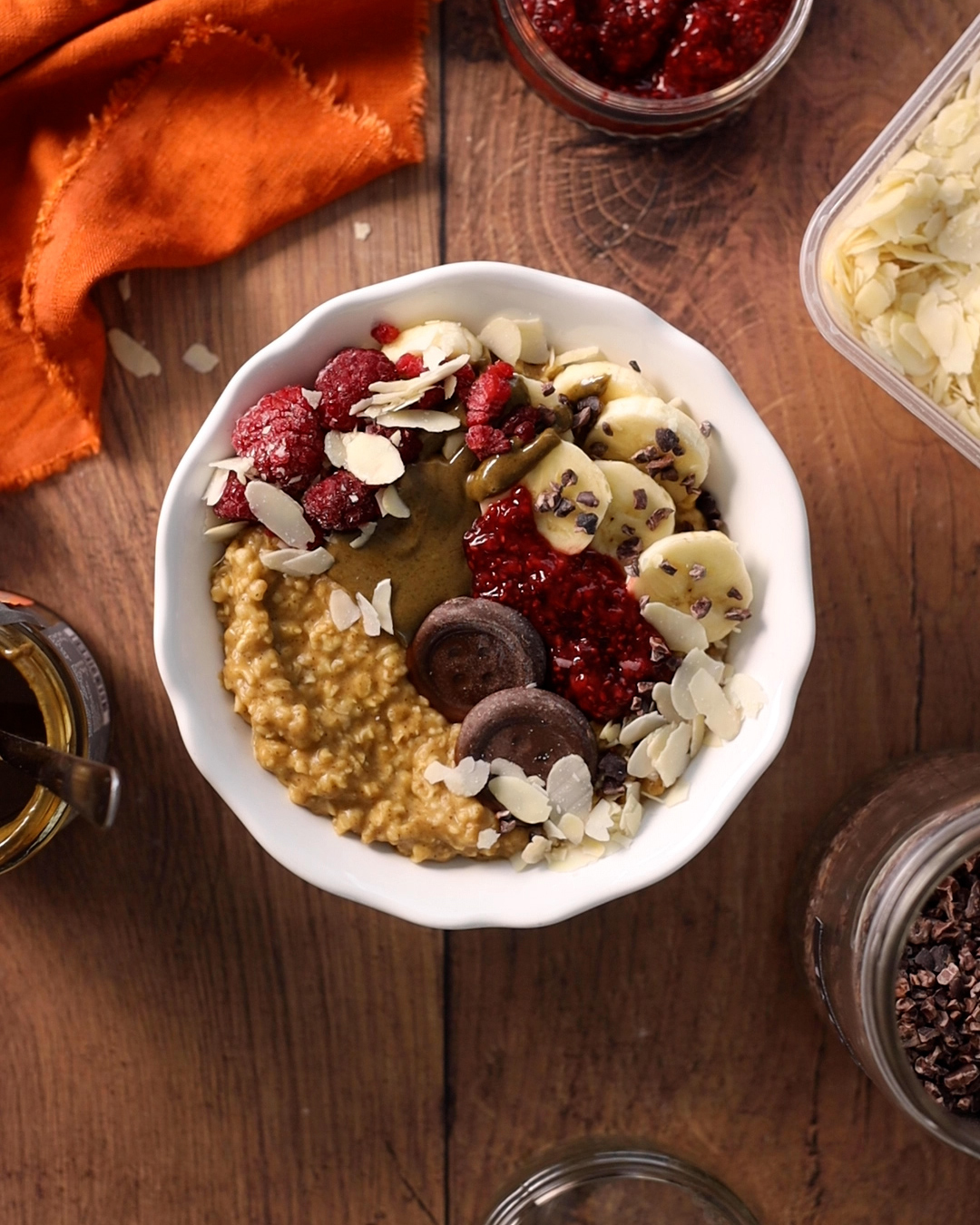 This recipe is:
100% vegan
gluten-free optional: swap to gluten-free oats!
full of flavour
seasonal
addictive
thick and creamy
delicious with nut butter on top
📌 If you love Pinterest you can pin any of the images to your boards!
You might also enjoy these porridge recipes: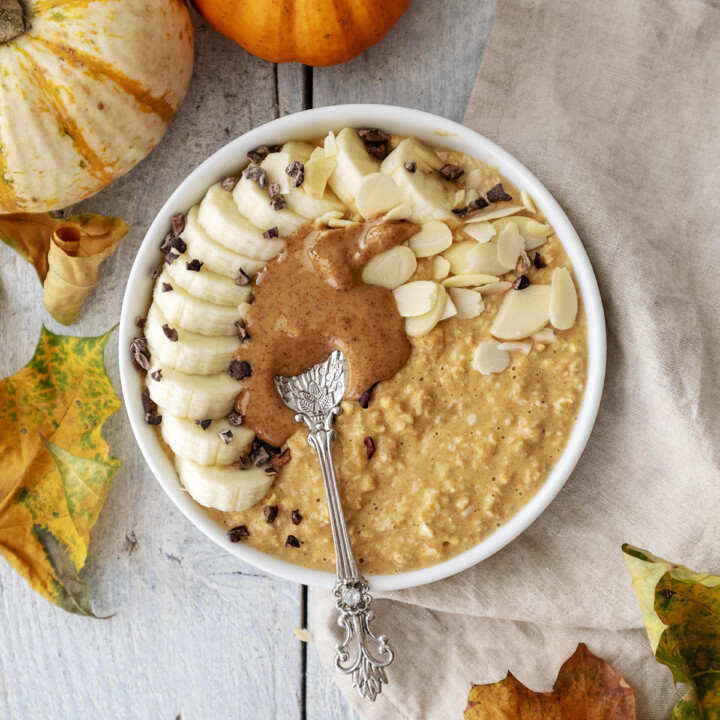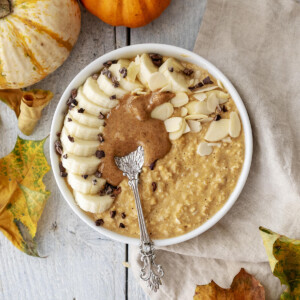 Vegan Pumpkin Spice Porridge
Deliciously creamy vegan pumpkin spice porridge recipe - full of seasonal flavours! Made with pumpkin puree and homemade pumpkin spice mix.
Ingredients
3/4

cups

rolled oats (60 g)

1/2

cup

pumpkin puree (40 g)

1

cup

plant milk (230 ml)

e.g. coconut milk

1

tbsp

maple syrup

1

tsp

ground cinnamon

1/2

tsp

ground ginger

1/8

tsp

ground cloves

1/8

tsp

ground allspice

optional

1

pinch

ground nutmeg
Toppings (optional)
banana slices

almond butter

almond flakes

cacao nibs

vegan chocolate

raspberry chia jam
Instructions
Add your porridge oats to a saucepan over low heat and add in the pumpkin puree. Pour in the coconut milk and stir to combine everything.

Sprinkle in your spices and continue stirring to combine all ingredients evenly throughout the porridge Continuously stir until your porridge begins to thicken.

Add in the maple syrup and remove your porridge from the heat once it's reached your desired consistency.

Transfer to a breakfast bowl and add the toppings of your choice.
Video
Notes
Pumpkin Spice Mix: If you've made my Homemade Pumpkin Spice Mix recipe, you can also utilize this in this recipe. Simply add 2 teaspoons of the pumpkin spice mix to the porridge.
The porridge tastes best served warm, but you can also create it as overnight oats - simply stir the porridge ingredients into a jar and place in the fridge overnight. Add your toppings in the morning and enjoy on the go!
If you're a fan of pumpkin spice or pumpkin recipes, give these tried and tested ones a go:
*Disclosure: This page may contain affiliate links and sponsored links that earn me a small commission, at no additional cost to you. You can find more information in my Privacy Policy.
 © Romy London / Romina Callwitz | All images and content are copyright protected. Please do not use my images and content without permission. If you wish to re-publish any recipes or images, please get in touch via email. Thanks for your support!