Deliciously smooth and creamy Vegan Pumpkin Pie Recipe - created with a crunchy biscuit base made from vegan-friendly biscuits and softened dates.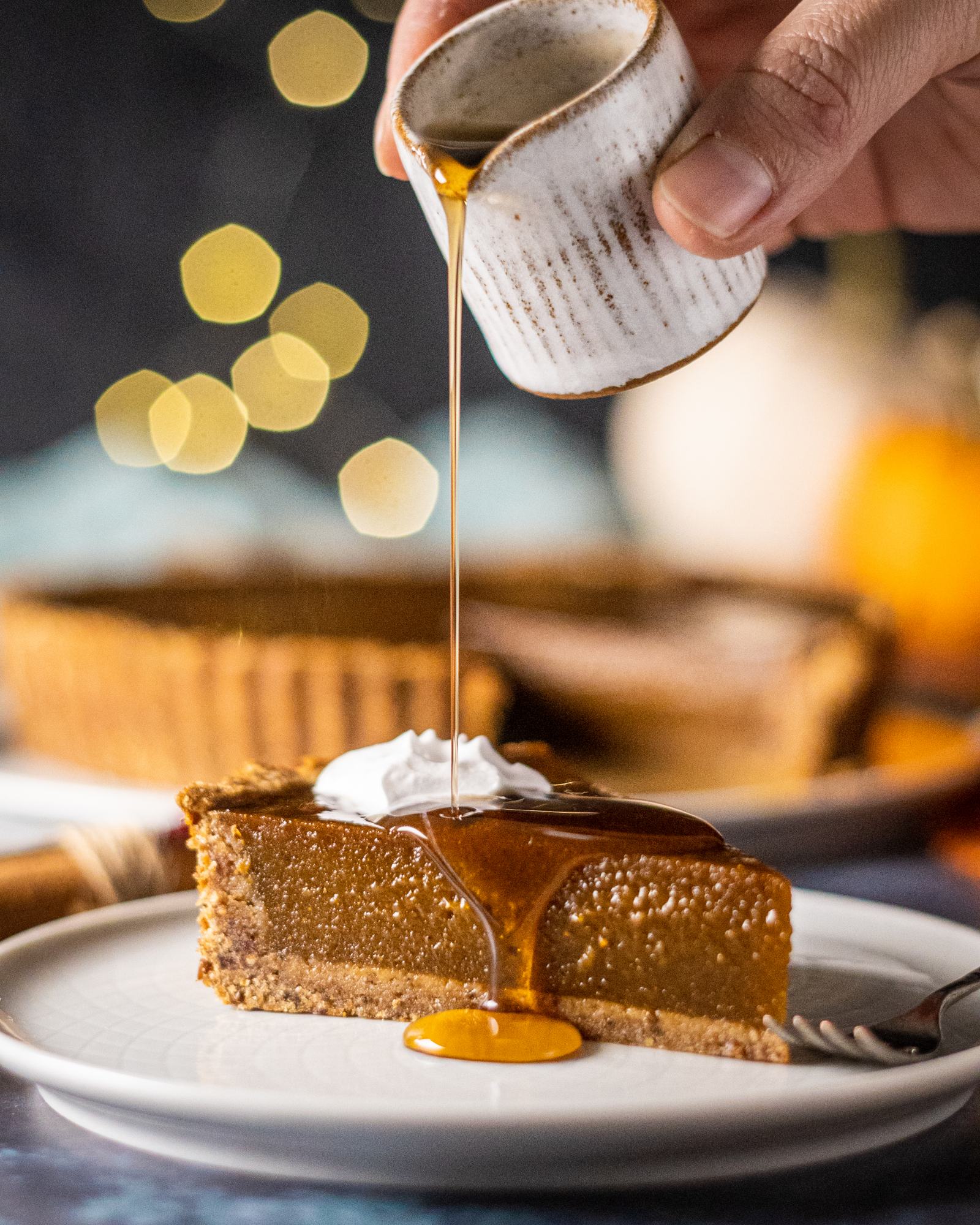 Vegan Pumpkin Pie Recipe
This Vegan Coconut Pumpkin Pie Recipe is easy to make and is a wonderful seasonal dessert. Well, it's delicious at any time of year really but it works especially well in the colder months as the ginger and nutmeg give it a warming kick!
Don't worry if it's your first time making a pumpkin pie, it really is super easy!
Ingredients
Vegan biscuits

Medjool dates

Maple syrup

Pumpkin puree (I get my tinned pumpkin puree from Ocado)

Coconut milk

Brown sugar

Ground ginger

Ground cloves

Ground nutmeg

Salt

Cornstarch
Equipment
Food processor
Fridge
Pie cake tin
Oven
Spatula
Whisk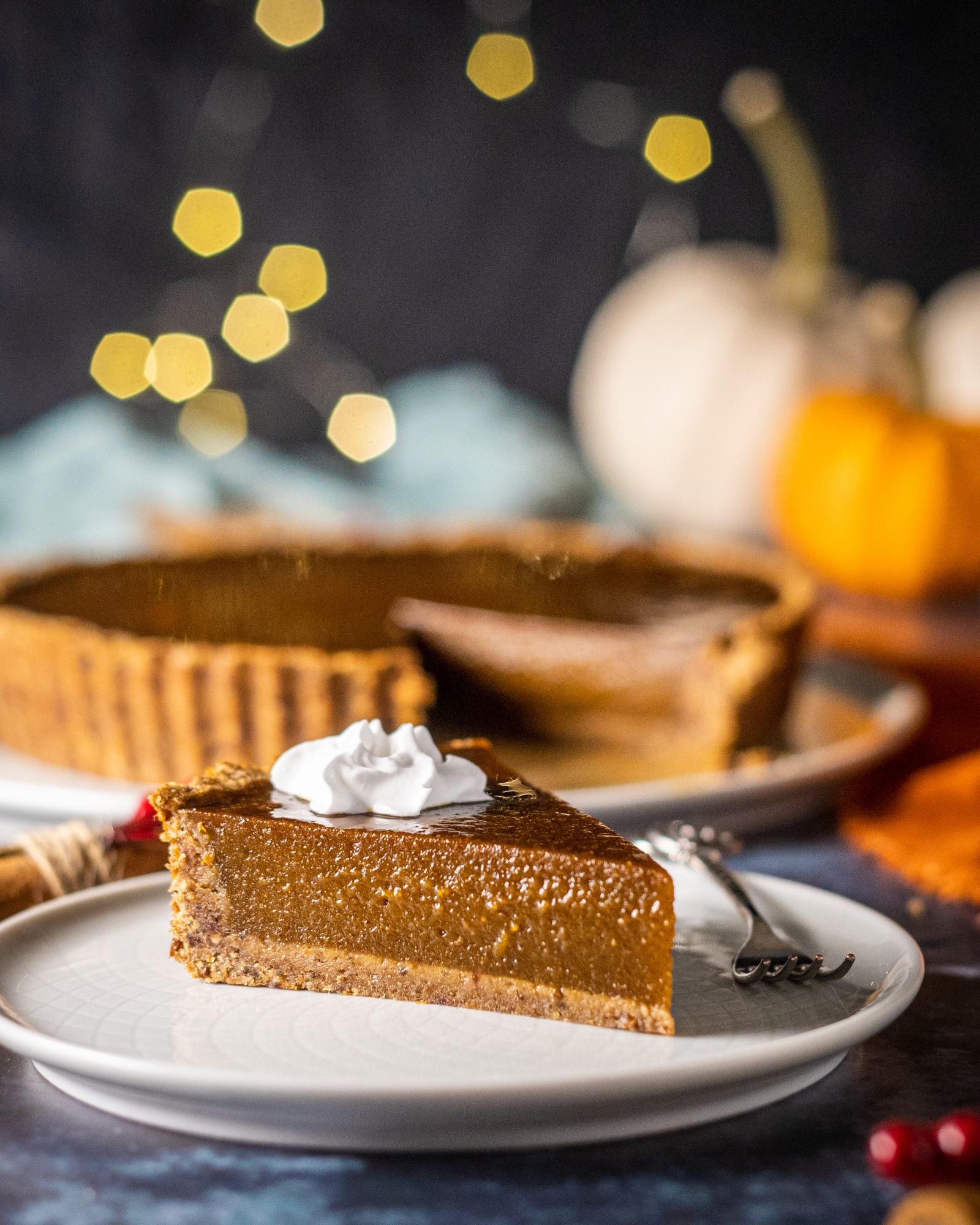 Instructions
How to make a vegan biscuit base
For the biscuit base in this vegan pumpkin pie recipe, I've used a pack of Mr Organic biscuits. Their packs come to 250g, so if you don't have access to this particular type of biscuit, you can simply replace them with another vegan biscuit of your choice. I would recommend a Hobnob kind of biscuit with multi-grains. If you pick a biscuit with a more dominant flavour, be aware that it can change the flavour of your pie.
The two main ingredients in the base are the biscuits and fresh and juicy Medjool dates. Make sure the latter are softened and have their pits removed beforehand, so you're ready to start with the recipe. If your dates are very hard, try placing them into hot water for a few minutes to soften. Simply transfer the biscuits and the softened dates to a food processor and pulse until the dates are broken down and combined with the biscuit crumbs to form a crumbly dough. If the mix is a little too dry - it can happen if your dates were a little less juicy or smaller or also if you use a dryer type of biscuit - add a little bit of water, one teaspoon at a time until your dough is crumbly but slightly sticky.
Remove the mix from the food processor and press it into a greased pie tin (grease with a little coconut oil, ideally!) to shape the bottom and sides of your pie.
I usually create my biscuit pie crust with 5 to 10 mm thickness. Place the pie tin into the fridge whilst you're preparing the filling - the cold will help the crust harden in the meantime.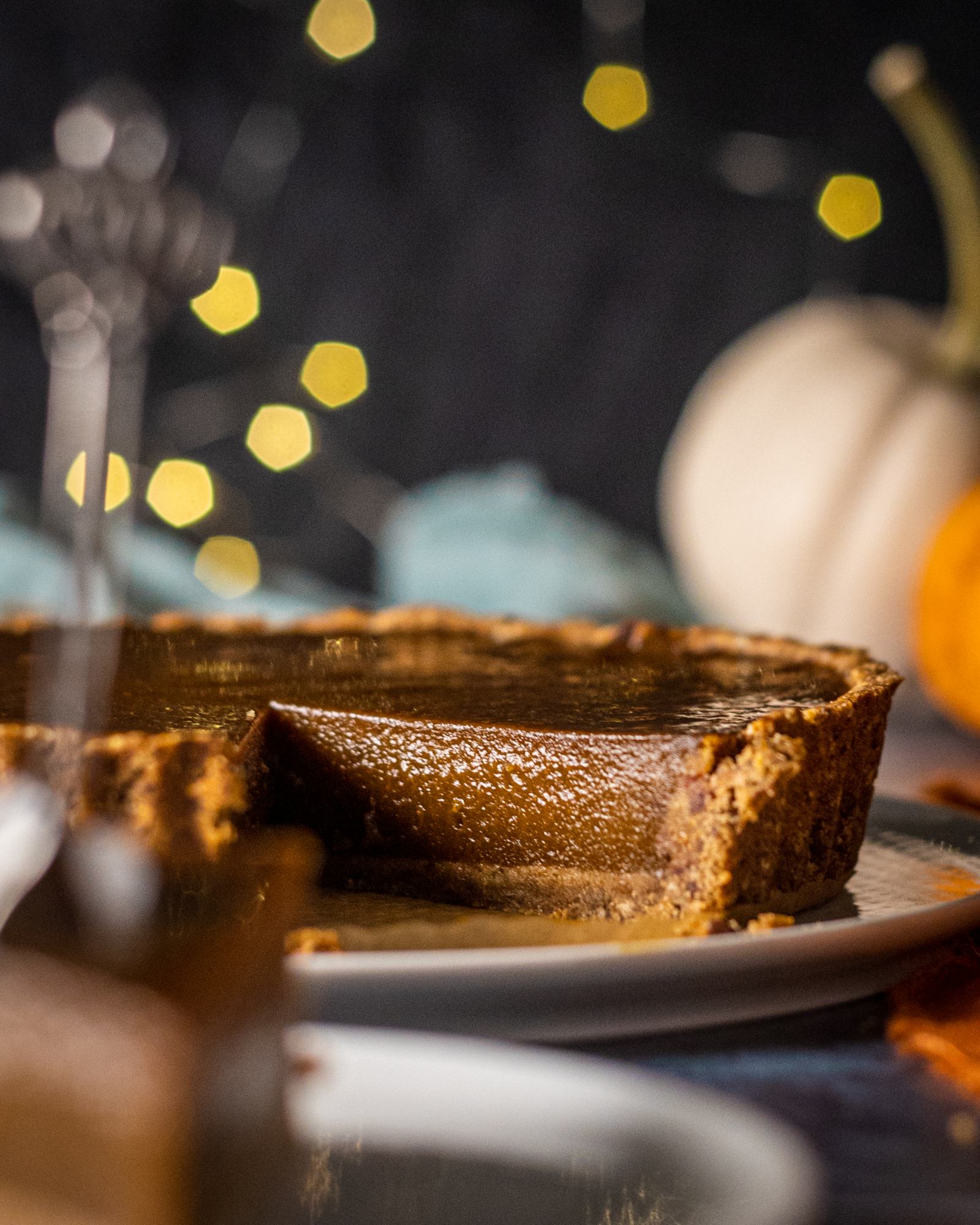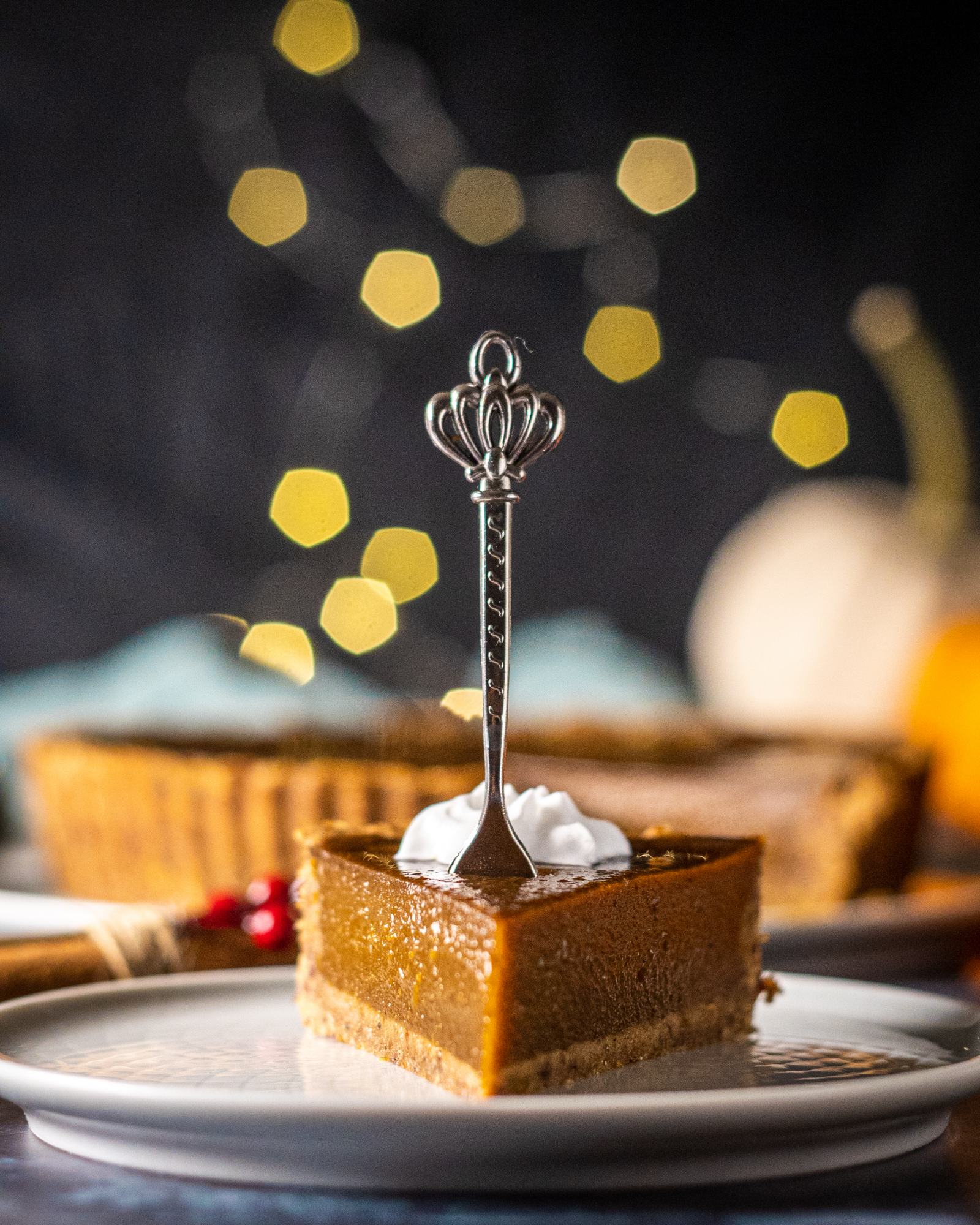 How to make vegan pumpkin pie filling
In a large mixing bowl combine pumpkin puree and coconut milk. Add in the sugar and stir until dissolved, then add in the spices: cinnamon, ginger, nutmeg and clove as well as a pinch of salt (this will help bring out all the flavours in the pie).
Whisk in the cornstarch last, and mix until no lumps remain - I have used an electric hand whisk on this occasion, as it makes it much easier to get a smooth result. Pour the mix into the pie base and transfer the pie into the preheated oven (175ºC/350ºF) and bake in the middle of the oven for 25-30 minutes.
Allow for the cake to cool down completely before cutting into it - serve it with some dairy-free whipped coconut cream or caramel sauce.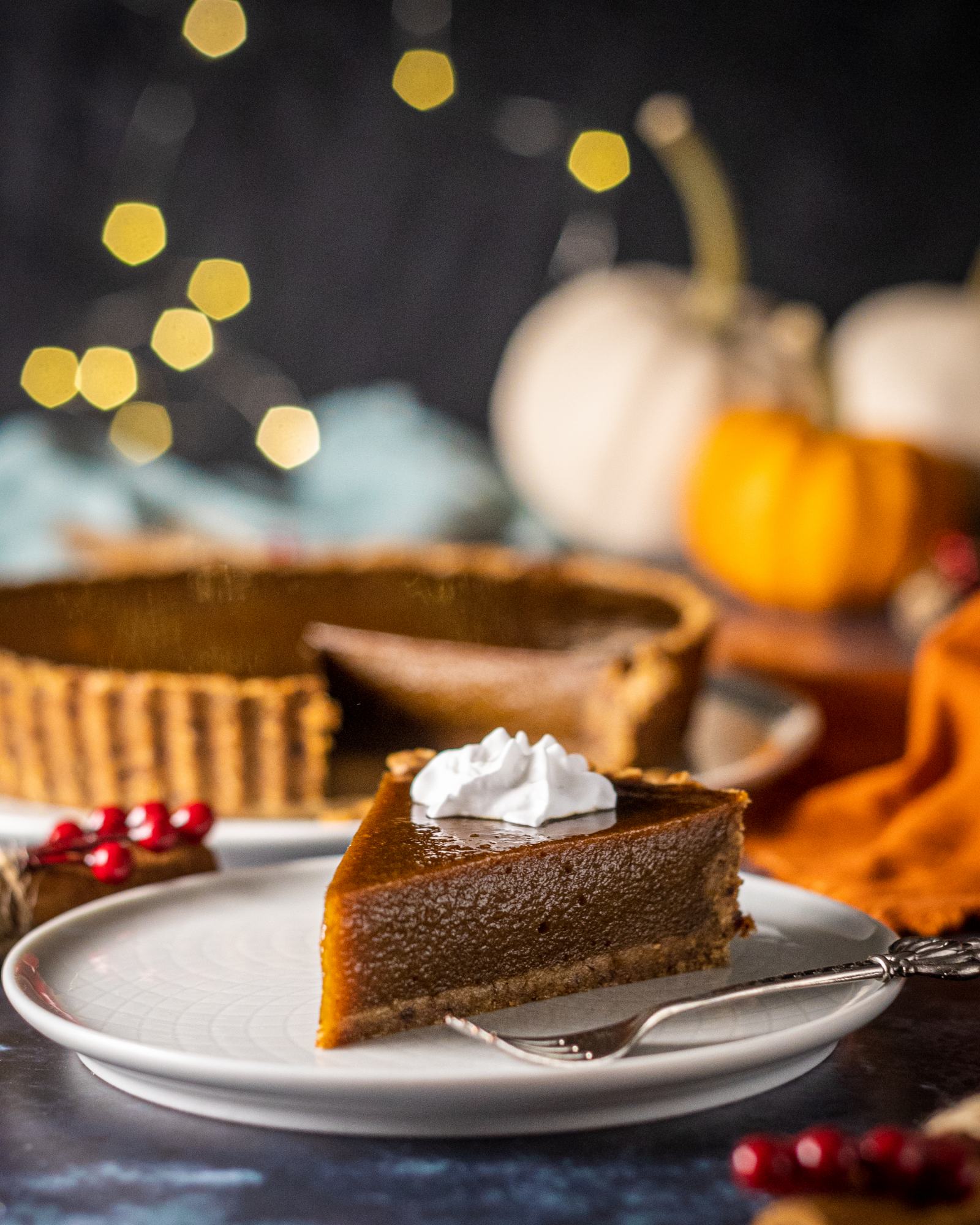 This recipe is:
100% vegan
including a simple gluten free option if you swap out the biscuits for gluten free ones
deliciously creamy
full of flavour
with a crunchy crust
easy to make
simply addictive!
📌 If you love Pinterest you can pin any of the images to your boards!
You might also enjoy these recipes:
If you're looking for a delicious dessert for Christmas or Thanksgiving, check out these vegan dessert recipes: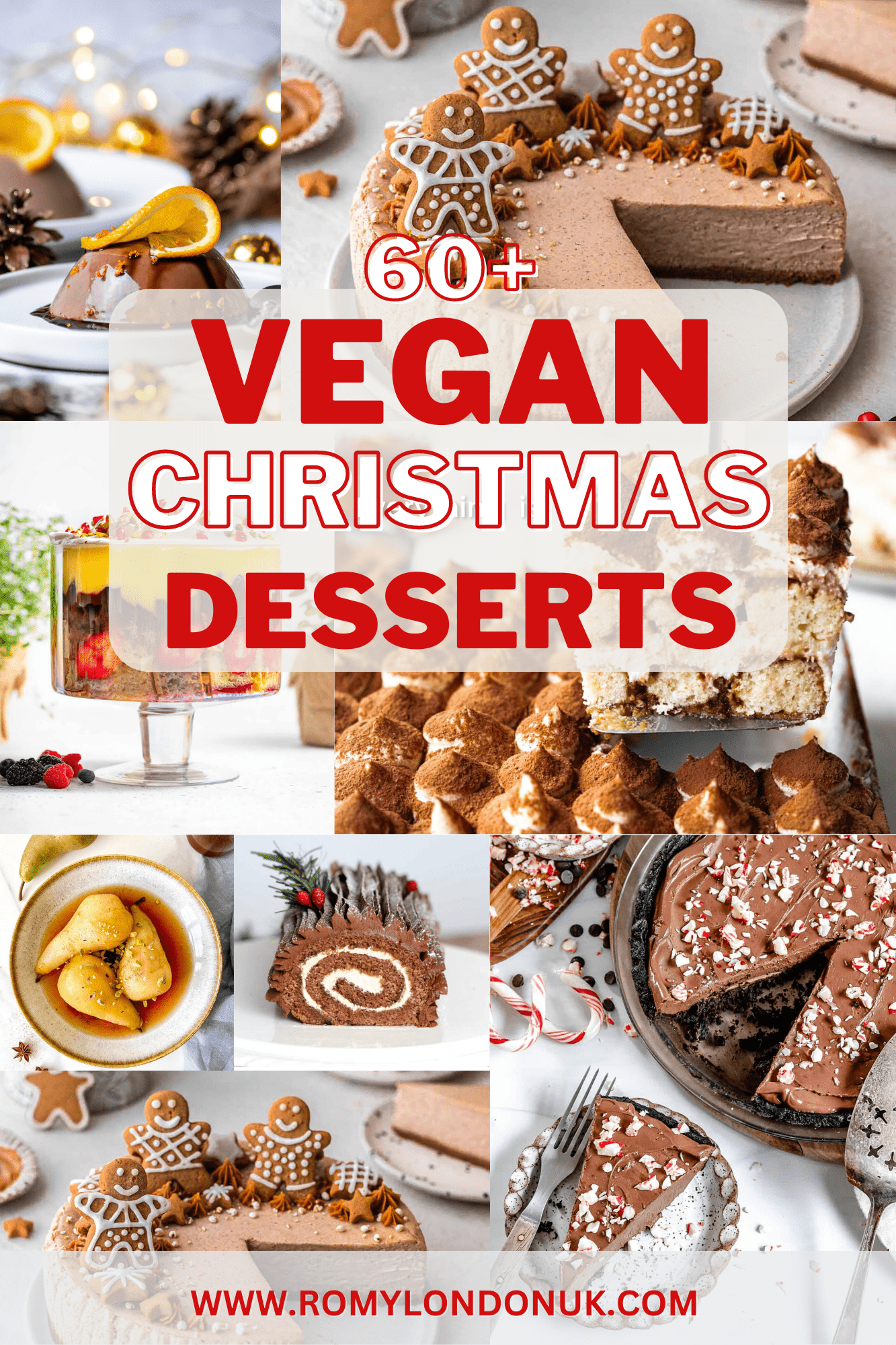 📌 If you love Pinterest you can pin any of the images to your boards!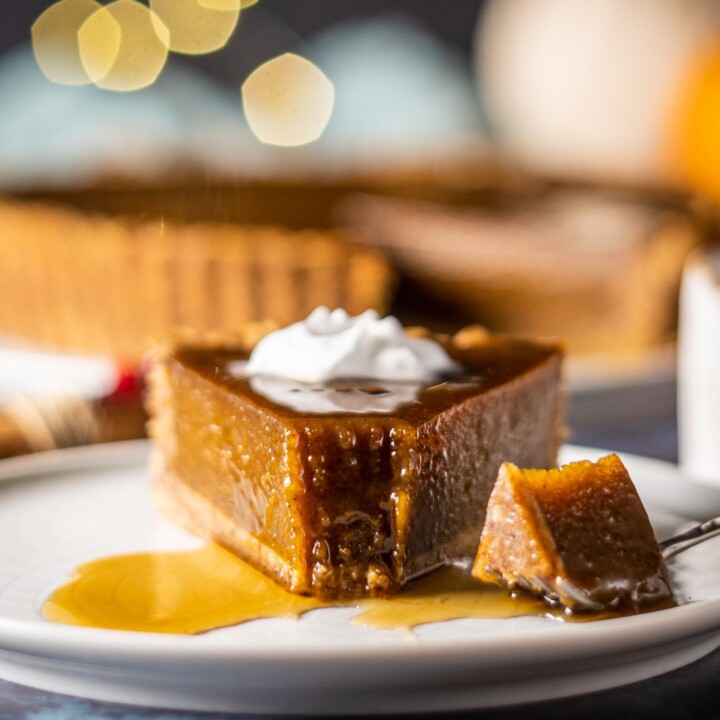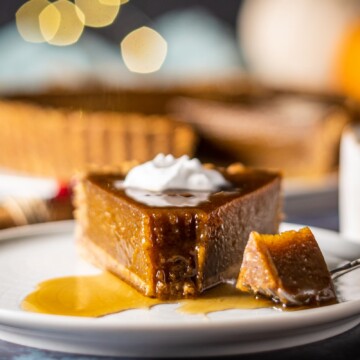 Vegan Pumpkin Pie
Delicious vegan pumpkin pie recipe - with a creamy coconut and pumpkin filling and a crunchy biscuit base.
Ingredients
1

pack

vegan biscuits (250 g - 8.8oz)

5

pitted Medjool dates

2

tbsp

maple syrup

1-2

tbsp

water

optional
For the filling:
1

tin

pumpkin puree (425 g)

7.6

oz

coconut milk (225 ml)

3/4

cups

brown sugar (200 g)

1

tsp

ground cinnamon

1/4

tsp

ground cloves

1/2

tsp

ground nutmeg

1

pinch

salt

4

tbsp

cornstarch
Instructions
Preheat your oven to 350ºF (175ºC) and grease a tart tin (preferably with coconut oil).

Place the vegan biscuits into a food processor and pulse a couple of times to break them down. Place the Medjool dates into a little hot water to soften for a few minutes, then add them to the biscuits in the processor. Pour in the maple syrup and process until you get a thick sticky mixture. If it's too dry, add in a little water (1-2 Tbsp).

Press the biscuit mixture into the tart tin to form the pie base and set in the fridge whilst you're preparing the vegan pumpkin pie filling.

Combine all ingredients for the filling in a large mixing bowl until no lumps remain - you might want to use an electric hand whisk to make it easier. 

Pour the mix onto the cake base, smooth out with a knife and bake at 175ºC for 25-30 minutes. Allow for the cake to cool down entirely before slicing & enjoy with some whipped coconut cream or drizzled caramel.
Notes
Feel free to use a different type of vegan biscuit for the biscuit base. For the recipe to work out, however, use a variety without any filling of big chunks.
Instead of cornstarch, you can also use Vegeset for a firmer texture. I've tried both making this recipe and they both turn out delicious! When using Vegeset, I've added about 1.5 tsp to the mix.
To smooth out the top of the pumpkin pie, you can also carefully tap your pie tin onto a kitchen surface or use a pallet knife.
Also, check out these pumpkin-inspired recipes:
*Disclosure: This page may contain affiliate links and sponsored links that earn me a small commission, at no additional cost to you. You can find more information in my Privacy Policy.
 © Romy London / Romina Callwitz | All images and content are copyright protected. Please do not use my images and content without permission. If you wish to re-publish any recipes or images, please get in touch via email. Thanks for your support!