These vegan pumpkin brownies add the 'spice' into 'pumpkin spice' and they are truly the best thing since PSL!
Made with a fudgy brownie batter (with real chocolate!) and topped with a creamy vegan pumpkin cheesecake mixture, such a tasty combination. These brownies are simply perfect for fall season and a great bake to share with friends and family.
What's great about this recipe:
it's such an easy recipe and 100% vegan
the brownies are easy to make gluten-free
they're egg-free, dairy-free & nut-free if you switch to soya or oat milk
they're oven baked
they're basically vegan pumpkin swirl brownies
the recipe is filled with pumpkin spice flavors
they're so easy to make with detailed step-by-step instructions
pumpkin brownies are simply perfect for Halloween and the fall season in general
brownies are great as an afternoon snack or as a vegan dessert for Thanksgiving and Co.
they're ultra fudgy and simply delicious!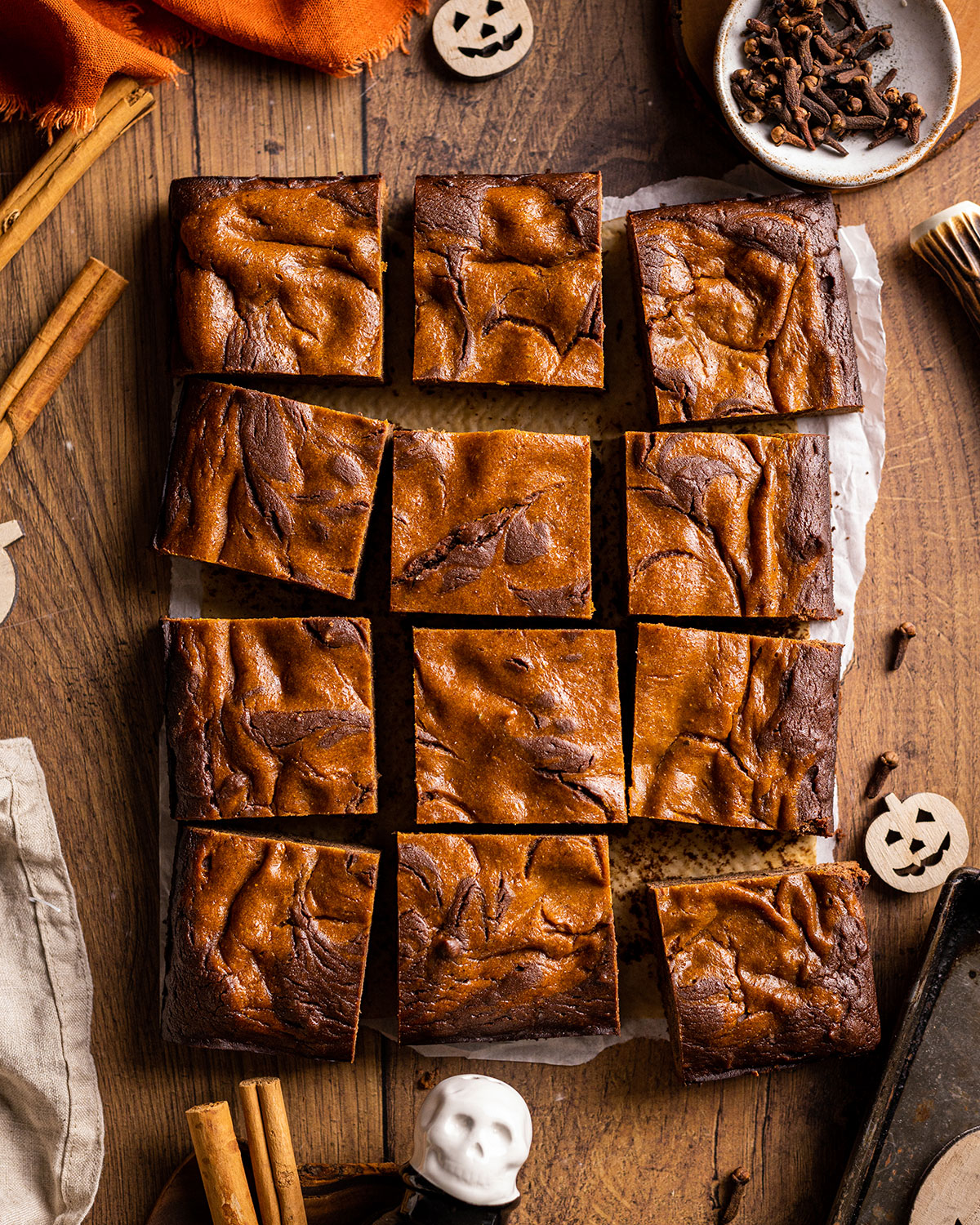 When it comes to baking, one thing is definitely true: I love a good brownie! These vegan pumpkin brownies are a combination of three of my favorite things - cheesecake, pumpkin spice, and vegan brownies! These brownies are simply perfect for the fall season.
This recipe is created with a fudgy vegan brownie base, made with melted dark chocolate and cacao powder, and topped with a vegan pumpkin cheesecake mixture, that is swirled onto the brownies before they are transferred to the oven. The creamy texture and light flavor of the pumpkin cheesecake cuts wonderfully through the chocolatey and intense flavor of the brownie, making it the perfect combination.
I hope you will enjoy this brownie recipe just as much as I did, whether it's during the fall season or any other time of the year.
Ingredients & Notes
Here are the simple ingredients you need to make these delicious vegan brownies for fall:
Flour - all purpose flour is perfect for this recipe!
Sugar - I like to use light brown sugar for a little caramel note in these brownies. The brown sugar also perfectly melts into the brownie batter
Chocolate - both dark chocolate and vegan-friendly milk chocolate are great for these brownies
Plant Milk - I often use soya milk or oat milk
Spices - cinnamon, salt & cocoa powder
Pumpkin Puree - I like to use tinned pumpkin for ease, or you can make your own pumpkin puree from scratch at home
Maple Syrup - you can replace the maple syrup with agave syrup
For the pumpkin cheesecake mix:
yogurt - vegan greek-style yogurt is great for the pumpkin cheesecake mix!
pumpkin puree - homemade or store-bought
maple syrup - alternatively you can use agave nectar
spices - cinnamon, ginger, nutmeg, ground cloves
cornstarch - to thicken the cheesecake mix
Find the full amounts in the recipe card at the bottom of this post!
Equipment
2 mixing bowls
electric hand whisk
measuring jug
double boiler
rectangular baking pan for the brownies
spatula
parchment paper - for all of my baking, I have found that the textured baking parchment from Lakeland is the best option to ensure non-sticky bakes. So I can only recommend this one!
Instructions (Step-by-Step)
Preparation
For this recipe, preheat the oven to 180°C (350°F). Line a rectangular brownie tin with non-stick parchment paper. The brownie tin should be roughly 7'' x 9" (18 x 23 cm) in size.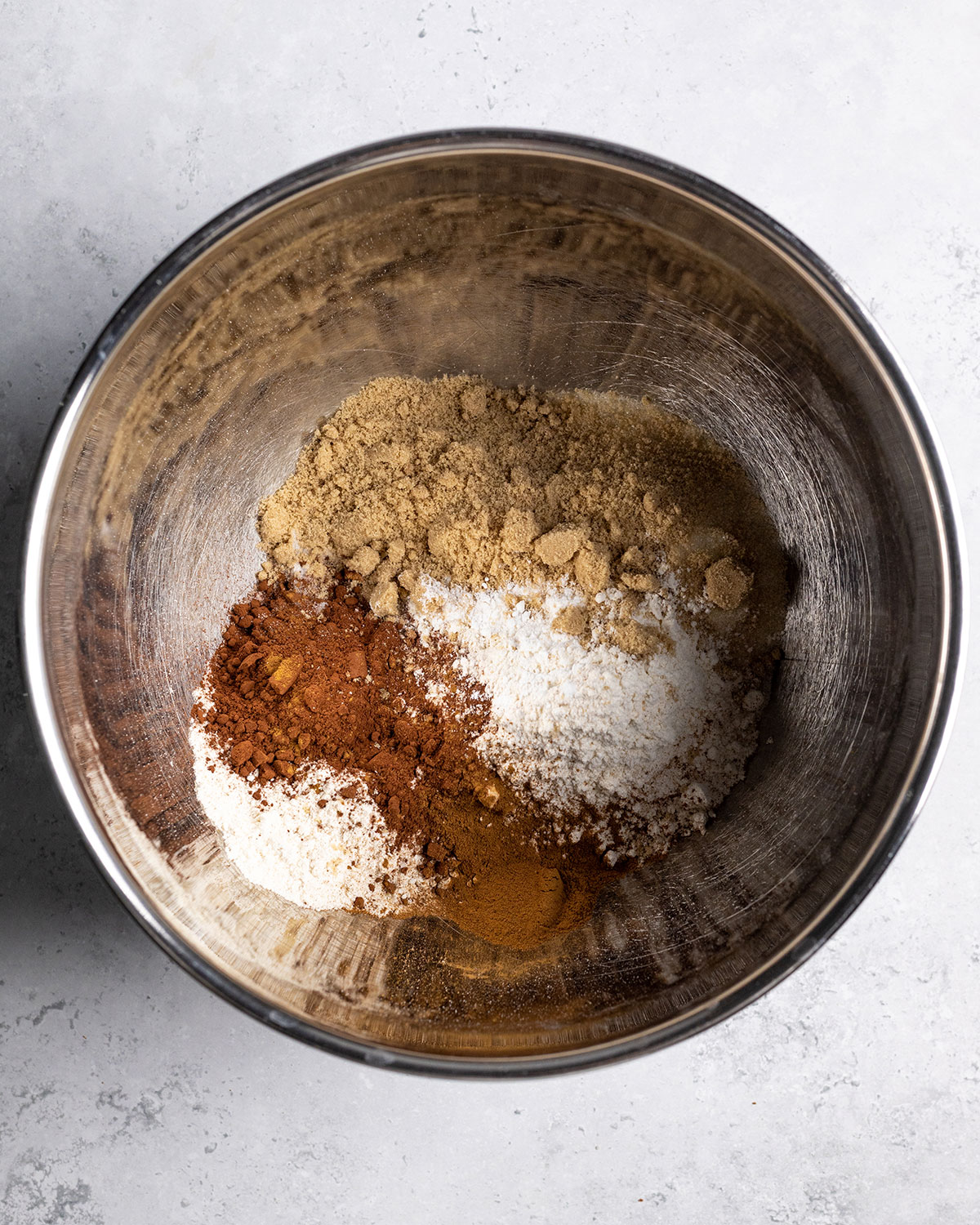 Add all dry ingredients to a large mixing bowl.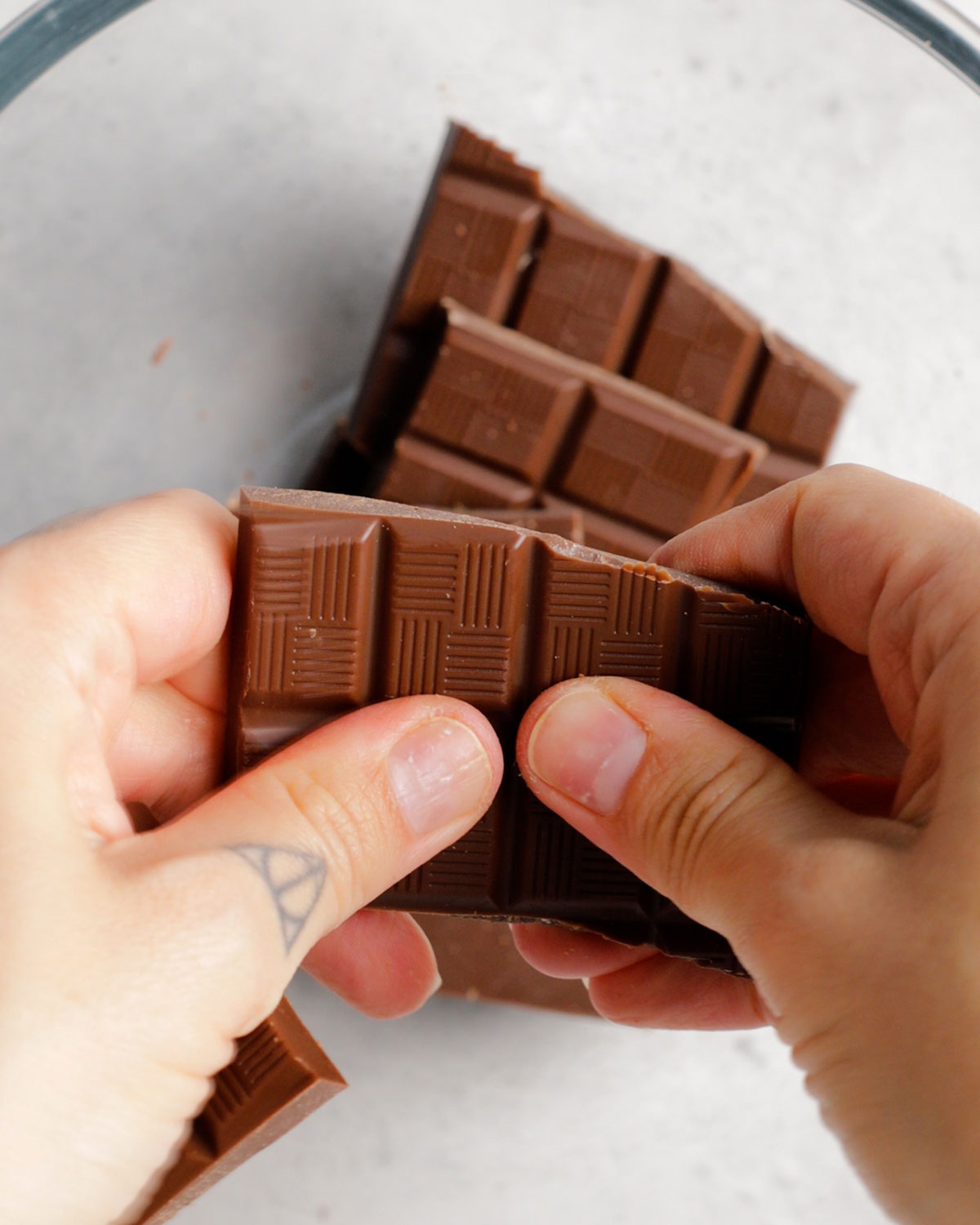 Melt the vegan chocolate in a double boiler.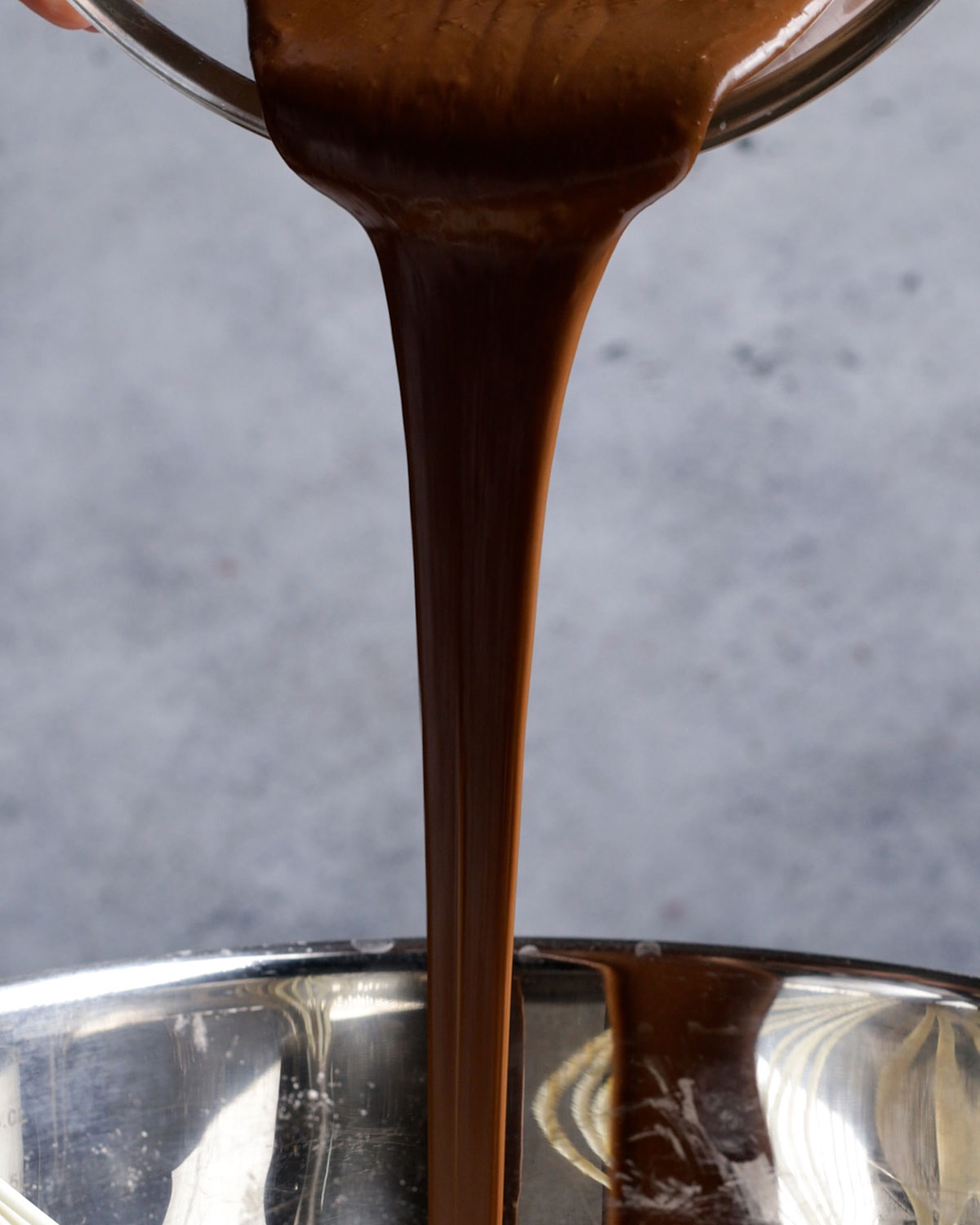 Add all the wet ingredients - melted chocolate, pumpkin purree and the plant milk - into the dry mixture.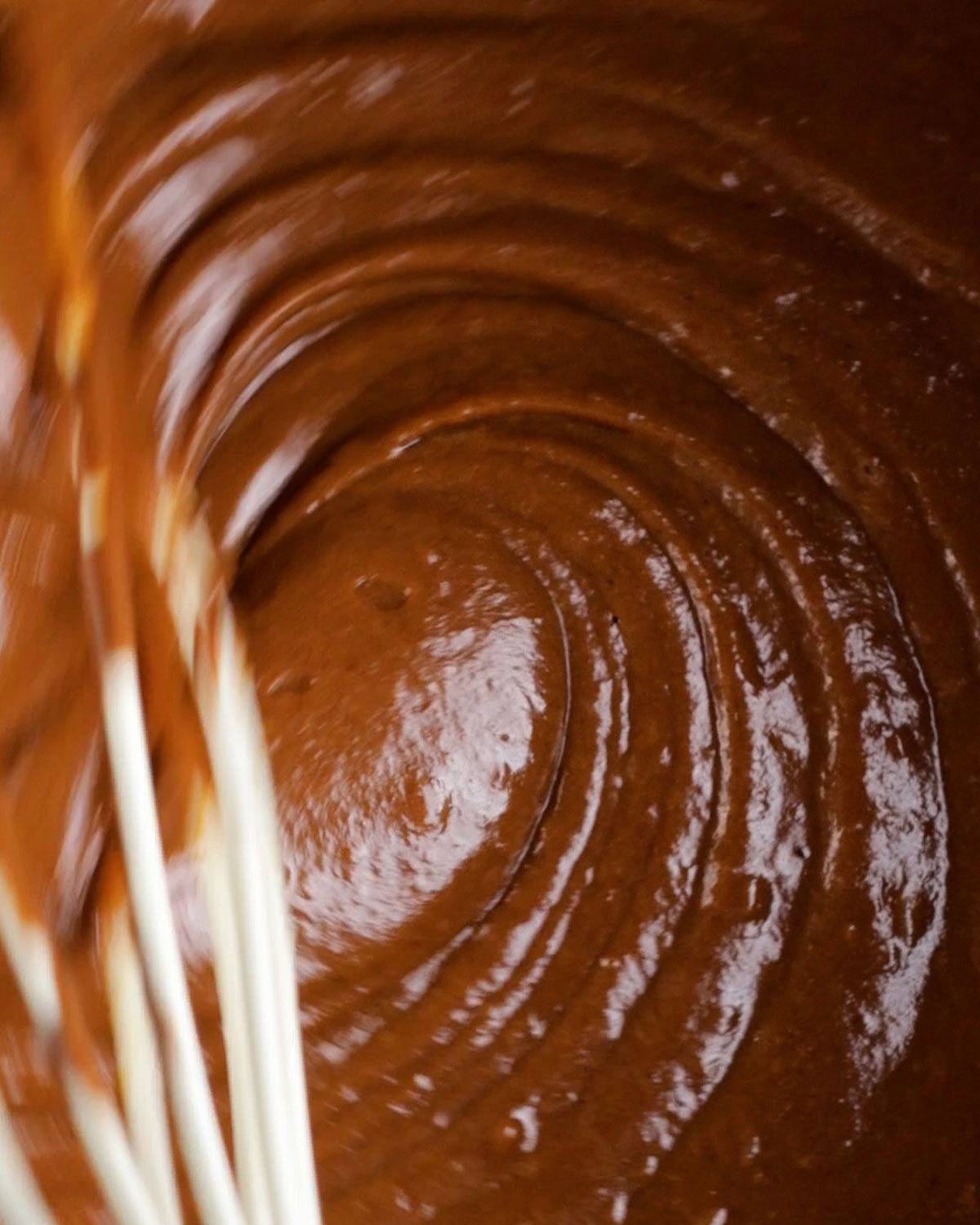 Whisk to combine until smooth, but don't overmix. Alternatively, use a wooden spoon.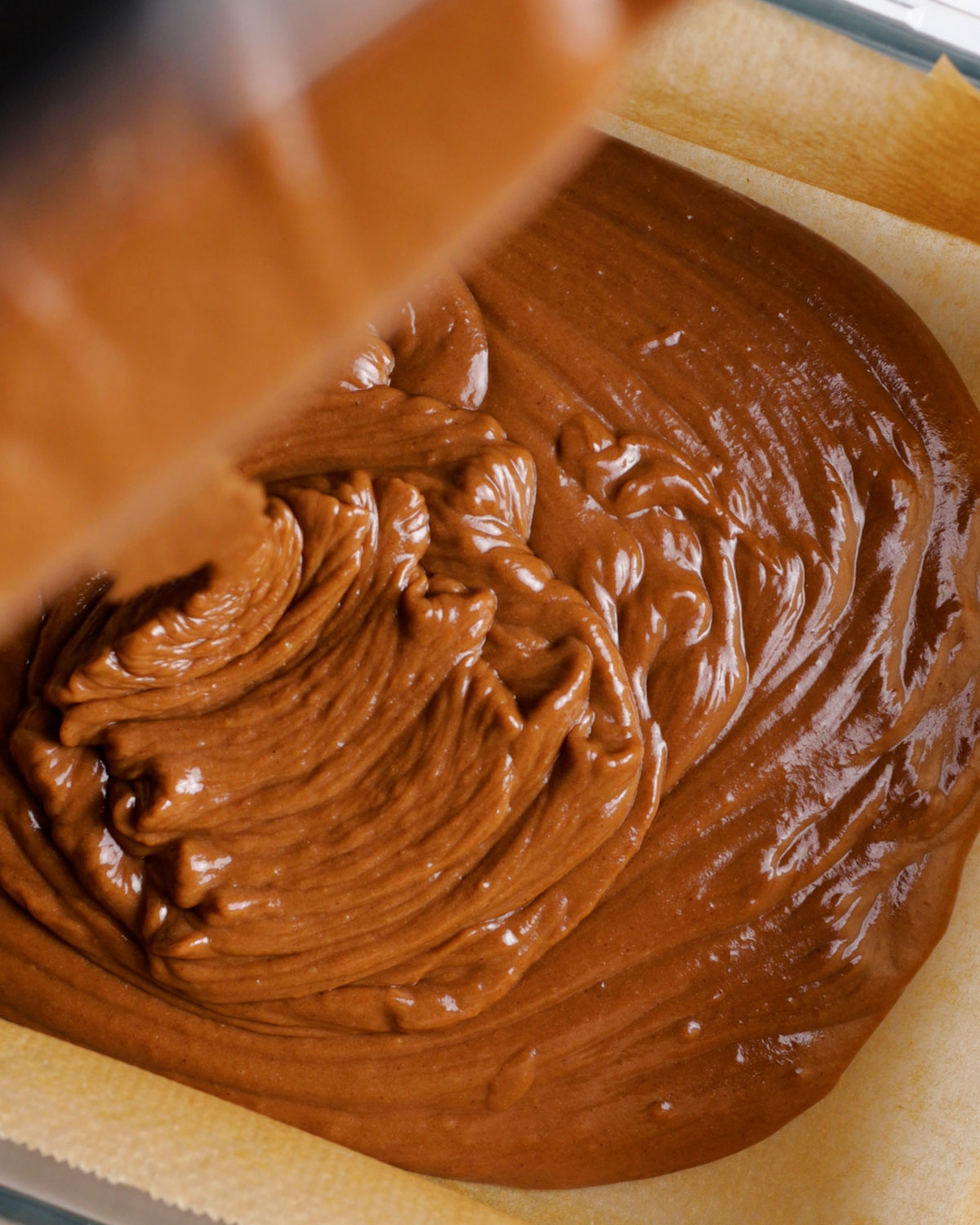 Pour the brownie mix into the prepared brownie tin. Smooth out the top to get an even layer.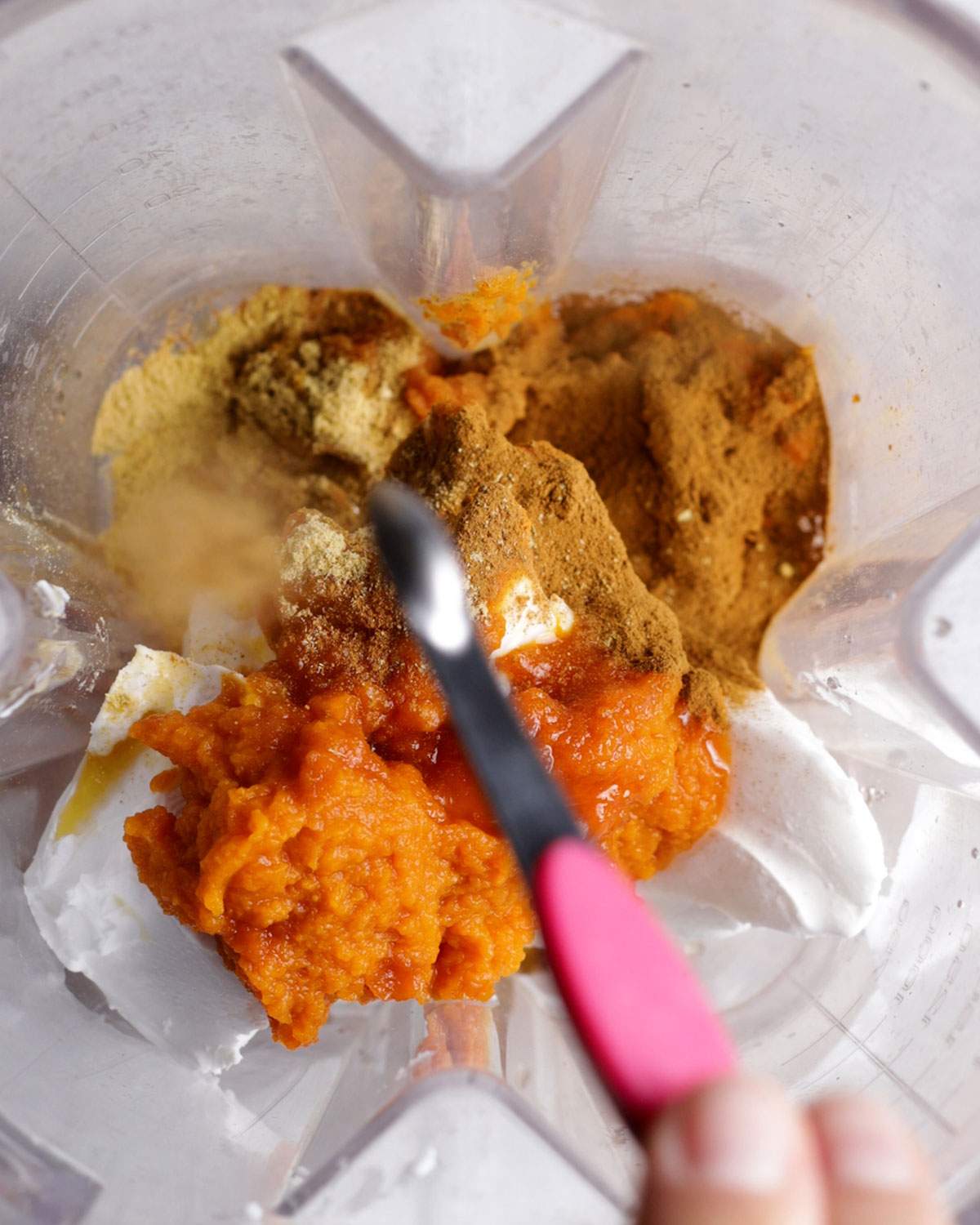 Add all ingredients for the vegan pumpkin cheesecake to a blender.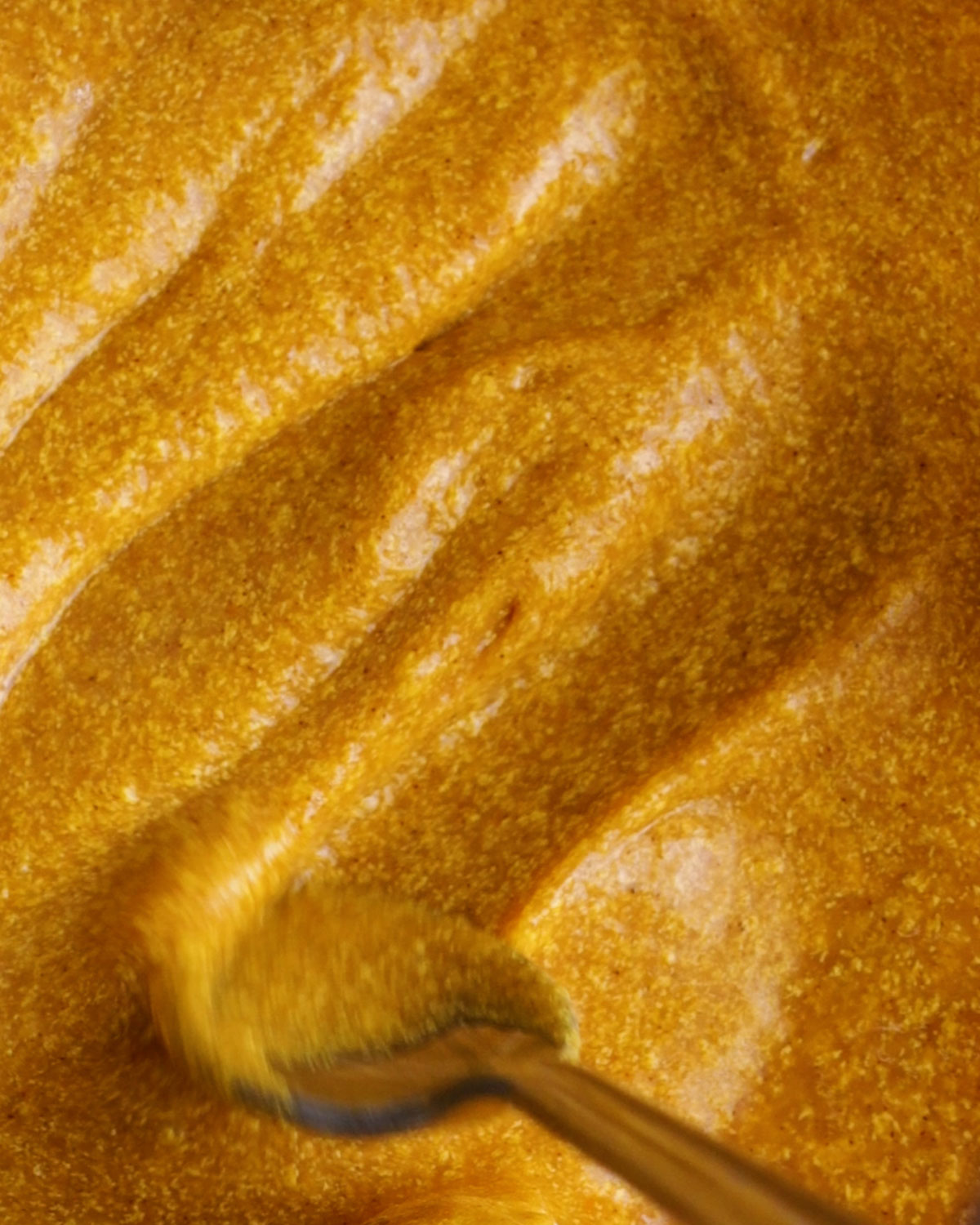 Process until smooth.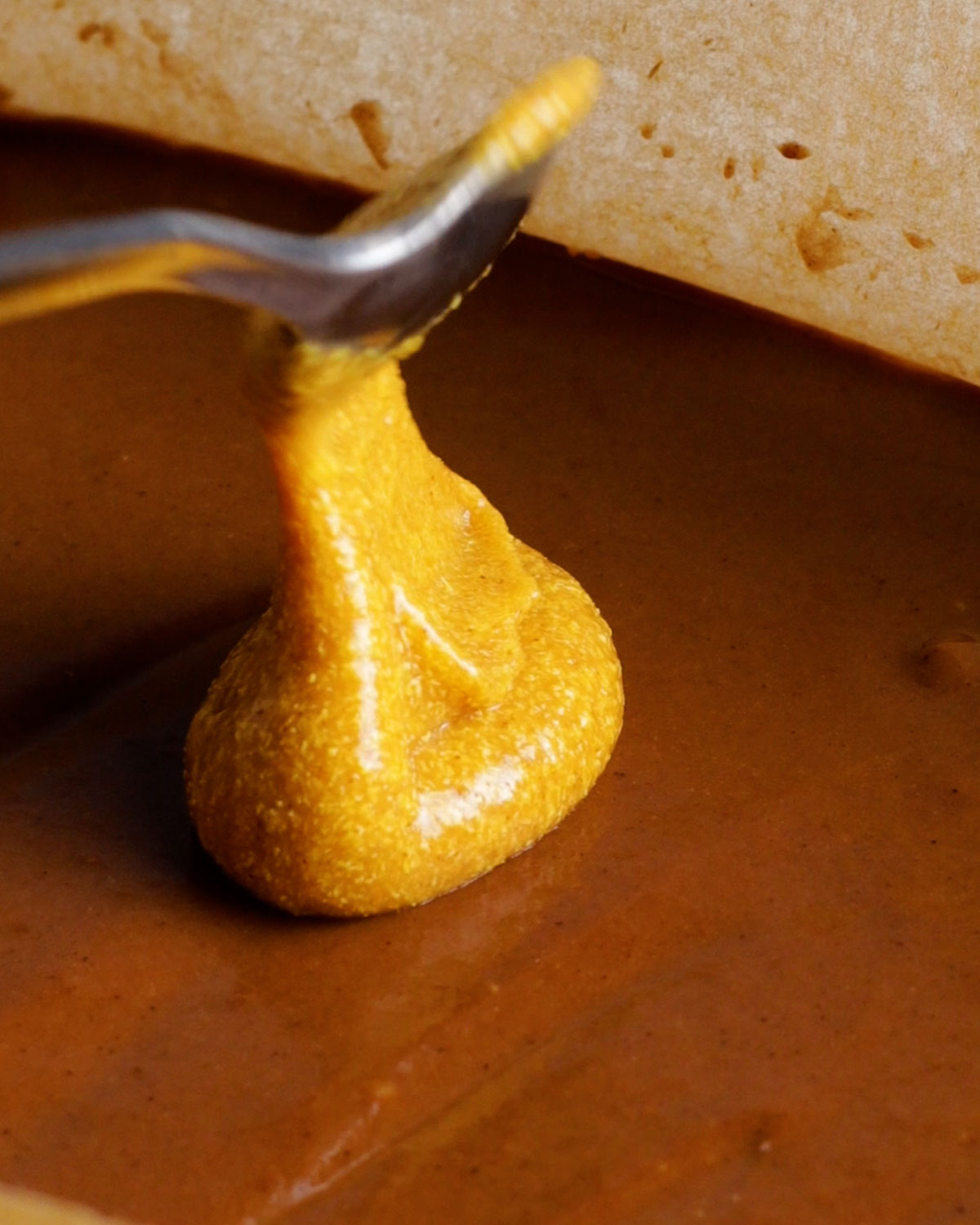 Smooth the pumpkin batter onto the brownies.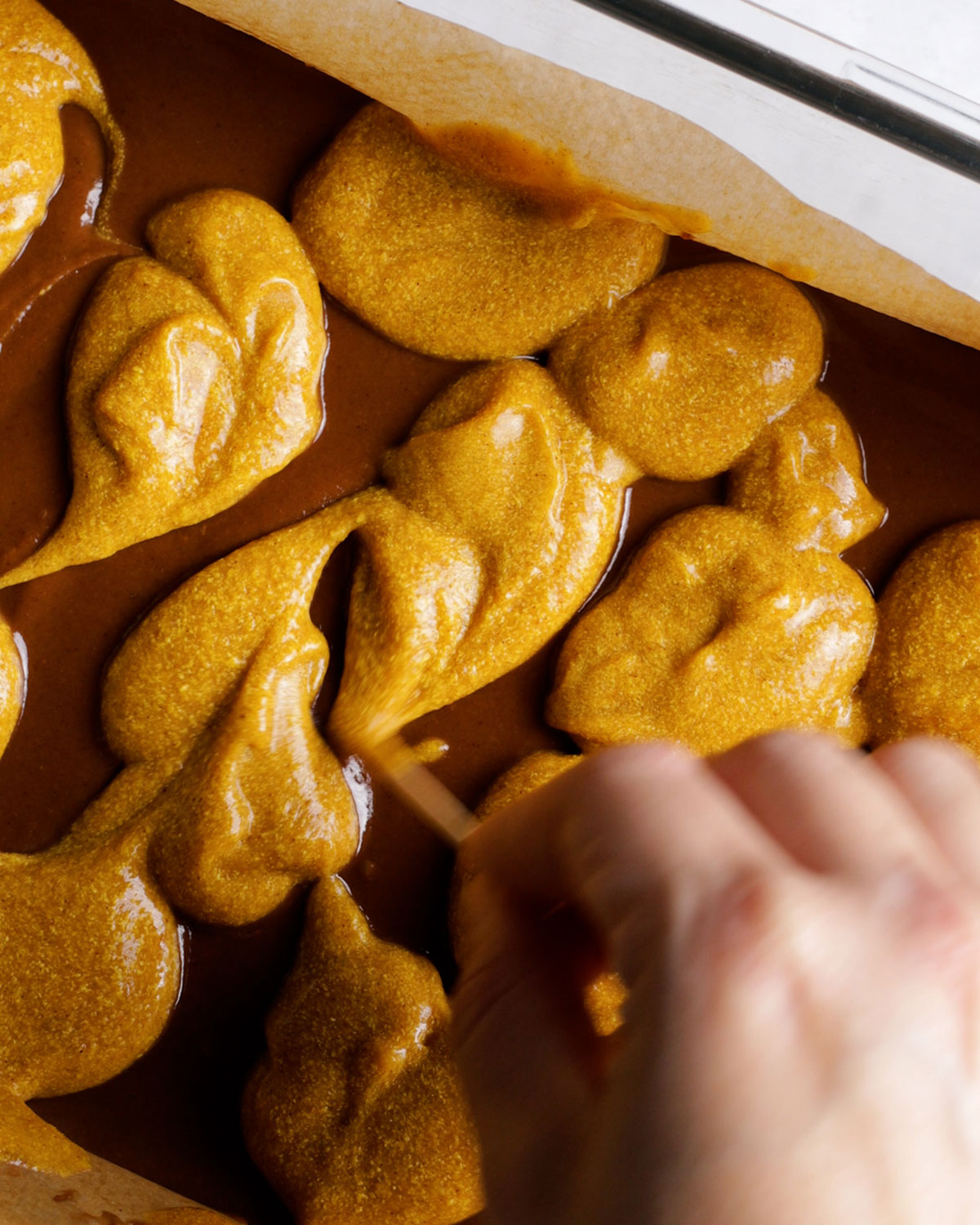 Swirl the cheesecake mix into the brownies with a toothpick.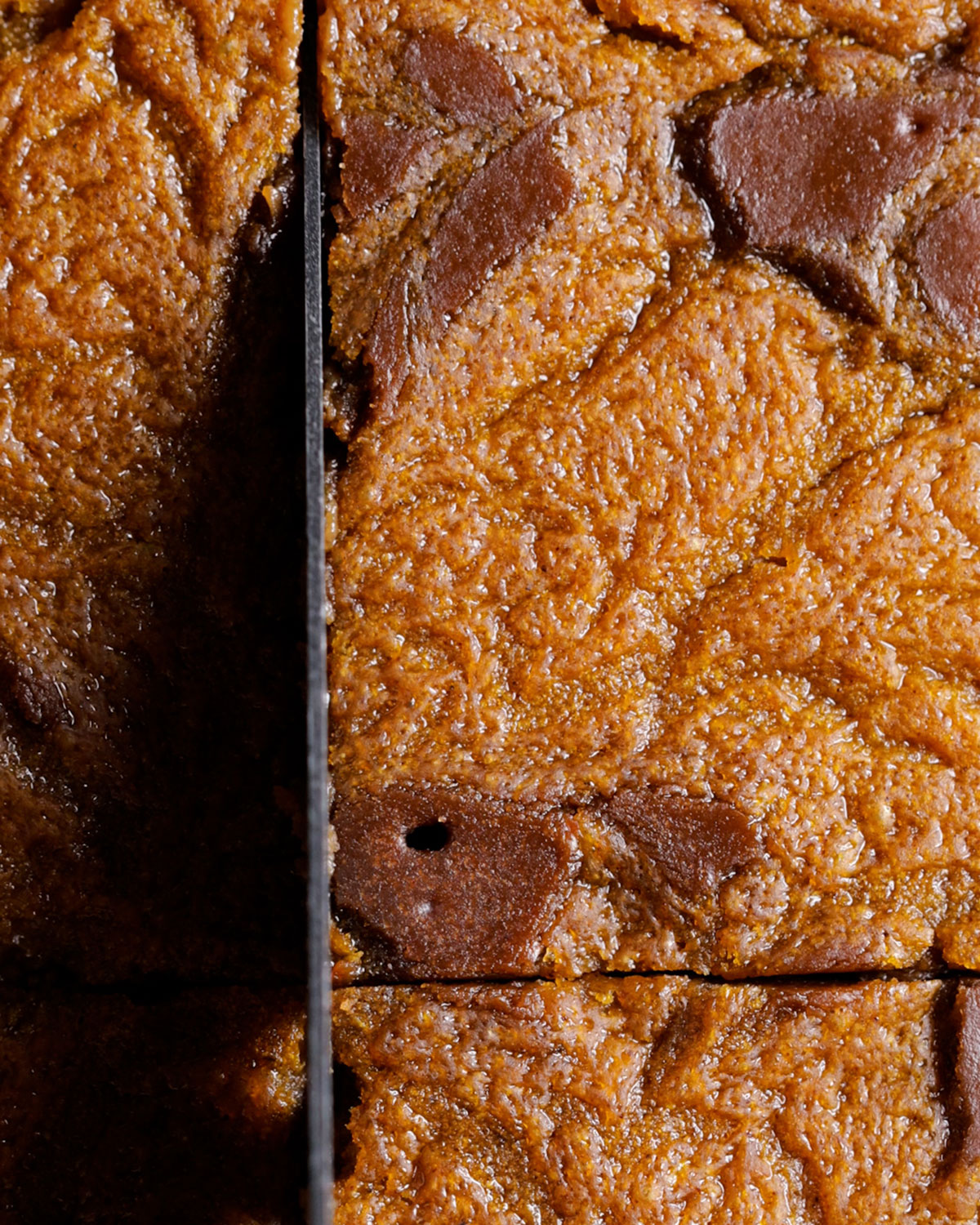 Bake the brownies in the middle of the oven. Let them cool down for at least 30 minutes and slice.
Serving
Allow for the brownies to cool for at least 30 minute before you slice them into 9 individual pieces.
You can enjoy these rich brownies on their own, or alongside a drizzle of vegan cream or a dollop ice cream (both very delicious options!).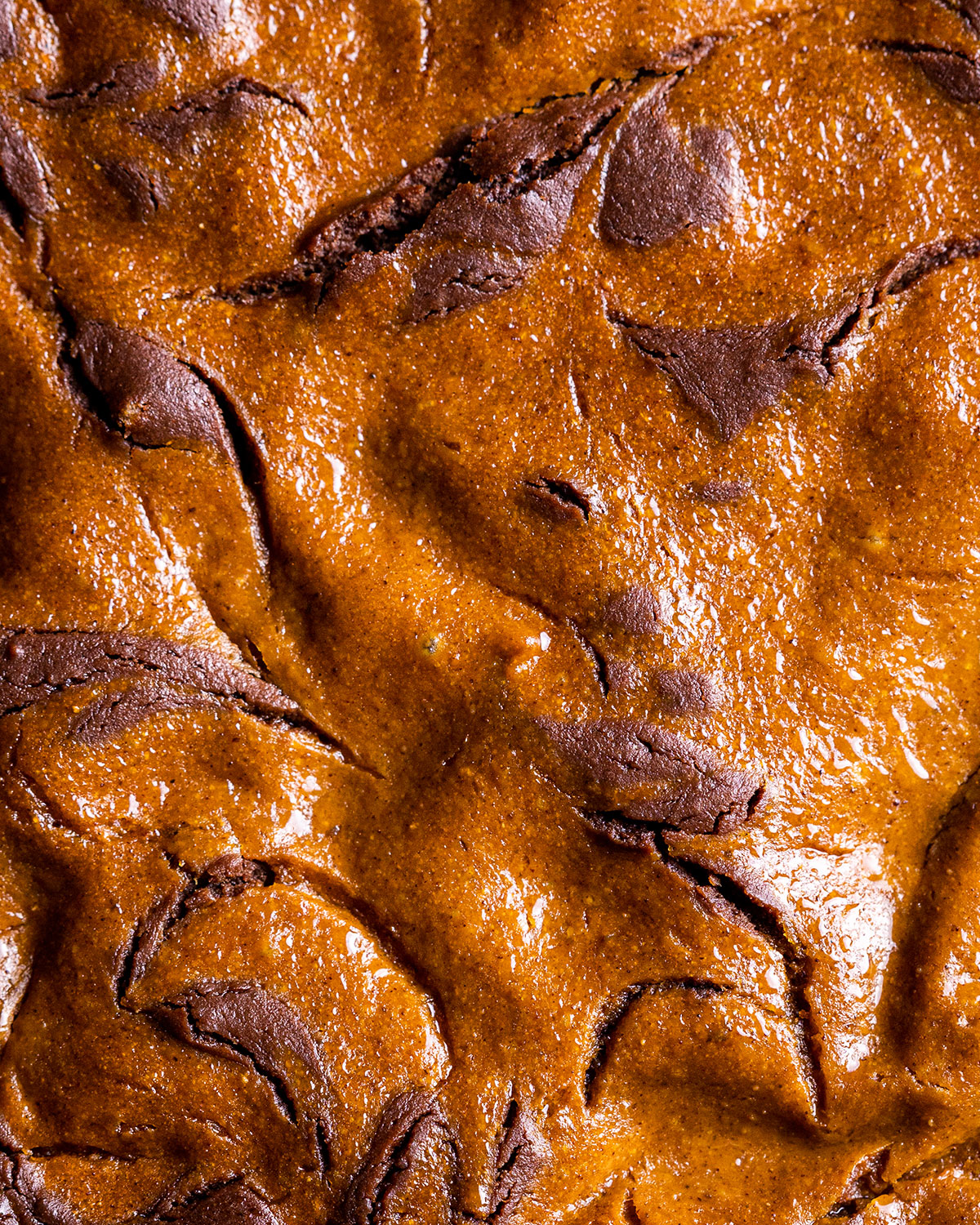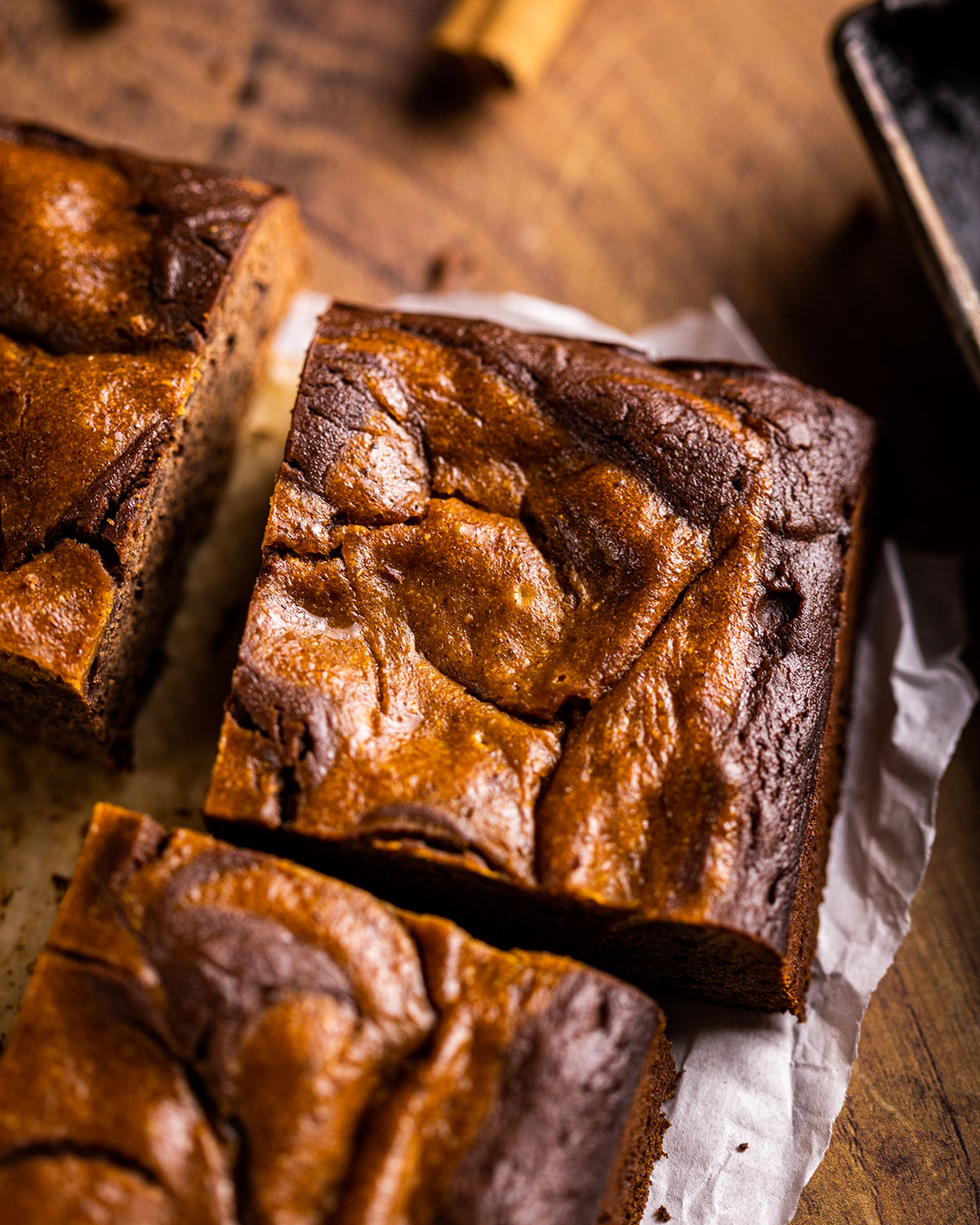 Storage
To keep these brownies fresh and delicious you can best store them in an airtight container in the fridge for up to 5 days.
Home Freezing
Alternatively, you can also freeze individual slices of the brownie and enjoy them for up to 6 months.
Defrosting
To defrost these vegan brownies, simply place them into the fridge overnight and enjoy them the next day. For a softer texture, let them rest at room temperature before indulging!
Substitutions
Flour - I've used all purpose flour (plain flour) for these brownies, butyou can replace it with a gluten-free flour blend to make these super fudgy brownies gluten-free, but if you don't need to make them gluten-free simply swap the flour blend for all-purpose flour
Plant Milk - you can use your favorite plant milk!
Sugar - for the perfect texture, I love to use brown sugar for this recipe! It simply melts wonderfully and gives the brownies their fudgy smooth texture. You can also use organic cane sugar or coconut sugar.
Pumpkin - the pumpkin is what this recipe is all about! But if you don't have canned pumpkin to hand, this brownie recipe works just as well with sweet potato puree!
Maple Syrup - swap the maple for agave or another liquid sweetener alternative.
Yogurt - you can replace the vegan greek-style yogurt with vegan cream cheese.
Spices - Instead of adding all spices individually to the mix, you can also use a store-bought pumpkin pie mix. Simply use 1 teaspoon for the brownies and 2 teaspoons for the pumpkin cheesecake.
Oil - instead of oil you can also use nut butter such as almond butter or peanut butter. Or replace the oil with vegan butter at room temperature.
Variations
Layers - instead of swirling these brownies, you can also create layers of brownies and cheesecake.
Coffee - replace part of the plant milk with coffee to lift up the chocolate flavor of these brownies!
Nutty - give these brownies a nutty flavor by replacing a tablespoon of regular flour with coconut flour or almond flour.
Chocolate Chips - add dark chocolate chips to the brownie batter!
Vanilla - add a dash of vanilla extract to the pumpkin brownie batter.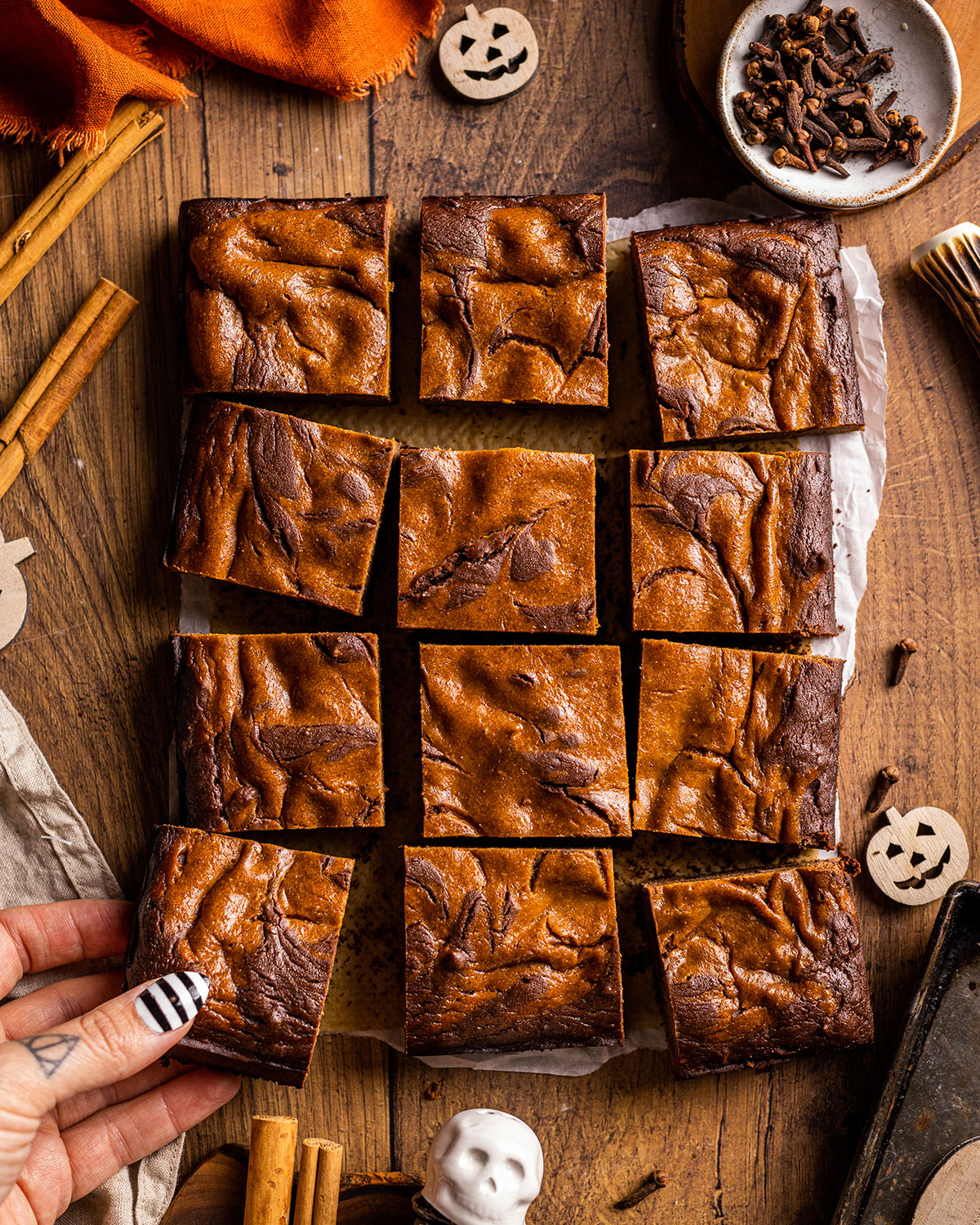 Where to buy pumpkin purée in the UK
Pumpkin purée has become more accessible in the UK over the last couple of years. I usually get my pumpkin purée from the world foods section in Tesco. They usually stock it on the American product shelf and it comes in a can of about 400 g. After opening it, you can store it in the fridge for up to 5 days or simply freeze it in portion sizes.
From what I have heard, pumpkin purée is also available in Sainsbury's and other supermarkets in the UK. If you don't have access to any of these supermarkets, you can alternatively use Amazon.
As an alternative, of course, you could always make your own pumpkin purée at home from scratch.
Frequently Asked Questions
Can I make this vegan recipe gluten-free?
Yes you can! I've noticed that the recipe works just perfect with a gluten-free flour mix! Make sure to use a flour blend intended for baking no single ingredient flour.
My brownies are super soft after baking, did I do something wrong?
The brownies will be very soft when you remove them from the oven. This is normal, don't you worry! They will firm up as they cool down and you will end up with a perfectly gooey texture! If you like your brownies a bite more cake-like, simply increase the baking time. As these are vegan brownies, they're absolutely fine to eat, even if they're slightly underbaked.
Can I freeze these brownies?
They're actually perfect to store in the freezer, there's no better way to keep these brownies soft and fudgy for longer! For best results, freeze the brownies individually and once frozen, place them into a freezer container or freezer bag.
More Pumpkin Recipes:
📌 If you love Pinterest you can pin any of the images to your boards!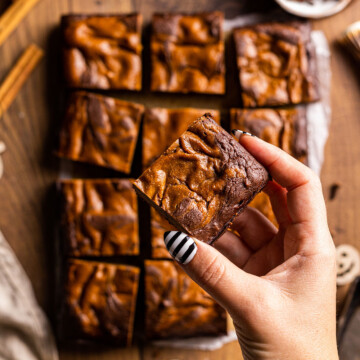 Vegan Pumpkin Brownies
Vegan pumpkin brownies - brownies with a little bit of seasonal spice! These brownies are a great addition to your seasonal baking. Created with a gooey vegan brownie batter and topped with a spiced pumpkin cheesecake mixture - that cuts wonderfully through the dark chocolate flavour of the brownies.
Perfect for Halloween, fall, or any other time of the year!
Equipment
2 large mixing bowl(s)

1 electric hand mixer

1 Double boiler

to melt the chocolate

1 rectangular brownie tin

1 spatula

parchment paper

to line the brownie tin
Ingredients
1 1/2

cups

all purpose flour (200 g)

1

tsp

baking powder

2

tbsp

unsweetened cocoa powder (14 g)

1/2

tsp

salt

1

tsp

cinnamon

1/4

cup

maple syrup (60 ml)

1/4

cup

brown sugar (50 g)

7

oz

melted dark chocolate (1 cup - 200 g)

1

cup

plant milk (250 ml)

1/4

cup

neutral oil (60 ml)

such as canola oil or sunflower oil

5

oz

pumpkin puree (140 g)
For the pumpkin cheesecake mix:
1/3

cup

vegan greek-style yogurt (80 g)

3

oz

pumpkin puree (85 g)

3

tbsp

maple syrup (45 ml)

1

tsp

ground cinnamon

1/2

tsp

ground ginger

1

pinch

nutmeg

1

pinch

ground cloves

1

tbsp

cornstarch
Instructions
Preheat your oven to 350°F (180°C) and line a rectangular brownie tin with non-stick baking parchment.

Sift the flour, baking powder, cocoa powder, salt and cinnamon into a large bowl. Stir through the brown sugar and set aside.

In the meantime, melt the vegan chocolate over a double boiler on the stove. Make sure to keep it on low heat to avoid burning the chocolate and make sure the bowl doesn't touch the water.

Add the plant milk, pumpkin puree, melted chocolate and maple syrup to the dry ingredients whisk to combine until no lumps are left - but make sure not to overmix!

To prepare the cheesecake mix, combine the vegan yogurt, pumpkin puree, maple syrup, cinnamon, ginger, nutmeg and cloves in a blender. Dissolve the cornstarch in a small amount of plant milk or water and stir it into the cheesecake mix.

Transfer the brownie mixture into the lined brownie tin and spoon the cheesecake mixture on top. Use a toothpick to swirl both batters.

Bake in the preheated oven for 40-45 minutes or until the top is glossy.

Carefully remove your brownies from the oven and allow for them to cool almost entirely before slicing. This should take about 30 minutes.

Cut your brownies into 9 equal slices and enjoy them on their own or with a dollop of delicious vegan ice cream!
Notes
Spices - instead of the individual spices, you can also add a store-bought pumpkin pie spice into the brownie batter. 
Cheesecake mix - instead of vegan greek-style yogurt you can also use vegan cream cheese. 
Storage - store these brownies in an airtight container in the fridge for up to 5 days.
For best results, add a small amount of coffee into the brownie batter - it gives them a fantastic flavor!
If you love seasonal recipes using pumpkin, definitely give this ago:
*Disclosure: This page may contain affiliate links and sponsored links that earn me a small commission, at no additional cost to you. You can find more information in my Privacy Policy.
 © Romy London / Romina Callwitz | All images and content are copyright protected. Please do not use my images and content without permission. If you wish to re-publish any recipes or images, please get in touch via email. Thanks for your support!