This warming Chocolate Orange Porridge recipe is wonderful enjoyed in the morning and it reminds me of jaffa cake flavours - I also call it the 'taste of Christmas'.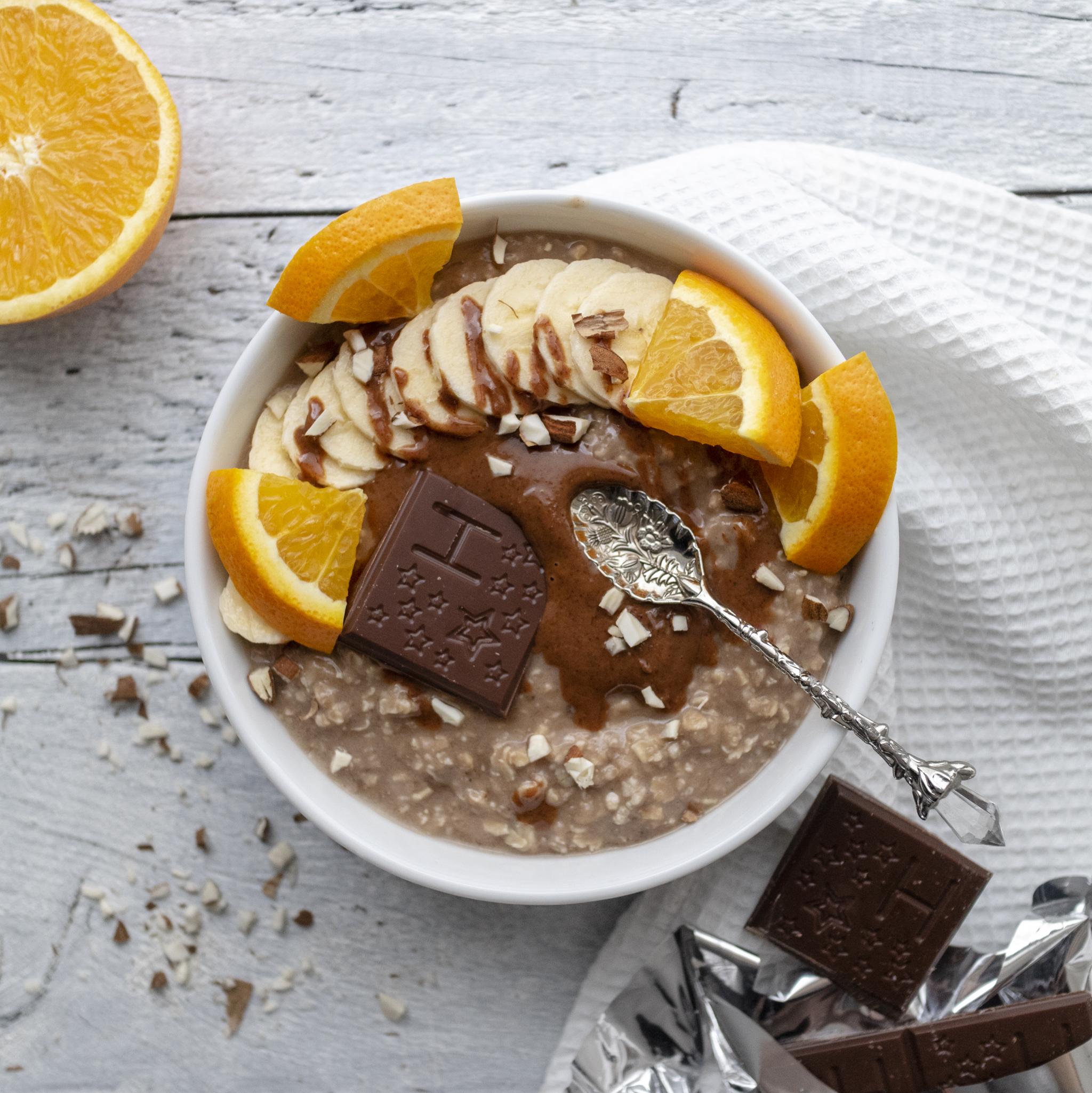 Vegan Chocolate Orange Porridge
At least that's what the general perception seems to be in the UK. Back in Germany, where I grew up, there's not much fuss around the chocolate orange flavour combination (apart from commercially produced Jaffa cakes in stores), which probably explains why it's taken me so long to find my love for it. And now here we are - my own chocolate orange porridge recipe on the blog that I really hope you enjoy just as much as I.
It's actually been the Chocolate & Orange bar by Pure Heavenly Chocolates that put me on the band waggon, and I've honestly been addicted since. So it's no surprise that the combination has made it onto my breakfast table!
I love being creative with my porridge flavours - and if you're following my Instagram stories, you probably know that I regularly like to blend fruit purees and more into my porridge to give it that extra something.
For this Chocolate Orange Porridge, I've actually used freshly squeezed juice of one orange - and added the chocolate flavour with a spoonful of vegan chocolate protein powder. I've used the Free Soul chocolate protein, cause it's simply fantastic and makes everything taste like an absolute treat, whilst also carrying added superfoods. Of course, you can also create this bowl without this particular chocolate protein - simply replace the spoonful with cacao powder and you're ready to go!
What you need to make Chocolate Orange Porridge
Ingredients
porridge oats (use gluten-free if you want!)
vegan chocolate flavoured protein powder
water
plant-based milk
fresh orange juice
Optional toppings:
Equipment:
How to make chocolate orange porridge
The recipe instructions for this recipe are pretty straight-forward. We're starting by adding the porridge oats to a small saucepan over a low/medium heat and combine it with the protein powder - or cocoa powder if using.
Pour in your filtered water and stir to combine for about a minute until your oats are slowly beginning to thicken and soak up the liquid. Once the texture is becoming thicker, stir in your plant-based milk in small batches until you get an overall creamy texture to your liking.
Remove the porridge from the heat and stir in the freshly squeeze orange juice - by doing this after the cooking process, we ensure to keep more nutrients from the fresh orange juice. Stir everything together until well combined, then serve your porridge in a bowl and add your favourite toppings.
Of course, this recipe is delicious without any toppings as well, however, I'm personally all about toppings on porridge! Banana, nut butter, dark chocolate and crushed nuts are some of my favourites, but feel free to go all out with what makes you happy!
Simple swaps for this recipe
Oats: you can very easily go gluten-free with this recipe by switching out the oats for gluten-free oats.
Protein powder: I love adding a little bit of protein powder to this recipe - it adds a delicious portion of protein to the porridge, which makes it a little more nutritionally rounded. If you don't have chocolate flavoured protein, simply add a neutral flavour protein alongside a teaspoon of cocoa powder. If you're skipping the protein powder altogether, then just add a teaspoon of cocoa powder for the chocolate-y flavour.
📌 If you love Pinterest you can pin any of the images to your boards!
This vegan porridge recipe is:
100% vegan
gluten-free option
dairy-free
egg-free
super creamy
reminding me of jaffa cake
wonderful in the Christmas season
healthy
simple and easy to make
You might also like these recipes:
Are you a porridge fan - like me? Welcome to the team! If you need some personal recommendations, then definitely try my Pumpkin Spice Porridge or my Vegan Eggnog Porridge 😍
Chocolate Orange Porridge
Seasonal porridge flavours galore with this deliciously creamy chocolate & orange porridge! Simple and easy to make for a warming morning feast.
Ingredients
70

g

porridge oats

1

tbsp

vegan chocolate protein

70

ml

filtered water

40

ml

plant milk

30

ml

fresh orange juice
Instructions
Add the porridge oats to a small saucepan over medium heat and stir in the protein powder (or cacao powder).

Pour in the filtered water and stir for about 1.5 minutes, or until the oats begin to slowly soak up the liquid.

Once the porridge starts to become thicker, add in the plant-based milk in small batches until you receive a creamy texture overall.

Remove the porridge from the heat and stir in the freshly squeezed orange juice.
Notes
Of course, you can adapt the toppings to your liking - the above-mentioned ones are just some of my favourites, and I think they go oh-so-well with the whole Chocolate/Orange theme.

For simple swaps have a look at the comments above.
Have you re-created this bowl? Don't forget to tag me @romylondonuk #romylondonuk
*Disclosure: This page may contain affiliate links and sponsored links that earn me a small commission, at no additional cost to you. You can find more information in my Privacy Policy.
 © Romy London / Romina Callwitz | All images and content are copyright protected. Please do not use my images and content without permission. If you wish to re-publish any recipes or images, please get in touch via email. Thanks for your support!