Today we're making bacon out of carrots! Yes, you're reading correctly - this Carrot Bacon Recipe is about as magical as it can get and if carrots want to become bacon in my kitchen, who am I to tell them no.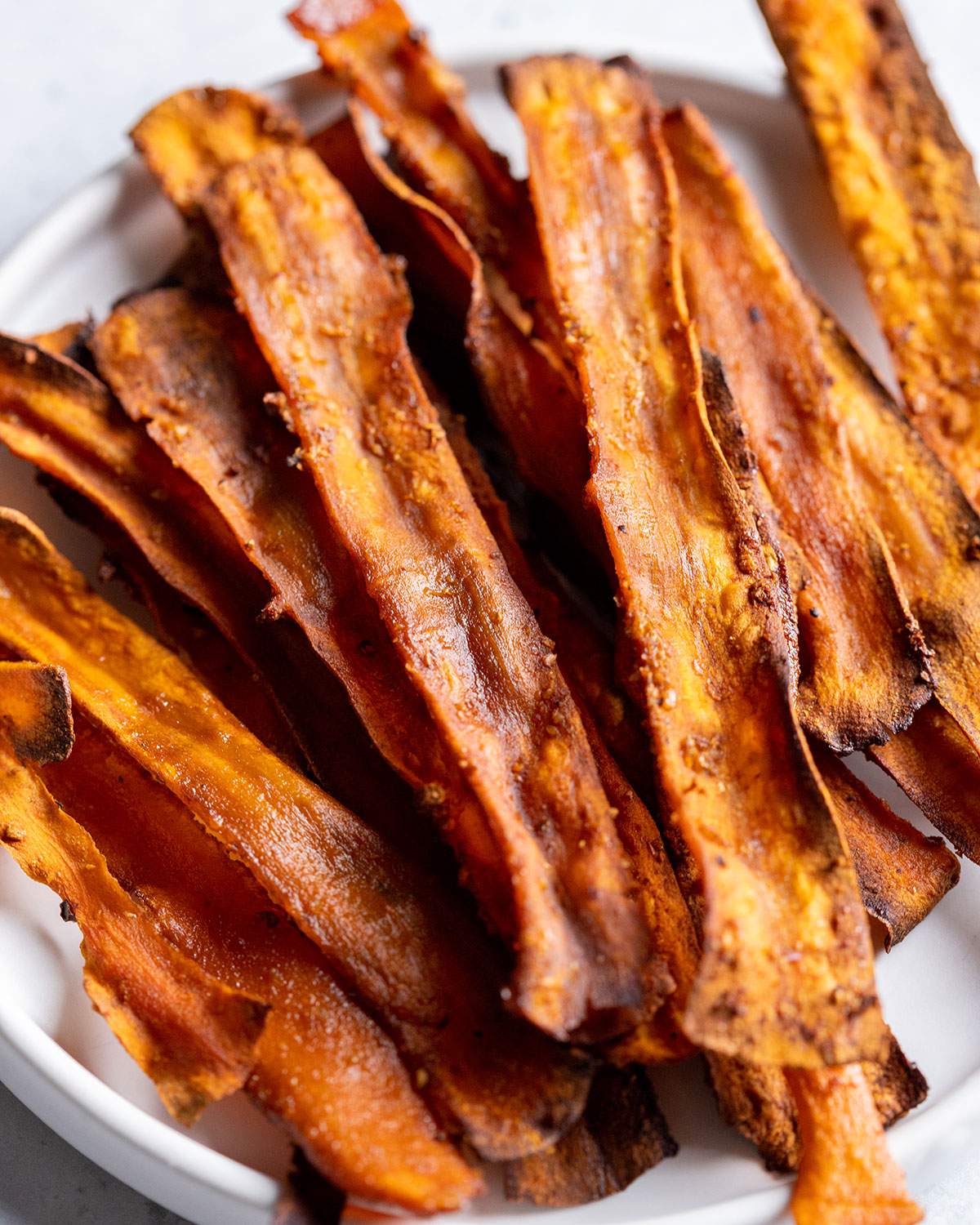 Carrot bacon definitely had a moment on social media - especially TikTok back tin 2020 when Tabitha Brown shared her recipe for carrot bacon on her TikTok account. The recipe follows a very similar approach to rice paper bacon (which was all the rage back tin 2016) - but let's be honest: when it comes to making vegan bacon, it's all about the flavors in the seasoning!
This recipe is my own version of Tabitha's carrot bacon recipe, adapting the flavorings and techniques from my rice paper bacon recipe.
This vegan bacon can be served in a variety of ways, such as on a vegan burger, on a BLT, on toast with vegan chickpea scramble, on homemade focaccia as a sandwich, on a stack of pancakes with maple syrup (one of my favorite ways to enjoy it!).
Jump to:
This recipe is:
creating wonderfully crispy carrot bacon!
vegan & vegetarian
gluten-free as we're using gluten-free tamari soya sauce in this recipe
a healthier alternative to bacon
just as sweet and smoky as the real thing
a tasty healthy treat
perfect for you if you enjoy crispy bacon
an easy recipe for beginners, even if you're making vegan bacon for the first time
delicious on a burger or with a vegan fry up
as tasty as the viral tik tok recipe by Tabitha Brown
a simple vegan bacon alternative
fantastic for the bacon lover in your life
What is carrot bacon?
Carrot bacon is a vegetarian and vegan alternative to bacon. Created with thin slices of fresh carrots and a delicious sweet and smoky marinade, carrot strips are first marinated and then oven-baked or air-fried until they get crispy edges - just like the real thing!
Ingredients
The flavor of this carrot bacon is all in the smoky and sweet marinade! Here's everything you need to make it: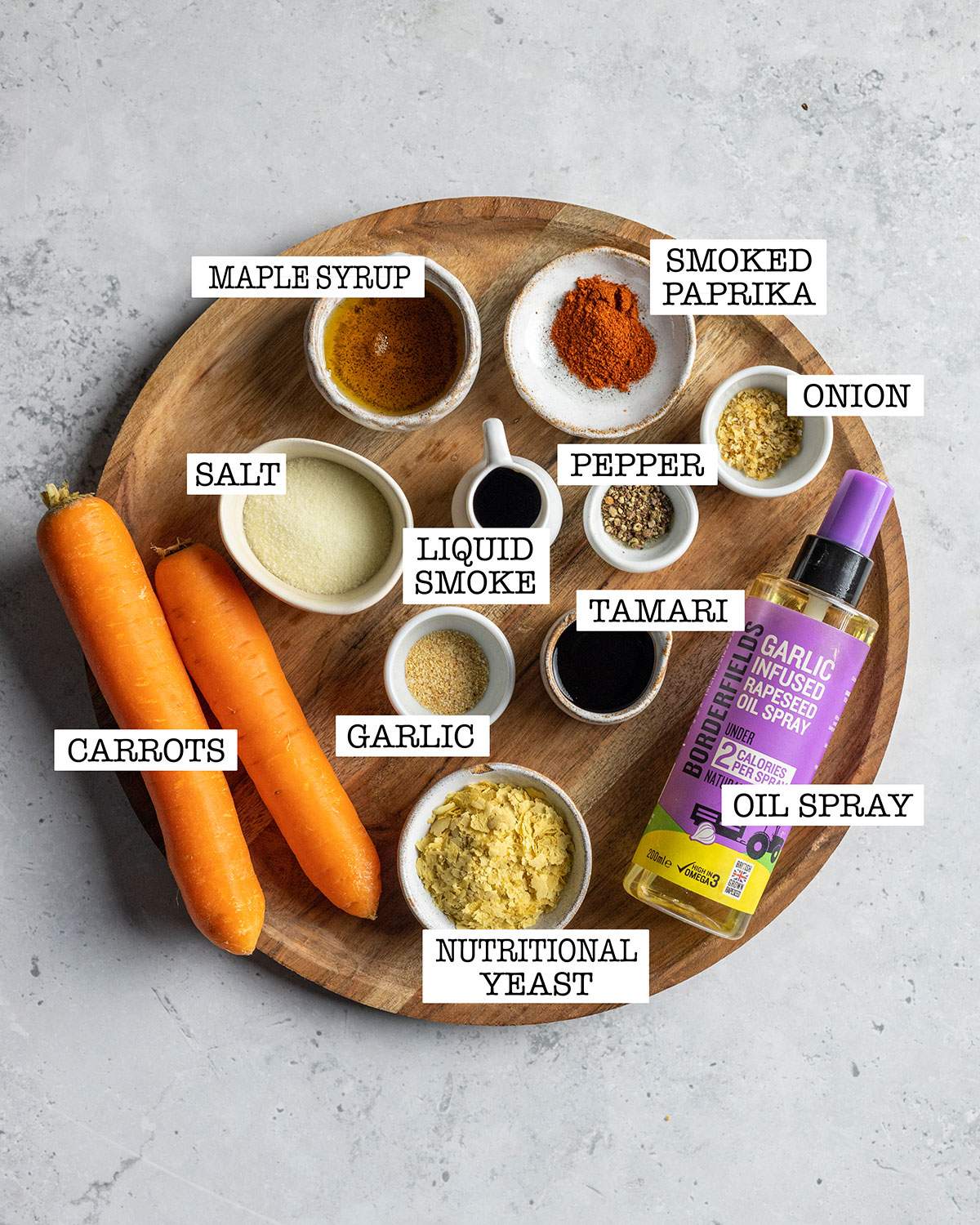 fresh carrots - for best results, use large carrots as the carrot slices will shrink during baking
soya sauce - I like to use tamari soy sauce, it's gluten-free and much more intense in terms of flavor than light or dark soy sauce
liquid smoke - gives our carrot bacon the ultimate smoky flavor
maple syrup - adds a wonderful sweetness to the carrot bacon
nutritional yeast - adds both flavor and texture. You can buy nutritional yeast from most health food stores and also some grocery stores nowadays. If you struggle to find it in store, try ordering it online from places like Amazon.
oil - to make the edges of the carrot bacon extra crispy! I prefer to use olive oil for this, but you can also use canola oil, sesame oil or vegetable oil. Just ensure it has a high smoke point, so it doesn't burn in the oven. The best thing to use is oil spray as it is easiest to apply to the carrot bacon after the marinade. Don't add oil before marinating as the marinade will not stick to the carrot slices otherwise.
seasonings - smoked paprika powder, garlic powder, onion powder and ground black pepper
See recipe card at the bottom of the post for quantities.
Equipment
Here's everything you need for this recipe:
a mandolin or sharp potato peeler - to cut the carrots into thin strips
mixing bowl - for the marinade and for marinating. Either use a medium bowl or a shallow dish
small whisk - to mix the marinade
lined baking tray - you will need 2-3 lined trays in total ass all the carrot slices need to be lined in a single layer
kitchen tongs
Instructions (Step-by-Step)
Here's how you can make carrot bacon in just a few steps: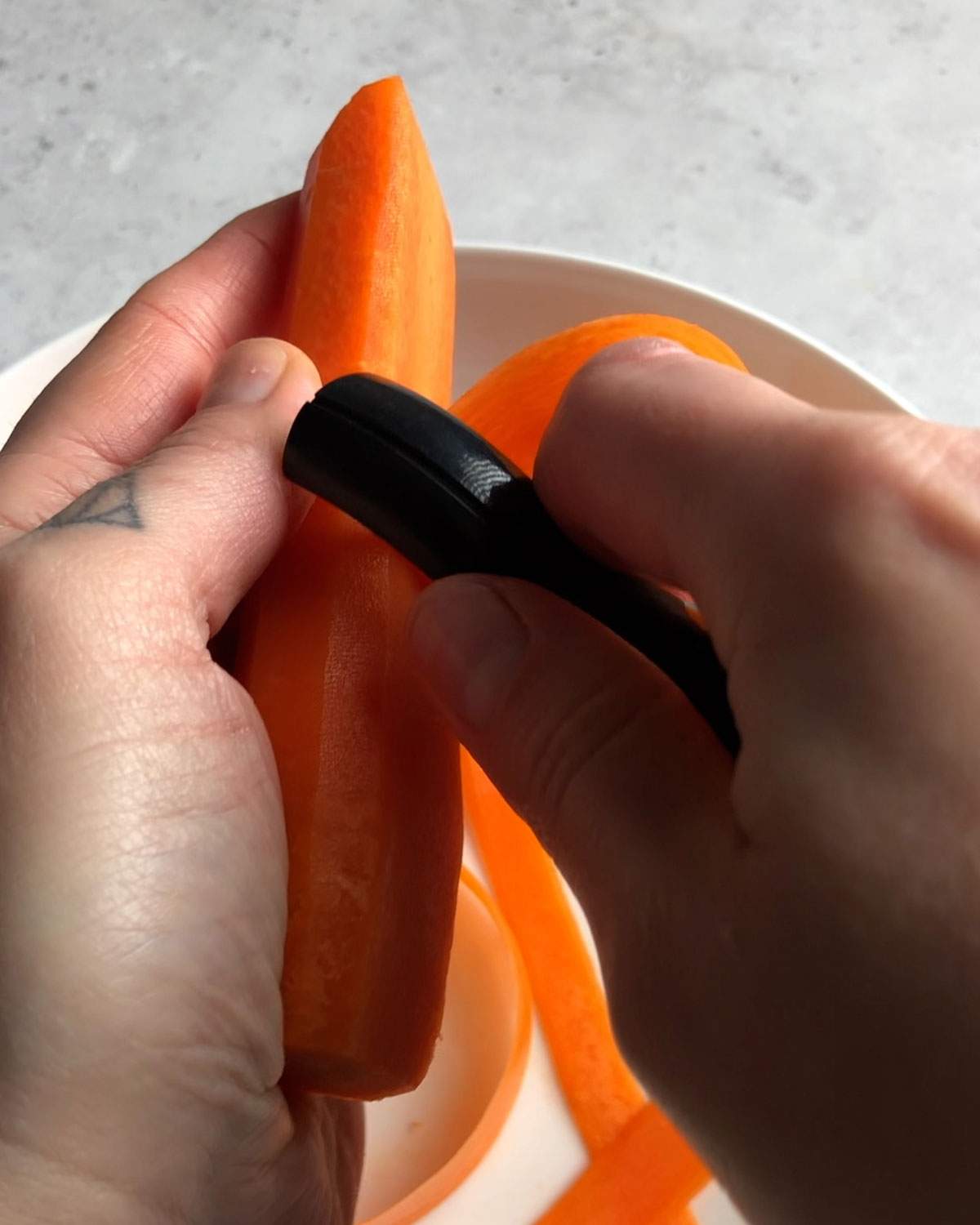 Peel carrots and use a potato peeler or mandolin to cut the carrots into thin slices.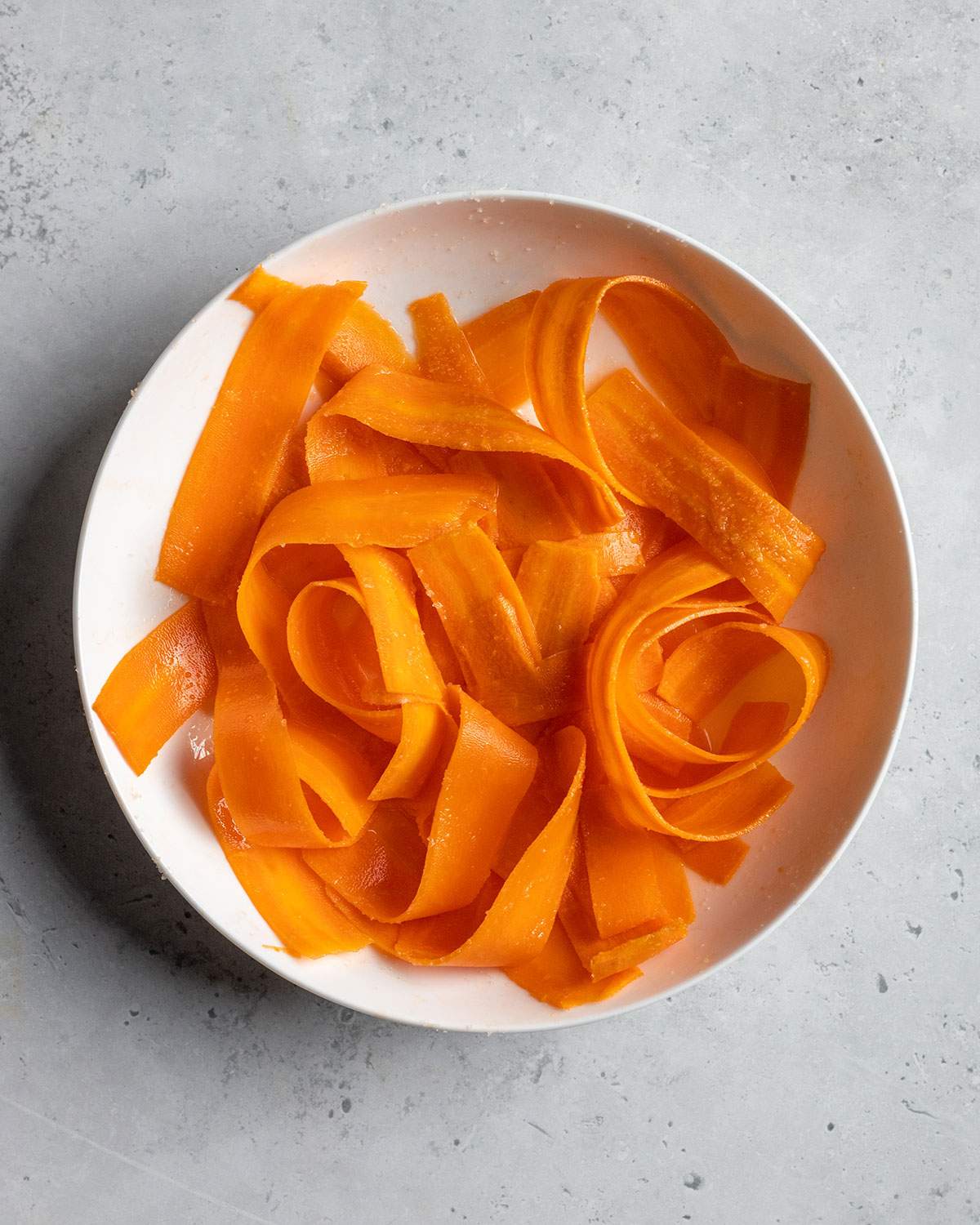 Place the carrot slices into a bowl and rub them with a generous amount of salt, then set aside for 20 minutes to soften.
Extra tip: Try to slice your carrots with an equal thickness throughout to avoid burning thin edges.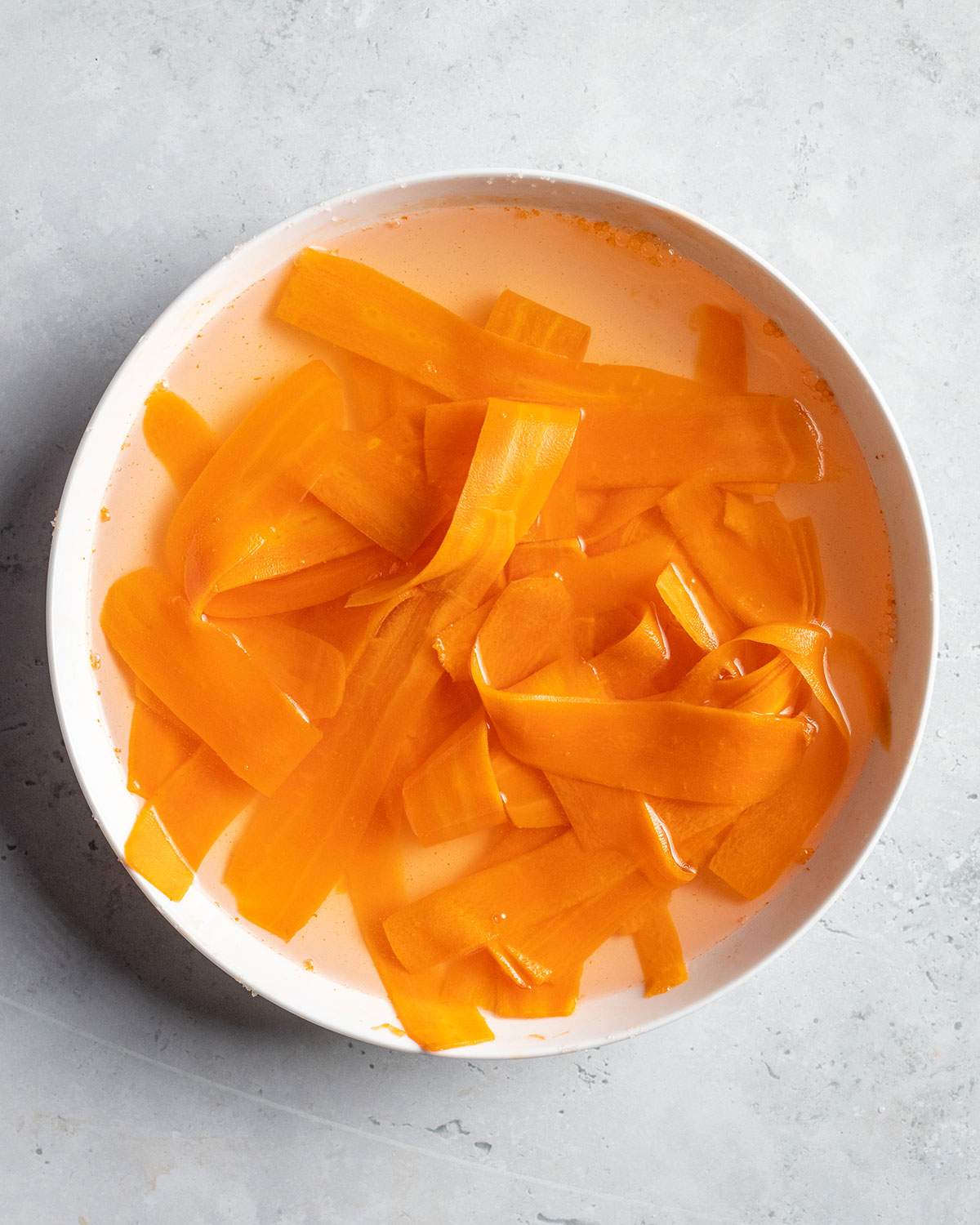 Once softened, rinse with water.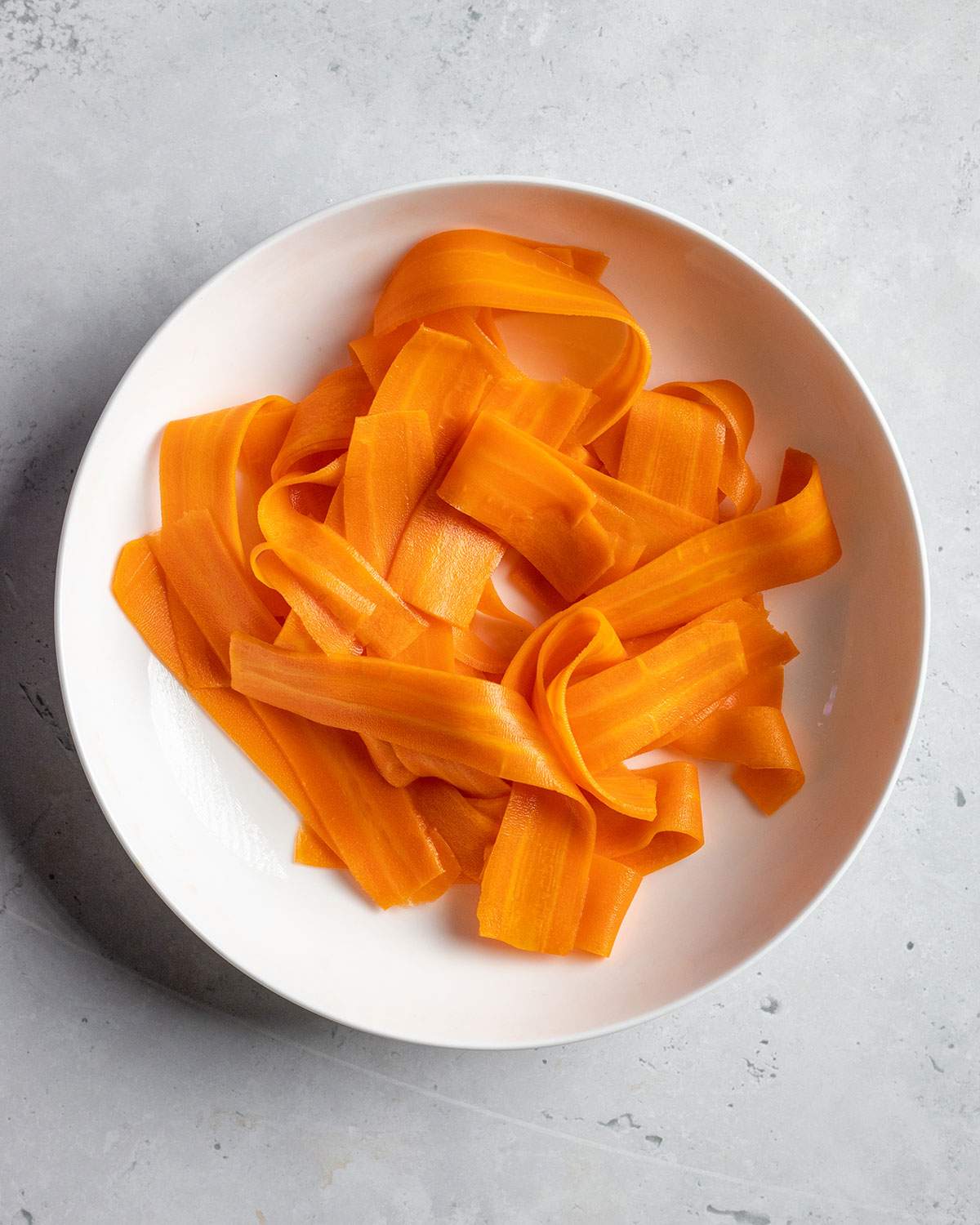 Gently pat the carrot slices dry and place them back into a bowl.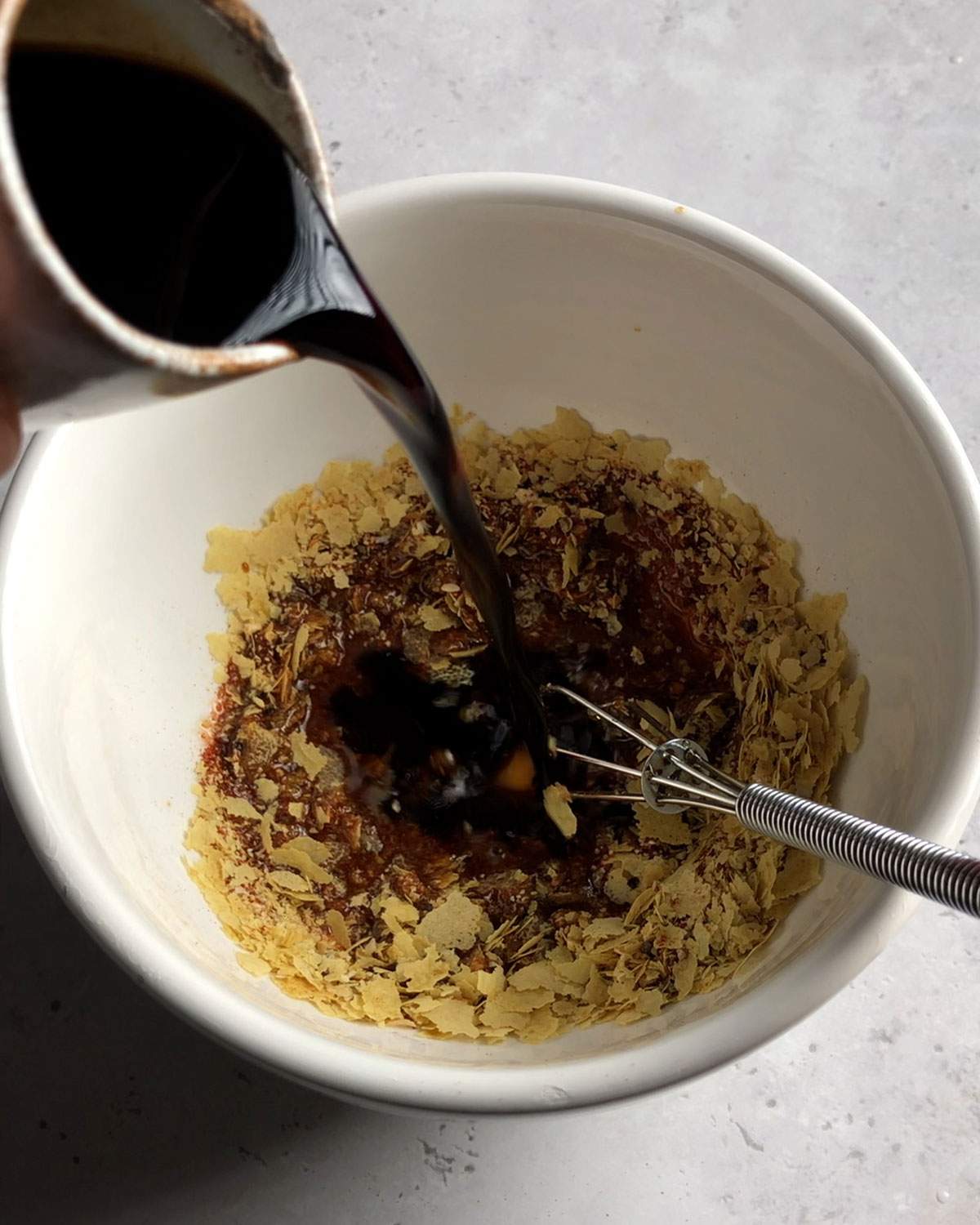 In a small bowl, combine all ingredients for the marinade - tamari soy sauce, maple syrup, liquid smoke, nutritional yeast, paprika powder, onion powder, garlic powder, and black pepper.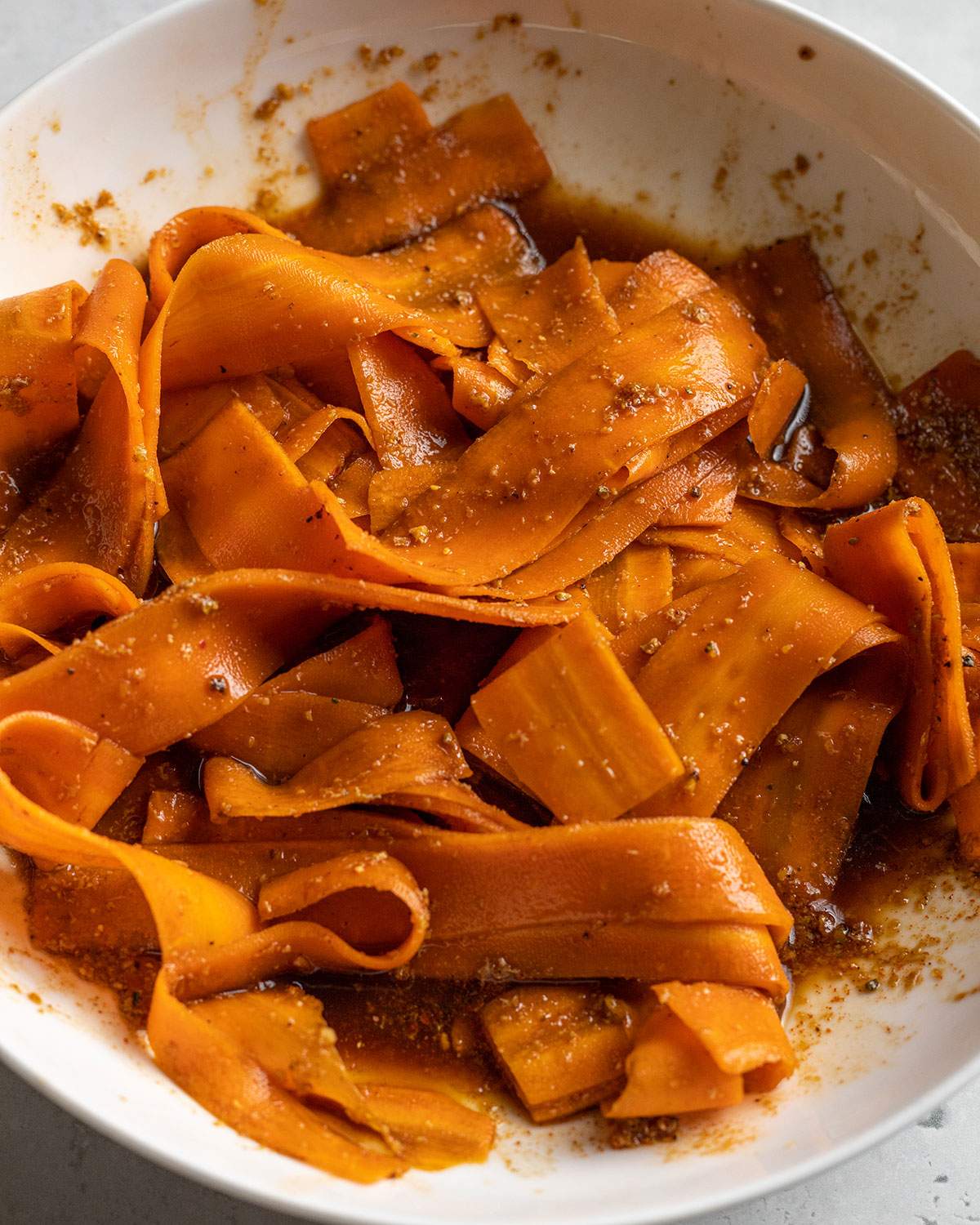 Place the carrot ribbons into the marinade and set it into the fridge for 30 minutes.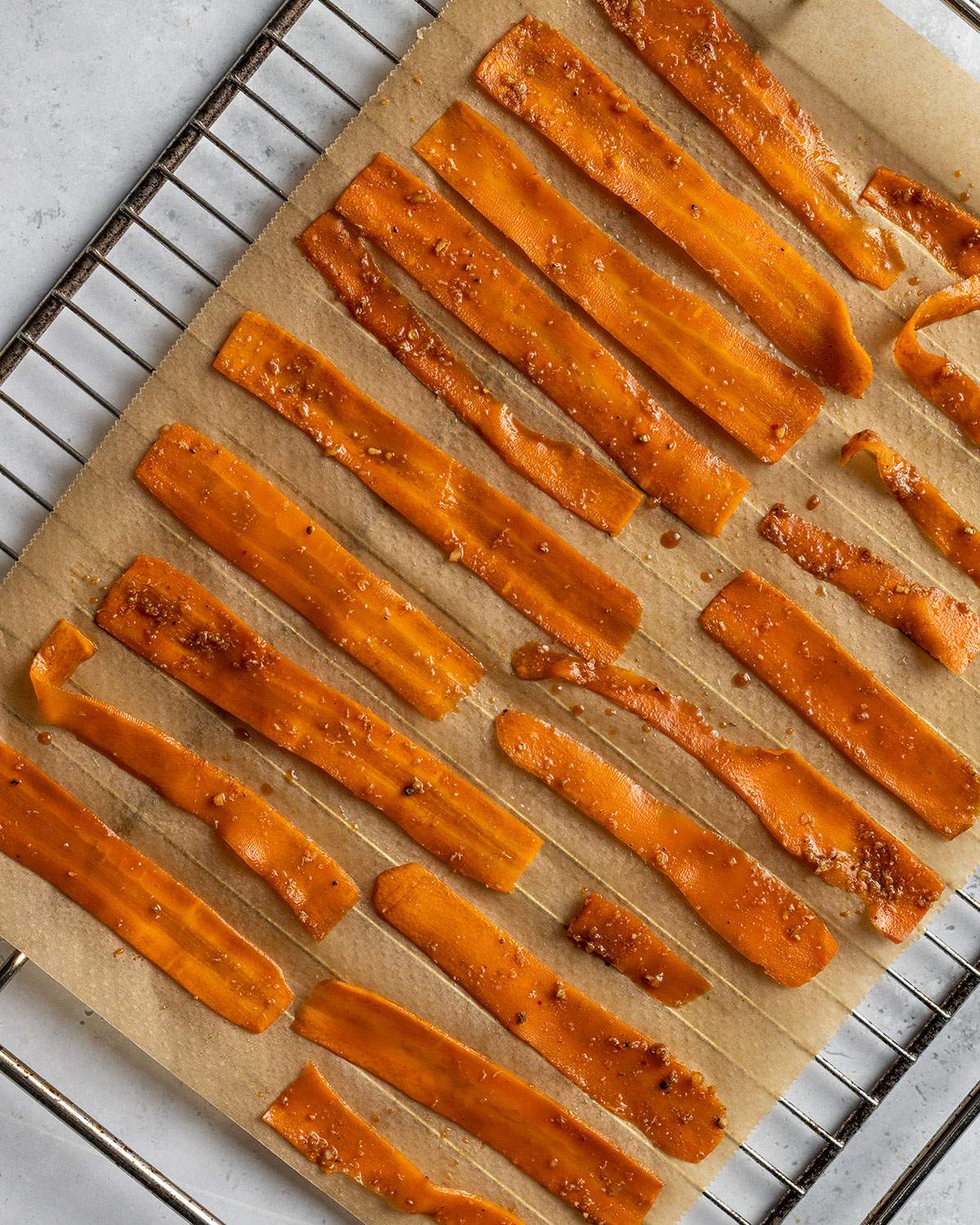 Line 2-3 baking trays with parchment paper and lay the marinated carrot strips onto the tray in a single layer. If needed, work in batches.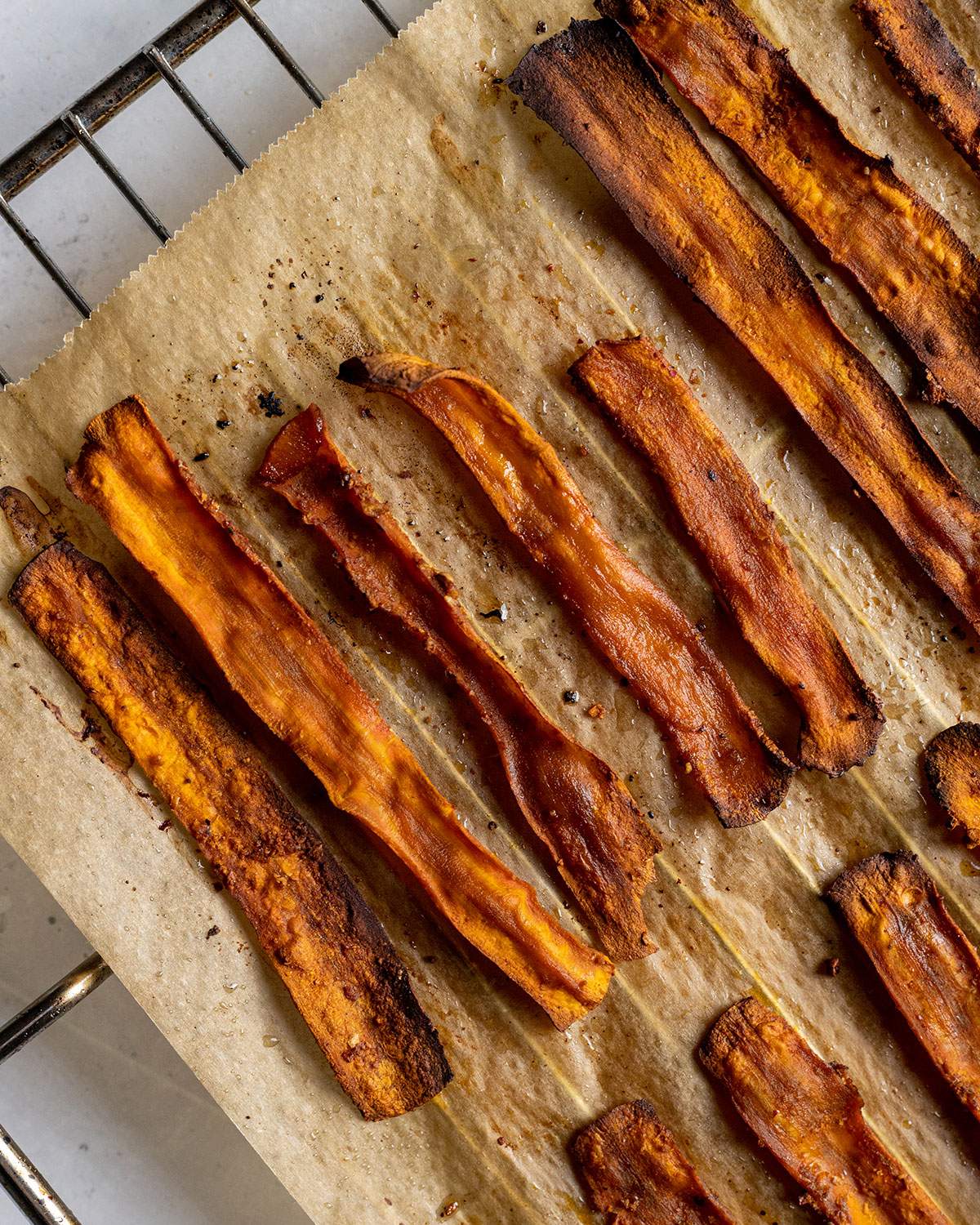 Preheat your oven to 350°F (180°C) and bake the carrot bacon for 10 minutes. Use kitchen tongs to flip all carrot bacon strips and bake on the second side for 5-10 more minutes or until golden with lightly crispy edges.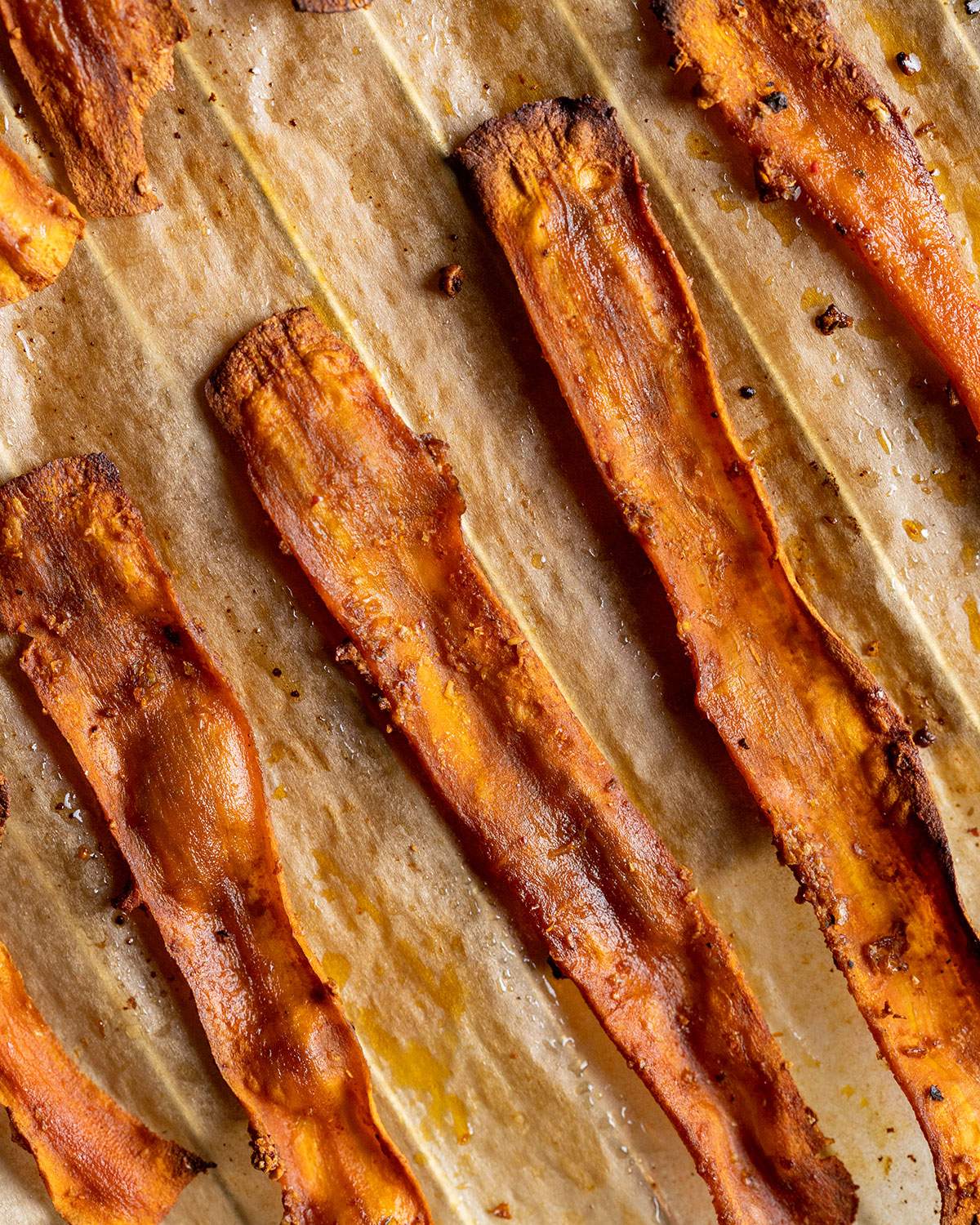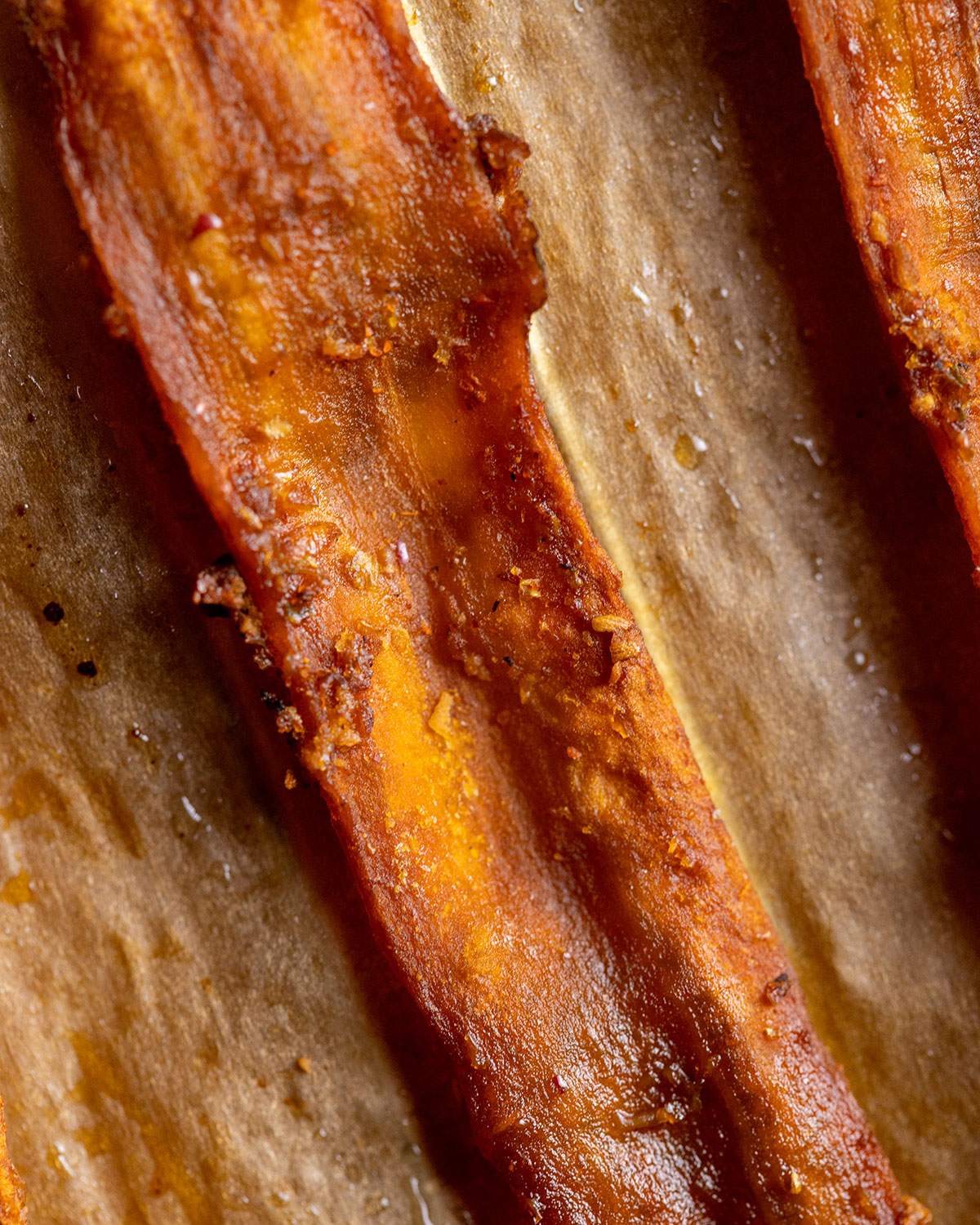 Useful tip: The baking time varies depending on the thickness of your carrot slices, so feel free to bake slightly shorter/longer if needed and stay close by to check in on the carrot bacon regularly. It can burn quickly, so this is vital!
Serving
Vegan carrot bacon is delicious served in a variety of ways - and also tasty on it's own. After all, vegan bacon is a special healthy treat that deserves all the glory! And with all the sweet and smoky notes in this carrot bacon recipe, it's truly divine.
If you're after some ideas for serving this bacon, how about pairing it up with vegan scramble (even tastier than tofu scramble!) for Sunday brunch (or on toast!), or create a delicious vegan BLT sandwich (Bacon Lettuce Tomato). It's also tasty served on some homemade vegan English muffins alongside a little vegan butter.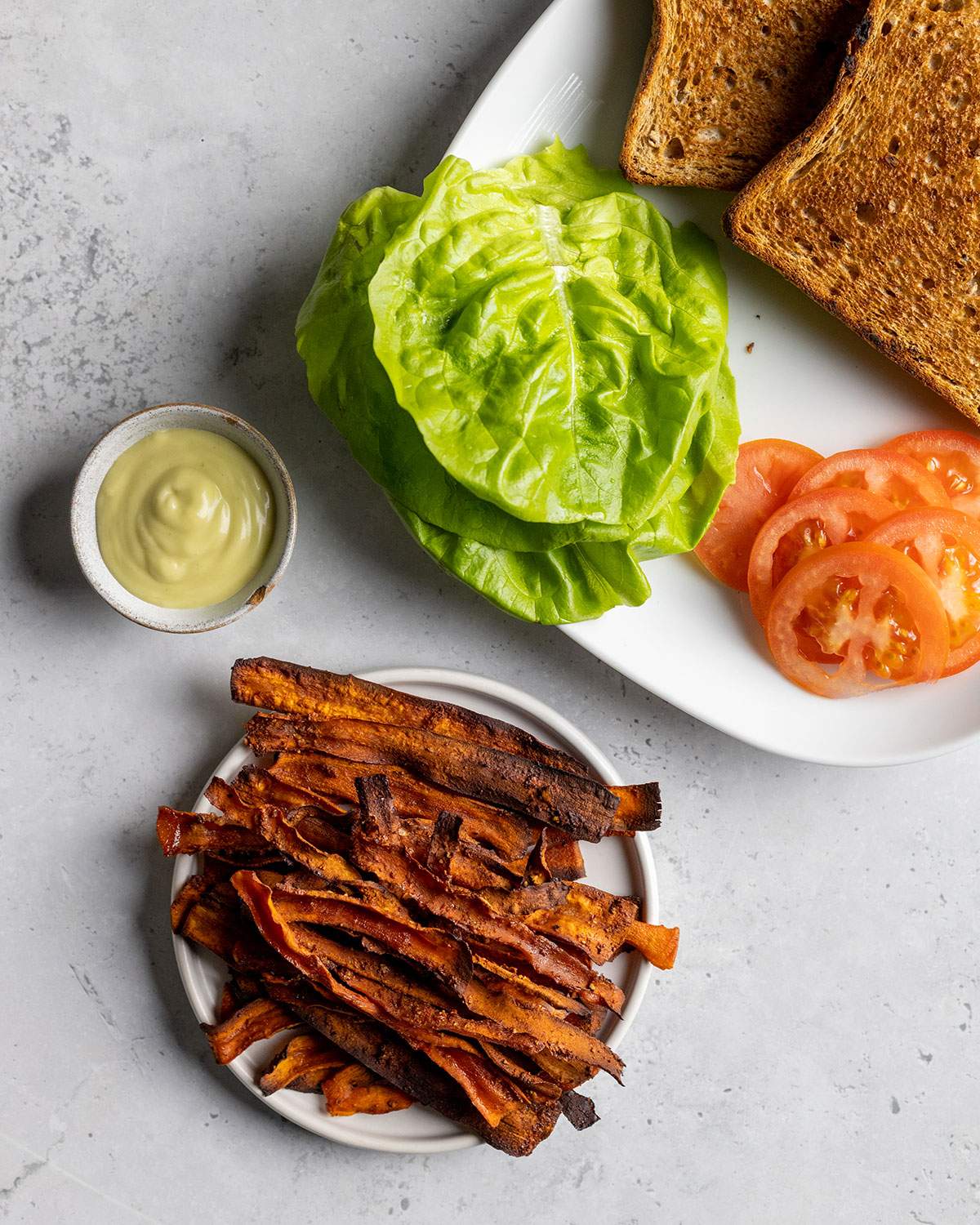 If you want to pair the carrot bacon with a main dish for lunch or dinner, try adding it to a tasty vegan burger - and whilst you're at it, why not create some homemade vegan burger buns and vegan big mac sauce to make the ultimate burger?
You can also crispy bake the carrot bacon in the oven at a low temperature, crush it into smaller pieces and sprinkle it over a delicious vegan Caesar salad. Divine!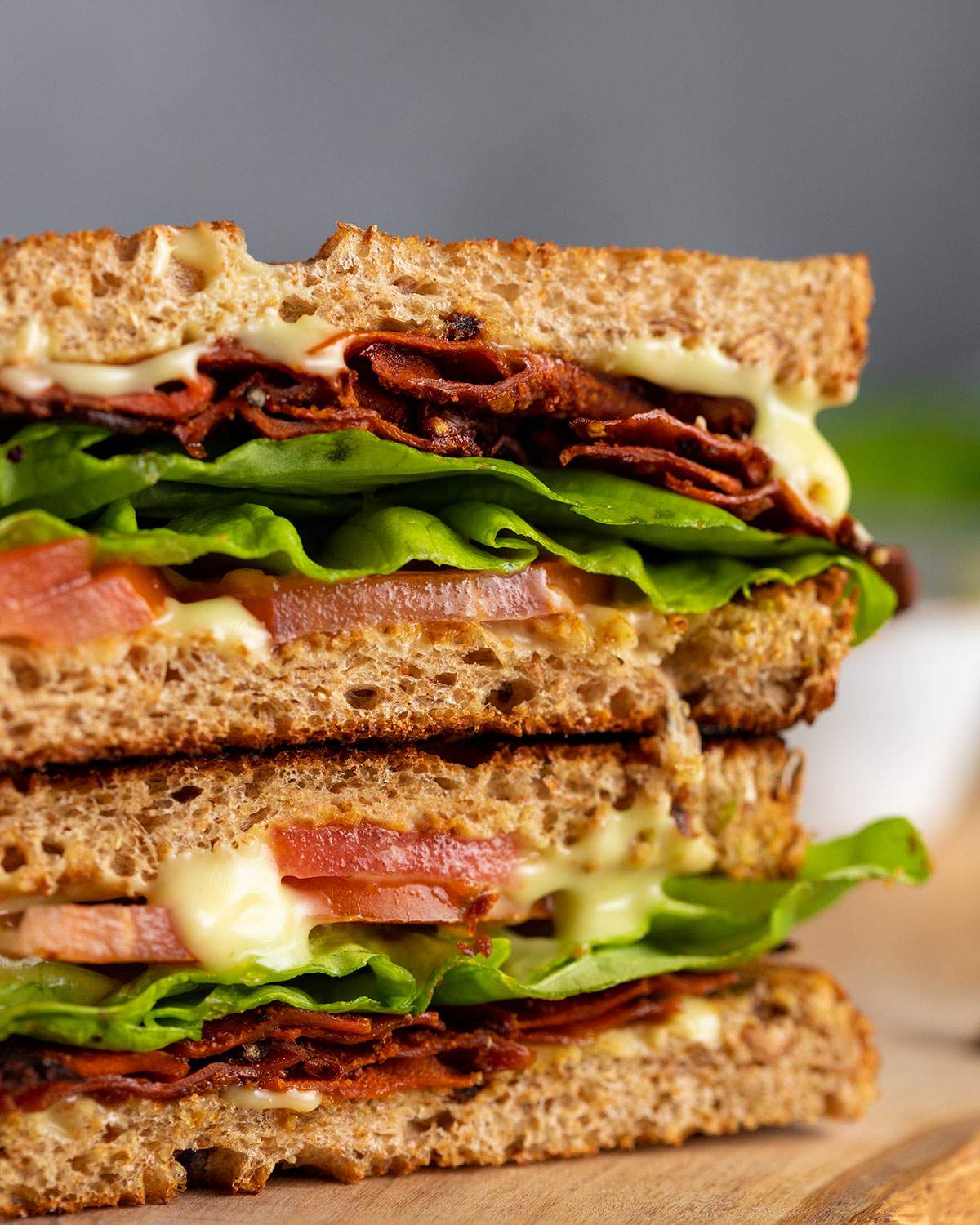 How to store
This vegan carrot bacon is best enjoyed right away, so that the edges stay lightly crispy. If you need to store it overnight, I recommend keeping it in an airtight container in the fridge for up to 3 days maximum.
Substitutions
In case you don't have everything to hand, here a few ideas and notes for possible substitutions:
Tamari soya sauce - swap the soy sauce for coconut aminos for a low-salt alternative. It has a less salty flavor and also doesn't caramelize as well, so the end result will taste slightly differently, but still delicious!
Maple syrup - instead of maple, you can also use agave syrup
Seasonings - swap the smoked paprika powder for sweet paprika powder if you don't have any to hand, still delicious! If you don't eat onions and/or garlic, simply leave them out.
Liquid smoke - it's difficult to get the right amount of smokiness without liquid smoke, but if you struggle to get hold of it, replace it with a teaspoon of smoked paprika powder.
Variations
Feel free to make adaptations to the recipe if you feel like experimenting or simply want to shake things up. How about adding a dash of red pepper flakes to add a bit of spice?
Did you know that you can make vegan versions of bacon with a variety of different veggies? The marinade works fantastically with eggplant for example, so feel free to experiment and get creative!
How to make carrot bacon in the air fryer
If you have an air fryer at home, you can also use it to make this carrot bacon recipe!
Air fryer carrot bacon is super convenient actually bakes quicker than in the oven as the air fryer is basically a convection oven. It's brilliant because you can basically make it in even less time!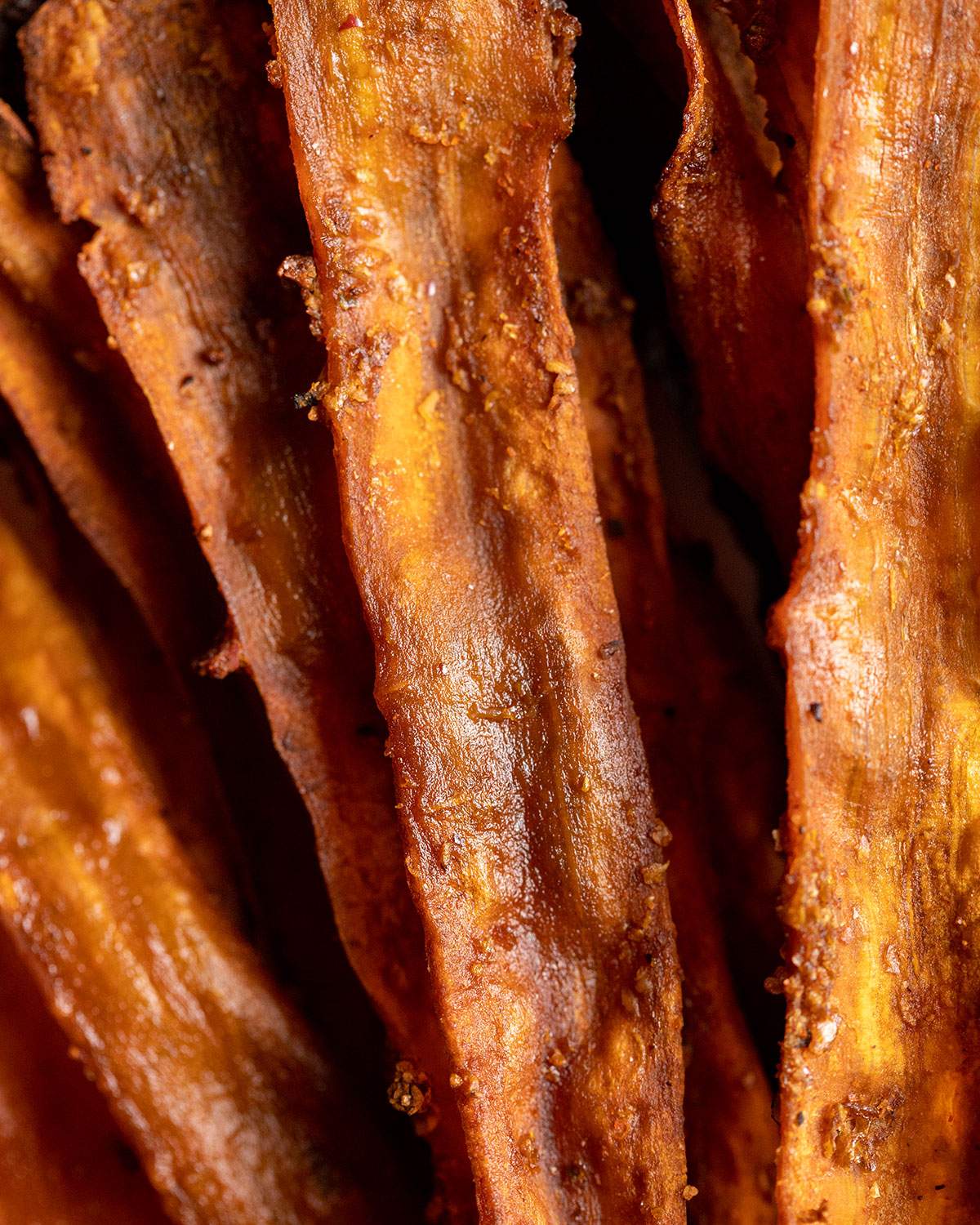 Frequently Asked Questions
Can I freeze carrot bacon?
The fully cooked carrot bacon doesn't freeze as well. Whilst you can do it to prevent food waste, the carrot bacon won't be nice and crispy anymore after thawing and re-baking it, can make it a little sad and dry.
If you want to prepare this recipe ahead of time to have some quick & easy vegan bacon to hand, I recommend freezing the marinade-soaked carrot slices in a single layer. You can then pop them straight in the oven or the air fryer, when you want to make carrot bacon.
Can I prepare carrot bacon ahead of time?
You can peel and place your carrot strips into the marinade up to 24 hours before baking it. Just make sure to store the bowl in the fridge.
My carrot bacon sticks to the parchment paper, help!
This is usually down to the quality of the parchment paper. Try lining your baking trays with structured, non-stick baking parchment and don't forget to brush it with a little oil to prevent sticking.
Alternatively, I can really recommend silicone baking sheets. They are fantastic as nothing sticks to them and they are also washable and reusable.
Related Recipes
📌 If you love Pinterest you can pin any of the images to your boards!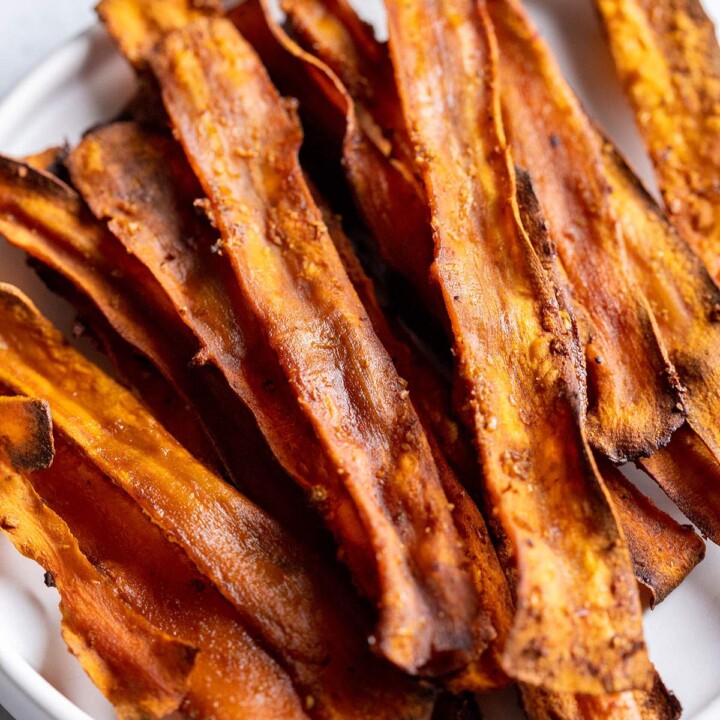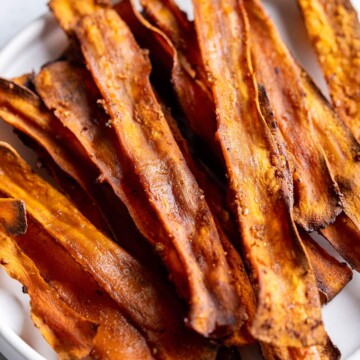 Carrot Bacon Recipe
This vegan carrot bacon is a deliciously sweet and smoky alternative to bacon! It's easy to make with a simple marinate and can be oven baked or air fried. Delicious on burgers, with your vegan breakfast or sprinkled over salad.
Equipment
1 vegetable or potato peeler

or a mandolin

1 mixing bowl

1 whisk

2-3 baking trays

2-3 sheets of parchment paper

or silicone baking mats
Ingredients
2

large

carrots

washed and peeled

3

tbsp

tamari soya sauce

1

tbsp

maple syrup

2

tbsp

nutritional yeast

1/2

tsp

smoked paprika powder

1/2

tsp

garlic powder

1/2

tsp

onion powder

1/4

tsp

ground black pepper
Instructions
Start by washing and peeling your carrots, then use a vegetable peeler to thinly slice your carrots into ribbons.

In a mixing bowl, whisk together all ingredients for the marinade: tamari soya sauce, maple syrup, nutritional yeast, smoked paprika powder, garlic powder, onion powder and ground black pepper.

Place the carrot slices into the marinade and stir to evenly coat them. Place the bowl into the fridge and let the carrots marinate for 30 minutes.

Preheat your oven to 350F (180C) and line 2-3 baking trays with parchment paper. Brush a little oil onto the paper, then place the carrot strips onto the trays in a single layer. Brush or spray with a little more oil.

Bake in the middle of the oven for 10 minutes, then flip the carrot slices. Bake for 5-10 more minutes, or until the carrots are golden and the edges crispy and caramelized.

Carefully remove the carrot bacon from the parchment paper whilst still warm and enjoy the carrot bacon on a delicious vegan burger or alongside your Sunday brunch.
Latest Recipes
*Disclosure: This page may contain affiliate links and sponsored links that earn me a small commission, at no additional cost to you. You can find more information in my Privacy Policy.
 © Romy London / Romina Callwitz | All images and content are copyright protected. Please do not use my images and content without permission. If you wish to re-publish any recipes or images, please get in touch via email. Thanks for your support!