Delicious & creamy: This Vegan Caesar Salad Dressing is made with cashew nuts, which gives it its amazingly creamy texture - and it also packs a whole lot of flavor to take your salad to the next level.
If you are wondering whether traditional Caesar dressing is vegan or not, the answer is no. Traditional Caesar dressing contains anchovies, eggs, and Parmesan cheese, which are all non-vegan ingredients. However, you can make a vegan version of this classic dressing with this simple step-by-step recipe.
This recipe is:
100% vegan - Traditional Caesar dressing contains non-vegan ingredients like anchovies, eggs, and Parmesan cheese. However, this recipe is completely plant-based, dairy-free and egg-free - making it a great option for vegans and those with dietary restrictions.
Gluten-free - If you're avoiding gluten, you'll be happy to know that this recipe is gluten-free. It's a perfect choice for those with celiac disease or gluten intolerance.
Creamy - Despite being dairy-free, this recipe is still wonderfully creamy thanks to the use of cashews as the base. The result is a rich and satisfying dressing that's perfect for drizzling over your favorite salads!
It contains no preservatives, additives, or artificial flavors, and it's packed with healthy fats, proteins, and vitamins.
Last but certainly not least, this vegan Caesar dressing is simply delicious! With notes of tangy apple cider vinegar, savory dijon mustard, and cheesy nutritional yeast, it's a flavorful and satisfying addition to any salad.

Jump to:
I especially love that this recipe is so very easy to make. All you need is a high-speed blender and a handful of ingredients that you might already have in your pantry! You can easily customize the recipe to your taste and create a dressing that is perfectly tailored for your tastebugs.
In addition, this vegan Caesar salad dressing is ideal for those who want to add some delicious variety to their salads - it's refreshing and packed with flavors! You can use it to dress your vegan Caesar salad, or get creative and use it on your favorite greens, with pasta, or to lift up some simple roasted vegetables.
Is Caesar salad considered healthy?
Caesar salad can be healthy, depending on the ingredients used in the salad and the dressing. Traditional Caesar salad dressing is often high in calories, fat, and sodium, but this vegan version uses a cashew-based dressing that is dairy-free, egg-free, gluten-free, and uses nutritional yeast for a cheesy flavor, making it a healthier alternative to store-bought Caesar salad dressings. The salad itself can be made with a variety of greens and vegetables, to create a meal option that is both nutritious and delicious!
So, if you're looking for a delicious, and easy-to-make vegan dressing, that is also a healthier alternative to store-bought salad dressings, this Vegan Caesar Salad Dressing is definitely worth a try. Give it a go and see how you can elevate your salads to the next level!
Ingredients & Notes
cashews - for the creamy base
apple cider vinegar - for some zesty acidity! You can also use white wine vinegar.
olive oil - extra virgin olive oil tastes best
nutritional yeast - for a cheesy flavor
dijon mustard - to add a delicious zing and savory notes to the salad dressing
seasonings - sea salt and black pepper
capers - a spoonful can go a long way! Leave them chunky or blend them smooth.
crushed nori sheets - for an extra layer of umami
Jump to the recipe card at the bottom for the full measurements.
Equipment
And that's all! Simple, right?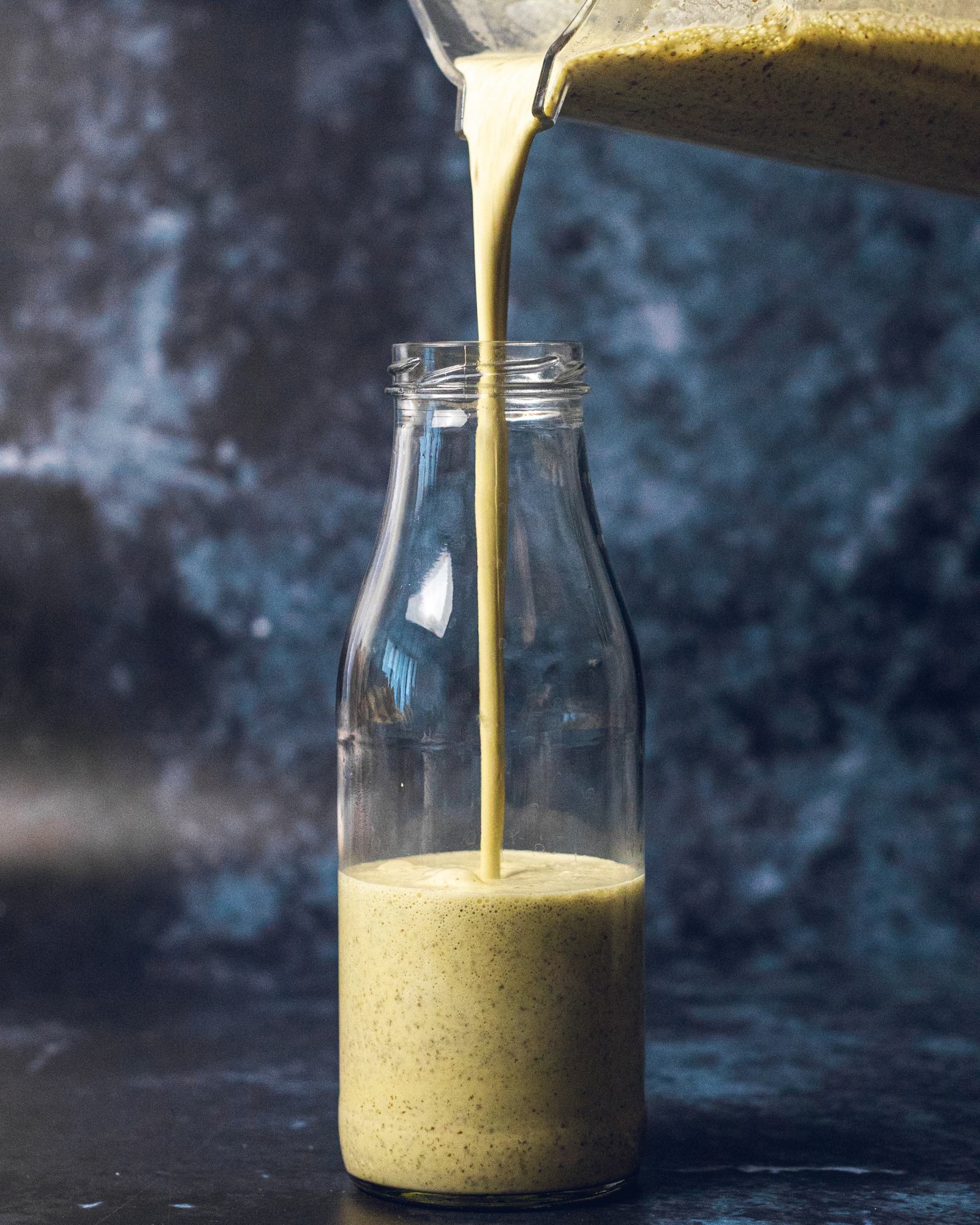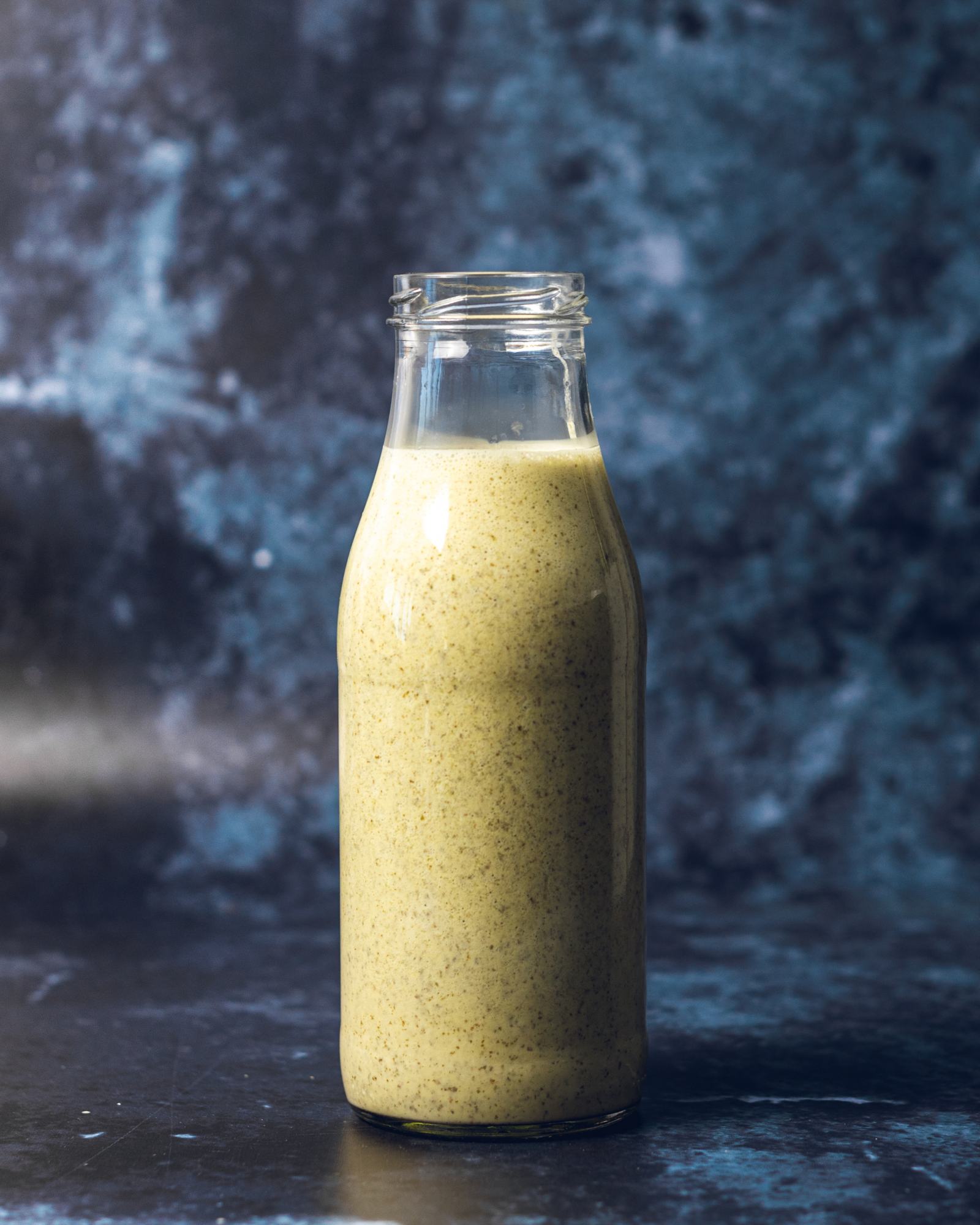 How to make Vegan Caesar Salad Dressing
Making this vegan Caesar Salad Dressing couldn't be easier! All you need is a high-speed blender and you're ready to go. Simply add all your caesar dressing ingredients to your blend and blend at a high speed for about 5 minutes or until smooth.
What if I don't have a high-speed blender?
If your blender is not a high-speed version, but you still want to give this recipe a go, then don't you worry, there are a few things you can do:
Increase the blending time: Your blender might be able to create a deliciously smooth dressing, but maybe needs a little more time. Simply add more minutes to your blending time as needed. But stay close-by and give your blender a little break, if it gets to hot.
Add a little more liquid: Some blenders can create delicious & smooth dressings, but just need a little extra help. Add a little more water to your blender, if it's struggling to blend the soft nuts.
Strain the dressing: To avoid any big nut chunks in your final salad dressing, you can simply run it through a strainer before serving!
Drizzle the dressing over a fresh Kale Caesar Salad and serve alongside a slice of freshly baked Vegan Rosemary Focaccia!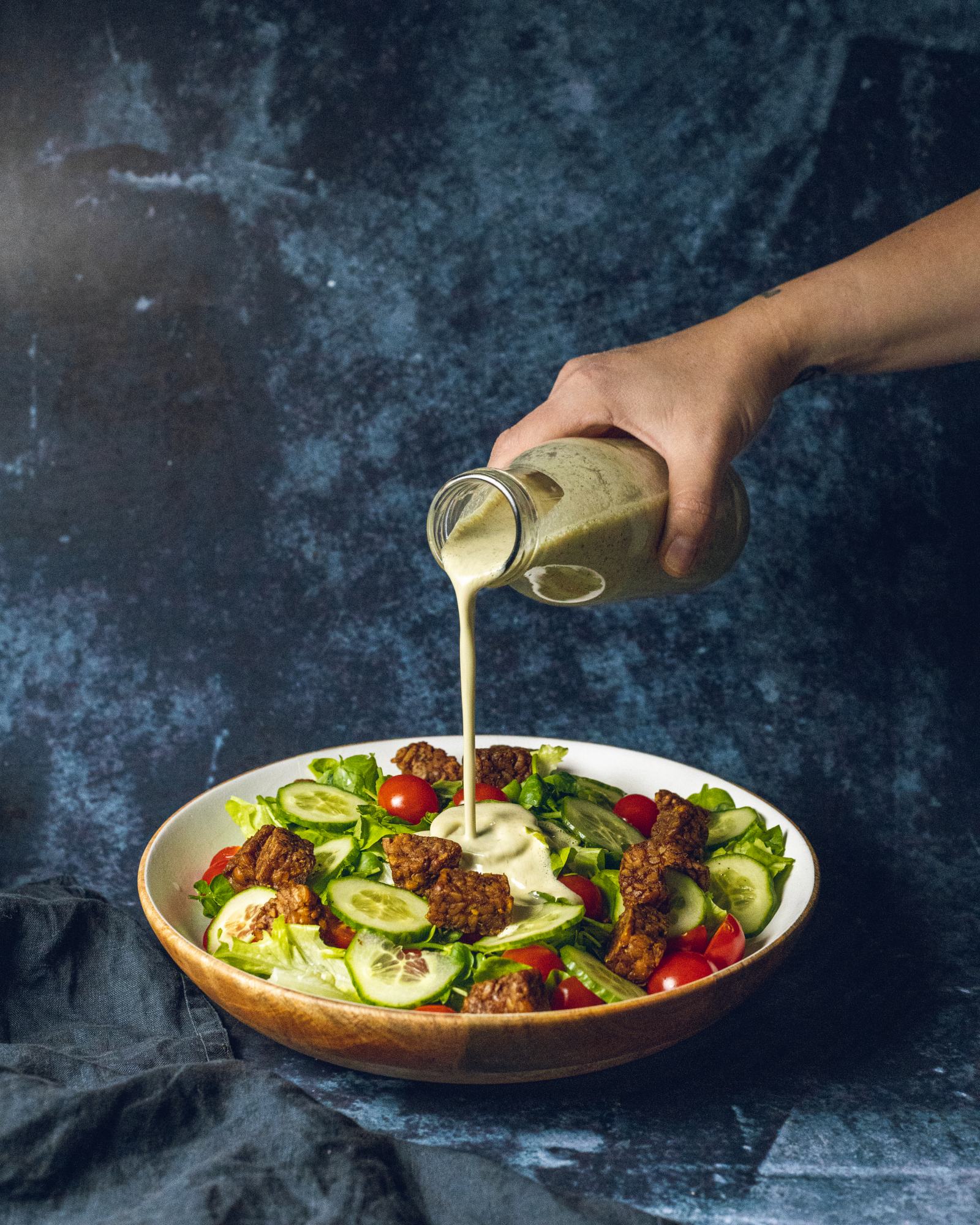 What to serve with Caesar Salad
There are many delicious options to serve with a Caesar Salad! Try adding some Garlic & Herb Croutons for an extra crunch, chopped Carrot Bacon for a smoky flavor, some delicious BBQ tofu or tempeh for a twist or seasoned vegan chicken-style pieces (made with Seitan!) for extra protein.
You can also add a simple slice of toasted bread or a side of roasted vegetables alongside to make it a complete and filling meal.
And if you want to get creative - why not serve this salad in an edible salad bowl? Simply place an oven-proof bowl into the oven upside down, add a tortilla wrap on top and bake until crunchy. Then add your salad & dressing and enjoy dipping any leftover Caesar dressing with the tortilla at the end.
📌 If you love Pinterest you can pin any of the images to your boards!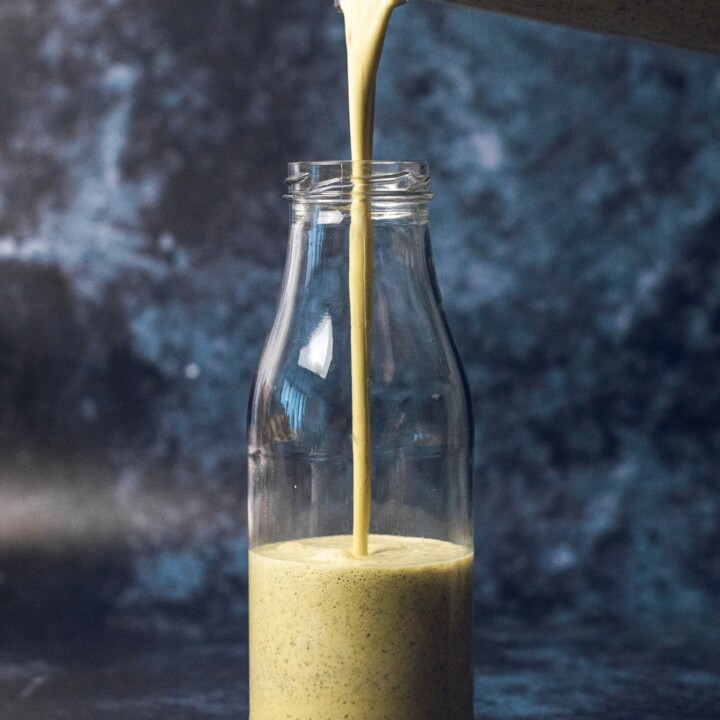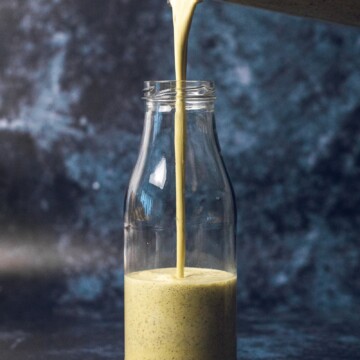 Vegan Caesar Salad Dressing
Made with cashews, apple cider vinegar, dijon mustard, and nutritional yeast, this easy Caesar Salad Dressing is 100% vegan, gluten-free, dairy-free, and egg-free. Plus, it's super creamy, delicious, refreshing, and easy to make with simple ingredients. Perfect for drizzling over salads or using as a dip!
Ingredients
30

g

raw cashews

soaked and softened

120

ml

water

3

tbsp

apple cider vinegar

2

tbsp

olive oil

3

tbsp

nutritional yeast

1

tbsp

dijon mustard

1

tsp

capers

drained

1/2

tsp

sea salt

1/2

tsp

black pepper

2

tsp

crushed nori

optional
Instructions
Soak the cashews for a minimum of 4-6 hrs. For the quick route, simply soak them in boiling hot water for 20 minutes or boil them on your stove for 10 minutes or until softened.

Simply combine all ingredients in a high-speed blender and blend on high-speed for a few minutes or until completely smooth and creamy.
Notes
Use a high-speed blender on the highest setting for the creamiest consistency.
Soak the cashews in water overnight to make them easier to blend - or boil them in water for 20 minutes, then rinse and let them cool.
Add more water or oil to the dressing, if needed, to achieve the desired consistency.
Use nori sheets for an extra layer of umami flavor.
Store the dressing in an airtight container in the fridge for up to 5 days.
Use this dressing to dress salads, roasted vegetables, pasta, or even as a dip!
Nutritional information for reference only.
Looking for more delicious vegan salad recipes?
*Disclosure: This page may contain affiliate links and sponsored links that earn me a small commission, at no additional cost to you. You can find more information in my Privacy Policy.
 © Romy London / Romina Callwitz | All images and content are copyright protected. Please do not use my images and content without permission. If you wish to re-publish any recipes or images, please get in touch via email. Thanks for your support!