Deliciously fluffy homemade vegan burger buns recipe - Brioche-style! Easily made with a simple technique, these vegan hamburger buns are super soft and tender and simply delicious for your homemade vegan burger.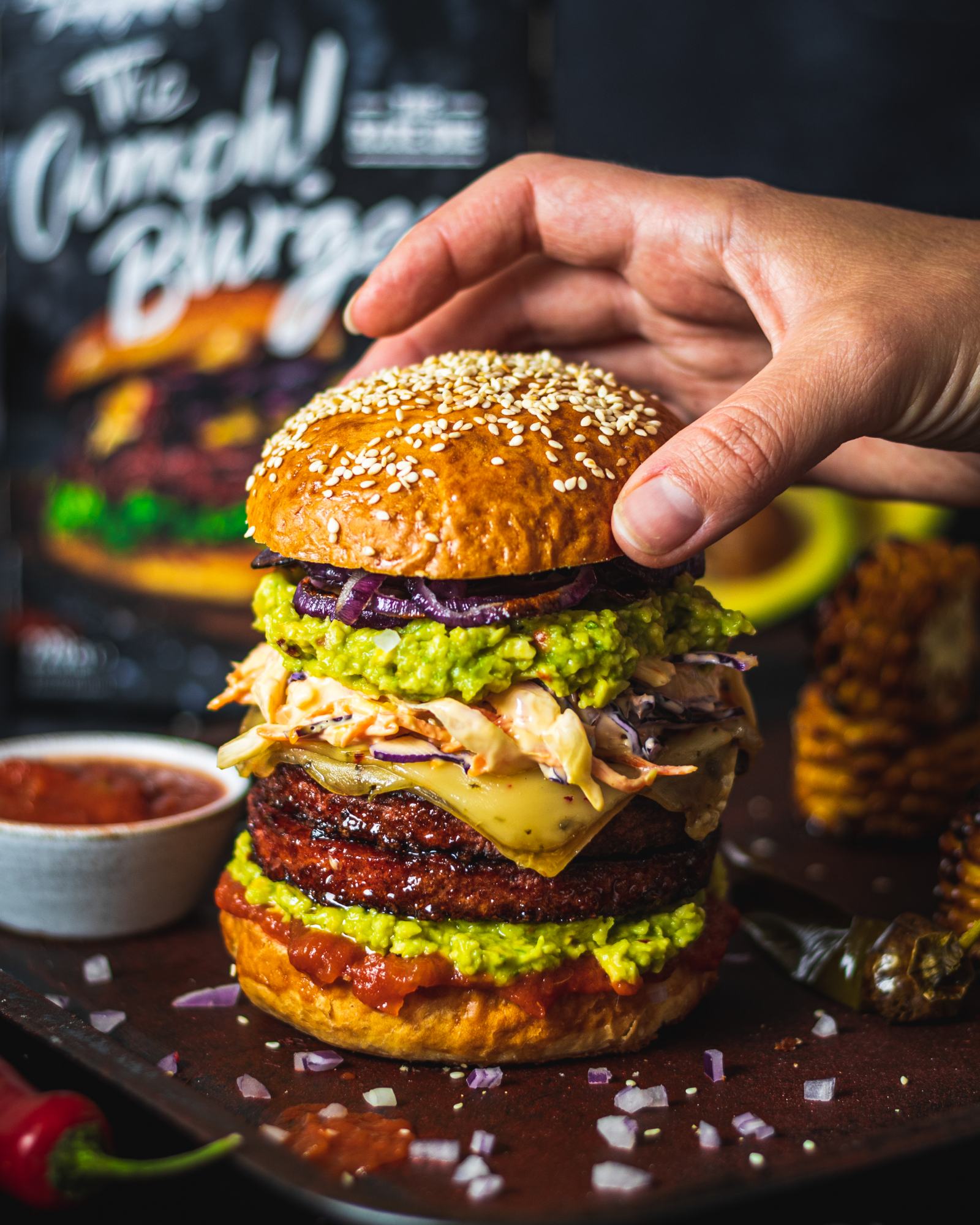 This vegan burger bun recipe is:
100% vegan and made with only plant based ingredients
super easy to make
fluffy and delicious
perfect for homemade vegan burgers
dairy free
super soft and fluffy!
egg free
freezer-friendly
delicious with sesame seeds on top
perfect for a vegan Big Mac!
I can't even express how good these dairy-free burger buns truly are! You should definitely give this recipe a go and try it for yourself. They are wonderfully soft, just like a brioche bun, and they are done completely without using eggs or dairy products.
Why are regular burger buns not vegan?
Most burger buns - especially those made to a 'Brioche-style' - use either eggs or dairy products in their recipe, or both. That's why they're not vegan-friendly.
In the UK, where I live, vegan burger buns are not that easy to find in supermarkets, hence why I have developed this fluffy burger bun recipe to share with you!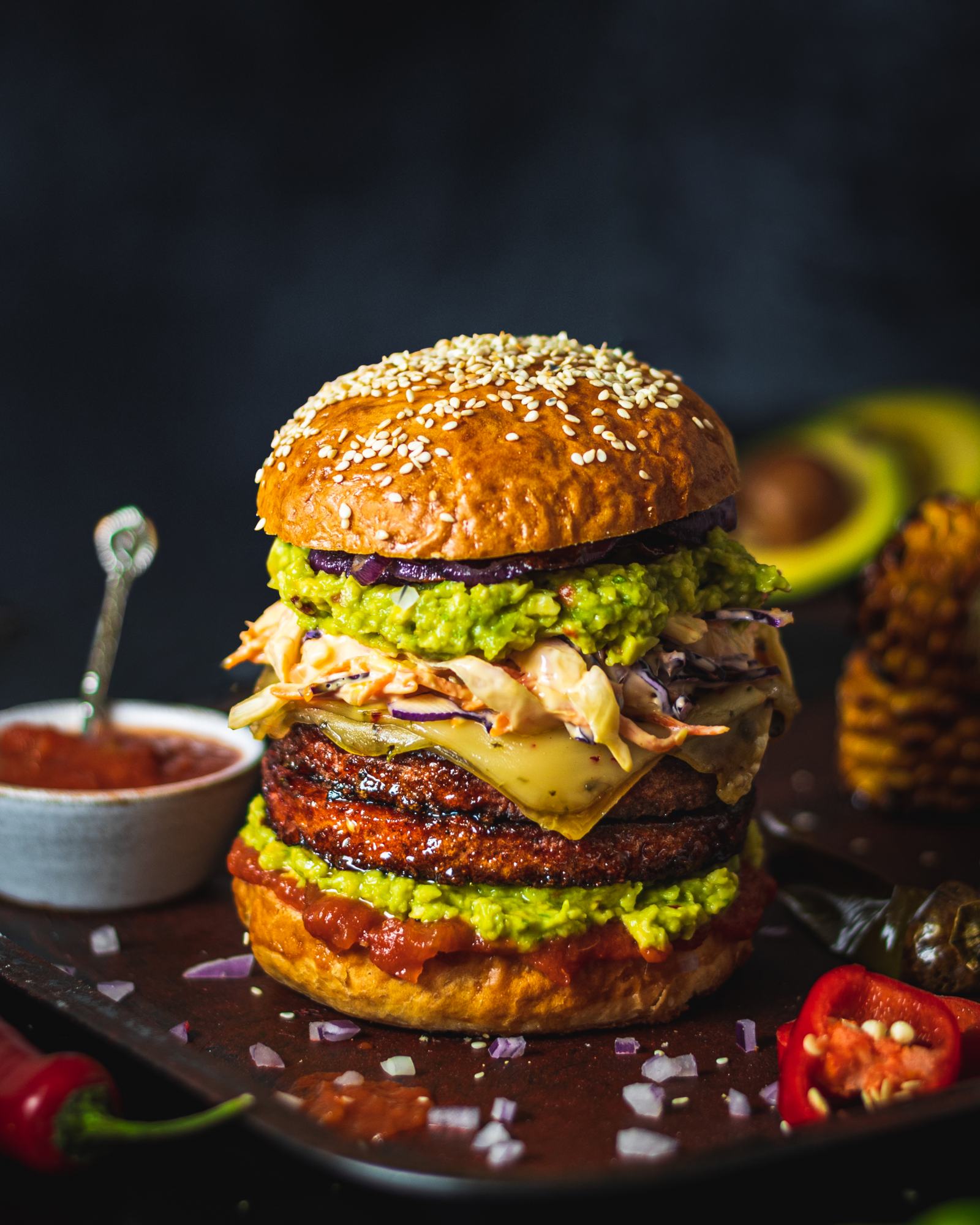 Homemade Vegan Burger Buns Recipe
It's not only happened once but already on multiple occasions that I've found myself wanting to create (& of course photograph) delicious-looking vegan burgers and finding that most conventional burger buns available in supermarkets are either not vegan (they often contain egg or dairy!) or simply way too big for my vegan quarter pounders.
After years of trying to find the perfect vegan brioche buns for my patties, I've simply decided to stick to making my own - and this is how the long search for the perfect homemade vegan hamburger buns was started, which eventually led to this recipe! Glad we made it here! 😉
Ingredients for a fluffy vegan burger bun
For these vegan buns, you only need a few very simple ingredients:
plain flour (all-purpose flour): I have used regular all-purpose flour from Tesco for this recipe. You can use bread flour or 100% whole wheat flour as an alternative, which can result in a more bread-like texture. If you swap the flour for bread flour, add a little more liquid to the burger bun recipe, as it can absorb more water than all-purpose flour.
unsweetened plant milk: I used soy milk for this recipe, but you can swap for your favorite plant milk, such as oat, or almond. For best results use an unsweetened non-dairy milk.
dry active yeast: I use regular dry yeast for my recipes, also called 'instant yeast'. This is the rising agent in this recipe. By using dry active yeast, we're speeding up the process of fermentation, allowing our burger buns to rise within a shorter timeframe.
raw sugar: The addition of a little sugar helps the yeast activate more quickly! We use just a small amount of sugar in this recipe, so that the flavor of the buns works perfectly for your savory burgers.
sea salt: To flavor the vegan burger buns, we add sea salt to the mix. This helps round up the flavour of the buns and also balance out the addition of sugar.
olive oil: I personally love the flavor that olive oil gives these buns, but you can also use a more flavor-neutral alternative such as rapeseed oil or avocado oil. Alternatively, you can also use melted vegan butter or deodorised coconut oil.
maple syrup: We use a small amount of maple syrup in our vegan 'egg wash' to brush onto the vegan burger buns and give them a wonderful golden color in the oven!
sesame seeds (optional): these are totally optional, but can make your burger buns look fantastic and add a delicious crunch. You can also add pumpkin seeds, sunflower seeds or poppy seeds onto your buns.
Equipment you'll need to make vegan brioche buns buns:
a large mixing bowl
a small sauce pan
a whisk
a measuring jug
baking tray or two
oven
The secret to making fluffy homemade vegan burger buns
Okay, maybe it's not a secret, but there's a great technique to use to make wonderfully soft & fluffy homemade vegan burger buns without the addition of eggs and dairy - and that technique is called: Tangzhong.
What is Tangzhong?
Tangzhong is basically the creation of a paste from flour and liquid (mostly milk or water), that changes the texture of the bake. This is a traditional technique used in Japanese baking and it's what makes these burger buns so wonderfully soft and fluffy in texture.
How to create Tangzhong?
This is pretty straightforward: We simply heat a mix of flour and (plant) milk on the stove and stir continuously until a thick paste forms. To create the Tangzhong, we don't use the entire flour or milk that the recipe calls for, but just a small amount (see. recipe notes below), and the finished Tangzhong then gets mixed into the remainder of the burger bun ingredients.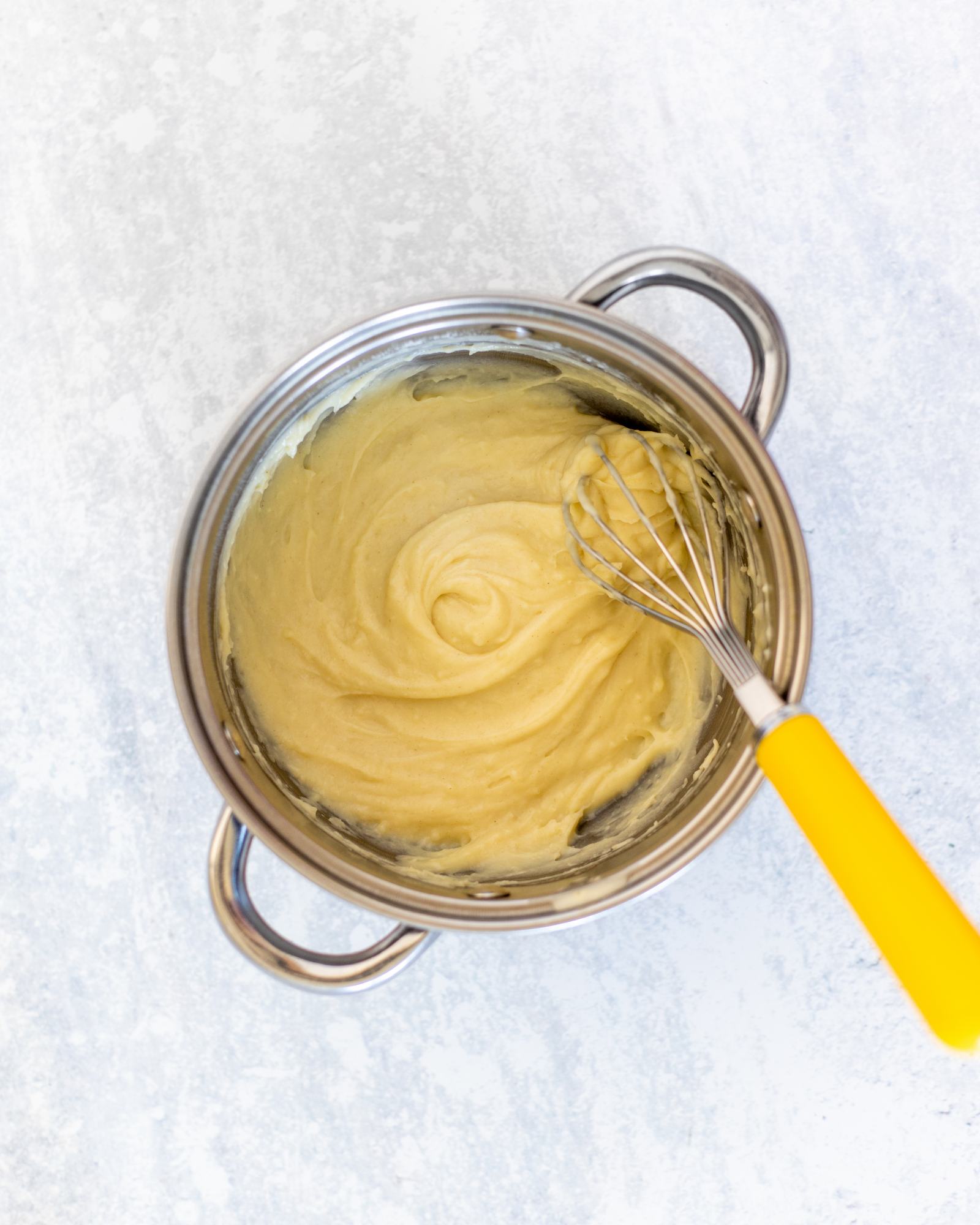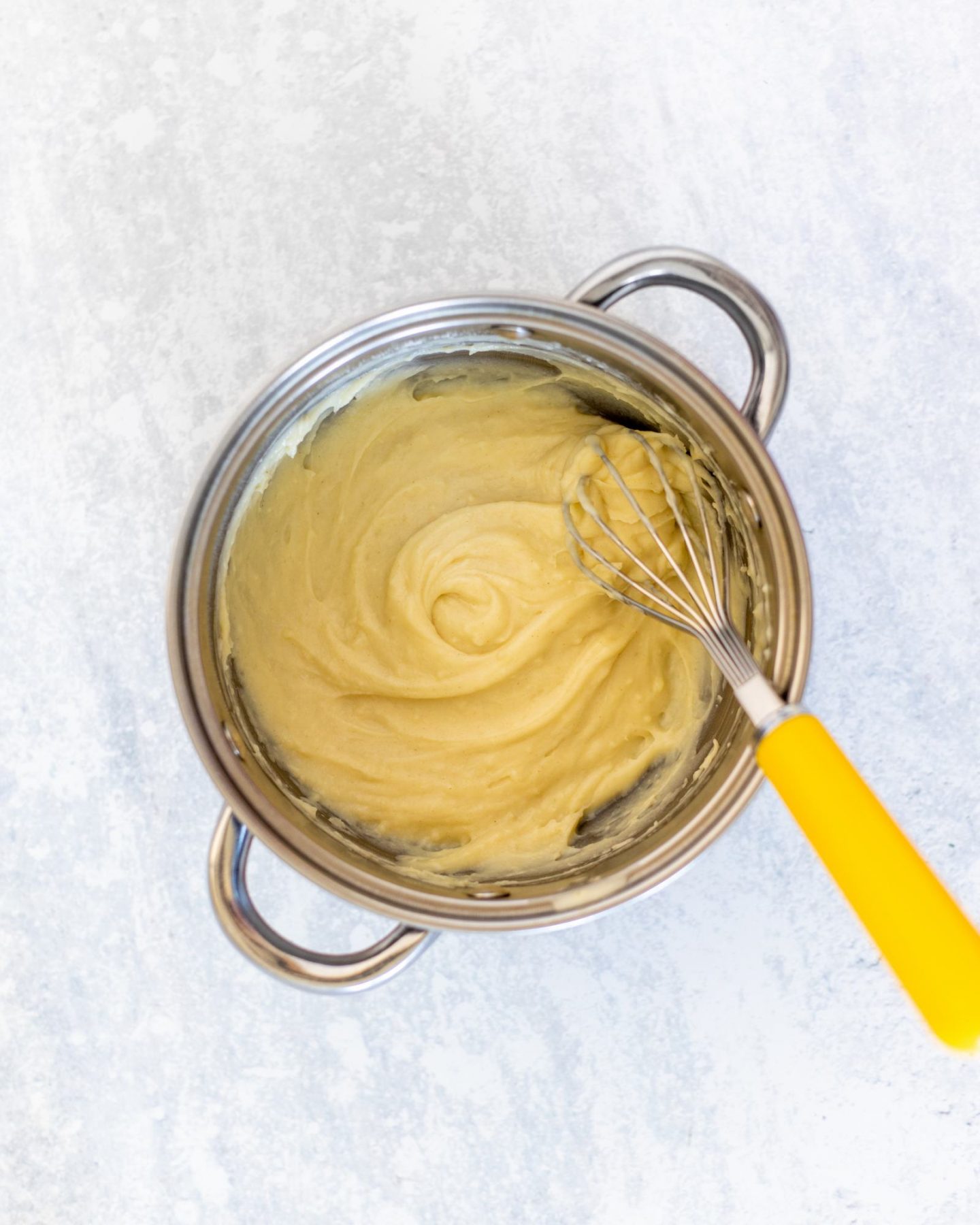 How to make vegan burger buns
Step 1: Combine the wet and dry ingredients separately
Apart from preparing the Tangzhong, combine your dry ingredients in a large mixing bowl and measure your wet ingredients (plant milk & oil) in a jug. First roughly combine the wet and dry ingredients, then stir the Tangzhong mixture into the rest of the ingredients. Begin stirring with a wooden spoon and switch to using your hands once the mix becomes too sticky.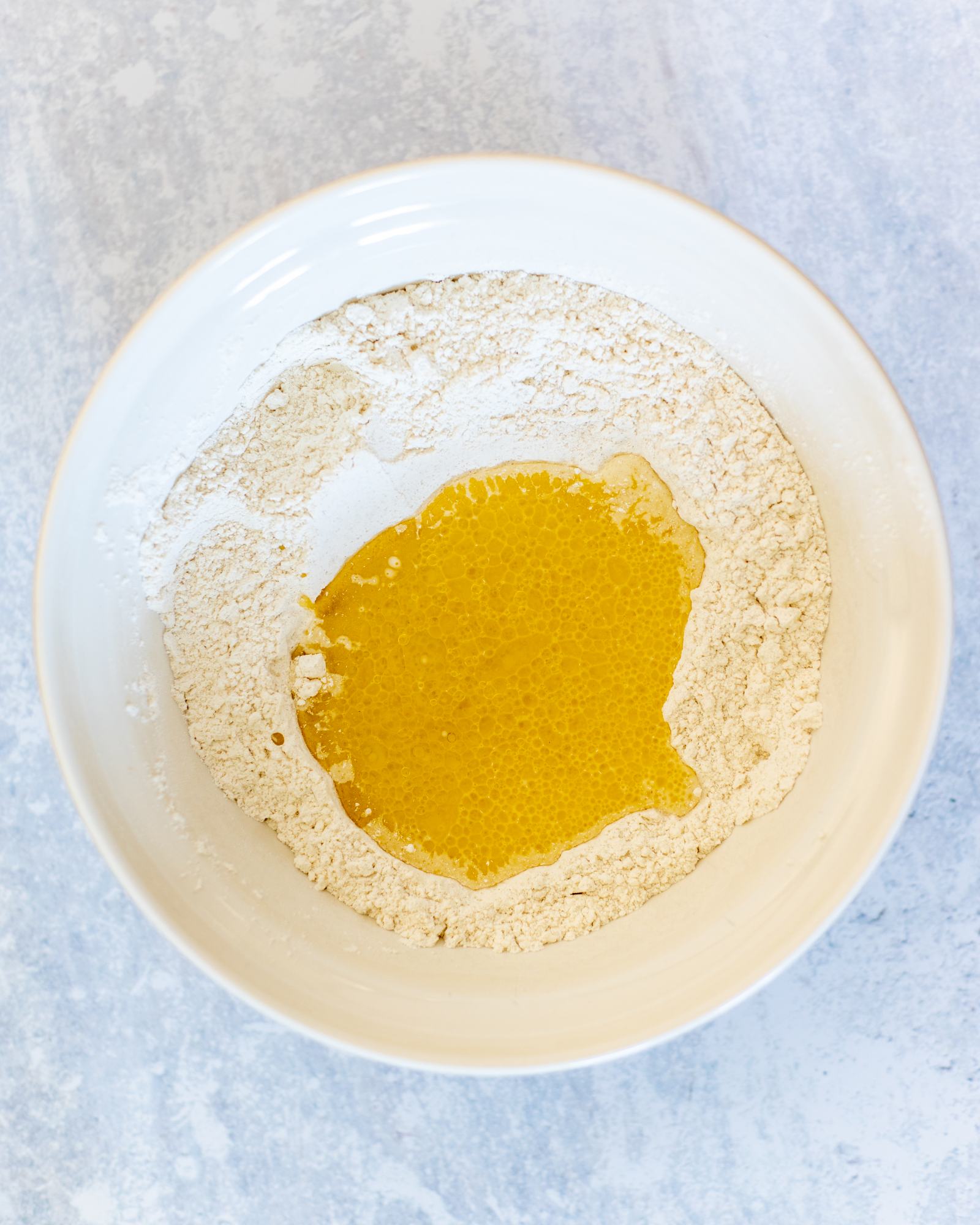 Step 2: Knead the dough
Transfer the dough onto a floured surface and knead for 10-15 minutes until you can form a smooth and shiny dough ball.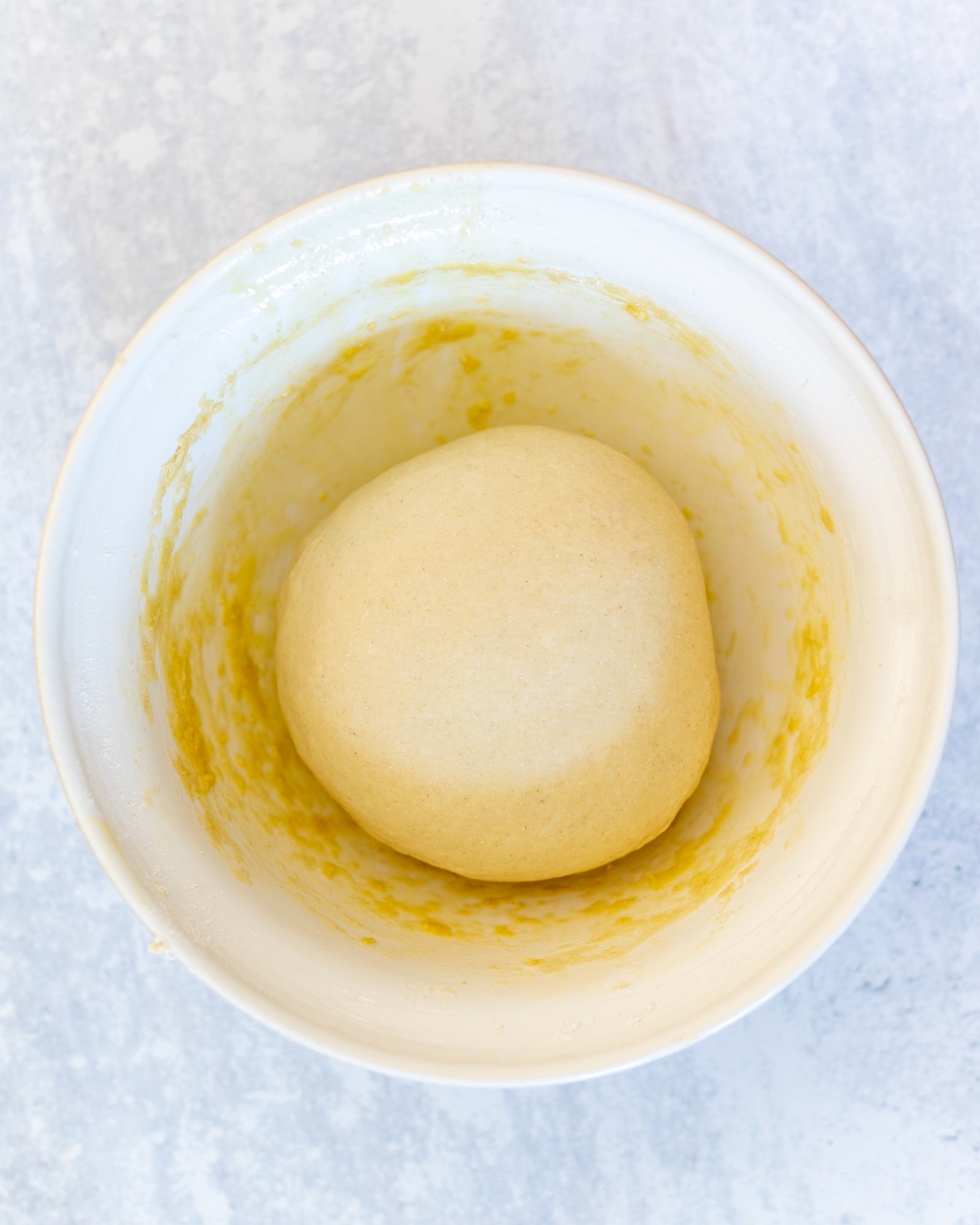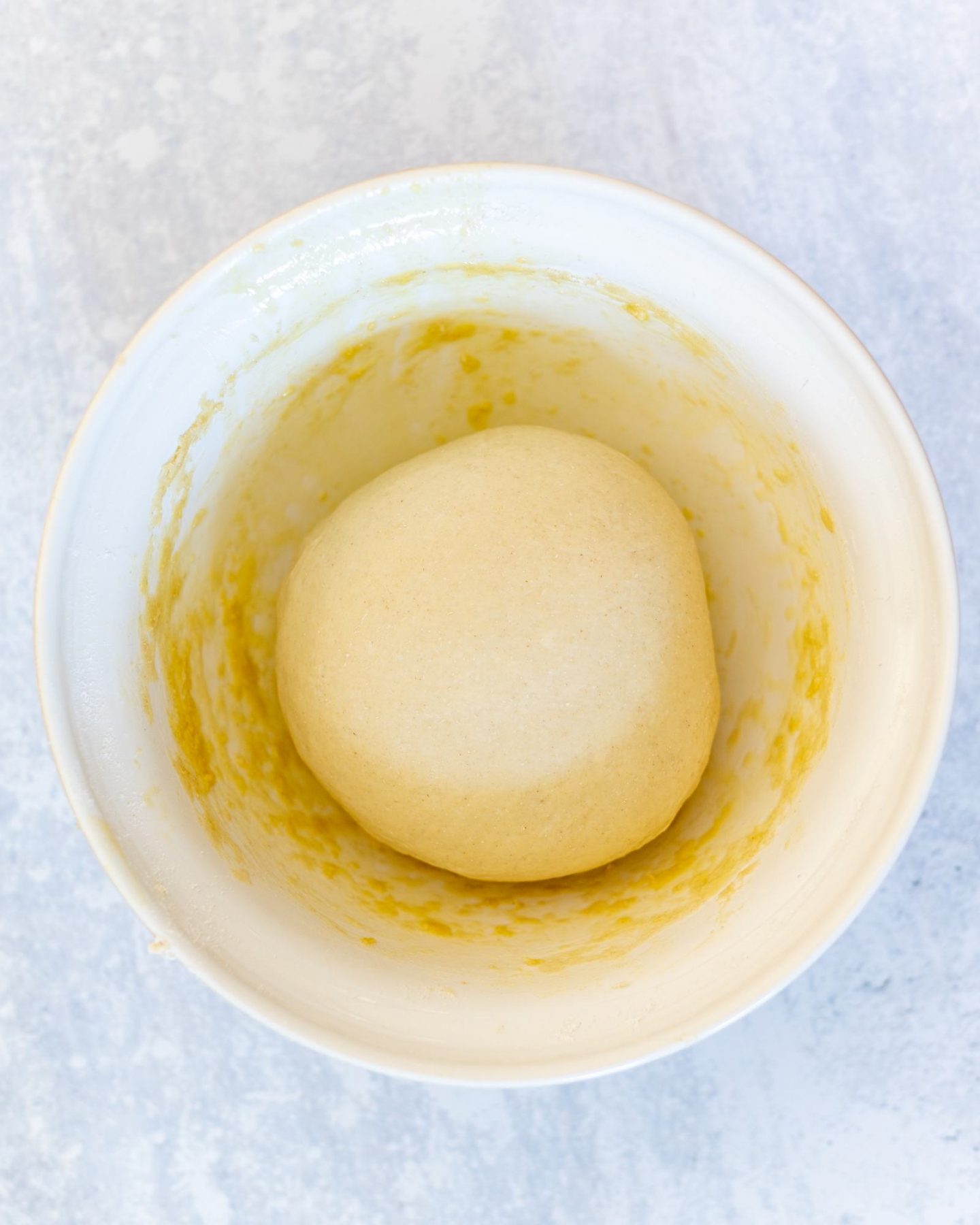 Step 3: Rest the dough
Set the dough ball into a greased bowl and cover with a wet towel or cling film. Place the bowl into a warm place and allow the dough to rise for one hour.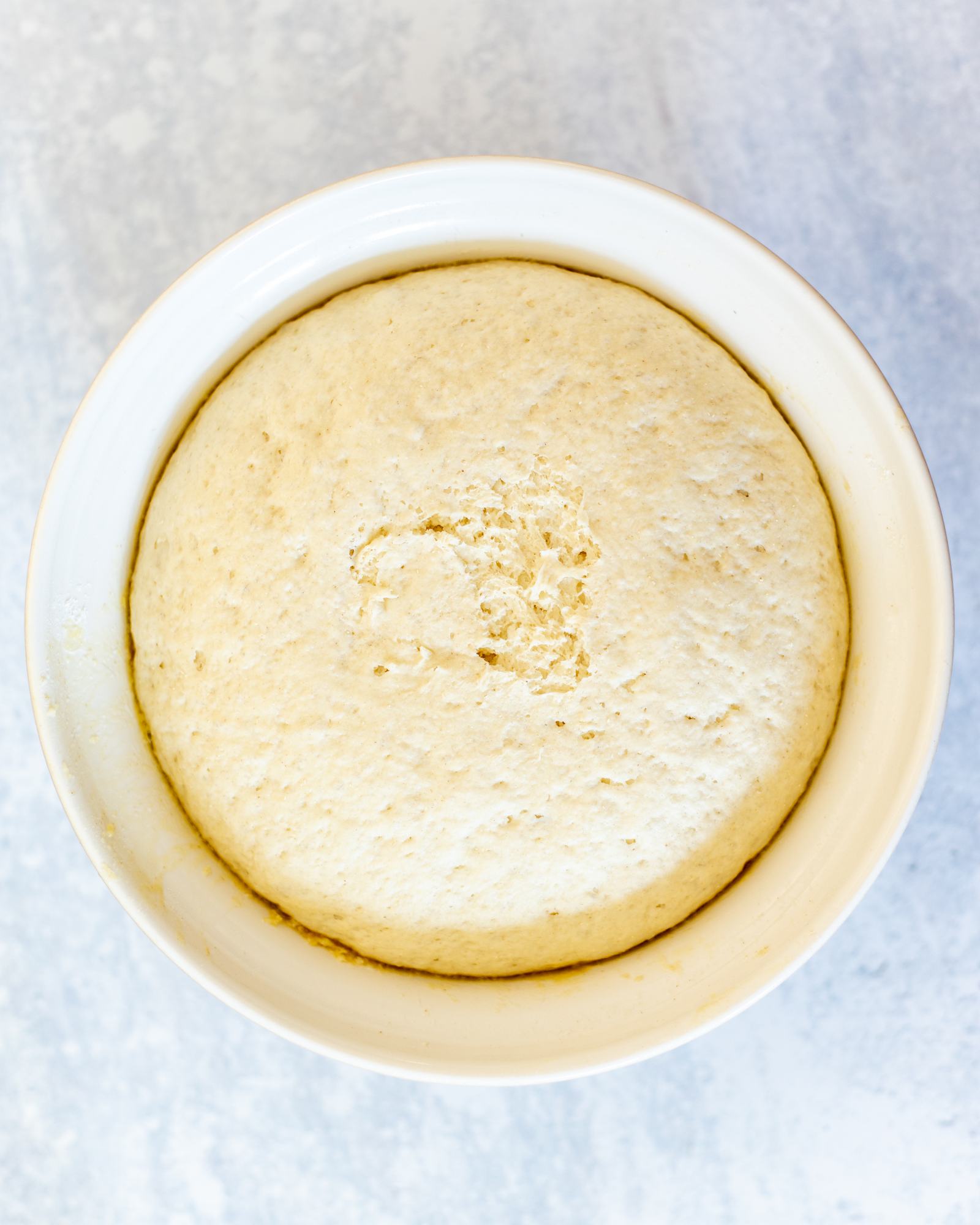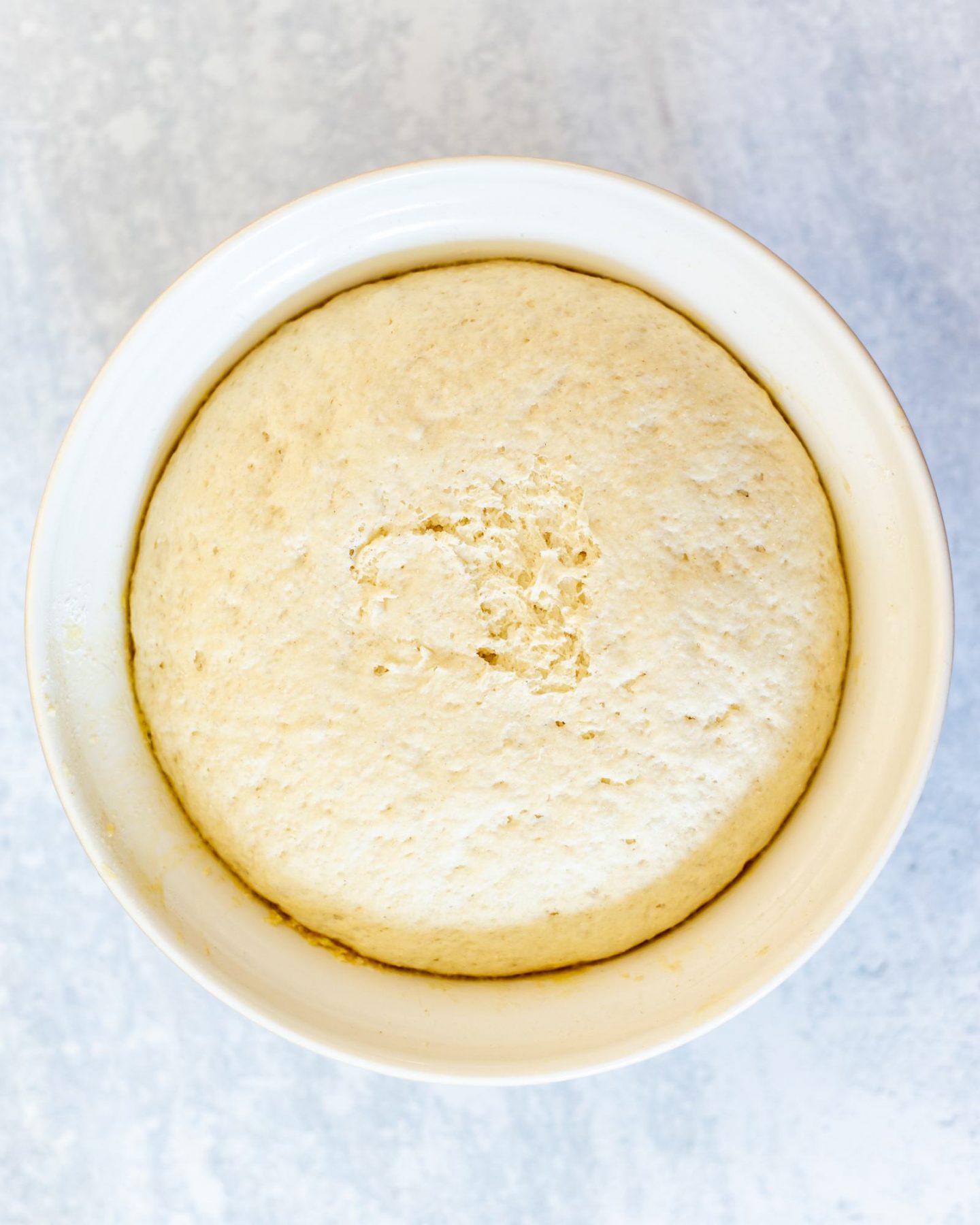 Step 4: Shape your vegan buns
Once the hour elapses, knock out the air and divide your dough into 8 dough balls of equal size. Gently knead each dough ball for 10-15 seconds and form round, smooth buns. Place them onto a greased baking tray, roughly 2 inches apart. Cover them again and give them another hour to rise.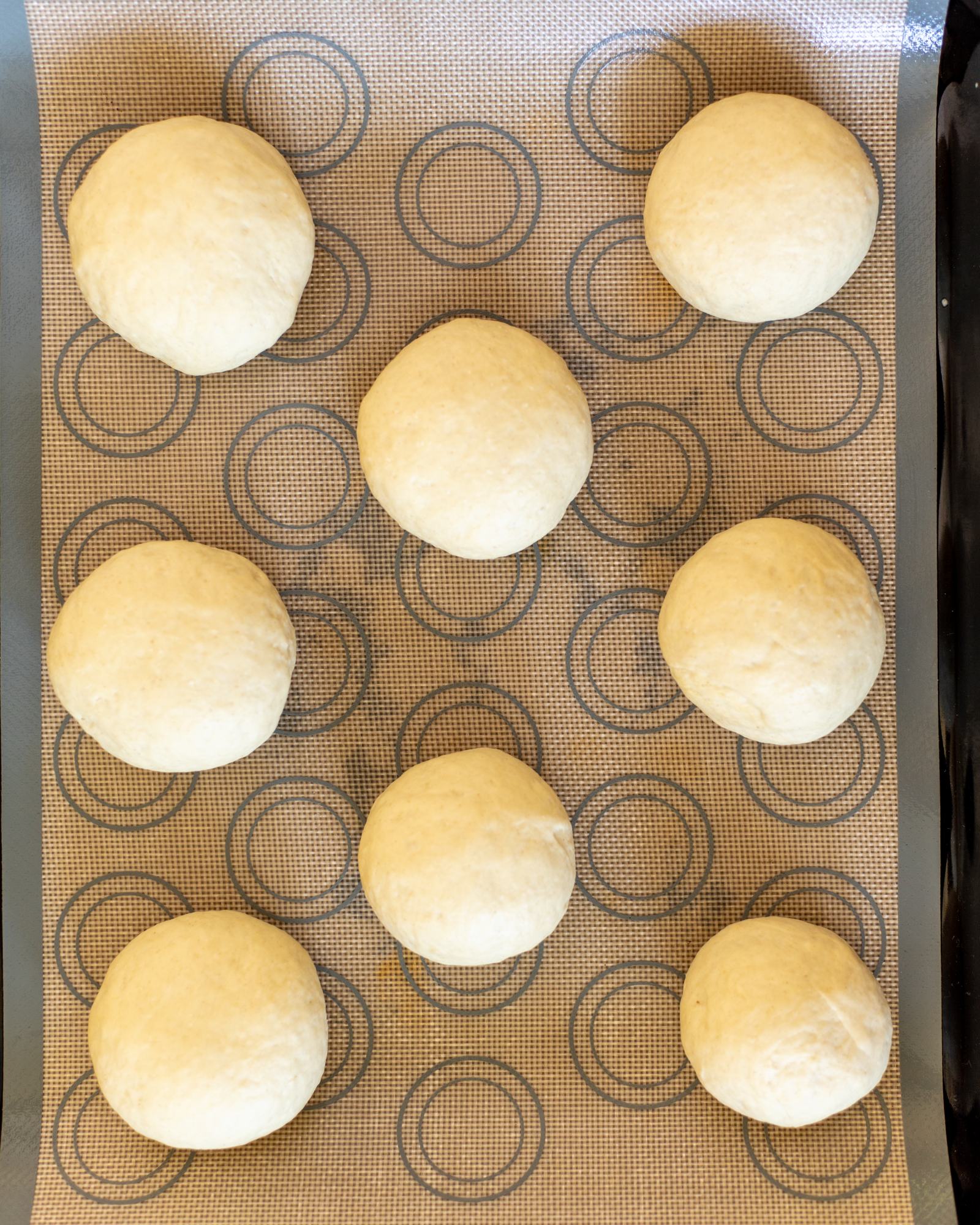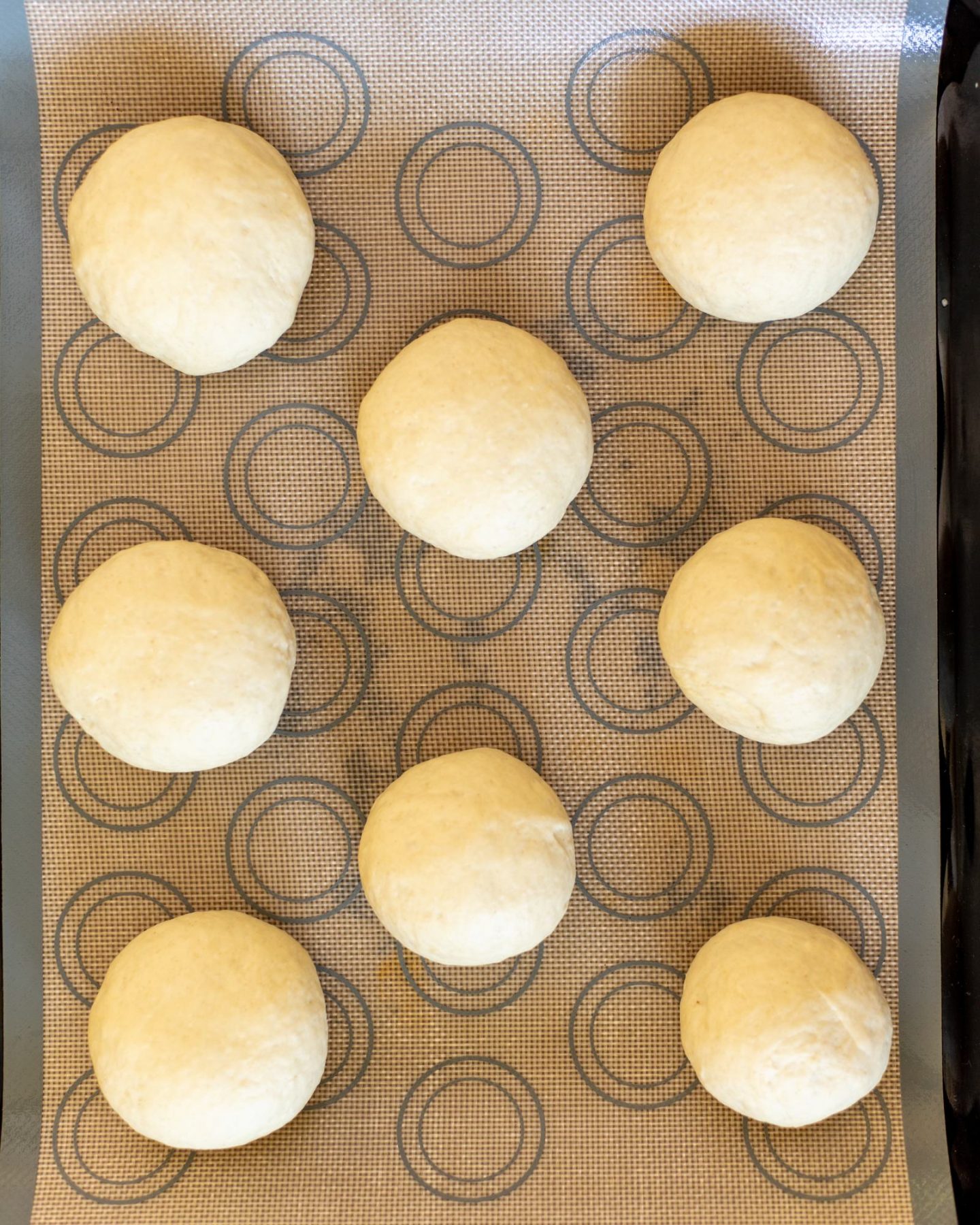 Step 5: Bake the burger buns
Preheat your oven to 180°C (356°F), then bake the burger buns for 10 minutes. Carefully remove them from the hot oven and brush with your vegan 'egg wash' made from mixed maple syrup and plant milk. Sprinkle sesame seeds on top, if you're choosing to make seeded buns and place them back in the hot oven to bake for a further 6-8 minutes.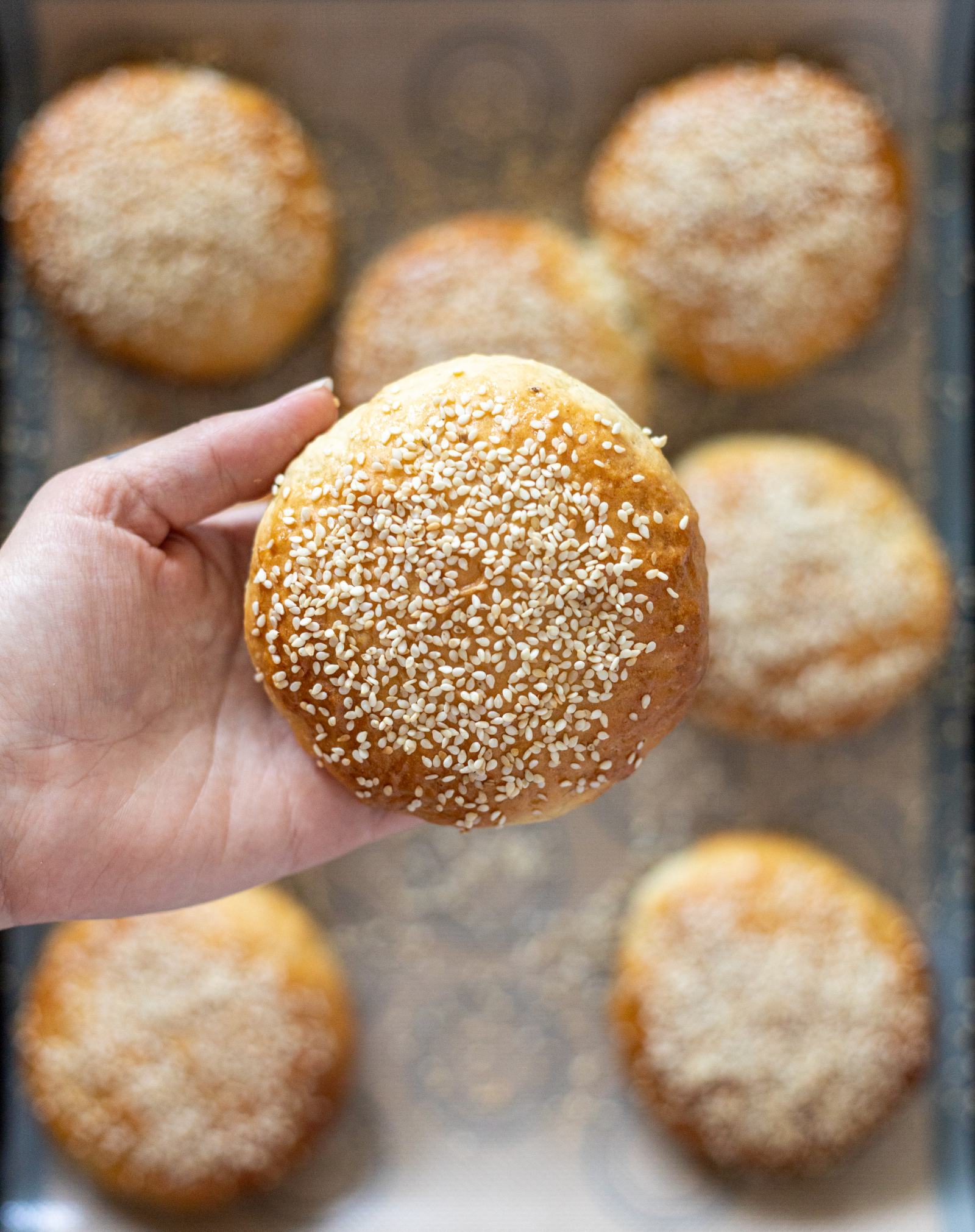 Step 6: Slicing and assembling your vegan burgers
Remove the golden buns and let them cool down for at least 15 minutes before slicing your buns.
When assembling your burgers, I recommend toasting them in a non-stick frying pan before topping them with your burger toppings.
Frequently Asked Questions
How to freeze the burger bun dough?
If you're making these buns ahead of time, you can definitely freeze them. It's absolutely possible to freeze the ready-made & sliced burger buns, however, they turn out best when frozen in the dough stage.
The best timing for the buns to be frozen is right after the first rising time: allow the dough to rise for 1 hour, then push out the air and divide the dough into 8 equal burger buns. Knead each for 10-15 seconds, then wrap them into cling film individually and instantly transfer them to the freezer.
Upon defrosting, place the frozen dough balls at room temperature 3-4 hrs before use. Once mostly defrosted, give each ball a firm knead for 2 minutes, then place them on a greased baking tray and allow to rise for an hour before baking.
How to assemble the best vegan burger?
These vegan buns are absolutely perfect to create an epic vegan burger! One of my all-time favorites is a Vegan Big Mac, including a veganised re-make of the iconic Big Mac Sauce. I've for a recipe for vegan Big Mac Sauce on the blog also - which also includes the order of burger toppings to make an amazing vegan Big Mac.
📌 If you love Pinterest you can pin any of the images to your boards!
You might also enjoy these recipes: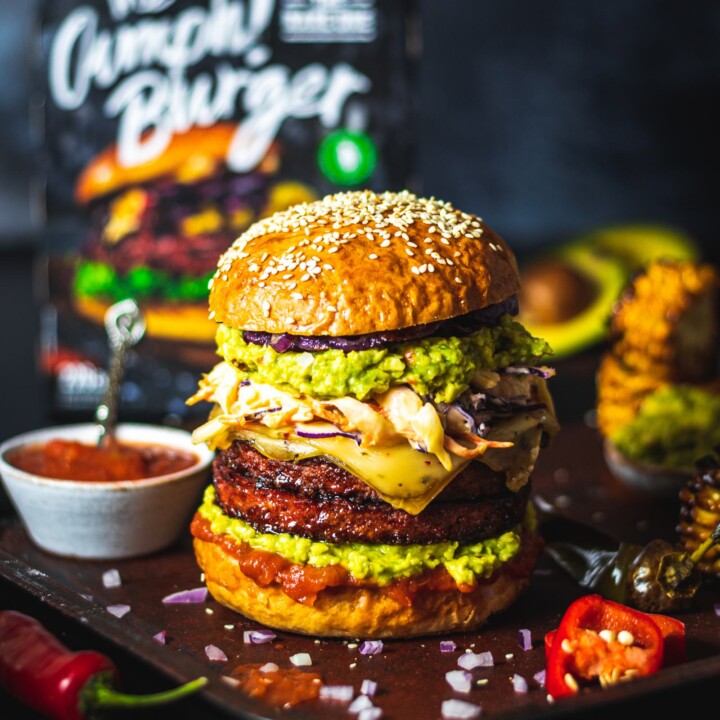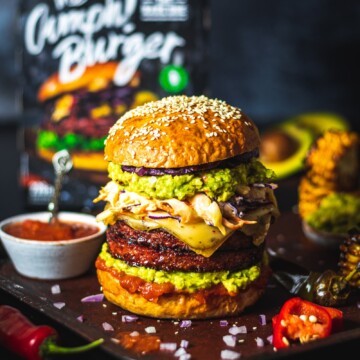 Homemade Vegan Burger Buns (Super Fluffy!)
Deliciously fluffy homemade vegan burger buns - created using the Japanese 'Tangzhong' technique. Simple and easy step-by-step recipe.
Equipment
1 saucepan

1 large mixing bowl

2 lined oven trays
Ingredients
For the Tangzhong:
40

g

all purpose flour

plain flour

180

ml

unsweetened plant milk
For the burger buns:
420

g

all purpose flour

2

sachets

dry active yeast (2 x 7g)

25

g

raw sugar

5

g

sea salt

160

ml

unsweetened plant milk

at room temperature

40

ml

olive oil

2-3

tbsp

sesame seeds
For the vegan "egg" wash:
1

tbsp

maple syrup

3

tbsp

plant milk
Instructions
Whisk together the ingredients for the Tangzhong in a saucepan with the stovetop turned off.

In a large bowl combine your dry ingredients in a large mixing bowl: flour, yeast, sugar, and salt. In a measuring jug measure out the wet ingredients at room temperature: plant milk & olive oil. If the mix is too cold, place it into the microwave for 30 seconds and stir afterward.

Gently heat the saucepan on the stovetop over low heat, continuously stirring with a whisk until the mixture thickens and becomes sticky,  but smooth. This should take roughly 2-3 minutes. Remove from the heat.

Pour your wet ingredients into the large bowl and roughly combine, then add in the Tangzhong. Stir until the mix becomes too sticky, then transfer the dough to a floured surface and knead for about 10-15 minutes or until the surface becomes smooth & shiny.

Form a ball and place the dough into a greased bowl. Cover with a clean wet kitchen towel or cling film and place in a warm safe to rise for 1 hour.

Once the hour elapses push out the air. Divide the dough into 8 equally-sized dough balls, gently kneading each for 10-15 seconds. Place the buns onto a lightly greased baking tray about 2 inches apart, cover again and allow for them to rise for another hour.

After 50 minutes pre-heat your oven to 180°C.

Place the uncovered buns into the oven and bake for 10 minutes. Carefully remove them from the oven and brush them with the vegan 'egg wash'. Sprinkle with sesame seeds and return to the oven for a further 6-8 minutes.

Allow for the buns to cool for a minimum of 15 minutes before slicing. Toast them in a non-stick frying pan before assembling your burger.
Notes
Instead of maple syrup, you can also use agave syrup for the egg wash
Looking for more burger recipes? Try these ones: