With this Vegan Banana Pancakes Recipe, you'll get perfectly sweet and fluffy pancakes every single time! So easy to make and using only vegan ingredients, this naturally sweet pancake recipe is simply perfect for breakfast or brunch and delicious topped with fresh fruit.
Vegan Banana Pancakes Recipe
This recipe is:
100% vegan
naturally sweet
super easy to make
perfect for breakfast
freezer-friendly
simply delicious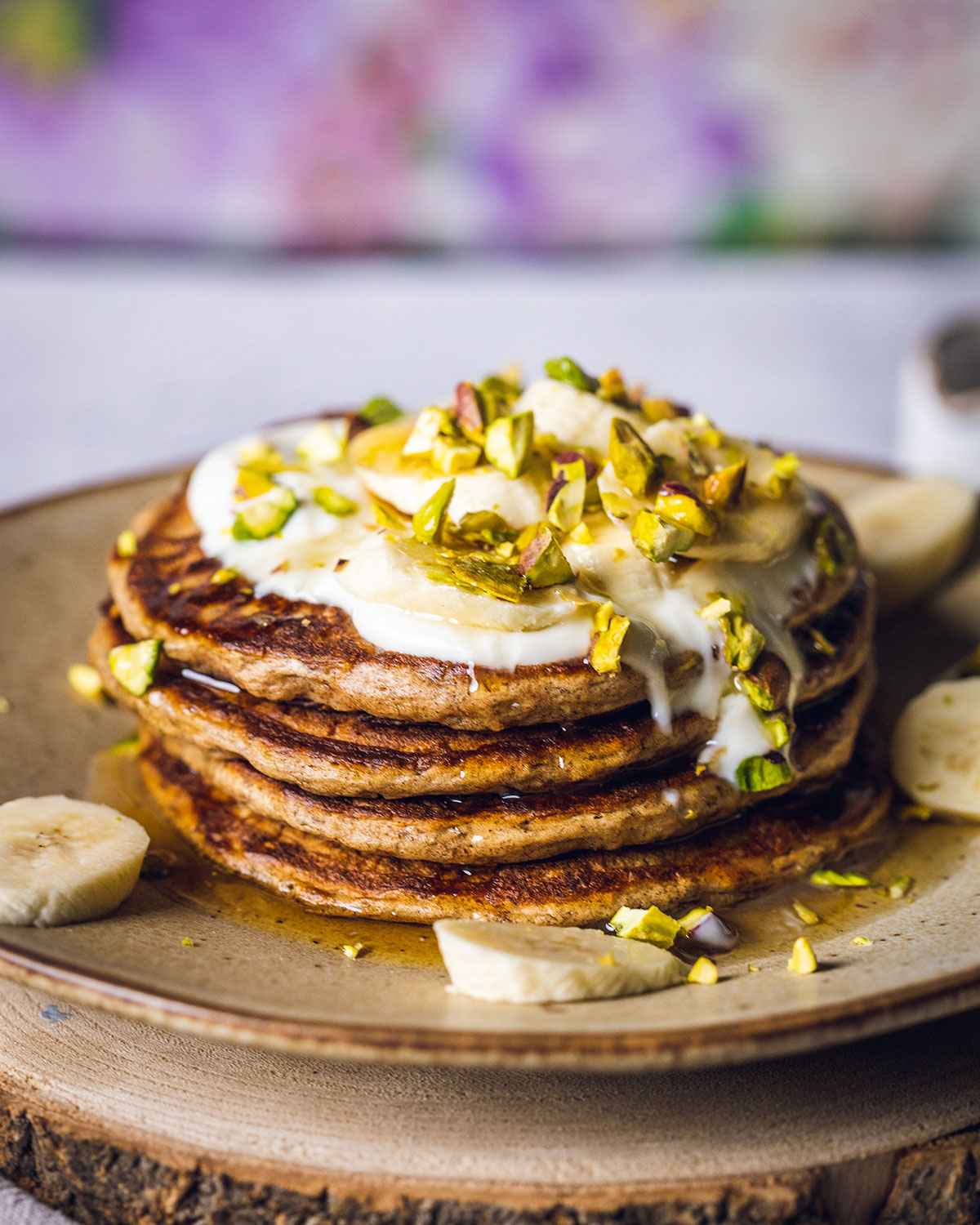 With this recipe for banana pancakes, you'll truly never need another pancake recipe again!
Why this recipe works
Here's what I love about this recipe:
it's simply delicious! The natural sweetness of the banana in the pancake simply works a treat and it pairs up so nicely with my favorite pancake toppings, such as maple syrup or berries.
these banana pancakes turn out perfect each and every time!
the banana pancake batter is so quick to whip up, no big fuss is needed!
the pancakes can be stored in the fridge or freezer, making for a convenient make-ahead breakfast
Ingredients for this recipe
This vegan pancake recipe is super simple, and you only need a few ingredients: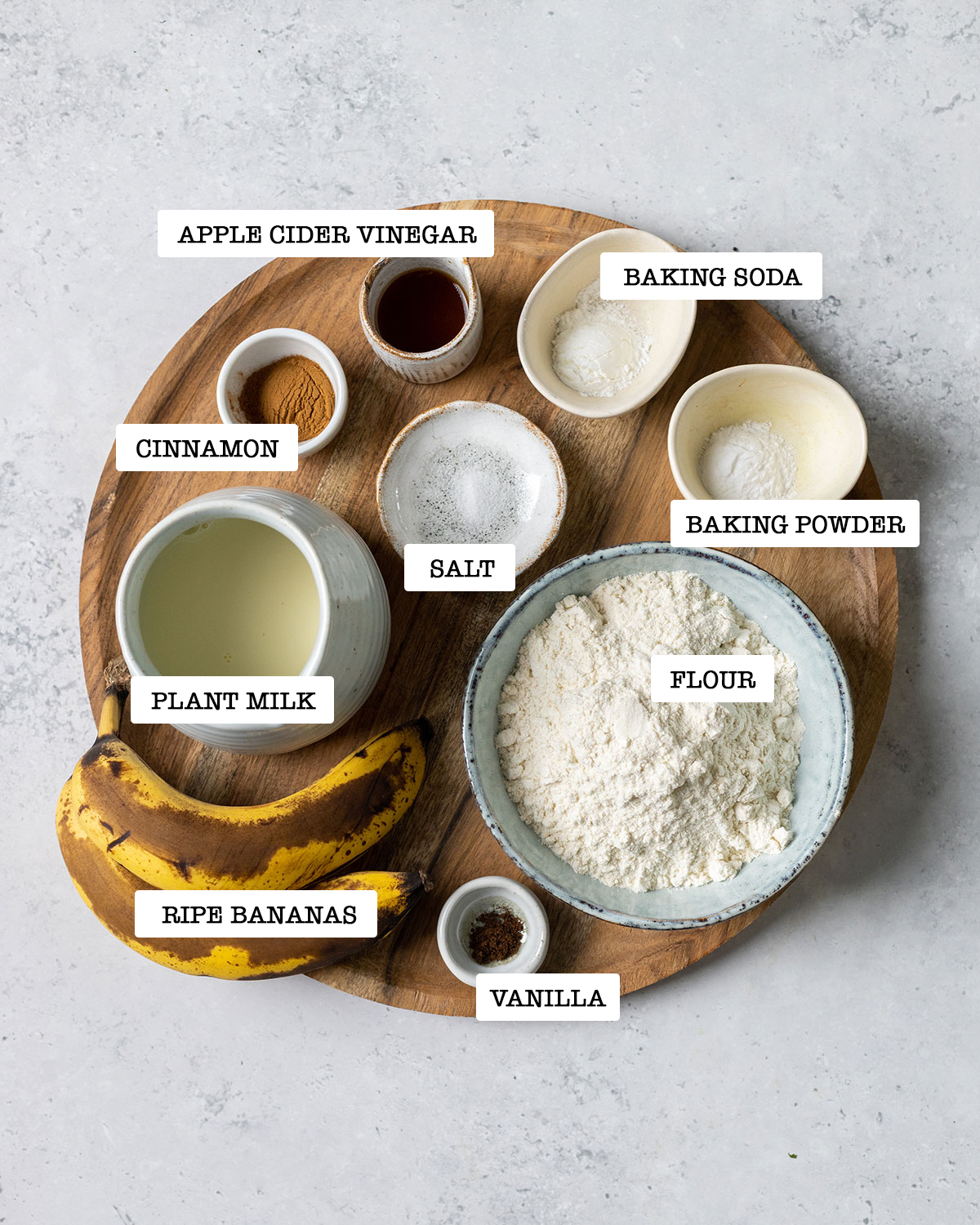 Ingredients:
Bananas: ripe bananas work best for this recipe, as they are naturally sweet. For this recipe, we're using mashed banana
Flour: I use all-purpose flour for these vegan pancakes
Baking powder and baking soda: this combination will make your vegan banana pancakes super fluffy!
Vegan Buttermilk: to make vegan buttermilk I use unsweetened soya milk and a dash of apple cider vinegar
Salt: by adding a small pinch of salt into the pancake batter, the flavor will be more rounded and I definitely recommend not skipping it!
Cinnamon: a dash of cinnamon can work wonders!
Vanilla powder (optional): this is optional, but I love the flavor it adds!
Coconut oil: I like to lightly grease the pan with coconut oil for that perfectly golden pancake finish - and also as coconut really works with this banana pancake recipe.
Equipment:
Non-stick pan: I used the high-quality copper core pan from Olav
Mixing bowl & whisk
Fork
Get 10% off Olav products with code 'Romy10'
Olav is a German startup from Cologne and they create sustainable, high-quality pots and pans. Their pots are created with copper core technology, which helps them heat up quickly and have a good heat distribution throughout. In the long run, this helps reduce energy costs as the saucepans don't require a long time to heat up.
For their non-stick pans, they also offer a recoating service as non-stick coating generally wears off after years of usage. This way they help their users save money and also avoid the pans going to landfill.
In addition to pots and pans, they also offer Olav Chef knives. Check out the full range on their website.
Simple Ingredient Swaps
Plant Milk: Replace the soya milk with your favorite plant milk.
Flour: if you're gluten-free, you can swap out the all-purpose flour with a gluten-free flour mix intended for baking. Do not use nut or single ingredient gluten-free flour alternatives, as this would not work in the same way.
Apple Cider Vinegar: Instead of vinegar, you can add 1 tablespoon of lemon juice to the plant milk in order to create vegan buttermilk.
Coconut oil: you can swap for a flavor-neutral oil or vegan butter to lightly grease the pan. You can also ommit it completely, as with the right pan, greasing won't be needed. I personally like the light crust it creates on the pancakes, hence why I add a little.
Vanilla: instead of vanilla powder, you can add vanilla extract. Vanilla powder is usually more potent in flavor, so I'd recommend replacing 1/8 tsp of powder with 1 tsp of extract.
Salt: I recommend not to skip it, but you can leave it out entirely if you prefer.
Expert Tips for this recipe
Ripen your bananas in the oven: if you don't have ripe bananas to hand to make deliciously sweet banana pancakes, don't you worry! Simply place your bananas in the oven at 300F (150C) for a couple of minutes, or until their skins turn black. They will be soft and sweet and perfect for banana pancakes.
Use a non-stick skillet: much recommended! Perfect pancakes are 50% down to using the right skillet, and it should be a non-stick one. I've used the quality non-stick skillet from Olav.
Rest the pancake batter: for fluffier pancakes, set the batter aside for 10 minutes before shaping your pancakes.
Preheat your skillet: For great pancake shapes, I recommend lightly greasing your skillet and preheating it on medium heat before adding the pancake batter
Leave the pancake alone: once added to the skillet, give the pancake a little time to firm up before you flip it. Don't move, touch or press it, just leave it be until the edges begin to firm up. Wait a little bit longer, then flip. Of course, make sure your skillet is not too hot, so it doesn't burn the banana pancakes in the process.
How to make Vegan Banana Pancakes (Step-by-Step)
To make these easy vegan banana pancakes, simply follow the below steps. Please read through them in full before starting the recipe.
Step 1: Preparation
Start by mashing the banana in a bowl or on a plate. You can use the back of a fork or a potato masher.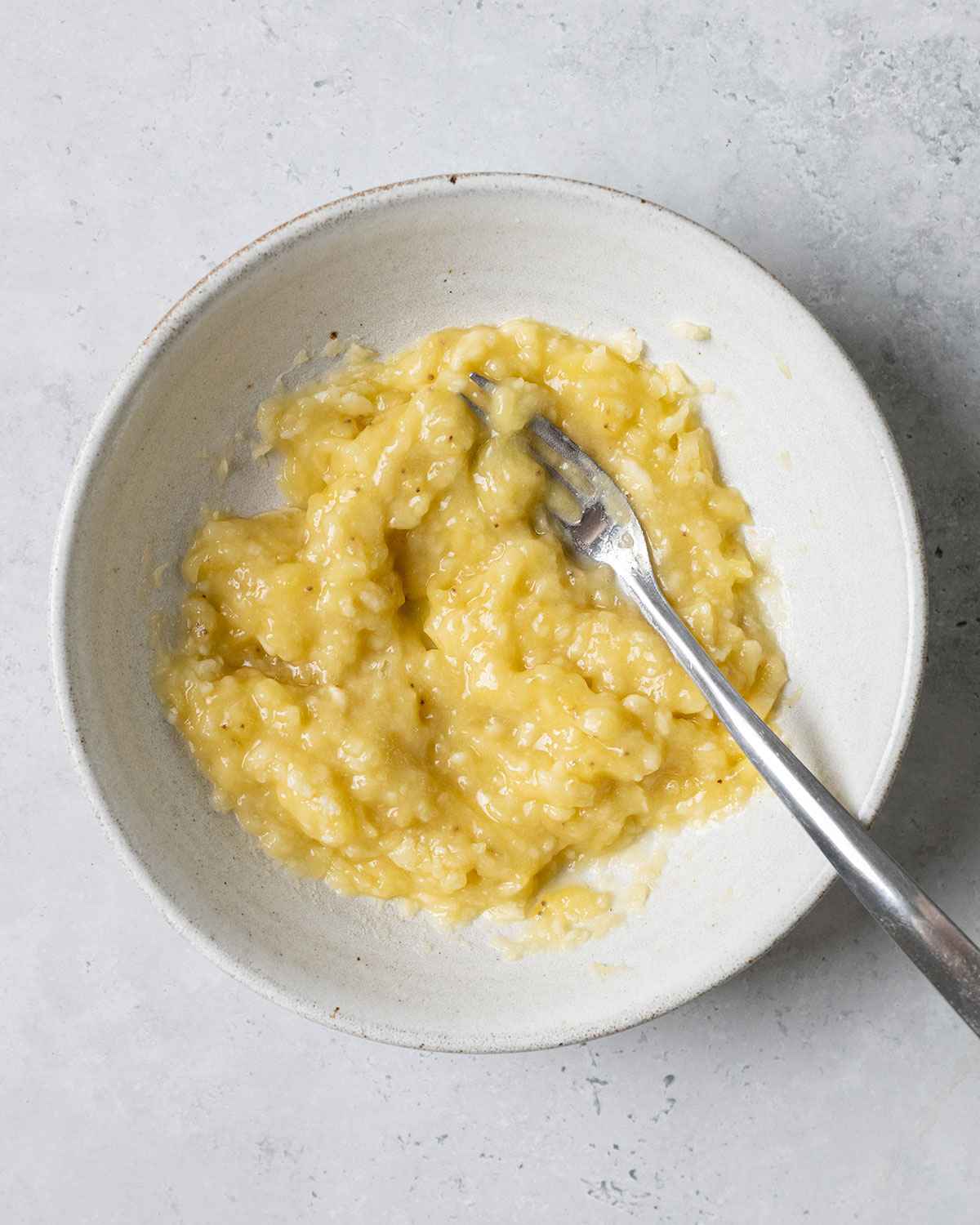 In the meantime, mix the plant milk and apple cider vinegar in a jug and set it aside to curdle for 10 minutes. This will create vegan buttermilk.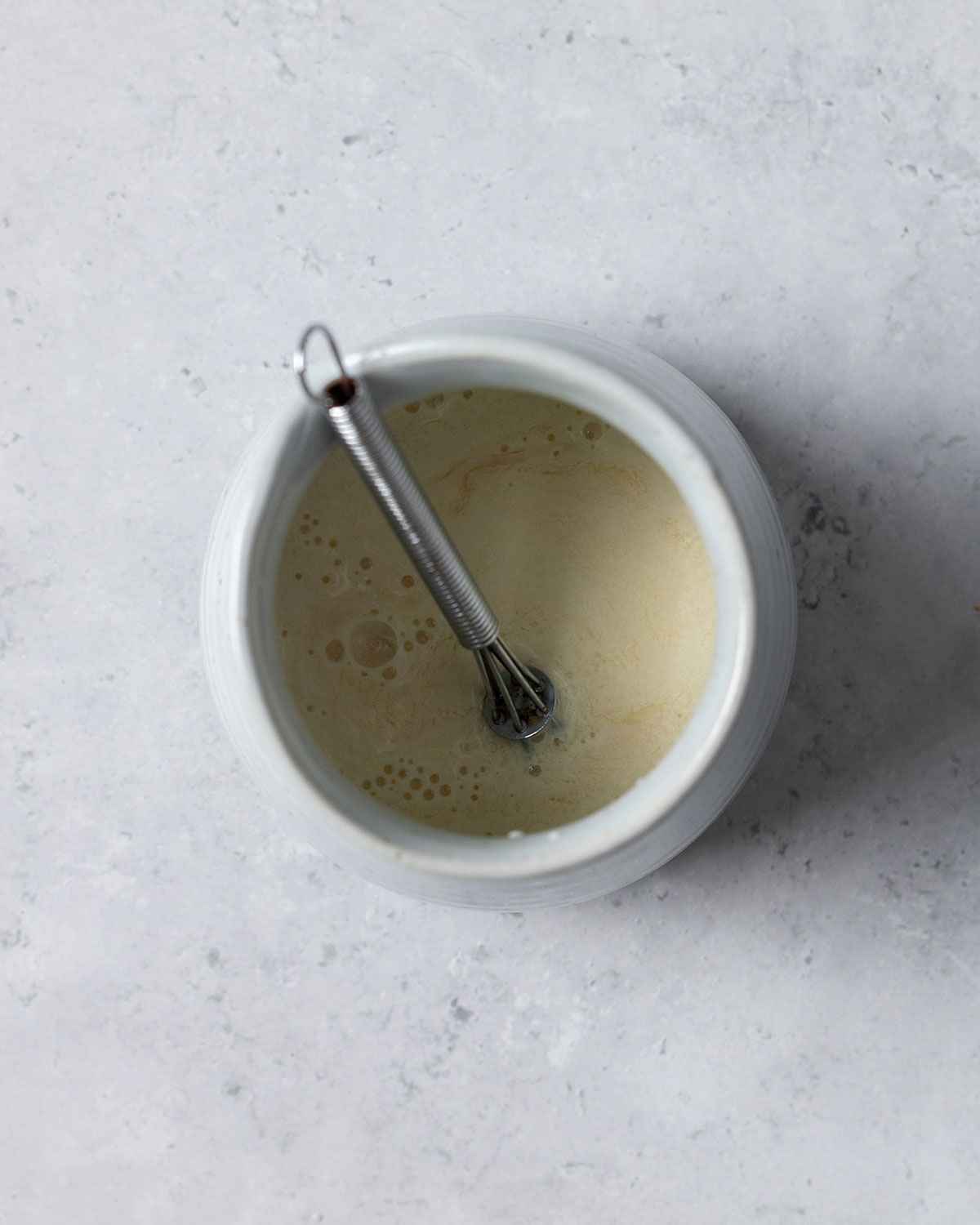 Step 2: Whisk the batter
Sift the flour into a mixing bowl and add the baking powder, baking powder, cinnamon, salt and vanilla powder. If using vanilla extract, add it to the vegan buttermilk instead.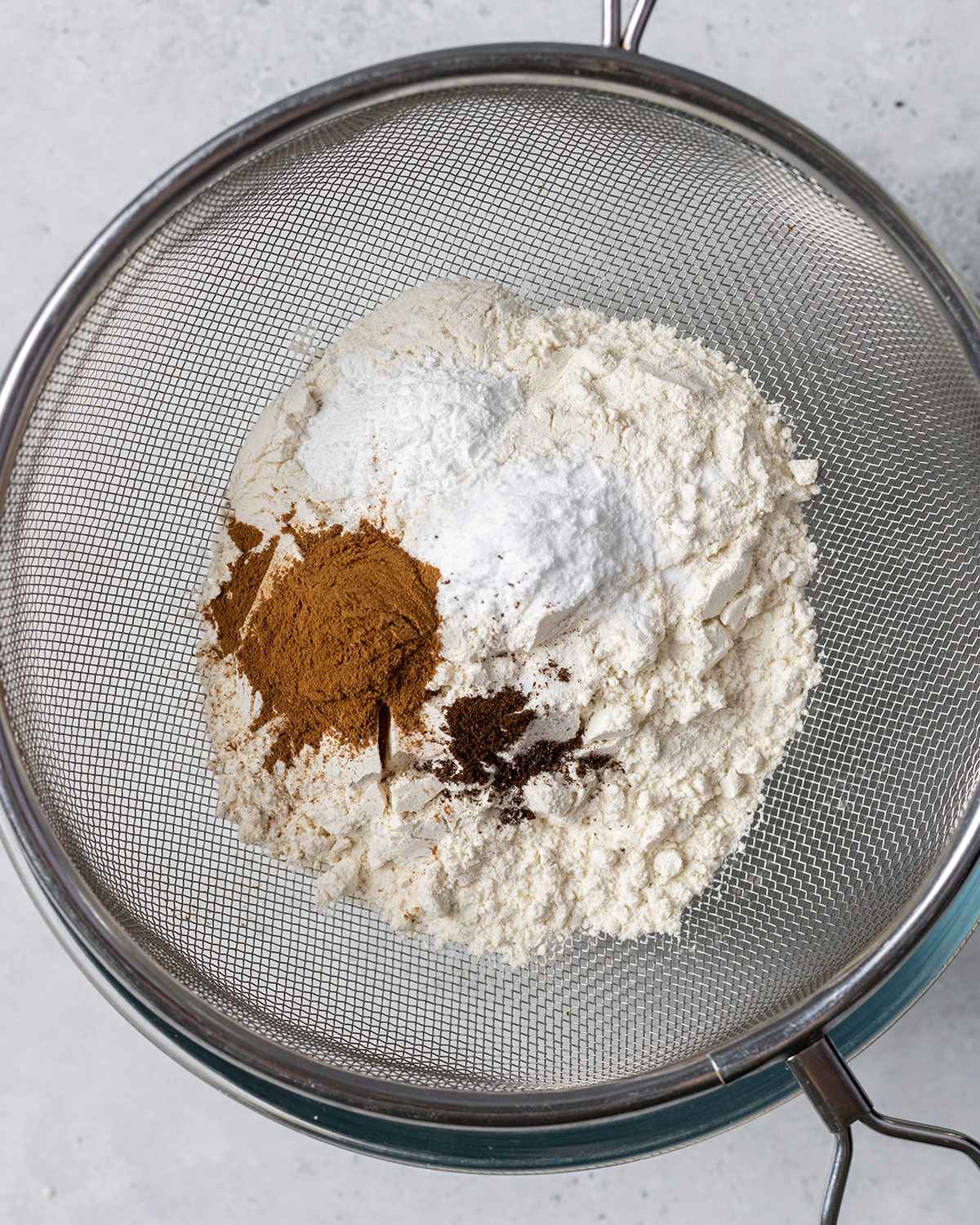 Stir the mashed banana into the vegan buttermilk once curdled and then whisk the wet ingredients into the dry until well combined.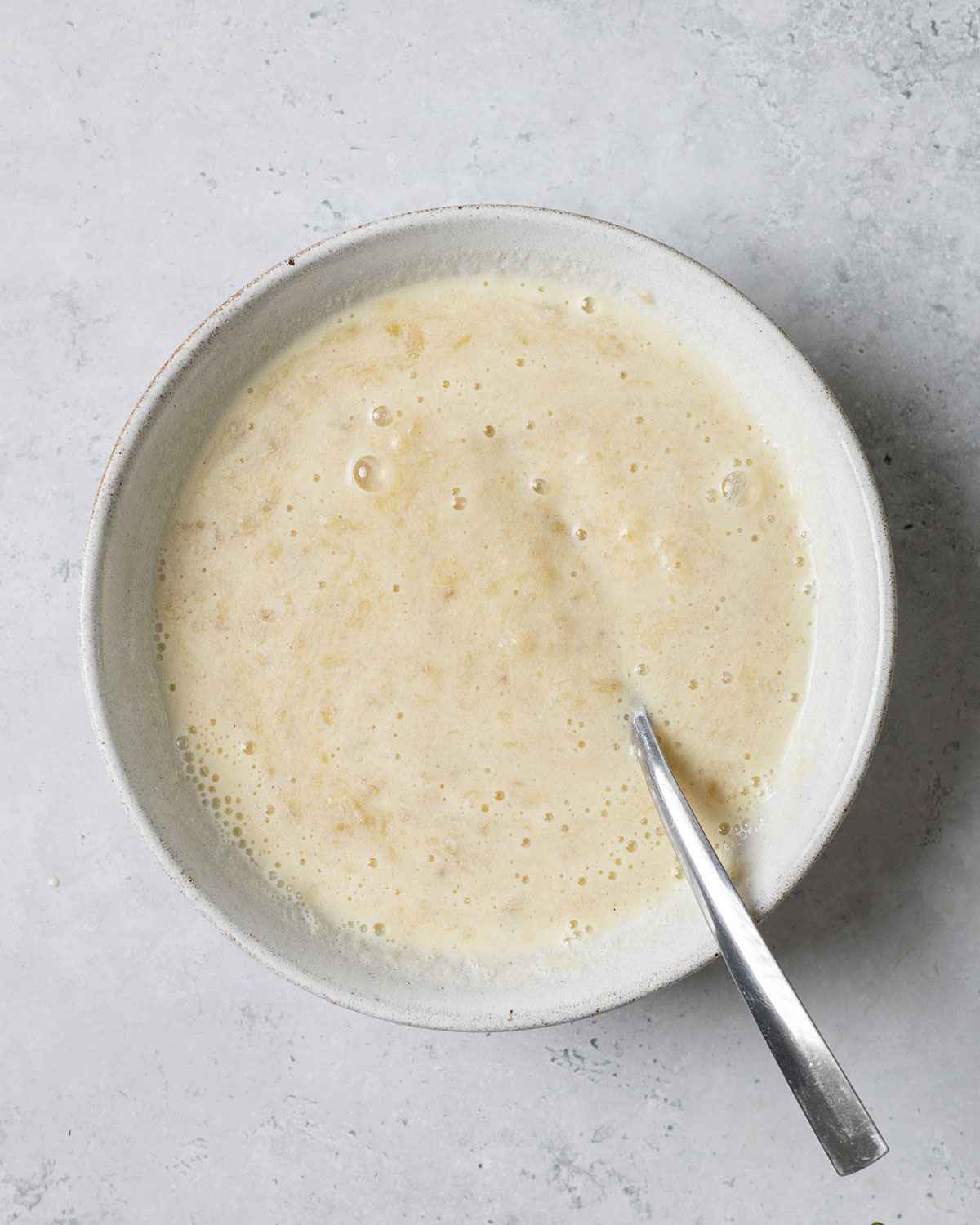 Step 3: Frying the pancakes
Lightly grease a non-stick skillet with coconut oil and preheat it over medium heat. Add the pancake batter to the hot skillet in batches to create your desired pancake shapes.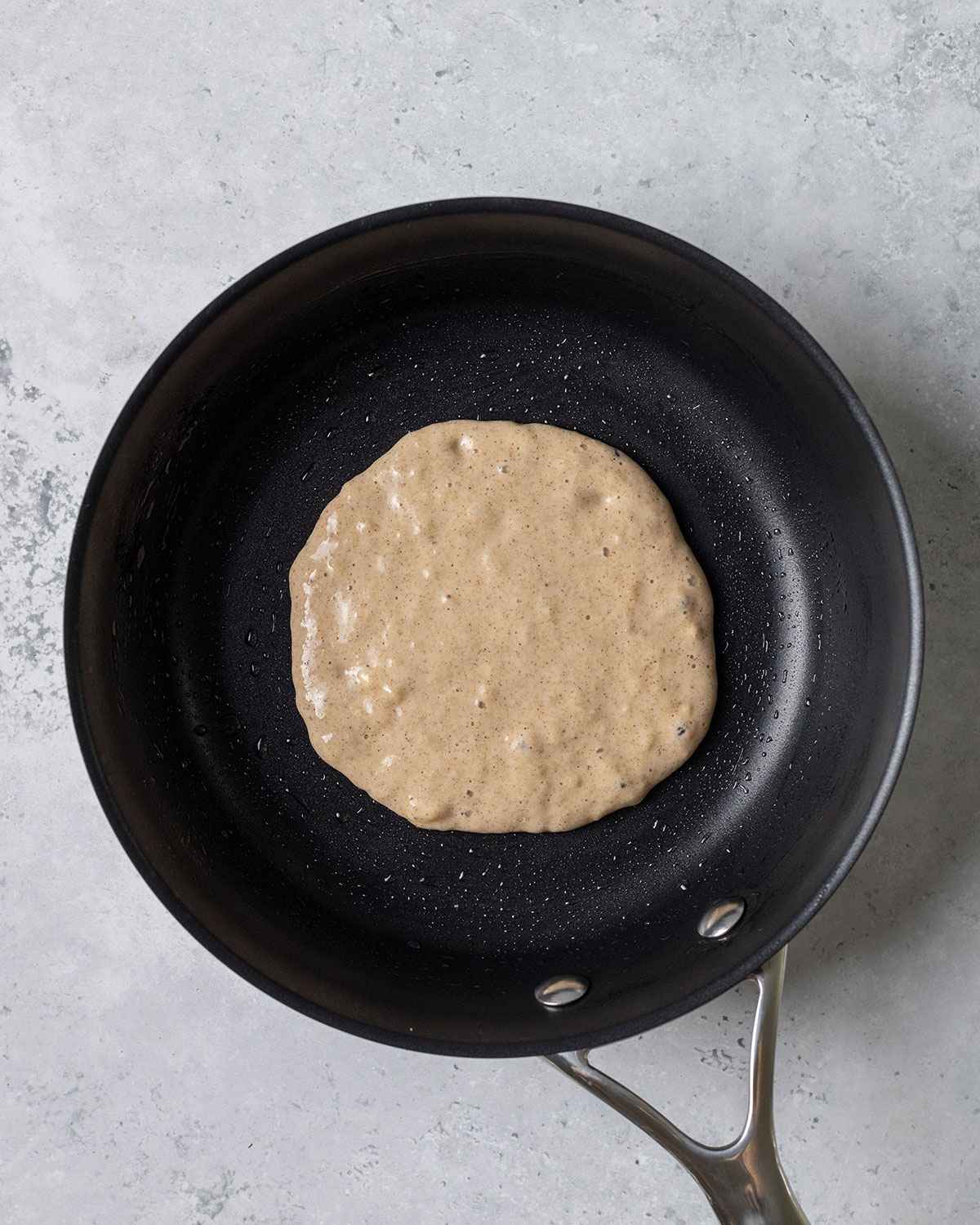 Once the edges firm up, carefully flip each pancake and cook for a couple of minutes on the second side until fluffy and firm.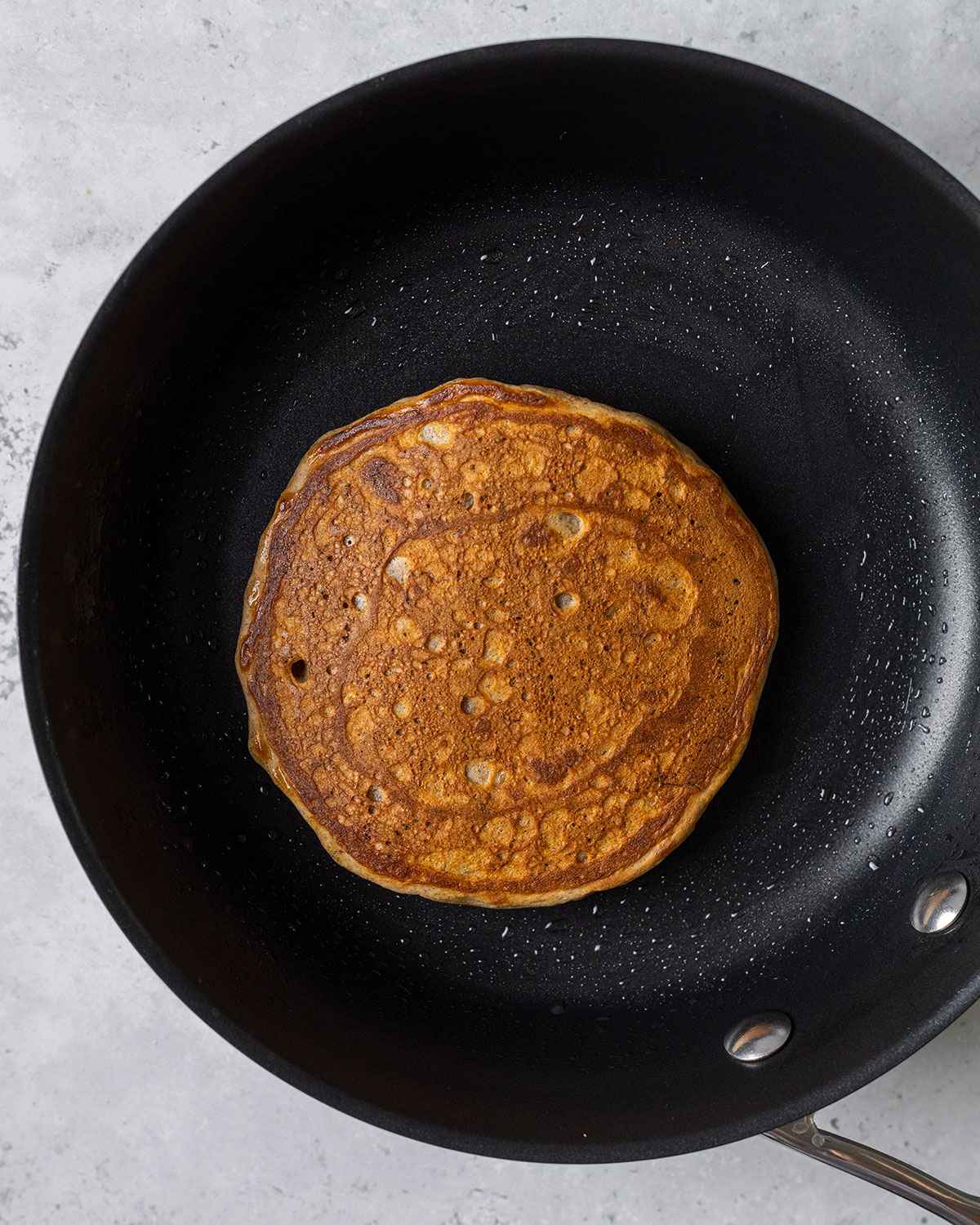 Optional Pancake Additions
These vegan banana pancakes are simply delicious on their own, but if you like to change things up, here are a few delicious ingredients that you can add to the pancake batter:
vegan chocolate chips
fruits, such as blueberries
poppy seeds
coconut flour: if you love it nutty, add 1-2 tablespoons of coconut flour to the batter!
cocoa powder: if you love chocolate pancakes, why not add a spoonful of cocoa powder to the mix?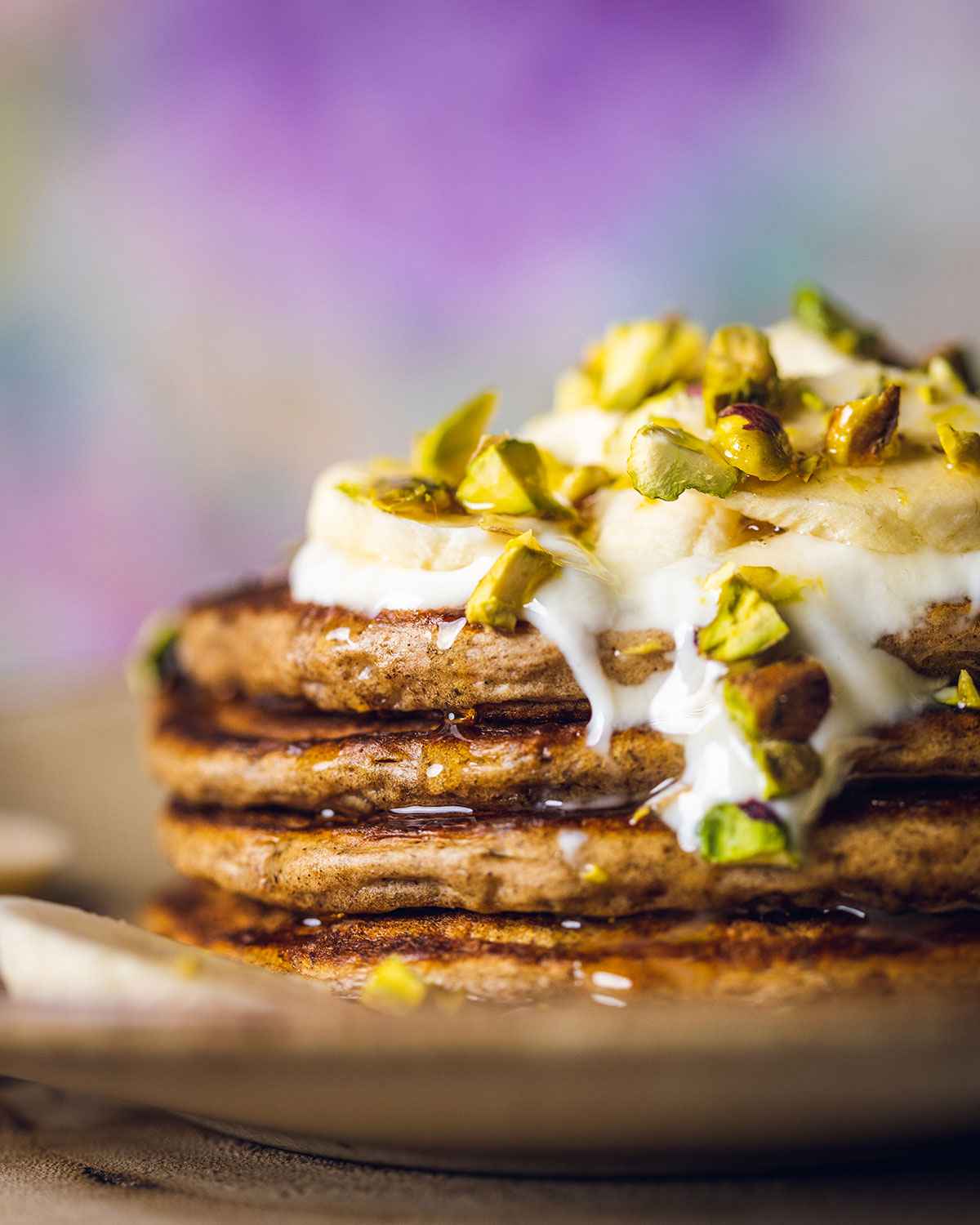 How to make vegan banana pancakes batter in a blender
Yes, you can prepare your pancake batter in a blender! It's super convenient if you don't want to use multiple items to get your pancake batter mixed. Here's how to do it:
Add the banana to the blender first with half of the milk and blend until smooth.
Pour in the rest of the milk and vinegar and pulse 1-2 times to mix, then let it sit for 10 minutes.
Add in the cinnamon, vanilla, salt, baking powder, baking soda and flour and pulse until fully combined.
Heat your pan and pour individual pancakes from the blender.
There you have it! It's so easy and convenient - definitely give it a go!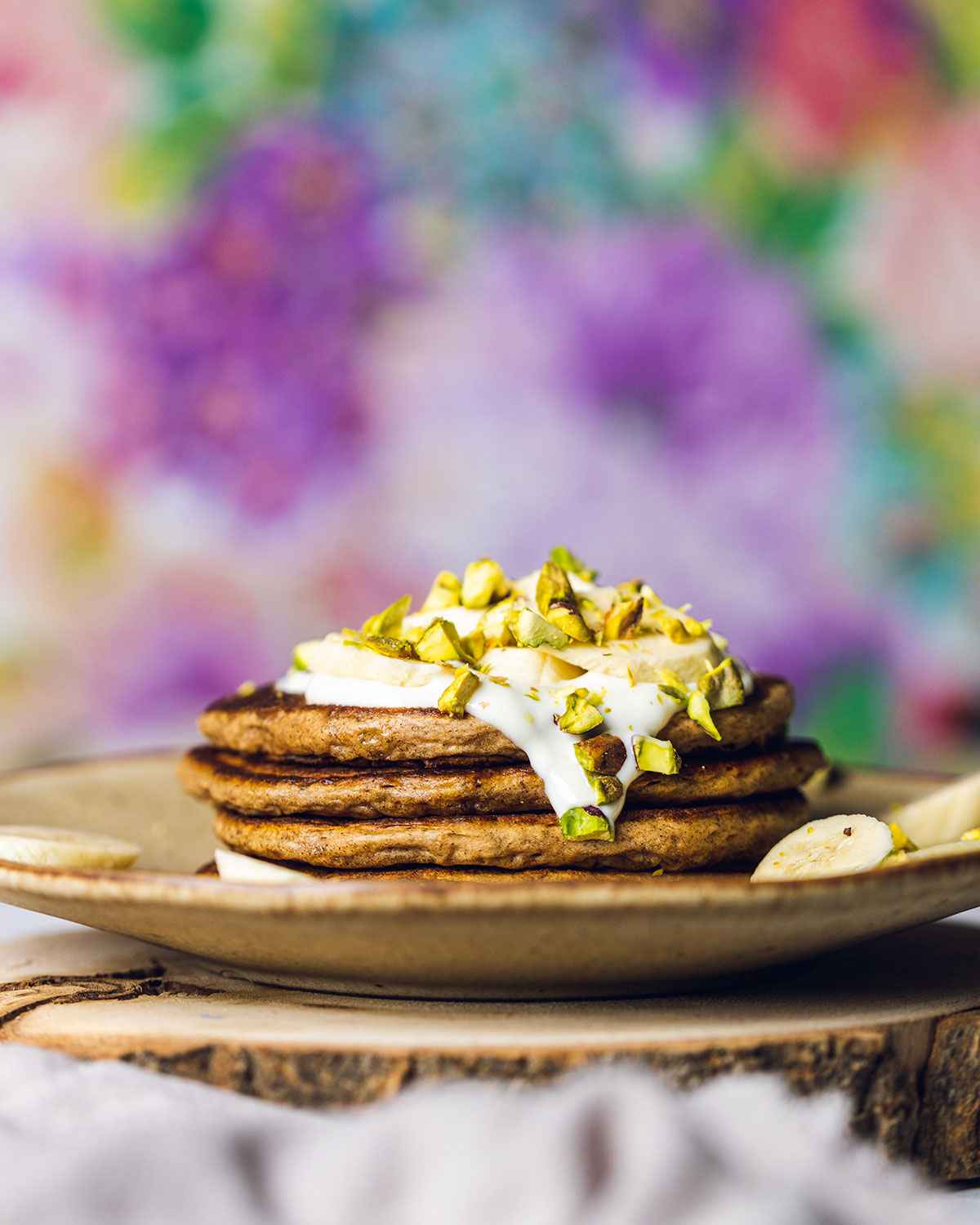 Storing and re-heating the pancakes
These banana pancakes are great to prepare ahead of time! You can store them in the fridge covered or in an air-tight container for up to 3 days.
Alternatively, store the pancakes in the freezer for up to 3 months. For ease, I recommend placing a sheet of parchment in between the pancakes, so you can easily remove individual pancakes from the freezer.
To reheat, simply pop them in your toaster for a minute or two, or place them in a non-stick skillet over low heat.
You can also reheat the pancakes in the oven at a low temperature for a couple of minutes.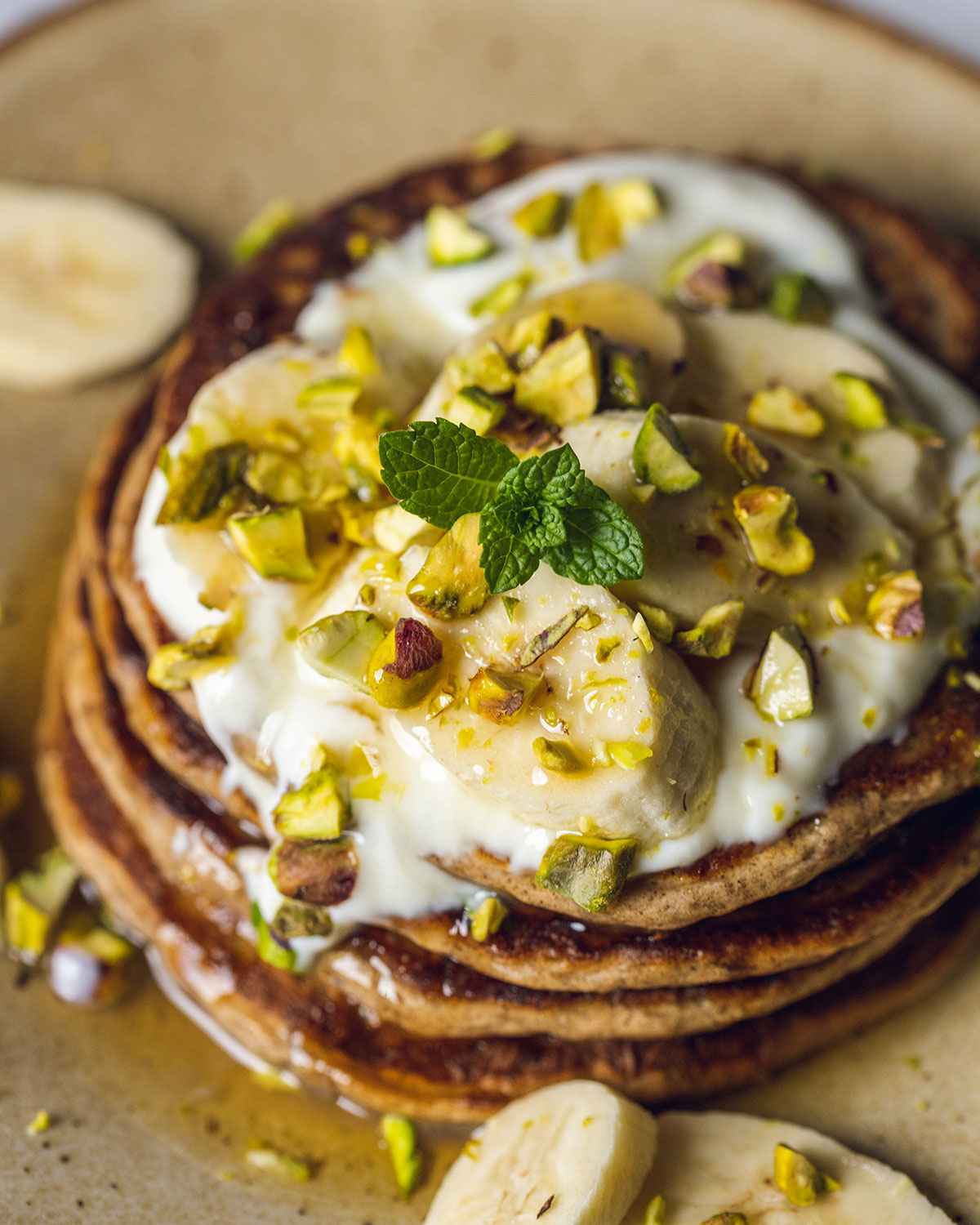 Frequently Asked Questions - Vegan Banana Pancakes
Can I make these pancakes gluten-free?
You can swap out the all-purpose flour with a gluten-free flour mix intended for baking. Do not use nut or single ingredient gluten-free flour alternatives, as the recipe would not work out with those.
What can I add to these pancakes?
There are a number of delicious additions you can make to the banana pancake batter, such as chocolate chips, fresh fruits, e.g. blueberries, poppy seeds, coconut flour, or cocoa powder. They're all delicious, but please feel free to experiment!
📌 If you love Pinterest you can pin any of the images to your boards!
You might also enjoy these recipes: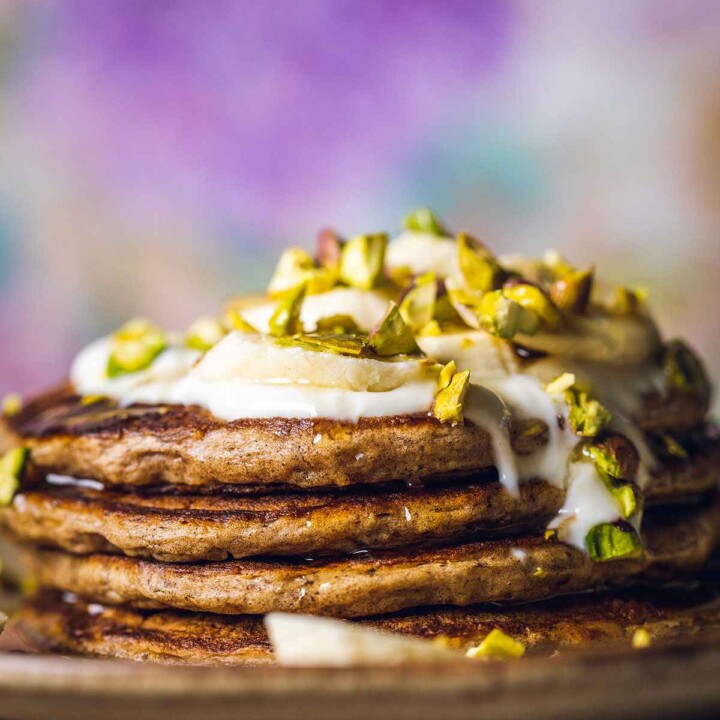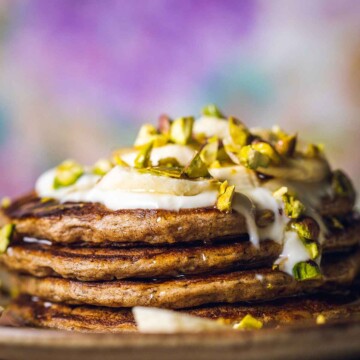 Vegan Banana Pancakes
This easy vegan banana pancakes recipe using ripe bananas turns out perfect and fluffy every single time! Perfect for breakfast and brunch.
Equipment
1 Non-stick skillet

1 mixing bowl

1 whisk

1 fork

1 jug
Ingredients
2

ripe mashed bananas

1

cup

all-purpose flour (120 g)

1

tsp

baking powder

1

tsp

baking soda

3/4

cup

plant milk (175 ml)

1

tbsp

apple cider vinegar

1

pinch of

salt

1

tsp

cinnamon

1/8

tsp

vanilla powder

coconut oil

for light greasing
Instructions
Mash the bananas with the back of a fork. In a jug, combine the plant milk and vinegar and set aside for 10 minutes to curdle.

Sift the flour into a bowl and whisk in the baking powder, baking soda, cinnamoon, salt and vanilla powder

Add the mashed banana into the plant milk mix, stir to combine and then pour it into the mixing bowl. Whisk until well combined.

Heat a lightly greased skillet over medium heat and add the pancake batter to the skillet. Flip after 2-3 minutes and cook on both sides until golden.

Serve the banana pancakes with your favorite toppings, such as berries, fruit, or maple syrup.
*Disclosure: This page may contain affiliate links and sponsored links that earn me a small commission, at no additional cost to you. You can find more information in my Privacy Policy.
© Romy London / Romina Callwitz | All images and content are copyright protected. Please do not use my images and content without prior permission. If you wish to re-publish this recipe, please get in touch via email. Thank you so much for supporting romylondonuk.com!