Festive Stuffed Butternut Squash Roast Recipe – 100% vegan and delicious to serve as a part of your Christmas meal.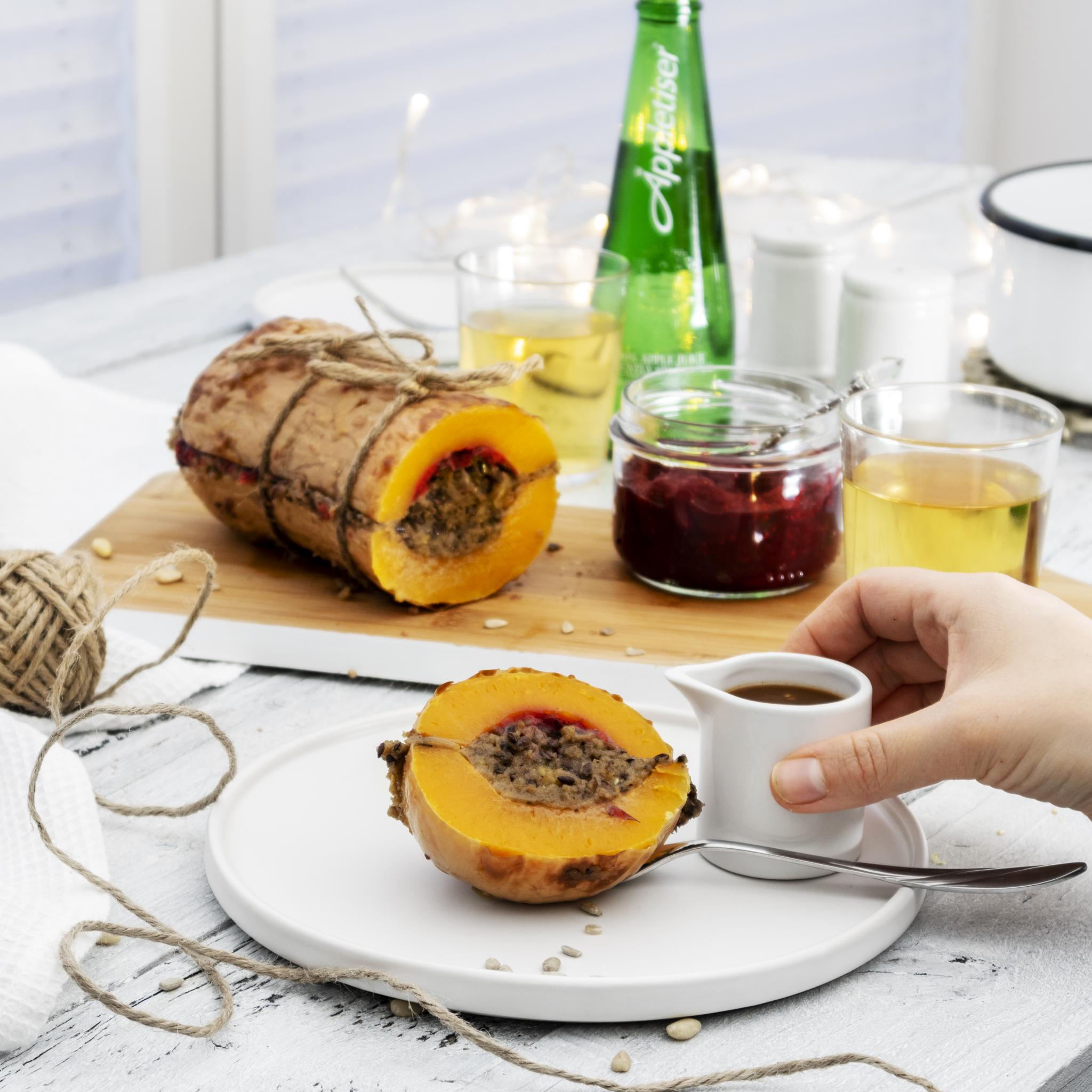 'Tis the season! Oh yes, 'that time of the year' is finally here! And also yes, I'm absolutely no grinch – I've been loving this wonderful time of the year since I've been a little child, so today I'm bringing you this delicious Stuffed Butternut Squash Roast Recipe as an inspiration for your own festive meal!
The inspiration for this recipe
There's simply something magical about the Christmas time, deliciously scents of cinnamon and mulled wine in the air, fairy lights and Christmas markets, cookie crumbs in the kitchen, Christmas classics returning to TV, families get together, kids are super excited for the big day (totally counting myself into that category!), it's simply a wonderful time in my books.
One of the things that excite me the most about Christmas is the seasonal food – besides wrapping Christmas presents, getting the Christmas spirit into the kitchen is one of my favourite activities in the advent time.
Traditionally the dishes my family used to create around the holidays were anything else than vegan (growing up in a German household after all!), and the challenge to come up with new vegan dishes with a traditional twist, has been something that I've been loving over the past few years.
I've recently been spotting stuffed butternut squashes all over social media, and it was simply something that I wanted to put my own twist on – so here we are! And what would a festive recipe be without a refreshing drink on the side? I personally think that a bubbly Appletiser is the #perfectpairing with a festive, vegan dish, whether you're generally trying to avoid booze this Christmas or not. Hey, you could even serve it in some fancy flutes if you wanted to go all out 😉 And in true Appletiser fashion, there's no added sugar in the roast recipe and with the cranberries and butternut squash, it contains 1 of your 5-a-day (just like a refreshing Appletiser!). Just make sure not to drink it all up during the preparations in the kitchen already – I know too well that it's totally tempting when there's a fresh bottle waiting in the fridge 😉
So what's my twist on this stuffed squash? Well, firstly I have created a nut roast style filling for the roast – and therefore combined two of my favourite foods (I simply love a good nut roast and you probably know by now that I'm addicted to anything squash or pumpkin like!). To add the Christmas feel into the dish even more, I have also added a homemade cranberry sauce – the natural sweetness simply compliments the savoury nut roast in a magical way.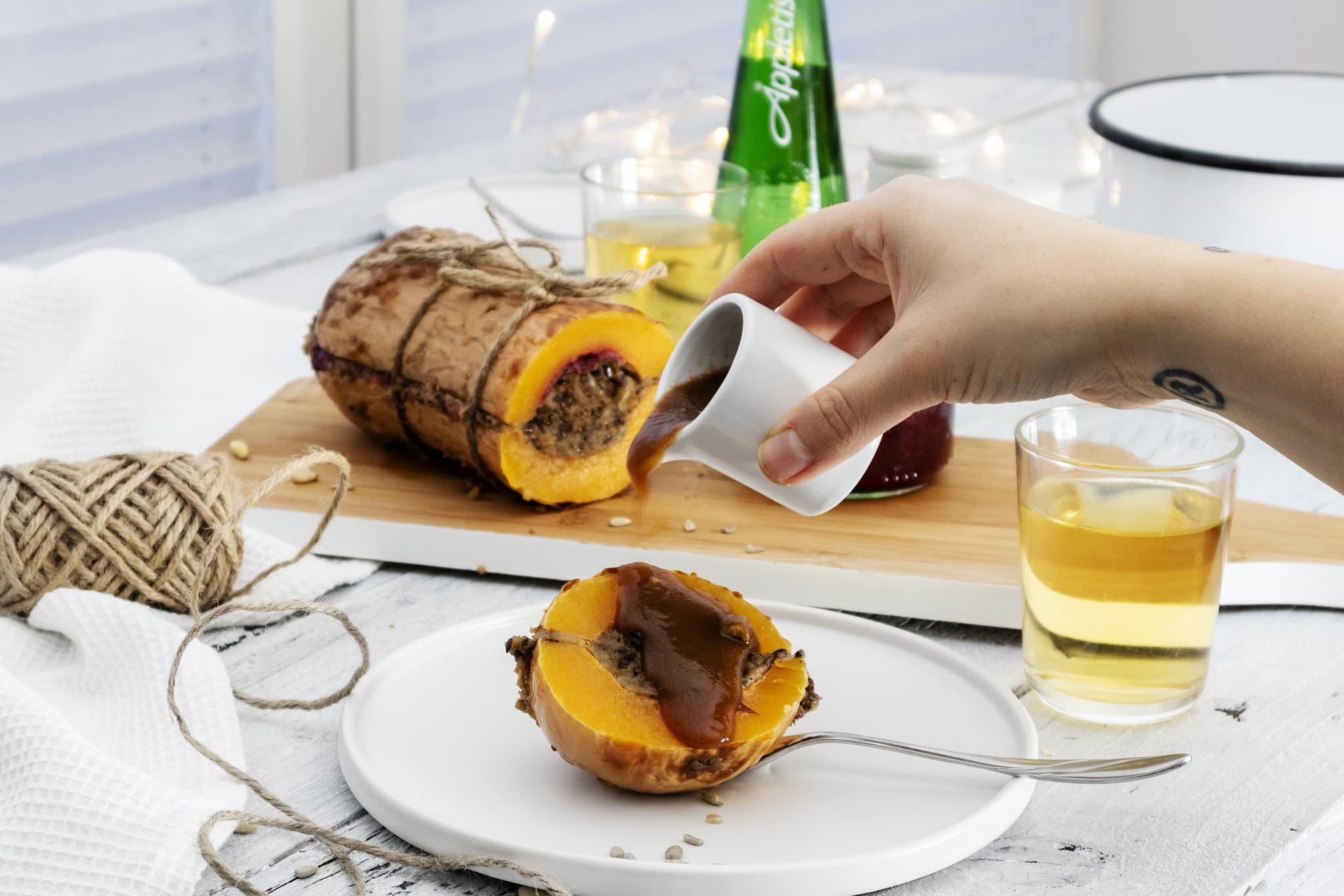 What you'll need for this recipe
Ingredients
butternut squash
sunflower seeds
flaxseeds
pine nuts
chestnut puree
vegetable fat (e.g. Vegetable Suet)
almond flour
cranberries (I used frozen ones!)
maple syrup
freshly squeezed orange juice
vegan gravy to serve
Equipment
small frying pan
oven & baking tray
food processor or blender
saucepan
toothpicks or ribbon to keep the roast in place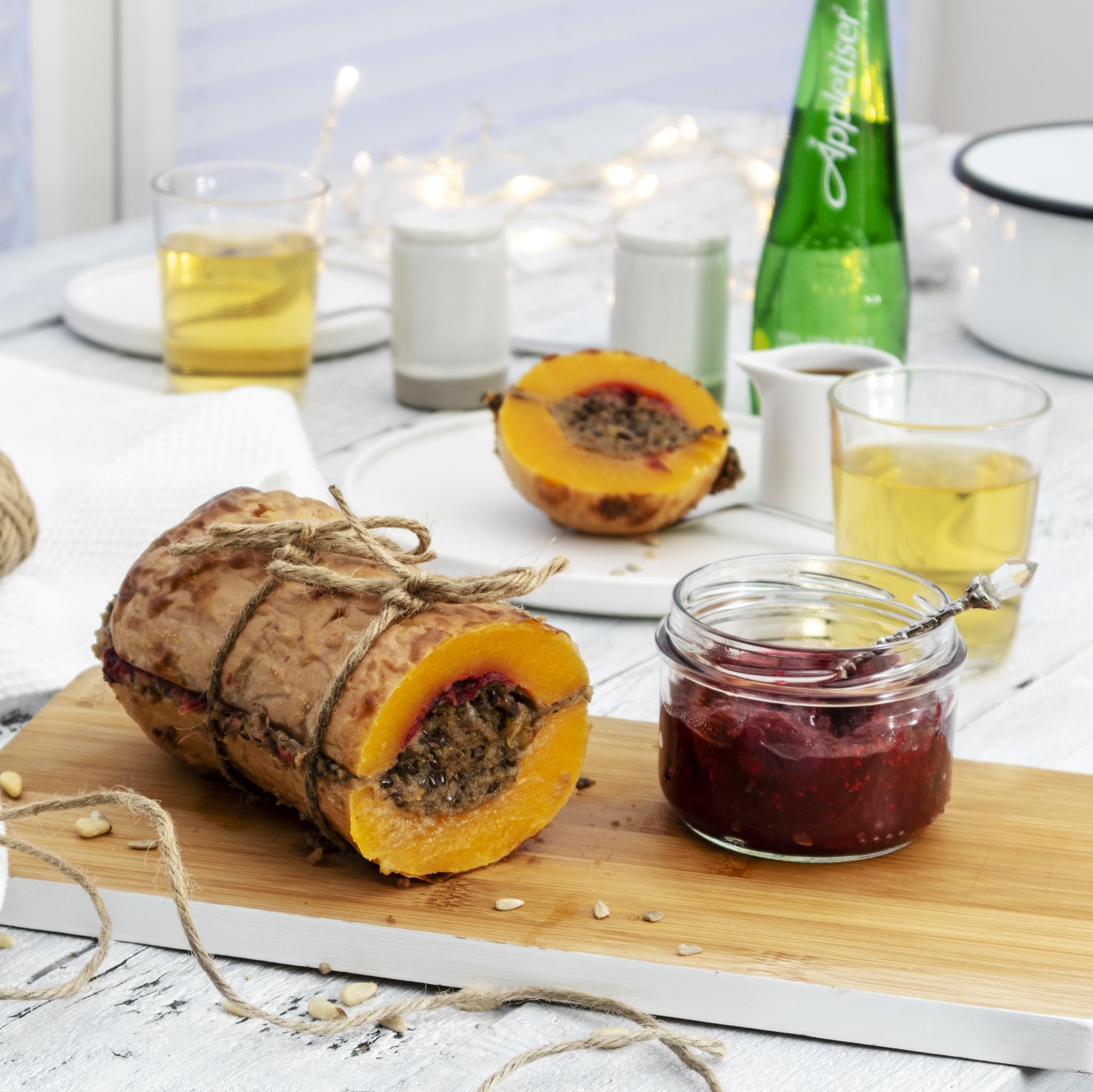 How to make stuffed butternut squash
How to create the filling
With regards to the nuts and seeds used in the recipe, I went with sunflower, linseeds and pine nuts – as the latter are technically also a seed despite the name, it would need to be 'seed roast' to be correct, but that name simply doesn't give justice to the deliciousness of the filling (it just sounds too healthy, and the dish is doing really well with the fruit and veg added to it already).
To start with the filling of your stuffed butternut squash roast, simply toast all nuts and seeds in a small frying pan without oil. As your nuts and seeds can easily burn, please stir them regularly and keep a close eye on them. It should not take longer than 2-3 minutes. Once toasted, set them aside.
Afterward, transfer the toasted nuts and seeds to a food processor and add the vegetable fat and chestnut puree. Pulse the processor until the mix is combined. Ensure not to over blend the mixture, as we want to keep some of its texture. Alternatively, you can also utilise a stick blender or a regular blender to combine your ingredients.
Lastly, add in your almond flour and stir until the mixture becomes thick and sticky. Set it aside until you're ready to assemble the roast.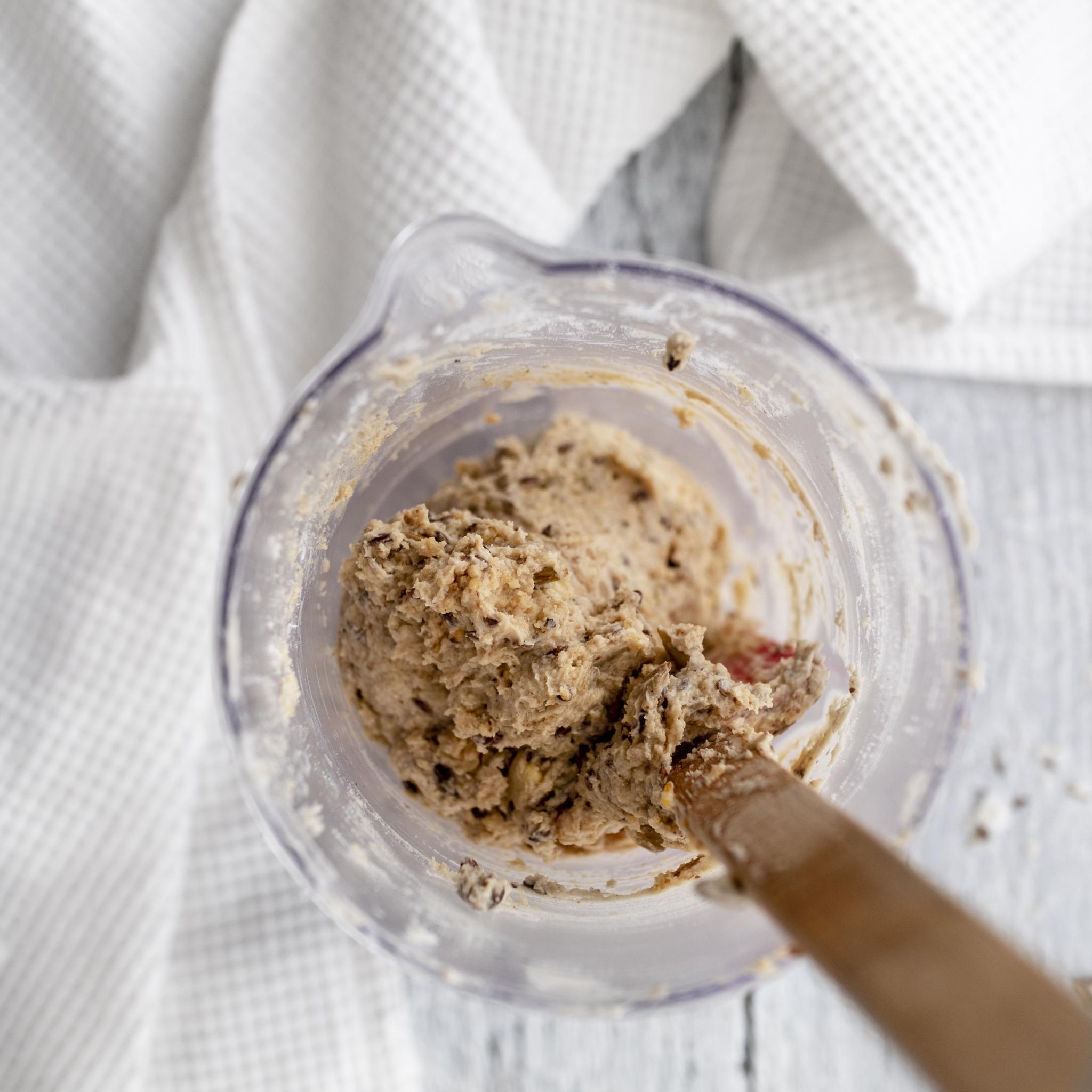 How to make vegan cranberry sauce
To make the cranberry sauce, place a medium-size saucepan over medium heat. Add your cranberries and add a little water – roughly 30ml to help with the cooking process.
Heat the cranberries until they begin to steam. Using the back of a fork, simply squash them in the saucepan to break them down. Continuously stir until all the cranberries are broken down and the sauce thickens. You are basically cooking the sauce until the excess liquid evaporates.
Stir in the maple syrup (in case you are using some) and add the freshly squeezed orange juice, then set aside.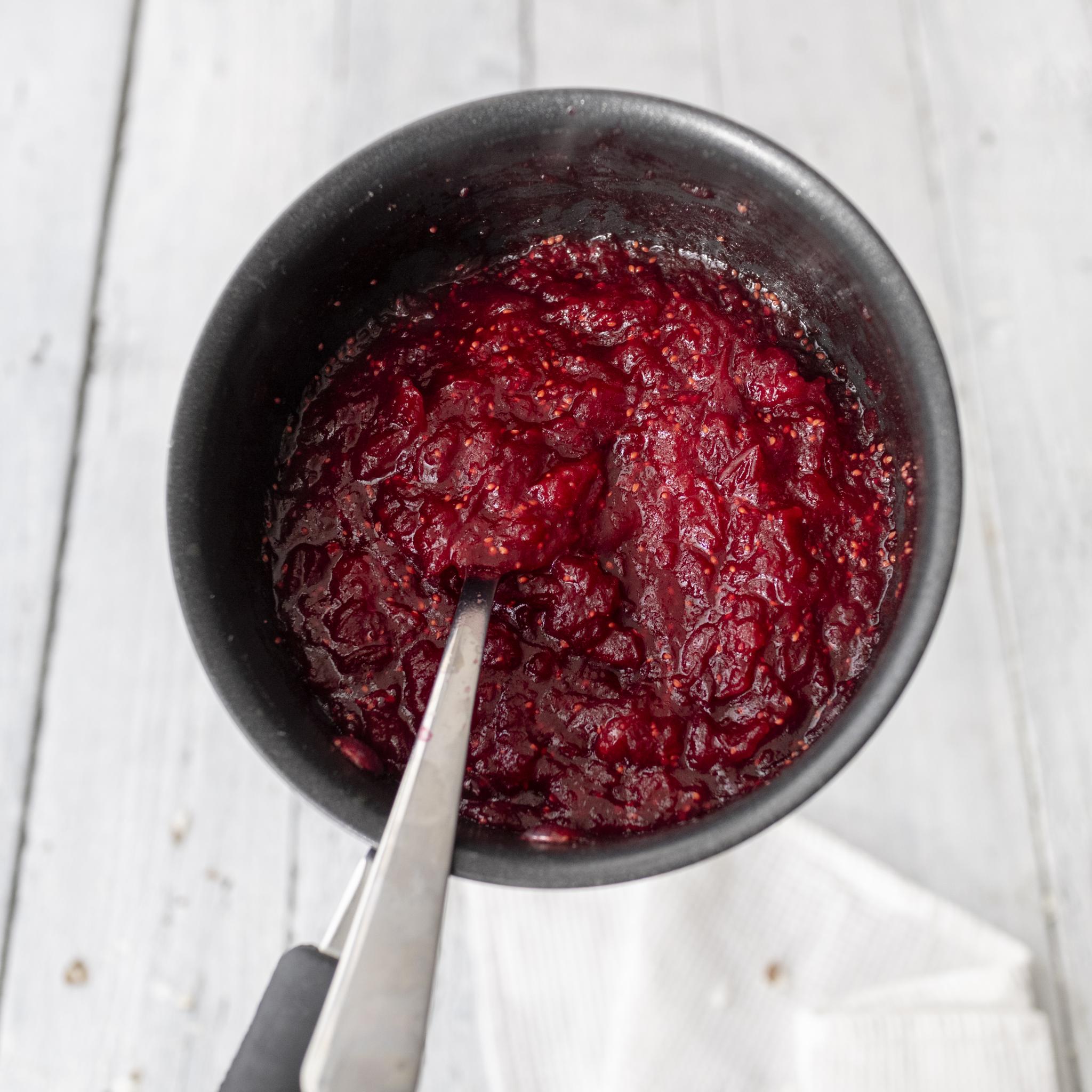 How to assemble the roast
Before starting to assemble your roast, preheat your oven to 200C (390F).
Wash and cut your squash lengthwise into 2 halves and place it onto an ovenproof dish. Using a small spoon start scooping out the seeds and some flesh from your squash. This is where our filling will go.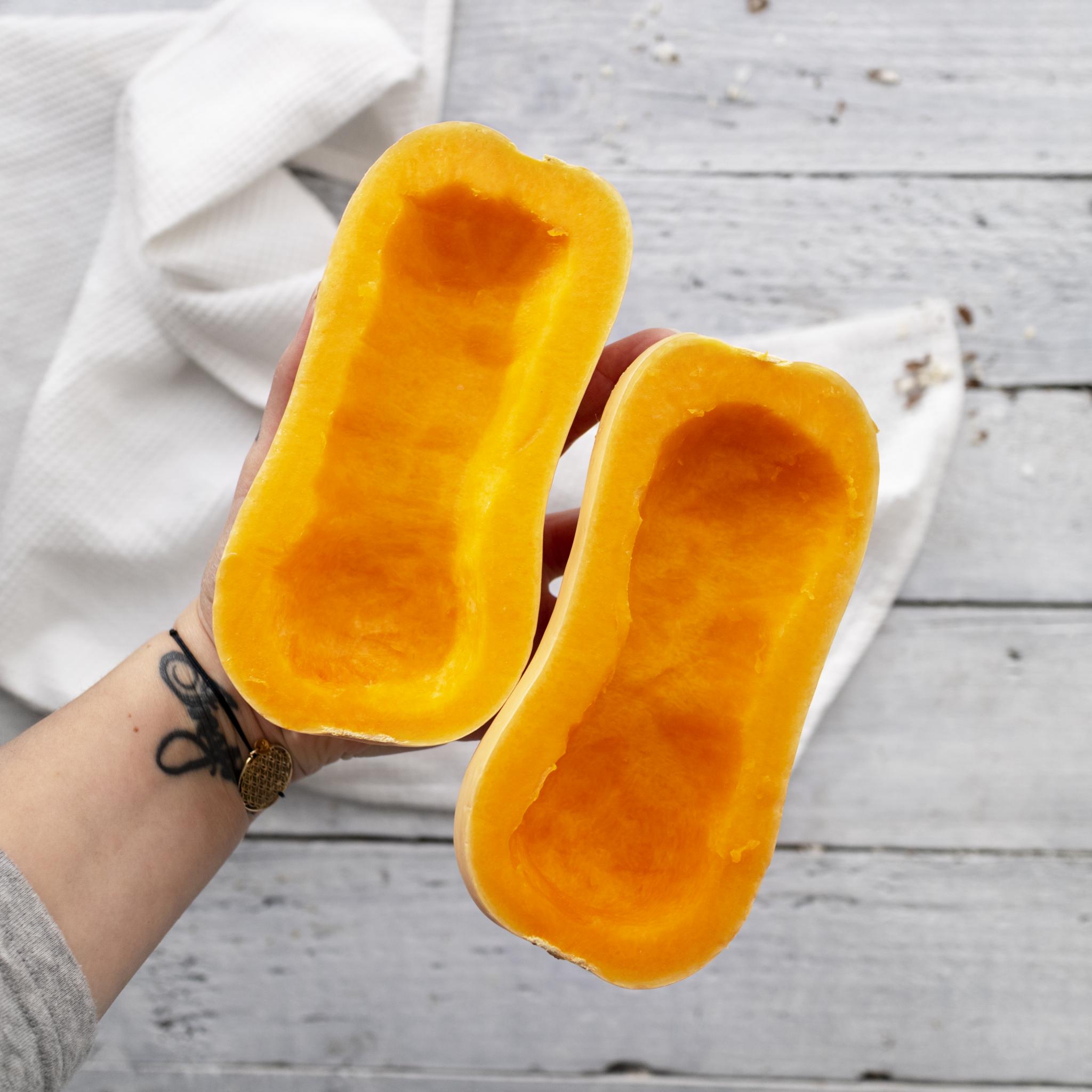 Take your nut mixture and gently fill it into one squash half until you run out of the mix. Spoon a couple of tablespoons of the cranberry sauce on top – and leave a little extra for serving later. Place the second squash half on top of the filling and use either long toothpicks or a food-safe ribbon to hold the squash halves in place.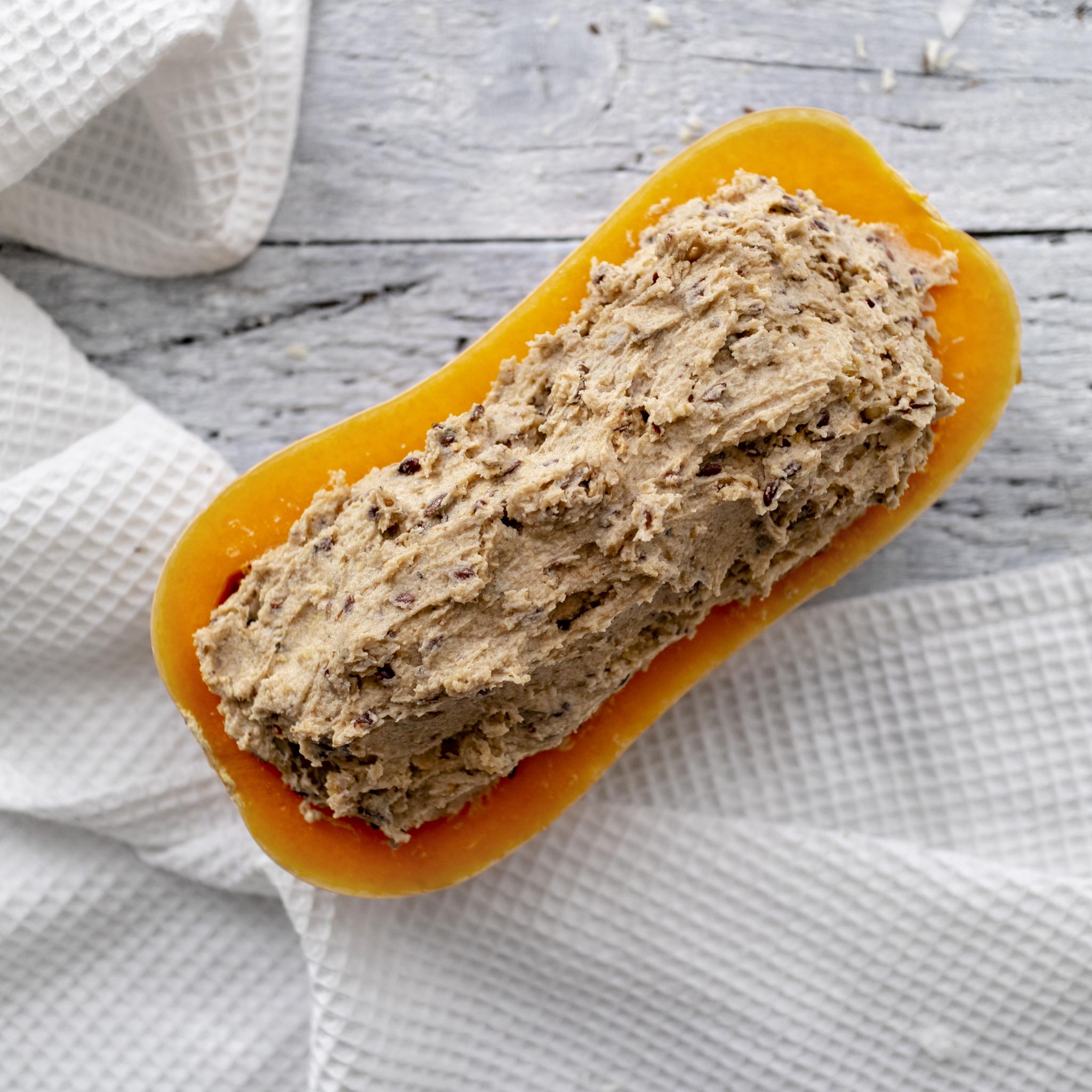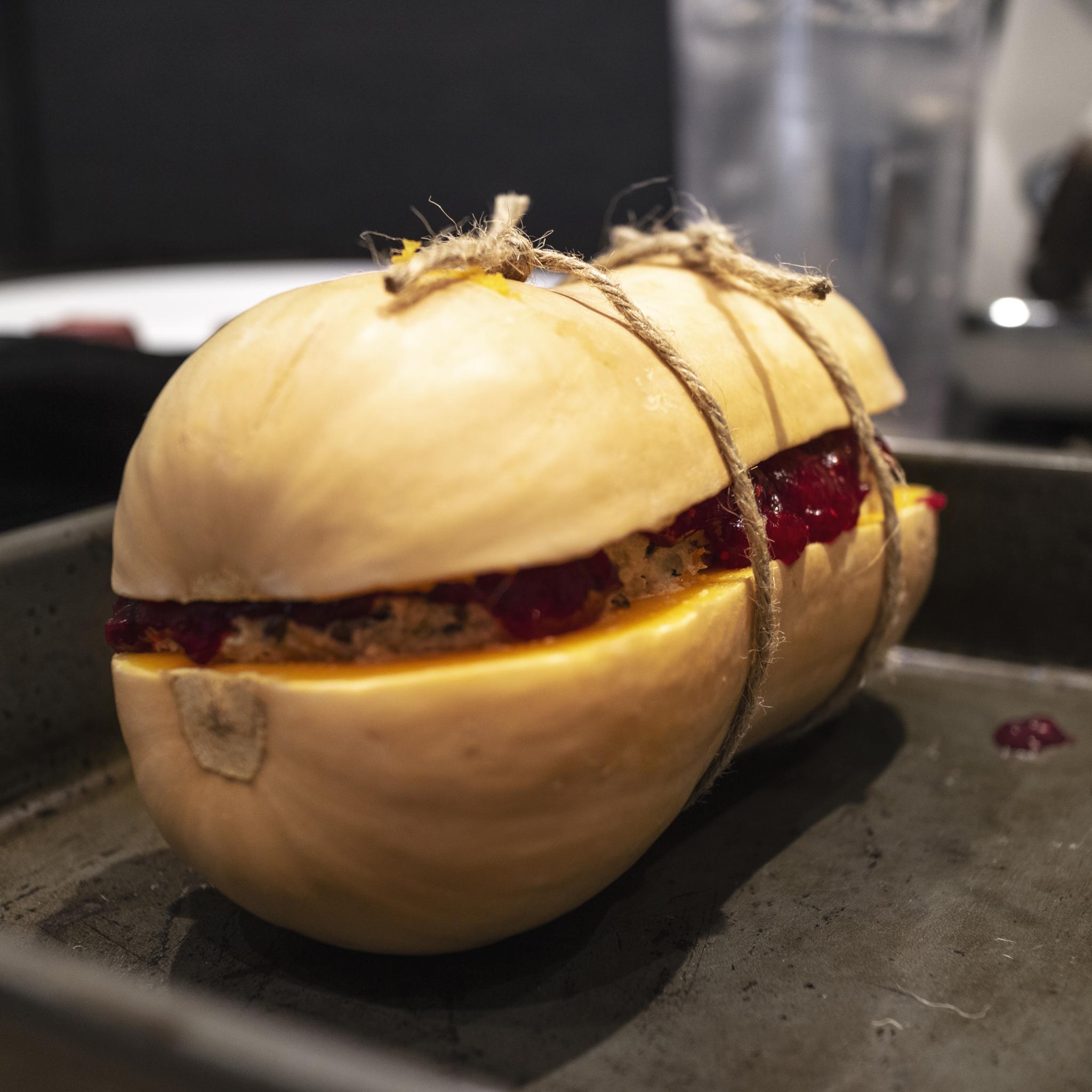 Place the squash in the oven and roast for 40-45 minutes at 200C (390F), or until your squash is softened.
What to serve with this Stuffed Butternut Squash Roast
This stuffed butternut squash is a wonderful hero dish to serve alongside a festive meal. Here are some ideas of what you can serve alongside the roast:
roast potatoes
vegan gravy
more cranberry sauce
roasted vegetables
vegan Yorkshire pudding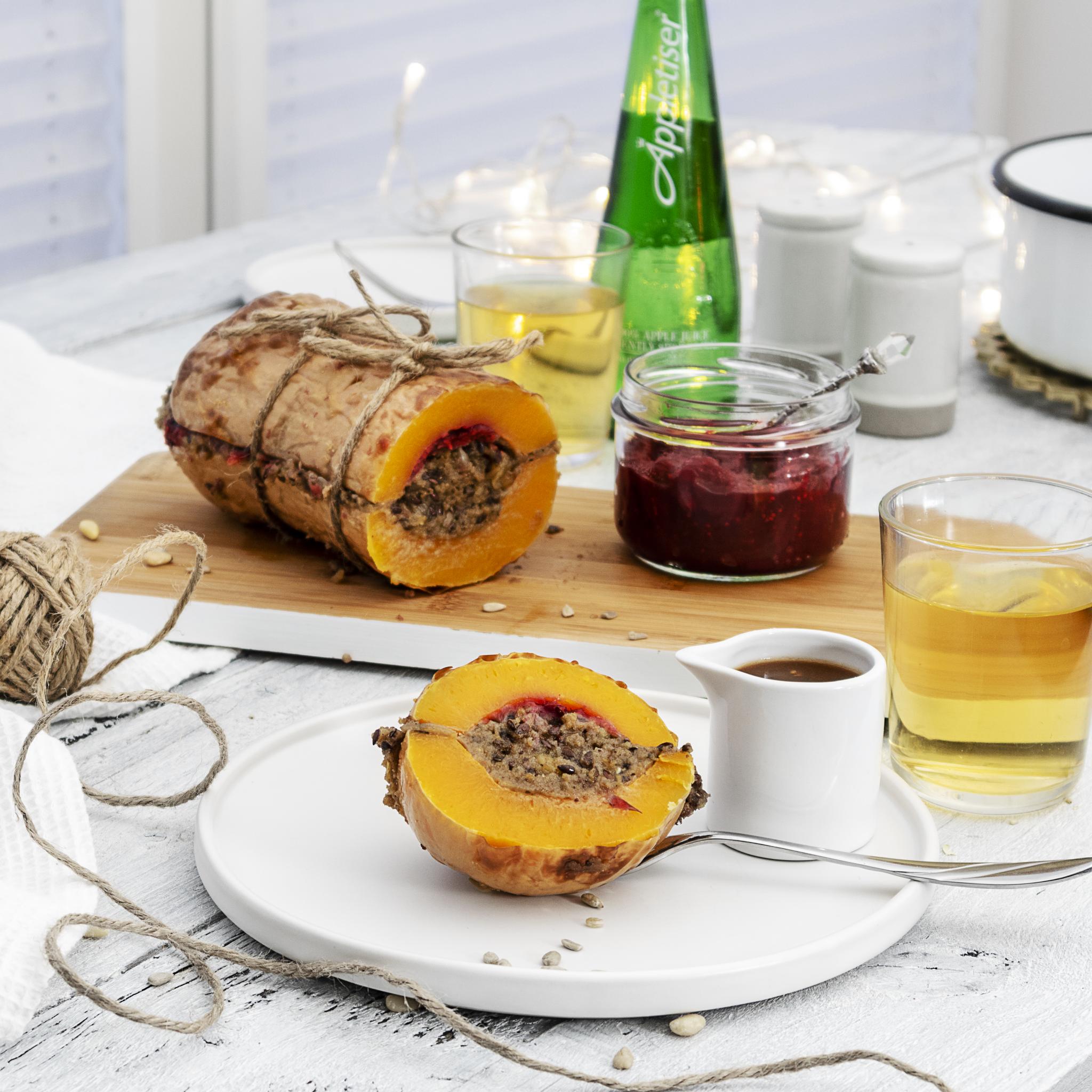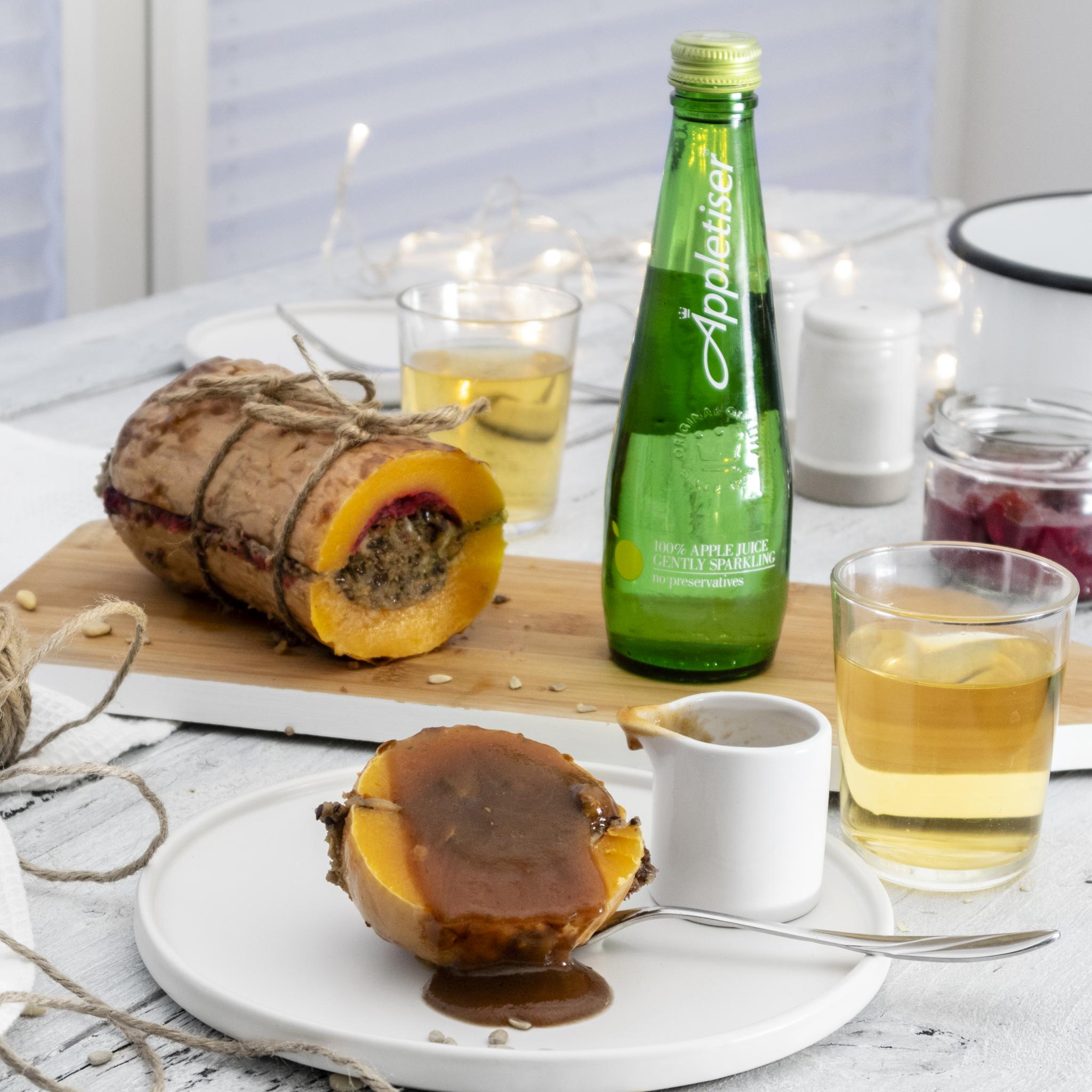 Easy swaps for this recipe
Nuts: If you're out of pine nuts, you can simply replace them with chopped walnuts.
Cranberry Sauce: instead of making your own cranberry sauce, you can also use storebought sauce!
Chestnut puree: please do not leave this out as it's vital for the distinct taste of this roast. I know it's a little more difficult to get hold off, but lots of supermarkets offer it around the Christmas period, and there's always Ocado to order it from.
This recipe is:
100% vegan
gluten-free
deliciously nutty
egg-free
meat-free
dairy-free
including 1 of your 5-a-day
fantastic as part of your Christmas meal!
Print
Stuffed Butternut Squash Roast Recipe
Author:

Prep Time:

25

Cook Time:

40

Total Time:

1 hour 5 minutes

Yield:

3

-

4

1

x

Category:

Roasts

Method:

Roasted

Cuisine:

British

Diet:

Vegan
---
Description
Festive Stuffed Butternut Squash Roast Recipe – 100% vegan and delicious to serve as a part of your Christmas meal.
---
1

medium-size butternut squash
For the filling:
50g

sunflower seeds

50g

flaxseeds (or linseeds)

50g

pine nuts

100g

chestnut puree

50g

vegetable fat (e.g. vegetable suet)

50g

-70g almond flour
For the cranberry sauce:
100g

cranberries (I used frozen ones!)

2 tbsp

maple syrup (optional)

100

ml freshly squeezed orange juice
To serve:
vegan gravy to serve (store-bought or homemade)
---
Instructions
Add all seeds and nuts into a small frying pan and toast them for 2 minutes over medium-high heat. Make sure to stir constantly so that they get toasted evenly and don't burn.
Use a blender or food processor to combine the toasted nuts and seeds with the vegetable fat and chestnut puree. Simply pulse until it's all combined, but don't blend it too smoothly – we still want some texture in the roast filling after all. (I actually used a stick blender when I mixed mine!)
Stir the almond flour into the nut mix until you get a sticky texture and set aside whilst you prepare the cranberry sauce.
Add the cranberries to a saucepan over medium heat and pour in about 30ml water to ease the heating process. Cook the cranberries until they start to steam, then start squashing them with the back of a fork. Stir regularly until the sauce thickens as the liquid evaporates. Add in the maple syrup (if using) and freshly squeezed orange juice and set aside.
Preheat your oven to 200 degrees, then wash & cut the butternut squash lengthwise in half hollow out the halves – this is where our filling will go.
Assemble the roast: Scoop the nut filling into one squash half, piling it up until you run out of the mixture. Spoon about half of the cranberry sauce on the top, leaving a little extra for serving later.
Add the second squash half on the top and use ovenproof ribbon to hold the parts together. I would also recommend poking 2 long toothpicks through the squash to keep it in place – most squashes can get a little slippery/uneven when heating and the picks will help the squash halves stay in place during the roasting process.
Place the squash on an ovenproof dish and roast in the middle of the oven for about 40-45 minutes – or until the squash is soft and golden. Carefully remove from the oven and slice (use a knife with saw tooth blade, that'll be easier).
Open a bottle of Appletiser

and serve immediately with the roast – and don't forget to pour over the gravy (over the roast, not the drink, that is!).
---
Keywords: stuffed butternut squash roast recipe, squash roast recipe, vegan roast recipe, vegan christmas dinner recipe, butternut squash roast, stuffed squash recipe
In friendly collaboration with Appletiser.
For your festive dinner inspiration, have a look at these recipes also:
Also, try this dessert: