This Cinnamon Pear Breakfast Smoothie is the perfect quick & easy, but nutritious breakfast on-the-go super creamy and simply delicious!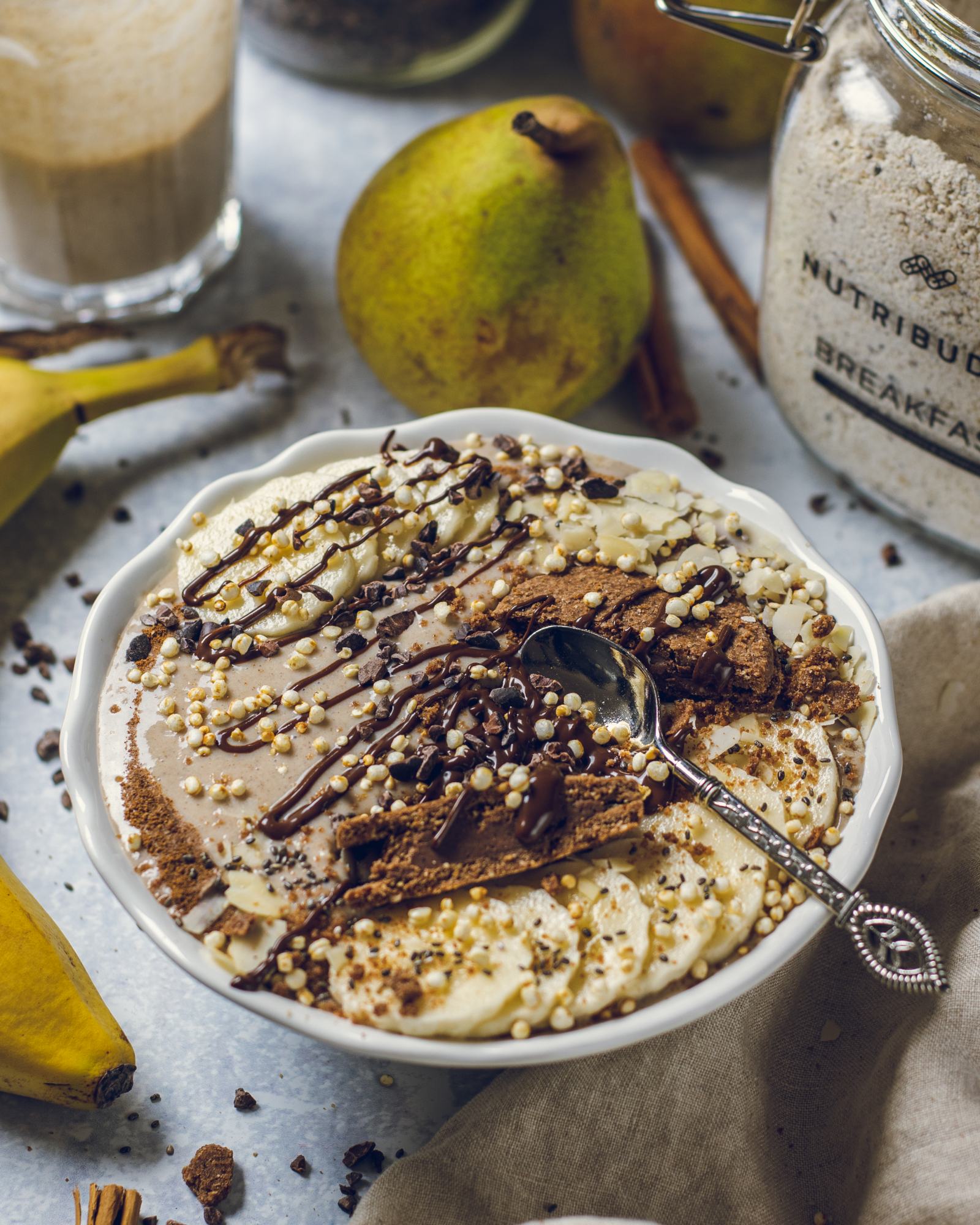 Vegan Cinnamon Pear Breakfast Smoothie
Some mornings grab-and-go mornings, which is where a nutritious but quick & easy breakfast like this Cinnamon Pear Breakfast Smoothie Recipe comes in super handy!
If you're following my Instagram stories, you probably know that I don't like skipping my breakfast, so even if I have a super early start or things get hectic in the morning, I still like to ensure I have a breakfast option available that's not only simple and quick to whip up, but also nutritious and keeping me full and satisfied until lunchtime. A smoothie is often my go-to on these occasions - in a travel cup or protein shaker, so I enjoy it on the go.
And I have to add, a simple, delicious smoothie that ticks all the boxes is also a great go-to for those mornings where I simply can't decide what to have for breakfast 😉
If you've not tried the combination of banana, cinnamon & pear yet, then oh-boy! You're in for a treat! I got obsessed with this combination after finding myself wanting a smoothie one morning and only having bananas and pears in the house. And the rest is history... If it sounds delicious, it's because it is!
Since then I've been enjoying this creamy and more-ish combination in a number of smoothies and smoothie bowls - whether on their own or with the addition of protein powders. To round up my breakfast smoothies, I often like to add in a protein powder - it helps me hit my protein intake for the day and breakfast also leaves me feeling full and content for longer if it contains a decent serving of carbs, proteins, and fats each.
Vanilla flavored protein and unflavoured protein both work the best for this recipe as vanilla nicely compliments the flavors without overpowering them. On this occasion, I have used the Breakfast Shake from my friends at Nutribuddy that have kindly gifted me a jar of their breakfast shake for this blog post. Their shakes are vegan & gluten-free and this breakfast shake consists of a nutritious blend of gluten-free oats, seeds, and coconut, which has created a deliciously thick and creamy shake, that's definitely tasted delicious and felt like the perfect breakfast for a busy morning.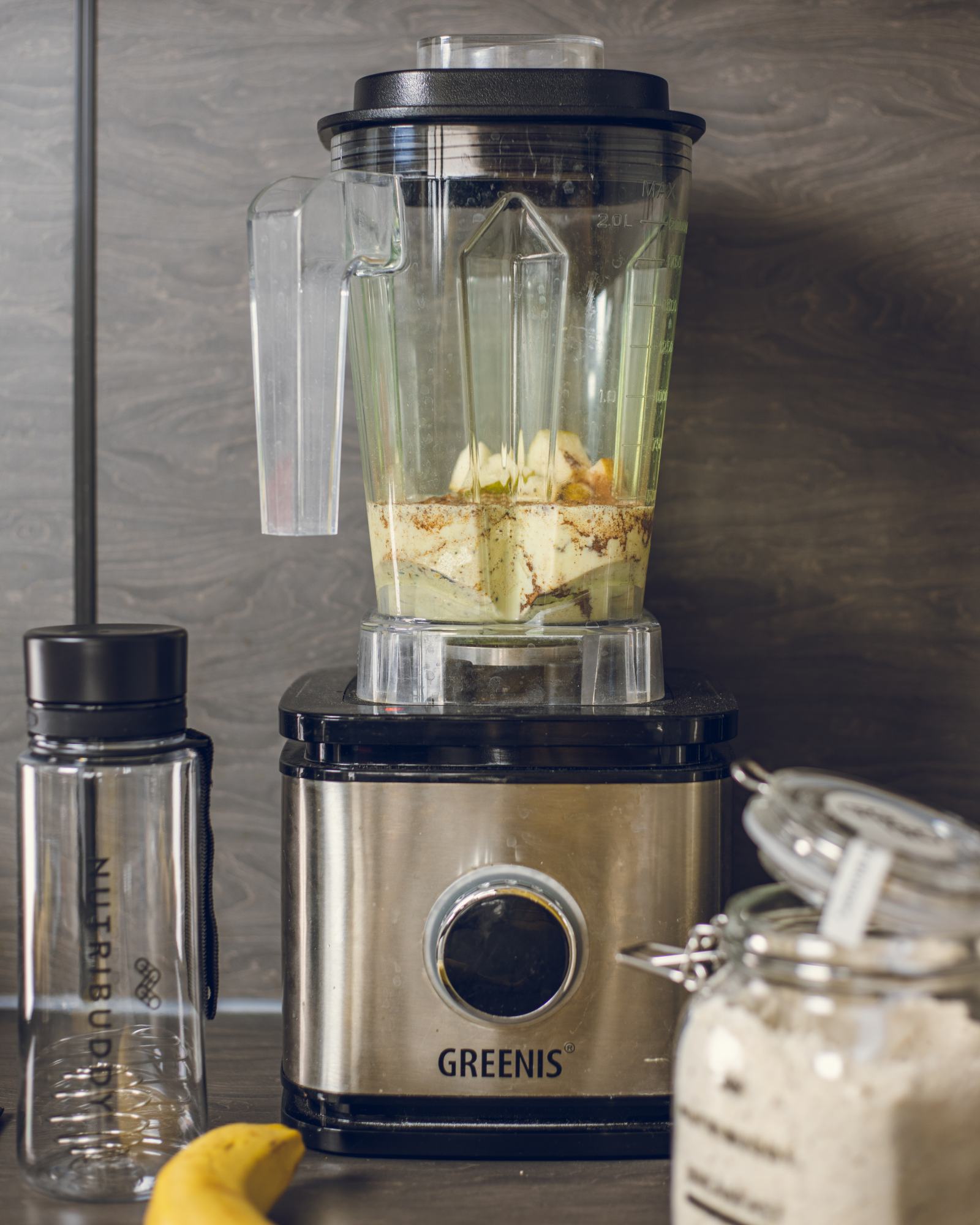 What you'll need for this Cinnamon Pear Breakfast Smoothie
Ingredients
Banana: The banana adds a delicious creaminess to this recipe and also naturally sweetens your healthy smoothie. You can use both frozen and fresh bananas for this recipe, as it only uses 1/2 banana per portion, I find it easier to use pre-cut frozen banana halves. If you don't have any to hand, simply swap this out for half of a fresh banana - and then freeze the other half for another day! (clever, right 😉)
Pear: I simply love the combination of banana and pear. Not being an obvious pairing, I think they're flavours compliment each other really well and you won't believe it until you've tried it yourself. It makes the pear smoothie taste naturally sweet and fresh, but creamy at the same time. Simply perfect to start the day with a delicious breakfast! You can also prepare your pear(s) in advance, chop and freeze them - and if needed, peel them. The latter might be important if you're using non-organic pears as these are often sprayed with pesticides. Freezing both the pear and banana will result in a slightly thicker shake, which is wonderfully refreshing, especially on a summer morning!
Cinnamon: Well, if you don't love cinnamon, you've got to fight me, cause I'm simply obsessed with that stuff 😉 It works brilliantly with this creamy breakfast smoothie and if you're a fan, like me, you might even want to add a little extra on the top. The more, the merrier!
Plant Milk: My go-to plant-milk for breakfast is usually unsweetened soy milk - mainly as it's pretty inexpensive compared to others, but also packs an extra serving of protein. On this occasion however I opted for oat milk, as it makes the shake even more creamy, but you can use whatever plant milk you have to hand or love the most, whether that be almond milk or even pea milk! Just be careful with using sweetened plant milks, as they might add some unwanted sugars to this breakfast shake.
Vanilla Protein Powder or Nutribuddy Breakfast Shake: I love starting my day with something nutritious that'll keep me going and feeling content until lunchtime. The key to that is using a meal that includes all 3 of the macronutrients: carbs, proteins, and fats, so I like to add a protein powder (vanilla flavored works best, but you can use an unflavoured one too) or breakfast shake options to my smoothie. Plus some extra nuts and nut butter on the top, when I'm serving it as a smoothie bowl.
Equipment
Blender: I personally use a high-speed, high-power blender. If you're looking to buy one then I can't recommend Greenis enough! Also, as this is an affiliate link - if you do buy one, you'll be supporting me and my content. However, any conventional blender should be able to handle the banana/pear combination and deliver a smooth result.
Chopping board and a sharp knife to cut and de-seed the pear
Peeler (optional): you may wish to peel your pear if it's non-organic.
How to make this Cinnamon Pear Breakfast Smoothie
This recipe is super easy to follow so let's get stuck right in!
First, roughly chop your banana and pear (de-seeded of course) before putting them in your blender. Next, pour in your plant milk followed by the breakfast shake and cinnamon.
All that's left to do now is turn the blender on and let it do its thing. Keep blending your smoothie until it's nice and smooth. Now serve it in your favorite cup, glass or travel cup!
Extra Tip: When I'm at home I like to have a big glass and sprinkle some toppings on top, like extra cinnamon or chia seeds. You might even want to enjoy this as a smoother bowl and add lots of toppings, such as flaked almonds, cacao nibs, and nut butter.
This recipe is:
100% vegan
full of nutrients
gluten-free (The Nutribuddy Breakfast Shake only uses gluten-free oats)
free from refined sugar
filling
delicious
super quick
easy to make
ready in 5 minutes or less
dairy-free
You might also enjoy these recipes:
📌 If you love Pinterest you can pin any of the images to your boards!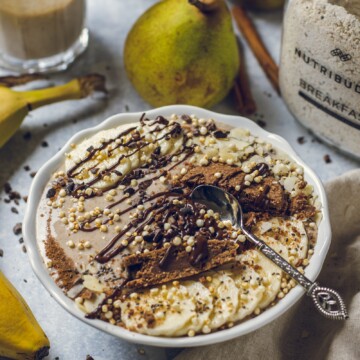 Cinnamon Pear Smoothie Bowl
Super quick & easy Cinnamon Pear Breakfast Smoothie - delicious on the go or as a smoothie bowl.
Ingredients
1

banana

frozen

1

pear

chopped

2

scoops

vanilla protein

from Nutribuddy

1

tsp

cinnamon

300

ml

plant milk

e.g. oat milk
Instructions
Place your banana and roughly chopped pear (de-seeded) into a blender.

Pour in the plant milk first, then add in your dry ingredients: breakfast shake and cinnamon.

Blend until smooth, then pour into a travel shaker and get on with your day!
Notes
By pouring in the plant milk before adding the powders (breakfast shake & cinnamon) you avoid getting the powders stuck to the bottom of your blender.

Don't worry if you don't have frozen banana halves to hand. Simply use a fresh one and freeze the other half for another day!

I like to use organic pears for this recipe, that way I don't have to peel them necessarily. Just wash, de-seed and drop in!

If you want to prep this recipe the night before, you can already chop, de-seed (& peel) your pear and freeze them as well.

And if you want to enjoy this shake on the regular, why not portion your frozen fruit together in portion-sizes, ready to go!

If I'm enjoying this shake at home, I like to serve it in a large glass and sprinkle a little extra cinnamon over the top. Alternatively, you can also serve it as a delicious & creamy smoothie bowl. I like to add toppings such as flaked almonds, cacao nibs and nut butters.
Looking for more delicious breakfast recipes? Check out my vegan breakfast recipe section - here are some of my faves:
*Disclosure: This page may contain affiliate links and sponsored links that earn me a small commission, at no additional cost to you. You can find more information in my Privacy Policy.
 © Romy London / Romina Callwitz | All images and content are copyright protected. Please do not use my images and content without permission. If you wish to re-publish any recipes or images, please get in touch via email. Thanks for your support!