Purely delicious Vegan 'Egg' McMuffin recipe - simple and easy steps to create this delicious McMuffin version at home!
Vegan Egg McMuffin
This recipe is:
100% vegan
super simple
a vegan version of the McDonalds Egg McMuffin
really tasty
easy to make
egg-free
dairy-free
simply delicious
perfect for breakfast
a tasty McDonalds copycat recipe
"eggy" (but not with eggs of course)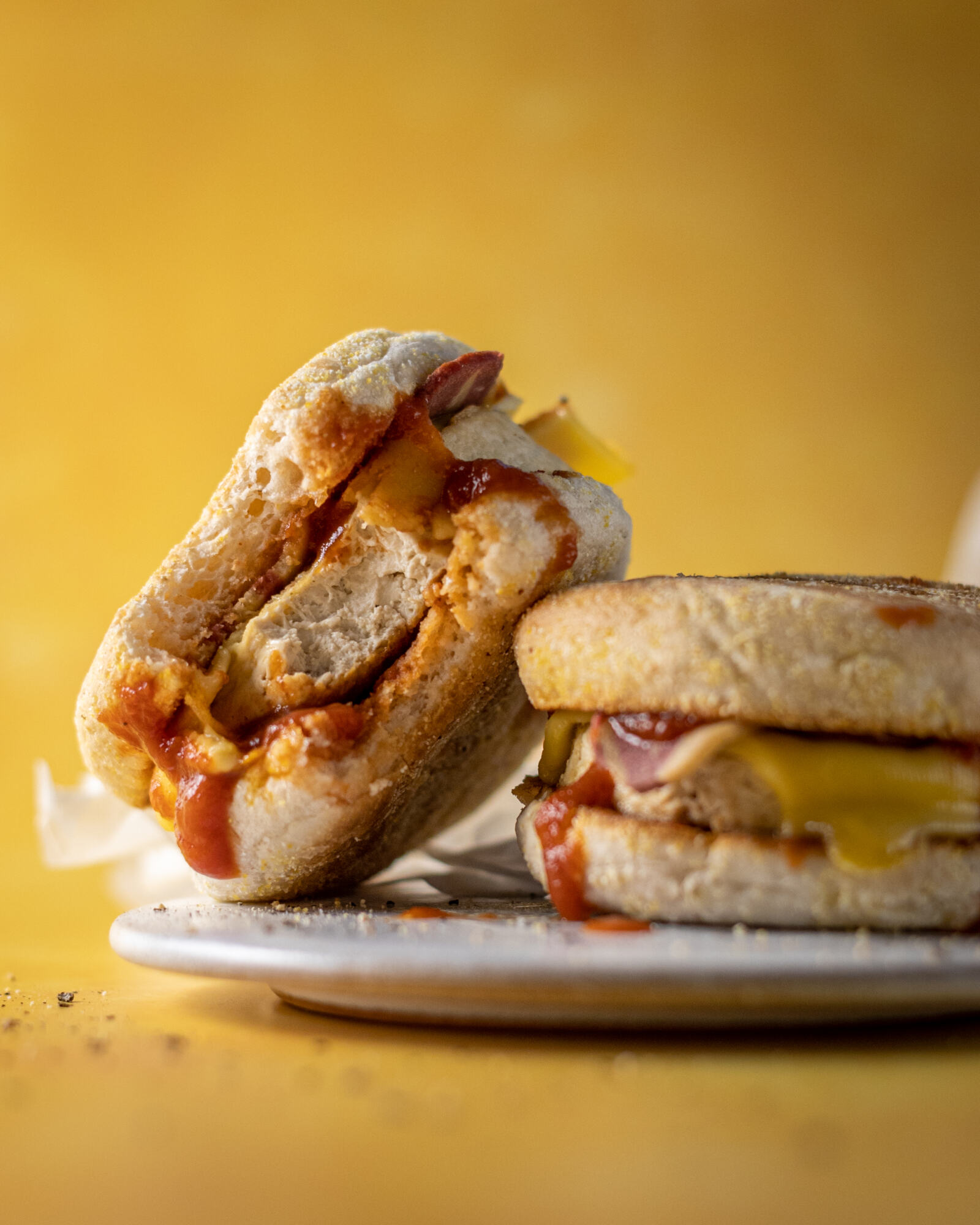 This Vegan Egg McMuffin is the breakfast recipe of all weekend breakfasts.
Let's be honest: vegan or not, most of us probably remember trips to McDonald's from or childhood.
My parents didn't take my brother and me that often when we were little, so it was a very special treat when we finally got to go. The usual occasion was after a long day trip or after being out for a birthday day out - and I can also remember that we've gone for McDonald's breakfast twice on a Sunday when they first introduced the breakfast option in Germany (yes, we did not always have breakfast at McDonald's!)
Childhood memories aside, it was manifested as a special treat in my mind, so I'm not surprised that I ended up getting breakfast from the drive-through every time I drove to college in Cologne in my early adult years. A dangerous habit! But it was simply on my mind as comfort food, and I really needed some comfort after getting up at 5 am to make it to my courses on time (I lived an hour's drive away from Cologne)
My go-to order was always the McDonalds Egg McMuffin - and back then I wasn't even aware that the Muffin was actually an English muffin, and also didn't know then that I would one day call that country my home.
And let me tell you something amazing: making a vegan version of it, that's also super tasty, isn't magic but actually really really easy! So let's make the magic happen!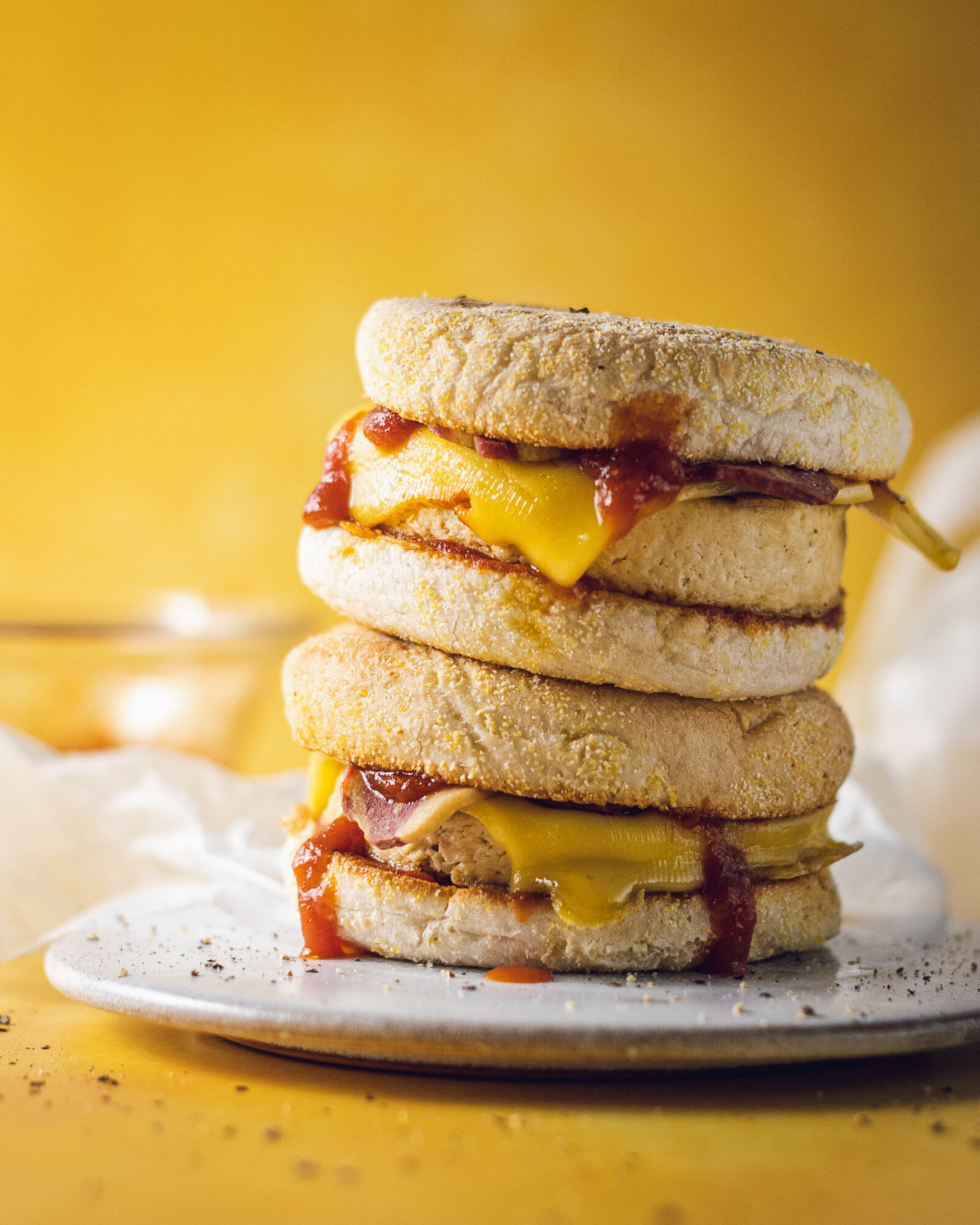 What you'll need to make Vegan 'Egg' McMuffin Recipe
Ingredients
Tofu: I always use extra-firm tofu for this recipe as I have found it gives the best results. Other tofu versions are simply too soft, so I would only really recommend using extra-firm tofu for your copycat egg McMuffin.
Lettuce or fresh spinach: not usually part of a traditional McDonalds Egg McMuffin, but I love adding in some greens - plus they're tasty on this breakfast burger too!
English muffins: You an use store-bought English muffins or simply make your own at home.
Vegan sliced cheese: This melts wonderfully on top of the 'vegan egg' patty! I like to use the cheddar-style slices from Morrisons, but go with your personal favorite for this recipe.
Kala namak (black salt): Black salt, also called 'kala namak' as sulfurous properties, giving it an eggy flavor. You only need a tiny amount of it each time and I recommend investing in a small jar of black salt for your pantry.
Black pepper: No copycat Egg McMuffin without salt and black pepper!
vegan ham or bacon slices: This is totally optional, but I love the flavour combination with the tofu egg, so definitely add a slice or two! You can use store-bought vegan bacon or make your own with my Best Vegan Bacon Recipe.
Tomato ketchup (optional): Rounds up the flavors of the Vegan Egg McMuffin just beautifully! However, ketchup is not usually part of the classic McDonalds recipe, but goes so well with the vegan bacon and vegan egg patty.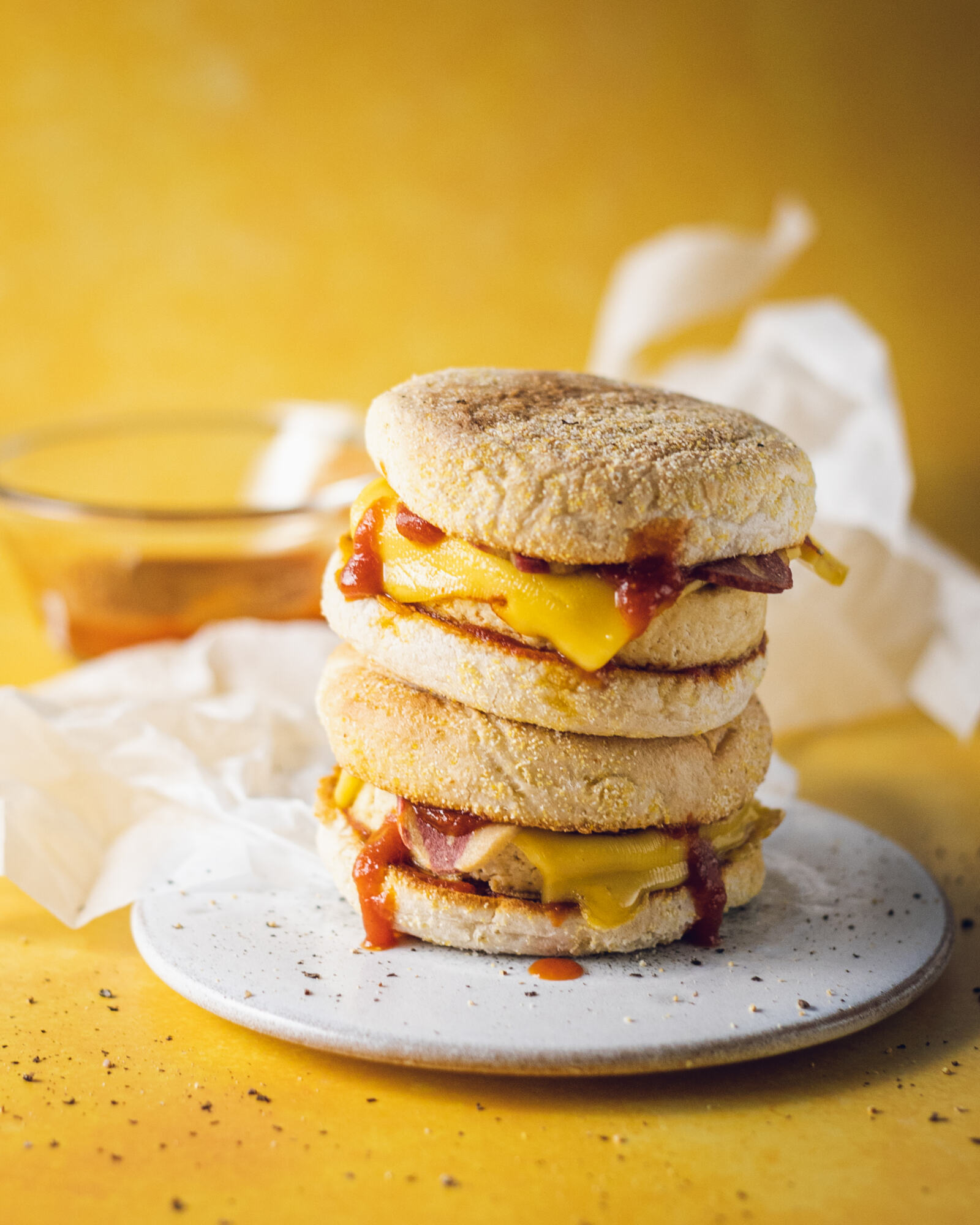 How to make a Vegan Egg McMuffin (McDonalds Copycat - Step-by-Step)
Shaping your vegan egg
First off, get your tofu (I used Cauldron) and slice the block in half (lengthwise), this is going to be your vegan "egg". To make sure it fits perfectly inside your muffin, I'd suggest using a large, round cookie cutter (one that's the same size as your muffin) to cut another slice of tofu.
How to cook your vegan egg
Splash a bit of oil in a non-stick frying pan along with a pinch of Kala Namak. Once the pan is sizzling hot and the salt has mixed with the oil, add your tofu to the pan and fry on both sides until golden, and season it with a sprinkle of black pepper.
Extra tip: Try not to move the tofu too much while it's cooking. You may also want to use a ladle or other utensil to push the slice into the pan so that you get the edges nice and crispy!
Assembling your McMuffin
Slice your muffin in half and lightly toast it - remember, we want it to be a little bit soft, but have some crispy edges (delicious!). Once it's popped out of the toaster - or alternatively toast it on your pan - spread your vegan spread on the inside of both halves.
Once you've done that, add a little ketchup to the bottom slice (if you're adding ketchup) and place your tofu "egg" on top, followed by your vegan cheese. Depending on the type of cheese you use, it might need some extra help melting onto the "egg". Simply place it under the grill for 1-2 minutes, if needed.
Add the vegan bacon slices on top, and then finish with a dollop of ketchup to the top muffin and then place it on top of your Vegan Egg McMuffin. Depending on the type of vegan bacon you're using, I recommend giving it a little fry in a pan to bring out the full flavor and texture - this especially applies to using a vegan bacon replacement, whereas ham slices are usually fine to use straight from the pack. Simple right?!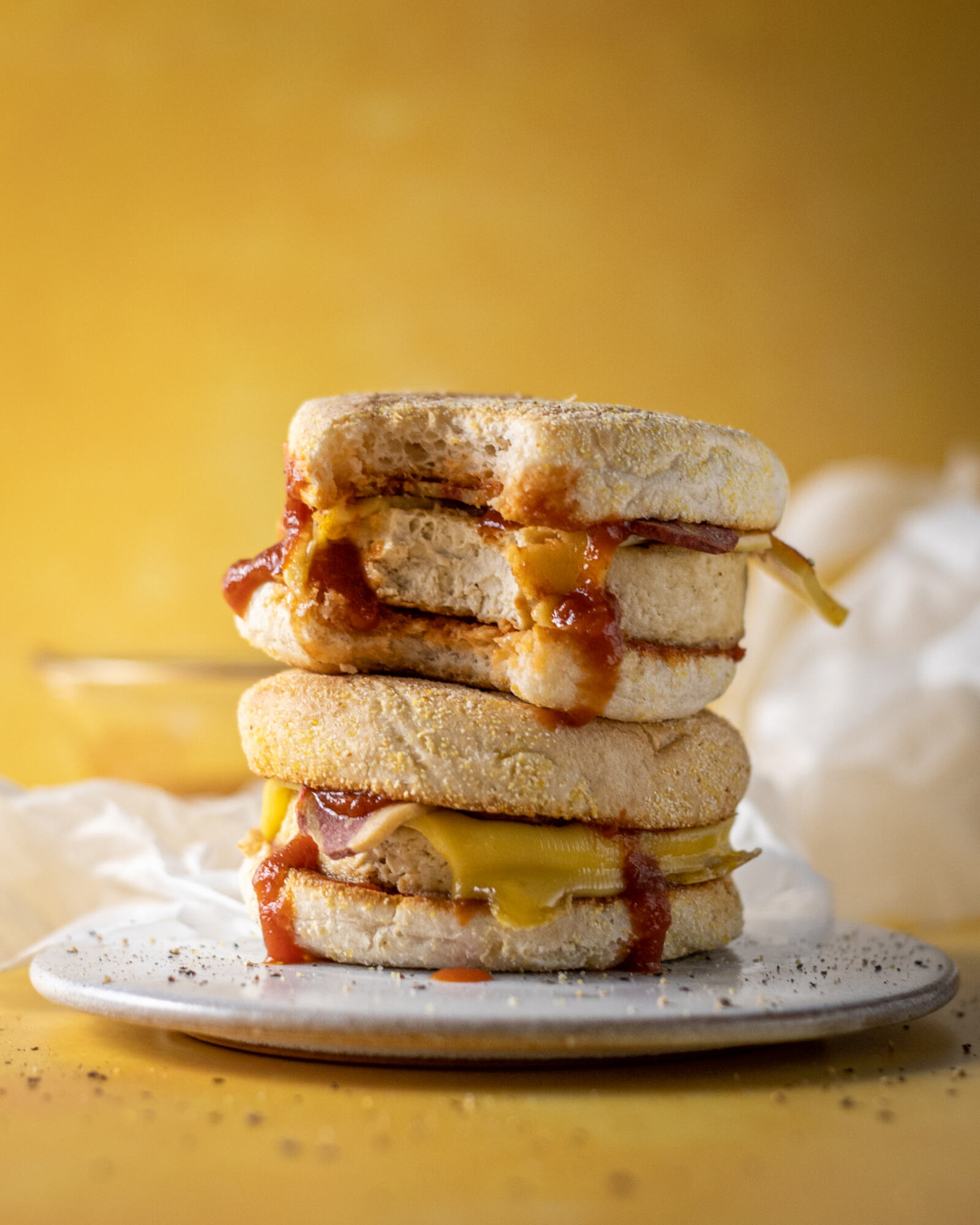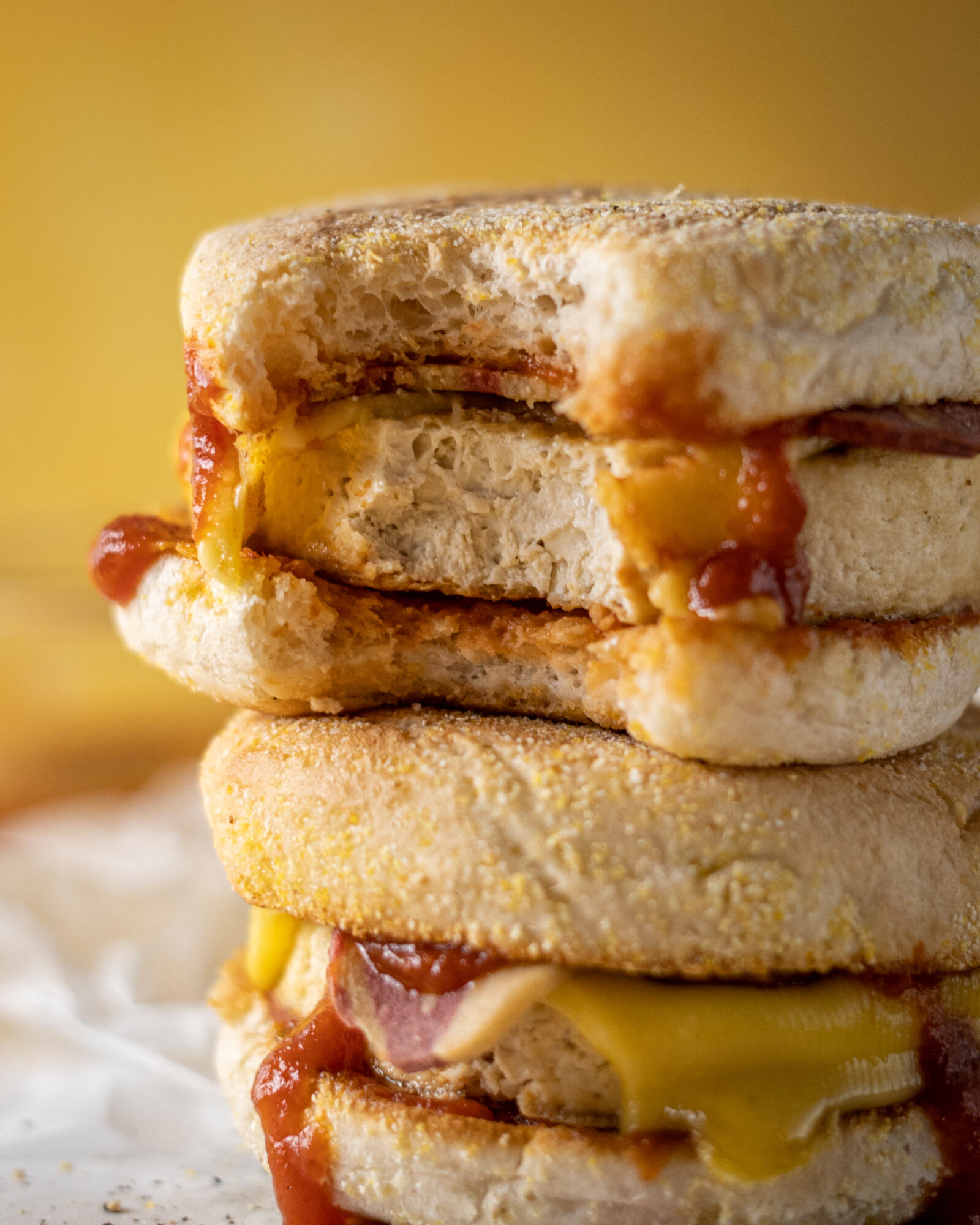 📌 If you love Pinterest you can pin any of the images to your boards!
You might also enjoy these recipes: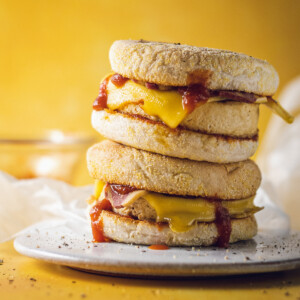 Vegan Egg McMuffin Recipe
Purely delicious vegan Egg McMuffin recipe - simple and easy steps to create this delicious McMuffin version at home!
Ingredients
2

English muffins

1

400g-block

firm tofu (14 oz)

drained

1

tsp

olive oil

1

pinch

black salt

kala namak

2

slices

vegan cheese

2

slices

vegan ham or bacon

1

tsp

dairy-free spread

black pepper to taste

tomato ketchup

optional
Instructions
Drain and press the tofu block for a few minutes to reduce any excess liquid, then slice the block in half lengthwise. Use a round cookie cutter that's roughly the same size as your English muffins and cut out one round tofu disc from each later. Set the leftover tofu aside for a different recipe.

Add a splash of oil to a non-stick pan and sprinkle the Kala Namak into it, then add the slice of tofu to the pan once it's sizzling hot. Fry the tofu slice on both sides until golden – make sure not to move it around to much. It can also help to press the slice into the pan with a ladle to make the edges nice and crispy! Season with a little pepper.

Slice your muffin and lightly toast the slices in the pan, then spread the dairy-free spread on both of them.

Let's assemble! Add a little ketchup to the bottom (if using). Place the tofu on top, then let the vegan cheese melt onto the hot tofu - if needed place it under the grill for 1-2 minutes, or until the vegan cheese becomes melty. Add the vegan ham or bacon slices on top, then pour some more ketchup and place the top half of the muffin on top.

Repeat for the second muffin, admire and serve immediately.
Notes
Ensure to use extra-firm tofu for this recipe - soft or silken tofu will not work out.
The ketchup is completely optional, it's not part of the original McDonalds recipe, but I personally find it's a dollop of the red goodness is a delicious addition!
If you're using vegan bacon slices, you might have to give them a little fry before adding them to the muffin, depending on the brand/variety you use.
This breakfast muffin is also great cold, however, for best results, it's ideally served warm/hot.
Love an indulgent vegan breakfast? Try some of my other breakfast recipes:
*Disclosure: This page may contain affiliate links and sponsored links that earn me a small commission, at no additional cost to you. You can find more information in my Privacy Policy.
 © Romy London / Romina Callwitz | All images and content are copyright protected. Please do not use my images and content without permission. If you wish to re-publish any recipes or images, please get in touch via email. Thanks for your support!