A breakfast made in heaven: These Easy Vegan Scrambled Eggs make you want to get out of bed any day!
Vegan Scrambled Eggs
This recipe is:
vegan
gluten free (serve with GF toast!)
super delicious
eggy tasting
so easy to make
soy free
perfect on toast
delicious with cream cheese & kimchi
a great addition to a vegan shakshuka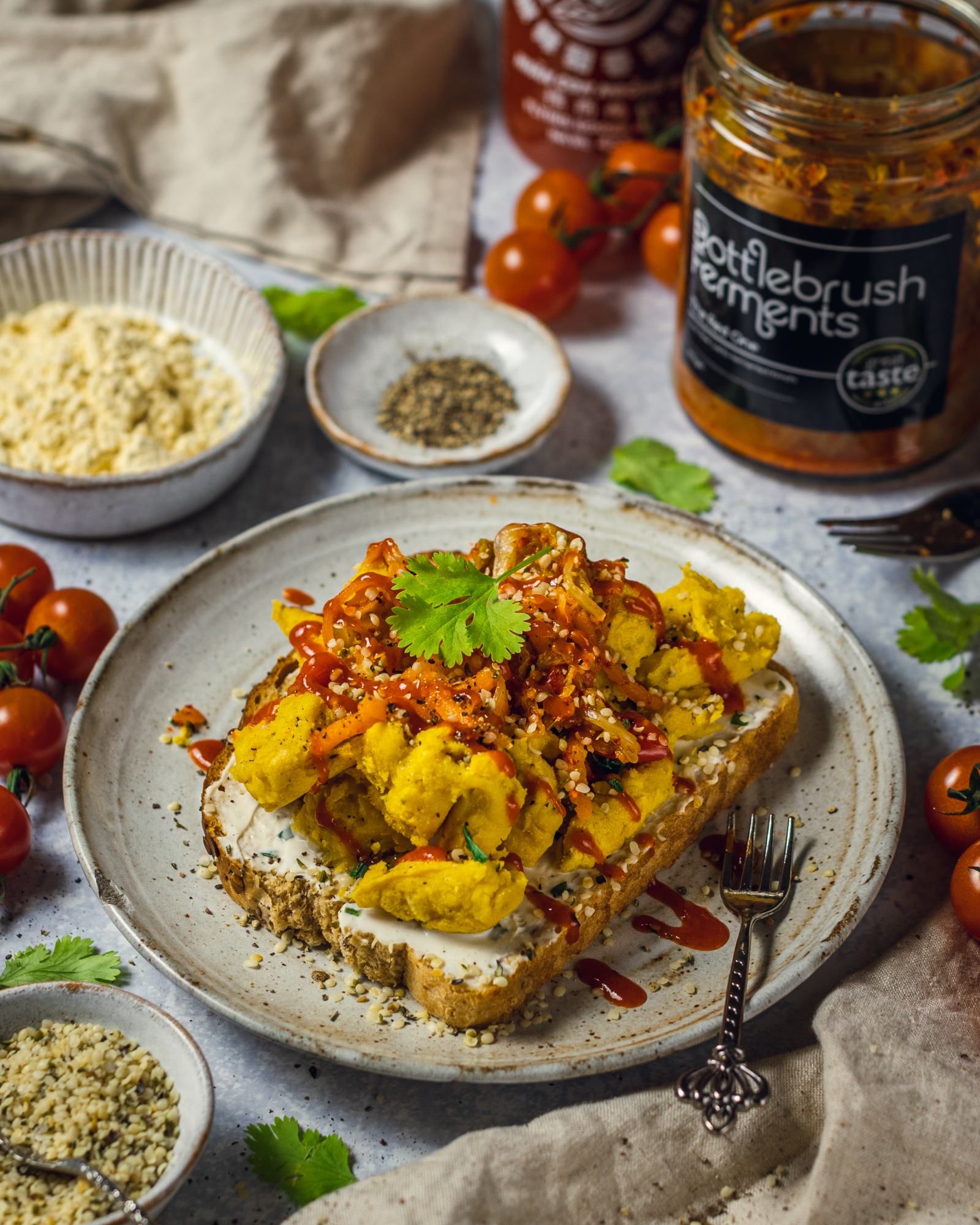 Sunday brunch is calling! If you're not a huge fan of scrambled tofu - and let's be honest, not everyone's a fan - then these Vegan Scrambled Eggs without tofu are absolutely perfect for you!
They're not only delicious on toast, but also work a treat in a Vegan Shakshuka. I love mine on a slice of toasted fresh bread, alongside dairy-free cream cheese, kimchi, and a generous drizzle of sriracha - simply delicious!
What to use for a non-tofu scramble
The base for these Vegan Scrambled Eggs is chickpea flour. Yes, you heard that right! Chickpea flour is simply perfect for a scramble. It soaks up any liquid it's combined with and creates a wonderfully smooth scramble without any lumps. Its flavor also works wonderfully in savory dishes and with a few simple tricks, you can get this vegan scramble to taste simply delicious.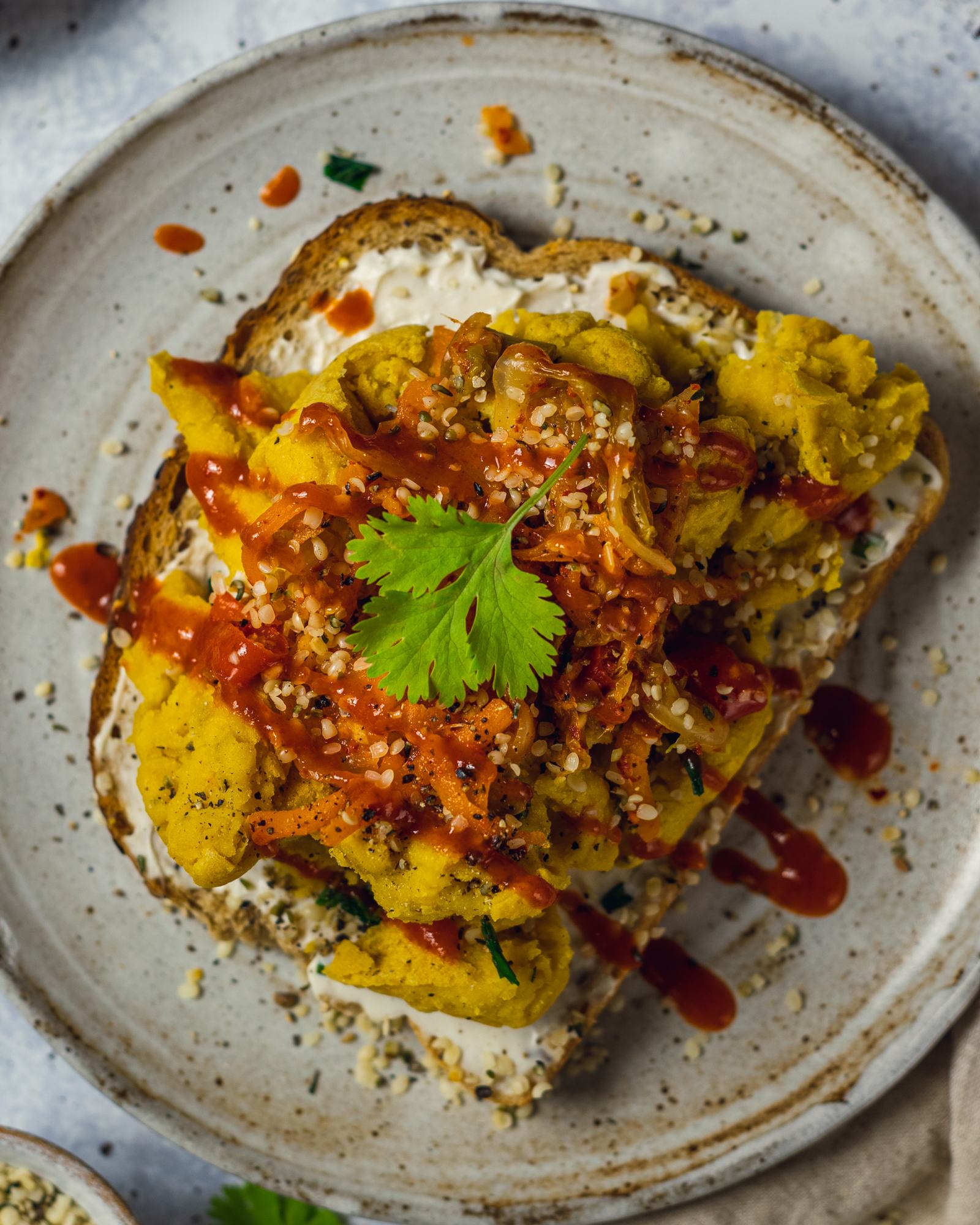 What you'll need for these Vegan Scrambled Eggs
Ingredients
Chickpea flour creates the base for these easy vegan scrambled eggs. It easily binds with liquids and creates the perfect smooth base for the creation of this recipe. It works perfectly for savory dishes and wonderfully compliments the flavors of this vegan scramble.
Kala namak is also known. as 'black salt', but don't let the name fool you: it's not actually black! The sulfurous properties of this ancient salt create the wonderful eggy-ness for this vegan scramble and are, therefore, a key ingredient in making this scramble taste the way it does. Do not omit for the best results! You can get Kala Namak from the spice section in Whole Foods in the UK or simply order it on Amazon.
Adding some fats into the scramble! This is vital, to prevent your scramble from becoming too dry - and don't worry, we're only adding a small amount of oil (1 teaspoon to be precise). I use organic Extra Virgin Olive Oil for this recipe.
The turmeric adds a wonderful touch of yellow color to this scramble. We only use a pinch in this recipe as we don't want the. turmeric to overpower the flavor. The black pepper simply belongs onto any scramble and it also helps absorb the healthy nutrients of the turmeric.
Equipment:
I like to combine my ingredients in a medium-size bowl. The important step is to first stir through the dry ingredients to ensure for an even distribution of the turmeric, Kala Namak, and black pepper, then add the liquids (oil and water) and whisk thoroughly until everything is smoothly combined, and no lumps are left.
For this recipe to work out perfectly, it is VERY IMPORTANT that you use a non-stick pan. If you're trying to use a different type of pan, it is highly likely that your scramble will get stuck to your pan and not turn out great. I can highly recommend investing in a non-stick pan - I've tried a couple of different ones over the years, but Tefal Non-stick pans have been the best so far (only use wooden or rubber equipment in this pan, any metal can scratch and ruin the non-stick surface).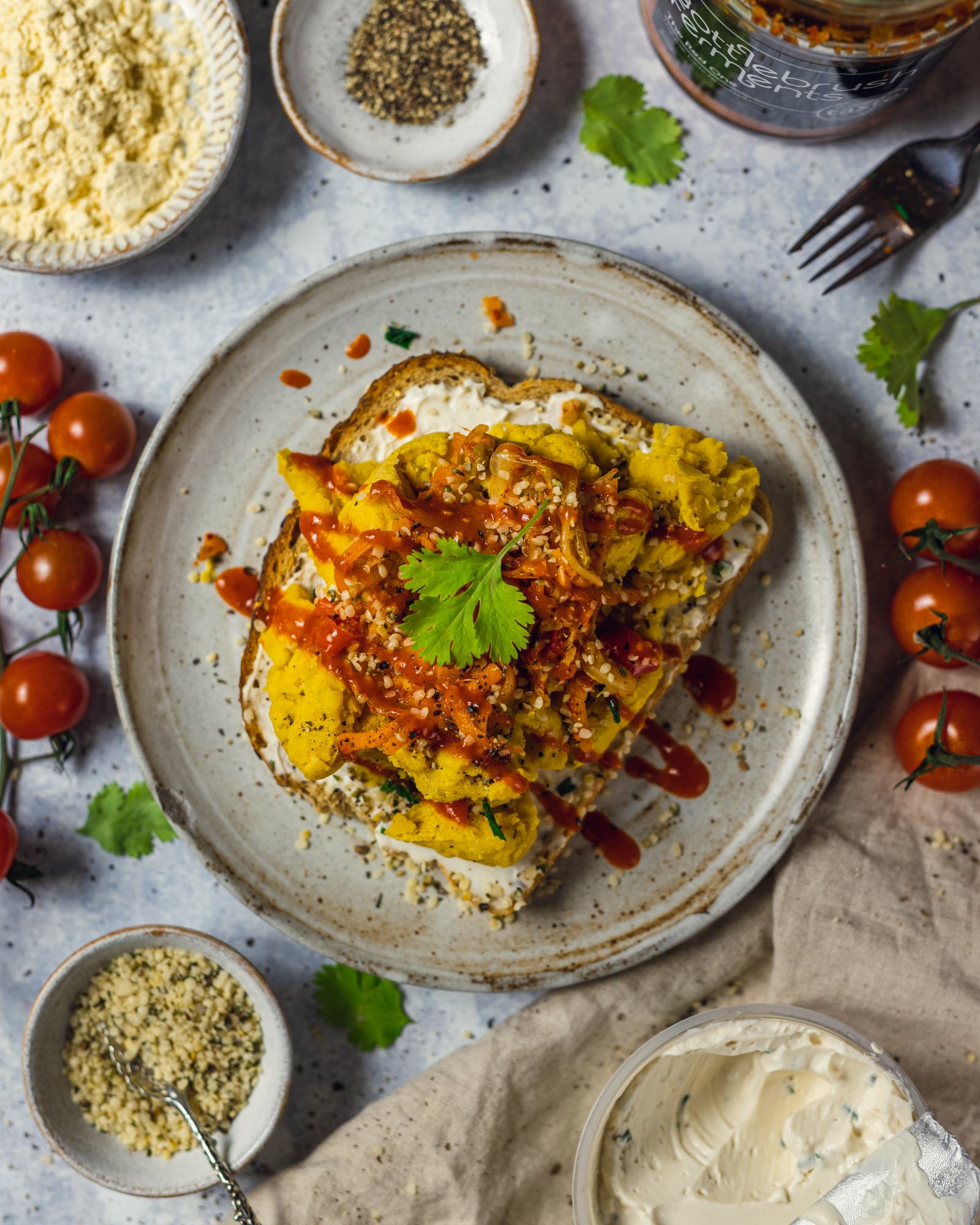 What is Kala Namak?
Kala namak is a kiln-fired rock salt mostly used in South Asia with a sulfurous and pungent smell. It is also known as "Himalayan black salt" and other names for it are: Sulemani namak, bit lobon, kala noon, or pada loon. It is manufactured from the salts mined in the regions surrounding the Himalayas.
The condiment is composed largely of sodium chloride with several other components lending the salt its color and smell. The smell is mainly due to its sulfur content. Kala namak has been praised in Ayurveda and used for its perceived medical qualities.
Where to buy Kala Namak?
The Kala Namak I've used in this recipe is from a company called 'Steenbergs' and I bought the salt crystals in the spice section at Whole Foods UK. You can also find the product in a variety of online supermarkets, including Buywholefoodsonline and Amazon.
How to make Vegan Scrambled Eggs
Putting the scramble into these Vegan Scrambled Eggs! The steps for this recipe are pretty straightforward, which makes it such a great recipe to begin with!
Step 1: Mix dry ingredients
Start by adding all the dry ingredients into a mixing bowl: chickpea flour, kala namak, olive oil, turmeric, and black pepper. Stir to combine them - this will allow for an even distribution of all flavors in your vegan scramble.
Step 2: Add wet ingredients
Pour in the extra virgin olive oil and water and whisk to combine into a smooth batter.
Step 3: Pan-fry and scramble
Lightly grease your non-stick pan over medium heat and pour in your Vegan Scrambled Egg mixture. Allow for the mix to sit in the hot pan for 1 minute, then use a spatula and begin to scramble. Between each scramble, allow for the mix to sit for 30-60 seconds so it can firm up slightly.
Your scramble should be done in 10 minutes or less - you can tell it's ready when your scrambled pieces maintain their shape and are no longer wet.
Step 4: Serving
Remove from the non-stick pan and serve on its own, on toast with a sprinkle of salt & pepper, or in a delicious vegan Shakshuka.
📌 If you love Pinterest you can pin any of the images to your boards!
You might also enjoy these breakfast recipes: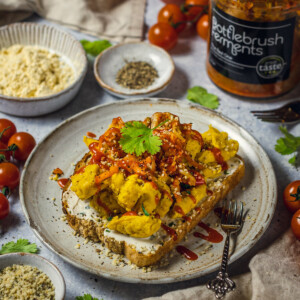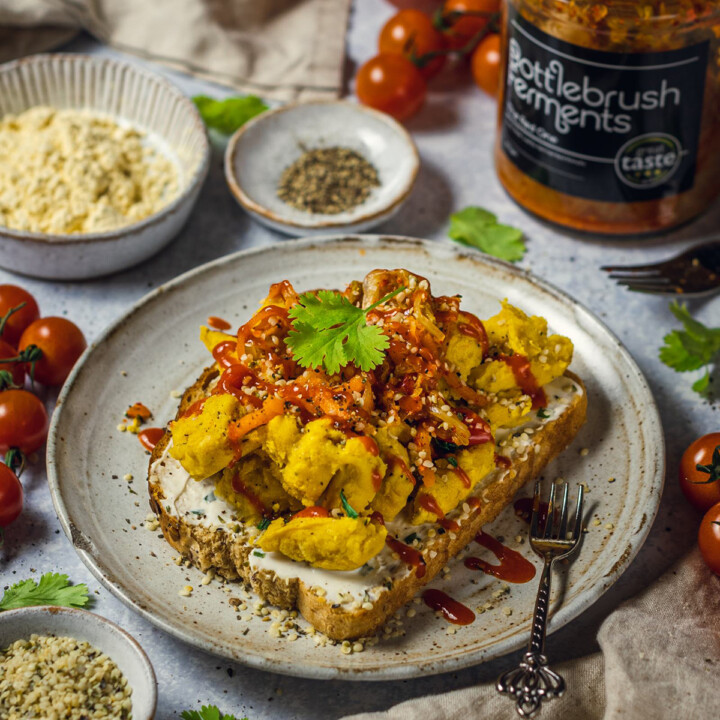 Vegan Scrambled Eggs Recipe (No Tofu)
This vegan scrambled eggs recipe is perfect for those who don't like tofu (or are avoiding soy products in general). It comes out wonderfully fluffy and tastes great on buttered toast, as a side or used in a vegan shakshuka!
Ingredients
80

g

chickpea flour

1/8

tsp

kala namak

black salt

1

pinch

turmeric

1

tsp

olive oil

180

ml

water

extra oil for frying
Instructions
In a small bowl combine the dry ingredients: chickpea flour, kala namak, turmeric and black pepper. Gently stir with a fork to combine.

Pour in the olive oil and water and whisk until smooth. Set aside for 10 minutes.

Heat a non-stick pan over medium heat, add a little oil and once hot, pour in the chickpea mix. Leave to rest in the pan for about 1 minute.

Use a spatula to gently scramble the chickpea 'egg'  and cook until your scrambles are firm and no longer wet.

Serve on toast, as a side or in a delicious vegan shakshuka!
Notes
The Kala Namak is also known as 'black salt' - but don't be. fooled, it's not actually. black. It's one of the key ingredients in this recipe to give these scrambled 'eggs' a wonderfully eggy flavor.
Nutritional values for reference only.
Check out the rest of my vegan breakfast recipes!
*Disclosure: This page may contain affiliate links and sponsored links that earn me a small commission, at no additional cost to you. You can find more information in my Privacy Policy.
 © Romy London / Romina Callwitz | All images and content are copyright protected. Please do not use my images and content without permission. If you wish to re-publish any recipes or images, please get in touch via email. Thanks for your support!