These Easy Coconut Pancakes are definitely coco-nuts! Created with a mix of coconut & gluten-free flour, they're a delicious brunch addition - and perfect, not just on Sundays.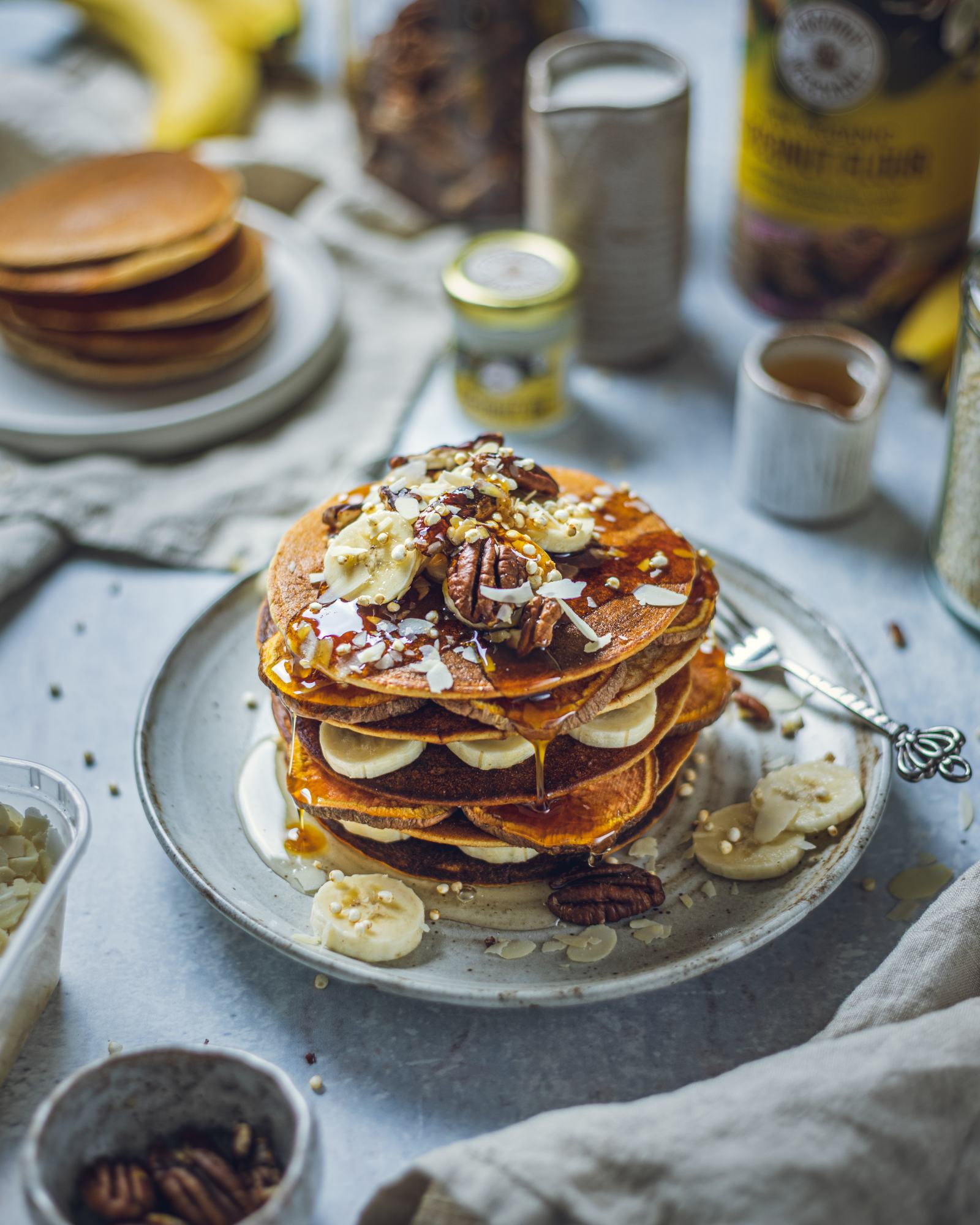 Vegan Coconut Flour Pancakes
What are Sundays without a pancake breakfast? Exactly! This Easy Coconut Pancakes Recipe has been the most wonderful breakfast treat and they've turned out so wonderfully fluffy, I simply had to share the recipe with you.
What you'll need to make these Easy Coconut Pancakes
Ingredients
Maple syrup or agave nectar
Vanilla extract
Apple cider vinegar (or coconut vinegar)
Baking powder
Baking soda
Coconut milk (* the drinking kind)
Coconut oil for frying (optional, not necessary if you use a non-stick crepes pan)
For the flour base of these coconut pancakes I've used a blend of coconut flour (for some extra coconut-ty-ness!) and gluten-free flour - but if you're not avoiding gluten, you can feel free to swap out the gluten-free flour for regular flour. Self-raising works best, I've found!
The gluten-free flour I've used was rice flour and I'd recommend to either go with rice or buckwheat flour (or a blend), as some gluten-free flours may be too crumbly to make smooth pancakes with.
The maple syrup added to the recipe will add a wonderful sweetness to these pancakes, and as it will slightly caramelise during the cooking process, it will also give your pancakes a wonderful golden colour. The vanilla extract adds a delicious & light vanilla note, as well as a subtle depth to the flavour of the pancakes.
The addition of vinegar & baking soda will make these pancakes beautifully airy which makes them fluffy and soft - just what you'd want from some delicious vegan pancakes. During the blending process of the recipe, you will be able to tell that the batter is slightly buzzing away, which is what happens when these two ingredients meet. Together with the baking powder, these ingredients will give your pancakes the perfect rise.
For the delicious coconut flavour of these pancakes the coconut flour and coconut milk come together nicely and create the wonderful nutty-ness for your breakfast.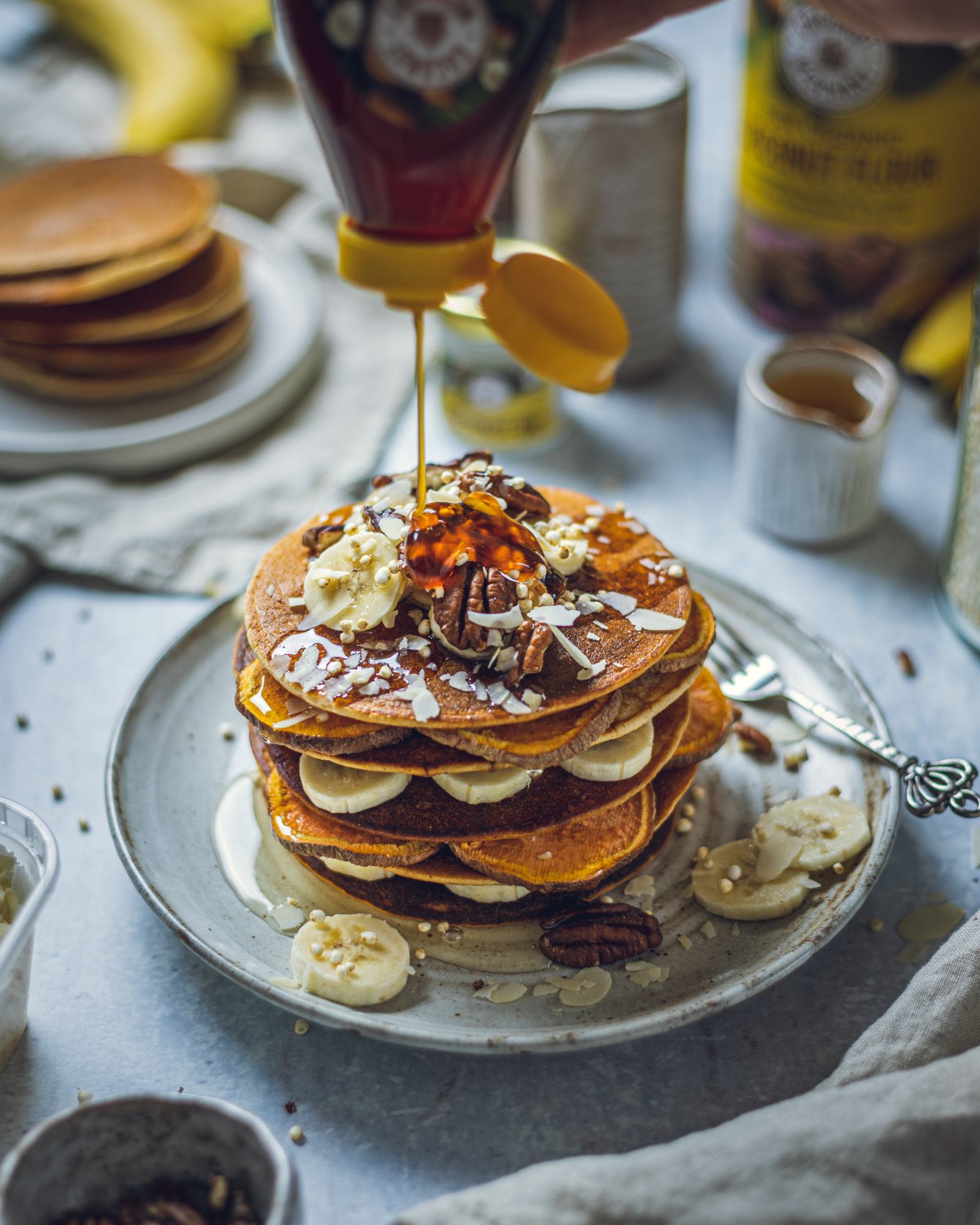 A few things to note
In blending the ingredients it's important to first combine the dry ingredients so that they're properly mixed before adding the liquids to it. This will help avoid any odd lumps in your pancakes - because, after all, we want smooth sailing, right 😉
To create the pancakes I've used my go-to non-stick crêpes pan. For years I just used whatever other pan I had to hand, but let me tell you: getting an actual crêpes pan has been worth every penny as this is how I'm getting perfect pancakes with each attempt. If you don't have a crepes pan, do not worry: simply use a non-stick pan, and grease it with a little coconut oil to prevent the pancakes from sticking.
This recipe makes about enough pancakes for 4 portions, however, the visual portion sizes depending on the size and shape of pancakes you're going for. With the American style pancakes, I've created from the ingredients I've managed to get a total of 15-20 small pancakes - perfect for stacking! If you're not cooking for the entire family, you can also freeze any leftover pancakes and re-heat them on demand. I mean, who wouldn't love a stack of ready-made pancakes to hand?! 😉 Alternatively, you can keep any leftovers in the fridge and consume within 2 days.
Pancake Toppings
When it comes to pancake toppings, I follow a simple idea: top with whatever your heart desires! Maple syrup is a must for me - and I like to add a bit of a crunch, usually in the form of almond flakes, cacao nibs or toasted pecans (so yum!). For these coconut pancakes, I've combined smooth & creamy banana, baked sweet potato slices, coconut honey, toasted pecan nuts, almond flakes and puffed quinoa.
Another delicious addition I love on pancakes is protein yoghurt. To prepare this I simply combine 2-3 Tbsp of vegan yoghurt with 1 Tbsp of vanilla protein powder.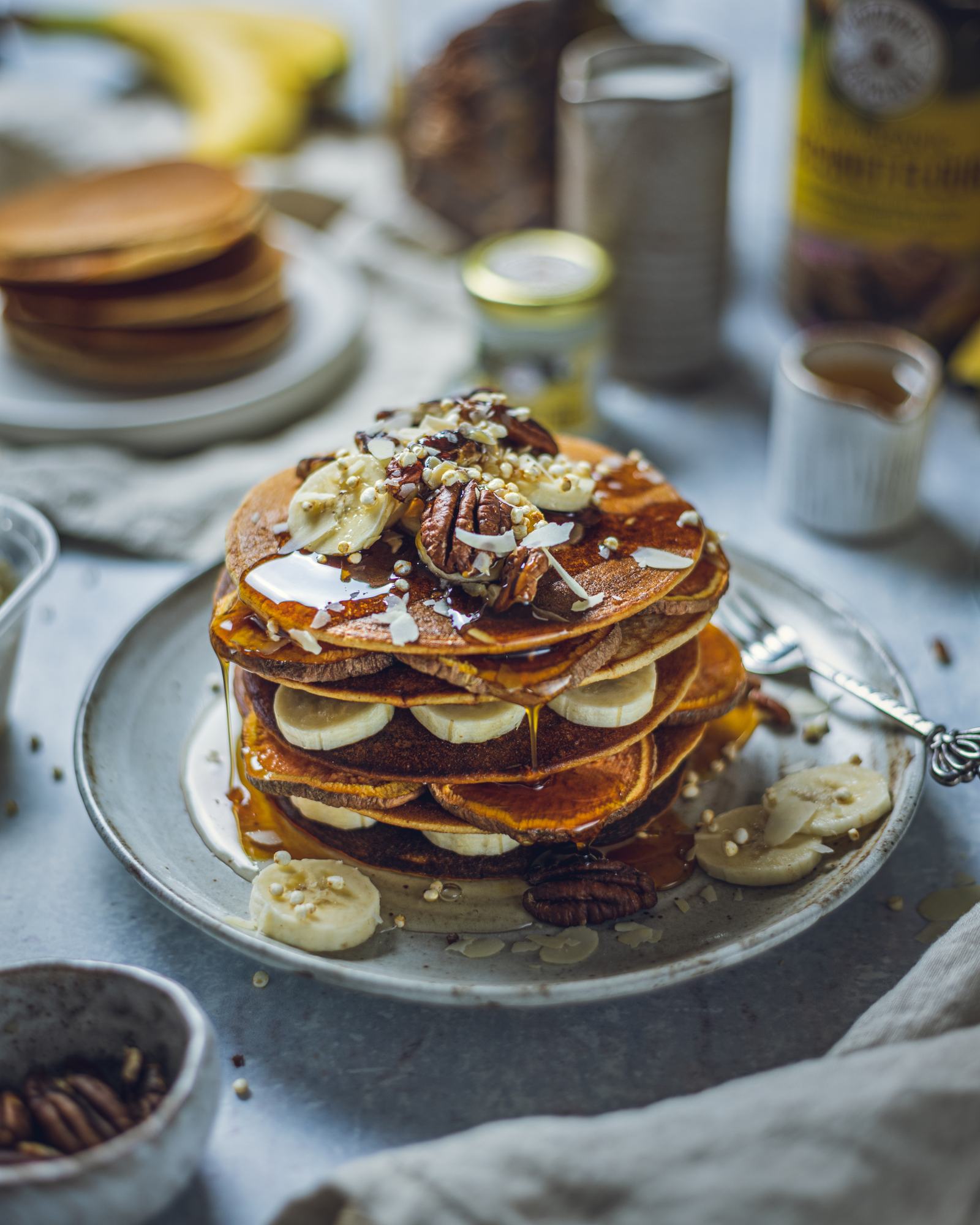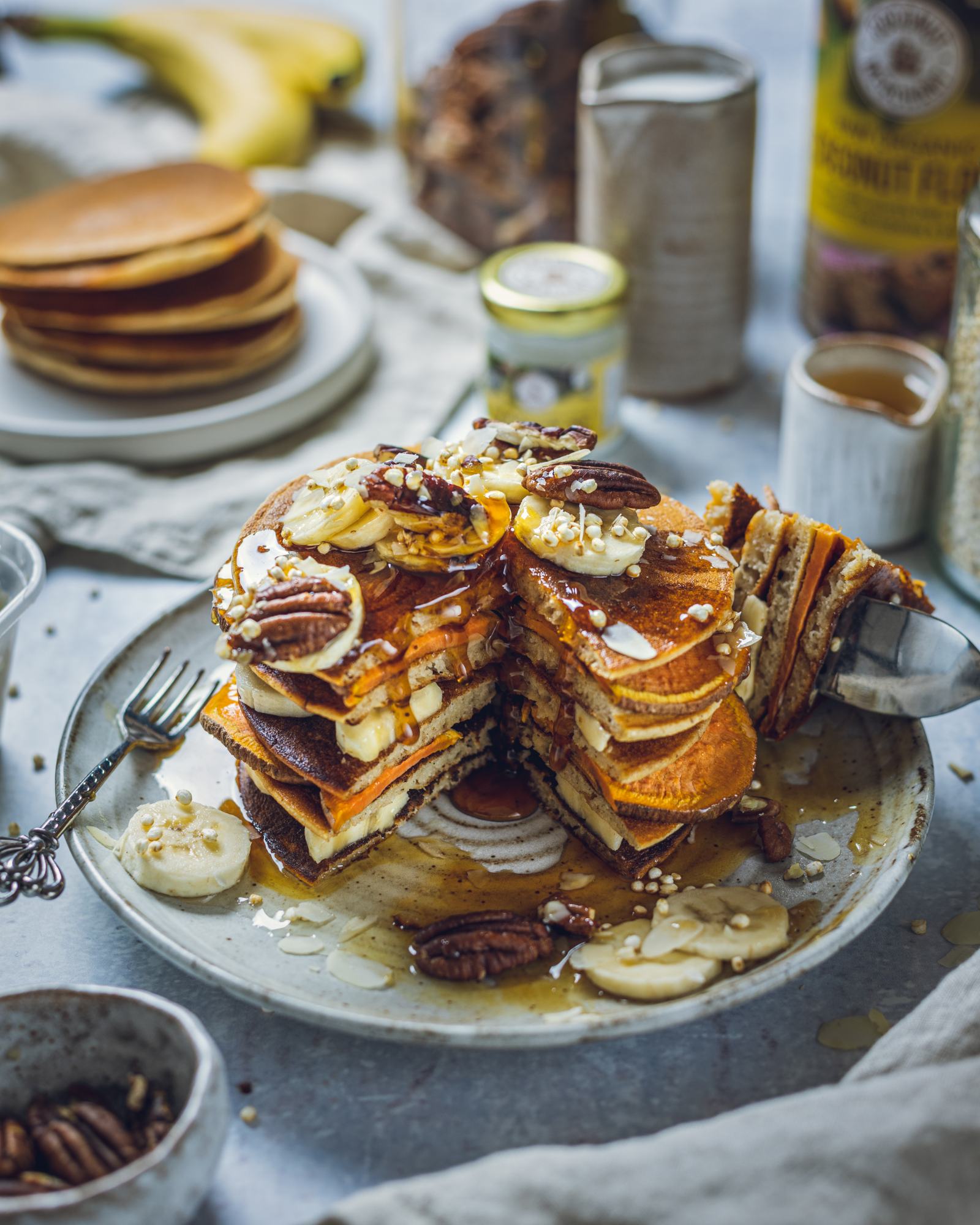 This recipe is:
100% vegan
gluten-free
super coconut-ty
the perfect weekend treat
delicious
more-ish
easy to make
for the entire family
easily adaptable
You might also enjoy these recipes:
📌 If you love Pinterest you can pin any of the images to your boards!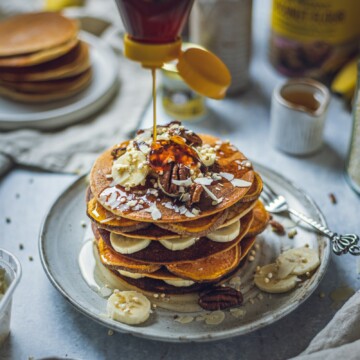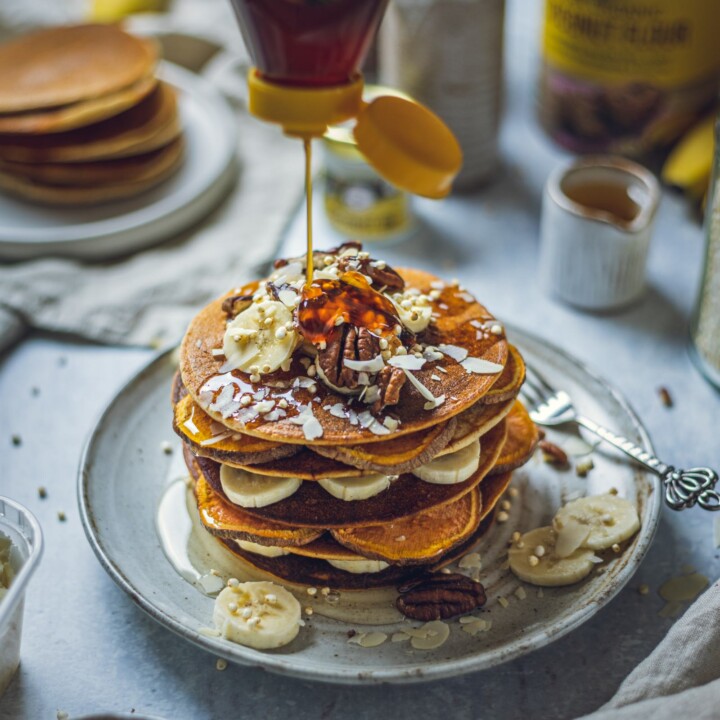 Vegan Coconut Pancakes
These easy coconut pancakes are such a delicious treat to start off your Sunday morning!
Equipment
1 mixing bowl

1 non-stick pan
Ingredients
4

tbsp

maple syrup

or agave

1

tsp

vanilla extract

2

tbsp

apple cider vinegar

30

g

coconut flour

170

g

gluten-free flour

2

tsp

baking powder

1/4

tsp

baking soda

400

ml

coconut milk (drinking)

coconut oil for frying
Instructions
In a large mixing bowl, first combine your dry ingredients for the batter: coconut flour, flour, baking powder & baking soda, then form a little well in the middle and gently pour in your wet ingredients.

Whilst you're whisking them all together, pre-heat a large non-stick frying pan over medium heat.

Add a coconut oil and let it melt & distribute entirely (optional).

Gently spoon your pancake batter into the pan, you can make smaller American style pancakes (like I did) or larger ones that take up the entire pan - they will be more difficult to flip though.

Let your pancakes sit until they start to become firm and the edges are slightly golden. Use a spatula to carefully flip them and cook them on the second side until golden.

Serve with your favourite toppings - banana and baked sweet potato slices are some of mine (plus toasted pecans for a decent crunch!)
Notes
If you're not avoiding gluten, you can swap out the gluten free flour for all purpose or self-raising flour.

The amounts in the recipe will be 4 portions, considering you're making small American style, thin pancakes (like the pictured ones).

You can freeze the pancakes and reheat - or keep them in the fridge and consume within 2 days.
Looking for more vegan breakfast ideas? Click through for more of my vegan breakfast recipes or take a look at my some of my favourites below:
*Disclosure: This page may contain affiliate links and sponsored links that earn me a small commission, at no additional cost to you. You can find more information in my Privacy Policy.
 © Romy London / Romina Callwitz | All images and content are copyright protected. Please do not use my images and content without permission. If you wish to re-publish any recipes or images, please get in touch via email. Thanks for your support!