This Grilled Zucchini Salad is the perfect summer salad recipe! It's made with toasted walnuts and vegan feta cheese, then drizzled with an oil-free salad dressing that packs a whole lot of flavor.
The recipe is easy to make and prepare ahead of time, making it a perfect lunch or delicious side dish for your next BBQ.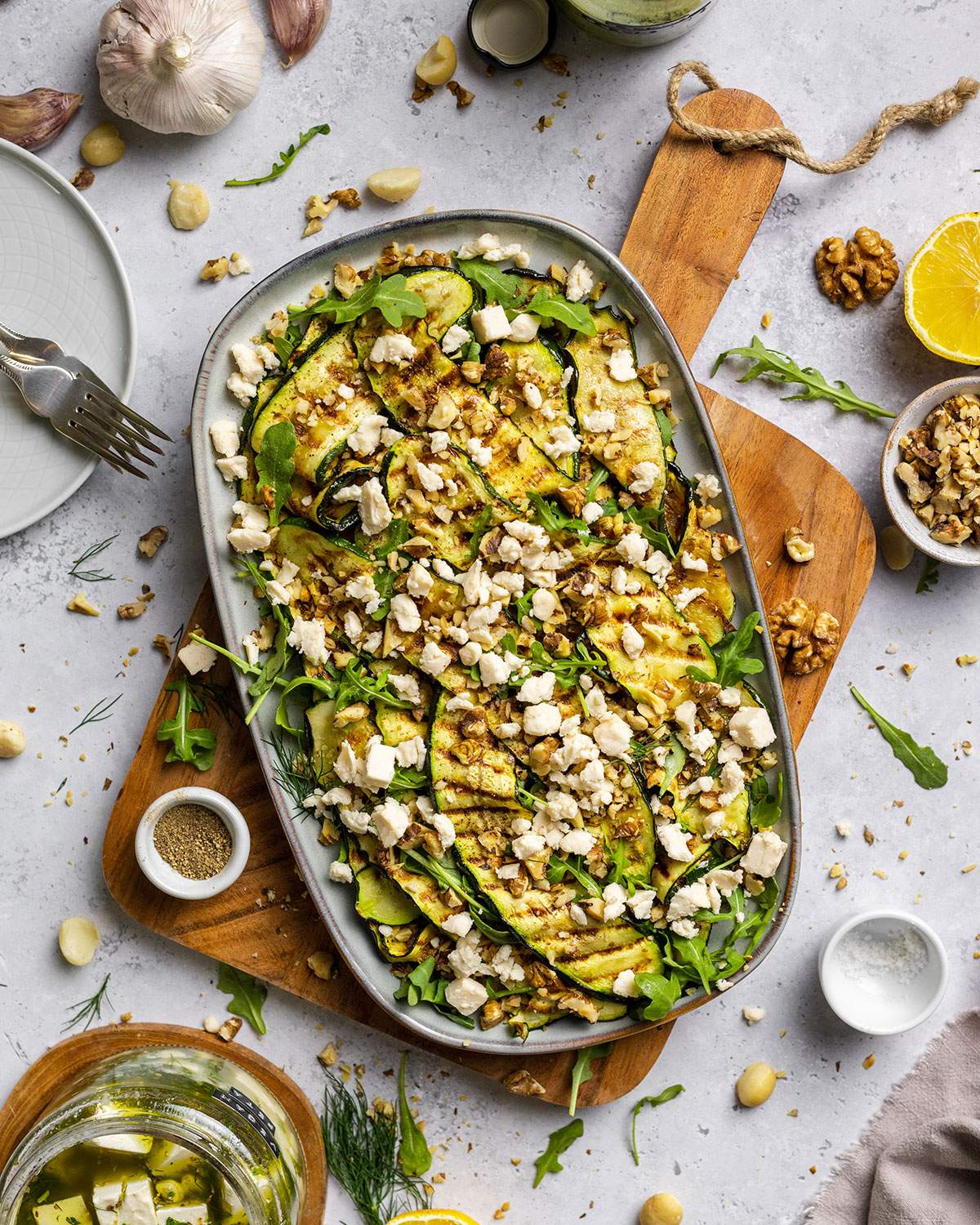 Jump to:
RECIPE BACKGROUND & HISTORY
❤️ Why this Recipe Works
It's vegan!
it's made with grilled zucchini - a healthy and delicious summer vegetable!
The addition of walnuts adds a nice crunch and nutty flavor to the salad.
The simple oil-free dressing is easy to make and complements the flavors of the salad well.
It is perfect for a light lunch or as a side dish for a summer BBQ!
🌱 Ingredients & Notes
Here is everything you need for this Vegan Grilled Zucchini recipe: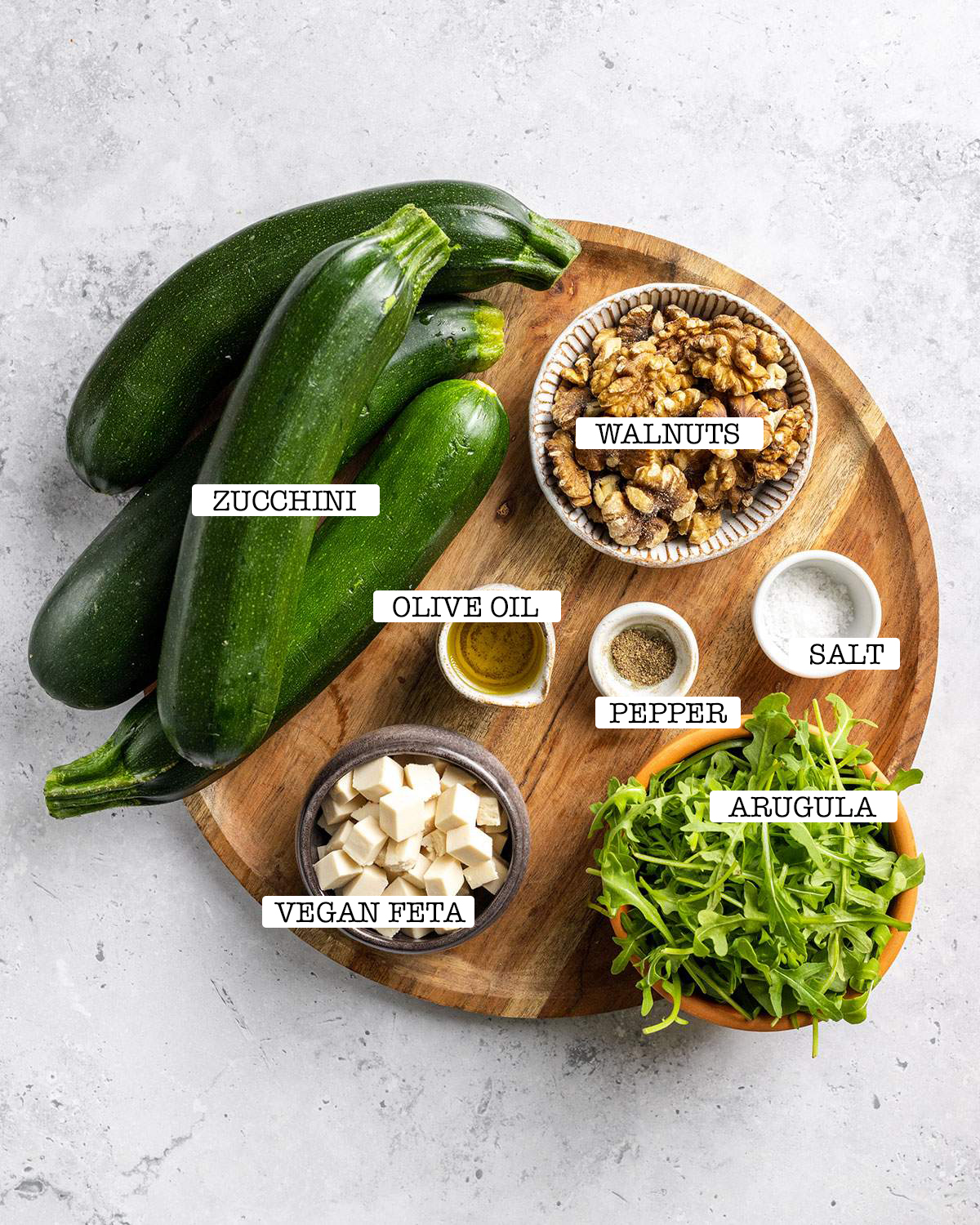 Zucchini - sliced into 1/4-inch slices
Oil - I like to use olive oil to brush the zucchini slices before grilling
Seasoning - salt and pepper
Walnuts - use raw and unsalted walnuts and chop them before toasting the nuts
Arugula - for the recipe I used roughly 2 cups of fresh arugula (about 50g)
Vegan Feta - use homemade vegan feta made from macadamia nuts or swap for store-bought
Dressing - this vegan Oil-free Salad Dressing compliments the salad perfectly and it's super easy to make!
Jump to the recipe card at the bottom of the post for detailed quantities.
Tips for Ingredient Substitutions
In case you don't have everything to hand, here a few ideas and notes for possible substitutions:
Nuts - swap walnuts for other nuts such as almonds or pecans
Arugula - swap for other greens, such as baby spinach or mixed salad greens
Zucchini - this recipe is also delicious with grilled yellow squash or eggplant.
Vegan feta - substitute with crumbled tofu or sprinkle the salad with nutritional yeast.
Possible Recipe Variations
If you want to shake things up, why not try taking this recipe to the next level:
For a Mediterranean twist, try adding kalamata olives to the salad. You could also use a Greek dressing instead of the simple oil-free dressing used in the original recipe.
For a heartier salad, add cooked quinoa or couscous to the mix. You could also add some vegan grilled chicken or seitan kebab for some extra protein.

For a sweeter version of the salad, add some sliced fresh strawberries or dried cranberries. You could also add a drizzle of maple syrup to the dressing for some extra sweetness.
🔪 Equipment
Here is all the equipment you need to make this recipe:
Grill or grill pan
Skillet
Large bowl
🧑‍🍳 Instructions (Step-by-Step)
This salad is so easy to make in just a few steps: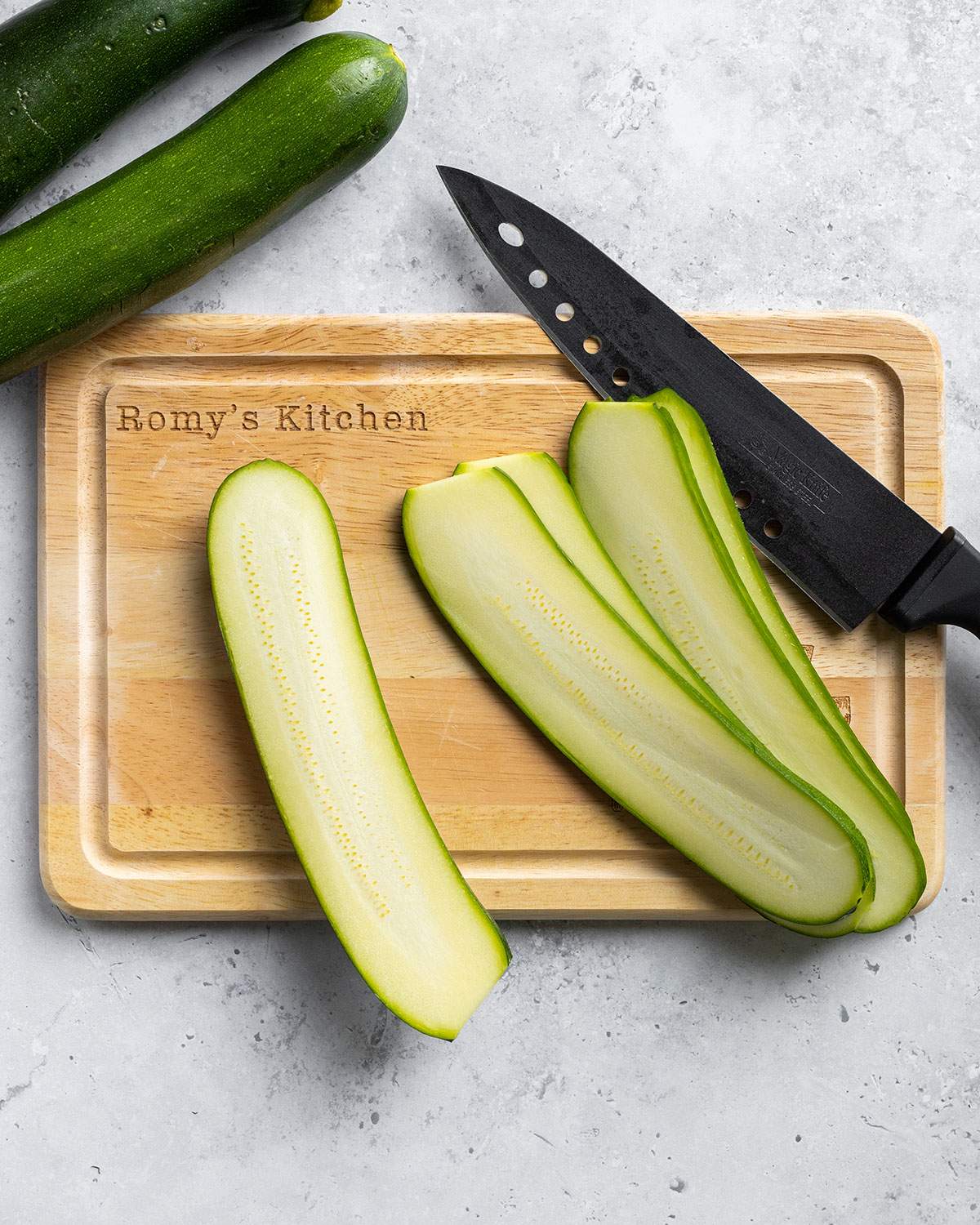 Slice the zucchini into 1/4-inch slices.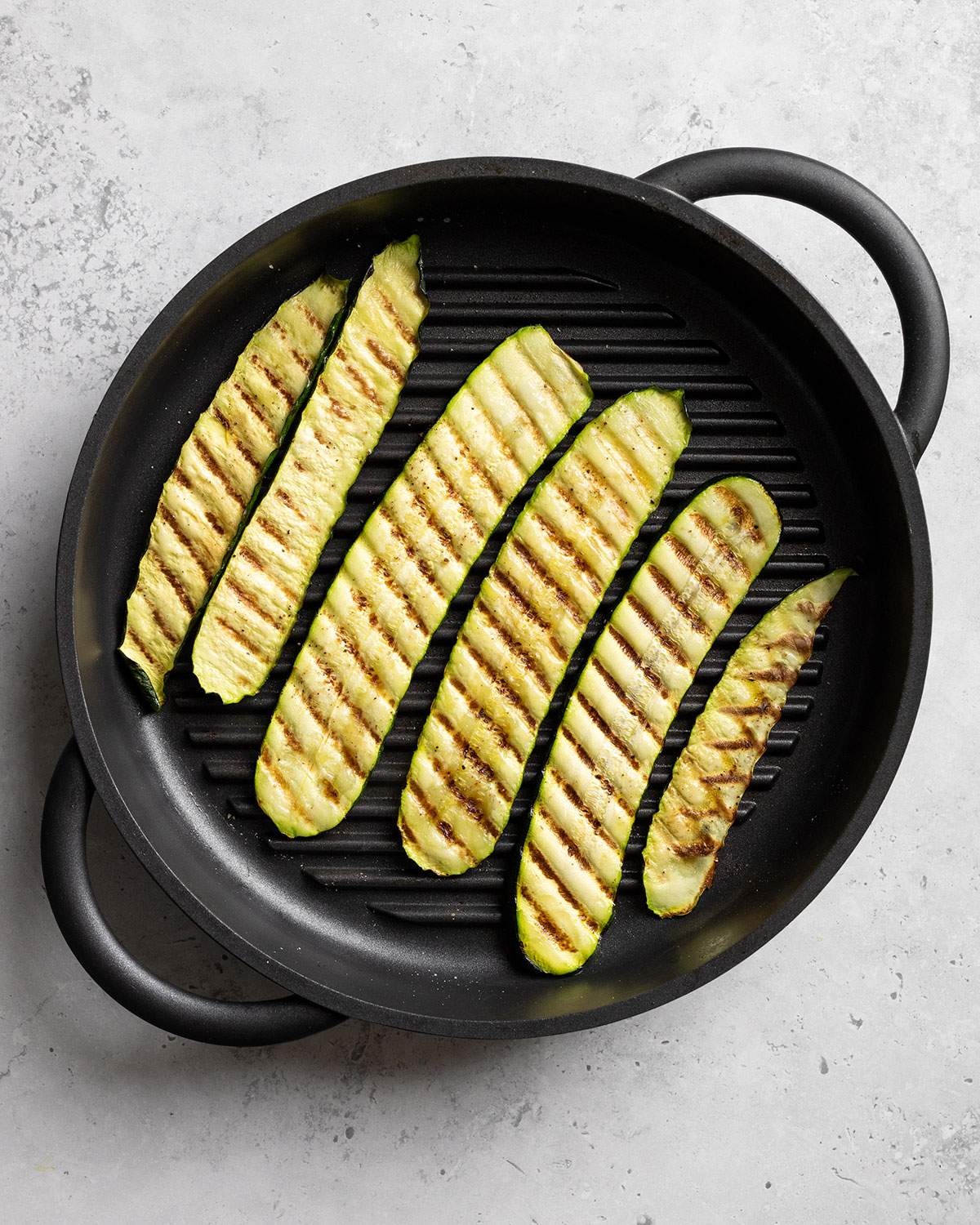 Grill the slices in a griddle pan.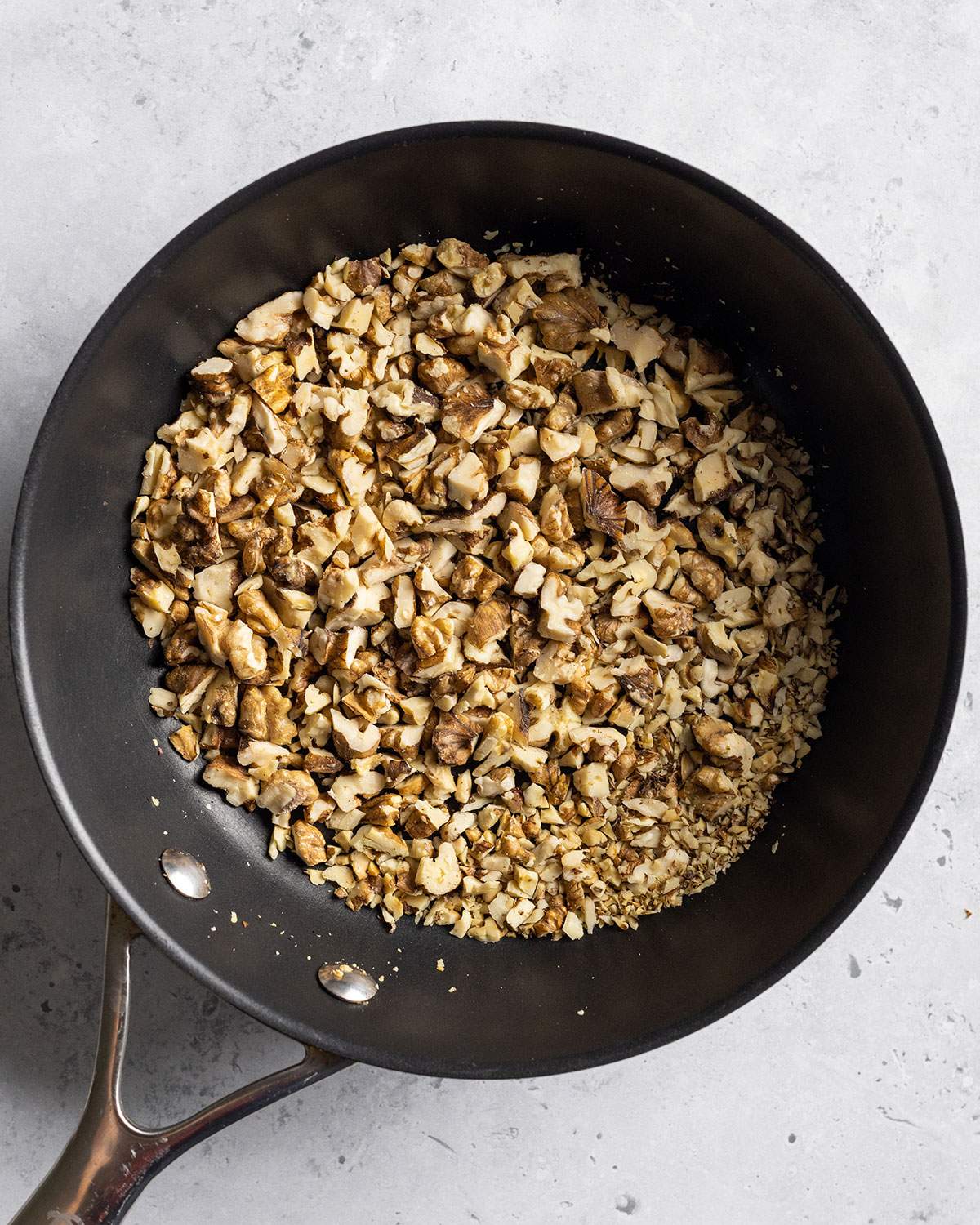 Toast the chopped walnuts.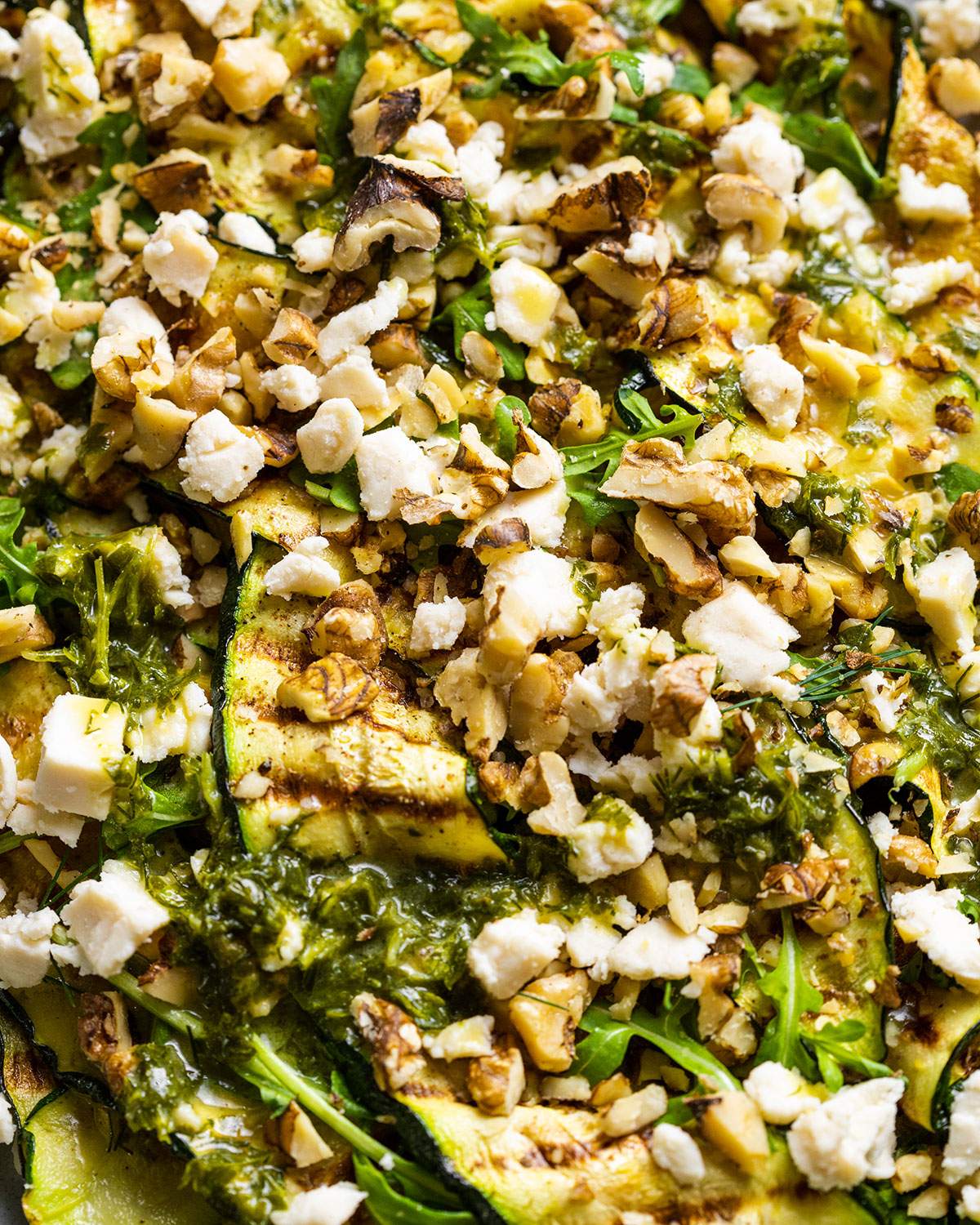 Mix all ingredients in a bowl and toss with the oil-free salad dressing. Then you're ready to serve your Grilled Zucchini Salad!
Useful tip: When grilling the zucchini, make sure to not overcrowd the grill or grill pan. This will ensure that the zucchini slices get evenly cooked and get those nice grill marks on them. If your grill or grill pan is small, you may need to grill the zucchini in batches to avoid overcrowding.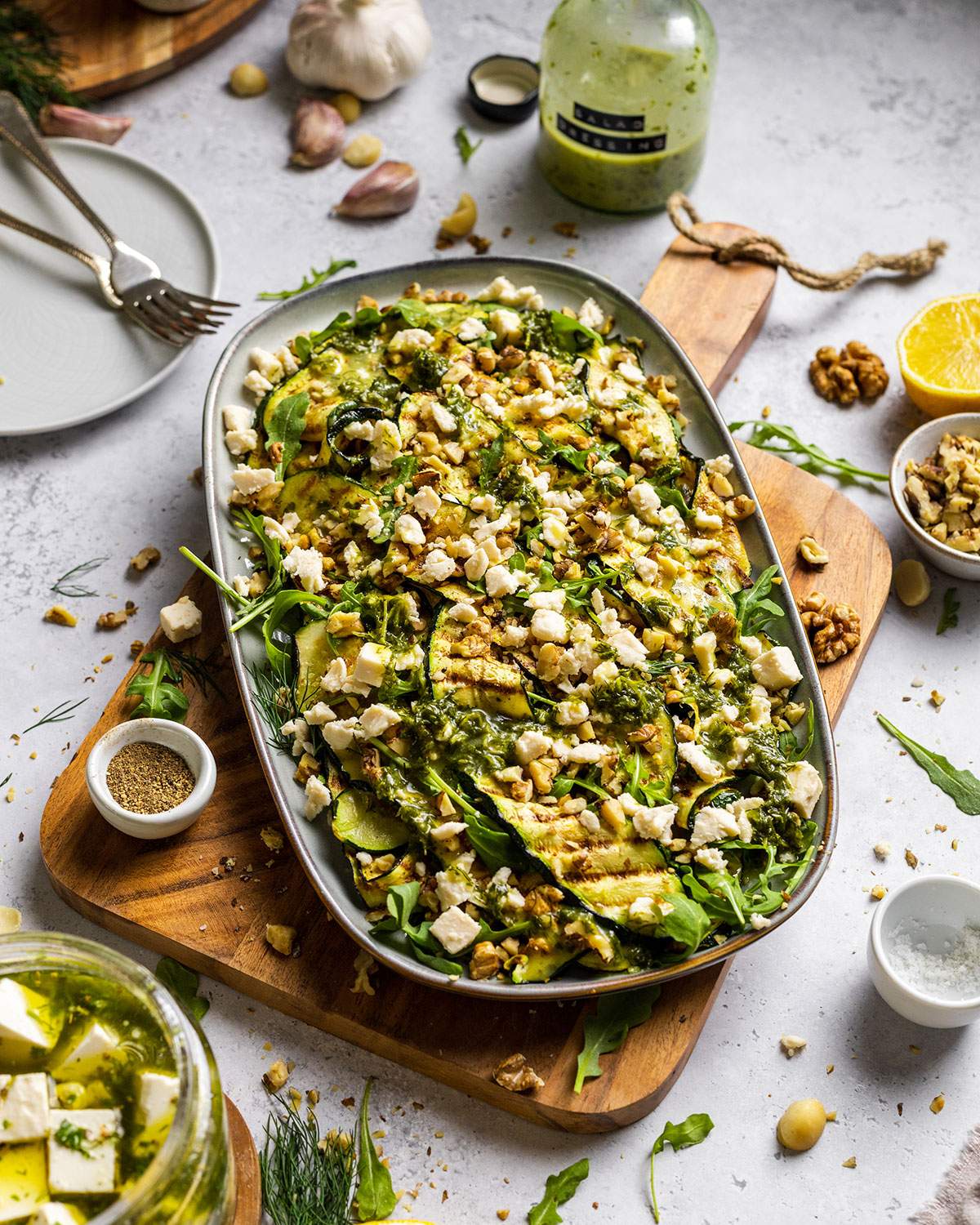 ❄️ Storage
This salad is best served immediately, but can also be stored in an airtight container in the refrigerator for up to 2 days. Keep in mind that the zucchini may soften slightly and the dressing may become absorbed by the other ingredients over time. If you plan on making the salad ahead of time, consider storing the dressing separately and adding it just before serving.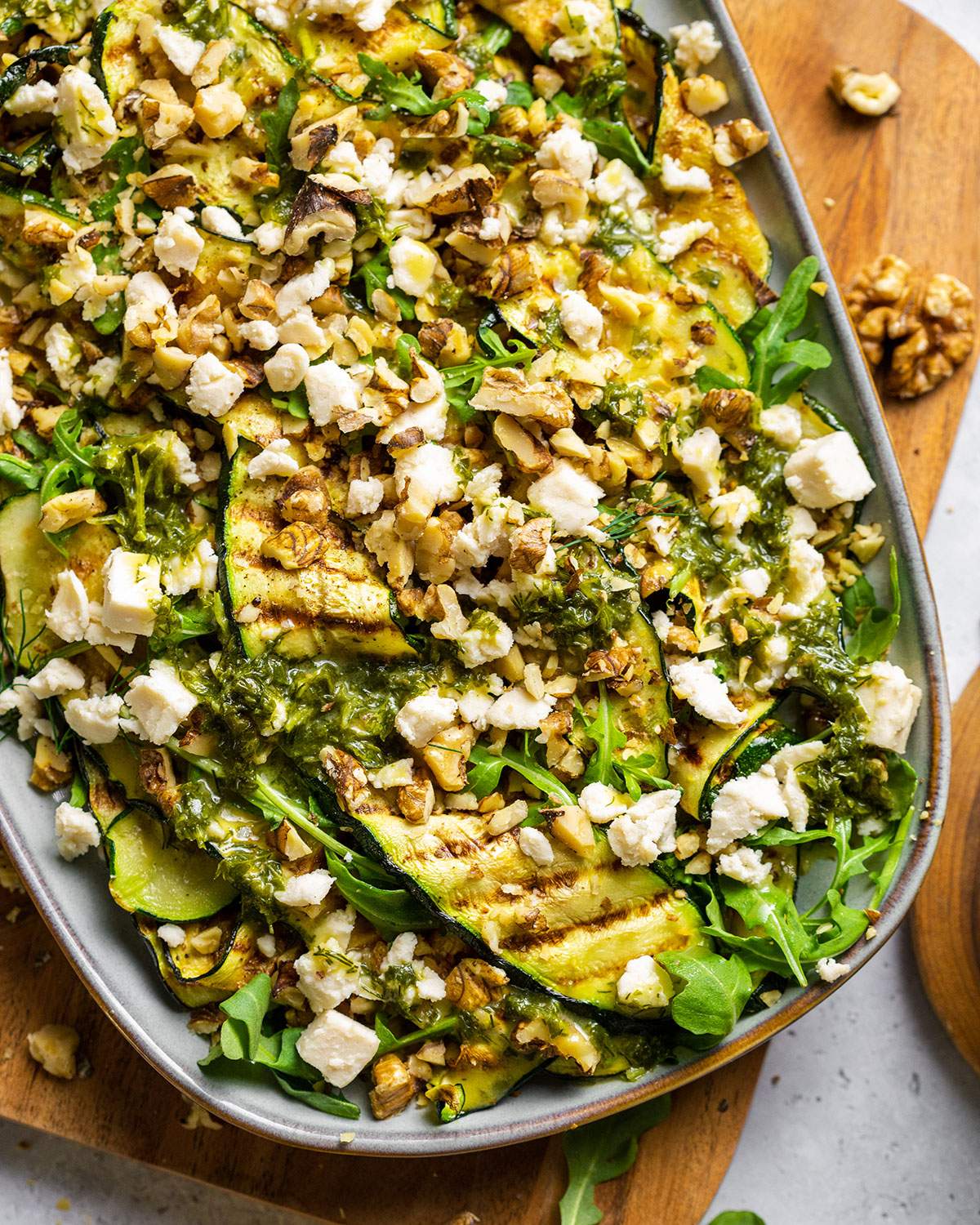 ♻️ What to Do with Your Leftovers
If you have any leftover ingredients from this recipe, here are a few tips and tricks to use them in your next epic creation!
🔜 Related Recipes
Text linking to some options
📌 If you love Pinterest you can pin any of the images to your boards!
📝 Recipe
Here's a handy recipe card that you can print out and keep in your kitchen for easy reference: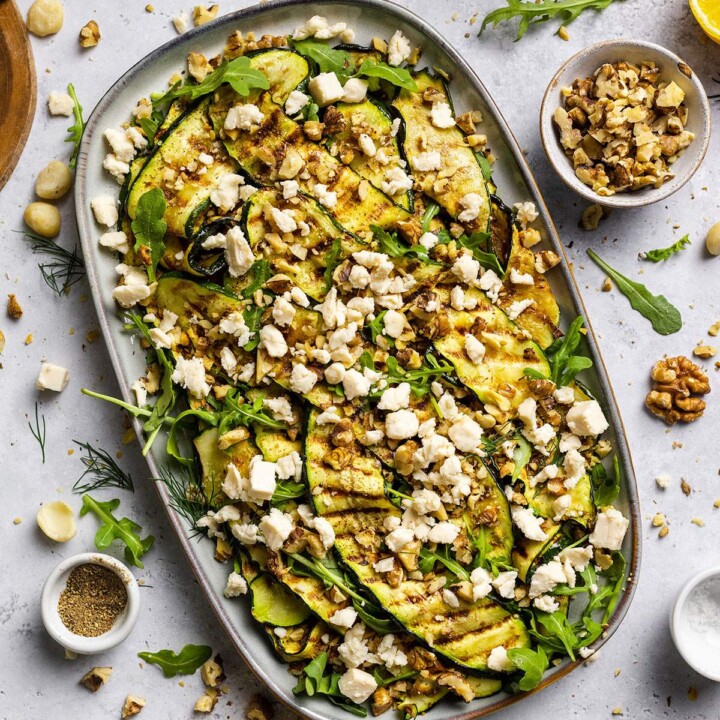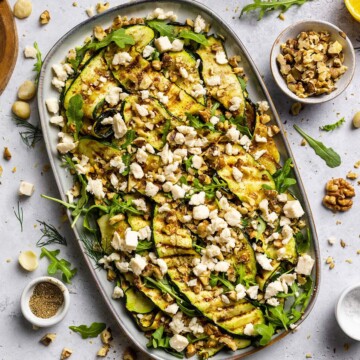 Grilled Zucchini Salad (with walnuts & vegan feta!)
This vegan grilled zucchini salad with walnuts and vegan feta is perfect for a light lunch or as a side dish for your next BBQ. Packed with flavor and easy to make, it's a healthy and delicious summer recipe that everyone will love!
Equipment
1 grill or griddle pan

1 Skillet

1 large bowl
Ingredients
4

medium-size

zucchini (about 800g)

2

tablespoons

olive oil (30 ml)

salt and pepper

to taste

1/2

cup

walnuts (80g)

chopped

2

cups

fresh arugula (50g)

1/2

cup

vegan feta

crumbled

1/2

cup

vegan oil-free dressing (120 ml)
Instructions
Preheat the grill of your griddle pan to medium-high heat.

Slice the zucchini into 1/4-inch slices and brush the zucchini slices with olive oil on both sides and season with salt and pepper.

Place the zucchini slices on the grill and cook for 3-4 minutes per side, or until grill marks appear and the zucchini is tender.

Remove the zucchini from grill and allow to cool slightly.

In the meantime, toast the walnuts in a dry skillet for 1 minute until golden.

In a large bowl, combine grilled zucchini, chopped walnuts, crumbled vegan feta, and arugula.

Drizzle over the oil-free dressing and toss to combine.

Serve immediately or refrigerate until ready to serve.
Notes
Don't overcrowd the grill when grilling the zucchini!
The salad is best served immediately, but can be stored in an airtight container in the refrigerator for up to 2 days. 
If you prepare this salad ahead of time, store the dressing separately.
For a delicious twist, you can also add roasted cherry tomatoes to the salad or add some homemade salad croutons for an extra crunch! 
For added sweetness and flavor, try adding fresh strawberries, raisins or dried cranberries to the salad.
To make the salad more hearty and filling, try adding cooked quinoa or couscous to the mix or serve with Vegan Grilled Chicken, Kebab pieces or Vegan Gyros for added protein. 
To reduce waste, try using the leftover grilled zucchini in a sandwich or wrap the next day for lunch.
*Disclosure: This page may contain affiliate links and sponsored links that earn me a small commission, at no additional cost to you. You can find more information in my Privacy Policy.
 © Romy London / Romina Callwitz | All images and content are copyright protected. Please do not use my images and content without permission. If you wish to re-publish any recipes or images, please get in touch via email. Thanks for your support!