The stuff that (vegan) dreams are made of - Vegan Kebab Meat!
This vegan kebab meat recipe is simply perfect for a delicious vegan doner kebab, topped and baked with vegan cheese or simply on its own.
Vegan Kebab Meat Recipe
This recipe is:
100% vegan
delicious
perfect for a vegan doner kebab
easy to make
perfect for batch cooking
packed with lots of herbs and spices
flavorful
freezer-friendly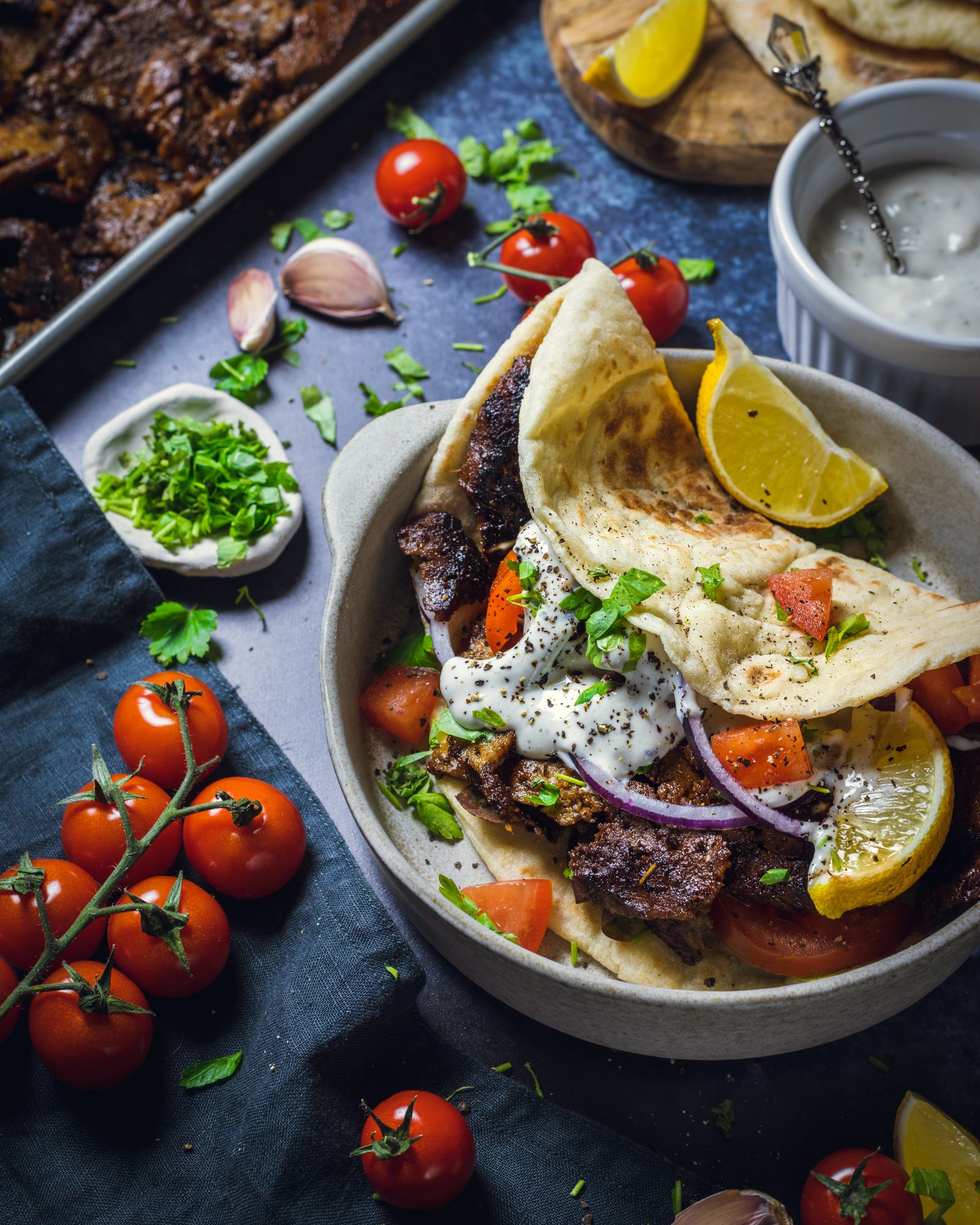 Ingredients
In this recipe, I've created the seitan from vital wheat gluten, but it's the herbs and seasoning mix that gives the kebab meat the delicious flavor that you all know from kebab!
Vegan Kebab Meat herbs and seasoning
To create the perfect flavor in this vegan seitan kebab, there are a variety of herbs and spices involved. Same as with non-vegan kebab meat, the flavour is all in the spices!
The Herbs & spices I've used in this recipe:
fine sea salt
ground black pepper
garlic powder
ground cumin
onion powder
chilli powder
dried oregano
dried thyme
dried parsley
nutritional yeast flakes (I'd count this into seasonings)
Equipment
Cast-Iron skillet: I prefer using a cast-iron pan to pan-fry the vegan kebab meat. It simply gives the perfect crispy fry - of course you can use a different type of pan, if you don't have a cast-iron pan to hand. Ideally pick a non-stick option!
Spatula: for combining the seitan dough, you will need either a spatula or alternatively a wooden spoon. Everything else would cut through the spongy seitan dough and ruin its firm texture, so stick to either of these two.
2 mixing bowls: It's important to use 2 bowls to combine wet and dry ingredients separately first before blending them together. This ensures for even distribution of all ingredients.
Extra-strong kitchen foil: aka aluminum foil (or aluminium if you're not from the US!) You will need enough foil to firmly wrap the seitan log in - roughly 2 metres I would estimate.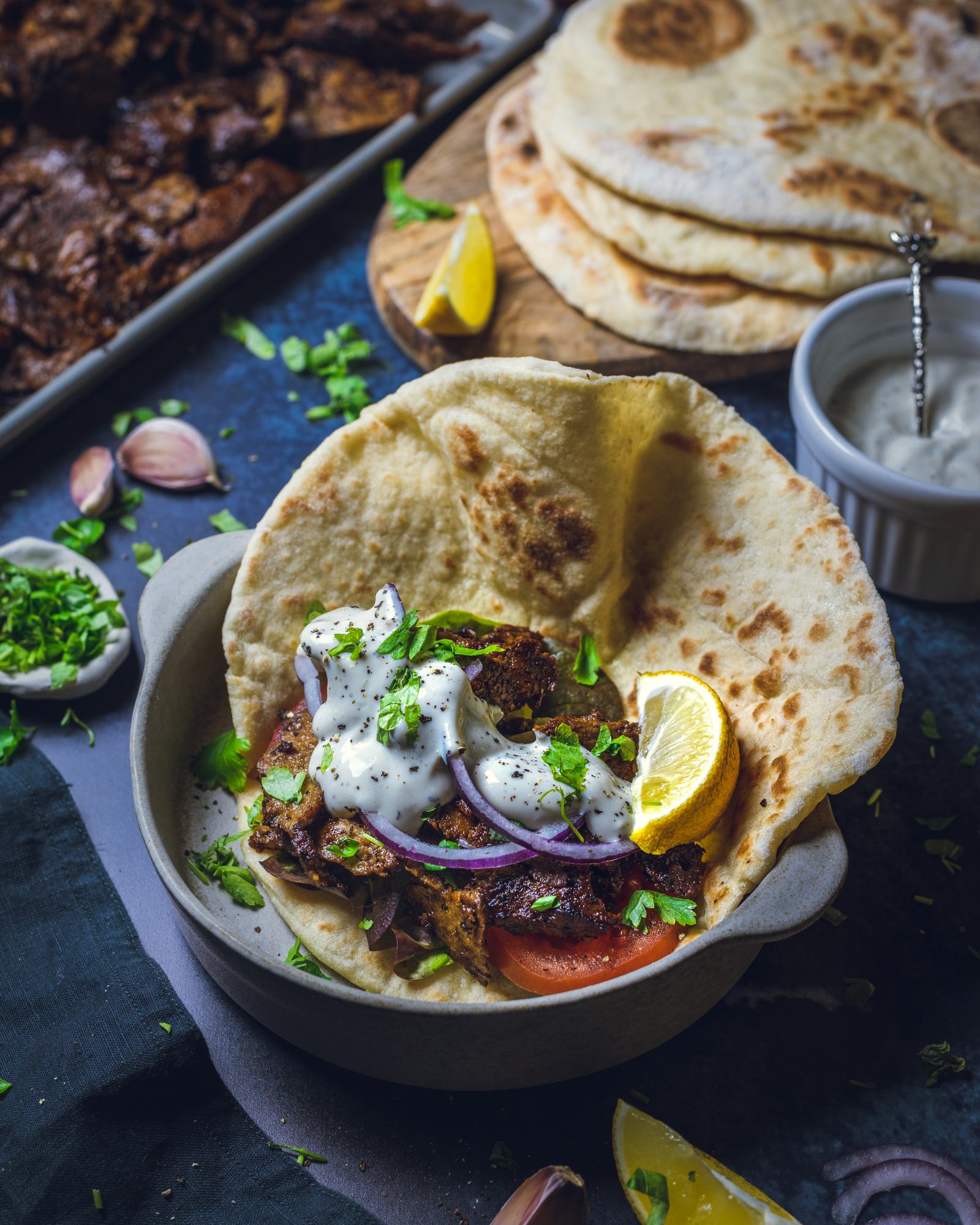 How to make vegan kebab meat from vital wheat gluten
When it comes to the method of making this vegan kebab, there are a few important things to note:
Combining the ingredients: Firstly in creating the seitan dough, you will need to combine all the dry ingredients and all the wet ingredients separately, then slowly mix them together afterwards. By doing it this way you will ensure even distribution of all ingredients and avoid any lumps in the kebab meat later.
Kneading the seitan dough: Once the seitan dough is combined, it's important to gently knead it with your hands for about 5 minutes until combined. The gluten should become soft and spongy during this process. Do not overmix as it will change the texture of the seitan. Five minutes is more than enough - I like to do this on my kitchen counter with a little vital wheat gluten sprinkled over the top to avoid it sticking to the counter.
Shape the kebab meat: After kneading, you need to gently form a log shape and wrap the seitan dough in multiple layers of extra-strong kitchen foil (aluminum foil). Wrap it tightly! This is very important as the seitan will otherwise rip the foil and explode in your oven. This not only ruins the seitan texture but also creates a mess. I usually wrap it tightly in about 5 layers of foil to be on the safe side.
Steam/Bake the seitan: Transfer the seitan to your preheated oven and bake at 200°C (390°F) for 30 minutes. Add an ovenproof dish filled with water to the bottom of your oven at the same time. This will create the right moisture in the oven and make the perfect environment for your seitan dough. Steam-baking the seitan this way will make it firm and juicy without making it spongy and it's the perfect cooking method for your kebab meat.
Once the baking process ends, let the seitan cool down entirely in the foil. During this time the texture of your vegan kebab meat will settle. Please don't skip this step!
Once cooled down, you can continue with the recipe to create the perfect fried kebab chunks. Alternatively, now is a good time for you to keep the kebab in the fridge for up to 3 days before you continue with the recipe - or keep it in the freezer for up to 3 months.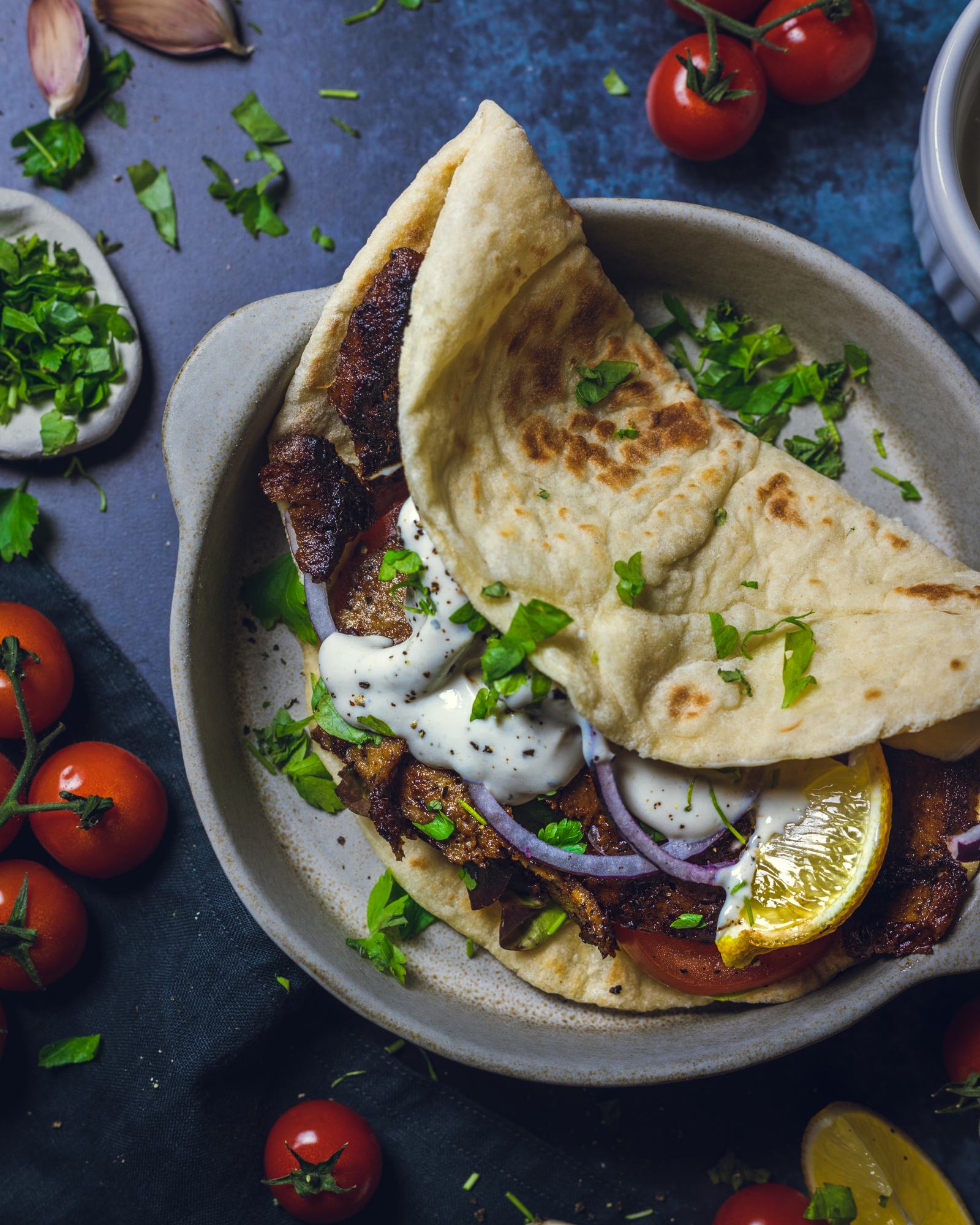 Pan-frying and shaving the vegan kebab meat
The pan-fry and shaving that follows, creates the typical doner kebab chunks that you all know. I like using a cast-iron skillet for this process as it created the perfect smoky and crispy layer on your vegan kebab meat.
Simply heat some oil in the skillet and place the kebab log into it once it is hot.
The secret is to consistently pour a little oil over the kebab log, as well as tamari soy sauce. This will create a salty, slightly caramelized, crunchy layer for the kebab meat. Carefully turn the log regularly until all sides are gently crispy fried.
Remove the log from the pan and carefully 'shave' off the outer later into thin strips with a sharp knife. I like to stick a fork into the log to keep it in place whilst shaving off the outer layer with a sharp knife.
Return the log to the pan afterward and repeat the pan-frying process until the entire log is shaved into kebab chunks.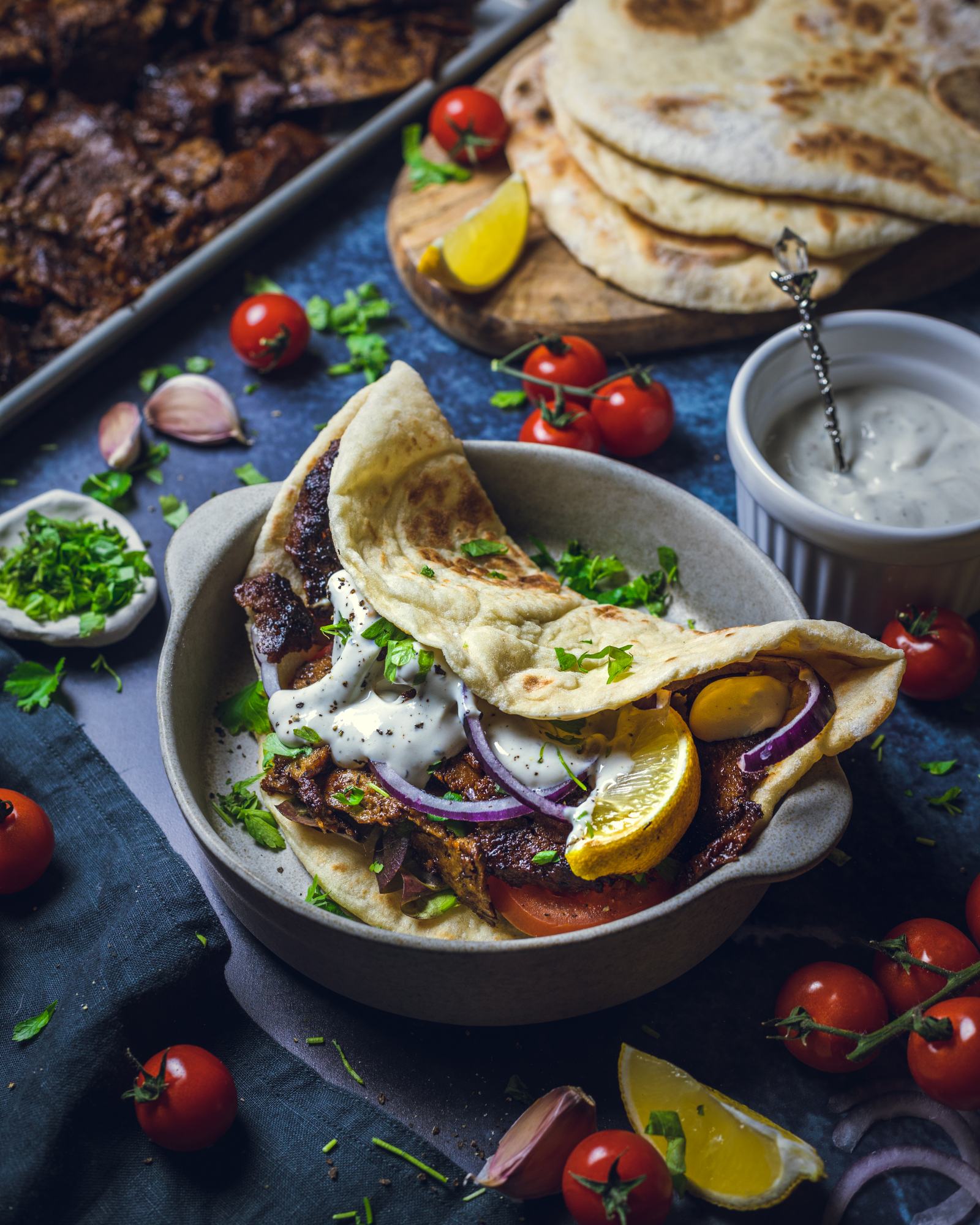 You might also enjoy these:
If you love cooking and experimenting with Seitan, you will surely also enjoy my Vegan Steak Recipe, Vegan Chicken, Vegan Gyro Meat, Seitan Kabobs or my BBQ Grilled Seitan!
For a festive special featuring Seitan, definitely try my Seitan Wellington and this amazing Whole Vegan Turkey Roast!
📌 If you love Pinterest you can pin any of the images to your boards!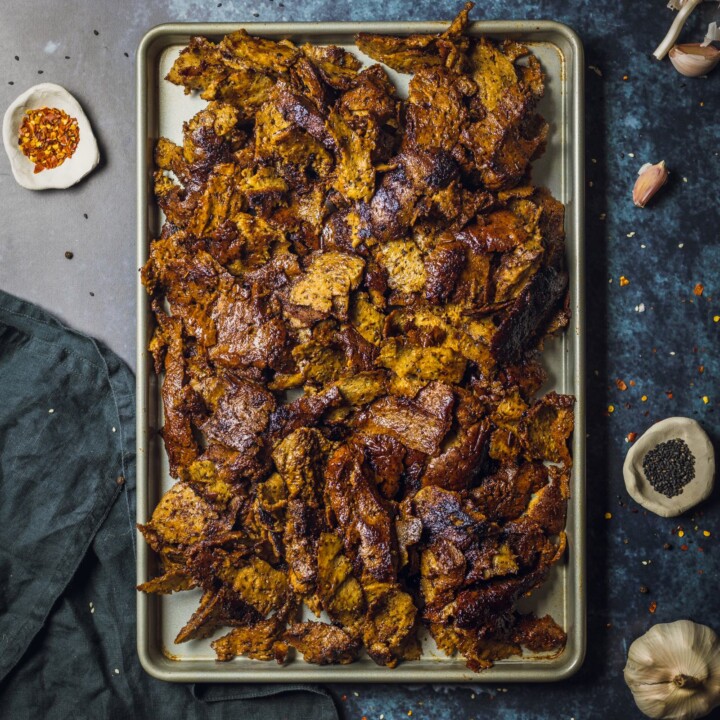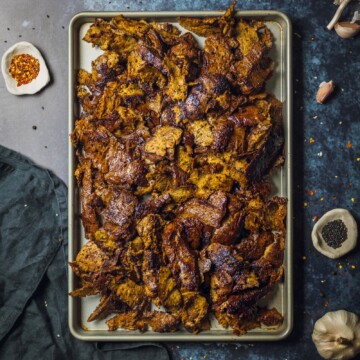 Vegan Kebab Meat (Doner Style)
The stuff that (vegan) dreams are made of - Vegan Kebab Meat! Perfect for a delicious doner kebab, baked with vegan cheese or simply on its own.
Equipment
2 large mixing bowl(s)

extra-strong kitchen foil

1 ovenproof dish

with water

1 cast iron skillet

1 kitchen brush

1 sharp knife
Ingredients
280

g

vital wheat gluten

2

tsp

sea salt

1

tsp

black pepper

4

tsp

ground cumin

2

tsp

garlic powder

2

tsp

onion powder

1

tsp

chili powder

2

tsp

dried oregano

4

tsp

dried thyme

4

tsp

dried parsley

4

tbsp

nutritional yeast

400

ml

water

2

tbsp

tamari soy sauce

2

tbsp

extra virgin olive oil

2

tbsp

liquid smoke
For pan frying:
extra virgin olive oil

tamari soy sauce
Instructions
Start by combining the dry ingredients in a large bowl. In a separate bowl combine all the wet ingredients. Slowly add the wet ingredients into the dry and mix using a spatula. Knead on the countertop using your hands - sprinkle a little vital wheat gluten on the countertop to avoid it sticking. Alternatively, you can combine the dry and wet ingredients in a Magimix with a dough hook.

Knead for about 5 minutes or until combined and the dough is feeling stretchy and even. Gently form a log shape.

Tightly wrap the Seitan log in multiple layers of Extra Strong Kitchen Foil. Place it in the oven with a tray of water underneath. Cook for 30 minutes at 400°F (200°C).

Let the log cool down entirely without removing it from the foil. Once entirely cooled down, you can remove it from the oil.

Place the Seitan in a cast iron pan, continue brushing the log with oil and pour over small amounts of tamari soy sauce. Turn the log into the pan until the outside is crispy all around. Remove from the pan, shave off outer layer with a sharp knife, then set back into pan and repeat until the entire log is shaved off.

Serve as a doner kebab or on its own. Enjoy!
Notes
Freezing - the kebab can also be frozen - either after the baking process for later frying OR after the pan-fry. Ideally freeze in portion sizes for easier handling!
Serving - I love to serve this Kebab meat in a homemade flatbread, with lettuce, tomato and vegan tzatziki sauce or yogurt.
Looking for more vegan dinner inspiration? Check out these delicious vegan mains!