You'll love these easy vegan kabob skewers - They're simply one of the best things you can add to your meal this grilling season!
The vegan kabobs made from seitan, giving them a meaty texture, and they are filled with herbs and spices, giving them the best flavor you could hope for. They are perfect for outdoor grilling but also suitable to fry up at home in a large skillet or grill in the oven.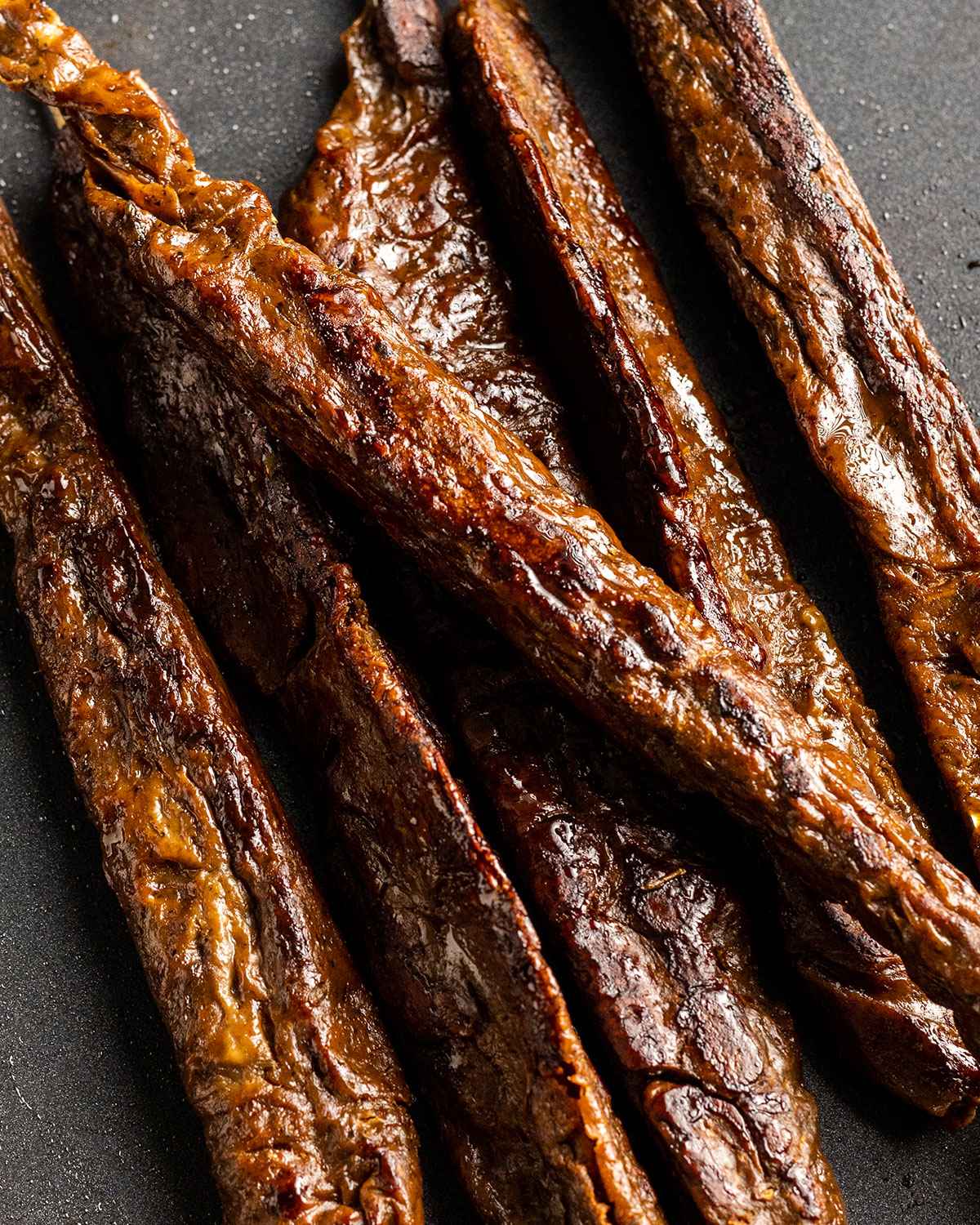 Background
Why this recipe works
these skewers are a great upgrade to vegetable kabobs!
they're chewy and have an amazingly meaty texture as they're made from Seitan
you won't believe what they're made of!
these vegan kabobs are brilliant on the barbecue and also delicious pan-fried or grilled
they're a next-level addition to your vegan barbecue
the seitan kabobs are great on their own, drizzled in your favorite sauces or served alongside your favorite salads
Jump to:
What is this vegan kabob made of?
These vegan kabobs are made out of seitan, using the flour washing technique for the best taste and texture.
What is Seitan?
Seitan is made from wheat gluten, which is a protein found in wheat flour. It's often used in vegan and vegetarian dishes because it has a chewy texture similar to meat. Seitan has been around for thousands of years. First detected in Asian cuisines, it was used by Buddhist monks as a protein source.
How to make Seitan
There are 2 main techniques for making Seitan: Flour-washing and using store-bought Vital Wheat Gluten. Both techniques result in different Seitan flavors and textures, you can read a little more in-depth about the differences in my Vegan Steak Recipe.
For this vegan kabob recipe, we're using the flour washing technique. It is based on creating a flour & water dough ball and then washing out the starches. Please read the instructions below in detail.
Ingredients & Ingredient Notes
Here's everything you need for this recipe.
For the seitan base: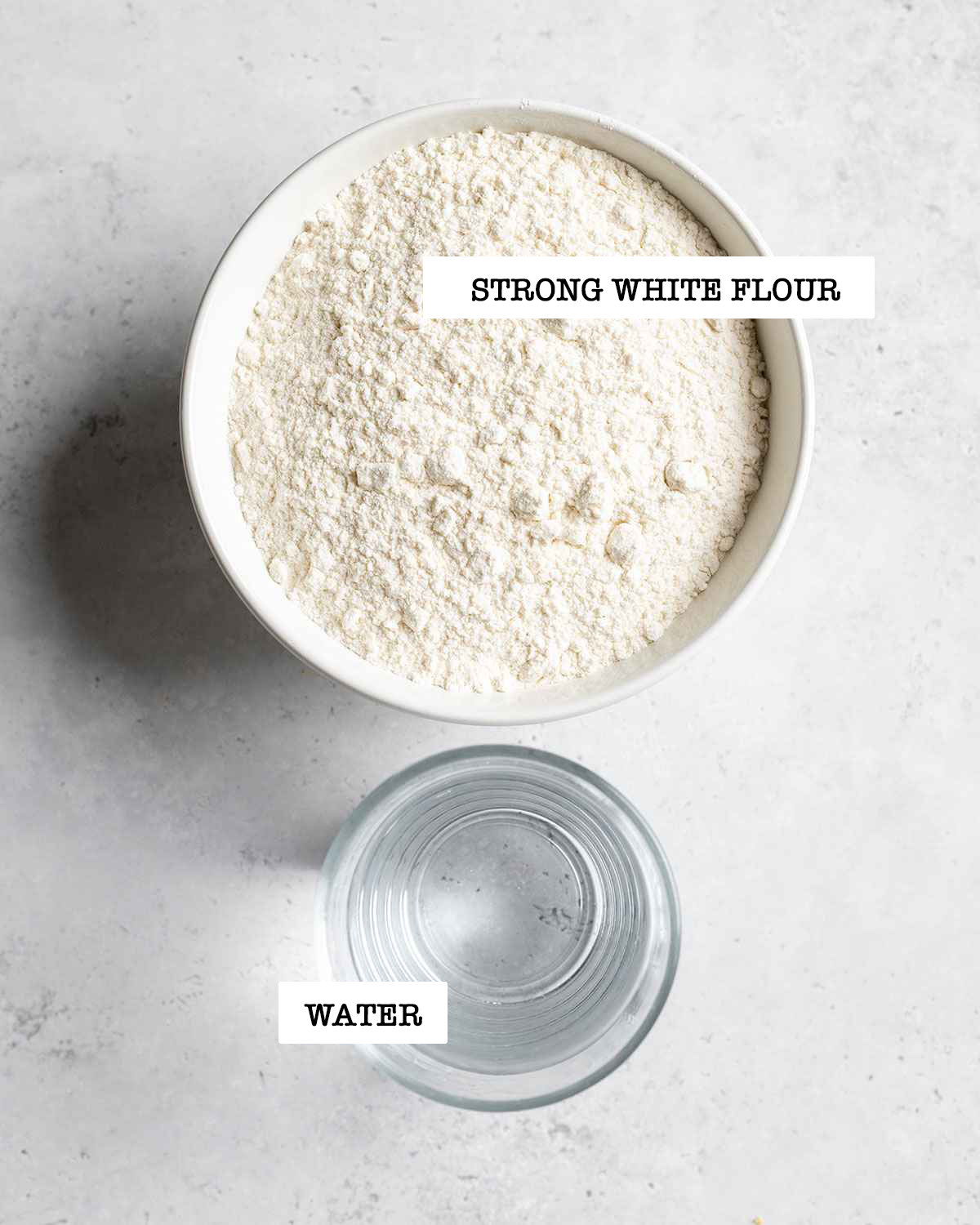 For the flavor paste: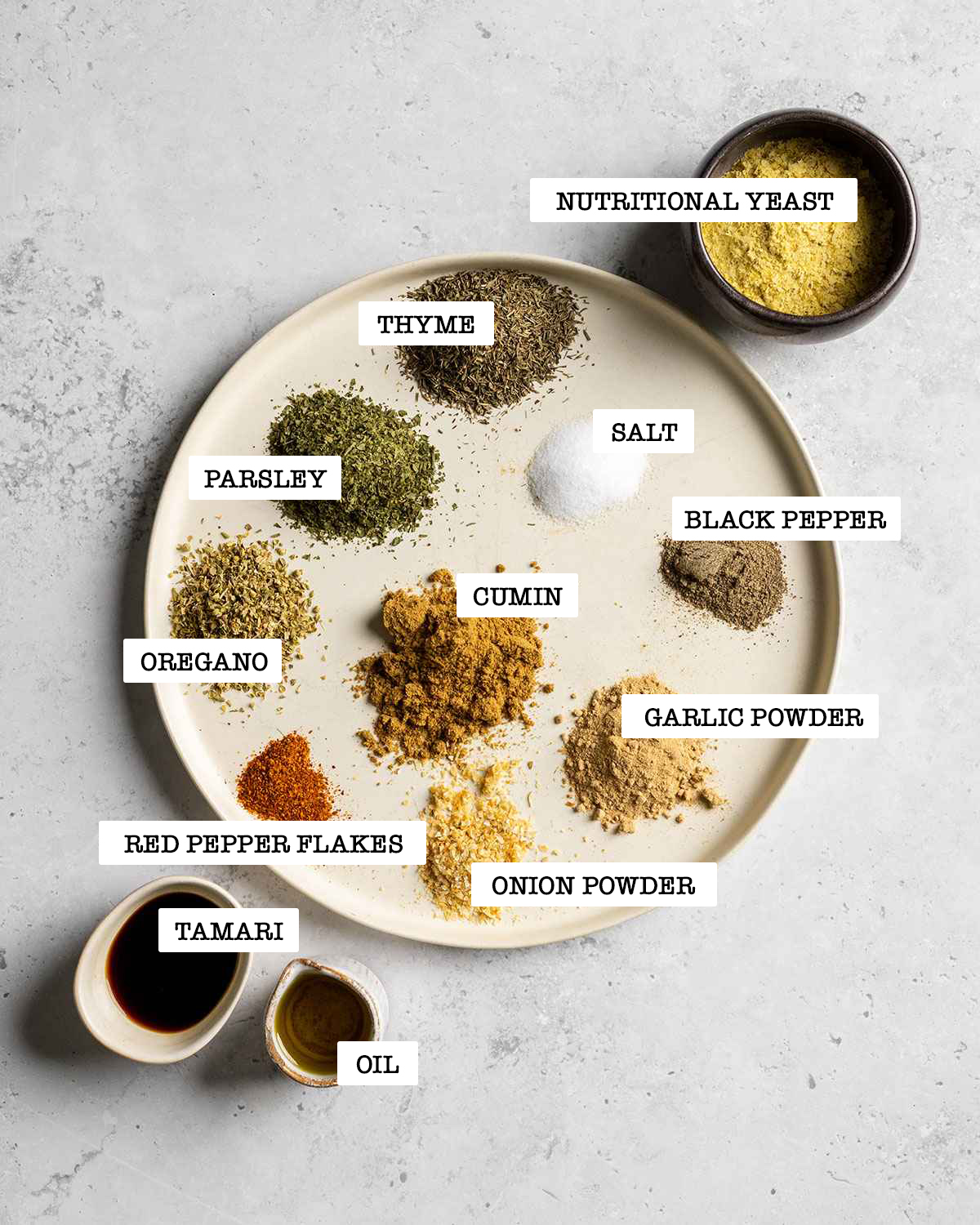 Strong White Flour - Ideally the flour should have at least 12% protein. I like to use the strong white bread flour from Allinsons.
Water - to create a dough ball, which we will be washing later on. You also need quite a bit of water to wash the flour.
Spices & Seasonings - Sea salt, black pepper, ground cumin, garlic powder, onion powder, chili powder (red pepper flakes), and nutritional yeast
Herbs - the herbs we're using to flavor the seitan are oregano, thyme, and parsley. All dried versions.
Oil - for the flavor paste & for grilling
Soya Sauce - for the flavor paste and for grilling the kabobs, it gives them a delicious caramelized crust
See recipe card for quantities.
Equipment
To make these seitan kabobs, you need the following items:
1 large mixing bowl
1 small bowl to mix the flavor paste
a food processor or blender
a steamer basket
a fine sieve
a grill, non-stick skillet or frying pan
a brush
6 large skewers (you can use metal skewers, wooden skewers or bamboo skewers - if using wood or bamboo just make sure to soak them in water beforehand to prevent burning)
silicone brush
Instructions (Step-by-Step)
Flour washing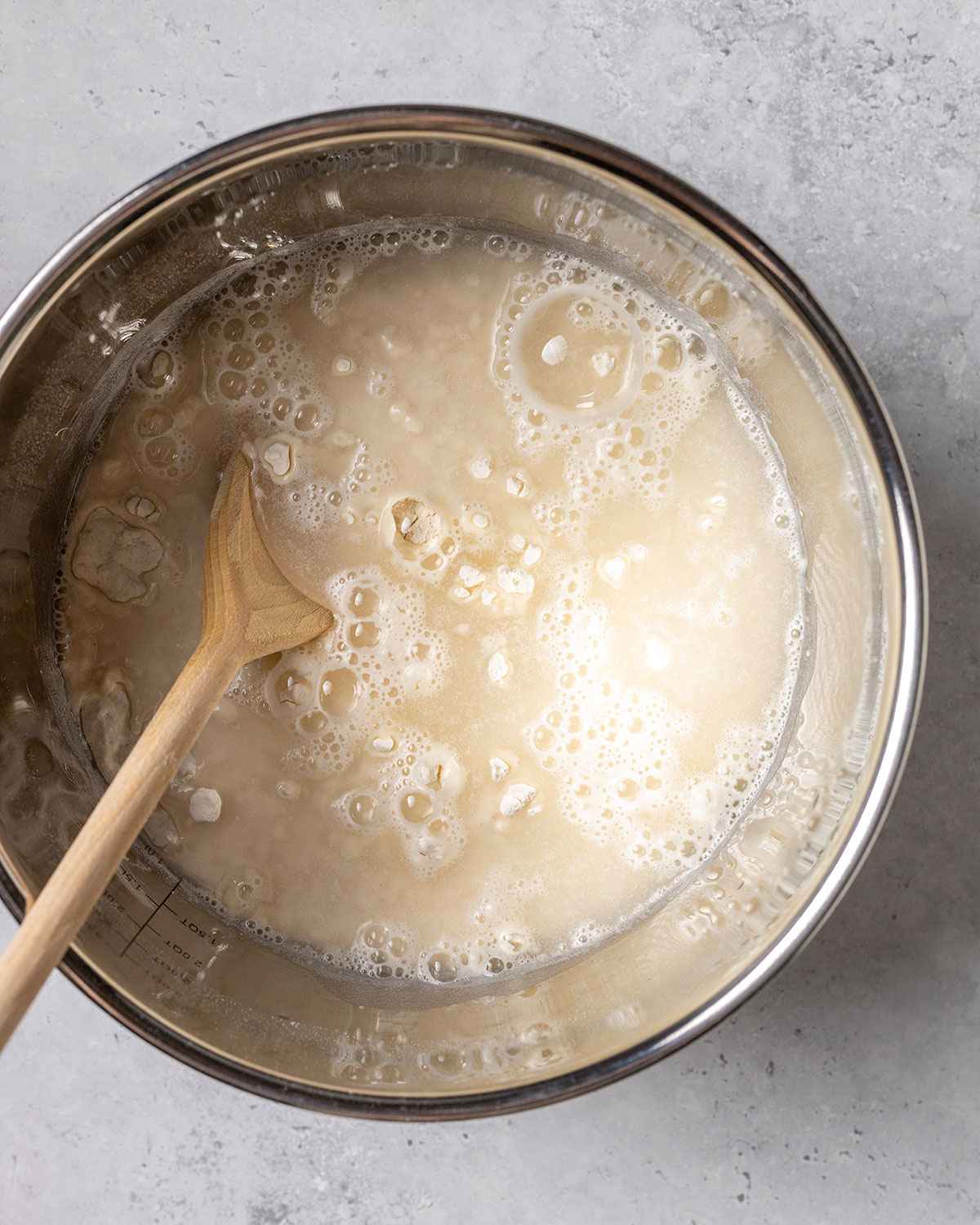 Combine flour and water in a large bowl into a flour ball.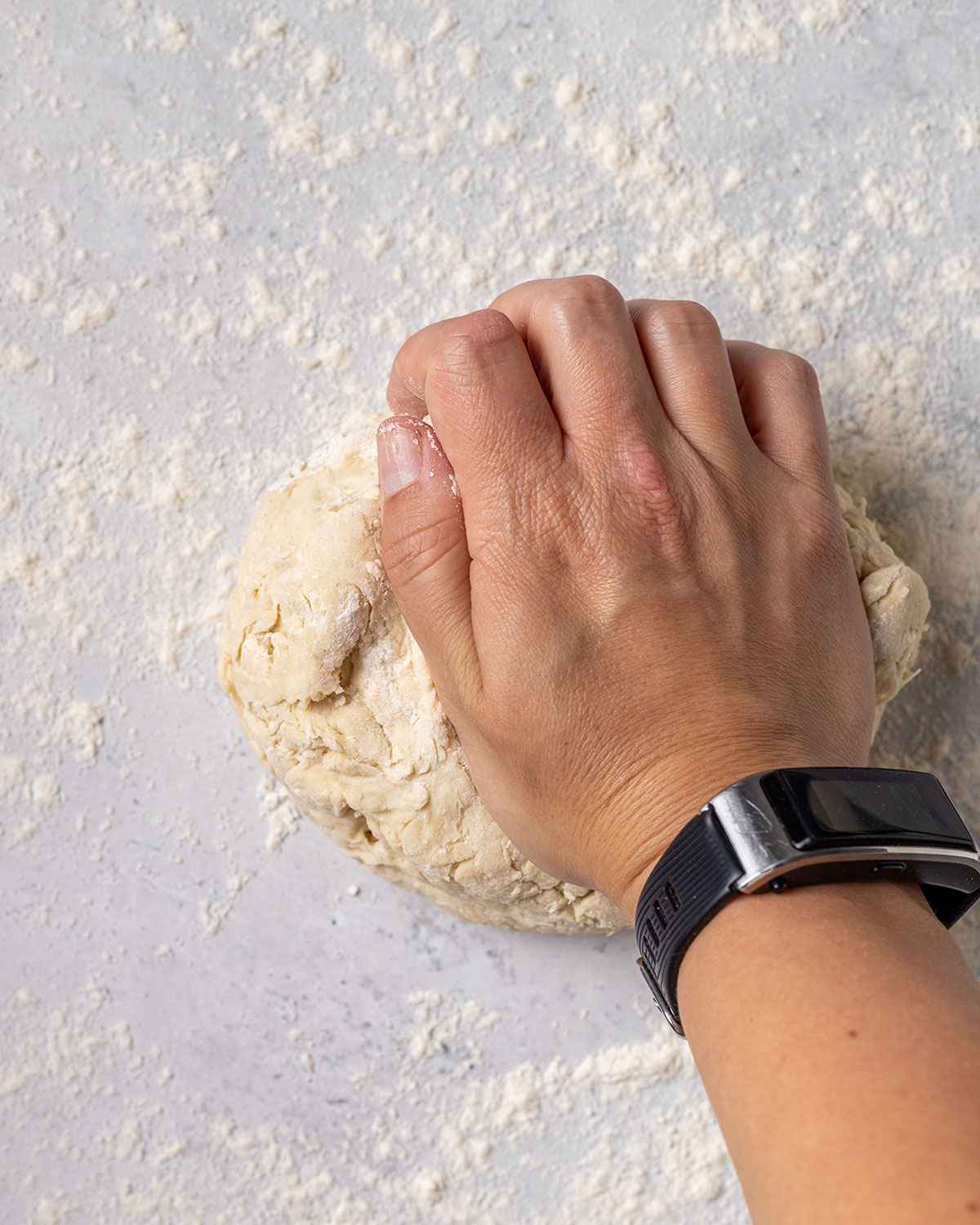 Briefly knead the flour ball until the ingredients are well combined.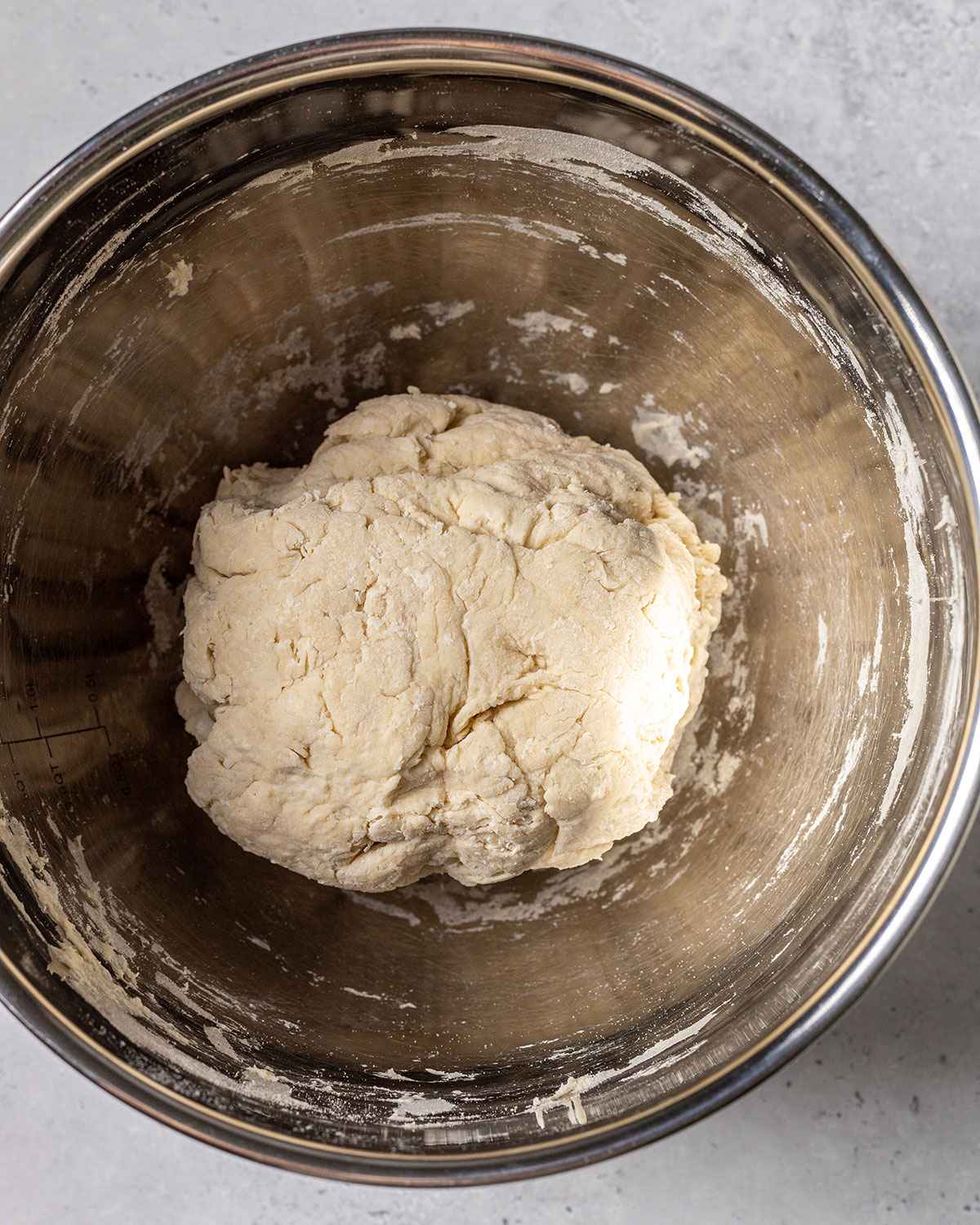 Place the flour ball back into the bowl.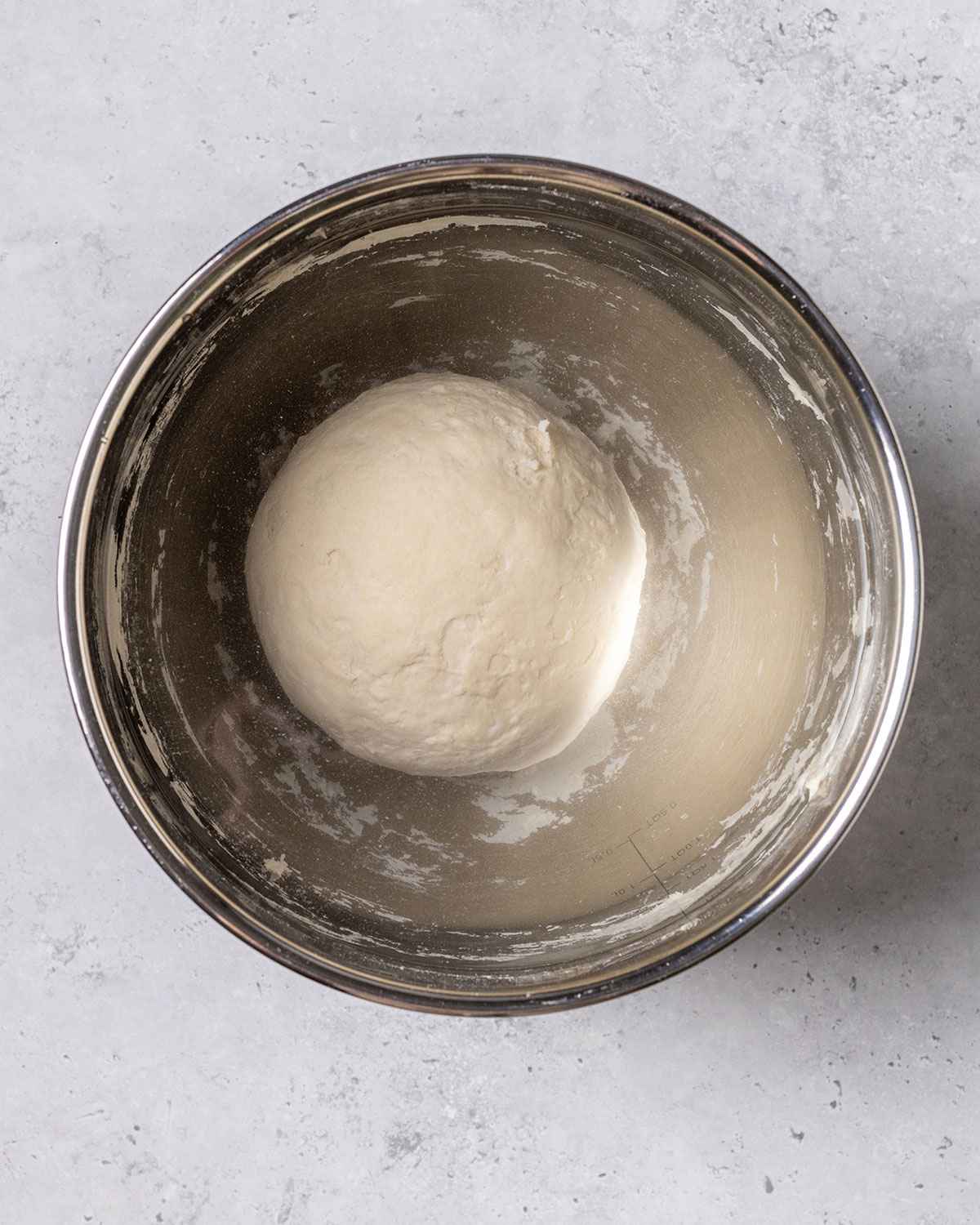 Cover with water and set aside.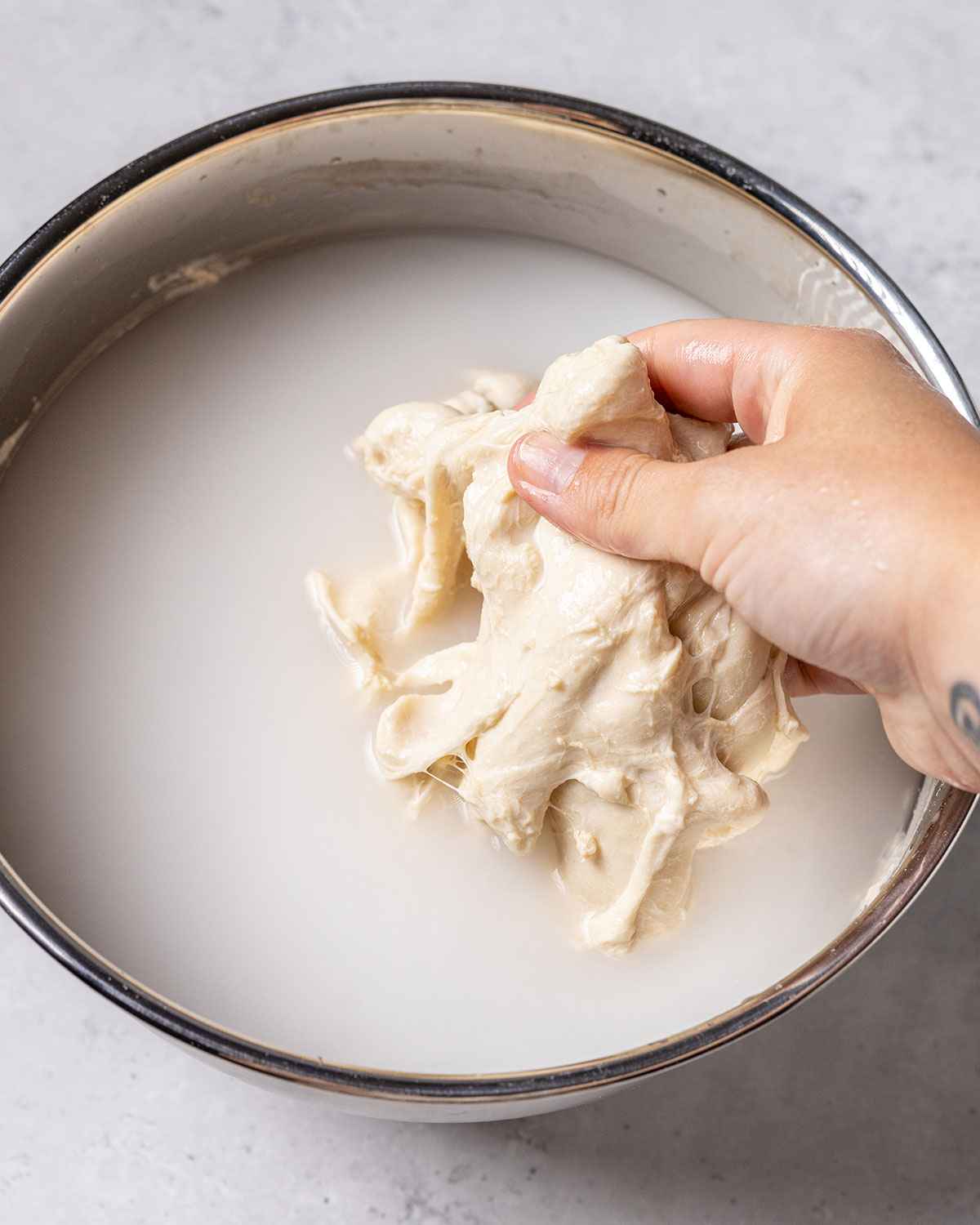 Wash the flour ball underwater with your hands. Once the water gets creamy and milky, refill with fresh water and continue kneading & washing under water until the water is almost clear.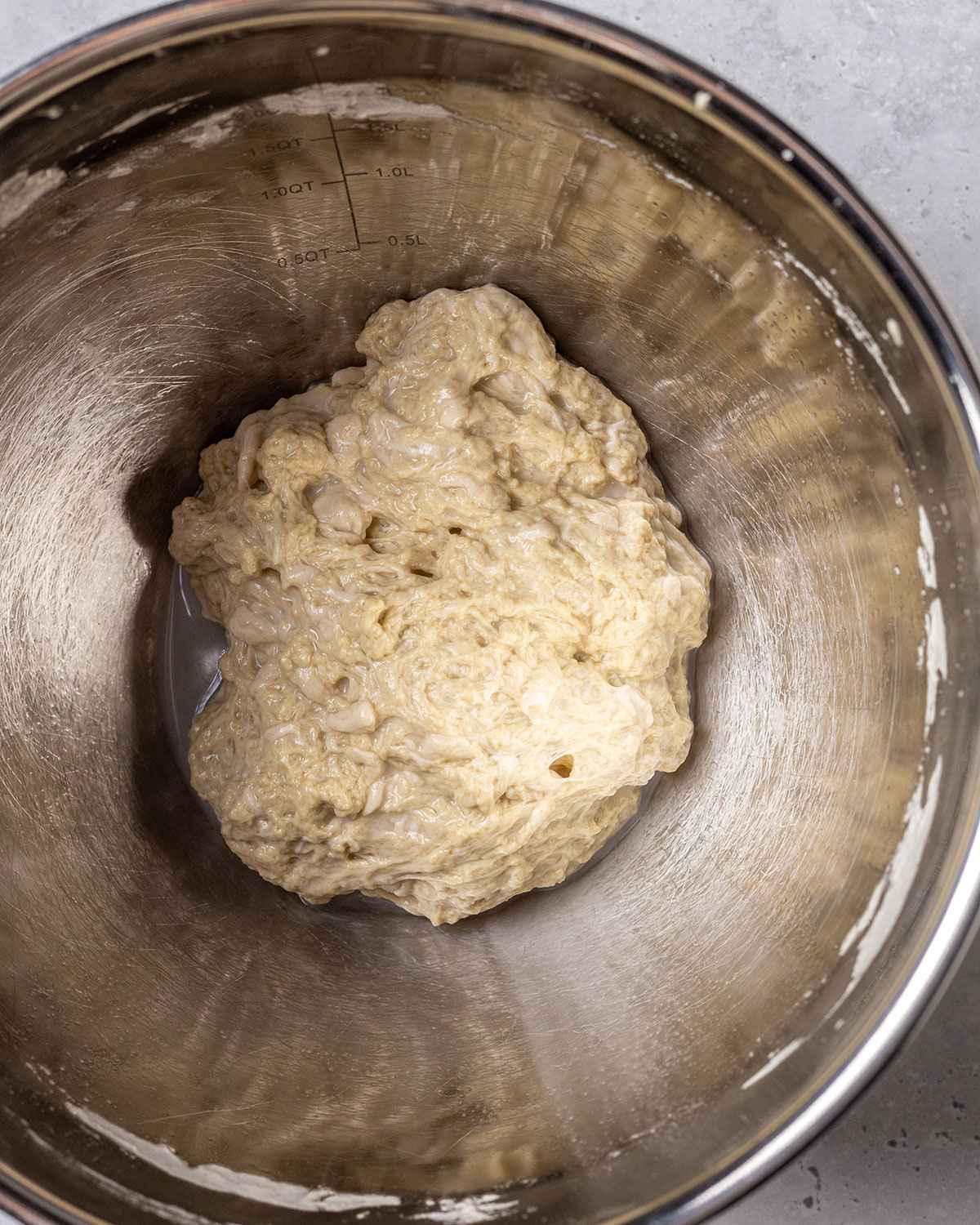 The washed flour dough ball should look like this.
Flavoring the Seitan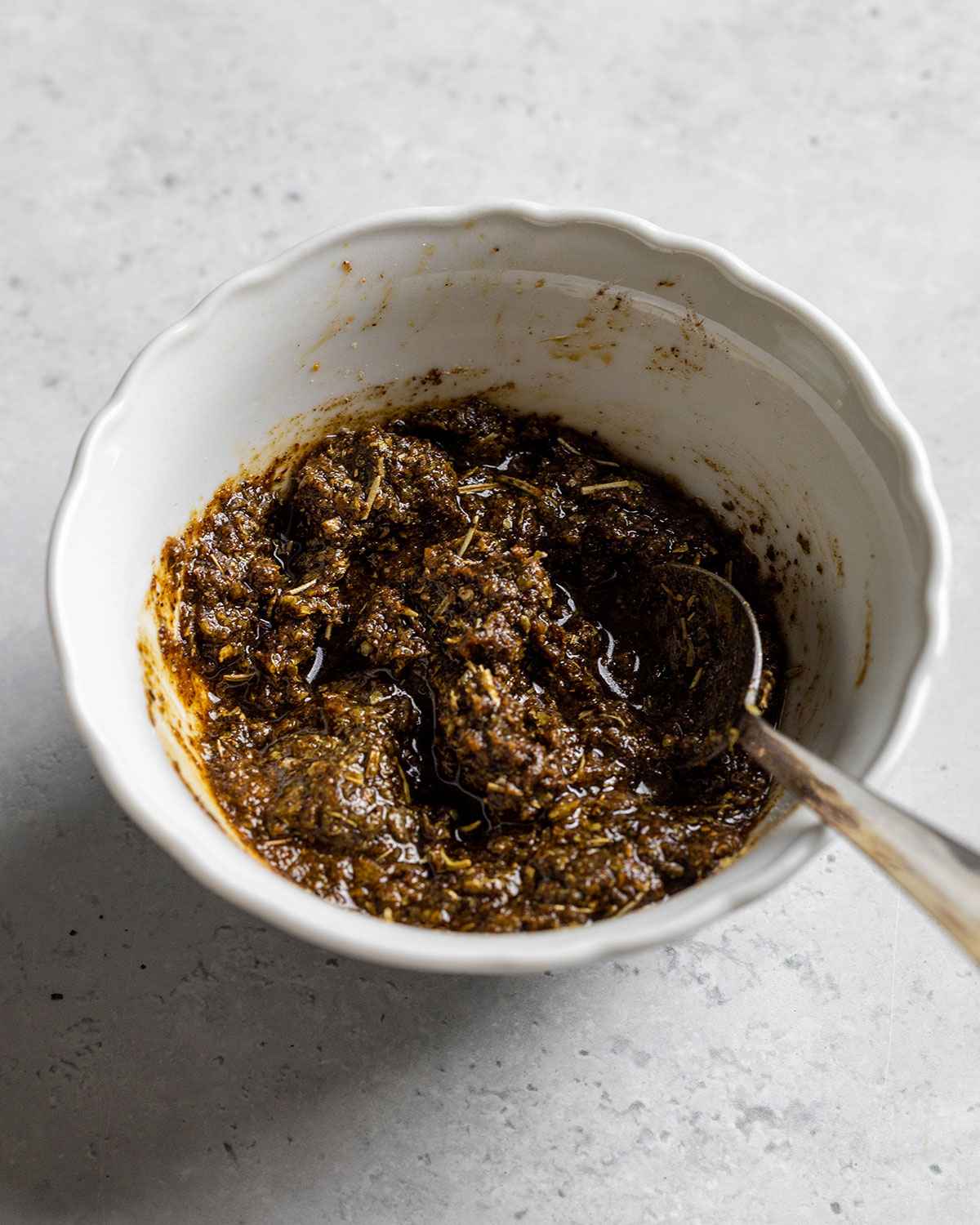 In a small bowl, mix all ingredients for the flavor paste.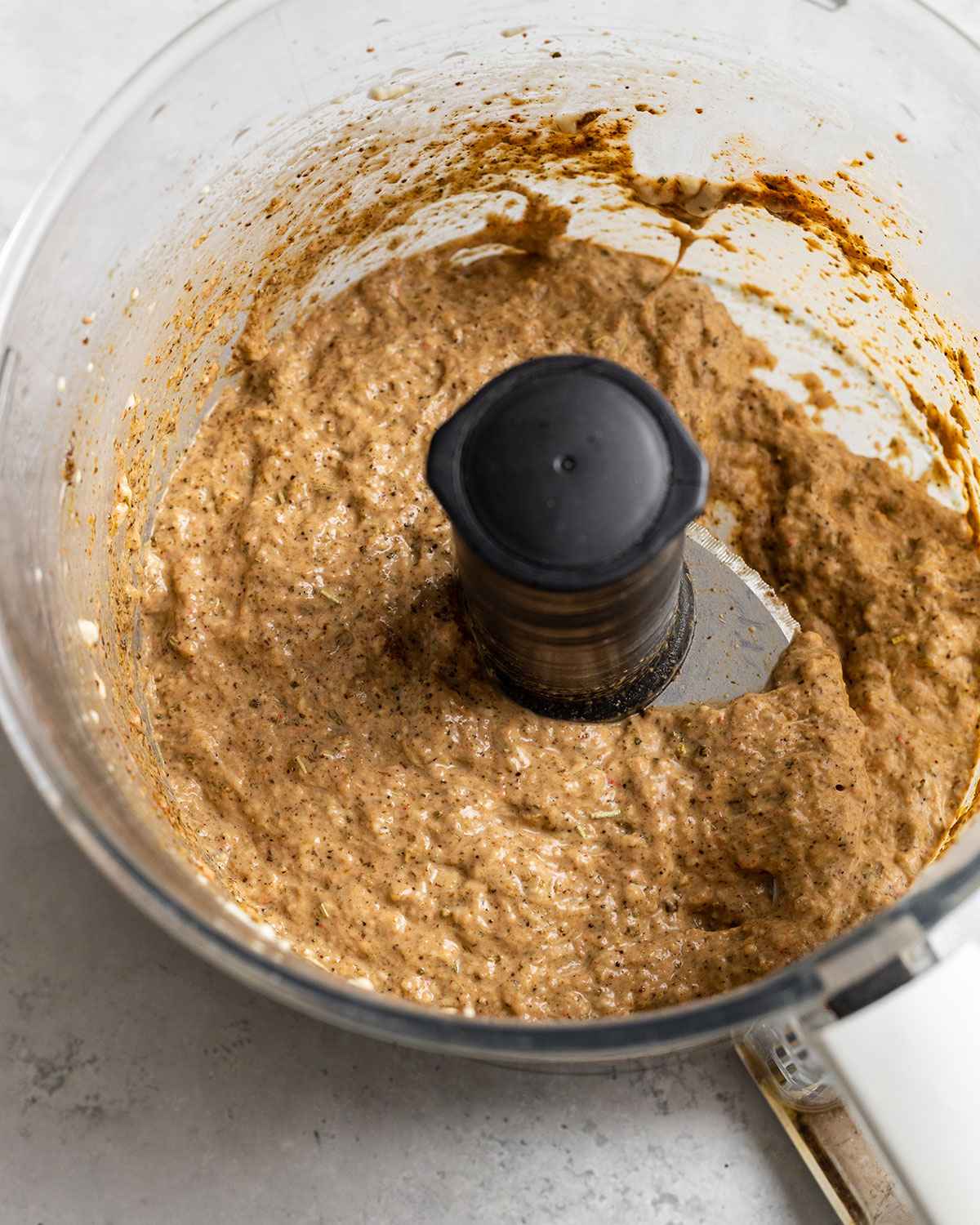 Add the washed seitan into a food processor (or blender) alongside the flavor paste. Pulse until combined.
Shaping & Steaming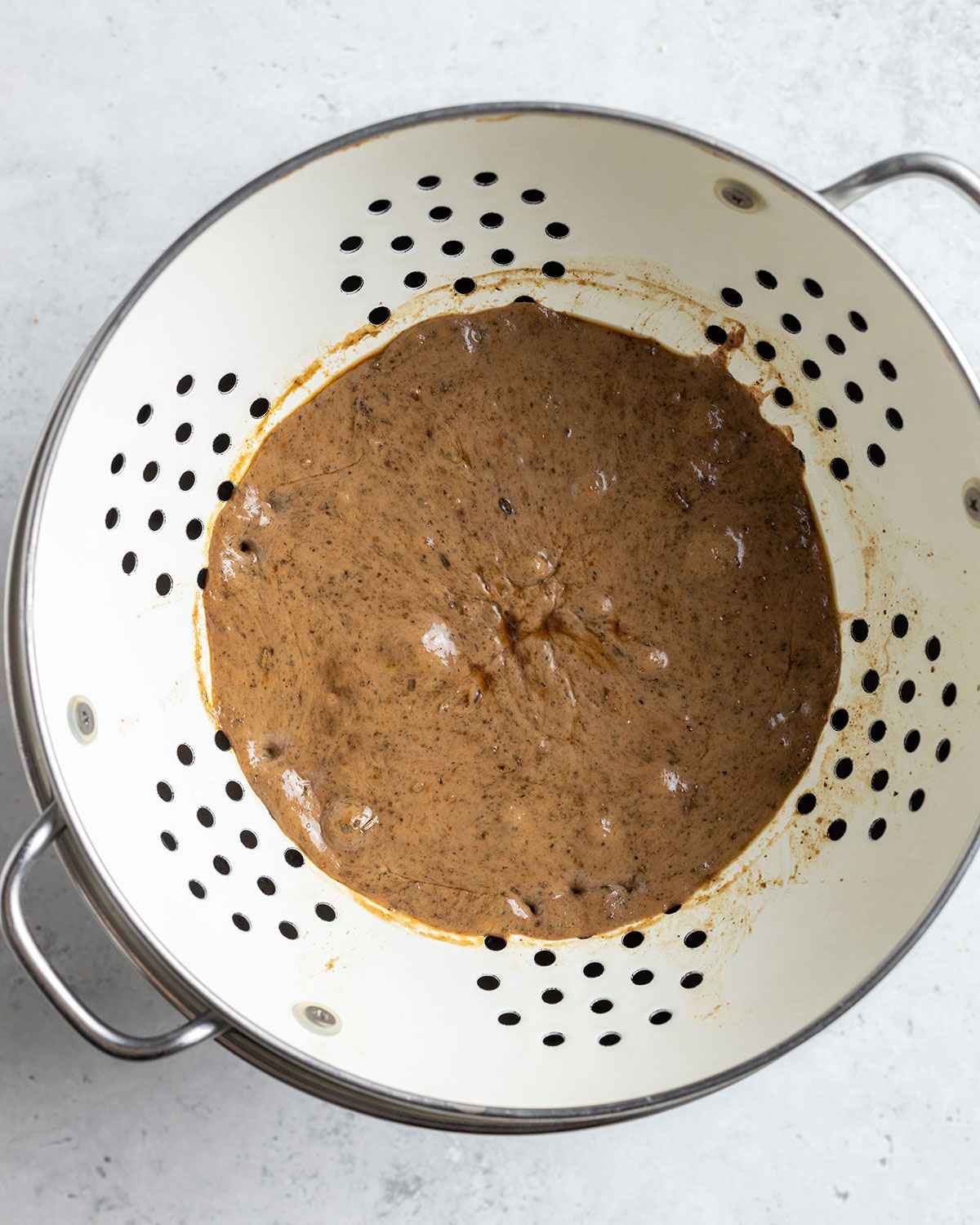 Transfer the seitan mix into a fine sieve or colander (line with a nut milk bag if needed) and place it over a bowl in the fridge overnight to rest and firm up.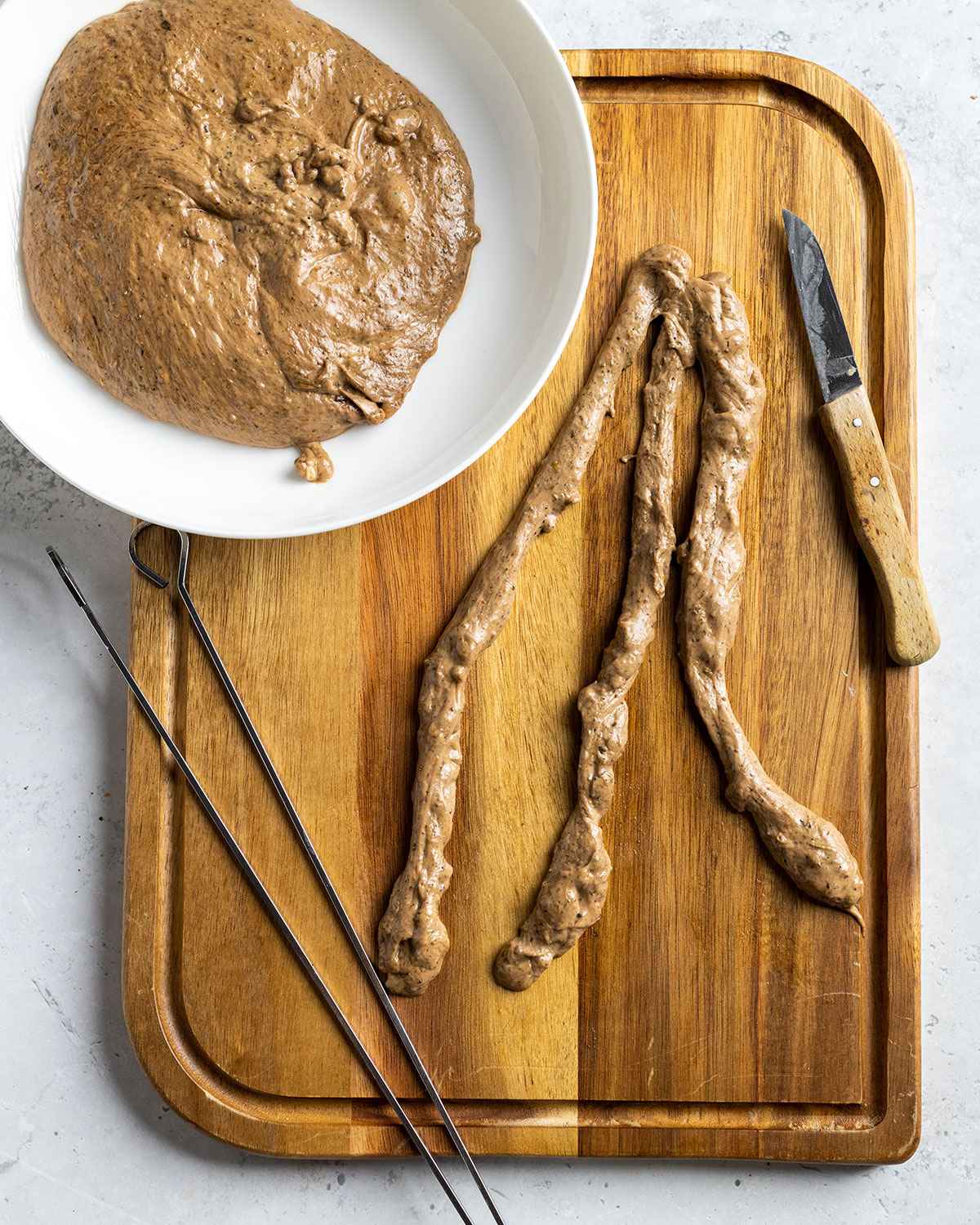 Divide the seitan dough into 6 equal pieces, stretch each of them and cut it into 3 strands.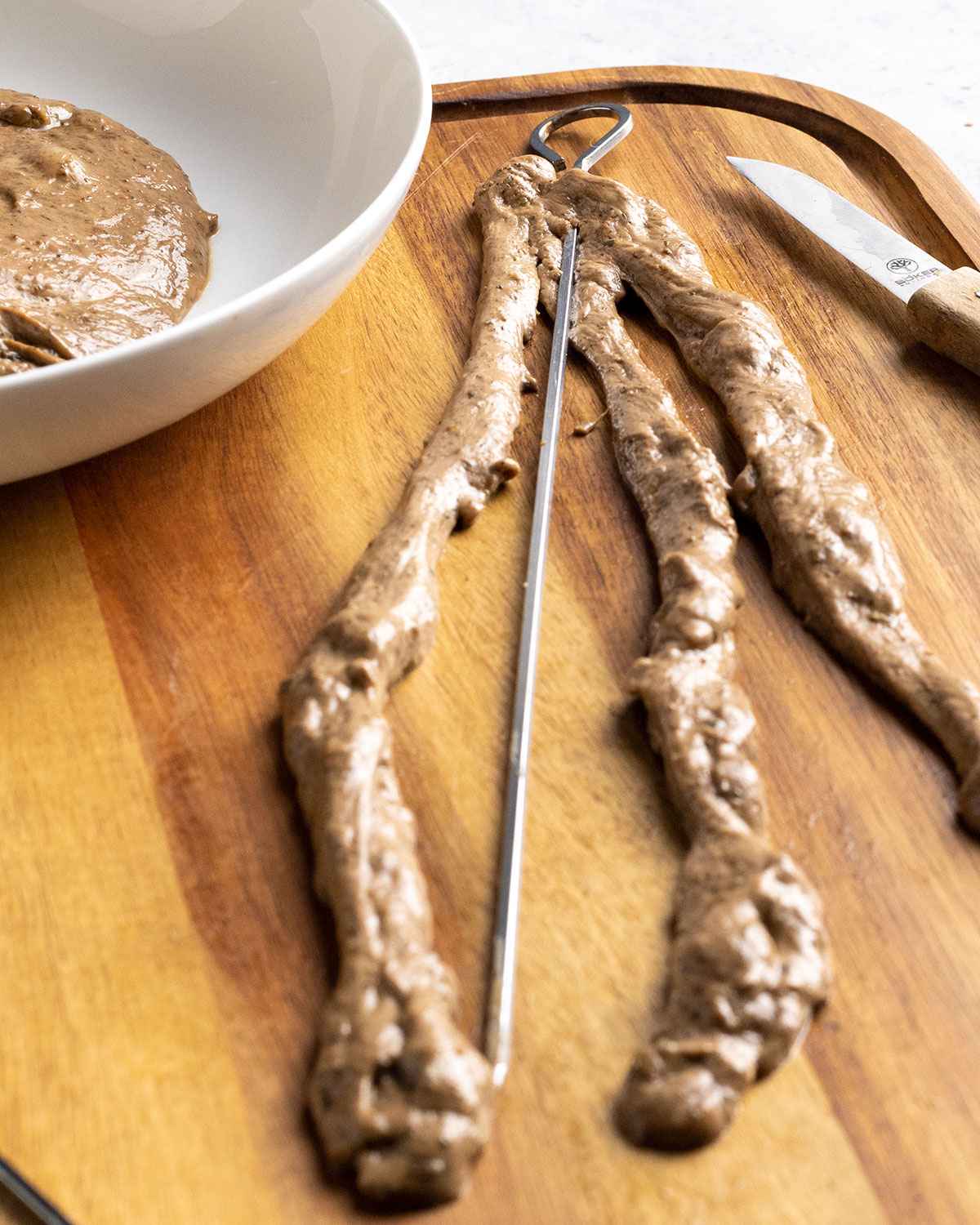 Pierce the skewer through the tops of all strands and push the seitan all the way onto the skewer.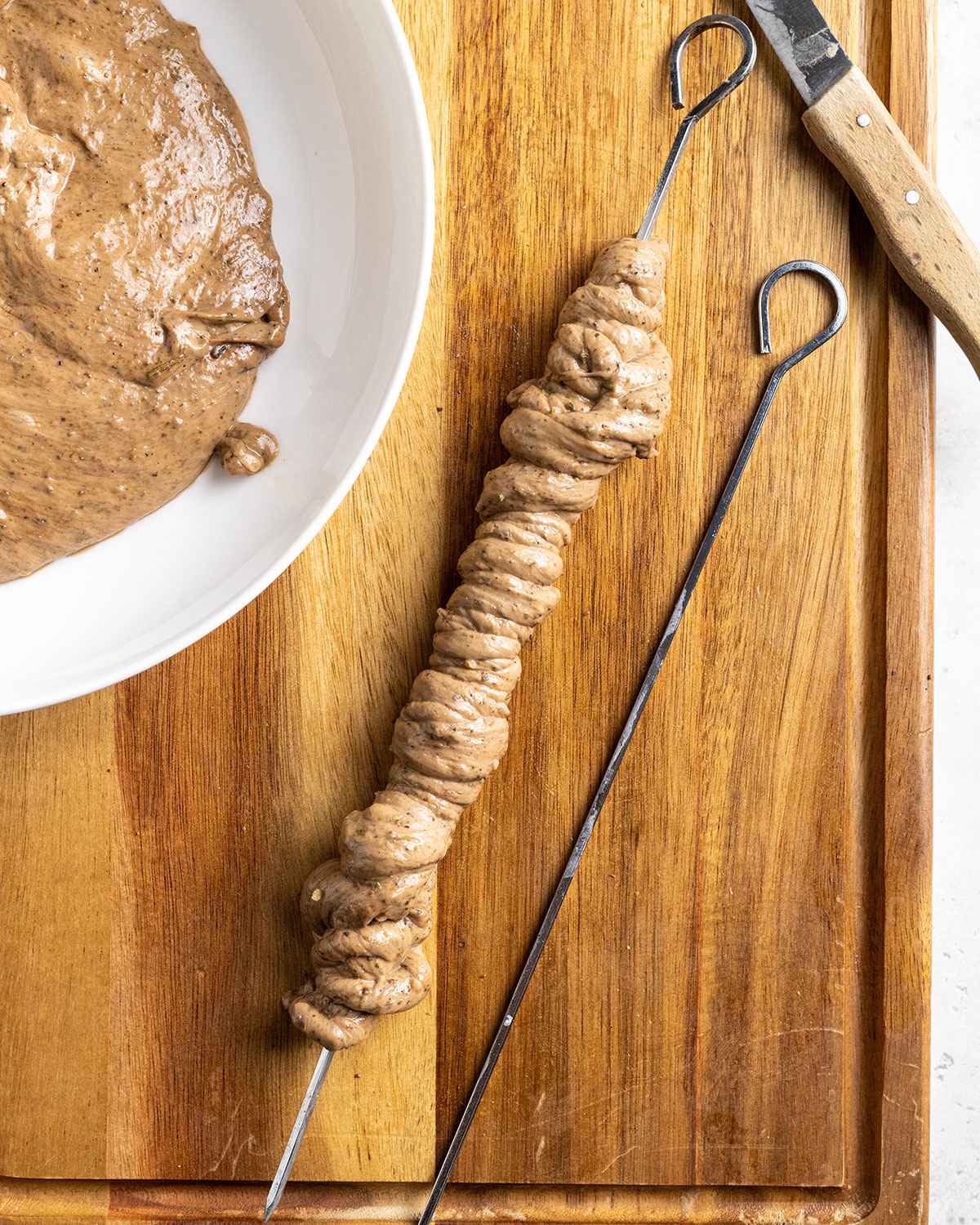 Firmly twirl all strands around the skewer until you end up with the seitan firmly wrapped around. Pierce the end of the seitan strands onto the skewer and firmly press the end to seal.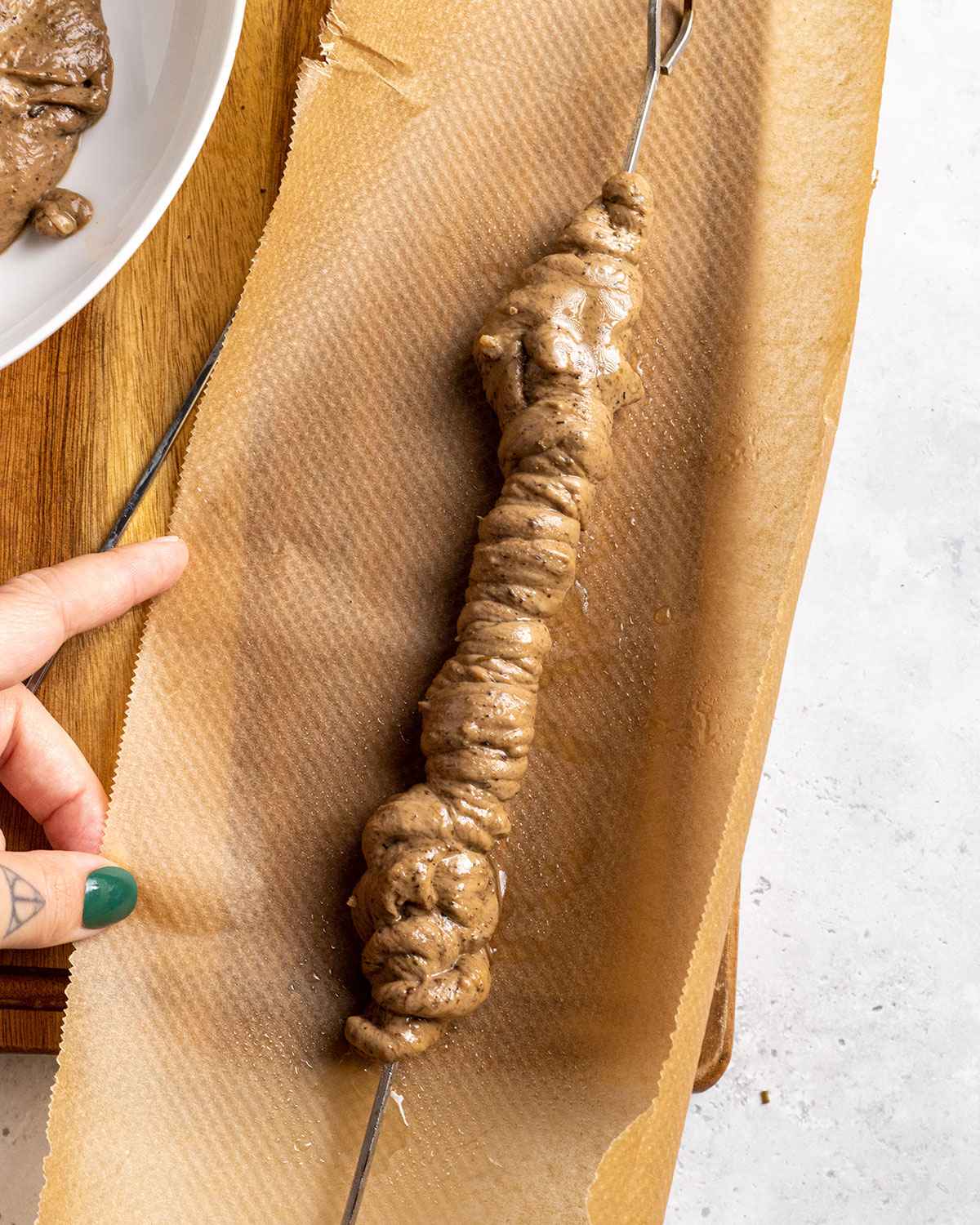 Wrap each skewer in parchment paper.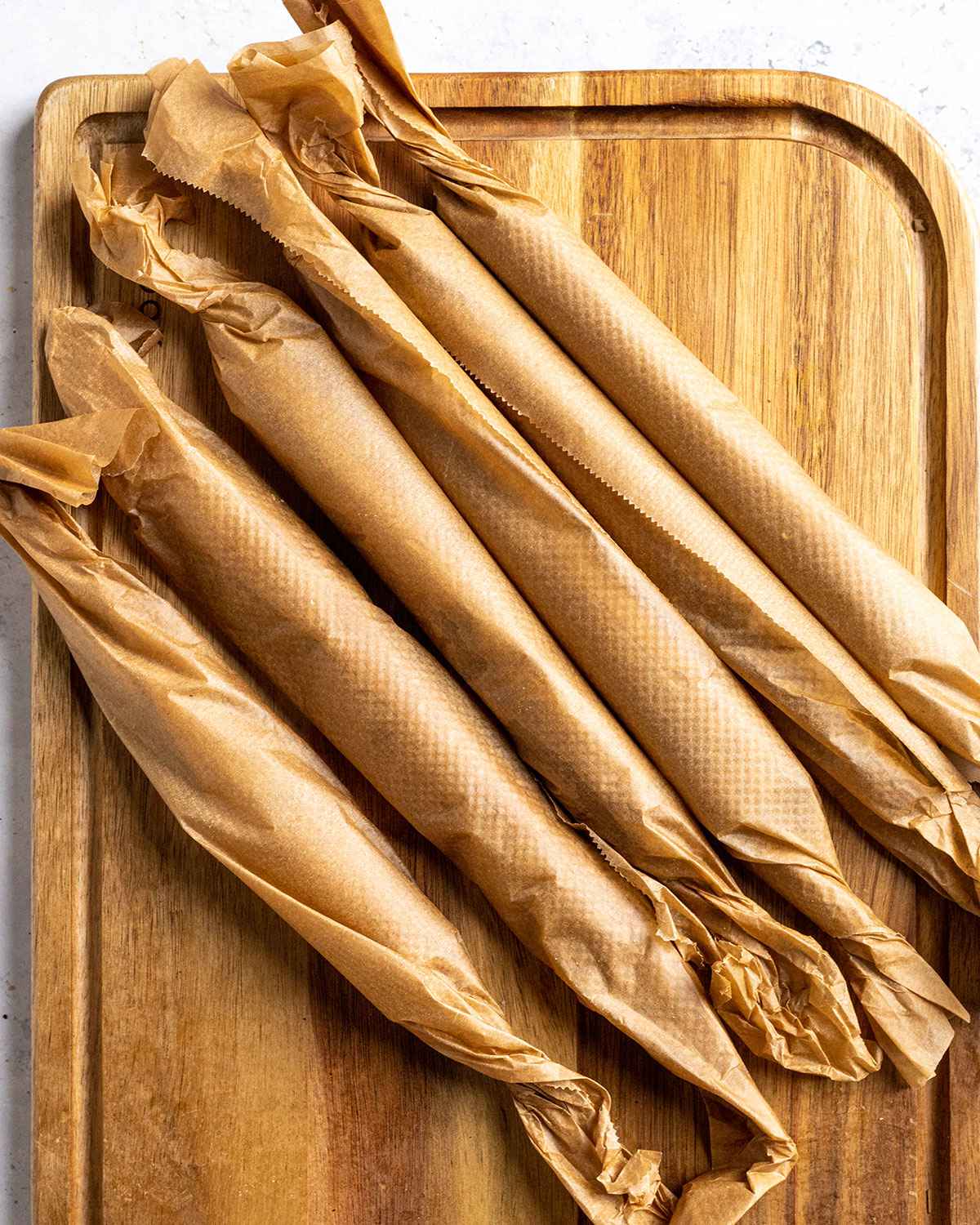 Steam the wrapped Seitan over low/medium heat for 1 hour.
Grilling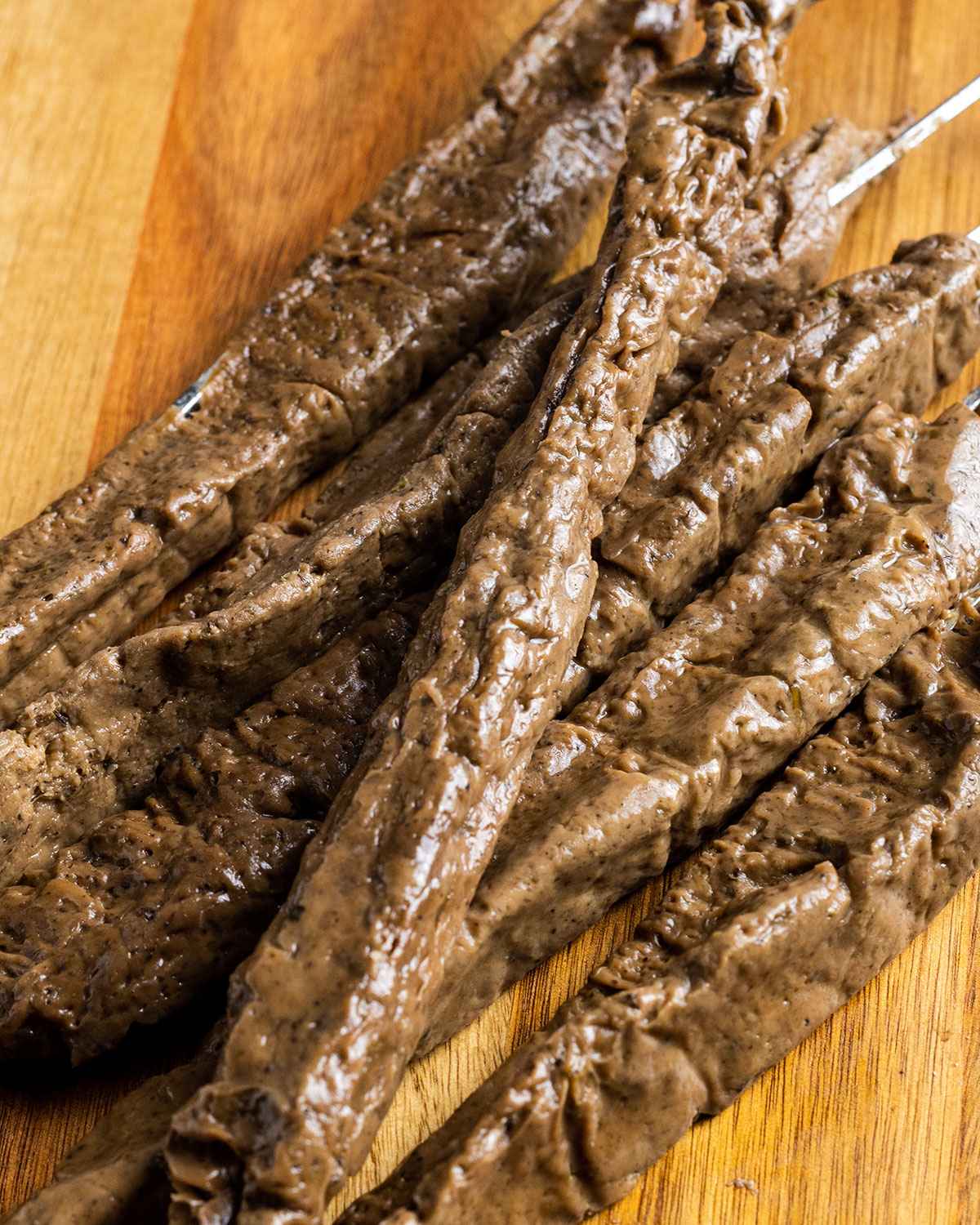 Carefully unwrap the skewers.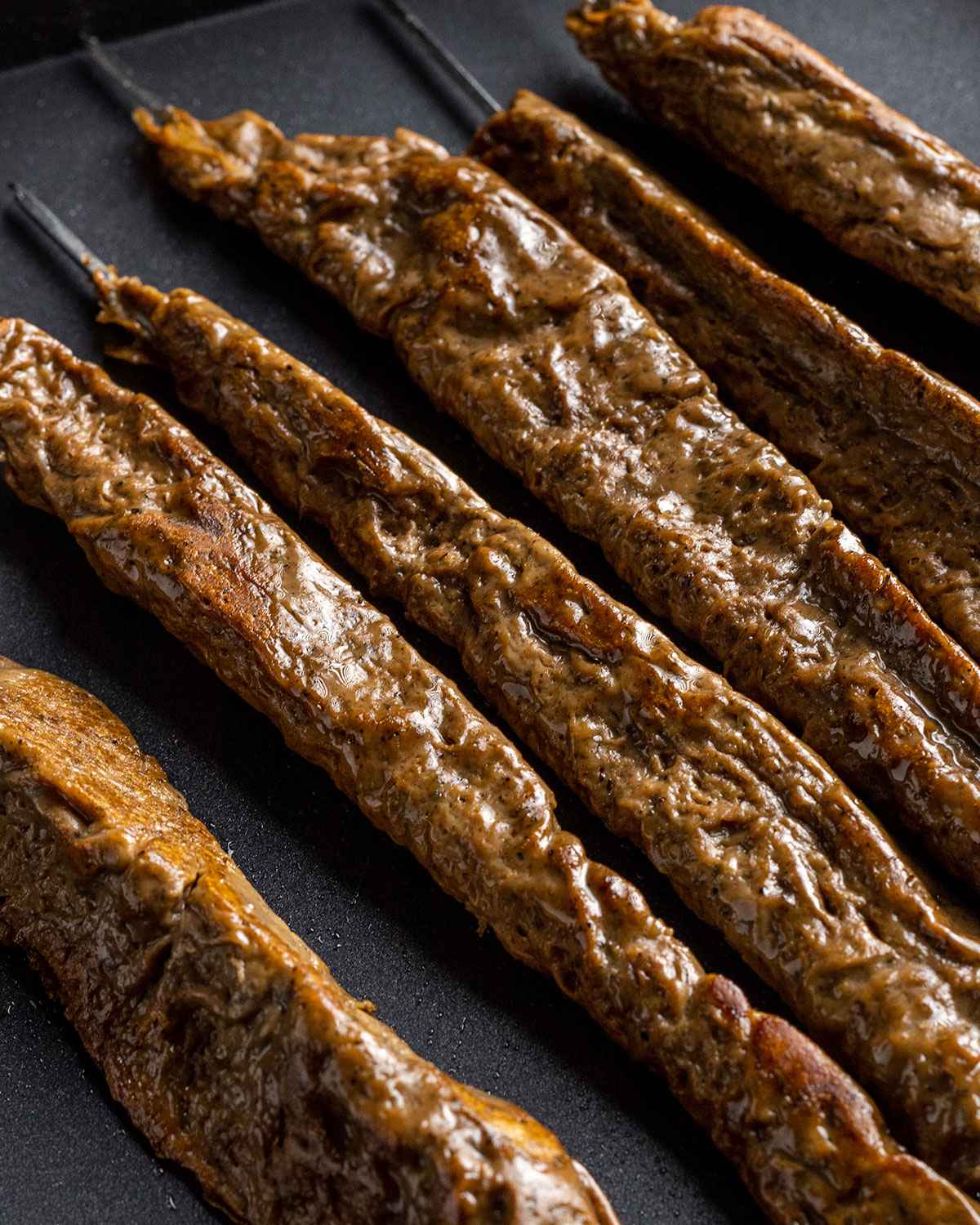 Brush the skewers with oil and tamari soya sauce.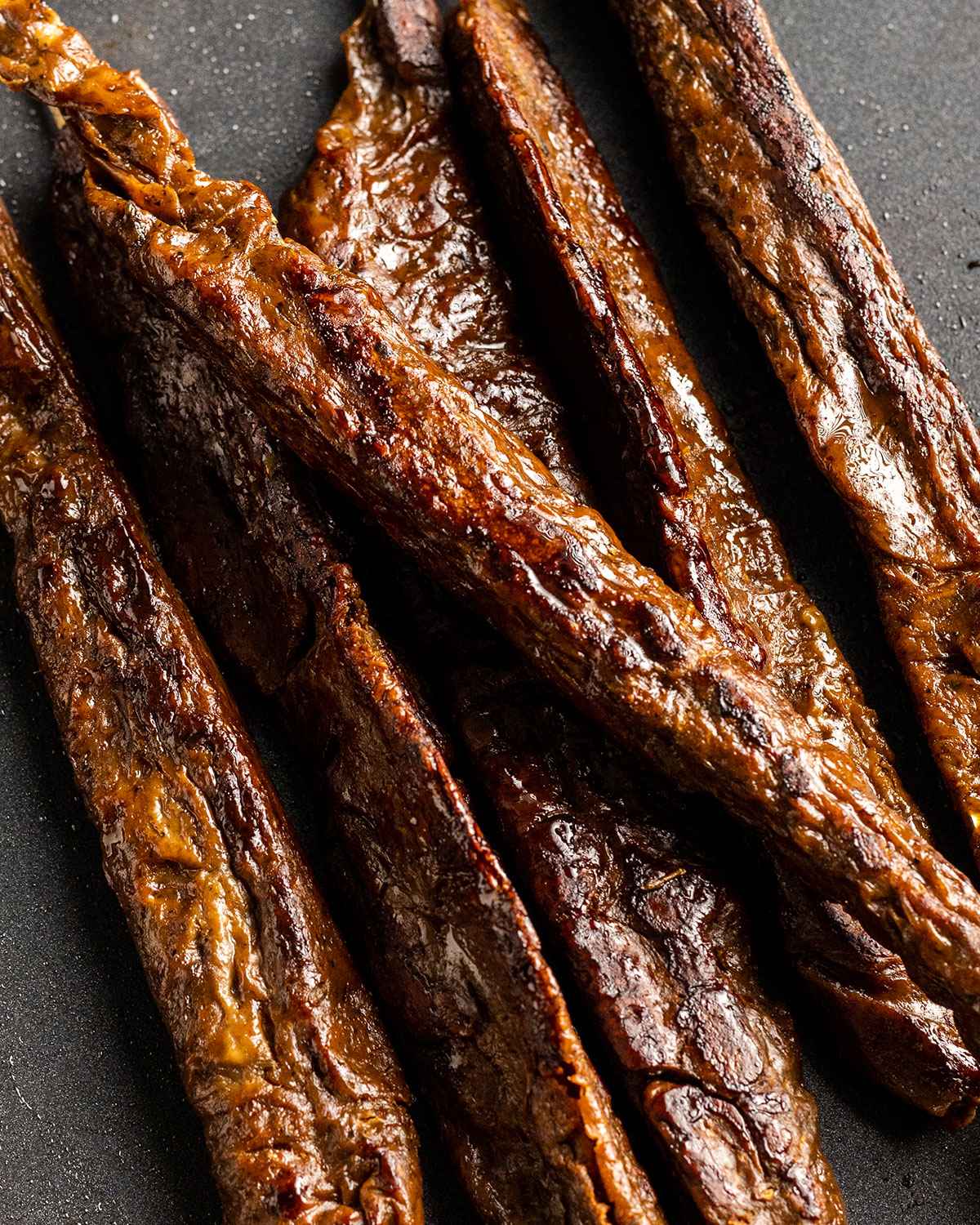 Grill the skewers on a hot grill until a light, caramelized crust forms. Turn regularly to avoid burning or sticking.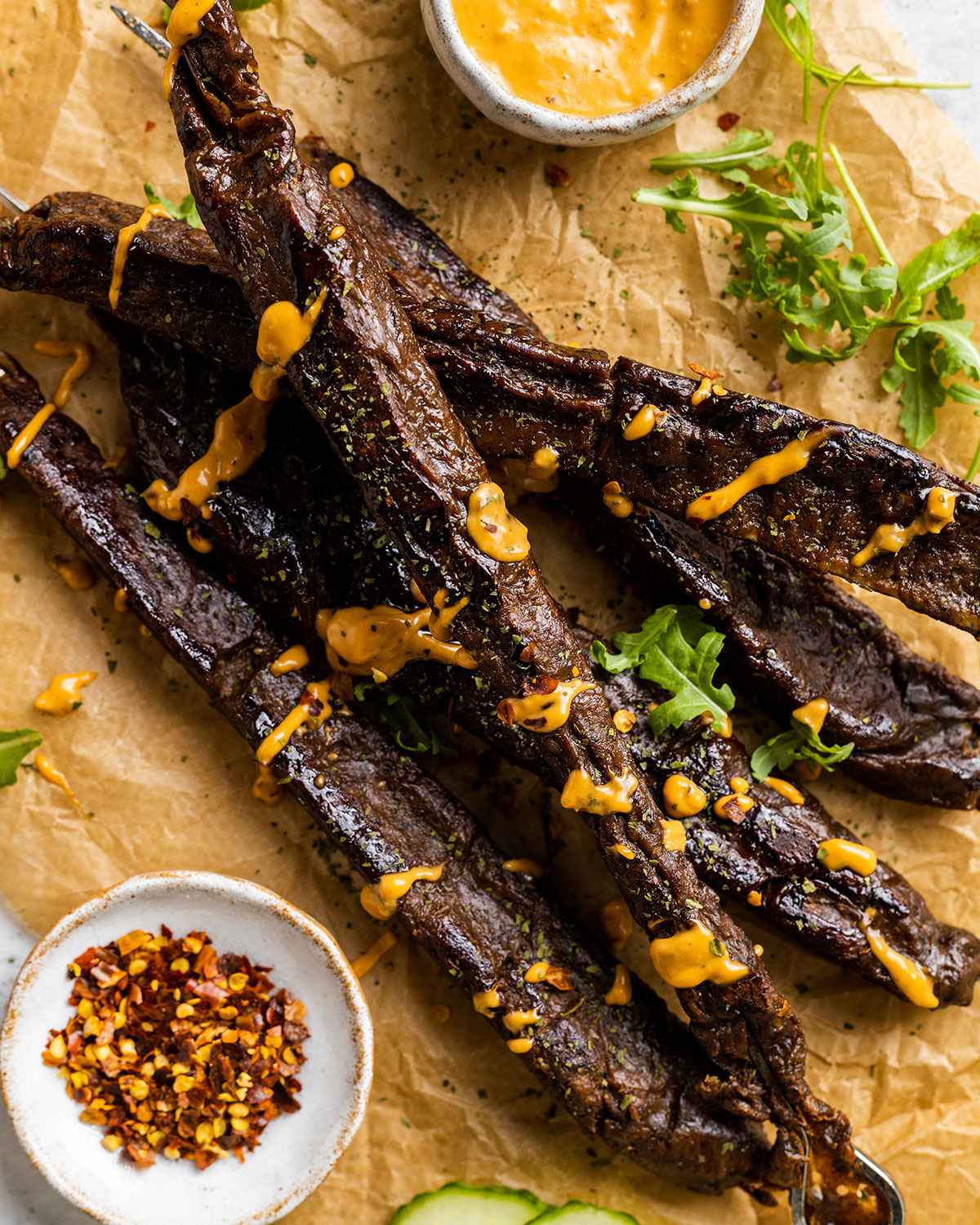 Serve the kabobs on their own or alongside your favorite summer BBQ dishes.
Serving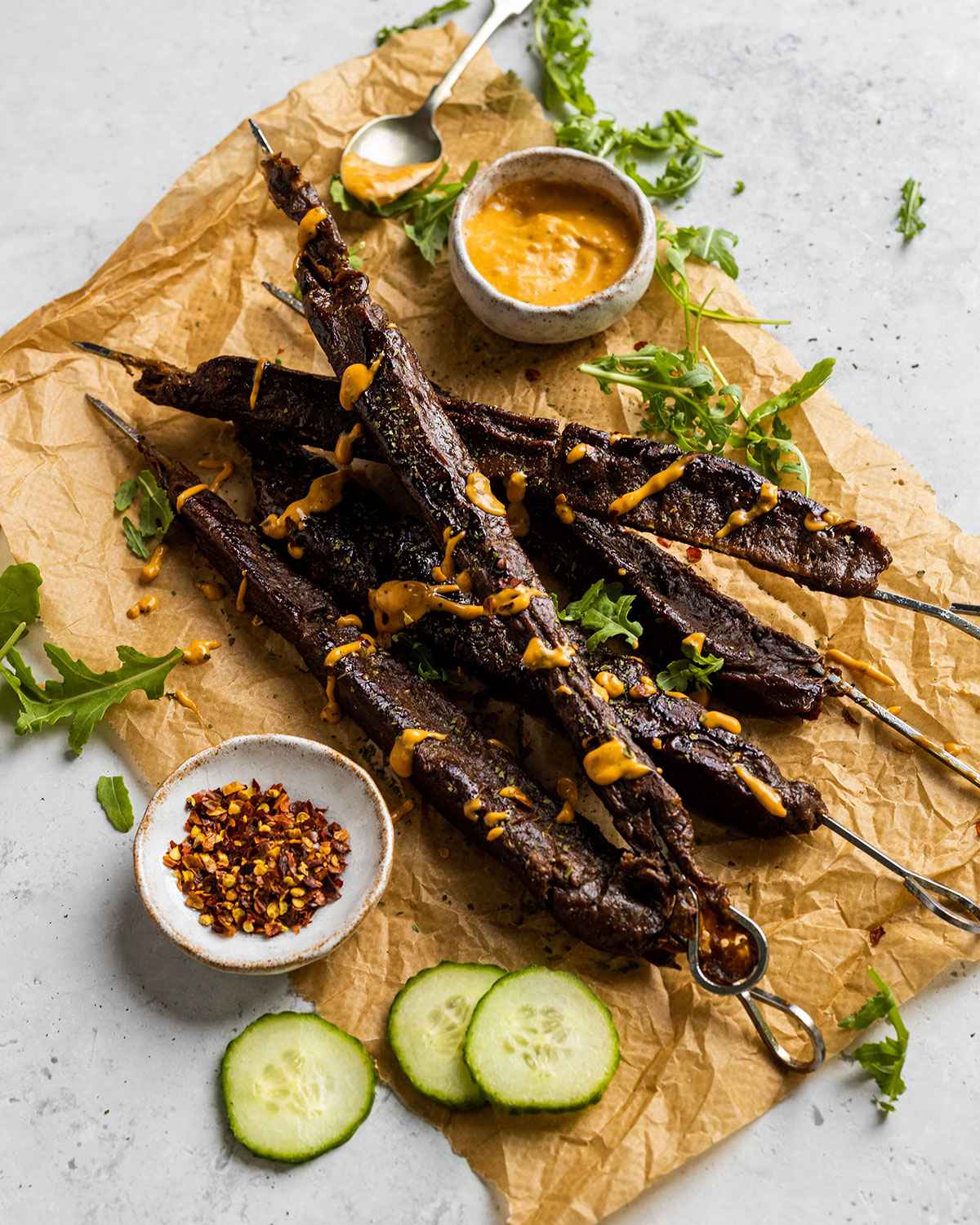 Serve these delicious kabobs as an appetizer or side dish - they're brilliant for your next barbecue party, and also mouth-watering when pan-fried in a grill pan.
These skewers are actually perfect for parties because they're easy to make and serve. Simply prepare the vegan skewers ahead of time and store them in the fridge overnight. Then grill them for a few minutes until ready to serve.
A few things you could serve alongside:
grilled fresh corn
steamed leafy greens
veggie kabobs made with your favorite vegetables!
grilled cherry tomatoes and hummus (yum!)
homemade vegan cheese sauce to dip and drizzle
Storage
These kabob skewers are best served right after grilling, but if you'd like to prepare them in advance, you can already wash & season your flour and wrap the vegan kabob meat onto the skewers.
You can store them in the fridge on a covered platter or in an airtight container for up to 3 days.
To serve, simply grill or fry the skewers and serve immediately after to create a delicious vegan meal.
Substitutions
In case you don't have everything to hand, here a few ideas and notes for possible substitutions:
Thyme - you can use rosemary instead of thyme and the kabobs will still be very tasty!
Tamari - instead of tamari soya sauce, you can also use dark soya sauce.
Olive Oil - replace the olive oil with rapeseed oil
Variations
If you want to shake things up, why not try taking this recipe to the next level:
Curry - how about some curried kebab skewers? Add a tablespoon of your favorite curry powder to the flavor paste and adjust the texture with a little water until you get a spreadable paste.
Spicy

- you can always serve your kabob skewers with chili sauce, but if you want the kabobs themselves to have a bit of heat, add more red pepper flakes (chili flakes) to the flavor paste and adjust to your personal preference. If the flavor paste becomes too dry, adjust the texture with a little water and/or oil.

BBQ - instead or in addition to coating the skewers with oil and tamari before grilling, you can also brush them with your favorite BBQ sauce to give them the ultimate BBQ feel!
Balsamic glaze - glaze these tasty kabobs with balsamic vinegar right after grilling when they're still hot. So tasty!
Top tip
There are a lot of variables in this recipe - the flour you use, the blender/food processor you use, how intensely you wash your flour - so making Seitan from scratch is all about trial and error. Adjust this recipe to your personal preference and troubleshoot accordingly.
The resting times for the Seitan are really important for the final texture of your Seitan. So if you're struggling with extremely soft Seitan, try resting it for longer so that the gluten strands can come back together.
Frequently Asked Questions - Seitan Kabobs
My seitan dough is falling apart after washing, what to do?
This is normal! It will become super soft and shaggy and easily fall apart. It will come back together in the resting phase after blending in the flavor paste, so trust the process!
Can I make these kabobs on the grill, barbecue or pan fry?
All 3 options are delicious! When placing these seitan kabobs onto a barbecue or grill, just make sure to add enough oil to the skin to prevent sticking and use a drip tray underneath to catch any droppings.
Related Recipes
If you enjoy making homemade Seitan or similar recipes, then give these favorites from the blog a go:
If - like me - you love Pinterest, you can find me here & if you like, you can pin any of the images on this page to your boards 😊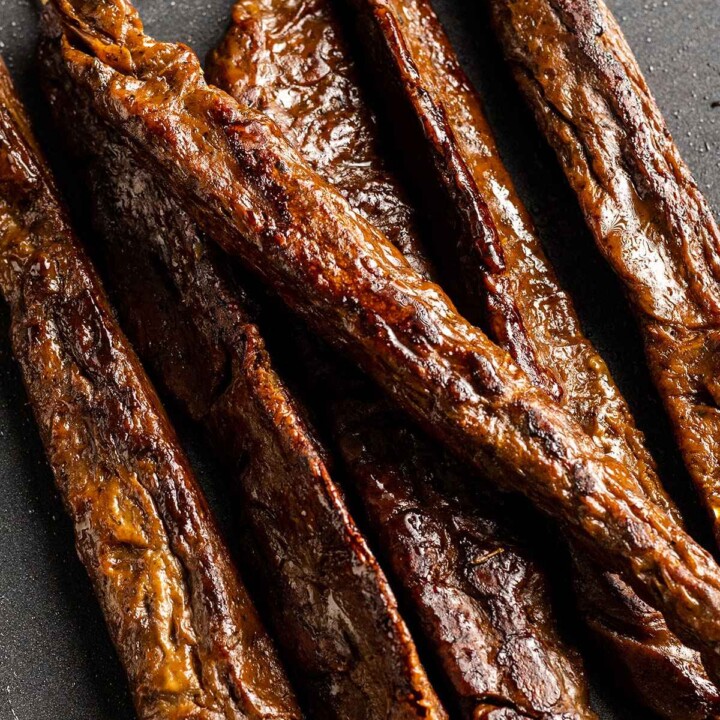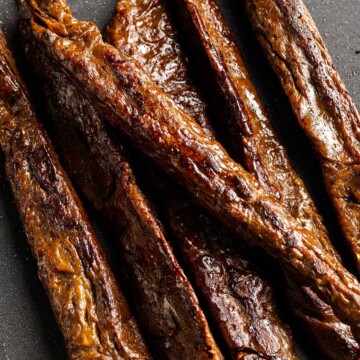 Vegan Kabob
These vegan kabob skewers are made from Seitan using the flour washing technique. Serve these delicious kabobs as an appetizer or side dish. They are also perfect for parties because they're easy to make and serve.
Equipment
1 large mixing bowl

1 food processor

1 large steamer basket
Ingredients
2

cups

strong white bread flour (500 g)

1

cup

water (250 ml)

plus a little extra if needed

2

tbsp

tamari soya sauce

2

tbsp

olive oil
For the flavor paste:
1

tsp

sea salt

1

tsp

black pepper

4

tsp

ground cumin

2

tsp

garlic powder

2

tsp

onion powder

1

tsp

red pepper flakes

2

tsp

dried oregano

4

tsp

dried thyme

4

tsp

dried parsley

4

tbsp

nutritional yeast

1

tbsp

tamari soya sauce

olive or sesame oil
Instructions
Flour Washing
Start by combining the flour and water in a large mixing bowl until you get a dense flour ball. Firmly knead it on a floured surface until smooth.

Place the dough ball back into the bowl and cover with water. Set aside for 20-30 minutes.

Place the bowl into a sink and begin washing the dough ball under water. It will have slightly softened in the resting process. Whilst you wash and knead the dough ball under water, the water will begin to turn white. This is because the starch from the wheat flour will separate and dissolve in the water.

Once the water has become almost cream-like, drain the bowl and cover the dough again with fresh water. Repeat the process about 4-5 times or until the water is mostly clear and doesn't thicken anymore. The dough ball will become increasingly soft and fall apart - but don't worry: trust the process as it will come back together later on.

Once you're done, rinse the dough under running water for 30 seconds and place it into a colander to rest for a few minutes.
Flavoring the Seitan
In a small bowl, create the flavor paste by mixing salt, pepper, cumin, garlic, onion, red pepper flakes, oregano, thyme, parsley and nutritional yeast with the tamari and just enough oil to create a thick paste.

Transfer the washed seitan into a food processor and add the flavor paste. Pulse until the paste is mixed into the Seitan.

Place the seitan back into a colander over a bowl. Cover and store in the fridge overnight to rest. In this process, the texture of the Seitan will come back together and create a firm dough. If needed, line your colander with a nut milk bag to prevent the soft Seitan from running through the holes or sticking to the colander.
Shaping and Steaming
Divide the seitan into 6 equal parts and shape them into long strings. Slice each string into 3 strands with a sharp knife. Starting at the top, braid or twirl the strands around a kabob skewer. Pierce the ends back onto the skewer to prevent them from unraveling.

Firmly wrap each skewer in parchment, and steam them on the stove or in a steamer basket for 1 hour. Make sure to keep the lid on!
Grilling the vegan kabobs
Allow for the kabobs to cool down for 20 minutes, then carefully unwrap them.

Brush the kabobs with the remaining tamari and oil and place them onto the grill. Turn them regularly until they are evenly browned. Then they are ready to serve!

Alternatively, you can grill them in a skillet or in the oven.
Notes
When washing the flour, don't discard the water from the first two washes! There are a few incredible starch water recipes out there! You can set aside a bowl with the starch water over night - the starch will settle at the bottom, whilst the water flows on top. Carefully discard the water and you're ready to cook with your starch water! It can make all kinds of amazing things, such as starch water bacon or even cheesecake!
Instead of wrapping the kabobs in parchment paper for steaming, you can also use aluminum foil or add another layer of foil around the parchment. 
Storage: you can store the Seitan in an air-tight container for up to 3 days prior to grilling, then grill it once you're ready to eat! If you've already grilled the Seitan, then briefly reheat it in a skillet. 
Serving: You can serve these kabobs on their own or with some delicious sides. See my favorite combination options in blog post!
Grill marks are a great way to make these kabobs look even tastier!
Latest Recipes
*Disclosure: This page may contain affiliate links and sponsored links that earn me a small commission, at no additional cost to you. You can find more information in my Privacy Policy.
 © Romy London / Romina Callwitz | All images and content are copyright protected. Please do not use my images and content without permission. If you wish to re-publish any recipes or images, please get in touch via email. Thanks for your support!