Deliciously crunchy German-style Vegan Spritz Cookies coated in vegan chocolate and sprinkles - the perfect treat during Christmas season!
This recipe is:
100% vegan
super easy to make
crunchy
German
simply delicious
egg-free
dairy-free
chocolate-y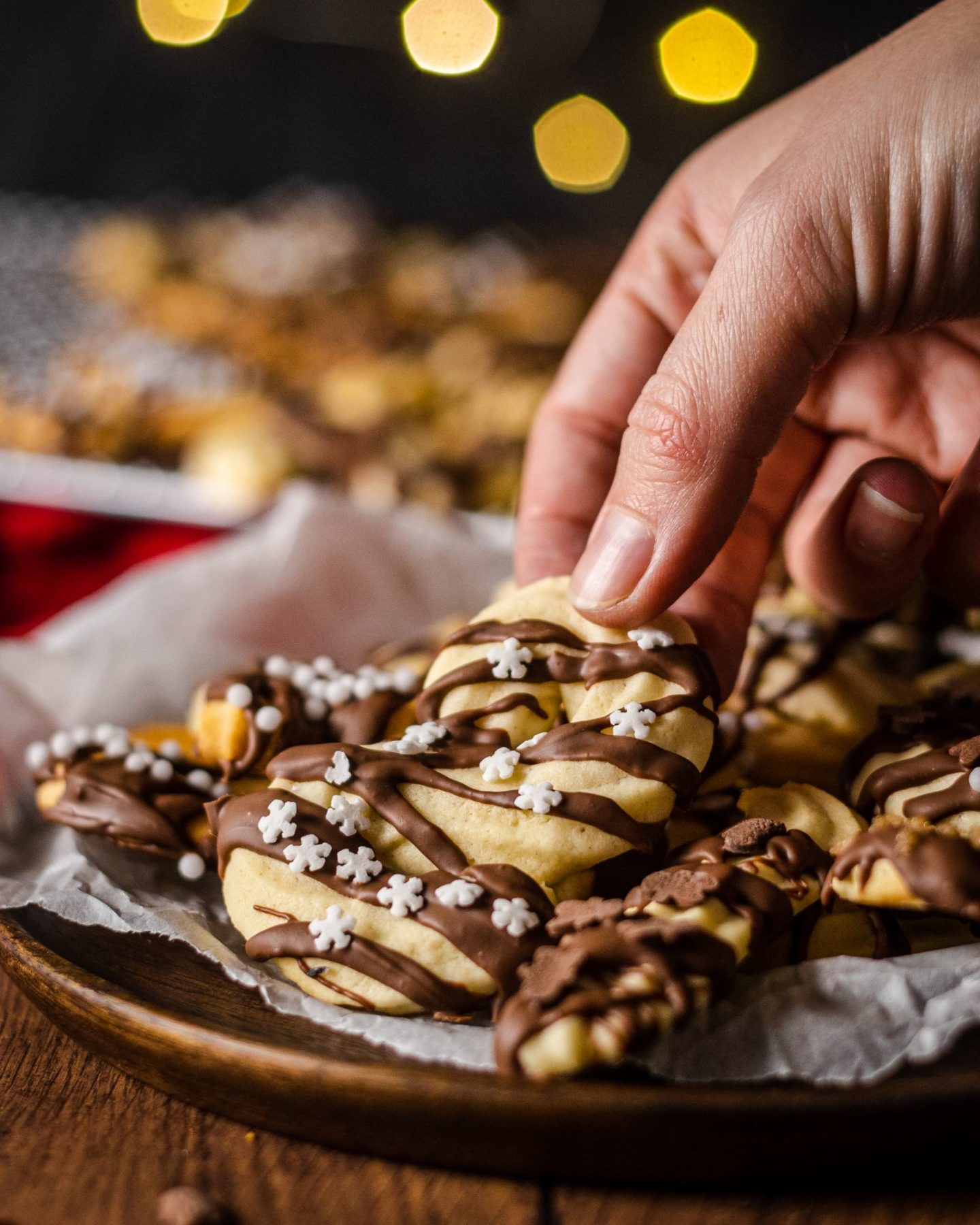 These cookies are such a childhood memory from growing up in Germany! They were an absolute essential in every year's Christmas bake and I'm happy to let you know that I've veganised the recipe my family has been using since I was a child - and they're at least just as good as I remember them! I hope you enjoy this Easy Vegan Spritz Cookies Recipe, just as much as I did - you'll find me back in the kitchen making another batch!
Ingredients & Notes
To make this vegan version of the German Christmas classic, you will need the following ingredients:
vegan spread, aka vegans butter: I usually use Flora Unsalted
icing sugar or powdered sugar
plain flour (all-purpose flour)
cornstarrch
soya milk
apple cider vinegar
freshly squeezed lemon juice
vanilla extract
salt
vegan chocolate and vegan sprinkles (optional)
Where to buy vegan sprinkles
What I love about making spritz cookies is the fun of creating the shapes on the baking tray - followed by decorating the cookies with melted chocolate and my favorite sprinkles. This year I have gone all out with ordering vegan sprinkles online (I'm sure they'll get me through the next decade!). Of course, the sprinkles are totally optional, but in case you are looking for some good vegan sprinkles yourself, here's where I bought mine:
Substitutions
vegan spread - You can replace the vegan spread with coconut oil if you don't have any to hand. I recommend using the vegan Flora butter - it has a great taste and replaces regular butter wonderfully in baking.
icing sugar - Did you know that you can blend regular caster sugar into icing sugar with a high-speed blender? So don't worry, if you don't have any icing sugar to hand, you can easily make your own! For the traditional texture of these cookies, it's important to use a fine sugar such as icing sugar, so I wouldn't recommend replacing it with a different type of sugar.
vinegar - instead of apple cider vinegar you can also utilize a clear white vinegar, just don't use anything balsamic or red wine vinegar. If you don't have any suitable vinegar at all, simply double the amount of lemon juice, however, this will give the cookies more of a lemon flavour.
Equipment
2 mixing bowls
electric hand mixer
piping bag and nozzle
lined baking trays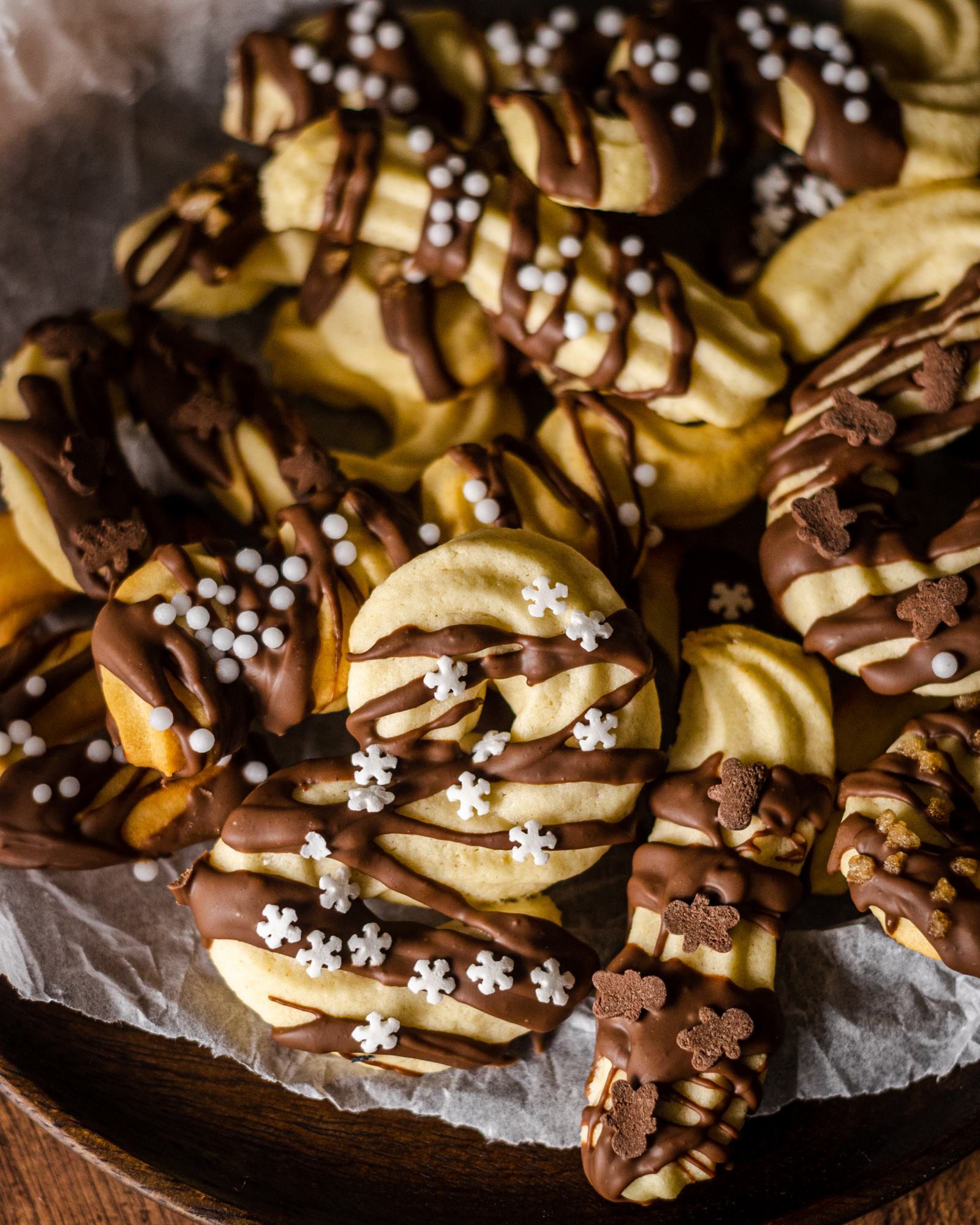 Instructions (Step-by-Step)
To create the recipe start by preheating your oven to 170°C (340°F).
How to create vegan buttermilk
Combine the plant-based milk, vinegar, and lemon juice in a jug. Give it a quick stir, then set it aside for at least 10 minutes.
Within this time the lemon juice and vinegar will cause the milk to curdle, creating what we call 'buttermilk'. This will aid in the texture of the cookies later on. 
Mixing the cookie batter
Whilst your milk is curdling, combine your dry ingredients in a mixing bowl: flour, salt and cornflour. For the smoothest results, you can sieve the flour and cornflour, however, if you use an electric hand mixer to combine the ingredients, this might not be necessary. 
In a separate bowl start combining the vegan spread with the icing sugar for a few minutes until creamy. Slowly add the curdled milk mixture to the bowl and continue to mix until well combined. Slowly add in the flour mix and combine everything into a thick dough.
Piping the spritz cookies
Transfer the dough (or part of it) into a piping back with a star-shaped nozzle for the traditional pattern.
Line your baking tray(s) with non-stick baking parchment - ideally use a silicone baking mat if you have one - and start piping your cookie dough onto the parchment, leaving a little space between them. Don't worry, they won't massively expand, but leave a couple of centimeters to prevent them from sticking together. You can get creative with your cookie shapes! I like creating straight lines, s-shapes, circles, and whirls, but there is pretty much no limit to what you can do - however, I would recommend not to pile up multiple layers of the cookie as it might not bake all the way through in that case.
Baking the cookies
Transfer the trays to the oven and bake for 11-13 minutes at 170°C (340°F) or until the edges begin to turn golden. Remove them from the oven and allow for them to cool entirely whilst you prepare your chocolate glaze. 
Decorating spritz cookies
For the optional chocolate coating, melt the chocolate of your choice (go for a smooth one!) in a double boiler or in the microwave. Dip or brush the chocolate onto the cookies - I like to use a spoon and drizzle the chocolate over the cookies, but you can add as little or as much as you like. Whilst the chocolate is still melted, add any sprinkles to your liking and place them onto a cooling rack or baking parchment for the chocolate to firm up.
Storage
Store the cookies in an airtight container, in there they will last for several weeks (I doubt they will stay in there that long though ;))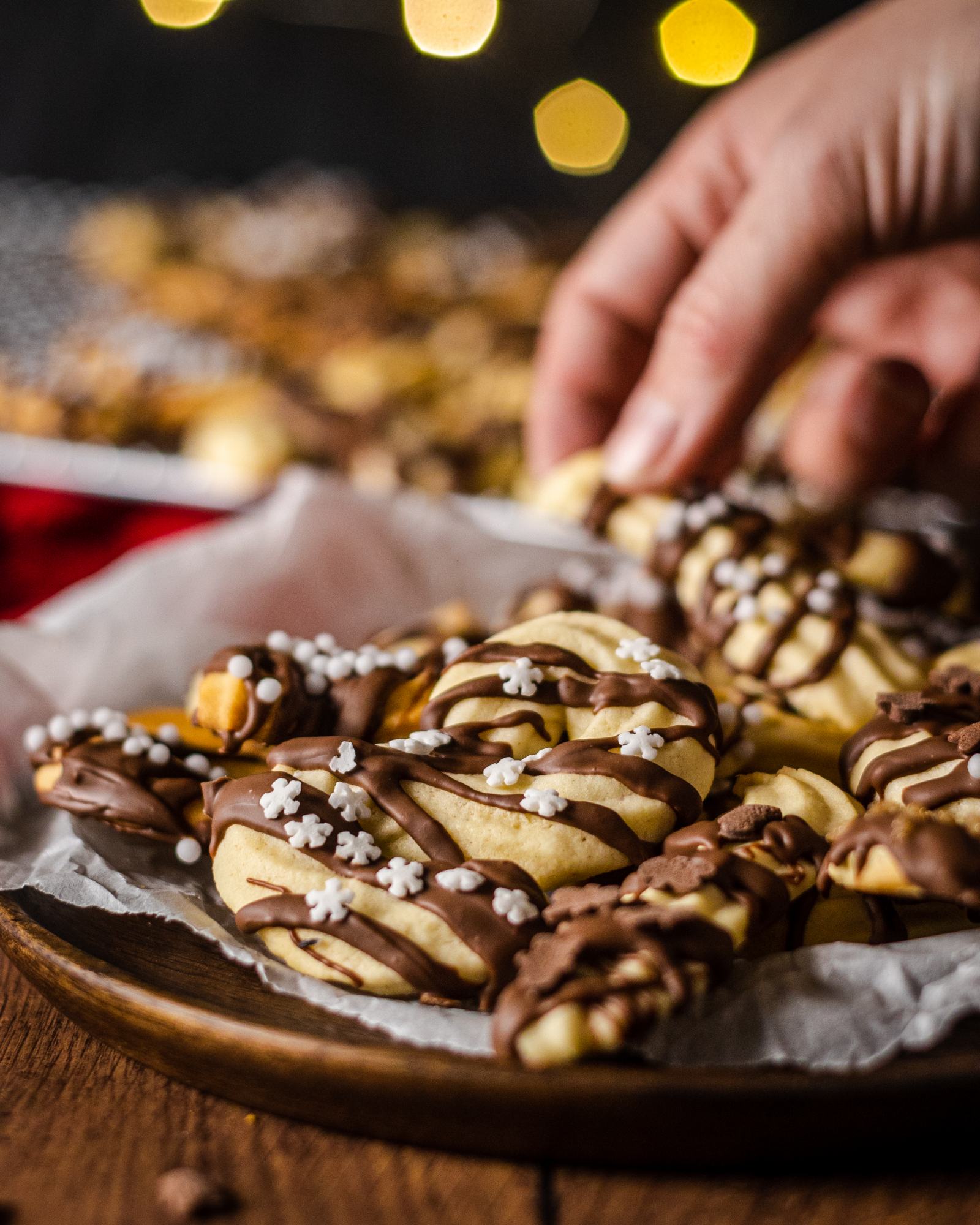 You might also enjoy these recipes:
For more festive creations - why not try my Vegan Gingerbread House or a festive Pavlova Wreath?
📌 If you love Pinterest you can pin any of the images to your boards!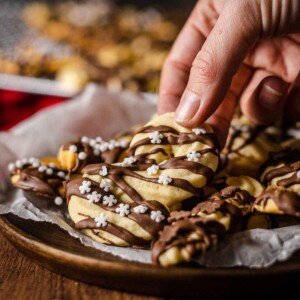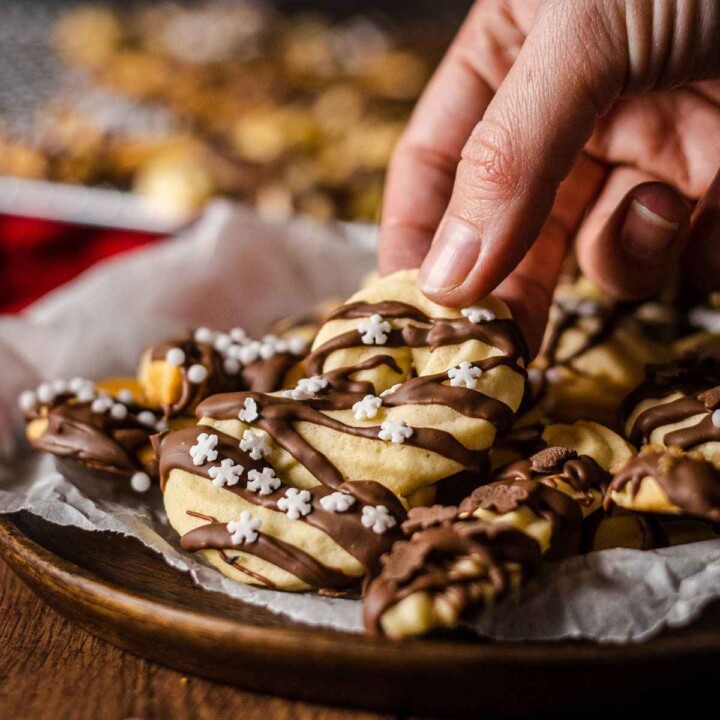 Vegan Spritz Cookies
Deliciously crunchy German-style Easy Vegan Spritz Cookies, coated in vegan chocolate and sprinkles - a Christmas cookie favorite!
Equipment
1 large mixing bowl

1 piping bag with star nozzle
Ingredients
150

g

vegan butter

150

g

icing sugar

confectioner's sugar

300

g

all-purpose flour

40

g

cornflour

100

ml

plant milk

e.g. soya

1

tsbp

apple cider vinegar

1

tbsp

lemon juice

1

tsp

vanilla extract

1/4

tsp

salt
To decorate:
100

g

vegan chocolate

melted

vegan sprinkles
Instructions
Preheat your oven to 170C (340F).

In a jug, combine the milk, vinegar, and lemon juice. Stir and then set aside for 10 minutes to curdle.

Combine the flour, salt, and cornflour in a large mixing bowl.

In a separate mixing bowl combine the vegan butter and the icing sugar with an electric hand mixer until creamy.

Slowly add the milk mixture to the bowl and once combined, carefully add the flour mix. Blend until combined, then transfer the batter to a piping bag.

Spritz your batter onto a lined baking tray, keeping the shapes separate by 2-3 cm.

Bake your cookies in the oven at 170C until golden (11-13 minutes).

Once baked, remove the cookies from the oven and allow for them to cool before decorating them with melted chocolate and vegan sprinkles.
Love baking for the holidays? Check out these other recipes from the blog:
 © Romy London / Romina Callwitz | All images and content are copyright protected. Please do not use my images and content without permission. If you wish to re-publish any recipes or images, please get in touch via email. Thanks for your support!