Be warned: these Vegan Cream Cheese Swirl Brownies are addictive! Re-create at your own risk.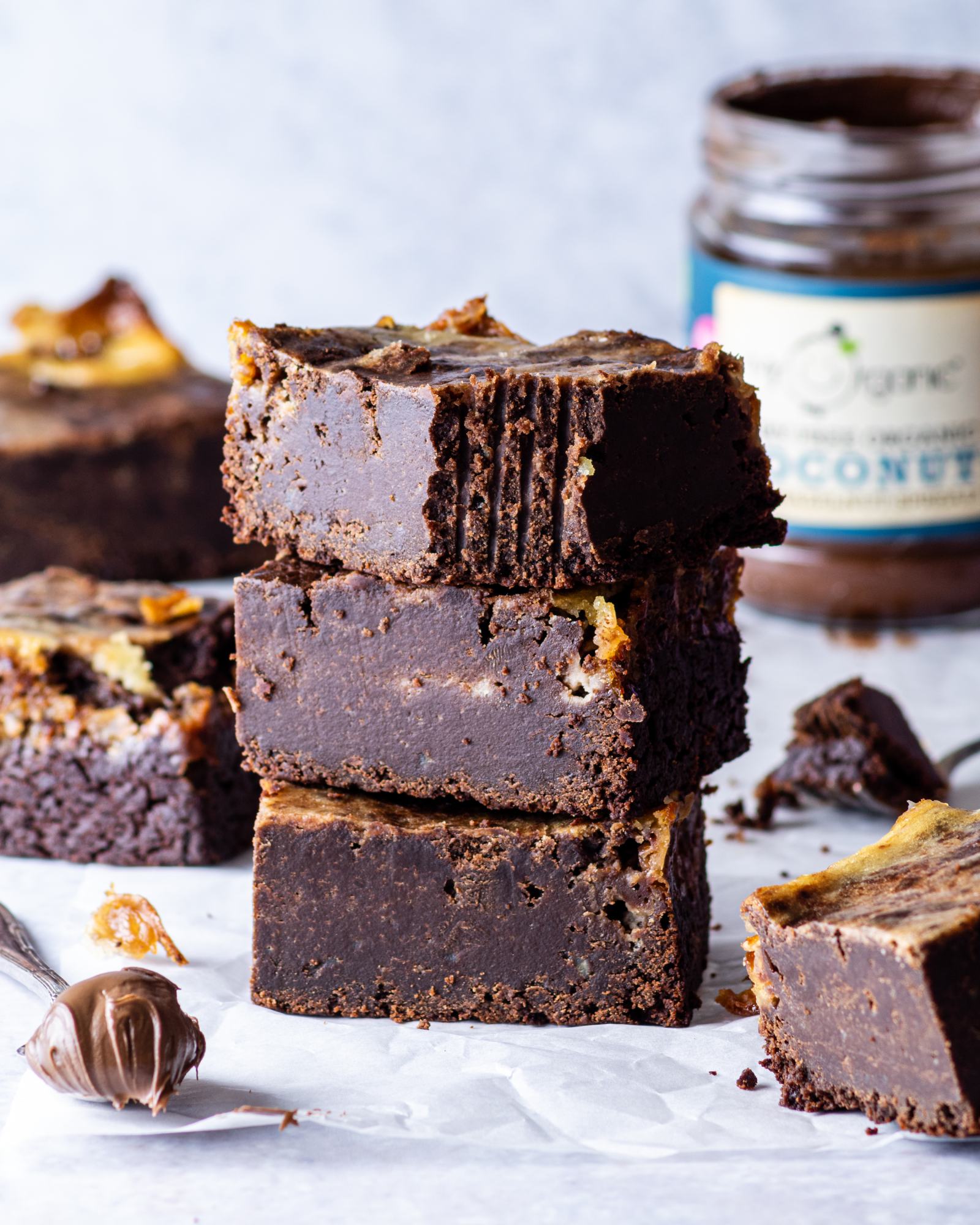 Vegan Cream Cheese Swirl Brownies
'Holy moly' is most likely come out of your mouth right after you first try these Vegan Cream Cheese Swirl Brownies. And I can't blame you: I've been there. One thing that isn't there anymore is these brownies, however. All demolished. All of them. Long gone. Farewell. Off to the kitchen to make more.
And because I'm so kind (& maybe because I have a bad conscience for eating them all alone), I'm sharing the recipe with you today, so you can get into the taste of these little wonders too. But hey: I've warned you - it's safest to only make one portion at a time ;P
Share? No, this is pretty much a single serving recipe. Yes, you can cut into 6, 12 or 24 brownies bites (well tbh any other number too if you're feeling like it) but they're all supposed to be devoured by one person. No kidding.
Shall we get onto the recipe? Okay, if you insist!
Replacing the egg for these Vegan Cream Cheese Swirl Brownies
As we're baking vegan at the RomyLondonUK HQ (aka my kitchen 'office') of course this recipe is entirely eggless. It is however fairly simple to replace eggs in most baking recipes as I have found over the past few years.
In the case of these fudge-y Vegan Cream Cheese Swirl Brownies I have decided to use Aquafaba (beaten, unsalted chickpea water). It simple helps bind all the brownie ingredients together without tampering with the delicious taste of this recipe. Long story short: it's perfect.
As aquafaba has worked a treat on this recipe pretty much instantly, I have to admit I didn't try any alternatives, but I'm certain that egg replacement, a banana, a flax egg or chia seeds do the trick just as well. Why not experiment with what you have at home?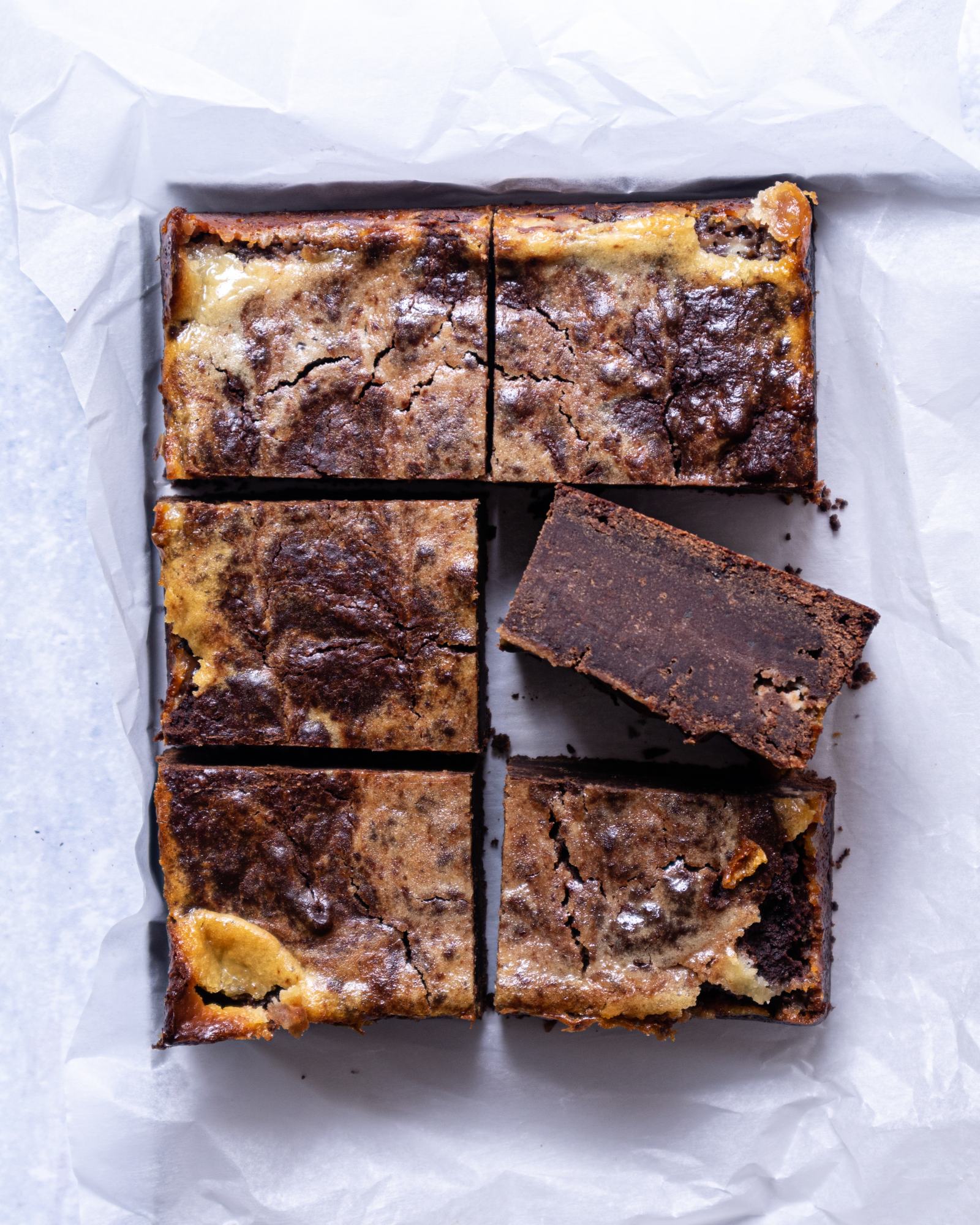 Why add salt to brownies?
You've maybe had this scenario before: you're reading a recipe for a delicious sweet treat and one surprising item finds its way into the ingredient list: salt. But let me tell you: it's a vital one. It might feel odd adding a pinch of salt to a fully sweet treat at first, but the salt actually brings out the naturally sweet aroma of cacao and chocolate, giving you the ultimate chocolate indulgence with these brownies, for example.
Still not convinced? I always motivate people to try it for themselves. A little salt never hurt anybody and I promise you, your brownies won't come out savory as long as you stick to the amounts mentioned in the recipe (yes I felt the need to point that out, you never know!)
Making the brownie batter
As with most baking recipes I like to stick to the following: Combine dry ingredients, combine wet, then combine everything. It simply ensures an even distribution of all ingredients and avoids any lumps or oddly flavored corners (imagine all the salt landing in the same bite...).
In this recipe, the chocolate batter is mixed separately from the Vegan Cream Cheese Swirl by sticking. to the above rule. Then whisk up the vegan cream cheese, maple syrup, and 1 tbsp Aquafaba in a separate bowl and spoon it onto the chocolate brownie batter in the baking tin, then use a fork or a toothpick to swirl.
Bish, Bash, Bosh - oven ready!

These brownies are:
vegan
dairy free
egg free
super fudge-y
extra chocolate-y
indulgent
addictive
easy to make
oven ready in 15 minutes
📌 If you love Pinterest you can pin any of the images to your boards!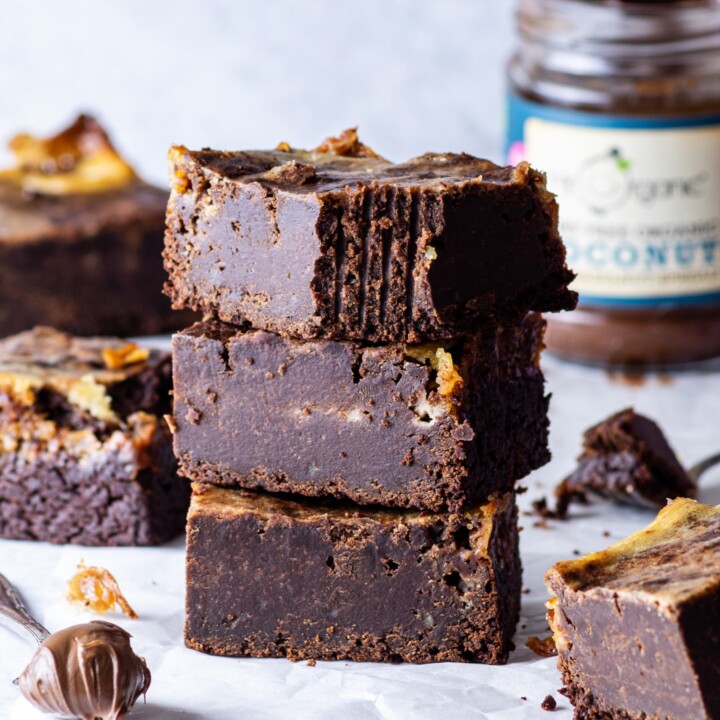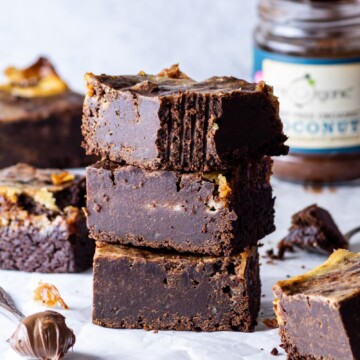 Vegan Cream Cheese Swirl Brownies
Deliciously goo-ey vegan chocolate swirl brownies - indulgent and full of chocolatey goodness with this simple recipe. Using real chocolate, aquafaba & vegan cream cheese for tasty swirls.
Equipment
1 6 x 6 inch (15 x 15 cm) brownie tin

parchment paper

2 mixing bowls

1 saucepan

1 electric hand mixer
Ingredients
100

g

all-purpose flour

30

g

raw cocoa powder

1/2

tsp

fine sea salt

60

g

dark vegan chocolate

chopped

110

g

vegan butter

5

tbsp

aquafaba

unsalted chickpea water

100

ml

maple syrup

60

ml

coconut oil

1

tsp

vanilla extract
For the vegan cream cheese swirl
110

g

vegan cheese cheese

50

ml

maple syrup

1

tbsp

aquafaba
Instructions
Preheat your oven to 180C and spray a 15x15cm brownie tin lightly with cooking spray before lining it with non-stick baking parchment.

In a medium-size mixing bowl combine the flour,  cocoa powder and salt.

Melt the vegan butter in a medium size sauce pan over medium-low heat, add in the dark chocolate and gently stir until both butter and chocolate are melted and combined.

Prepare your Aquafaba and combine it with the maple syrup, coconut oil and vanilla extract and pour in the butter/chocolate mix.

Slowly add the dry mix into the wet ingredients and gently stir to combine. Pour the batter into the brownie tin.

Prepare the cream cheese topping by combining the ingredients with an electric mixer,  then gently add the cream cheese mix onto the brownie batter with a spoon. Using a knife, create the swirls on top of the brownies.

Place the tin into the oven for 35-40 minutes or until baked.
Looking for more vegan treats?
*Disclosure: This page may contain affiliate links and sponsored links that earn me a small commission, at no additional cost to you. You can find more information in my Privacy Policy.
 © Romy London / Romina Callwitz | All images and content are copyright protected. Please do not use my images and content without permission. If you wish to re-publish any recipes or images, please get in touch via email. Thanks for your support!