Baked Vegan Churros Recipe - The ultimate vegan snack attack. This recipe is simple to follow, no fancy equipment or ingredients are required.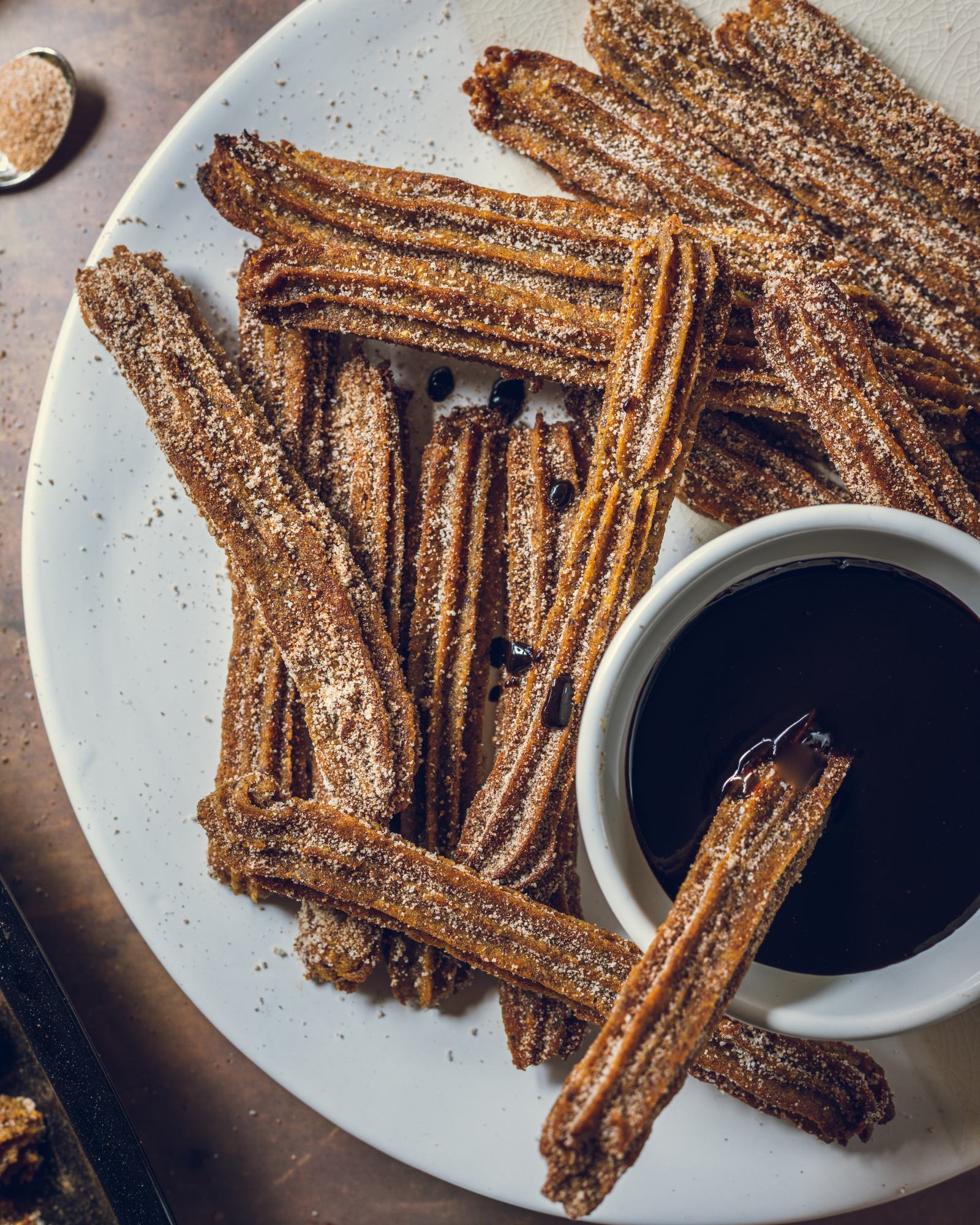 Oven-Baked Vegan Churros
If you've ever craved churros after going vegan, then this baked vegan churros recipe is for you! In fact, it may well become one of your favorite vegan dessert recipes...
I've honestly loved churros for the longest time. I'm trying to remember when I've first come across them, and I am pretty certain that it was in the 90s or early 00s in a German theme park called Phantasialand. Growing up in Germany, churros weren't widely available, so a trip to the theme park first introduced me to these delicious snacks.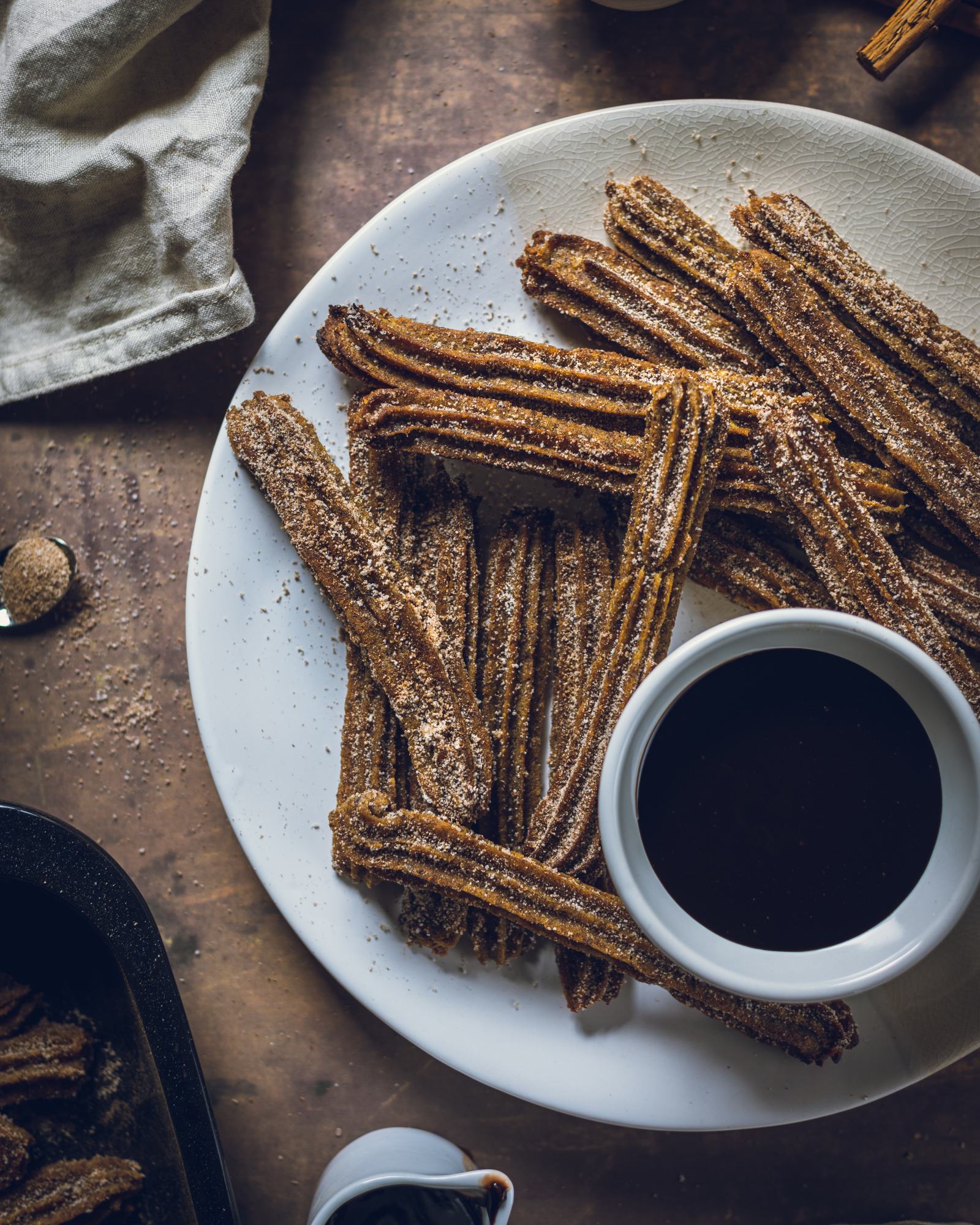 How regular churros are made
Churros are usually covered in a mixture of granulated sugar & cinnamon and often served alongside a chocolate dipping sauce (though there are plenty of other combinations!). Regular churros often contain eggs, however, it is possible to find vegan ones at certain street food stalls (the ones at Thorpe Park are vegan!)
Churros are most often deep-fried, the dough is mixed and then put through a churro 'machine' that dropped the churros straight into a deep fryer, creating a crunchy outside and a soft and fluffy inside layer.
What you'll need to make vegan baked churros
Ingredients for the churros:
Water

Vegan margarine (unsalted)

Light brown sugar

Granulated sugar

All purpose flour

3 flax eggs (3 Tbsp milled flax seeds + 3 Tbsp water)

Rapeseed oil spray for greasing
Ingredients for the coating
Ground cinnamon

Granulated sugar (or alternative)
Equipment
For these vegan baked churros, however, you don't need any fancy equipment. The only things you need are:
Mixing bowl
Piping bag (with a star-shaped piping tip)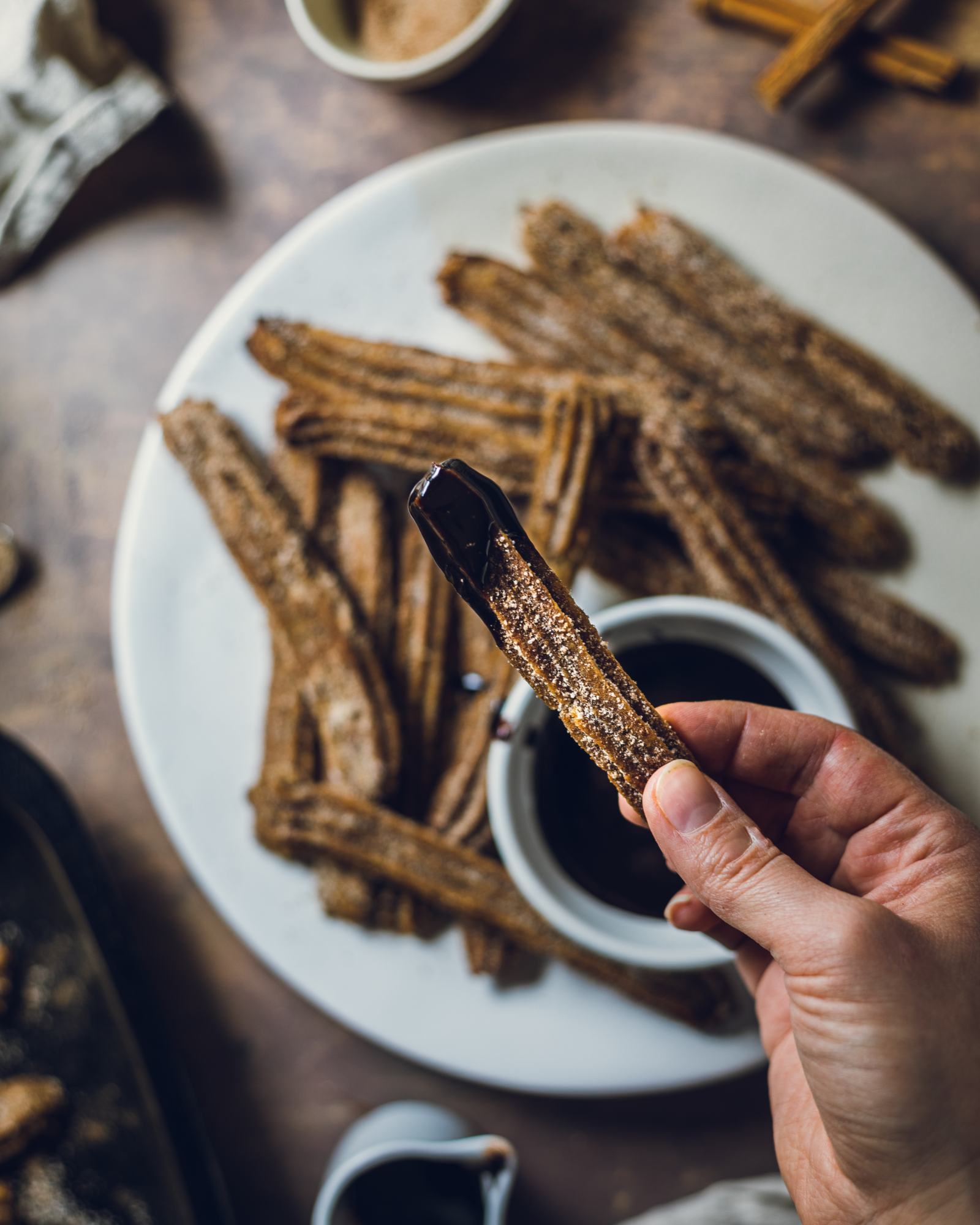 How to make vegan baked churros
The technique
To get the dough for these churros right, there is a specific technique to combine your ingredients. In the first part, you combine water, vegan butter (or oil) and sugar in a saucepan and bring them to a boil. Let the butter melt completely and stir to dissolve the sugar.
In a separate bowl, combine the flour and vanilla bean powder.
Prepare 3 flax eggs by combining 3 tablespoons of milled flaxseeds with 3 tablespoons of water, stirring, and setting them aside for at least 10 minutes. Within this time the mixture will thicken and become gooey. These flax eggs will help hold the churros together and also add some healthy fats & protein.
Once your wet ingredients have come to a boil, take the saucepan off the heat and instantly stir in the flax eggs, then quickly blend with the flour/vanilla mix. Transfer the batter into a piping bag with a large star-shaped tip and pipe your churros onto a lined non-stick baking tray. Mine are usually around 10cm in length. If you're making shorter or longer ones, please be aware that the cooking time may vary, so best to keep a close eye on them. As the churros are not expanding in the oven you can pipe them closely onto the baking tray.
Bake your churros in the oven at 190ºC for about 20 minutes or until golden brown. Let them cool down completely after the baking time elapses, before removing them from the tray.
Toss them in a mix of granulated sugar and cinnamon and serve them directly - or alternatively keep them in an airtight container (again, it's very important that they're cold before placing them into any container, as they could otherwise get soggy).
Serve alongside vegan chocolate sauce - I made some from 2 Tbsp dairy-free chocolate spread, melted with the addition of 2 Tbsp water.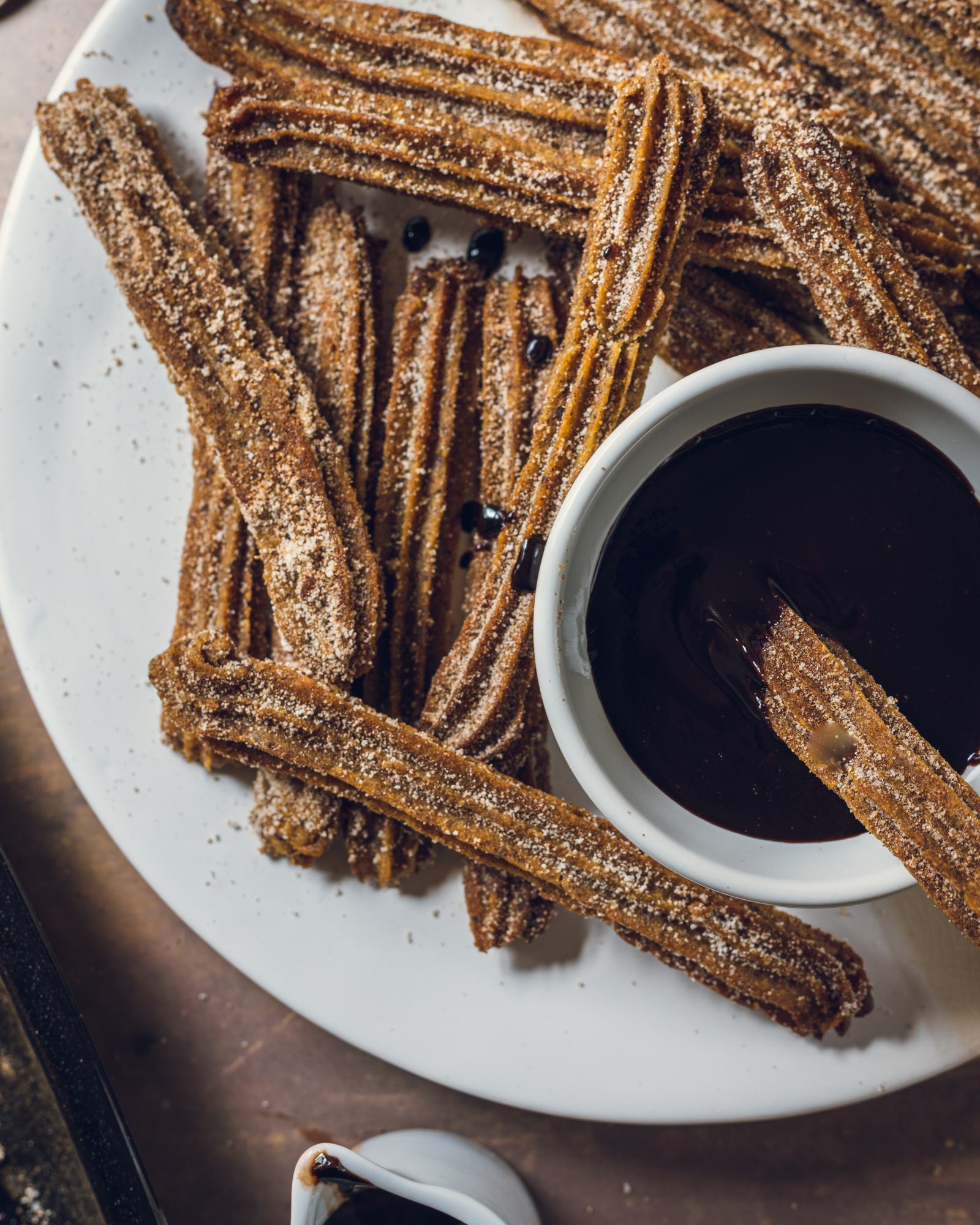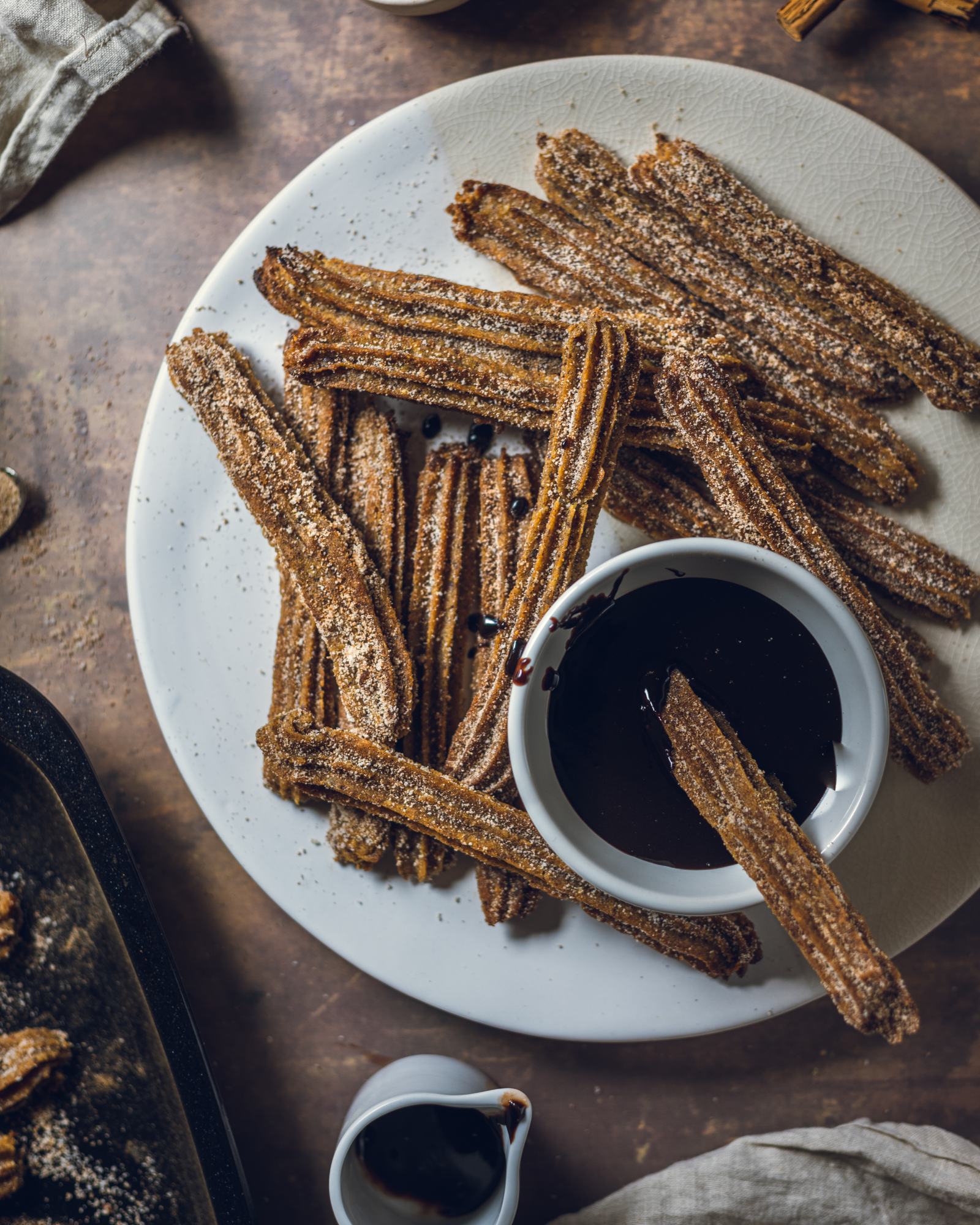 This recipe is:
100% vegan
easy to follow
not requiring fancy equipment
lower in fat than fried churros
more-ish
the perfect snack or desssert
simply delicious!
dairy free
egg free
You might also enjoy these recipes:
📌 If you love Pinterest you can pin any of the images to your boards!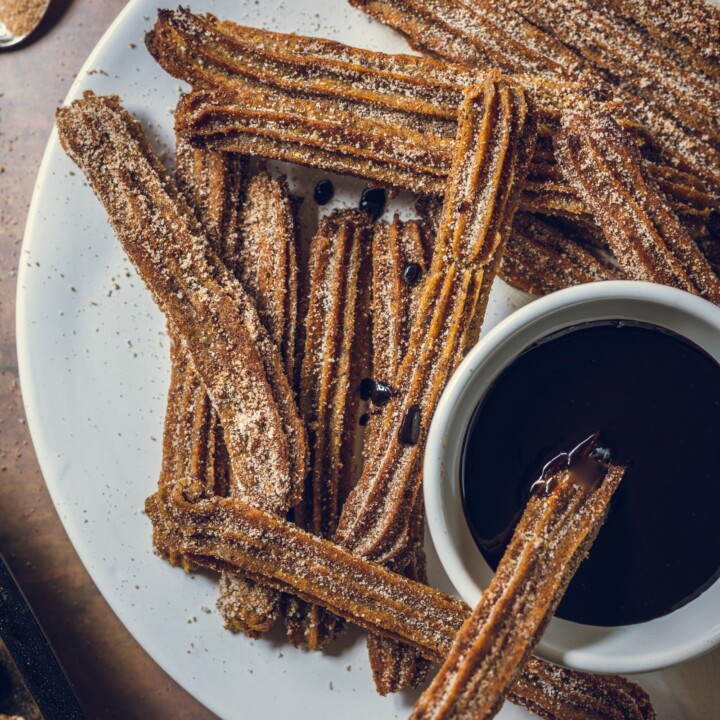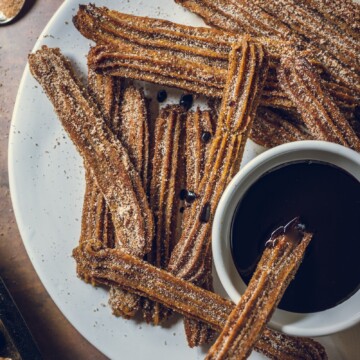 Vegan Churros
The ultimate vegan snack-attack. This recipe is simple to follow, no fancy equipment or ingredients required.
Equipment
1 small bowl

for the flax eggs

1 large mixing bowl

1 piping bag

1-2 lined baking trays

parchment paper

or silicone baking mats
Ingredients
250

ml

water

110

g

vegan butter

unsalted

1

tbsp

light brown sugar

2

tbsp

granulated sugar

1

tsp

vanilla bean powder

or vanilla extract

200

g

all-purpose flour

3

flax eggs (3 tbsp milled flax seeds + 3 tbsp water)

rapeseed oil spray for greasing
For the coating:
2

tsp

ground cinnamon

70

g

granulated sugar
Instructions
Preheat your oven to 190ºC.

Prepare your flax eggs and set them aside for 10 minutes prior to use.

In a large bowl, combine the flour and vanilla powder (if you're using vanilla extract instead, then add it in the next step).

In a saucepan, heat the water, vegan margarine, brown sugar, granulated sugar, and salt and stir until the margarine is fully melted and sugar dissolved. Bring to a boil, then add it to the vanilla/flour mixture immediately. 

Stir with a spatula and add in your flax eggs. Mix until everything is fully incorporated, then transfer the dough into a large piping bag with a star-shaped nozzle.

Grease & line a baking tray, then pipe the churro dough in short or long lines. Spray the churro lines with a little rapeseed oil, then bake in the oven for around 20 minutes or until golden.

Remove them from the oven and let them cool down for 20 minutes before removing them from the baking tray. 

Toss in the remaining sugar & cinnamon for the coating and enjoy hot or cold!
Looking for more vegan desserts? Check out the cakes and bakes section on my blog or see some of my favourites below: 
*Disclosure: This page may contain affiliate links and sponsored links that earn me a small commission, at no additional cost to you. You can find more information in my Privacy Policy.
 © Romy London / Romina Callwitz | All images and content are copyright protected. Please do not use my images and content without permission. If you wish to re-publish any recipes or images, please get in touch via email. Thanks for your support!