Festive Vegan Seitan Wellington - the perfect hero dish for your plant-based Christmas meal this year!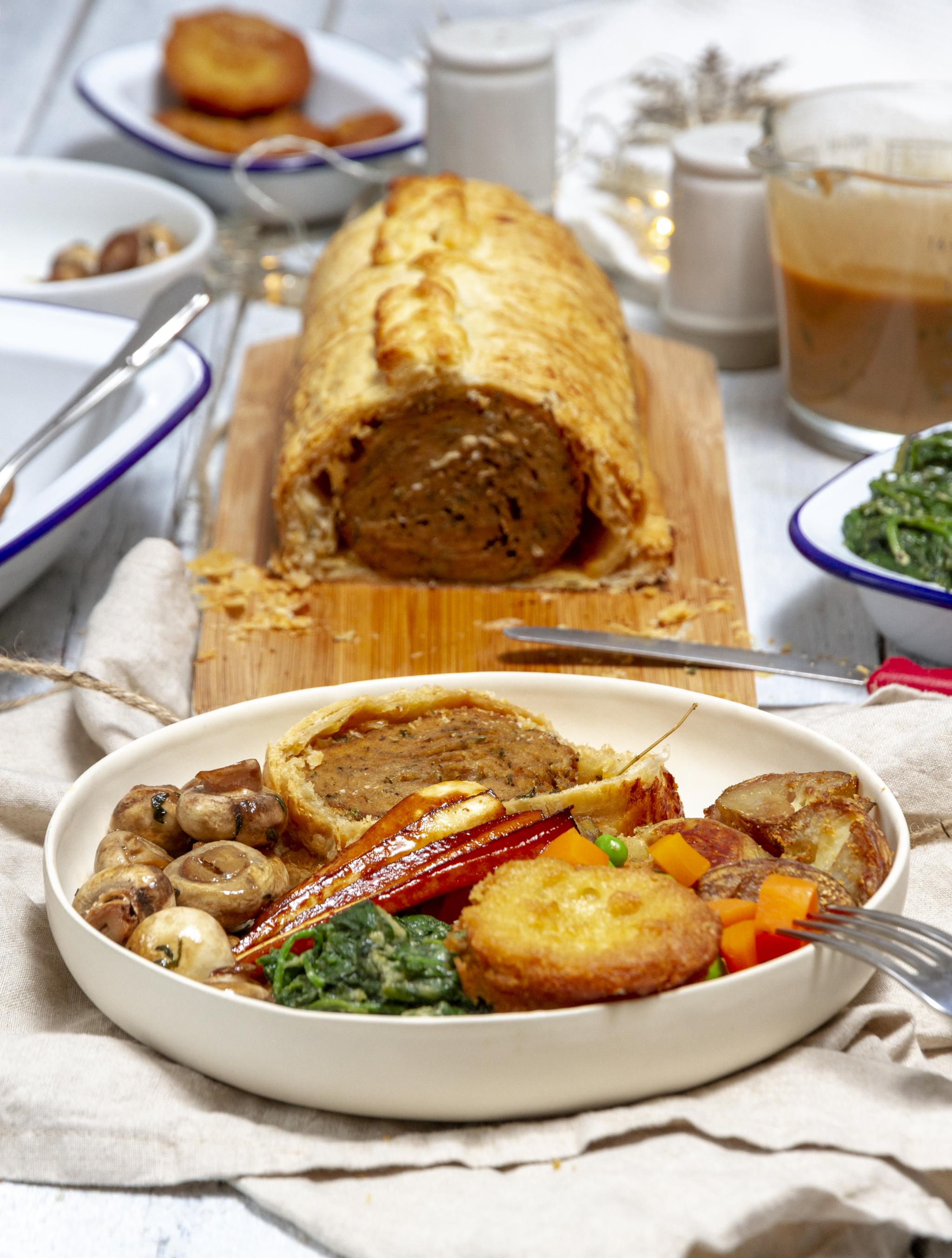 Still looking for the perfect Vegan Christmas Dinner ideas? Well, all I can say to that is: Hail Seitan! This Festive Vegan Seitan Wellington Recipe is a must-have for the festive season. It's perfectly special and festive and definitely makes a great hero dish for your Christmas dinner spread.
What is Seitan?
If you've never had Seitan before - it's basically a dough created from pure gluten usually called 'vital wheat gluten' with a mix of herbs, spices, and other flavourings added to it. I personally love Seitan as it's so versatile, depending on how to prepare it or which spices you use, it can get a completely different taste and texture. One of my favourite ways to prepare Seitan is to foil pressure steam it in the oven and then pan glaze it to give it a crispy & delicious crust.
That's exactly what I did with this festive Seitan version and it turned out super delicious! The first time I cooked this for a group of friends I actually ended up with two marriage proposals (ha!), so I can only assume that it turned out rather good.
For this festive vegan dish, I've wrapped the pan glazed Seitan Roast in a sheet of puff pastry, creating the typical 'Wellington' shape.
My favourite additions to complete the vegan Christmas Dinner are roast potatoes (a classic!), maple glazed carrots, garlic mushrooms, cheesy Spinach & vegan Yorkshire puddings - I'll have these recipes coming up on the blog soon, so you can easily complete that awesome Vegan Christmas Meal.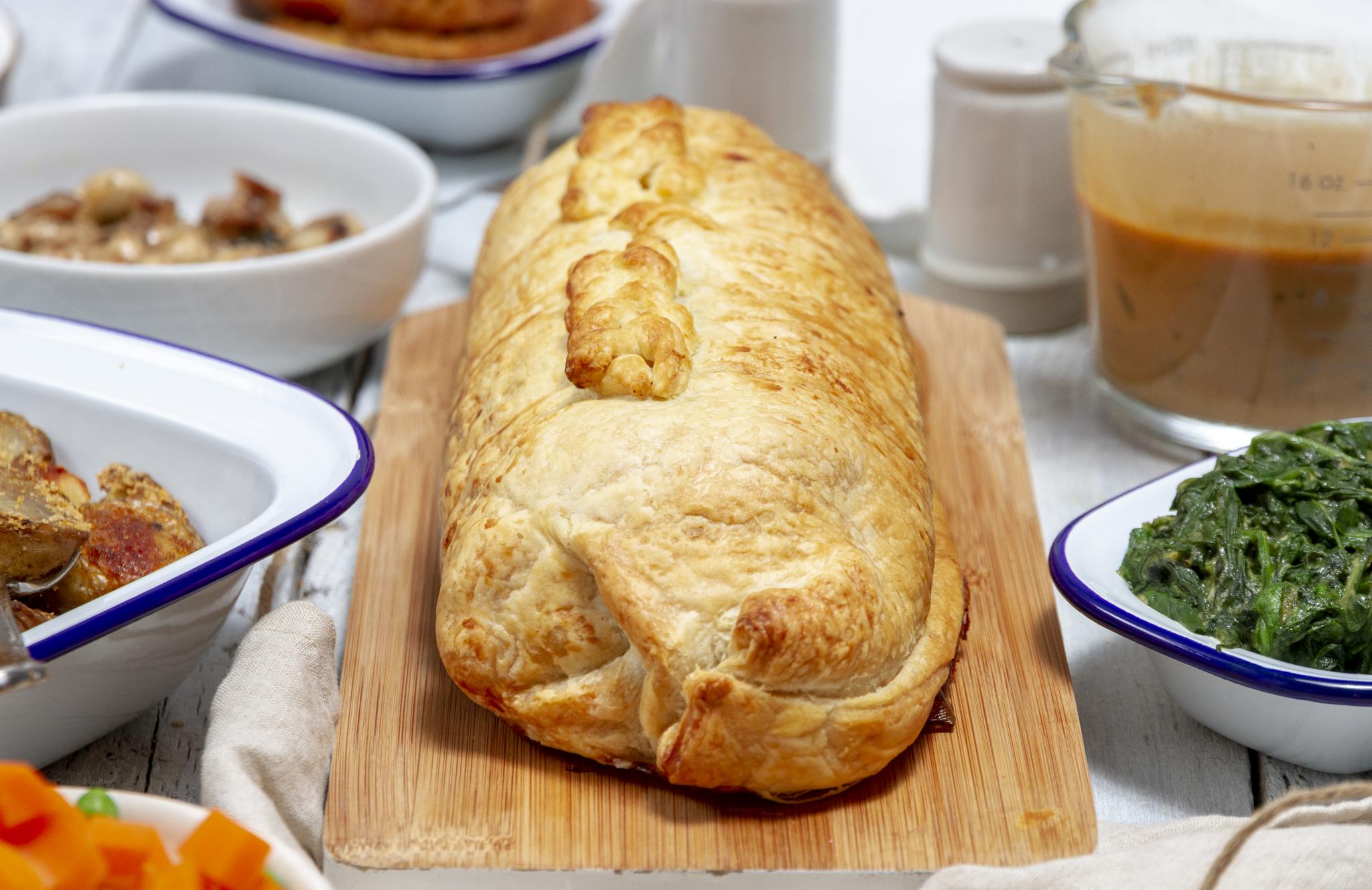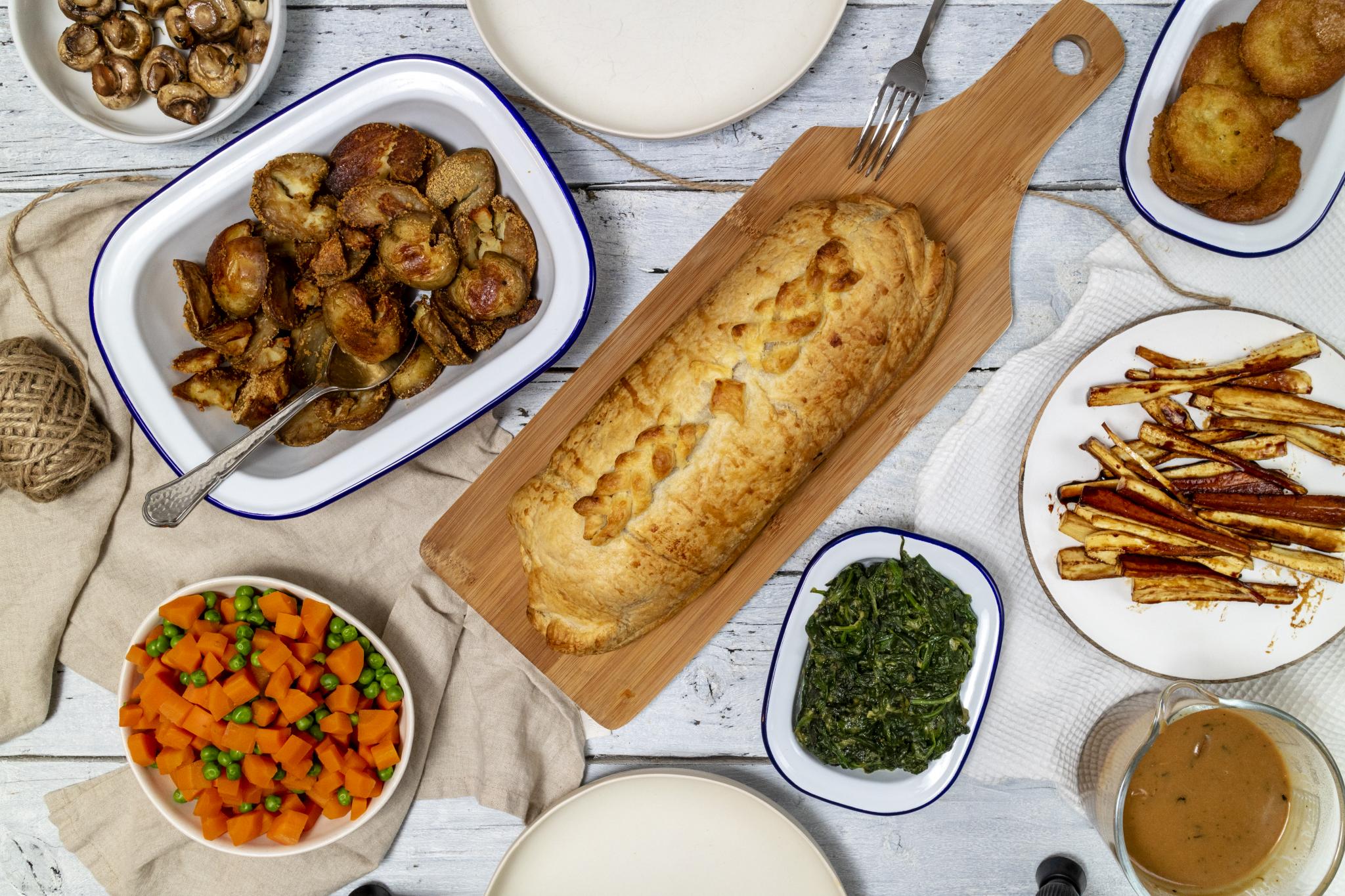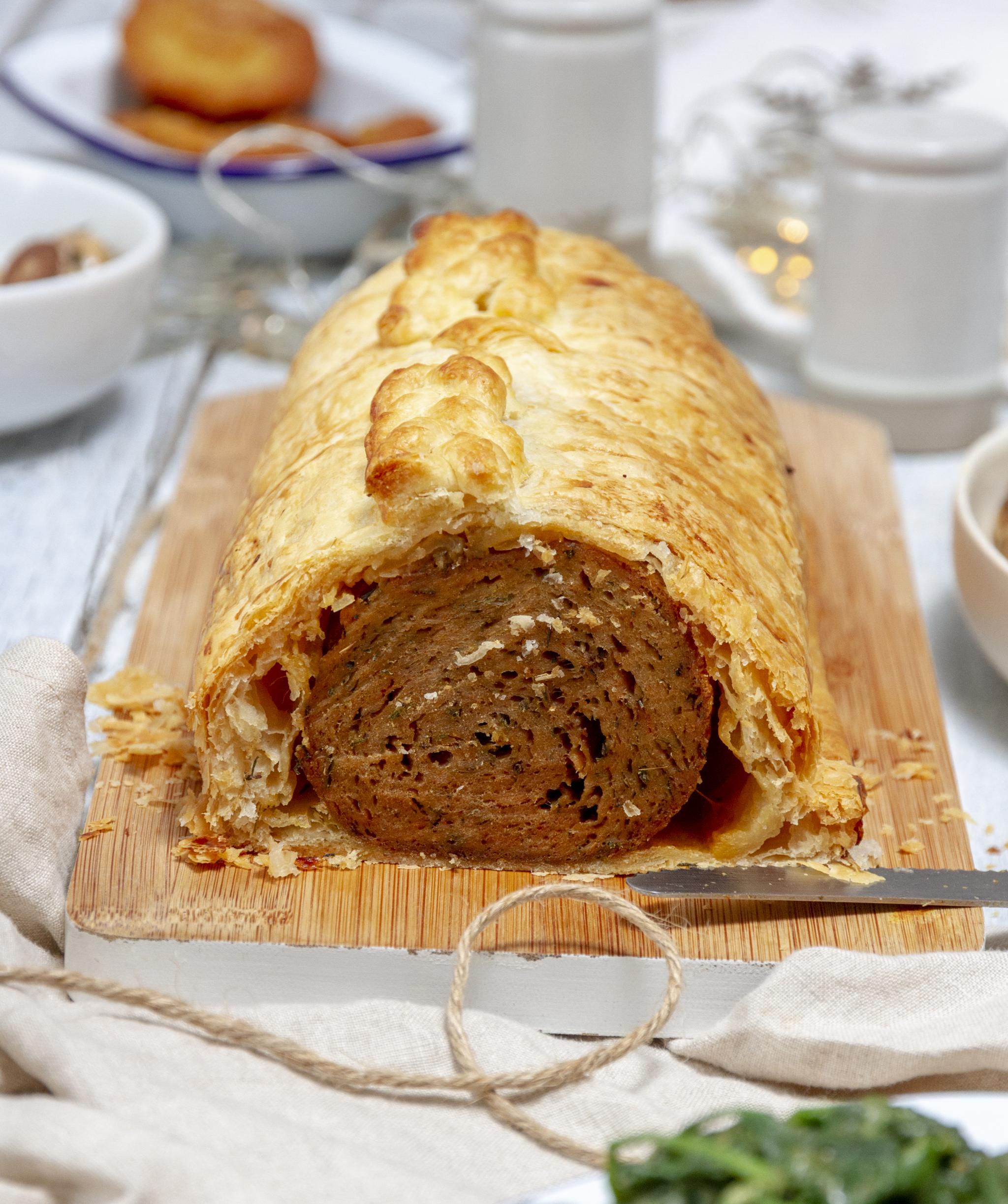 What you need to make this Festive Vegan Seitan Wellington
Ingredients
Vital wheat gluten (I always get mine in bulk from Buywholefoods online)
chickpea flour
onion powder
garlic powder
cornstarch
ground pepper
rapeseed oil
tamari soy sauce
liquid smoke
sea salt
1 red onion, sliced
2 tbsp vegan butter
½ tsp black pepper
fresh thyme sprigs
vegan puff pastry
Equipment
aluminium foil
large bowl
measuring jug
cling film
oven & oven tray
spatula & spoons
large frying pan
non-stick baking mat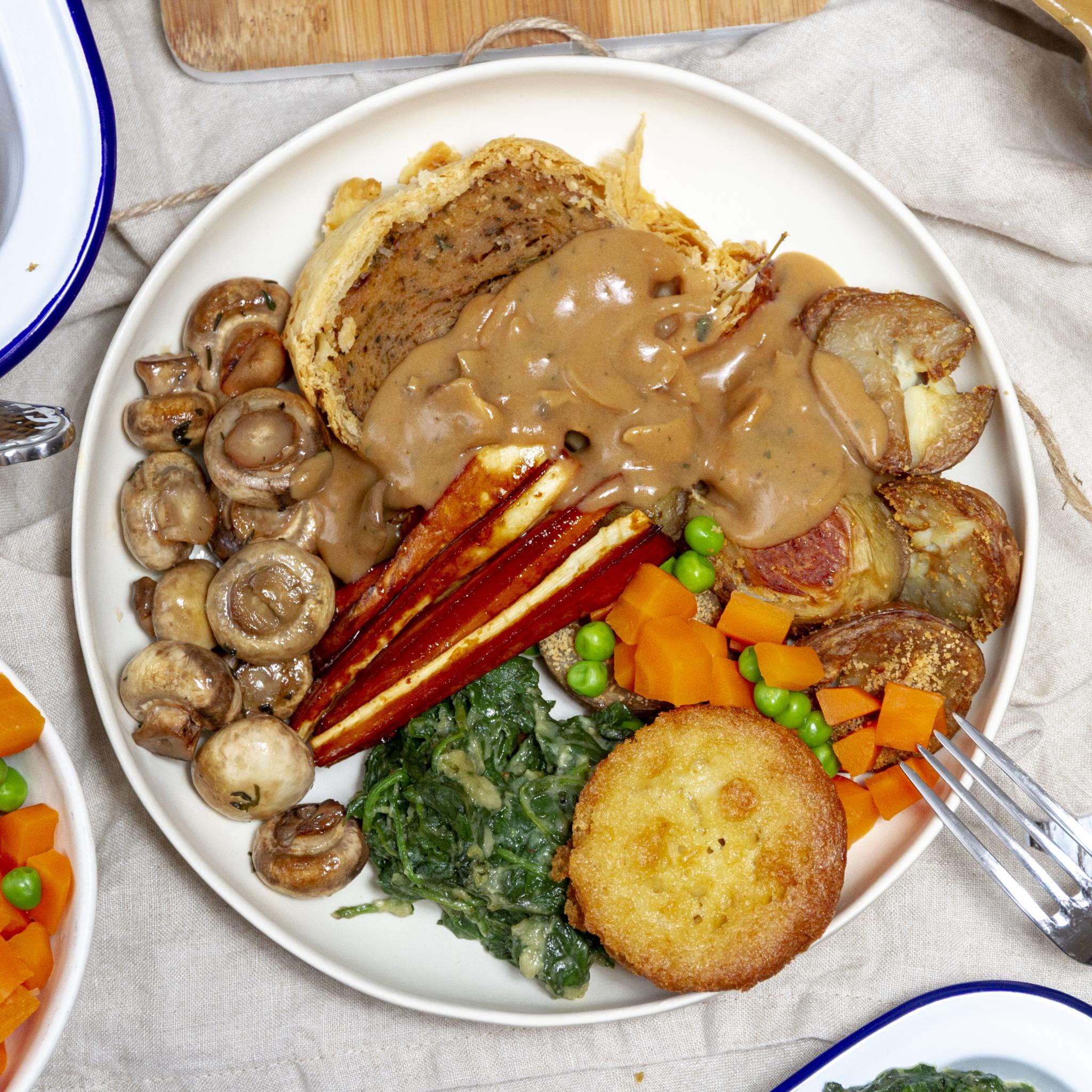 How to make vegan Seitan filling for your Wellington
To make the Seitan filling, you first begin by mixing the dry and the wet ingredients in two separate bowls. That way we can make sure they're properly combined and you don't end up with any odd 'flavour lumps' in your Seitan roast.
Create a little well in the middle of your dry ingredients and slowly add in about 1/3 of the liquid ingredients. Use a spatula to gently combine the ingredients and continue to slowly pour in the rest of the ingredients until everything is combined well and you're left with a smooth, slightly sticky dough.
Flour a kitchen surface and move the sticky down to the floured surface. Knead with your hands for about 2 minutes - this will aid in creating the texture of the Seitan later. Place the dough back into your bowl and allow it to rest for about 30 minutes.
To shape the Seitan simply use your hands and create a log shape that's slightly shorter than your pastry sheet, that you will use later. Tightly wrap your Seitan log in strong aluminium foil - it's best to work with multiple layers to avoid it popping open in the oven. Tightly twist the ends. What we're trying is to create a dense encasement for your Seitan to create a dense texture afterwards. Do not omit this step, otherwise, you will end up with a spongy texture. Place the wrapped log into a preheated oven at 180C for 2 hours, turning it after 1 hour.
Carefully remove it from the oven, and unwrap the log. Melt a little vegan butter in a frying pan and fry chopped red onion, add some black pepper and fresh thyme and place your Seitan log into the pan. Keep turning it during the cooking process and use a spoon to continuously pour the butter/herb mix over the Seitan log. Pan-fry the Seitan for a total of 10-15 minutes to create a lightly roasted and crunchy exterior.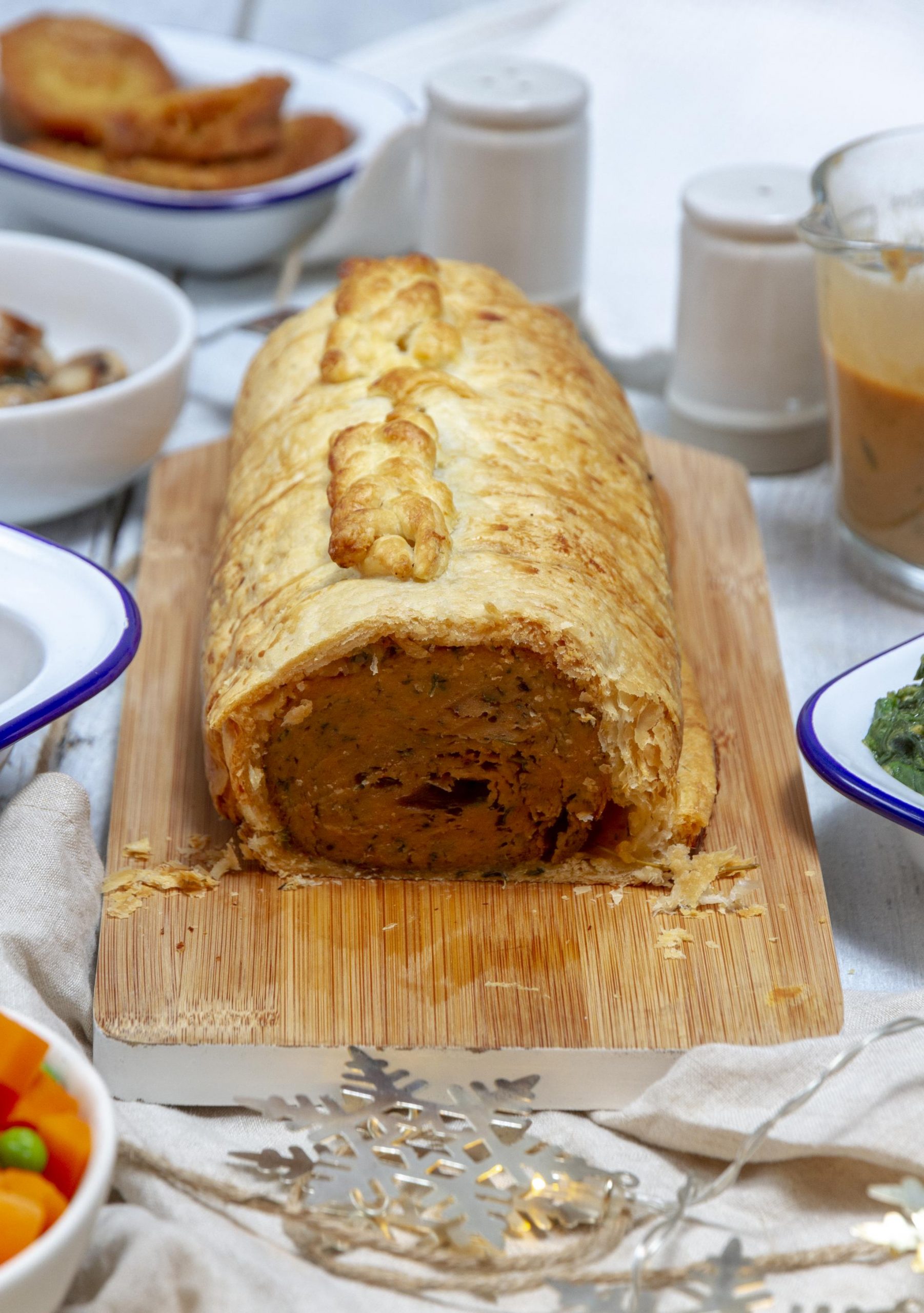 How to assemble a vegan wellington
Before wrapping your Seitan roast in the puff pastry, I recommend letting it cool entirely. It's great to make the Seitan filling in advance - you can keep it in the fridge overnight or even freeze the prepared Seitan. If freezing it in advance, make sure to defrost it on the kitchen counter for an hour before wrapping it in the puff pastry sheet. If you're super quick with pastry and don't wish to decorate the pastry log, you can also do the wrapping whilst the log is still warm - just be aware that the pastry will start to soften almost instantly when you add the warm log, making it difficult to work with.
Wrap your log in the puff pastry, crumb up the edges and use any excess pastry to create decorations - totally optional of course! Place the log onto a lined baking sheet, and brush with a little plant milk or melted vegan butter.
Place your wellington in the oven for about 20 minutes or until your pastry has turned golden.
This recipe is:
100% vegan
delicious and festive
easy to make
nut-free
full of flavour
great if you're new to cooking with Seitan
a great addition to your Christmas meal!
If you love cooking with Seitan you will surely also enjoy my recipes for Vegan Steak and BBQ Grilled Seitan - which are both created with homemade Seitan using the flour washing method. If you are new to making Seitan from scratch, don't worry, there are full step-by-step instructions included.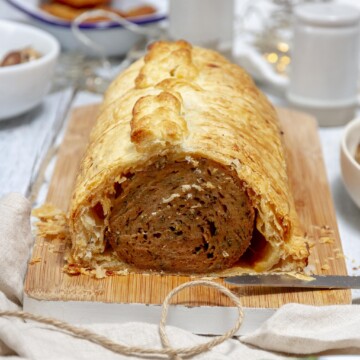 Vegan Seitan Wellington
Delicious and festive: this pastry-wrapped Festive Vegan Seitan Wellington Recipe is perfect for your plant-based Christmas meal!
Equipment
2 large bowls

1 spatula

cling film

heavy-duty kitchen foil

aluminum

1 large, shallow baking dish

1 large frying pan
Ingredients
Dry ingredients:
500

g

vital wheat gluten

100

g

chickpea flour

2

tsp

onion powder

1/2

tsp

garlic powder

1

tsp

cornstarch

1/2

tsp

ground black pepper
Wet ingredients:
600

ml

water

2

tbsp

nutritional yeast

2

tbsp

rapeseed oil

1

tbsp

tamari soy sauce

1

tbsp

liquid smoke

1

tsp

sea salt
Additional ingredients:
1

red onion

sliced

2

tbsp

vegan butter

1/2

tsp

black pepper

1

handful

fresh thyme sprigs

1

sheet

ready-made vegan puff pastry
Instructions
Add all dry ingredients to a large mixing bowl and roughly stir.

Combine all wet ingredients in a large container, then form a well in the dry ingredients and gently pour in about ⅓ of the liquid.

Using a spatula, gently combine the dry and wet ingredients. Keep pouring in more liquid until both are combined well and form a smooth & slightly sticky dough.

Remove the dough from the bowl and knead it with your hands on a floured surface for about 2 minutes.

Place the dough back into its bowl and cover the entire bowl with cling film. Set aside to rest for about 30 minutes. After about 15 minutes, preheat your oven to 200C/fan 180C/gas.

Once the hour has elapsed, knead the dough again for about 30 seconds, then use your hands to form it into a log shape.

Use heavy-duty kitchen foil to tightly wrap the log. Twist the ends tightly and place it into a shallow baking dish in the middle of the oven.

Roast the Seitan for about 2 hours, turning after 1 hour, and carefully remove it from the foil when the roasting time had elapsed.

Add 2 Tbsp of vegan butter and 1 sliced red onion to a large frying pan over medium heat. Sprinkle in the black pepper and thyme sprigs and then place the Seitan log into the pan.

Pan-roast the Seitan for about 10-15 minutes constantly turning and use a spoon to keep pouring the butter mixture over the Seitan during this process. Set the pan aside to slightly cool.

Unroll the pastry sheet on a nonstick baking mat (or use kitchen foil!), place the log on one edge with the fried onions next to it, then roll the pastry sheet up. This has to happen quickly as the pastry becomes soft once the warm Seitan and onions touch it. Decorate your pastry to your liking and gently brush it with plant-based milk or melted vegan butter.

Place it in the oven for about 20 minutes or until the pastry has risen and turns golden brown.

Remove from the oven, slice, and serve with roast potatoes and your favourite trimmings!
Notes
If you're not used to cooking with puff pastry sheets, I recommend letting the Seitan cool down entirely before wrapping it in the pastry. That way you have more time in wrapping the log, and the pastry won't get soft that easily.

You can make the Seitan in advance and keep it in the fridge overnight or place it in the freezer.
Looking for more? Check out my Vegan Christmas Recipe Section!