Fruity, tangy & delicious! This Pineapple Curry BBQ Sauce is the perfect tropical flavour experience for your vegan BBQ!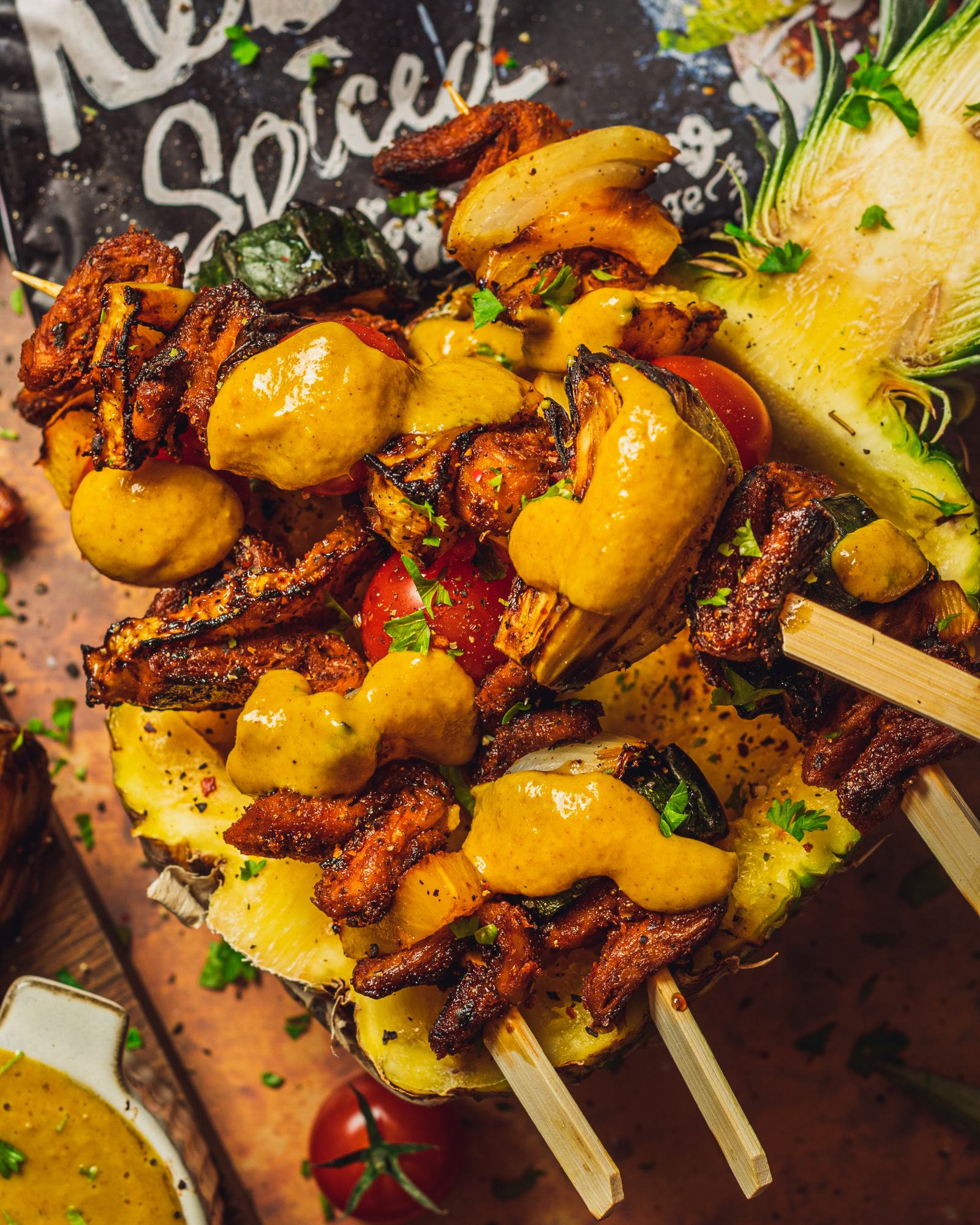 Vegan Pineapple Curry BBQ Sauce
Call it crazy or not: but pineapple curry BBQ sauce was my go-to growing up! Where I grew up in Germany, we're huge on sauces - especially during BBQ season and I still very well remember my mum's pantry being well stocked with all different kinds of BBQ sauces, ready for the next sunny weather period.
I've always loved the tropical flavours of pineapple sauce on my BBQ - the slight tang & sweetness coming from the pineapple is a perfect flavour combination if you ask me - so when I moved to the UK, I was very surprised to not find this kind of sauce anywhere. But hey: it meant I had to make my own, and now I can share this delicious vegan BBQ sauce recipe with you (You're welcome!).
Pineapple on a BBQ might at first sound a little surprising (kinda like pineapple on a pizza, right?!) but let me convince you that this sauce is exactly what you need for your next BBQ party. The pineapple adds a wonderful sweet and zesty flavour to the sauce that works so deliciously with the curry flavours. It's so delicious as a dip and goes perfectly well alongside vegan sausages, steaks and grilled veggies. It will truly wow your BBQ guests, so please give this sauce a go!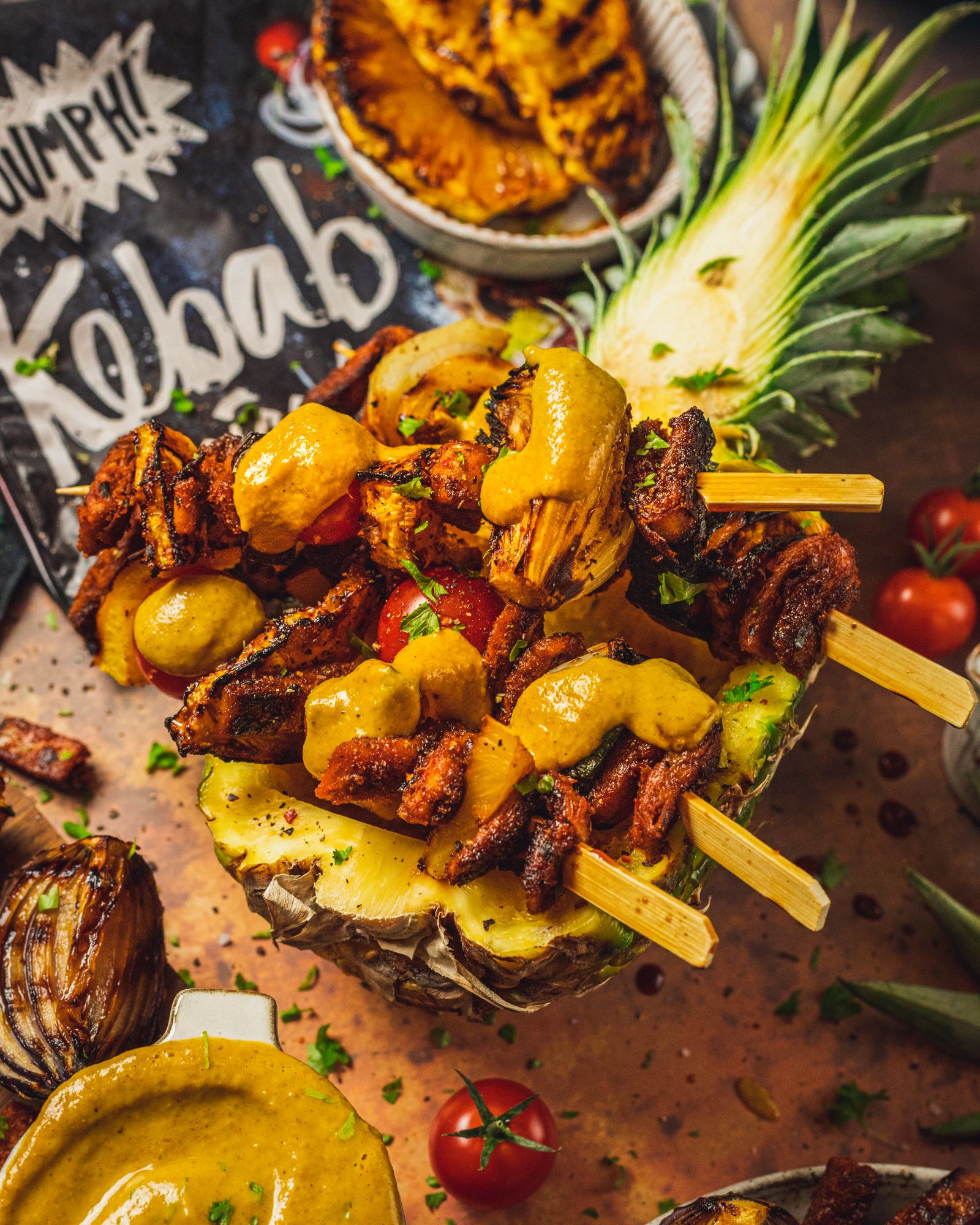 What you'll need
Ingredients
a medium size pineapple (we'll be using half of it for this recipe)
yellow onion
mild curry powder
dairy-free yogurt (I use coconut, but you can also use another plain vegan yogurt)
ginger powder or fresh ginger
soy sauce
In addition: Veggies of your choice for your skewers (I have used courgette, onions, peppers, pineapple and cherry tomatoes on this occasion)
Equipment
High-speed blender
sieve or nut milk bag (totally optional)
How to make Pineapple Curry BBQ Sauce
The recipe instructions for this BBQ sauce are very straightforward. All you need is a half-decent blender to blitz everything up, and that's basically it!
Ensure to remove the pineapple peel and roughly chop your pineapple flesh beforehand (this makes it much easier for your blender!), then combine all ingredients in your blender and blend at a high speed until smooth (roughly 1 minute in most blenders!).
There's one additional step, that's completely optional though: some pineapples can have a lot of fibre. You can totally leave this in the sauce (it makes the sauce a little thicker!), but if you prefer you can easily run the sauce through a fine sieve to remove the bigger fibre chunks. Alternatively - if you like your sauce really smooth - you can also run it through a nut milk bag. Be warned however that it will likely stain your nut milk bag as most curry powders contain paprika or turmeric powders, which easily stain.
What to serve with this vegan BBQ Sauce
I love this Pineapple BBQ sauce alongside vegetable skewers (simply delicious!). It's also fab with veggie sausages or simply drizzled over grilled veg, stuffed mushrooms or spread onto lightly grilled toast, yum!
It's also a wonderful dip for crisps and tortilla chips, just saying.
On this occasion, I have created delicious skewers using the Oumph! Kebab pieces alongside veggies - grilled pineapple pieces, courgette, yellow and green peppers, cherry tomatoes and onions. So delicious! To create these particular skewers, I have first heated the Oumph! Kebab in a frying pan with a little oil until softened (it comes frozen). In the meantime I've pre-grilled my veg until it began to soften, then assembled everything on my skewers.
I've brushed my skewers with a marinade made from maple syrup, olive oil, salt, paprika powder and a little water and then grilled them on the BBQ for a few minutes on each side for the perfect finish! The maple syrup in the marinade will caramelise wonderfully and give your veggies (& the kebab pieces) a gorgeous colour and delicious flavour.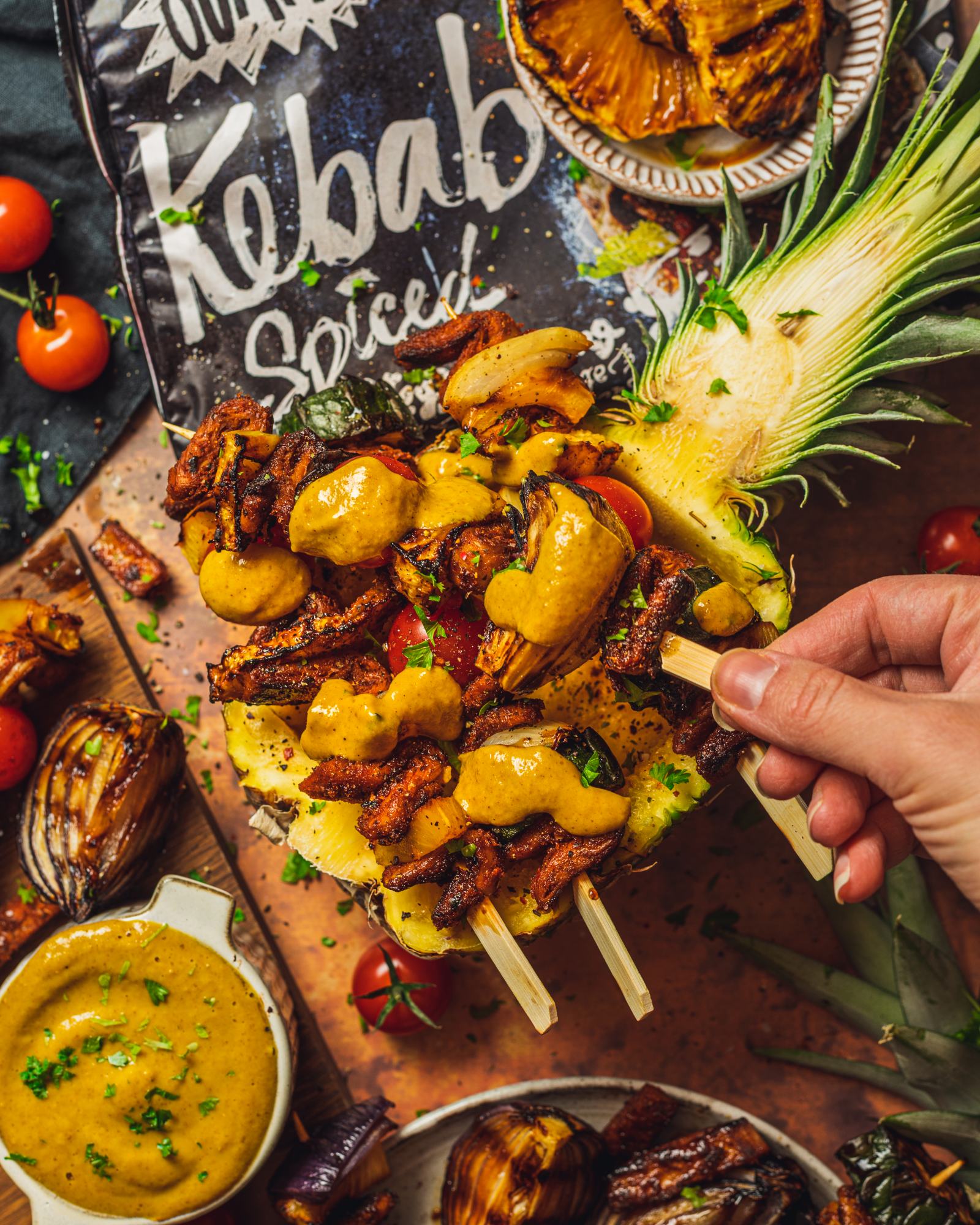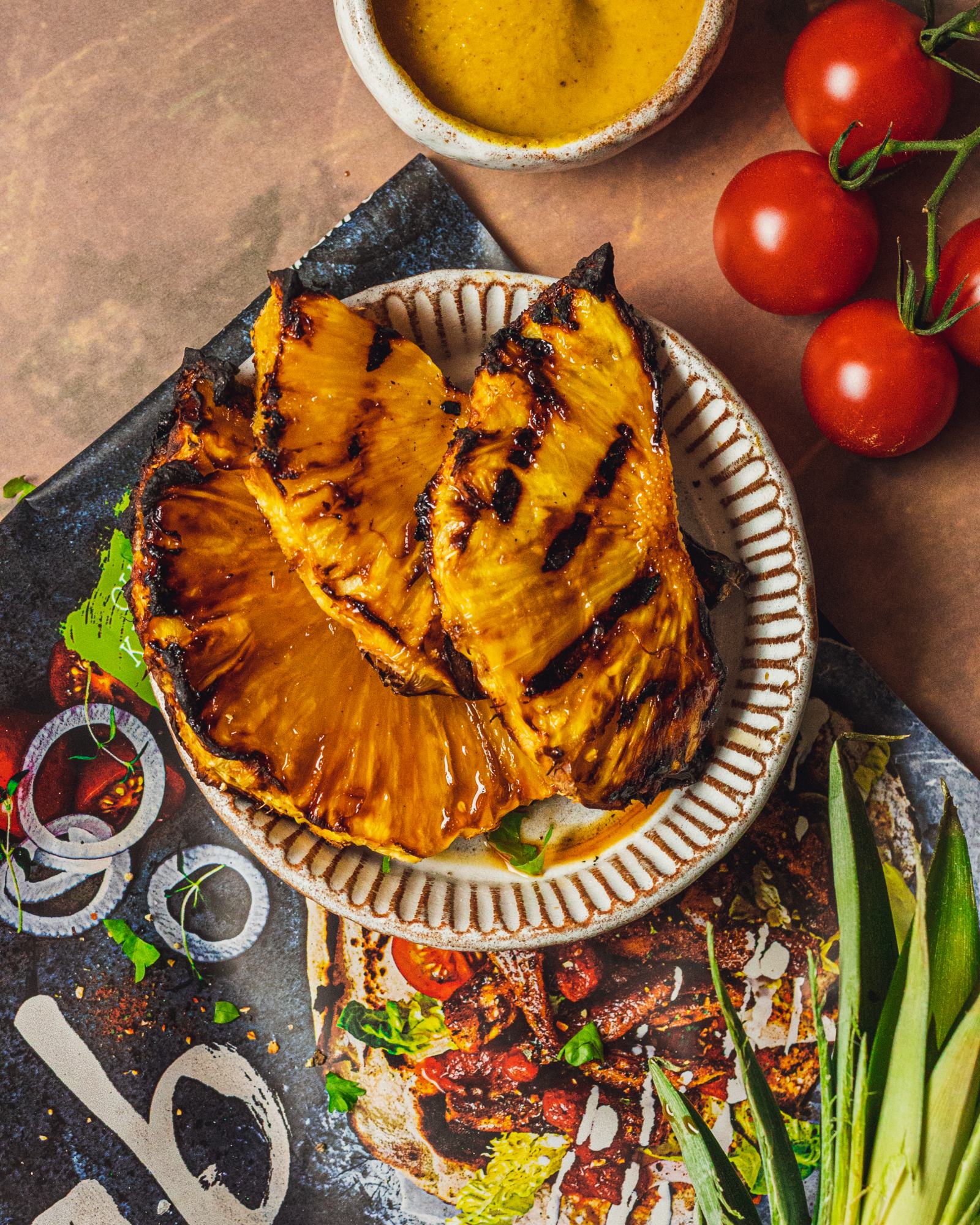 Variations
Spice: If you love your BBQ sauces to be on the spicier side, you can simply swap out the mild curry powder for a spicier one. Alternatively add some chilli powder to the sauce or a spritz of Sriracha (or your favourite hot sauce!). I'd recommend adjusting the spice after the initial blending process - always best to adjust after than going overboard in the beginning 😉 This sauce works really well with spice - the sweetness from the pineapple perfectly balances it and makes it simply delicious!
Don't like pineapple? Try mango! But it will be less sweet and juicy, so you might want to add a little water to the sauce to blend and flavour to taste with salt, pepper and a little sugar afterwards.
This recipe is:
100% vegan
gluten-free
more-ish
tangy & delicious
full of flavour
tropical
a delicious dip
mild, with a spicy option
the perfect addition to your vegan BBQ!
Related Recipes
You will surely enjoy this Vegan BBQ Sauce alongside my Vegan Kebab Meat! It's such a good combo - on its own, in a pitta or as a full Doner Kebab, this curry sauce adds a whole bunch of juicy flavor to it!
📌 If you love Pinterest you can pin any of the images to your boards!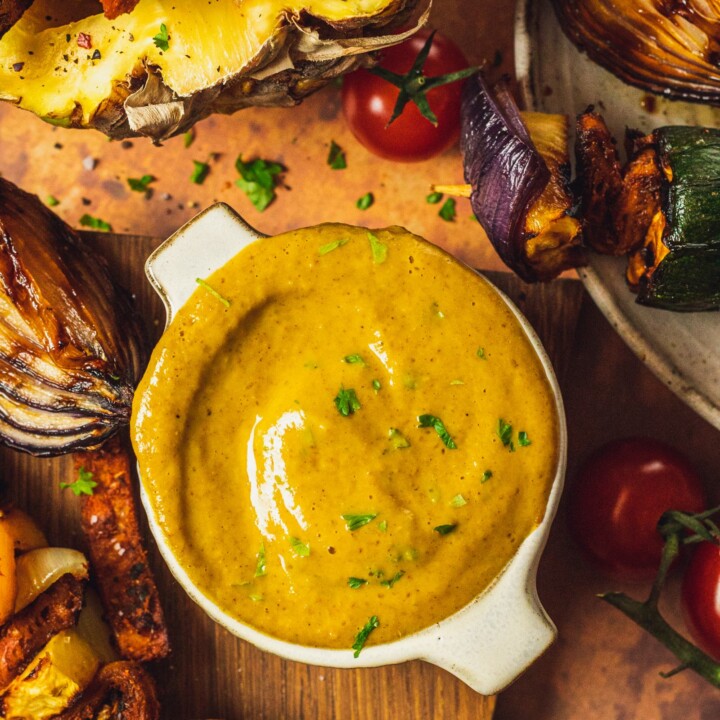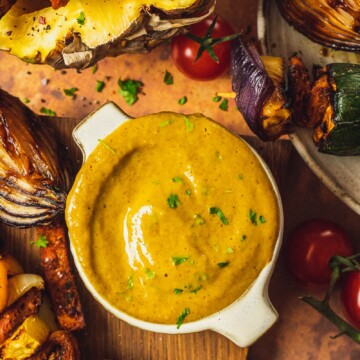 Pineapple Curry BBQ Sauce
Fruity, tangy & delicious! This Pineapple Curry BBQ Sauce is the perfect tropical flavour experience for your vegan BBQ! So easy to make in your blender at home, and honestly tasty.
Ingredients
1/2

pineapple (medium-size)

1

small brown onion

chopped and cooked

2

tbsp

mild curry powder

3

tbsp

coconut yogurt

1

tsp

ground ginger

2

tbsp

soya sauce

salt and pepper to taste
Instructions
Cut your pineapple in half and remove the peel from the half you're using for this recipe. Chop the pineapple flesh into rough chunks and add them to a blender alongside the rest of the ingredients.

Blend on high-speed until smooth.

If you want to remove any fibrous parts of your pineapple, then strain the sauce through a fine sieve or a nut milk bag (careful, it will stain!).

Serve the Pineapple Curry BBQ Sauce alongside your favourite vegan BBQ goods!
Notes
If you like it spicy, simply replace the mild curry powder with a spicy one - or add a dash of chilli powder to the mix before blending.

This sauce is also great for dipping! So if you've been looking for a delicious alternative to salsa, this is it!
Looking for more vegan BBQ recipes? Look no further and check out my vegan BBQ recipes here.
*Disclosure: This page may contain affiliate links and sponsored links that earn me a small commission, at no additional cost to you. You can find more information in my Privacy Policy.
 © Romy London / Romina Callwitz | All images and content are copyright protected. Please do not use my images and content without permission. If you wish to re-publish any recipes or images, please get in touch via email. Thanks for your support!