Vegan Cinnamon Toast Crunch Recipe - Vegan Friendly and Dairy Free, yet super crunchy and delicious cereal for the perfectly satisfying vegan breakfast!
Vegan Cinnamon Toast Crunch Cereal
This recipe is:
100% vegan
super cinnamony
crunchy
easy to make gluten-free
simply delicious
easy to make
egg-free
dairy-free
the perfectly nostalgic breakfast!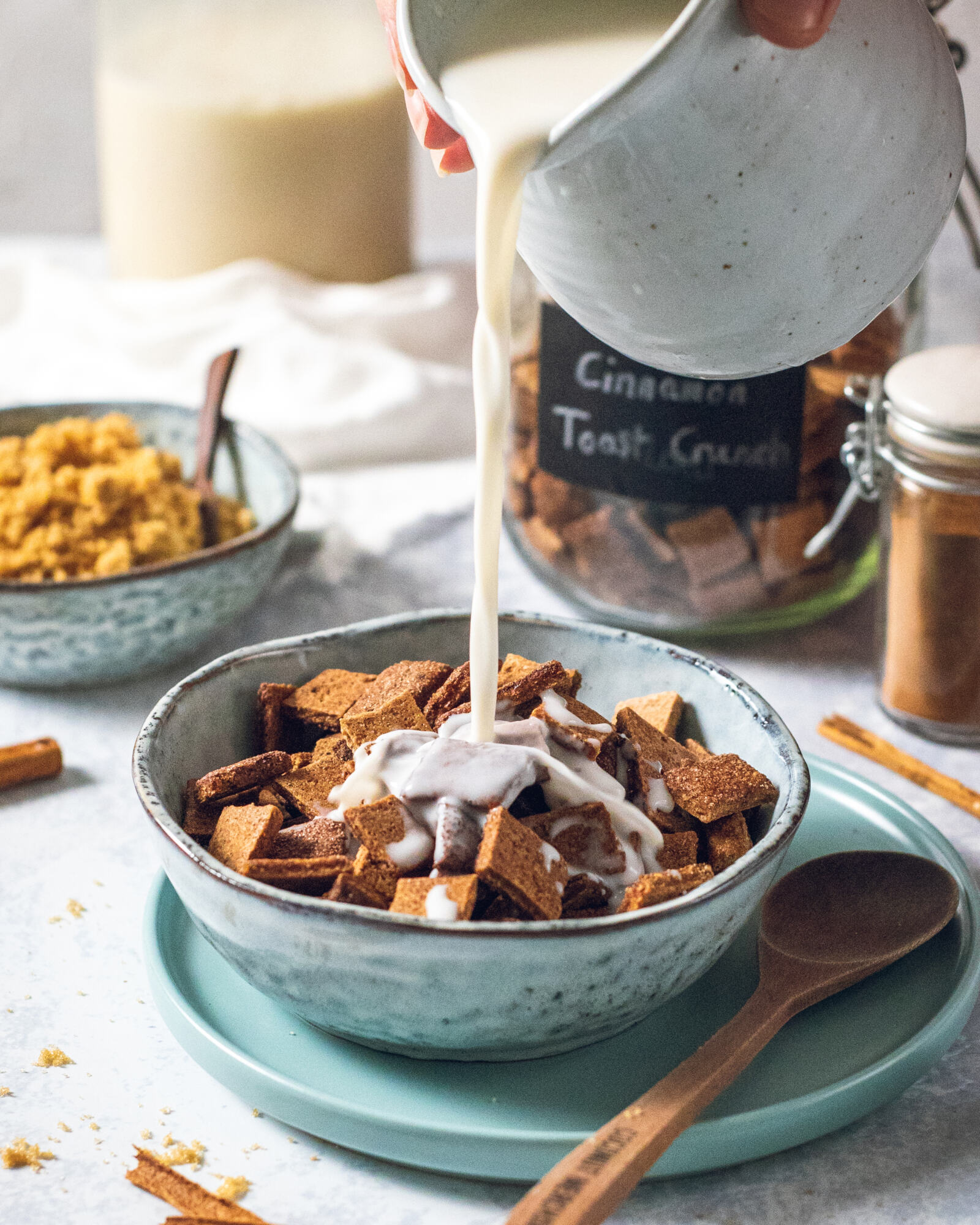 This Vegan Cinnamon Toast Crunch Recipe will take you straight back to childhood memories... at least if you're me! This cereal classic has been one of my firm favourites as a child and I'm certain I often ate a much bigger amount than was reasonable as a kid... but psst, don't tell mum! - or as it's also called in the UK: 'Vegan Curiously Cinnamon'!
I can't even begin to tell you how much I've always wanted to create my own cereal! Whilst I grew up with the likes of Kellogg's & Co I'm aware that most commercial cereals contain an unhealthy amount of refined sugar - even when I was younger. I still remember vividly when my mother tried to cut down on the amount of cereal she bought - very much to the displeasure of my younger brother and me, as we still wanted our favourite cereals.
Oh and I used to have cereal not only for breakfast - sometimes it was also my afternoon snack or dinner—and other times even my lazy lunch when I was hungry.
After a period of my brother and me rebelling against my mum's cereal cut-down, we finally had to accept it, but to this day I am still a sucker for cereal and do occasionally buy vegan ones. Unfortunately, most of them are also full of sugar, so I thought hey: let me create my own! I figured it would be better if I made it myself so that I have total control over what goes in it.
Where to start? It was clear to me that I was gonna re-create one of my favourite cereals from my childhood: either Vegan Cinnamon Toast Crunch or Fruit Loops! I have to admit though that I thought Fruit Loops was a big very much next level, so I'll leave that attempt for the future 😉
Did you know: The vegan cinnamon toast crunch is called 'Cini Mini's' in Germany (there is another brand called Curiously Cinnamon). Isn't it crazy how different product names can be in other countries?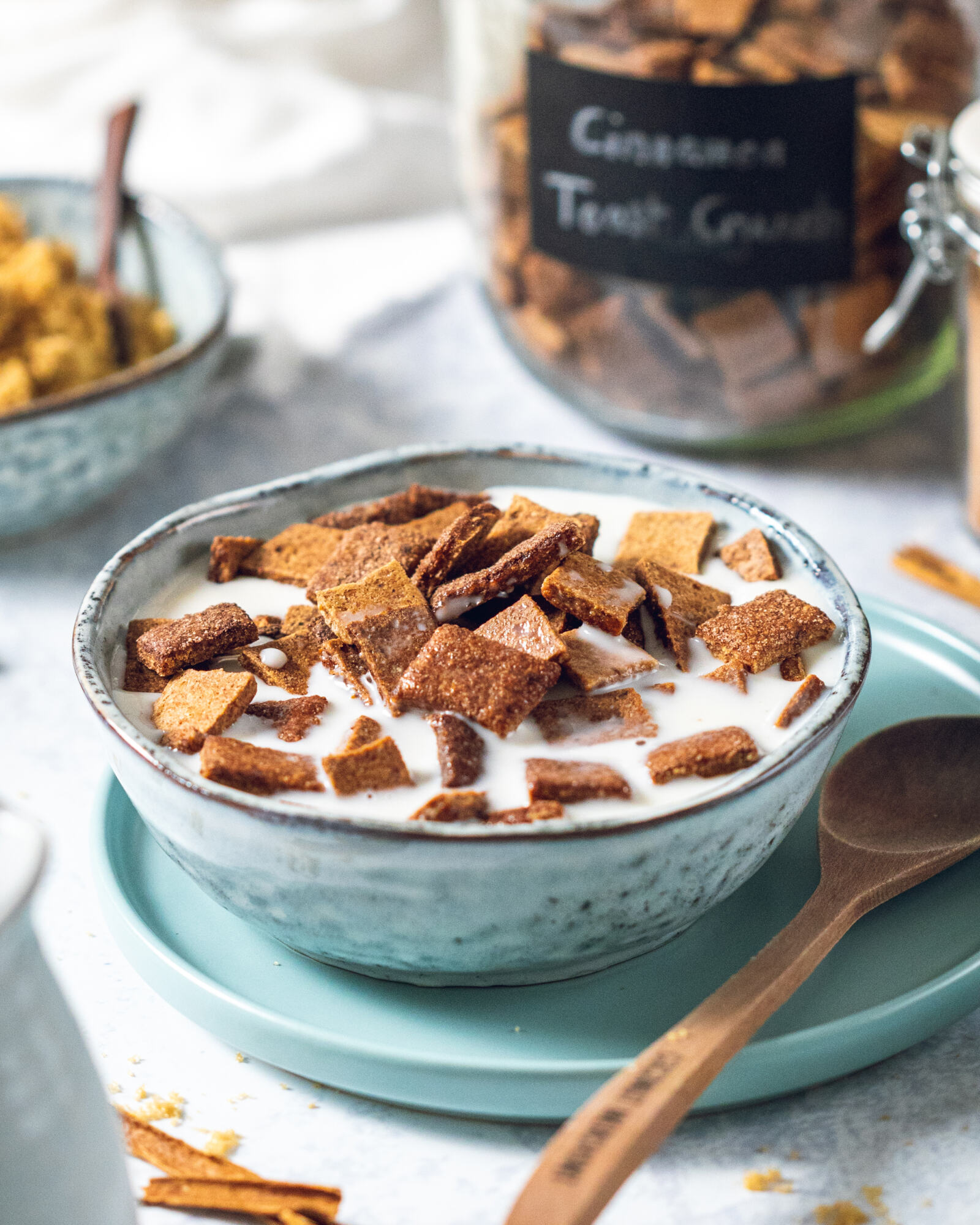 Is cinnamon toast crunch cereal vegan?
When checking the back of the packaging for loads of cereals available in the UK, it only takes a quick look to find that most of the cereals do not use milk or dairy in their ingredients and at a first glance, they might look vegan. There is however a hidden non-vegan ingredient in loads of them: vitamin D. Most cereals are fortified with some extra vitamin D, which in itself is not obviously non-vegan, however, for the majority of cereals their vitamin D is sourced from sheep's wool and therefore not vegan-friendly. This includes the American Cinnamon Toast Crunch Cereal and the UK version 'Curiously Cinnamon' as well as the European version 'Cini Minis'. It's kinda crazy what people put into our food, isn't it?
On the other side though: it's really not that complicated to make cinnamon toast crunch vegan!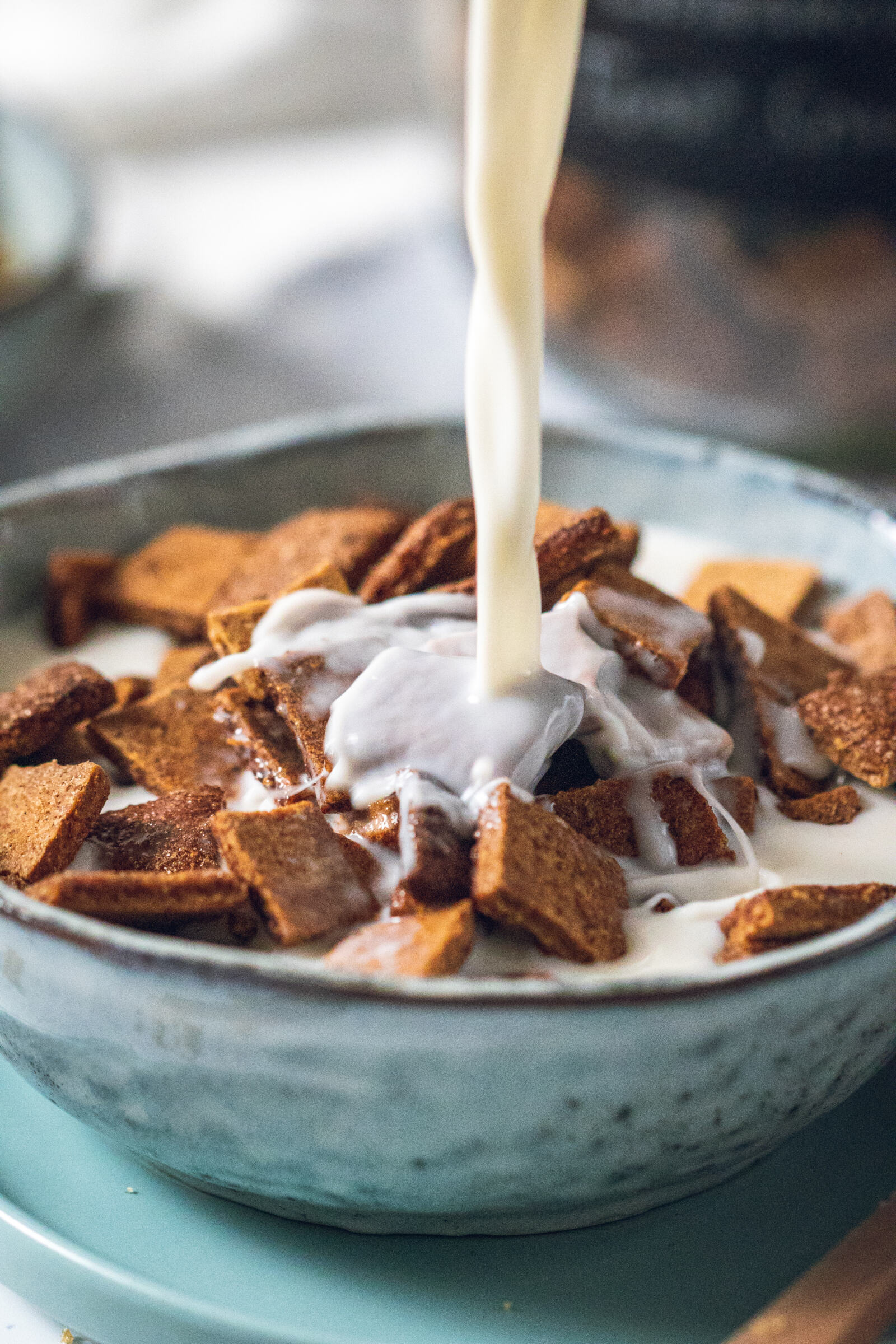 What you'll need to make your own vegan cinnamon toast crunch cereal
Cinnamon Toast Crunch Ingredients
Wholewheat flour (please see my notes below)
Light brown sugar: I prefer using brown sugar over granulated sugar, the least refined the better, to create a healthy cinnamon toast crunch cereal (or at least a little bit healthier!). I also find that the brown sugar gives a wonderful depth of flavour, that you simply don't get from granulated sugar.
'Flax Eggs': 2 tablespoons of ground flax seeds & 4 tablespoons of lukewarm water, mix well then pop into the fridge for 15 minutes.
Coconut oil
Coconut milk (or any plant-based milk of your choice)
Cinnamon
Vanilla extract
Baking powder
Also: extra sugar and cinnamon for the delicious cinnamon-sugar coating!
Equipment
a mixing bowl
non-stick baking parchment or silicone baking mats
a rolling pin
oven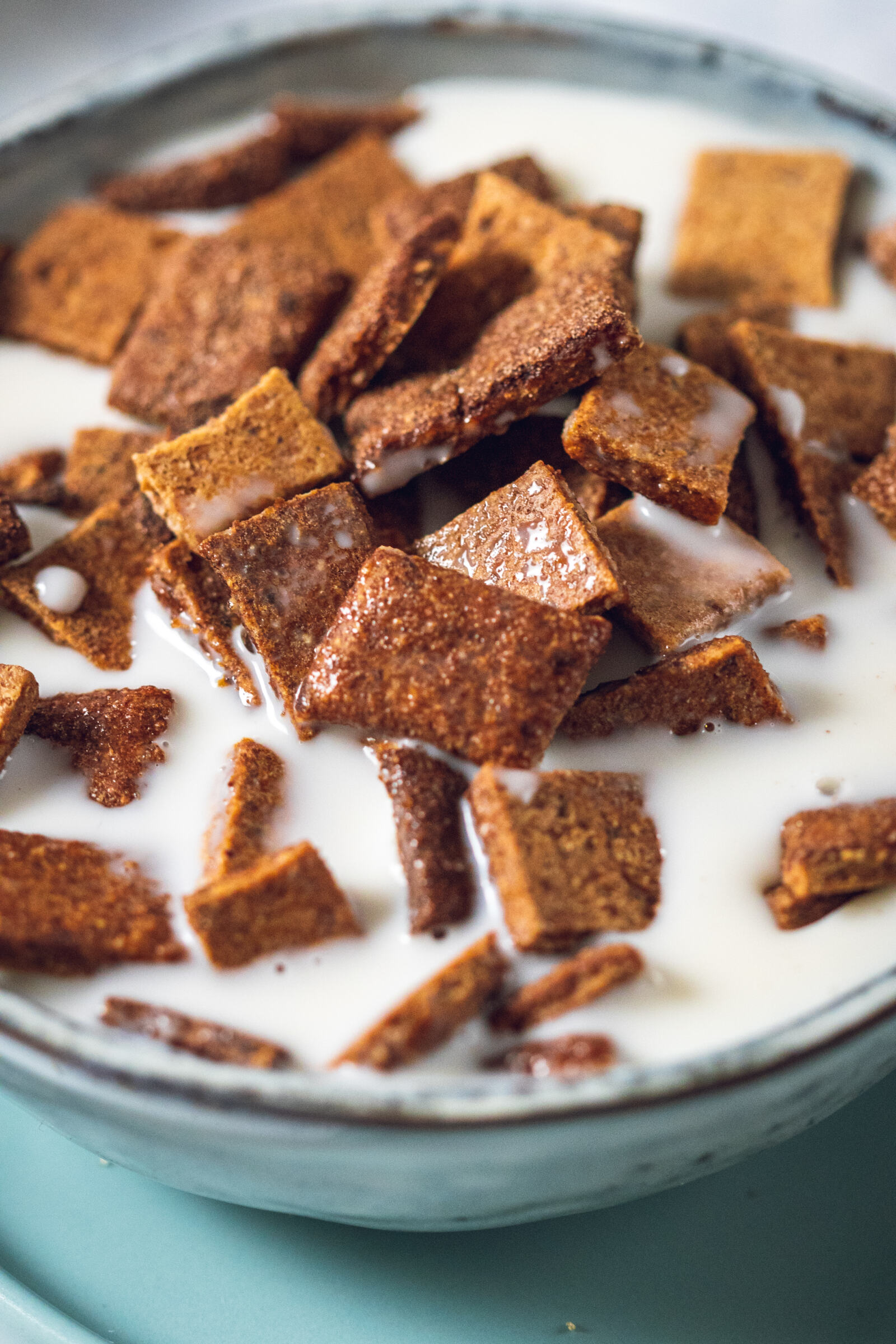 How to make vegan cinnamon toast crunch cereal from scratch
Step 1: Preparing your dough
To start with, get two good-sized bowls from your cupboard. In the first bowl, mix all your dry ingredients and then mix all your wet ingredients in the second. Why should you mix them separately? Because this helps to evenly spread all ingredients through the dough that will become your cereal.
Now that you've mixed them separately, it's time to mix them! Once you've mixed the dry and wet ingredients, you should be left with a ball of dough. Wrap this up in plastic, and put it in the fridge for 1 hour to get firm.
Step 2: Getting oven-ready
Once the hour is up, preheat your oven to 170ºC, take the dough out of the fridge and cut it in half. One half should be put in between a lightly flour-dusted baking sheet and the plastic wrap, then roll out as thinly as humanly possible!
Extra Tip: The plastic wrap will prevent the dough from sticking to your rolling pin.
Now, take a pizza cutter and use it to cut horizontal and vertical lines across the flattened dough. You should see now that this is starting to look a bit like cereal, so try to keep your lines equally set apart to ensure each square is roughly the same size.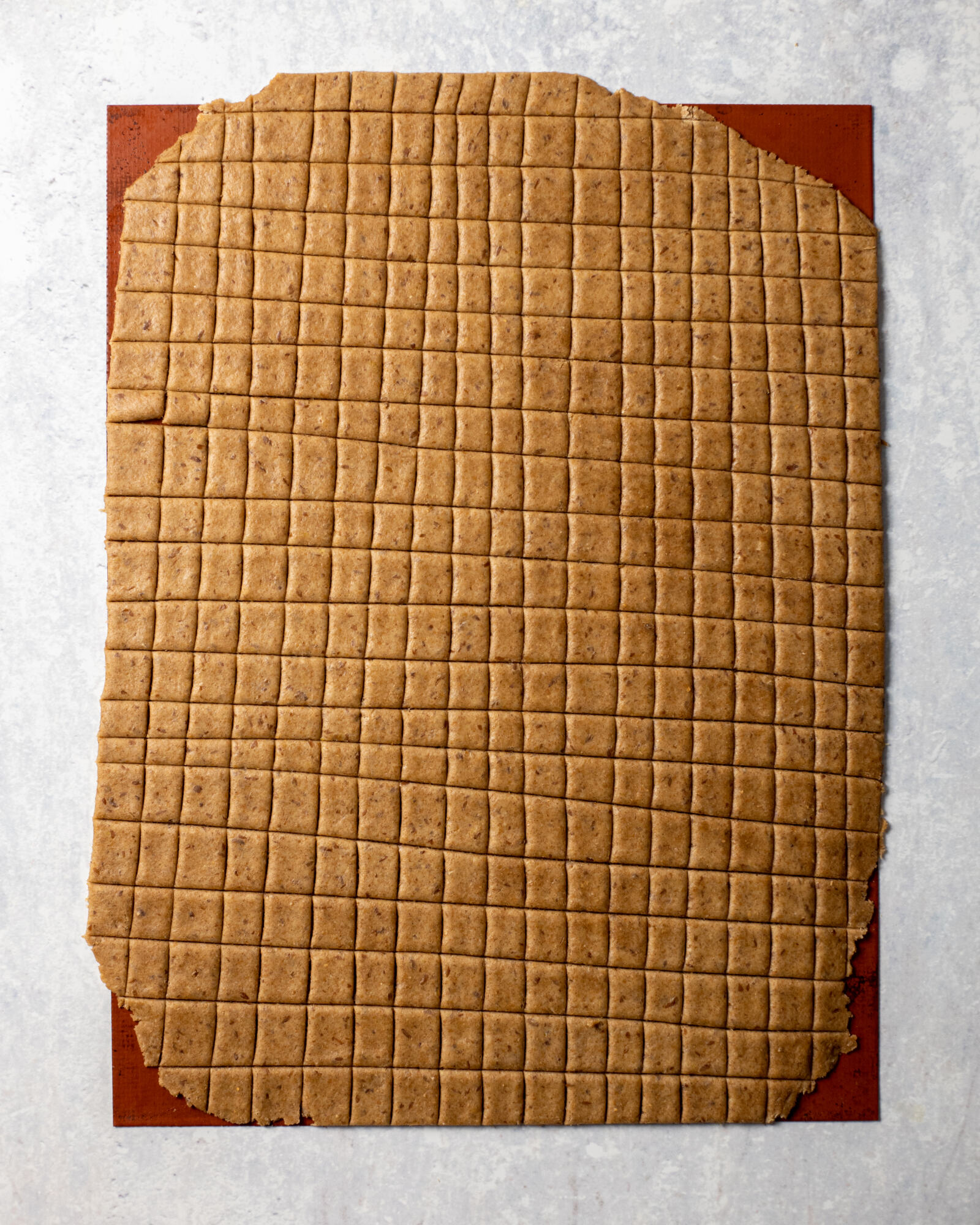 Now coat your cereal by sprinkling a mix of Splenda Granulated and Cinnamon and repeat the process with your second half of dough.
Step 3: Baking
Once you're left with a load of tasty looking squares, put both batches in the oven and bake for 30 minutes.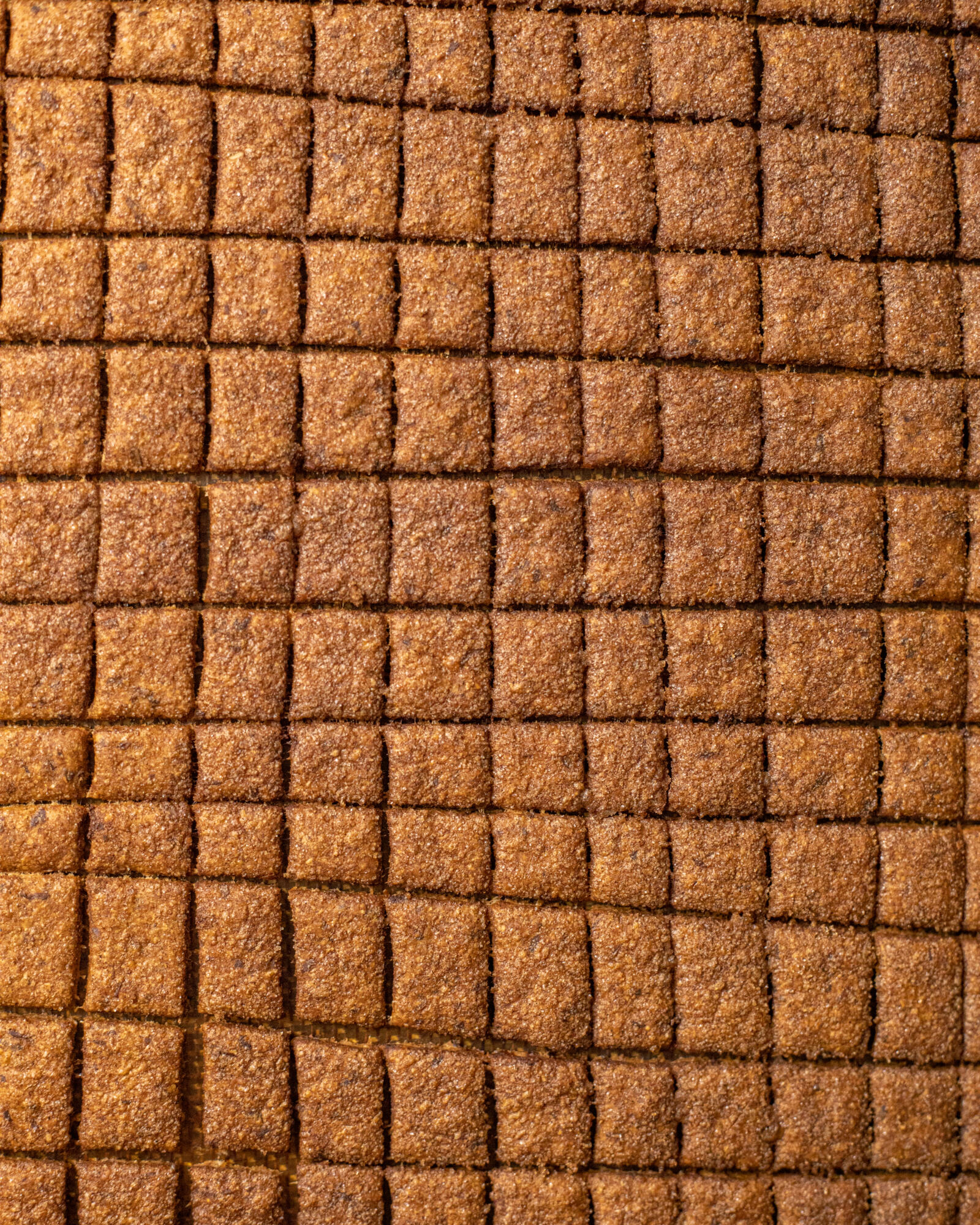 Extra Tip: Be sure to check and make sure that your dough crisps up evenly. If your oven is hotter in one corner (like my old one!) then you'll need to rotate your baking tray to make sure it all cooks evenly.
Step 4: Finishing touches
Once they're cooked, take the batches out of the oven and let them cool down completely before breaking them up into squares.
Be sure to store your cereal in a big airtight container (I used a mason jar).
So far I can confirm that this Vegan Cinnamon Toast Crunch stays scrumptious for at least a week. So far it's never lasted long in our house as we keep eating it all within 7 days!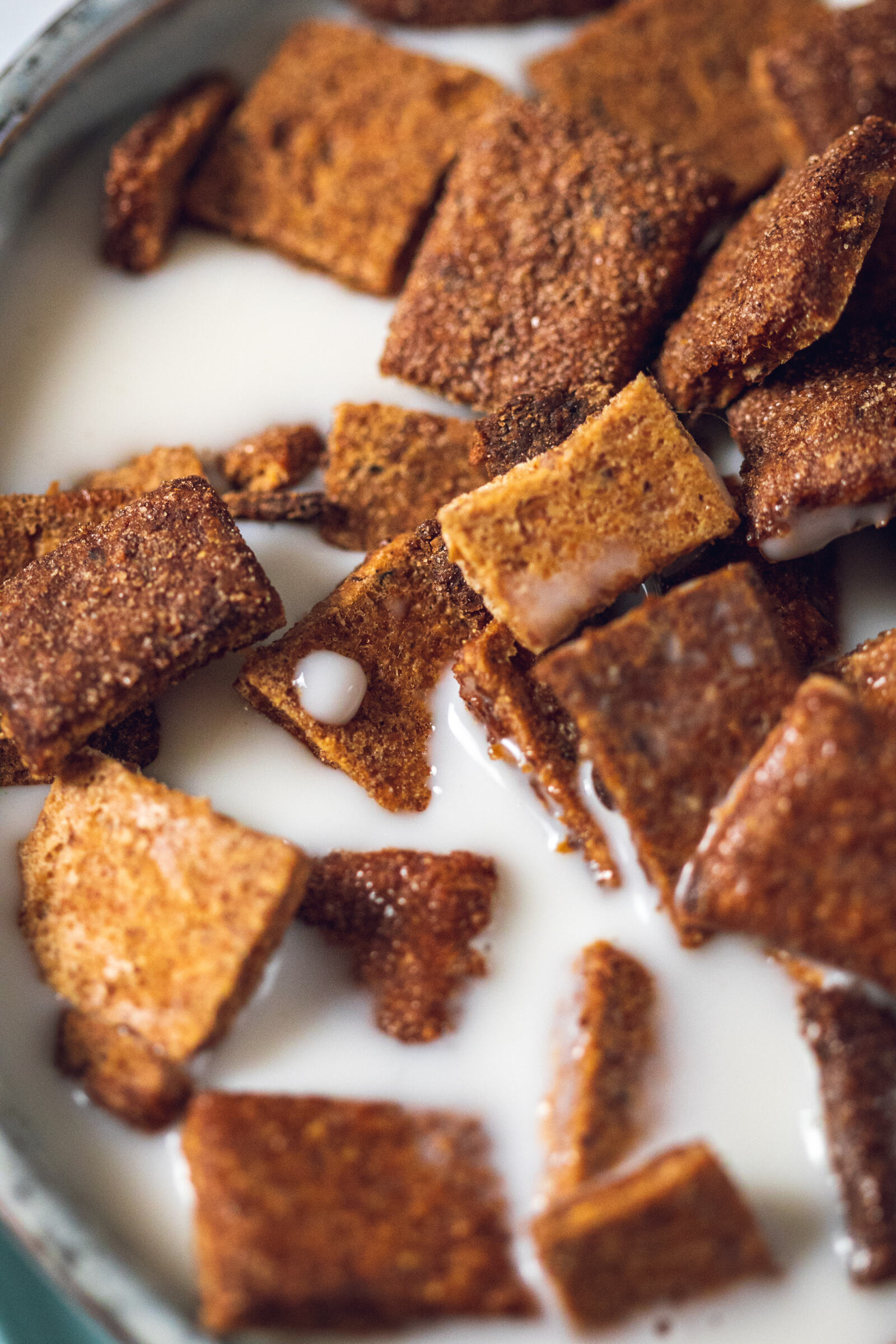 How do I make this gluten-free?
This recipe is super simple to make gluten-free, and I have also made this in a gluten-free version beforehand. Simply swap out the wholewheat flour for a gluten-free flour mix. It's best to avoid single ingredient gluten-free flours - I have not had great experiences with using those in recipes like this one, especially almond flour and coconut flour are not the best for this type of recipe, but gluten-free flour blends made to be used in gluten-free baking are the best replacement. Create the rest of the recipe as per the instructions.
Here's what the gluten-free option looks like: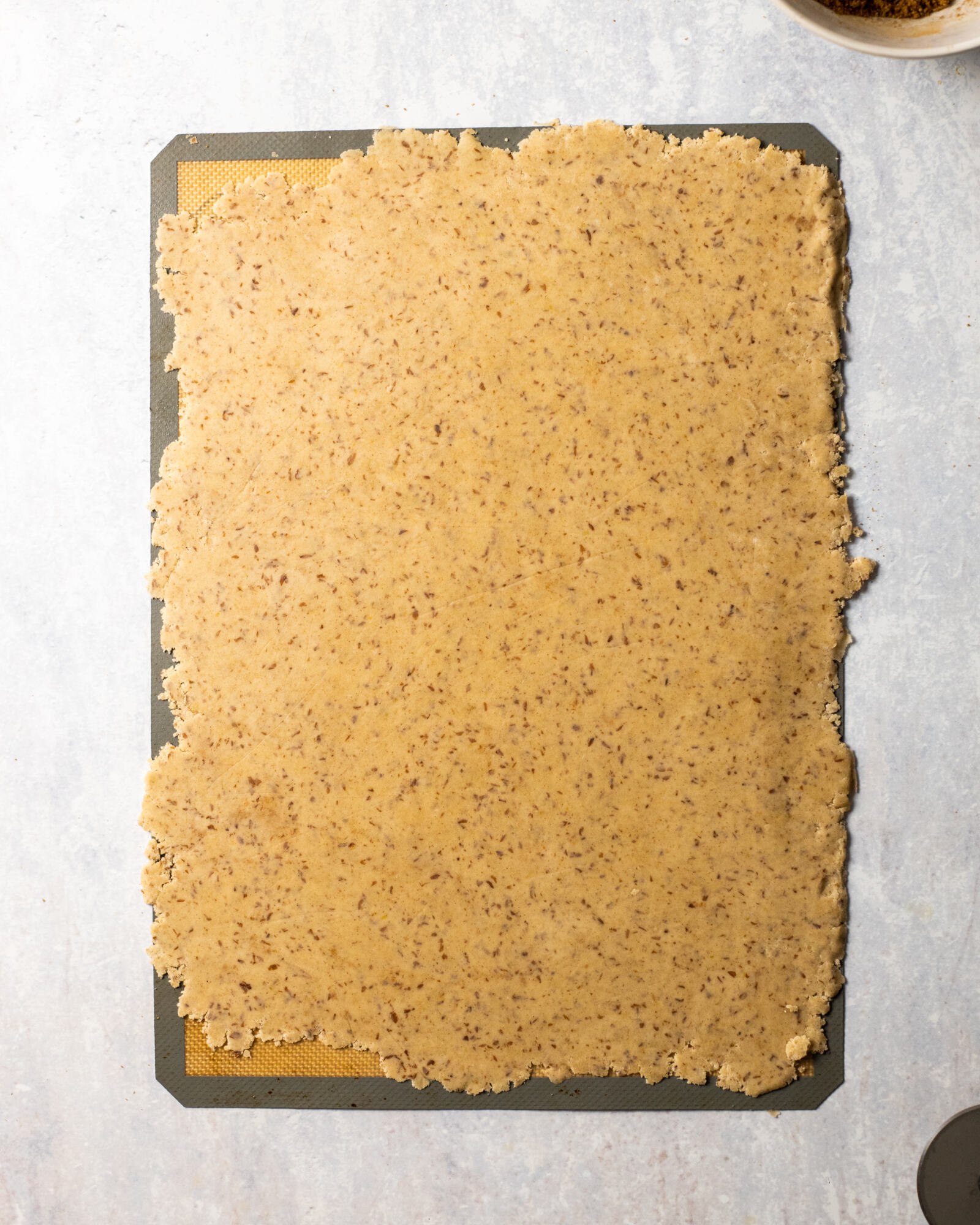 1-2: after rolling
3-4: after cutting & sprinkling
5-6: after baking
Frequently asked questions
How to store homemade cereal?
It's best to store this cereal in an air-tight container. As it's dried, there's no need to keep it in the fridge.
What's the shelf life of this homemade cereal?
If dried completely, kept in an airtight container and away from any liquids, the cereal stays delicious and scrumptious for a minimum of about 2 weeks.
How to make cinnamon toast crunch refined sugar-free?
Yes, you can replace the brown sugar with a granulated sugar alternative, such as Splendia.
How do I roll out the dough thinly without the rolling pin sticking?
When rolling out the dough, simply use 2 sheets of parchment paper - one to place your dough ball onto, the other to cover it with. Use your rolling pin on top of the top sheets to roll the dough out thinly without the rolling pin sticking to it. I recommend using structured non-stick parchment as this is easiest to remove from the rolled out dough afterwards.
What type of milk is best with this cereal?
I personally think that any dairy-free milk alternative works beautifully with this recipe. Some of my personal favourites include homemade oat milk, coconut milk and soya milk. One thing I'd recommend is going with an unsweetened milk option, as the cereal already adds a bunch of sweetness by itself.
How do I best cut the cereal shapes?
Of course, you can use a long sharp knife to cut the cereal carefully, however, don't run it through the dough, but instead place it gently down onto the dough to cut your lines. What works even better (and easier) in my opinion, is using a pizza cutter to carefully run it alongside the edges you'd like to cut. Do this gently and slowly with only a little bit of pressure applied, as you don't want to cut all the way through the baking parchment.
Can I use cookie cutters for the shapes?
Yes, feel free to experiment with your cereal shapes! Still, ensure to roll it out thinly, then carefully cut it out with the cookie cutters and remove the excess. You won't be able to cleanly lift the cutouts off the baking parchment until after the baking process, so it's best to cut them into shape on the baking parchment or baking mat. 
Can I use coconut sugar instead of brown sugar?
Yes, absolutely, though it caramels slightly differently from brown sugar and the cereal will come out a little crunchier. 
Can I use a sugar replacement instead of brown sugar?
Short answer: yes! As sugar replacements are often very different in weight and volume, however, I've found it best to measure it by volume and add 1/3 cup of the sugar replacement to replace the 1/3 cup of brown sugar. Depending on the type and brand you use, the conversion might be slightly different, however, so I recommend checking the packaging instructions to see how to most accurately convert the amount. I've tried this recipe with Splenda, measured by volume, and it's worked out perfectly fine. 
You might also enjoy these recipes:
📌 If you love Pinterest you can pin any of the images to your boards!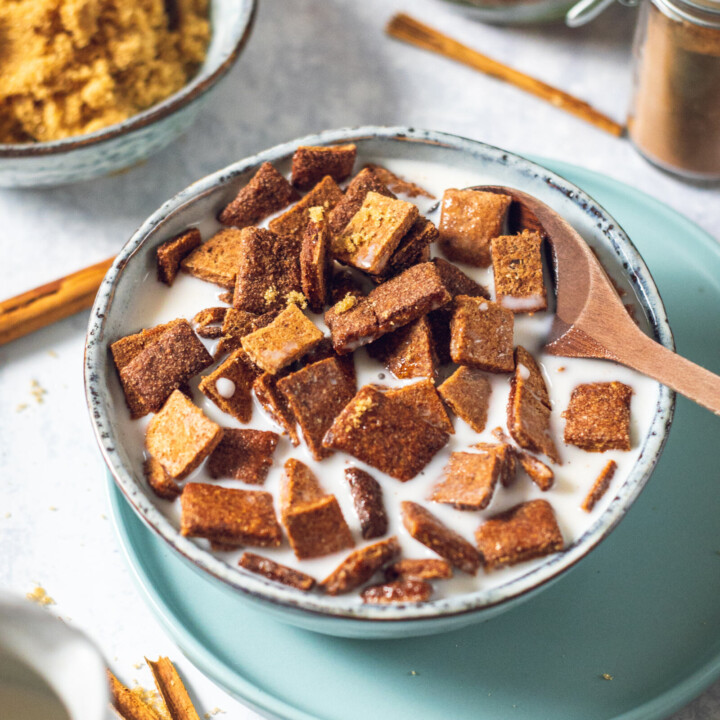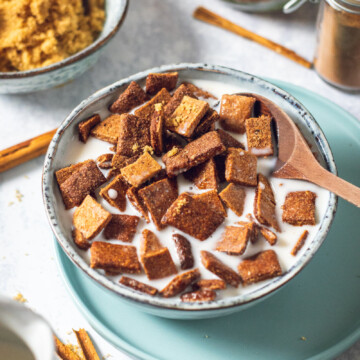 Vegan Cinnamon Toast Crunch Cereal
Vegan Cinnamon Toast Crunch Recipe - Vegan Friendly and Dairy-Free, yet super crunchy and delicious cereal for the perfect vegan breakfast!
Equipment
2 bowls

plastic wrap

baking sheets

1 Rolling Pin

1 pizza cutter or long knife
Ingredients
2

cups

whole wheat flour (270 g)

1/3

cup

light brown sugar (70 g)

2

tbsp

ground flaxseeds

mixed with water

1/4

cup

coconut oil (60 g)

melted

1/4

cup

plant milk (60 ml)

2

tsp

ground cinnamon

1

tsp

vanilla extract

1/4

tsp

baking powder
Instructions
You will need 2 bowls for this recipe: In the first one combine all dry ingredients, in the second all the wet ingredients. By blending them separately first you can ensure that all ingredients are evenly spread throughout the dough.

Combine the wet ingredients with the dry and form a ball out of the dough. Wrap it in plastic wrap and place it in the fridge for 1 hour to firm up.

When the time has elapsed, preheat your oven to 170ºC. Remove the dough from the fridge and cut in half. Place one half in between a lightly flour-dusted baking sheet and the plastic wrap, then roll out as thin as you can. The wrap will prevent the dough from sticking to your rolling pin.

Once done use a pizza cutter to cut vertical and horizontal lines across the dough to create the crunchy cinnamon squares. Coat with a mix of Splenda Granulated and Cinnamon and then off into the oven!

Repeat with the second half of the dough and bake both for about 30 minutes. Keep checking back on it to make sure that the dough evenly crisps. If your oven is hotter on one corner than on the other (my old oven used to be like that!) then make sure to flip the baking tray around after half of the baking time.

Remove from the oven when finished and let it cool down completely before you break the cereal into the pre-cut squares. Keep the cold cereal in a large air tight container - I used a huge mason jar.
Looking for more delicious vegan breakfast recipes? Well good news, I've got plenty - here are some of my favourites:
 © Romy London / Romina Callwitz | All images and content are copyright protected. Please do not use my images and content without permission. If you wish to re-publish any recipes or images, please get in touch via email. Thanks for your support!