Looking for the ultimate creamy and chocolatey breakfast with an extra portion of vegan protein? Then keep reading because this simple and easy vegan chocolate protein smoothie bowl is definitely one for you - and it's super creamy, delicious and ready in under 5 minutes!
Chocolate Protein Smoothie Bowl Recipe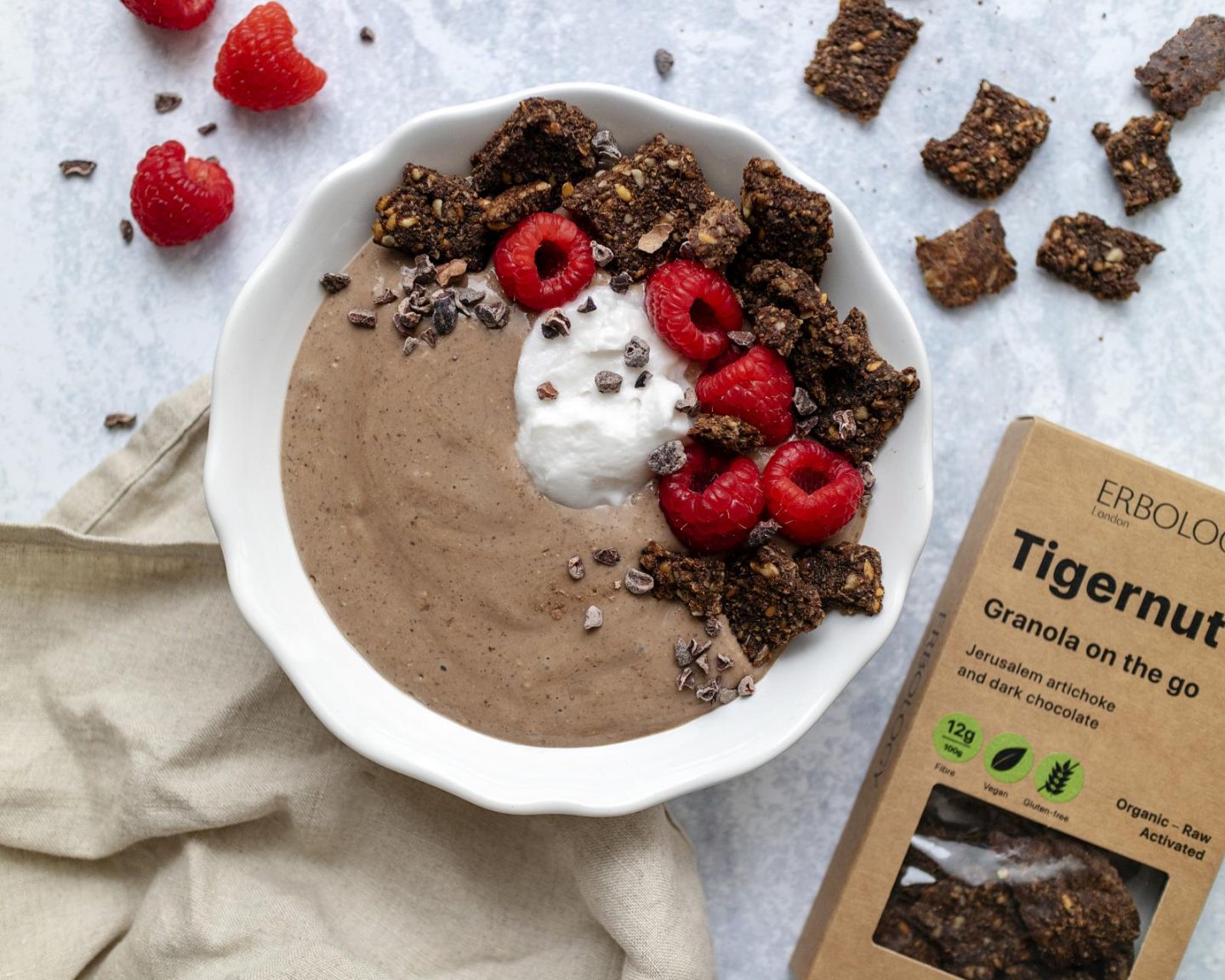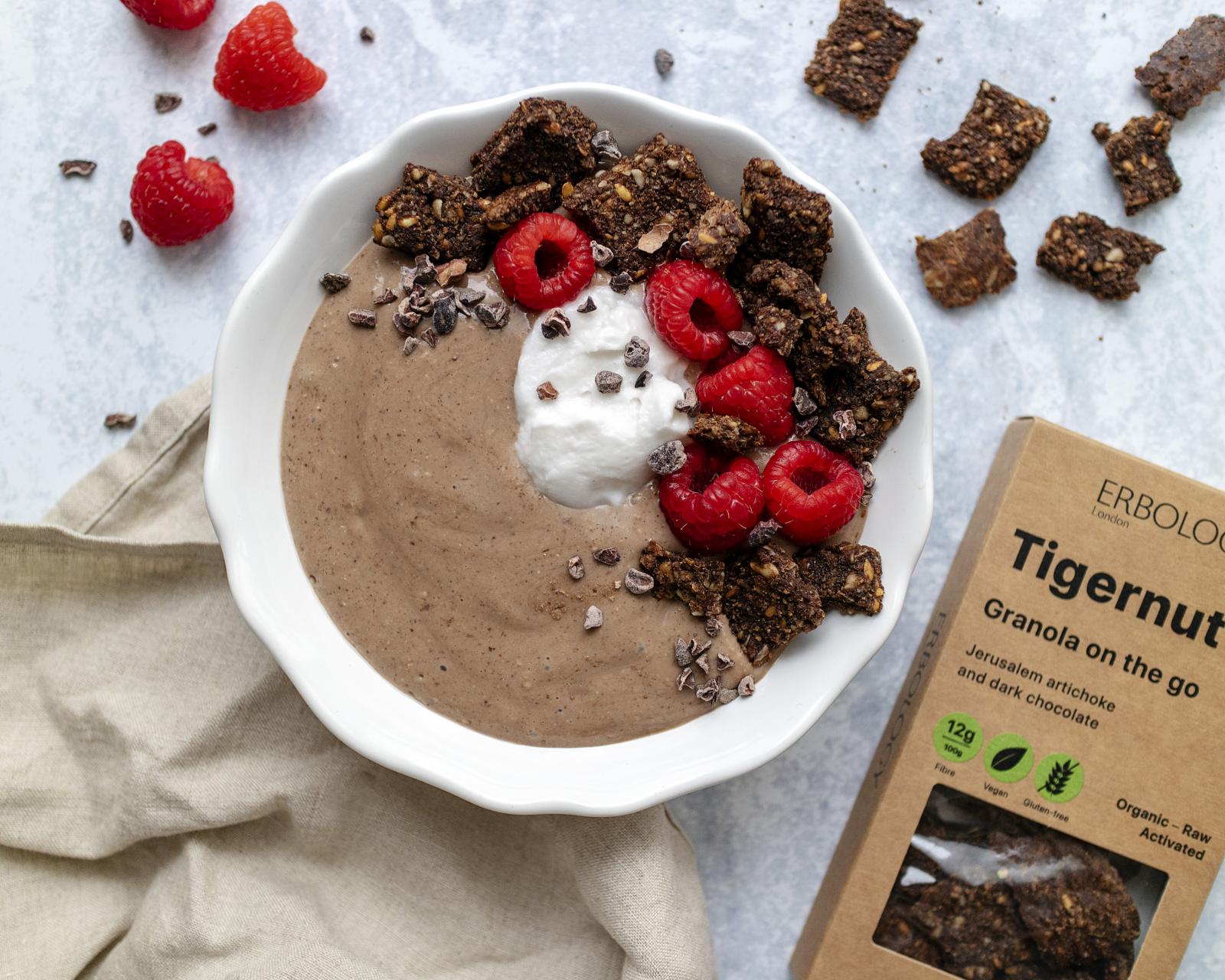 This smoothie bowl is:
100% vegan
gluten free
dairy-free
egg-free
super creamy
naturally sweet
refined sugar free
full of nourishing goodness
ready within 5 minutes
high in protein (33g to be precise!)
the perfect fuel for a busy morning
If you're following me on Instagram, you may have seen these already: my chocolate protein smoothie bowl addiction!
At the moment, I can already feel myself craving these for breakfast by the time I go to bed the night before - and that's also a perfect motivation to get out of bed in the morning, don't you think?
What makes this chocolate protein smoothie bowl so special is how thick and creamy it gets - it's just like having a pudding for breakfast. Welcome to the dessert-for-breakfast club!
Ingredients for this recipe
Here's what you need to make this delicious high-protein breakfast bowl:
For the smoothie base:
banana: I like to use frozen bananas, but you can definitely use fresh ones! Frozen banana halves are just so easy to keep in the freezer for when I need them. The banana will also add some delicious natural sweetness to your smoothie bowl without adding refined sugar.
vegan protein powder: For this particular recipe I use vegan protein powder with a chocolate flavor. My favorite one to use is the Double Chocolate Protein by The Protein Works.
porridge oats: I often use gluten-free porridge oats, making this recipe totally gluten-free! Find out why I'm adding oats to my smoothie below.
cacao powder: for some delicious chocolate flavor! I opt for raw cacao powder, but just use whatever you have to hand and adjust the amount to your tastebuds.
flaxseeds: adding some healthy fats to our breakfast smoothie and the flaxseeds also help thicken the smoothie texture.
chia seeds: more healthy fats! I like to add a small amount of chia seeds for more nutritional variety.
dairy-free milk: I usually opt for unsweetened organic soy milk for my smoothie bowl, but feel free to use your favorite vegan plant milk, such as oat milk, almond milk or coconut milk.
For the toppings:
Feel free to go all out and adjust the toppings to your liking, but here's what I like to add to my chocolate protein smoothie:
berries such as raspberries (fresh or frozen)
coconut yogurt
cacao nibs
banana slices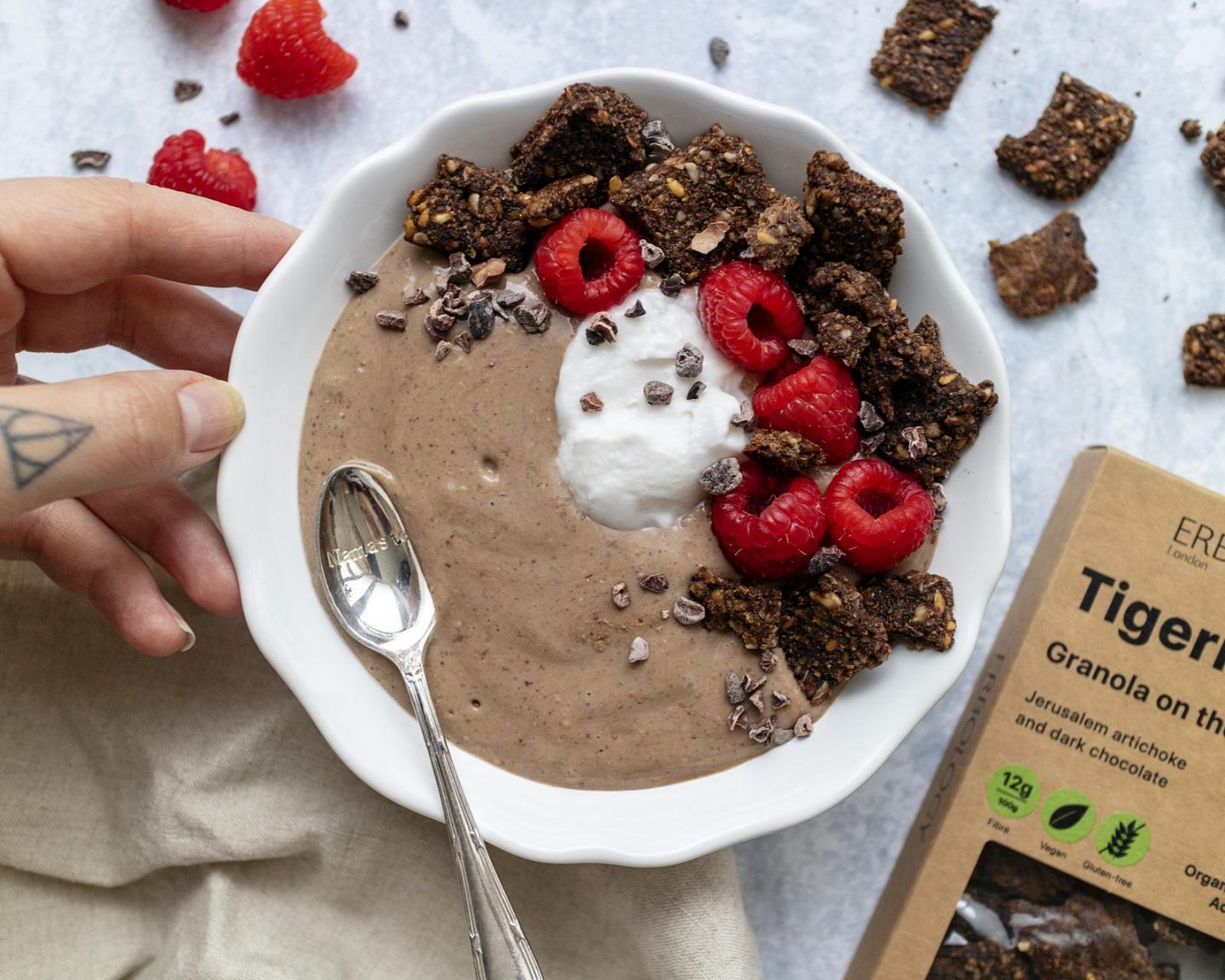 The secret to the creamy smoothie base
The secret ingredient to making these so creamy is simple: oats! And you don't actually need much in order to make this protein smoothie so thick and creamy - I only added about 10g (about 1 tablespoon) to this chocolate protein smoothie bowl and as you can tell, it turned out proper thick and creamy. That's what breakfast dreams are made of!
And what if I told you that you can prepare all of this in under 5 minutes? No breakfast excuses right there 😉 Simply create your smoothie base in a blender: banana, oats, cacao powder, flaxseeds, chia seeds, soy milk and vegan protein powder. The flaxseeds and chia seeds support the smooth texture of the smoothie and also add some healthy omega fats - and isn't it great to get these ticked off with breakfast already?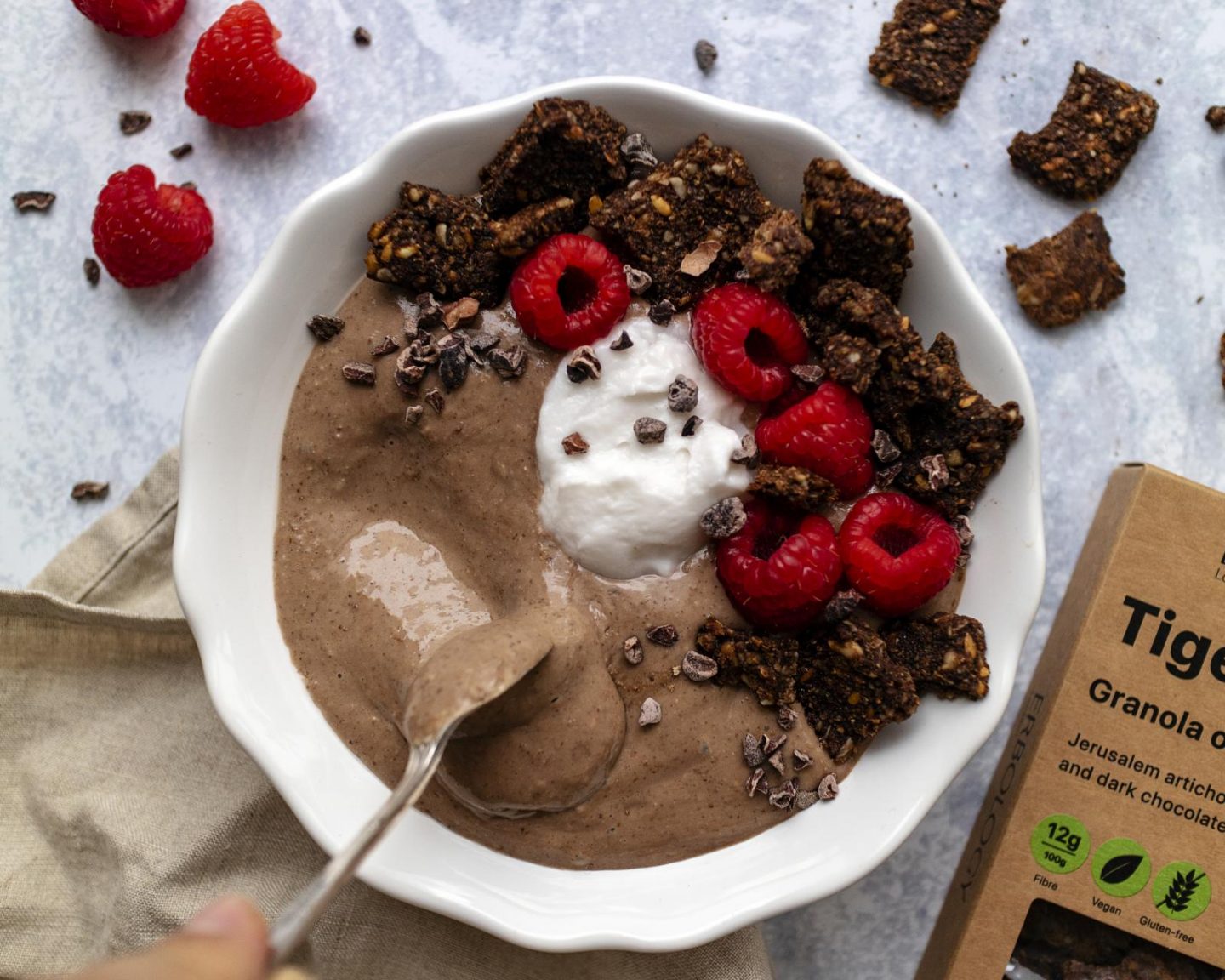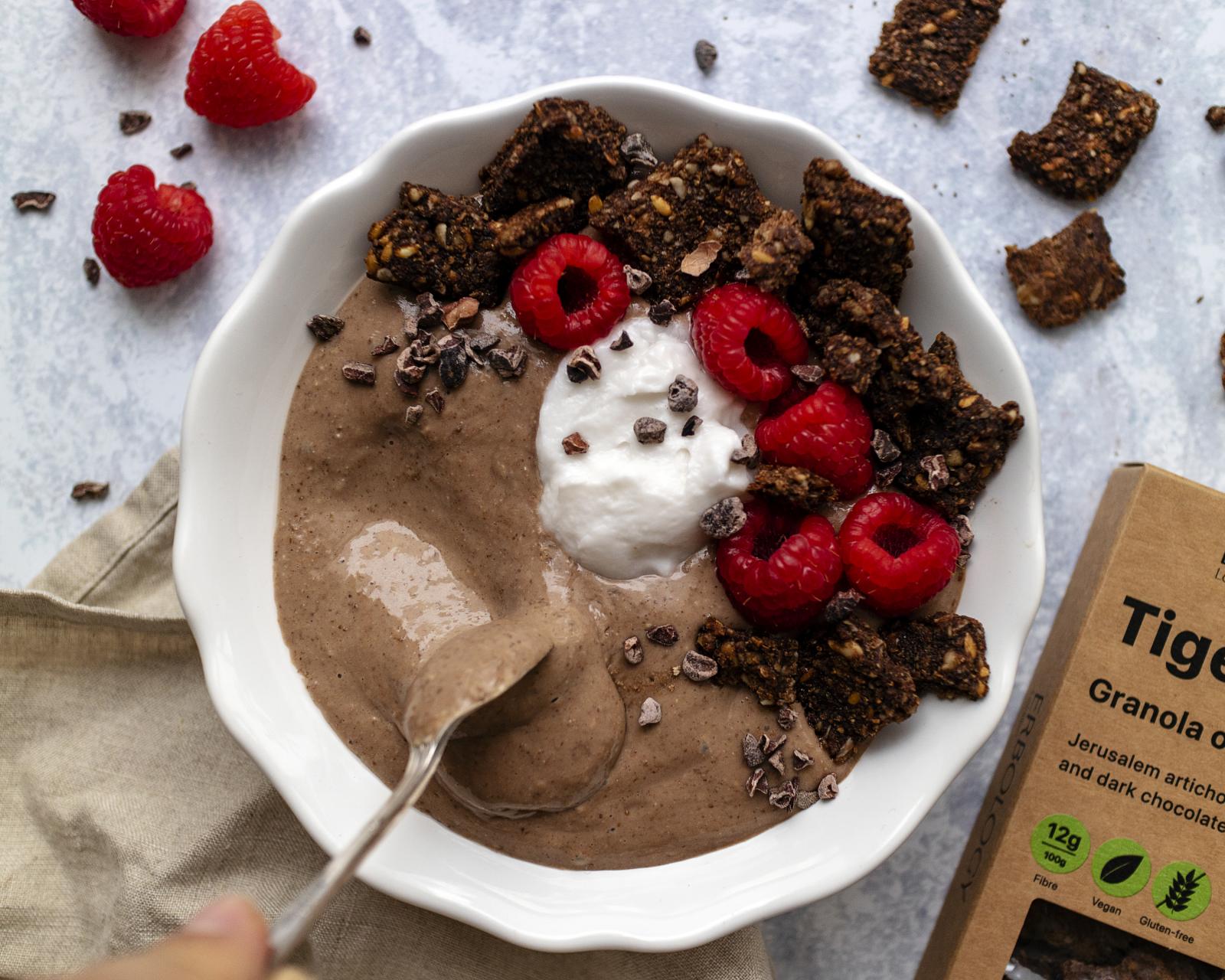 Smoothie Bowl Toppings
For my toppings, I love a good texture combination of smooth and crunchy. A dollop of coconut yoghurt perfectly covers the smooth part and a bunch of fresh raspberries add some delicious sweet bites to the bowl.
To add the crunch to my toppings I love using cacao nibs and I've already recently tried out this Tigernut Granola on the go by Erbology. Its dark chocolate flavour was simply too perfect not to combine it with this bowl - it's also gluten-free, vegan, refined sugar-free, high in fibre and comes in little 50g packs that are perfect for a portion size or a quick healthy bite on the go (I'm totally a granola snacker!)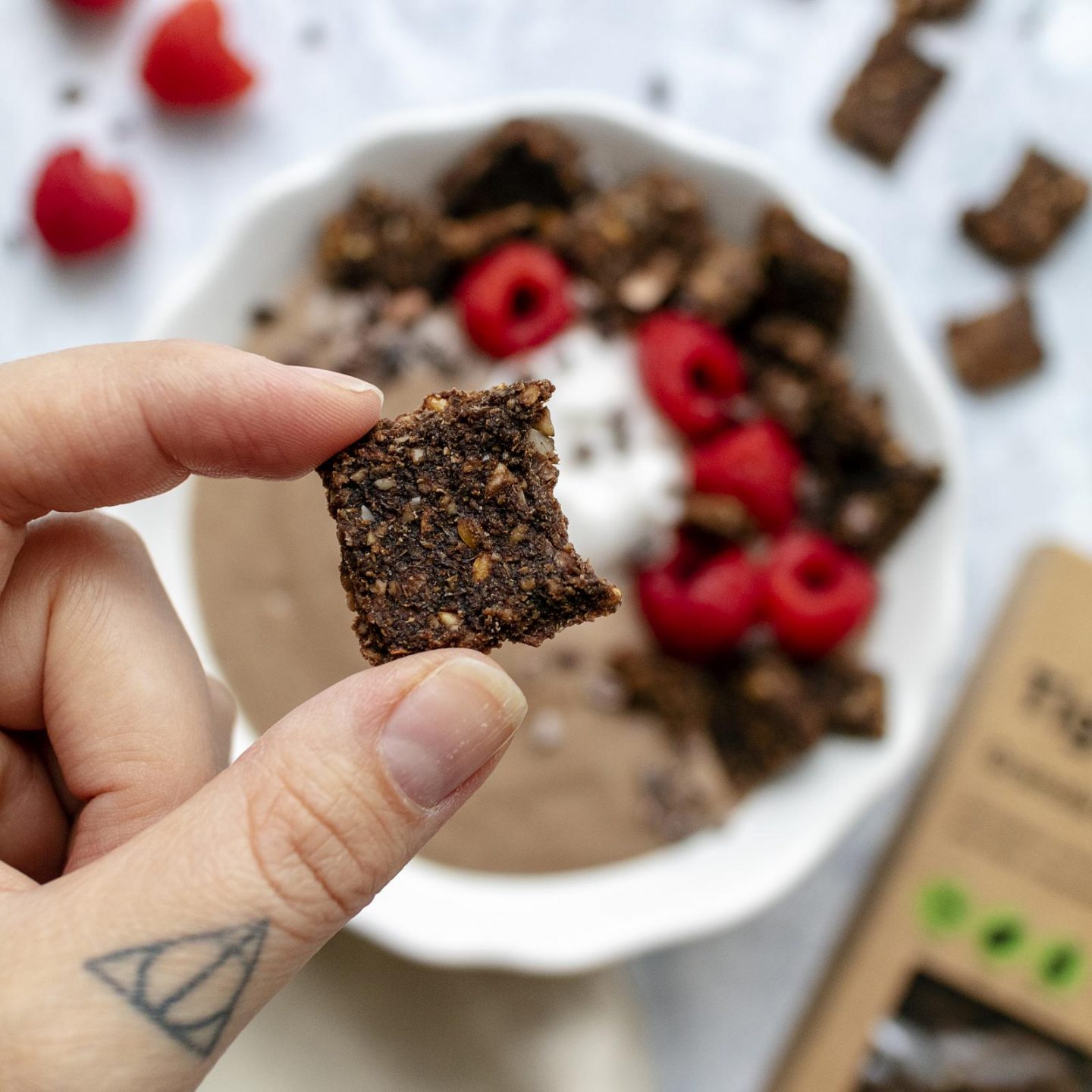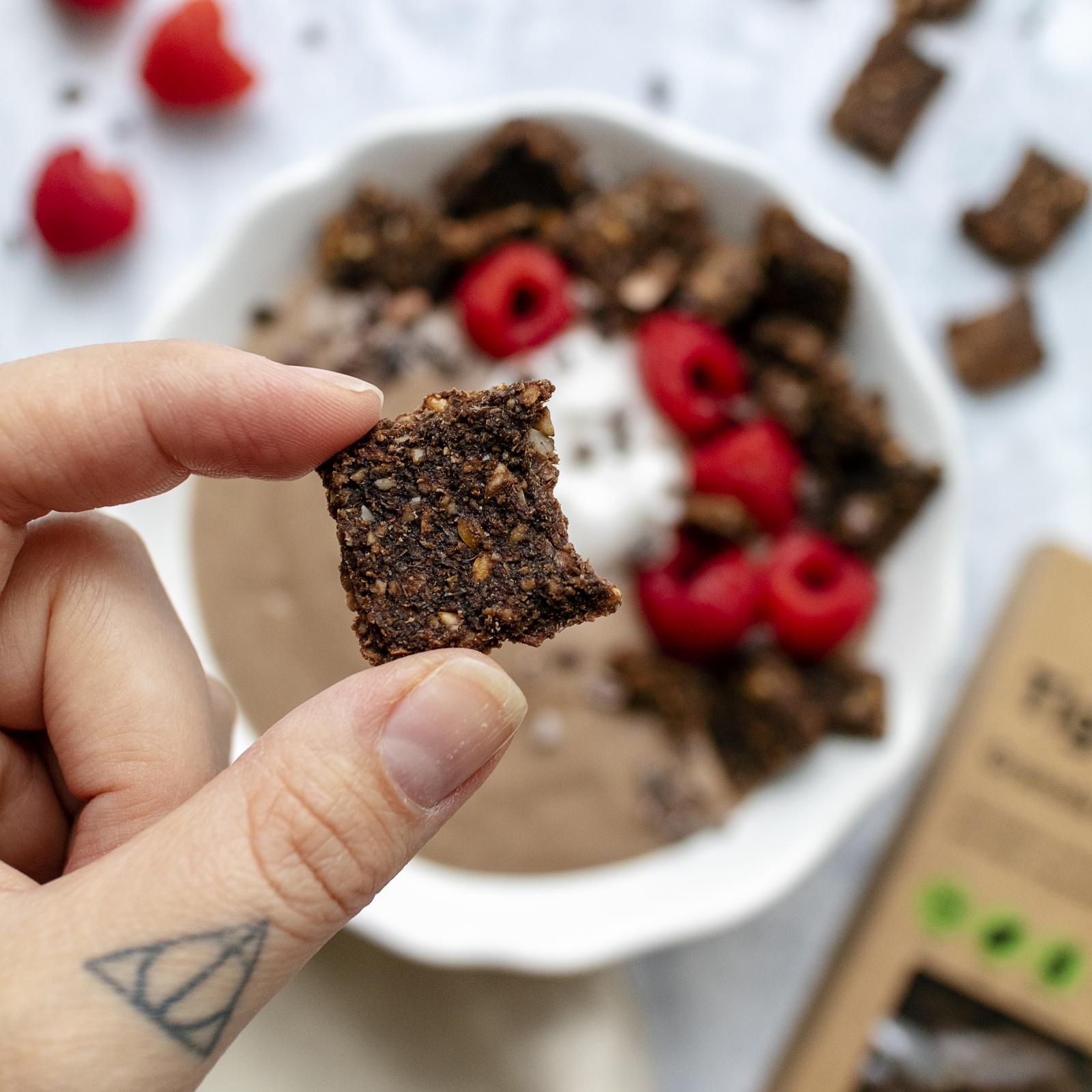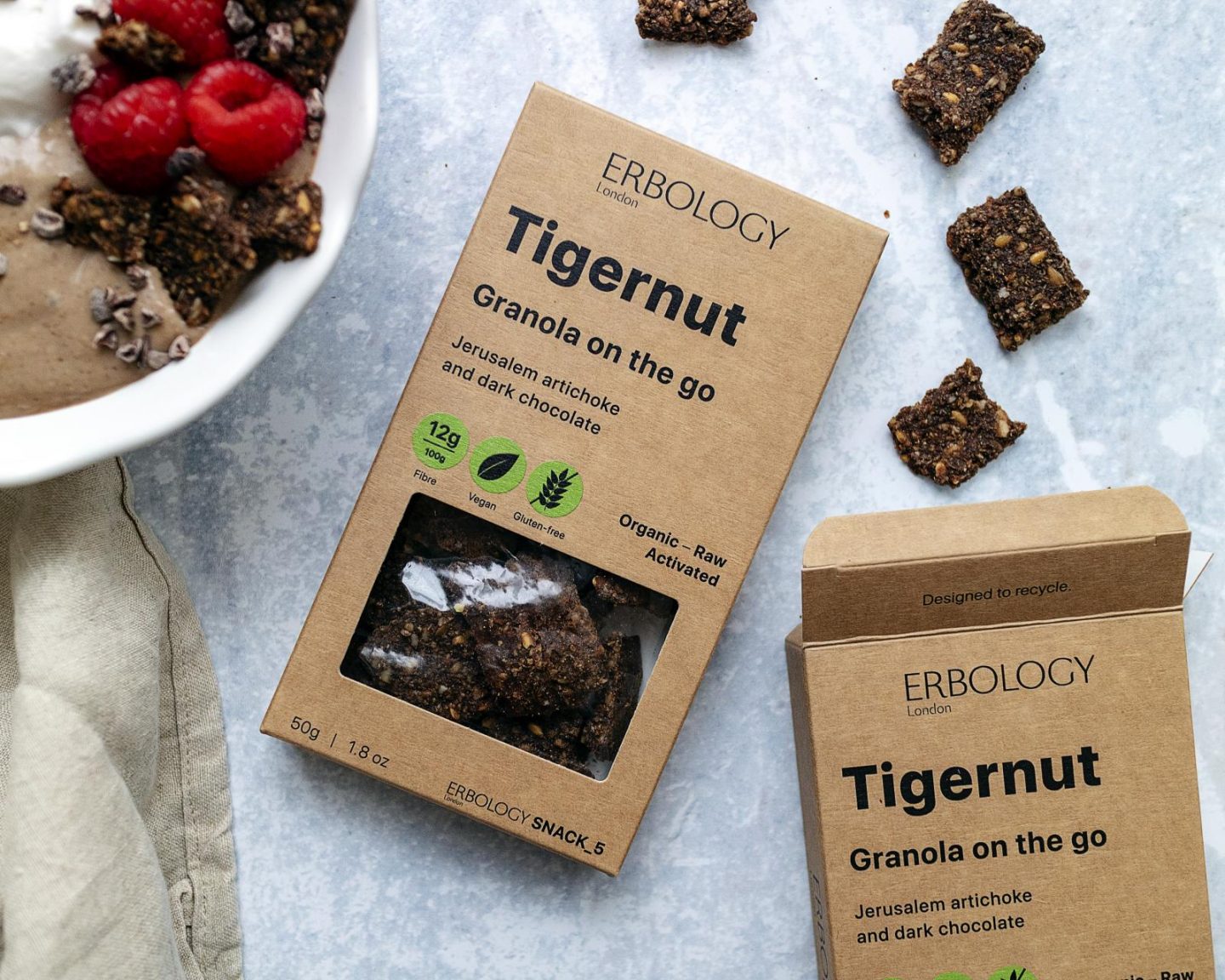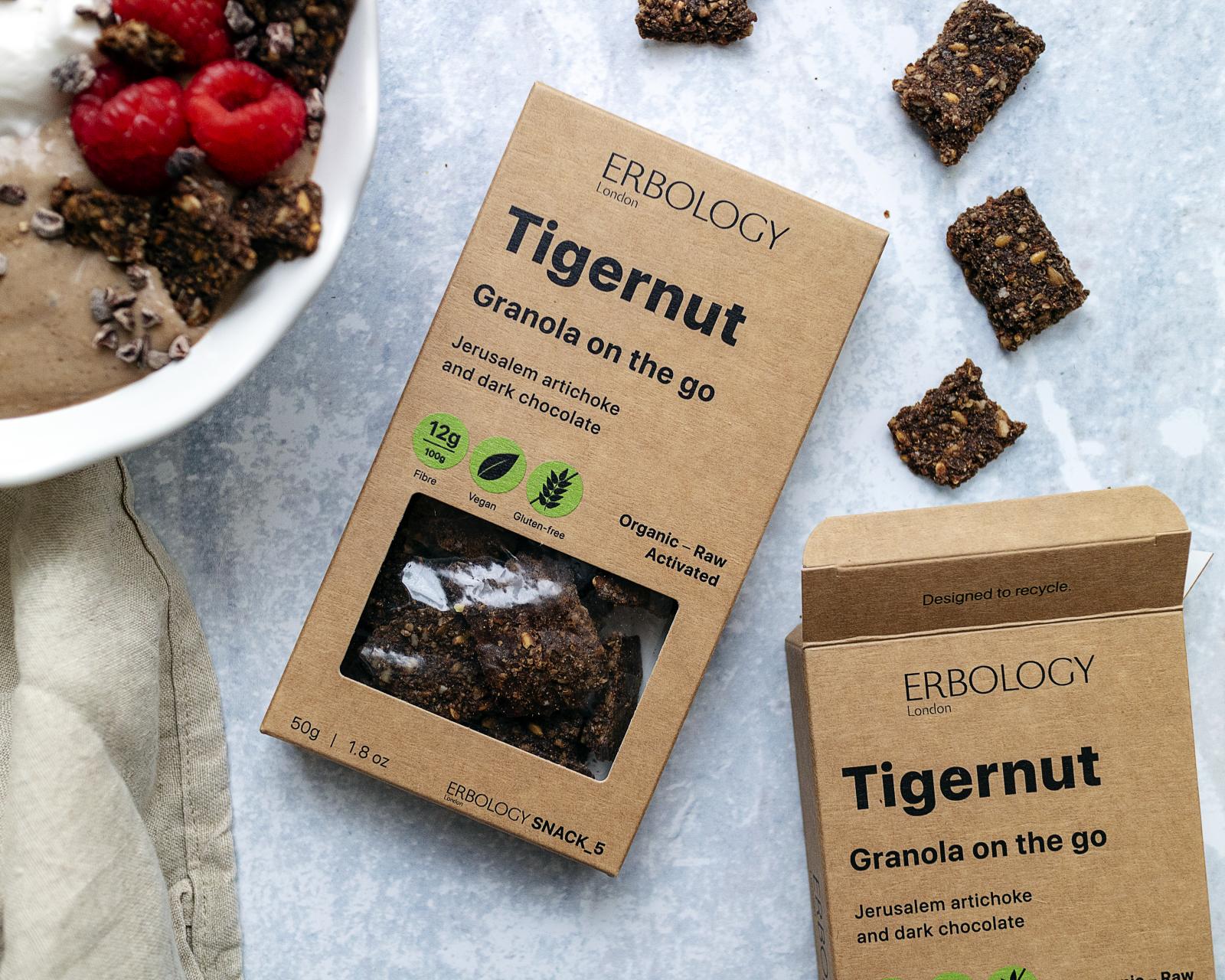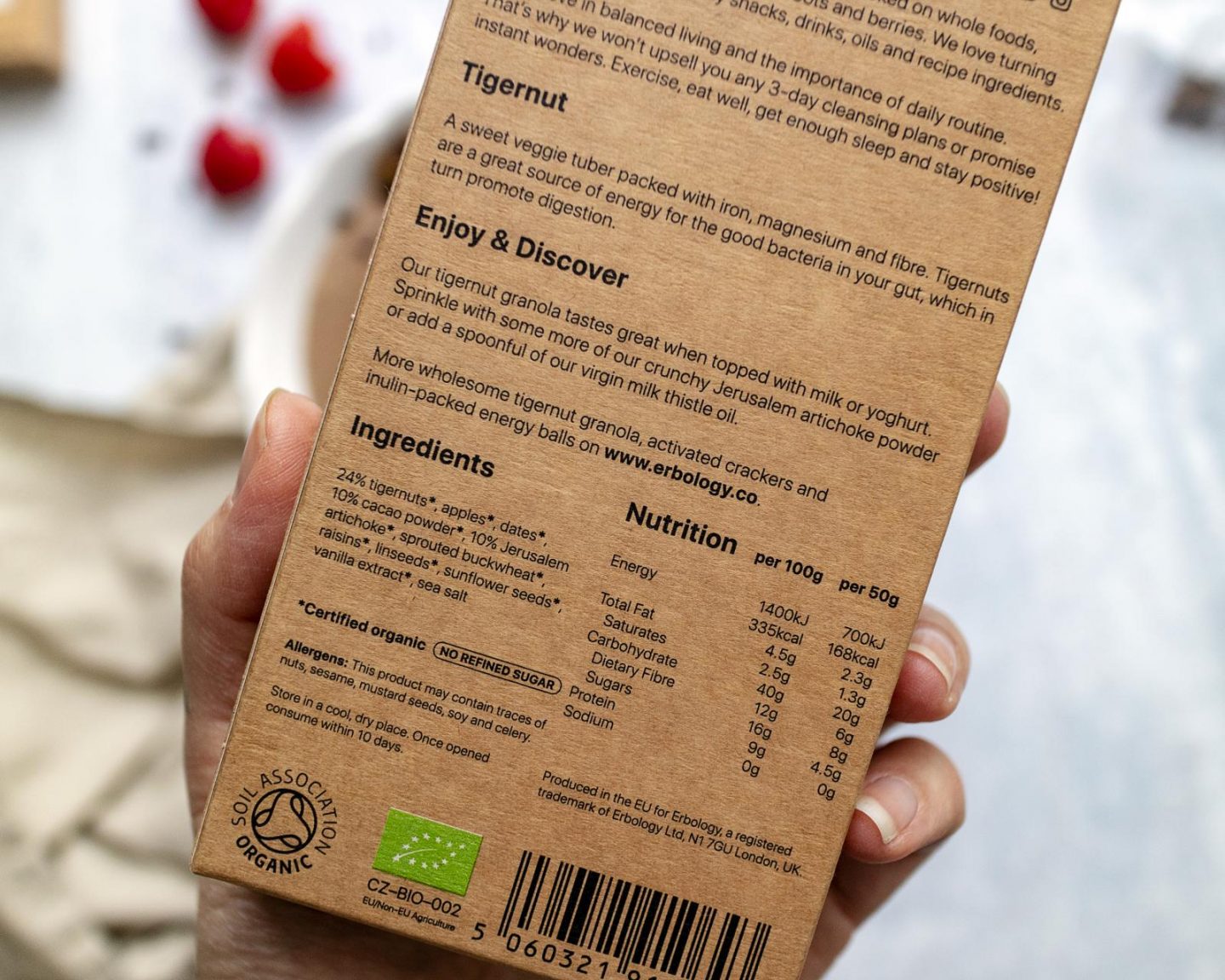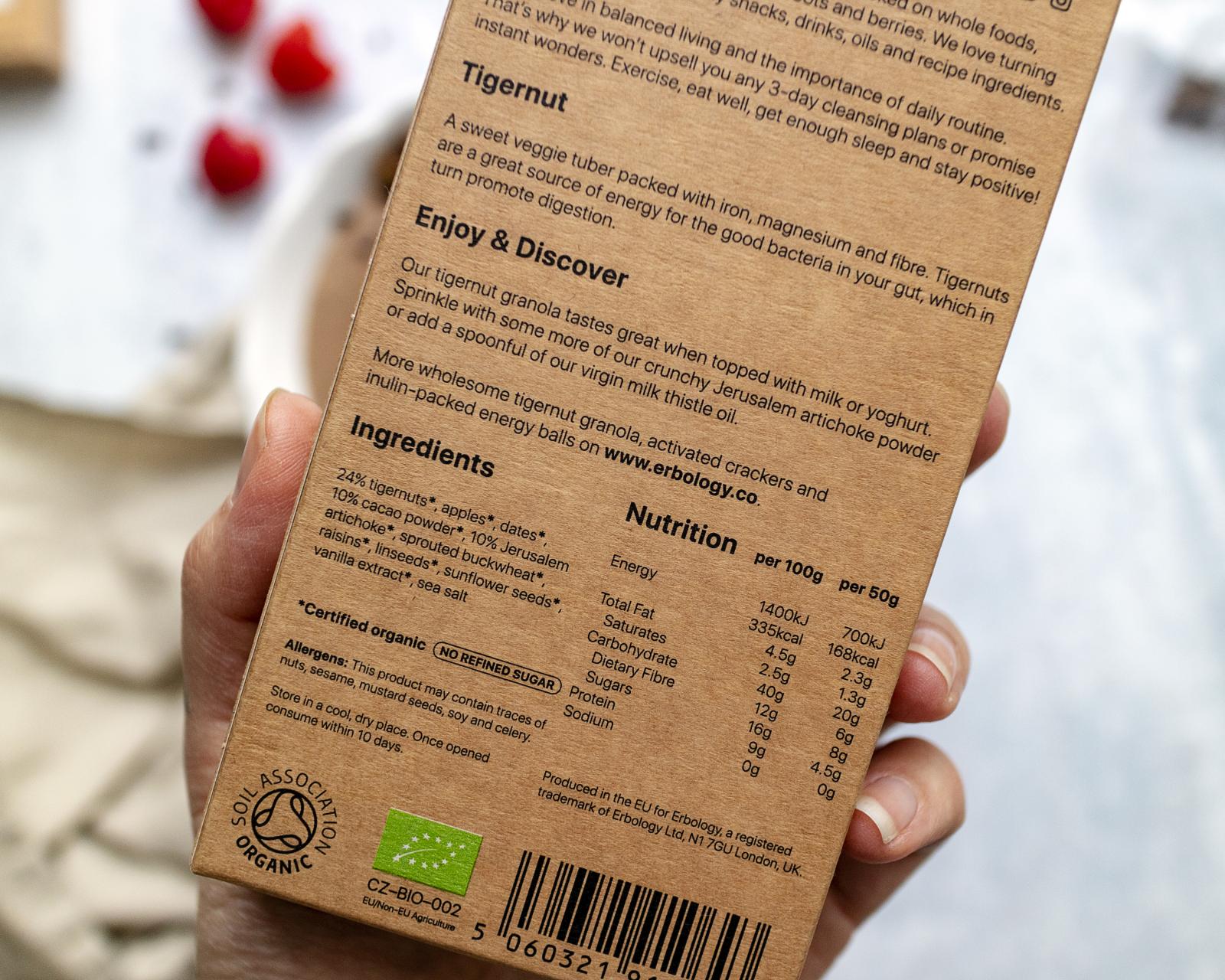 I absolutely love being able to add a lot of nutritional goodness to one meal, so this Tigernut Granola is absolutely perfect for this purpose, as Tigernuts are a great source of magnesium, fibre and iron - and it's delicious at the same time! In addition, it also contains activated ingredients such as sprouted buckwheat and - as all Erbology products - is also certified organic by the Soil Association.
Erbology also offer a wide range of vegan, gluten-free & wholesome foods - also including another granola flavour - and their company ethos is to provide sustainable, nourishing products, so definitely make sure to check out their products! You can currently get their products from Planet Organic (I've first spotted this granola there!) as well as independent health stores. Find out more about their mission here.
You might also enjoy these vegan protein recipes:
📌 If you love Pinterest you can pin any of the images to your boards!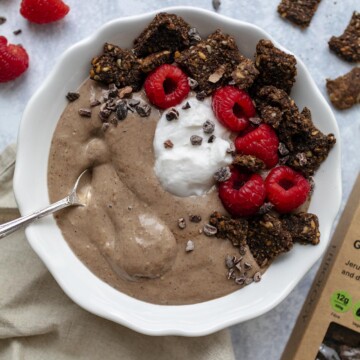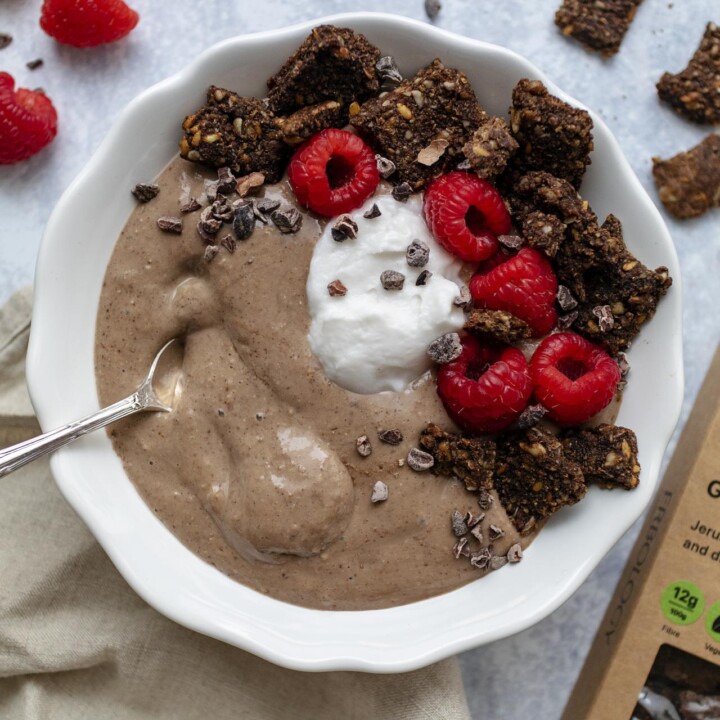 Chocolate Protein Smoothie Bowl
Deliciously creamy chocolate protein smoothie bowl - this is what breakfast dreams are made of! Made in the blender and ready in just 5 minutes or less.
Ingredients
1

small

frozen banana

25

g

vegan chocolate protein powder

10

g

porridge oats

10

g

raw cacao powder

10

g

flaxseeds

6

g

chia seeds

240

g

plant milk
For the toppings:
25

g

raspberries

fresh or frozen

15

g

coconut yogurt

1/2

tsp

cacao nibs

25

g

Tiger Nut Granola by Erbology
Instructions
Place the banana in your blender, then add in half of the soy milk, followed by the rest of the smoothie base ingredients. Pour in the second half of the soy milk at the end - starting with a little liquid in the beginning will prevent your protein powder or other dry ingredients from sticking to the bottom of your blender.

Blend until smooth - I usually use the smoothie setting of my blender for about 30 seconds. Let the smoothie sit for 1 minute, then briefly blend again for another 10 and serve.

Add all the toppings to your liking & enjoy immediately!
Notes
Alternatively you can also use unflavoured vegan protein powder, to maintain a nice chocolate-y flavour I would recommend doubling the amount of raw cacao powder if the protein powder is unflavoured.

Adding a little liquid to your blender prior to the dry ingredients, will prevent them from sticking to the bottom of your blender.
Looking for more vegan breakfast inspiration? Check out the breakfast section for more recipes!
*Disclosure: This page may contain affiliate links and sponsored links that earn me a small commission, at no additional cost to you. You can find more information in my Privacy Policy.
 © Romy London / Romina Callwitz | All images and content are copyright protected. Please do not use my images and content without permission. If you wish to re-publish any recipes or images, please get in touch via email. Thanks for your support!