Tofu Parmigiana Recipe - Delicious and easy to make! Using edamame pasta, it's high in protein, full of fibre, gluten-free and can be made in just 20 minutes!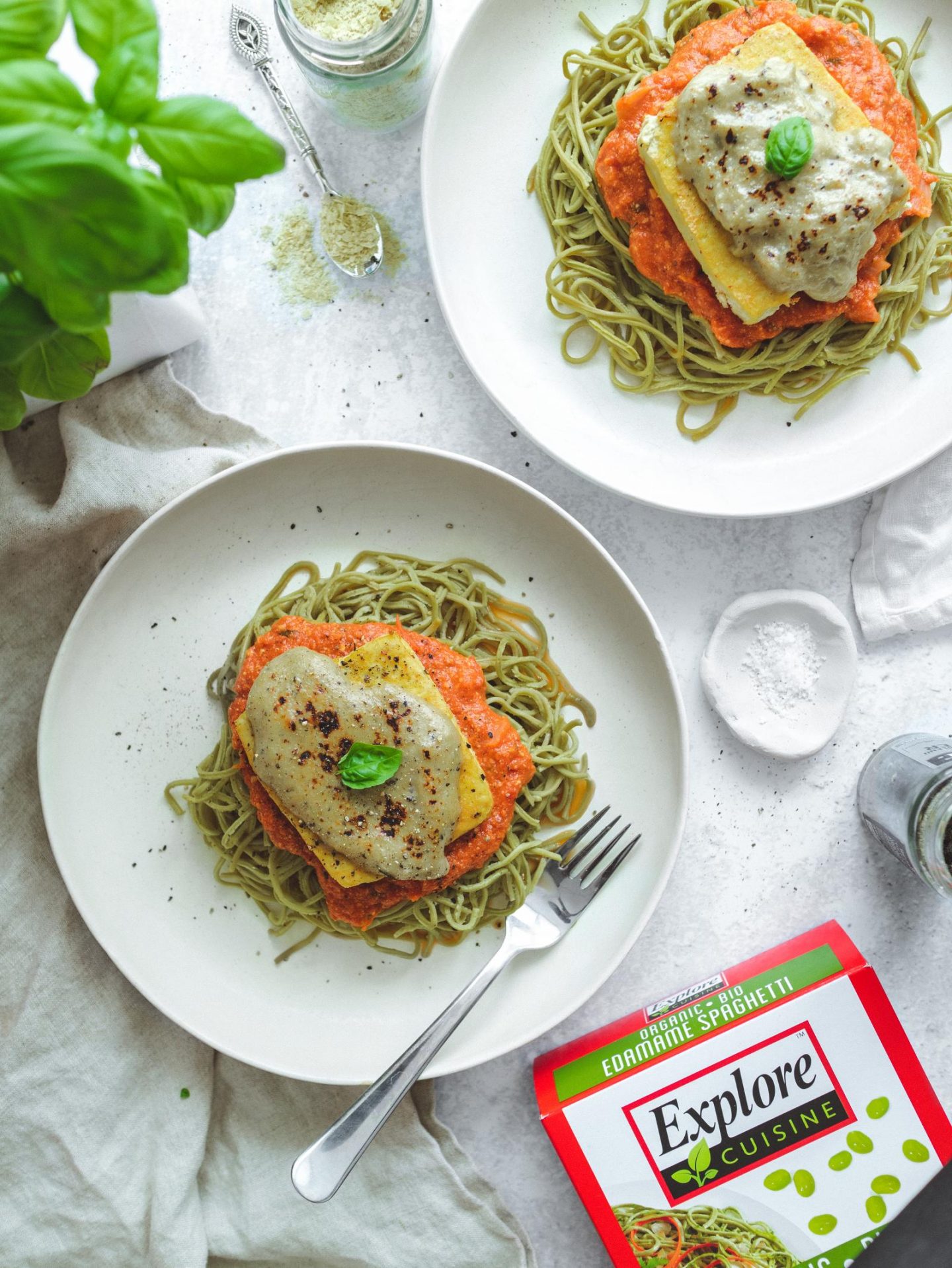 Vegan Tofu Parmigiana
Mamma Mia - here we go again (yup, pun intended): another delicious pasta dish on the blog - and today I have created this yummy, high protein, vegan Tofu Parmigiana Recipe!
This week I've teamed up with Explore Cuisine to bring the taste of Italy to your plates. I've been using their bean pasta myself for years and when I heard that they are on a journey to offer healthy, globally-inspired recipes, I was instantly up for the challenge of creating a unique recipe inspired by Italian cuisine.
Parmigiana in all shapes and forms used to be one of my favourite dishes before embracing the plant-based life and I have to admit: to this point I haven't had a proper parmigiana pasta. So it was no question that I'll re-create a tasty, vegan, high-protein version of this classic dish!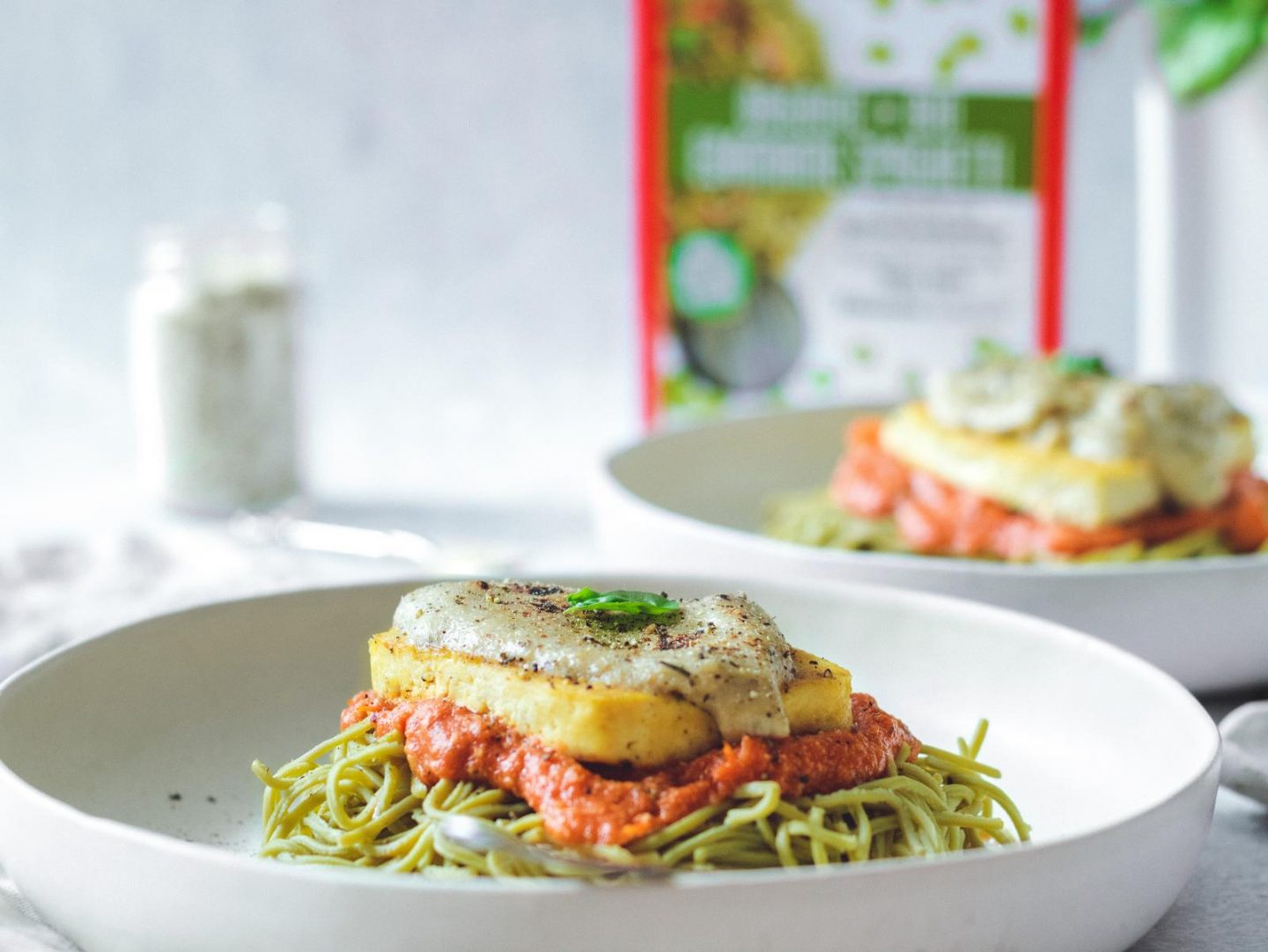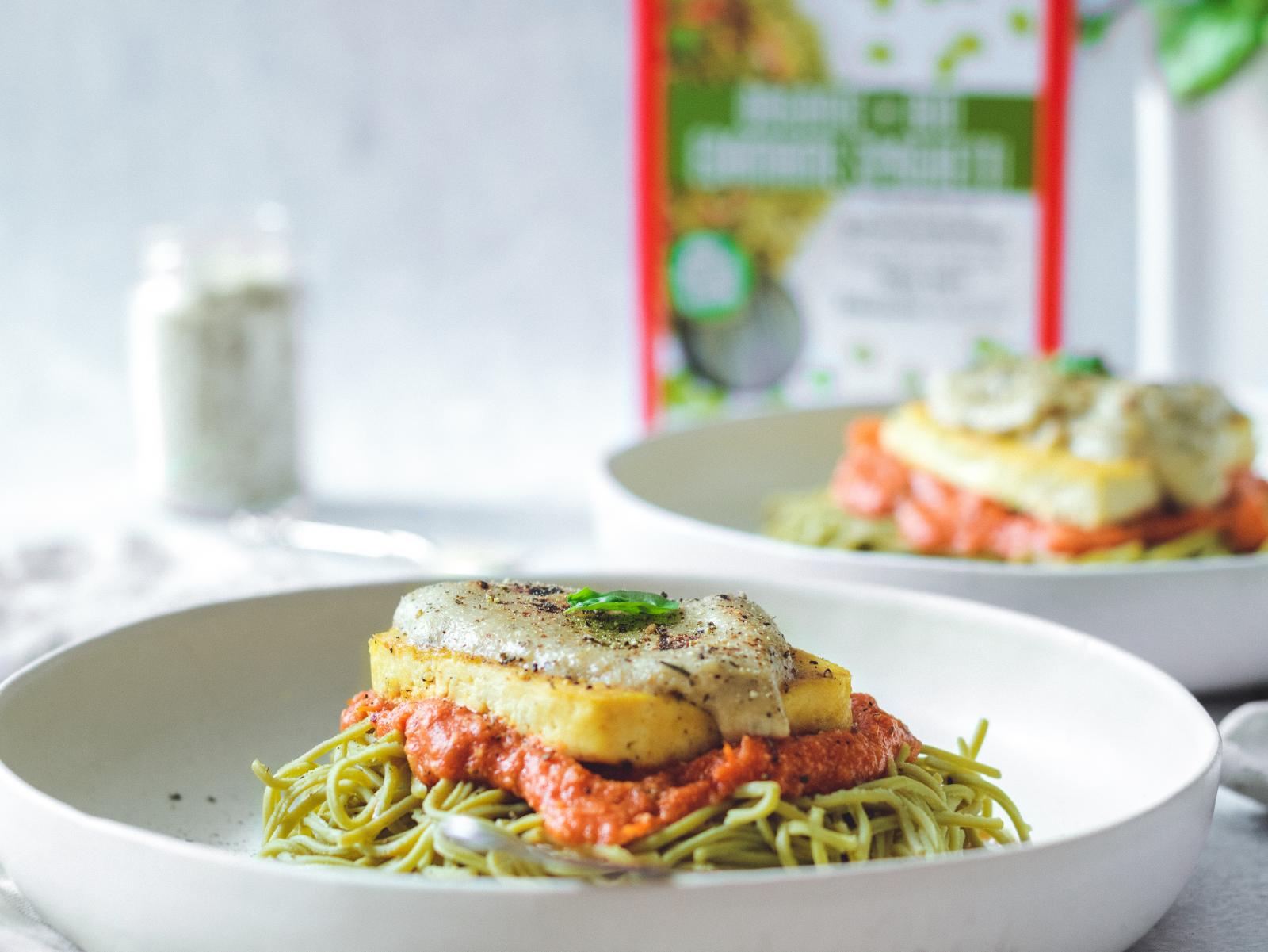 Homemade Vegan Tofu Parmigiana Sauce
In this Tofu Parmigiana Recipe, I've actually gone and created the tomato sauce from scratch. It's honestly easier than you might think and I would recommend making it from scratch if you have 5 minutes extra to spare in the kitchen. If not - don't you worry - you can simply use a pre-made pasta sauce, ideally already including garlic and herbs (in that case omit the garlic and herbs from the ingredient list below!)
For the base of my tomato sauce, I've used organic tinned cherry tomatoes (I love their natural sweetness!) and cooked them with onion, garlic and herbs before blending into a smooth tomato sauce. To create a thicker texture and re-create the 'parmesan' flavour of a typical parmigiana, I've used almond meal & nutritional yeast and simply stirred 2 tablespoons each into the pasta sauce to finish it off.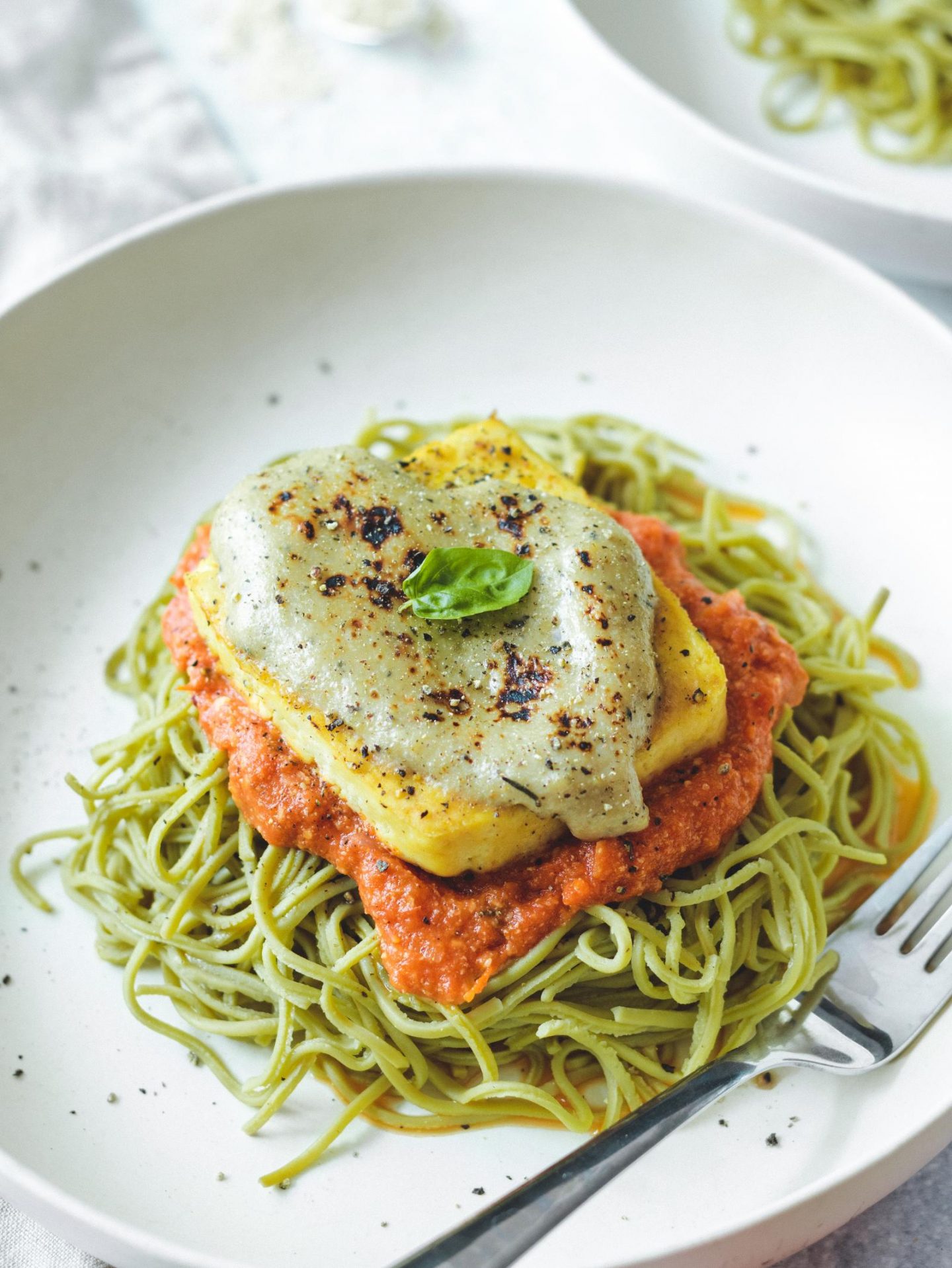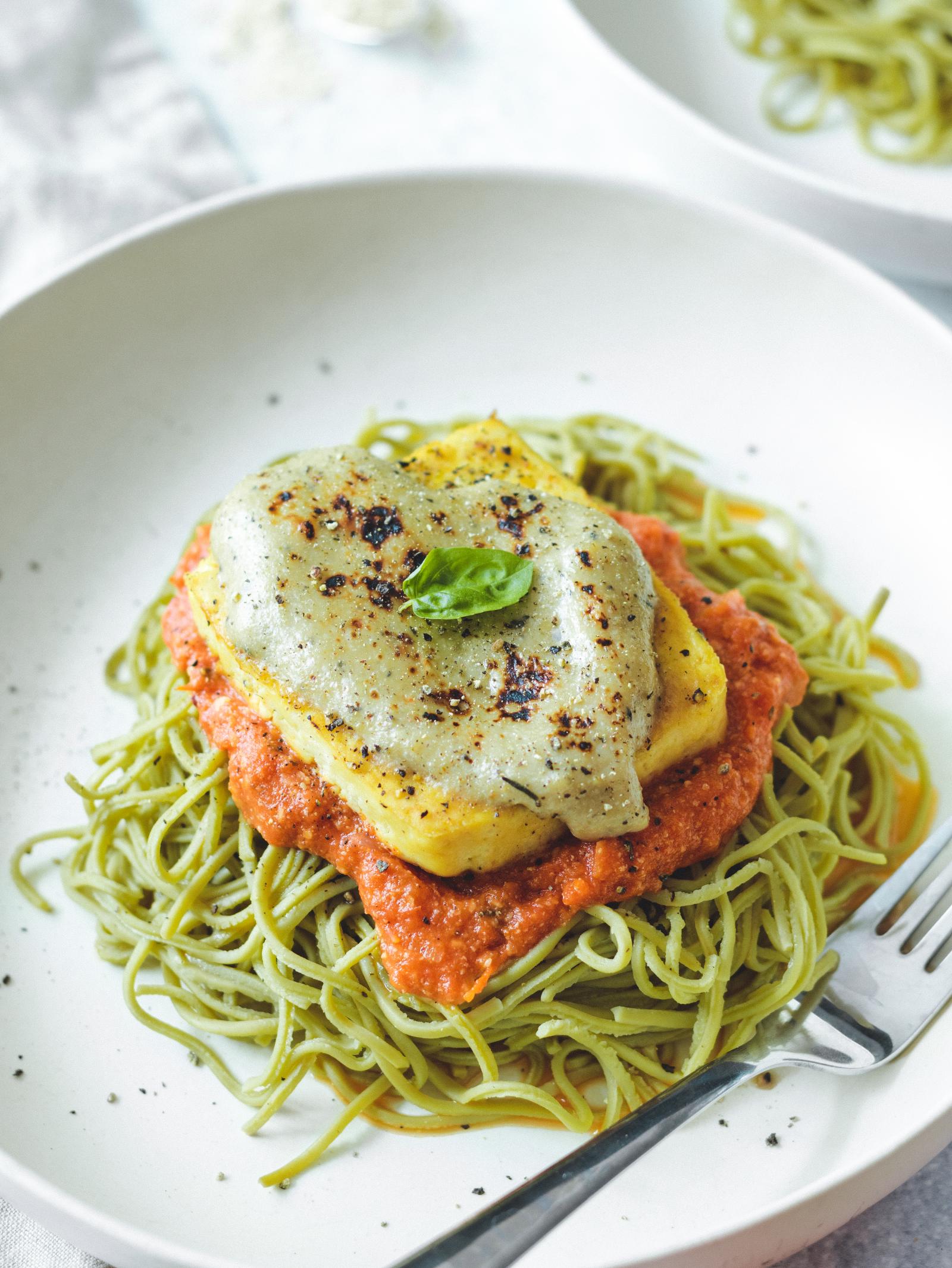 Tofu cooking hacks
A slice of garlic-ked tofu on the top adds some delicious texture to the dish - you can of course replace this with your favourite vegan protein, such as pre-made vegan chicken-style pieces. I however love using tofu here, as it's high in protein and low in natural sodium - some pre-made protein sources can be really high on the salt/sugar front, so be aware of this if you replace the tofu in this dish.
The preparation for these 'tofu steaks' is super simple: it's important that you use firm tofu for this dish (soft or silken tofu are great for other dishes, but they simply won't work in this recipe). I can't recommend enough to press your tofu prior to using it in a recipe - it creates a super dense texture and works particularly well when you use the tofu in this 'steak' form. It also helps the tofu crisp up in the pan with just a little oil.
To finish of this parmigiana I've added homemade vegan mozzarella on the top and let it melt in the oven grill for 2 minutes - of course, please feel free to use a ready-made vegan cheese alternative - vegan mozzarella style shreds work particularly well with this dish. You can also pop the tofu & vegan cheese into a microwave to melt, which makes it quicker for you (I don't own a microwave, hence why I use my oven for these steps).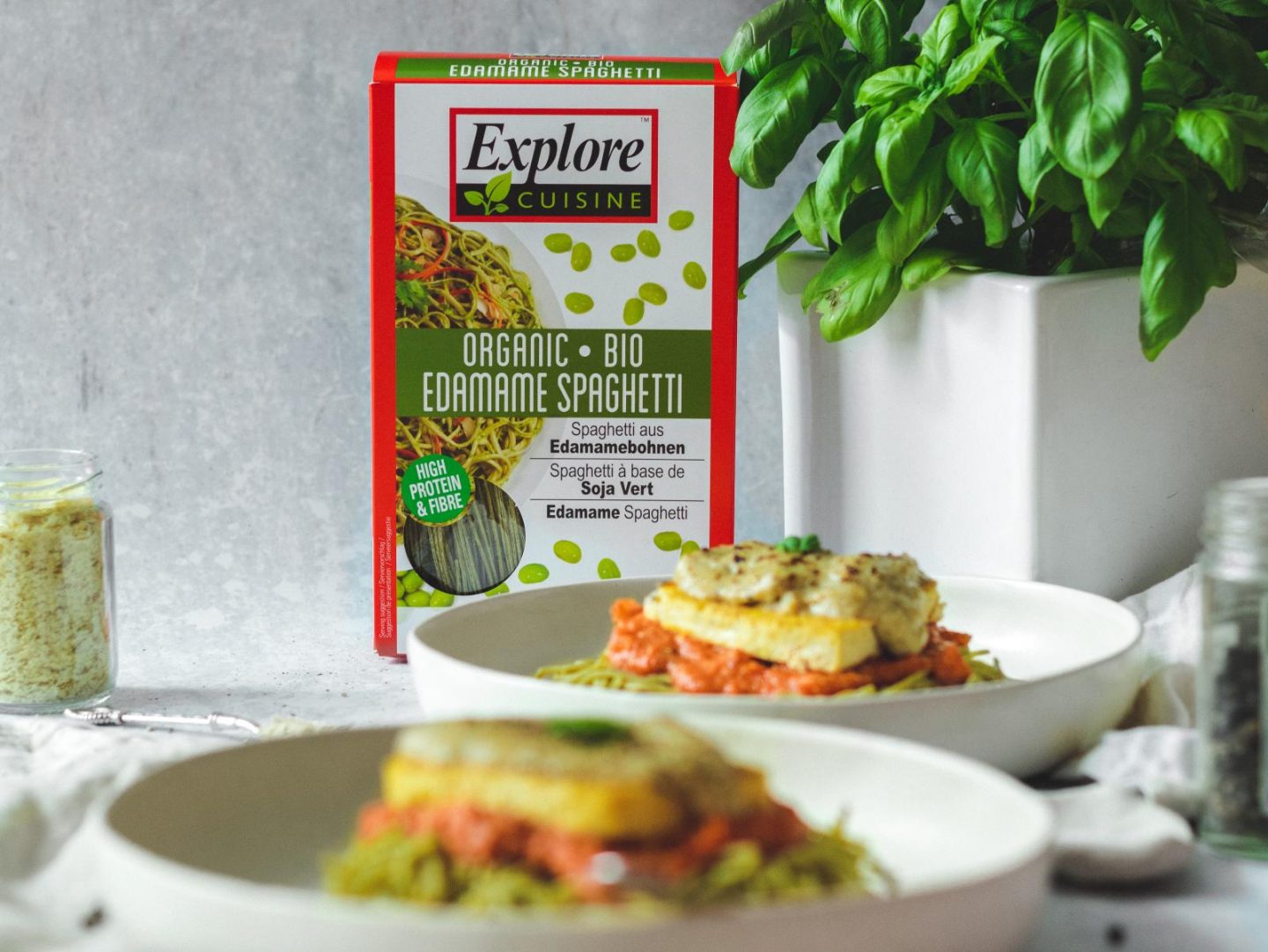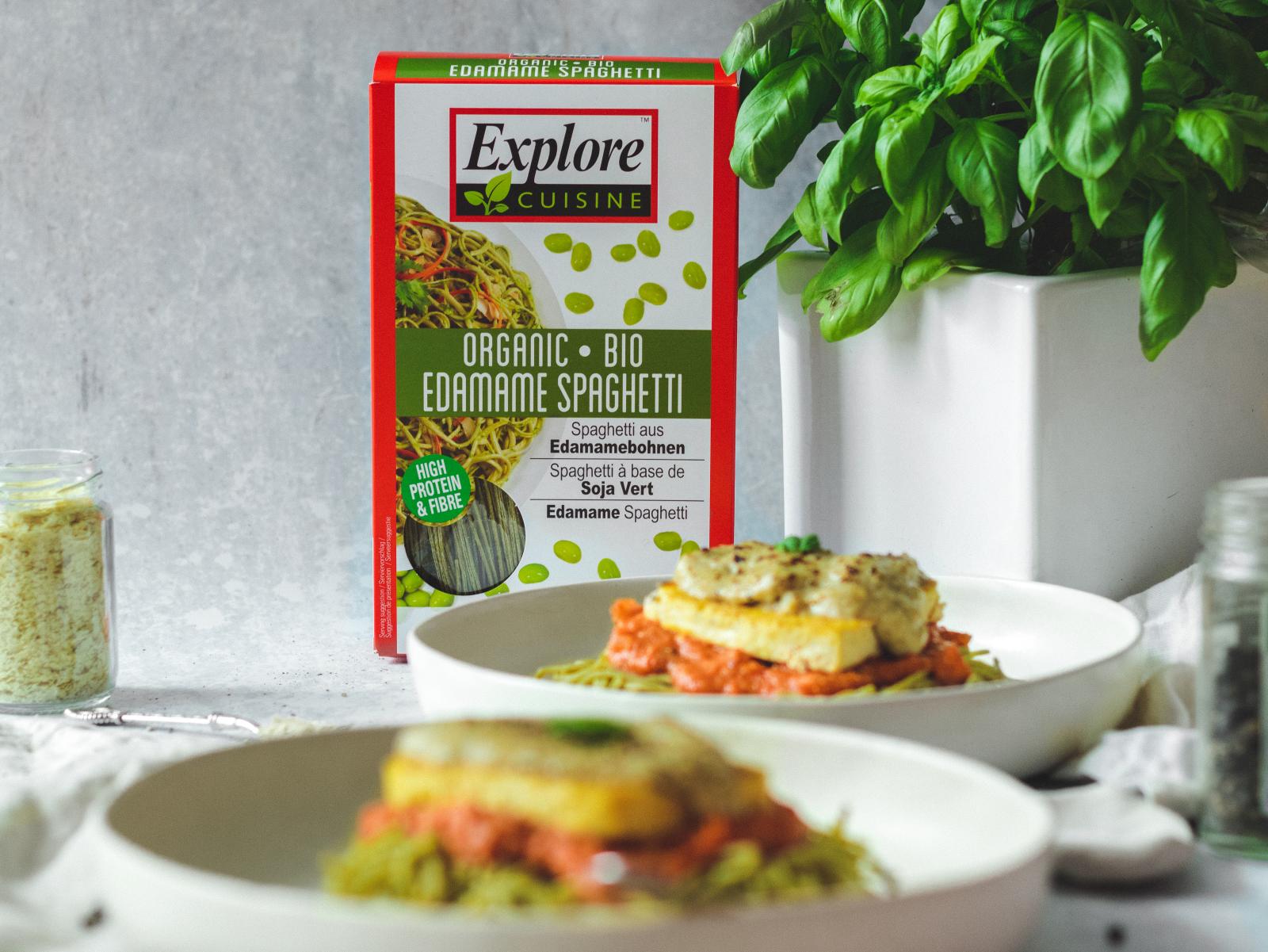 Why bean pasta?
I love using edamame bean pasta in recipes like this Vegan Tofu Parmigiana - it's such a delicious & healthy way to add more protein and fibre to my diet and they're simply so versatile in flavour that they work in a variety of different dishes.
What you'll need to make this Tofu Parmigiana Recipe
Ingredients
Firm tofu, pressed
Garlic powder
Vegan cheese
For the sauce:
Extra Virgin Olive Oil
Onion
Garlic
Dried thyme
Cherry tomatoes
Dried basil
Almond flour
Nutritional yeast
Salt
Equipment
Food processor, or a blender (either countertop or handheld is fine).
If you're looking to buy a blender, I can totally recommend Greenis, they've got a whole range of different blenders to suit your needs. Plus, if you buy from Greenis, you'll be supporting my content by using the link on this page! 😊
How to make this Tofu Parmigiana Recipe
Cooking your Edamame Bean Spaghetti
To start with, cook your Edamame Bean Spaghetti according to the instructions before draining and setting aside.
While you're waiting for your pasta to cook, cut your tofu into two equal 'steaks' before placing them in a small frying pan with a drizzle of oil. Sprinkle some of your garlic powder on top and cook gently until both sides turn golden.
Making your vegan parmigiana sauce
Next, add your diced onion to a large frying pan along with more of your olive oil and cook over medium heat. Add your garlic once they turn translucent and stir together. Once your onions are nice and garlicky, add your thyme, cherry tomatoes, dried basil and cook for another 3 minutes before placing everything in a blender or food processor. Give your ingredients a blitz until you're left with a delicious sauce.
Pro Tip: If you've for a stick/handheld blender, you can use that too!
Now that your sauce is ready, pour it back into the original pan and stir in the almond flour and nutritional yeast.
Finishing off your tofu parmigiana
Next, place your vegan cheese on top of your tofu steaks and grill it in the oven for 2 minutes or so. Alternatively, you can also put it in the microwave for 20-35 seconds, just long enough for the cheese to melt.
All you have to do now is assemble your dish. Start with a portion of your Explore Cuisine Edamame Bean Spaghetti then gently pour over some of your parmigiana sauce before topping it off with your tofu steak.
Enjoy!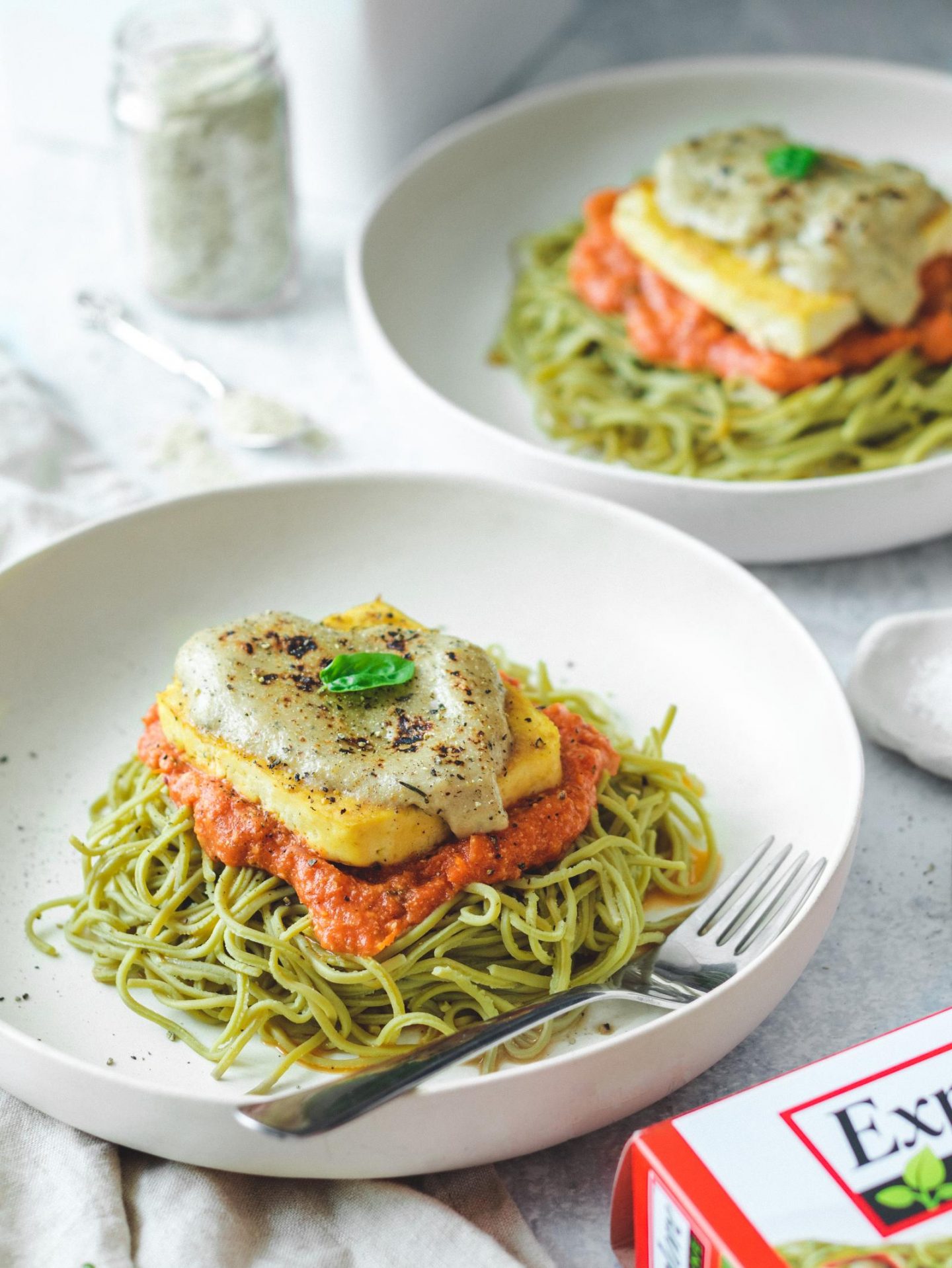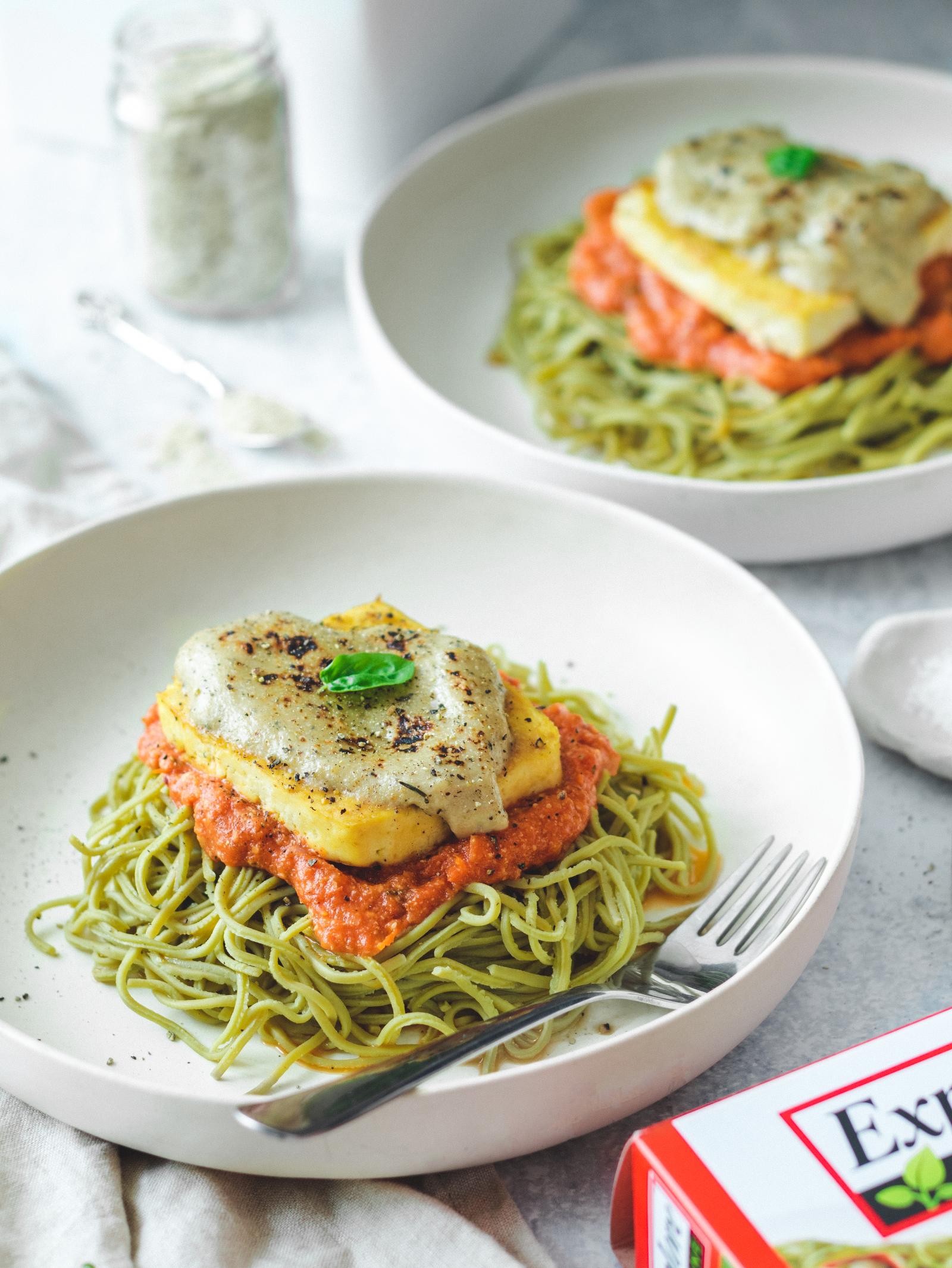 This recipe is:
simple & easy
100% vegan
gluten free
quick to make in 20 minutes or less
suitable for 2 portions
delicious
high in protein
high in fibre
more-ish!
You might also enjoy these tofu recipes:
📌 If you love Pinterest you can pin any of the images to your boards!
Print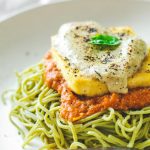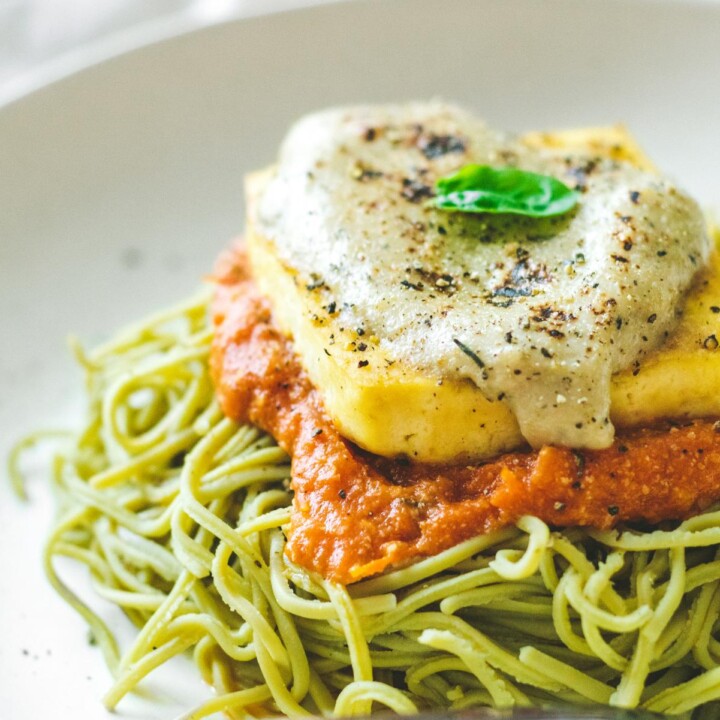 Tofu Parmigiana Recipe
Author:

Prep Time:

10

Cook Time:

10

Total Time:

20 Minutes

Yield:

2

servings

1

x

Category:

Dinner

Method:

Stovetop

Cuisine:

Italian

Diet:

Vegan
---
Description
Getting the taste of Italy into your kitchen! This Tofu Parmigiana Recipe is super easy to create in just 20 minutes, it's high in protein & fibre as I've created it with Explore Cuisine's Edamame Spaghetti, which is naturally gluten free, organic and simply a great way to add more (vegan) protein to your dish.
---
200g

firm tofu, pressed

1 tsp

garlic powder

30g

vegan cheese
For the sauce
1 Tbsp

Extra Virgin Olive Oil

1

large onion, diced

2

cloves garlic, finely chopped

1 Tbsp

dried thyme (or fresh)

1

can cherry tomatoes

1 tsp

dried basil

2 Tbsp

almond flour

2 Tbsp

nutritional yeast
salt, to taste (optional)
---
Instructions
Cook the Edamame Bean Spaghetti according to the packaging instructions, drain and set aside.
In the meantime cut your tofu into 2 'steaks' and add them to a small frying pan with a drizzle of oil, sprinkle the garlic powder on the top and gently cook until golden on both sides.
Add the diced onion to a large frying pan alongside the extra virgin olive oil over medium heat. As the onion becomes translucent, add in the garlic and stir.
Add in the thyme, cherry tomatoes and dried basil and cook for about 3 minutes before transferring to a blender or food processor to blitz it all up into a smooth tomato sauce. You can also use a stick blender at this stage.
Transfer the sauce back to the pan and stir in the almond flour and nutritional yeast.
Top your tofu steaks with the vegan cheese and either grill in the oven for 2 minutes or pop into the microwave for 20-35 seconds (or until the cheese has melted).
Assemble: start with a portion of the Explore Cuisine Edamame Bean Spaghetti, add a serving of the sauce onto the pasta and top the dish with the cheesy tofu.
Buon appetito!
---
Notes
You can replace the tofu with your favourite vegan protein - I find vegan chicken style shreds are a great alternative in case you're not a big tofu lover.
The almond flour adds a great texture to the pasta sauce - alternatively you can also use hazelnut meal.
If you have fresh herbs to hand, feel free to exchange them with the dried ones in this recipe. Fresh always gives the best flavour, however I didn't have any to hand when creating this recipe.
---
Nutrition
Serving Size:

1/2 recipe

Calories:

558

Sugar:

4.6

Sodium:

0.665

Fat:

22.5

Saturated Fat:

5.6

Unsaturated Fat:

5.7

Carbohydrates:

48.6

Fiber:

17.7

Protein:

45.9

Cholesterol:

0
Keywords: vegan parmigiana, tofu parmigiana, vegan parmigiana recipe, explore cuisine spaghetti recipe, high protein vegan meals
Love high-protein vegan pasta dishes? Then you'll love these:
Vegan Carbonara with Smoky Chickpeas
Vegan Pumpkin Linguine Recipe with Capers
Vegan Bolognese Sauce Recipe (with vegan mince)
*Disclosure: This page may contain affiliate links and sponsored links that earn me a small commission, at no additional cost to you. You can find more information in my Privacy Policy.
 © Romy London / Romina Callwitz | All images and content are copyright protected. Please do not use my images and content without permission. If you wish to re-publish any recipes or images, please get in touch via email. Thanks for your support!