Vegan Bolognese Sauce Recipe (with vegan mince) - This classic Italian dish is just the perfect amount of 'Meaty' and delicious, made with store-bought vegan mince and a delicious homemade tomato sauce.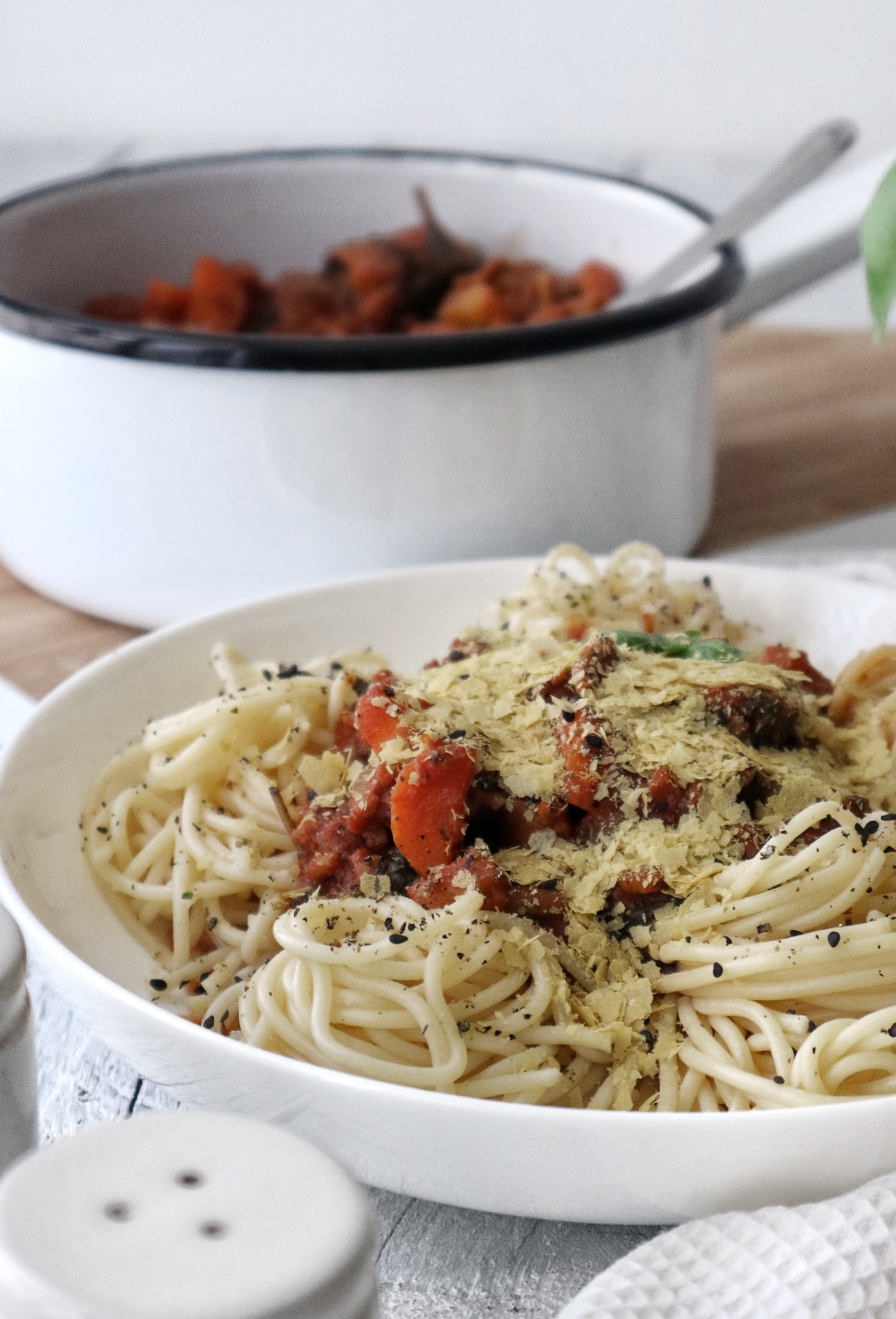 Vegan Bolognese Sauce
Buenos dias! Well, technically I should start this blog post with 'Buon giorno' - as the title tells you already, we're talking all about authentic Italian cuisine here, but well... my head wants what it wants, and today that was saying 'Buenos dias' (Yes, my head is a funny place, you should visit sometime! 😉) If you're following my Instagram account, you may have already seen my recent post with this classic dish! If I had to name the most typical dish I've had in my life, it's probably this one: Meaty Vegan Bolognese Sauce Recipe (with vegan mince)!
Both my parents have a love for Italian food, so Bolognese was a regular part of our shared weekend lunches and dinners - however not a vegan one, as back then even I wasn't living the plant-based life.
Throughout my years of being vegan I've made countless attempts at recreating the perfect vegan Bolognese, but ladies and gentlemen - I have to admit, up until now I've simply not been able to nail the distinct taste of Mum's traditional Bolognese in a vegan version.
Up until now!
And that's the point, cause I am 100% certain I've finally gotten there!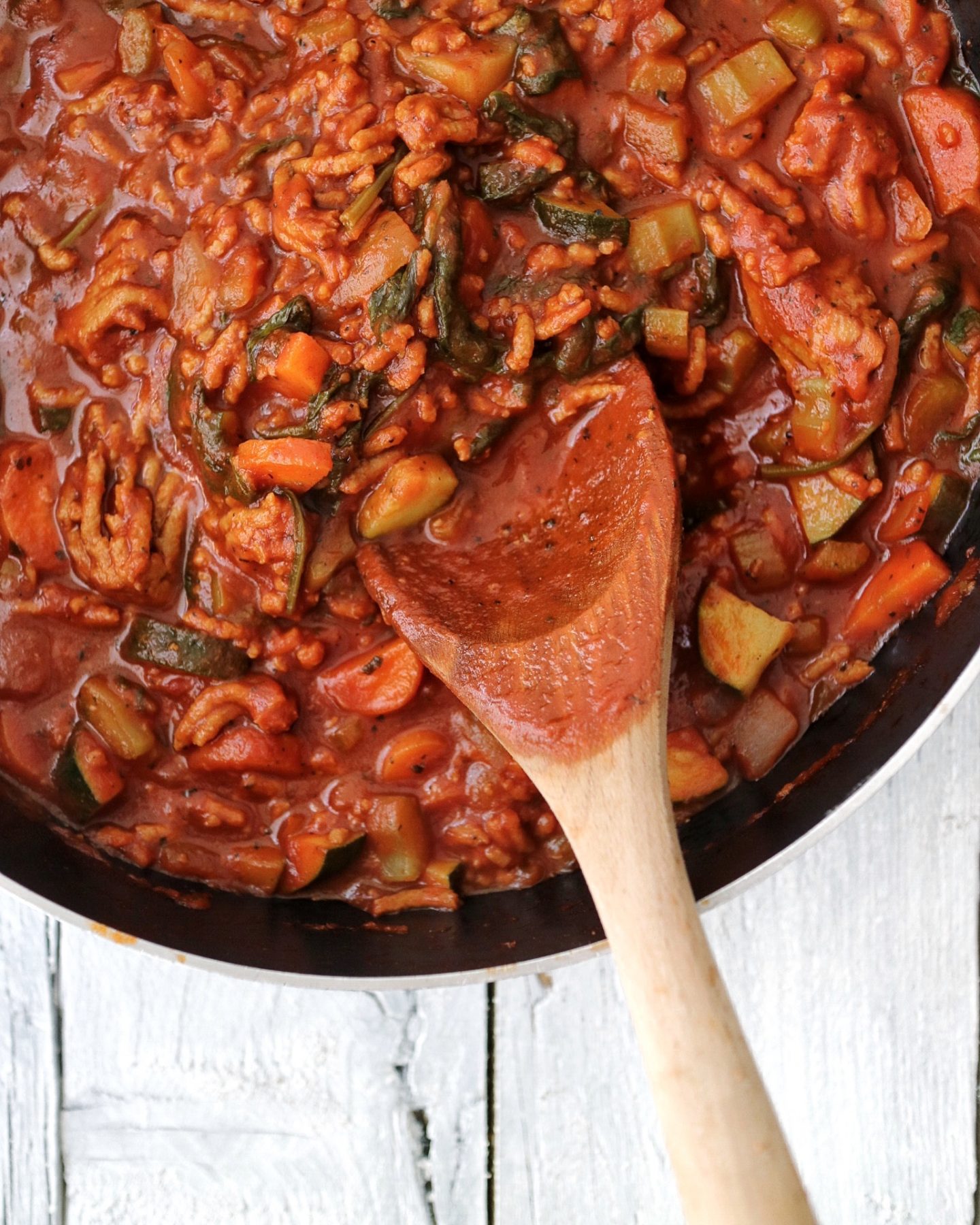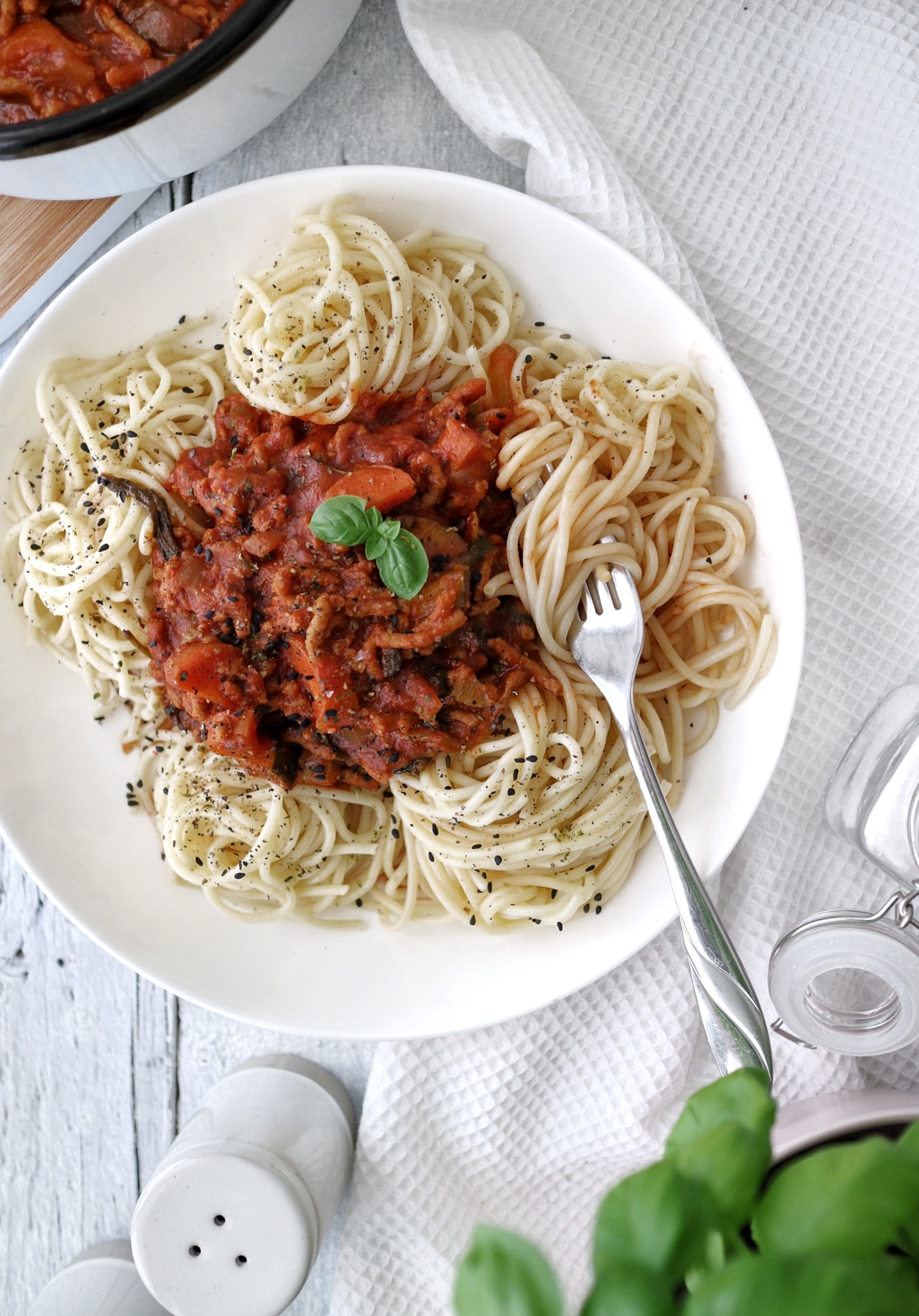 In a typical non-vegan family, Mum's Bolognese was made to Italian tradition: with beef. For my vegan version I therefore always knew: lentils & co make a delicious Bolognese, but it's simply not the traditional flavour and texture that I long for when I crave a good old Spag-Bol.
Earlier this year, the perfect replacement finally launched in the UK: Naturli Mince! You may have already seen in one of my previous blog posts (when I made a bangin' Vegan Bic Mac). It's made from soy protein and does not only look like mince (creepy, right?) but also holds a great texture and flavour when used in this Vegan Spaghetti Bolognese recipe.
It's launched in the Sainsbury's meat aisle earlier this summer - but not all Sainsbury's might have it stocked. My own Sainsbury's local doesn't have it for example - and I myself have to travel a little further (to Chiswick to be precise) to get my hands on the mince and the burger. But oh well, that's what I did, when I craved a good Bolognese, so you must know that this craving was truly an emergency, and funnily it actually came on a Sunday morning and this Vegan Spaghetti Bolognese was a late breakfast, ha!
If you don't have access to a Sainsbury's that stocks this vegan goodness, you can also substitute with your favourite vegan mince. I also like the own-brand vegan mince that Asda offers, so maybe that could be an alternative option for you.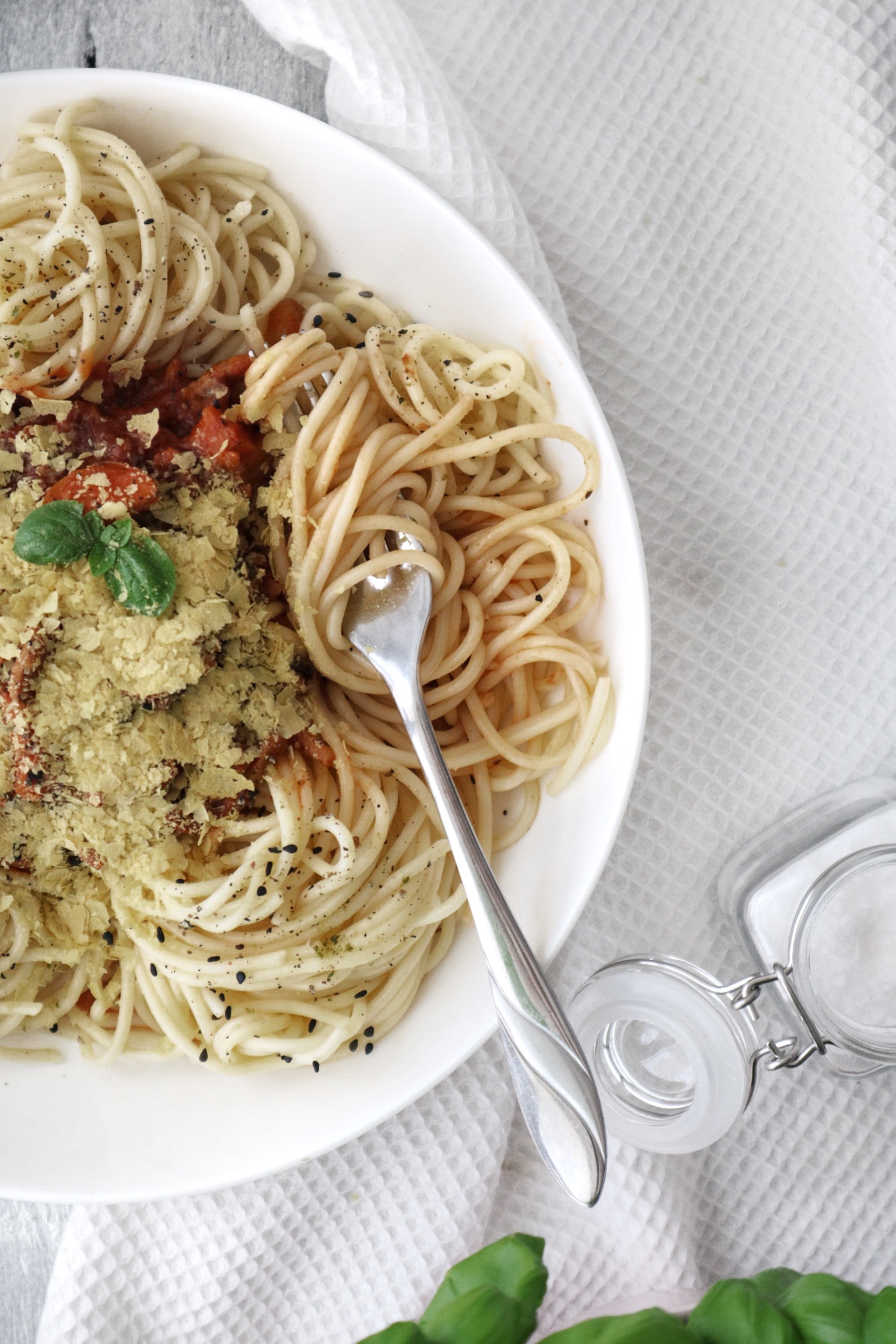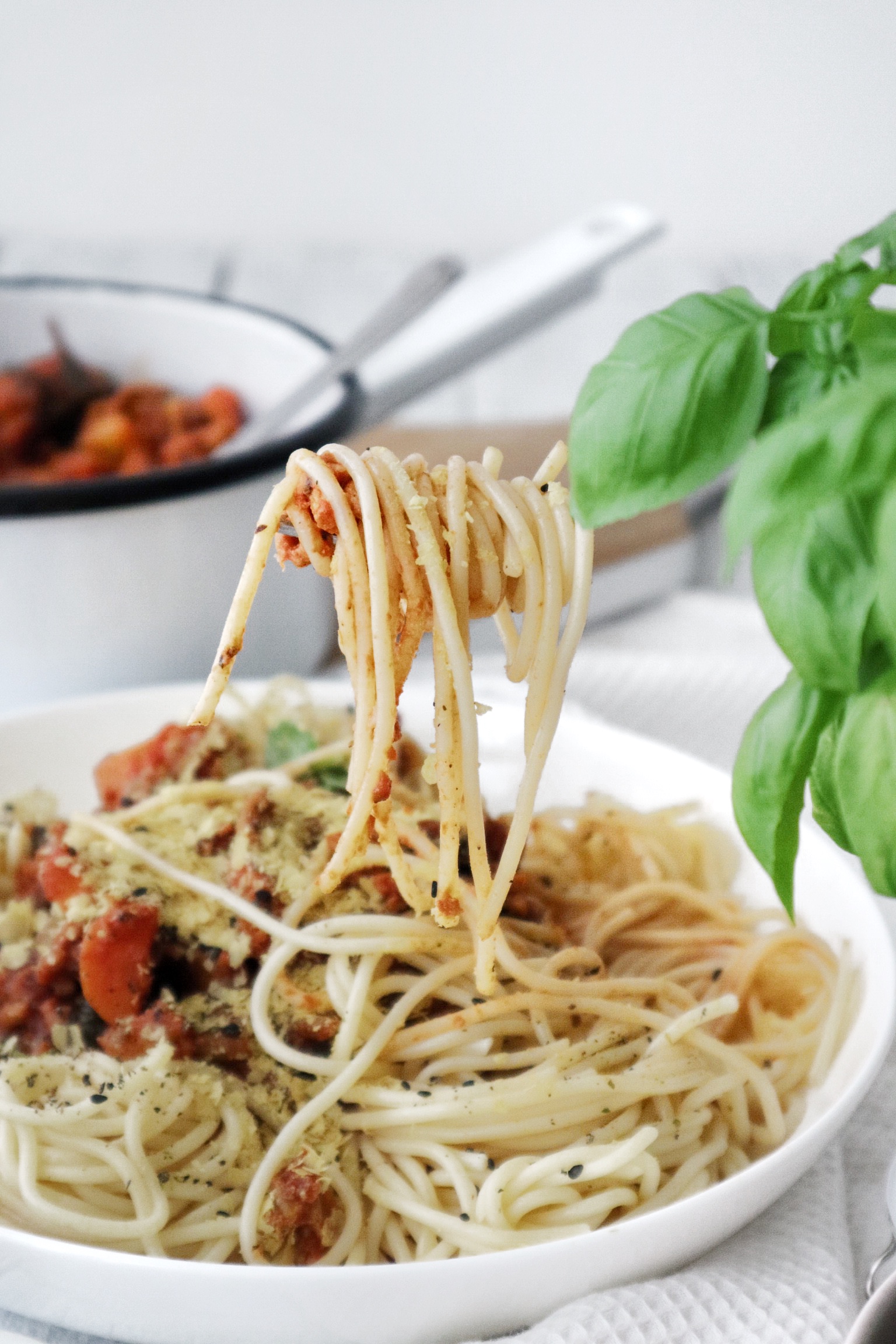 What you'll need to make this Meaty Vegan Bolognese Sauce recipe
Ingredients
Spaghetti
Carrots
Courgette
Yellow onion
Stalks of celery
Olive oil
Spinach
Passata
Basil (fresh if you have some but dried is fine!)
Sea salt
Cinnamon
Thyme
Black pepper
Lemon zest
Sweetener (I used agave, but can be replaced with anything sweet)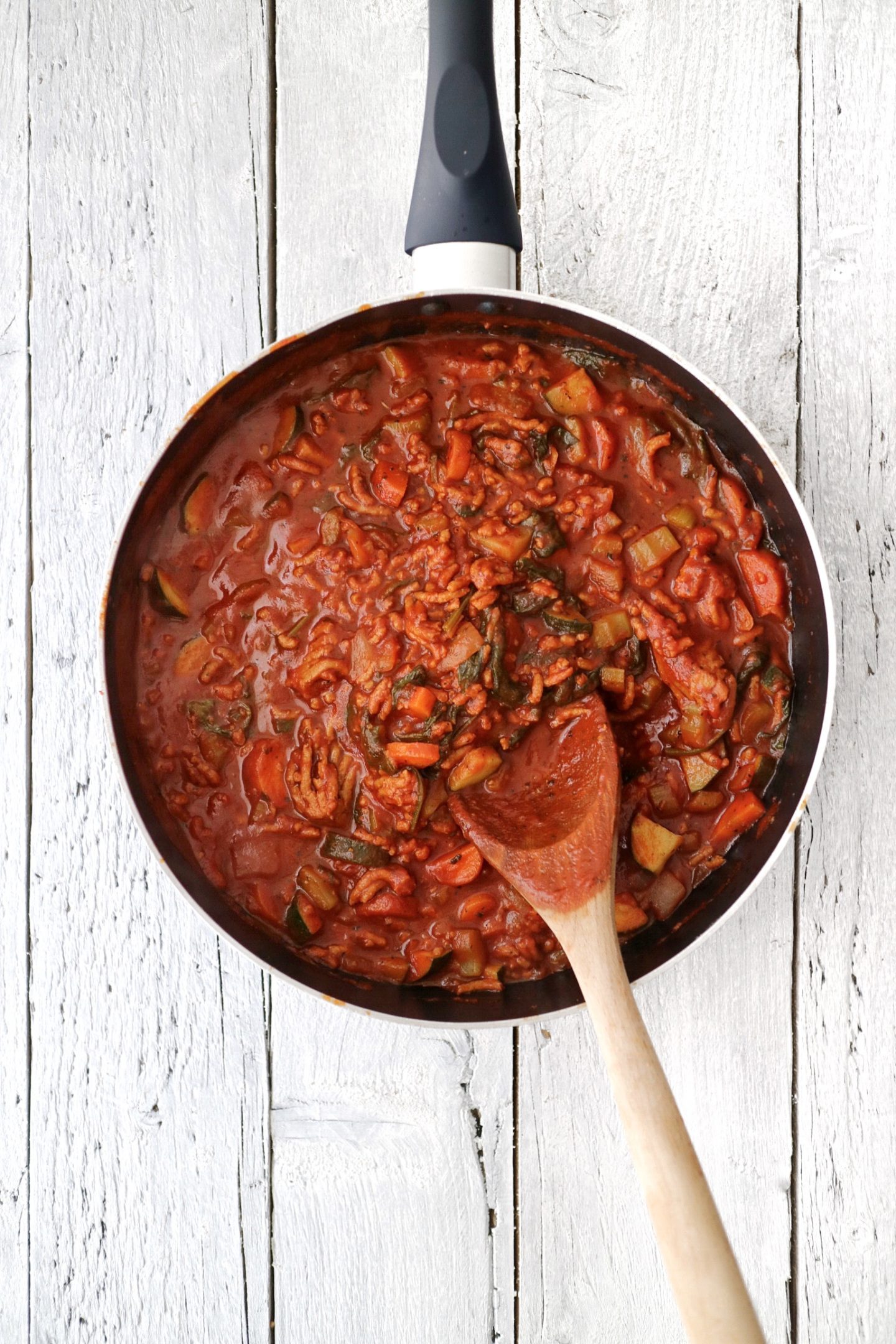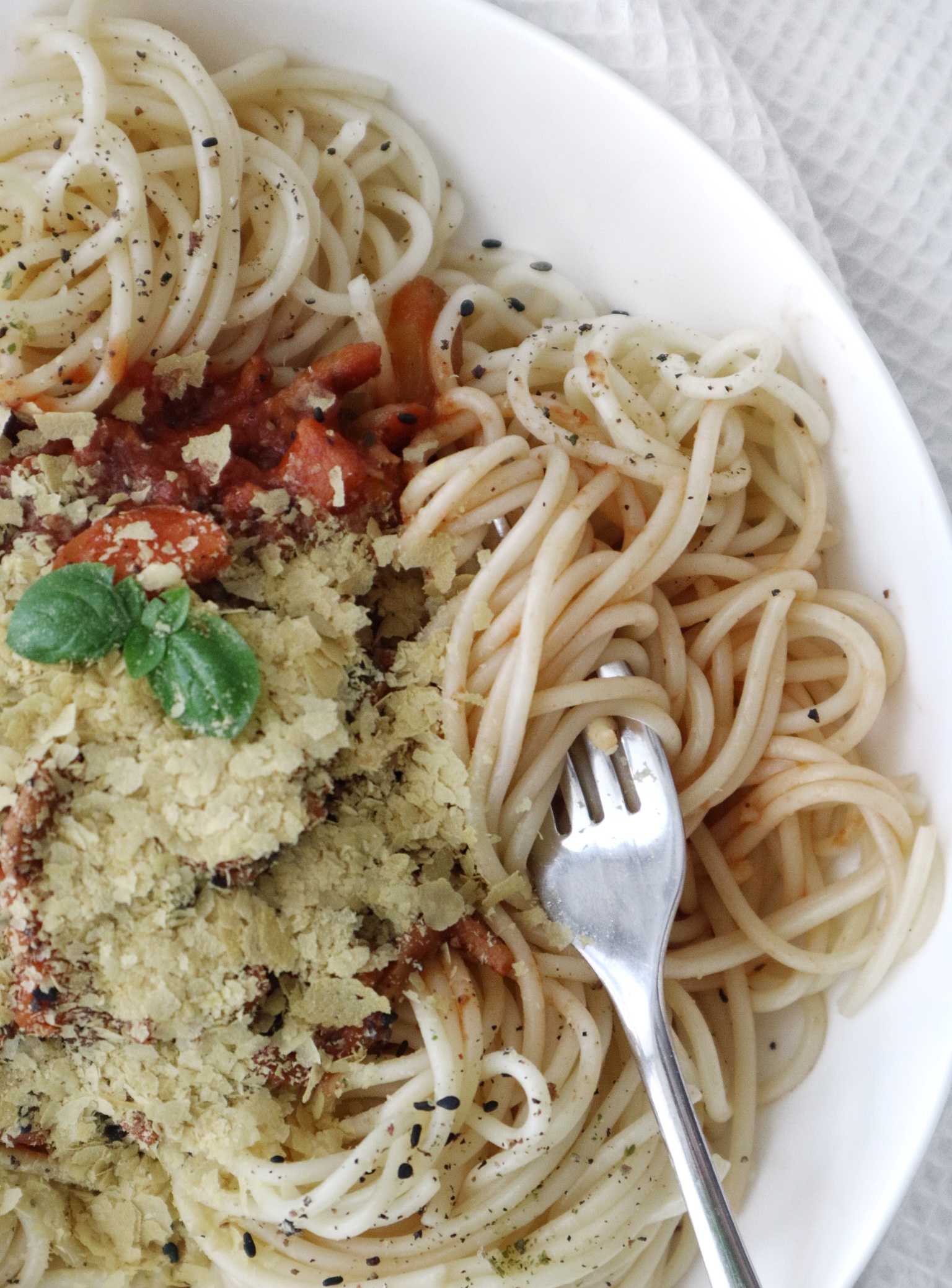 Cooking this flavoursome
Vegan Bolognese Sauce Recipe with vegan mince
To start with, chop up your carrots, courgette, onion and celery into bitesize chunks. Of course, if you don't want anything to be chunky, like onions, then you can chop them more finely - however you prefer. 
Next, get a pot of water boiling and start cooking the spaghetti according to the packet instructions and you can get started on the pasta sauce while you're waiting.
How to make vegan Bolognese sauce
To make a start with the sauce, you'll want to add your olive oil to a large pan along with the onion and cook on medium heat. Cook the onion until it starts to go translucent, then throw your other chopped veg and fry it all together for about 5 minutes.
Next, add your pack of Naturli Mince and break it up with a spoon. Fry the mince for about 5 minutes, with the other ingredients, and stir regularly to ensure it doesn't burn. After that, turn the heat down and add your spices.
For the next step, pour in your passata and give it a good stir. If the mince comes out dry, add a little water to the mix before adding your lemon zest and sweetener to the pan and continue to mix it all together.
Now that the base of your Bolognese sauce is ready, leave it to cook—with the lid on—for 20 minutes, stirring occasionally. While you're waiting, your spaghetti should be cooked.
Serving your spaghetti Bolognese
Assemble your pasta and sauce onto a plate or into a bowl and voila! I love to add a splash of olive oil and a lot of nutritional yeast for a finishing touch, but that's all up to you!
Extra Tip: The Bolognese also freezes very well - simply let it cool down & transfer it to a freezer-safe container. It should be freezing fine for 3-6 months, though I have to admit that it's never lasted that long in my own freezer 😉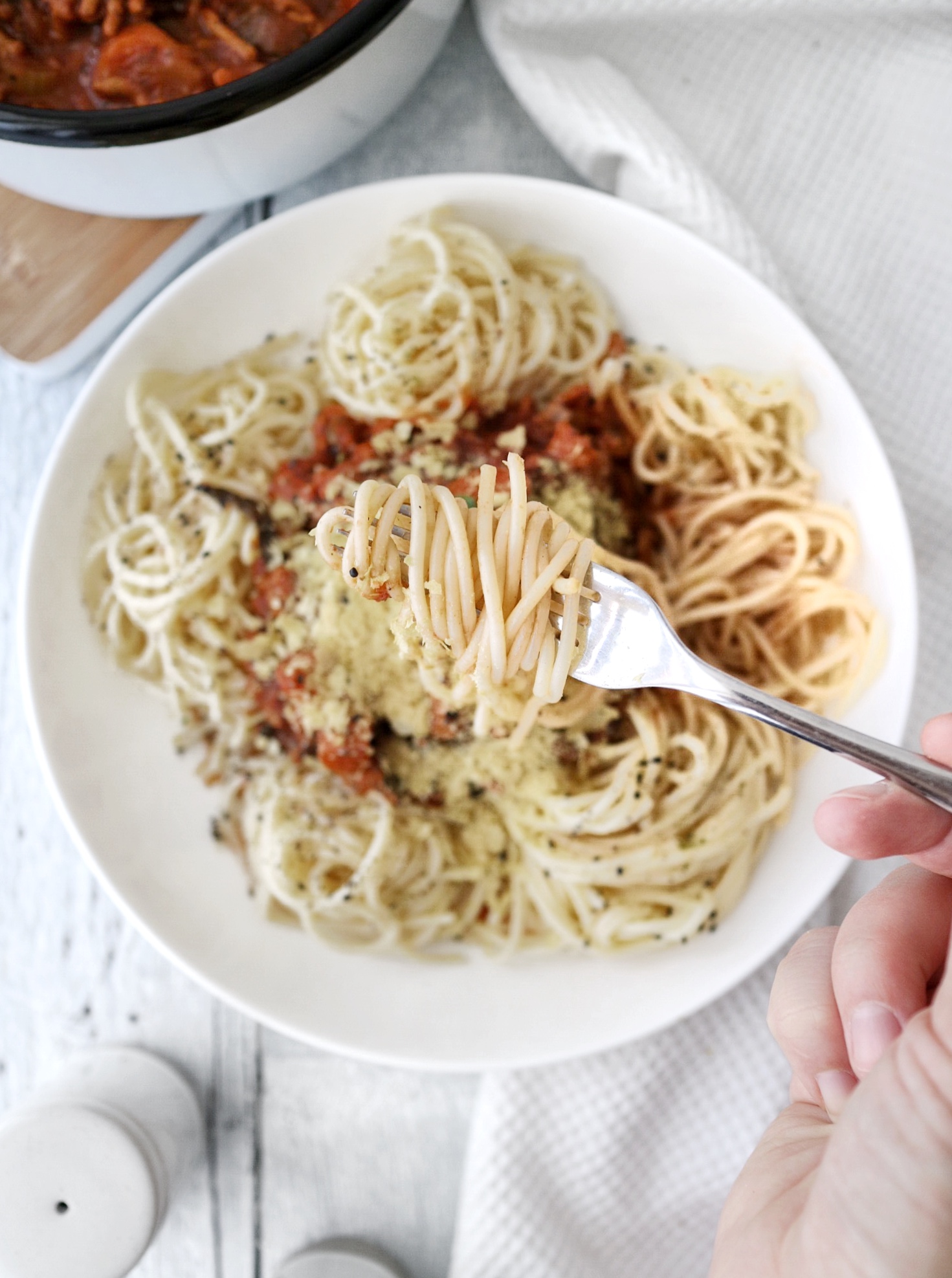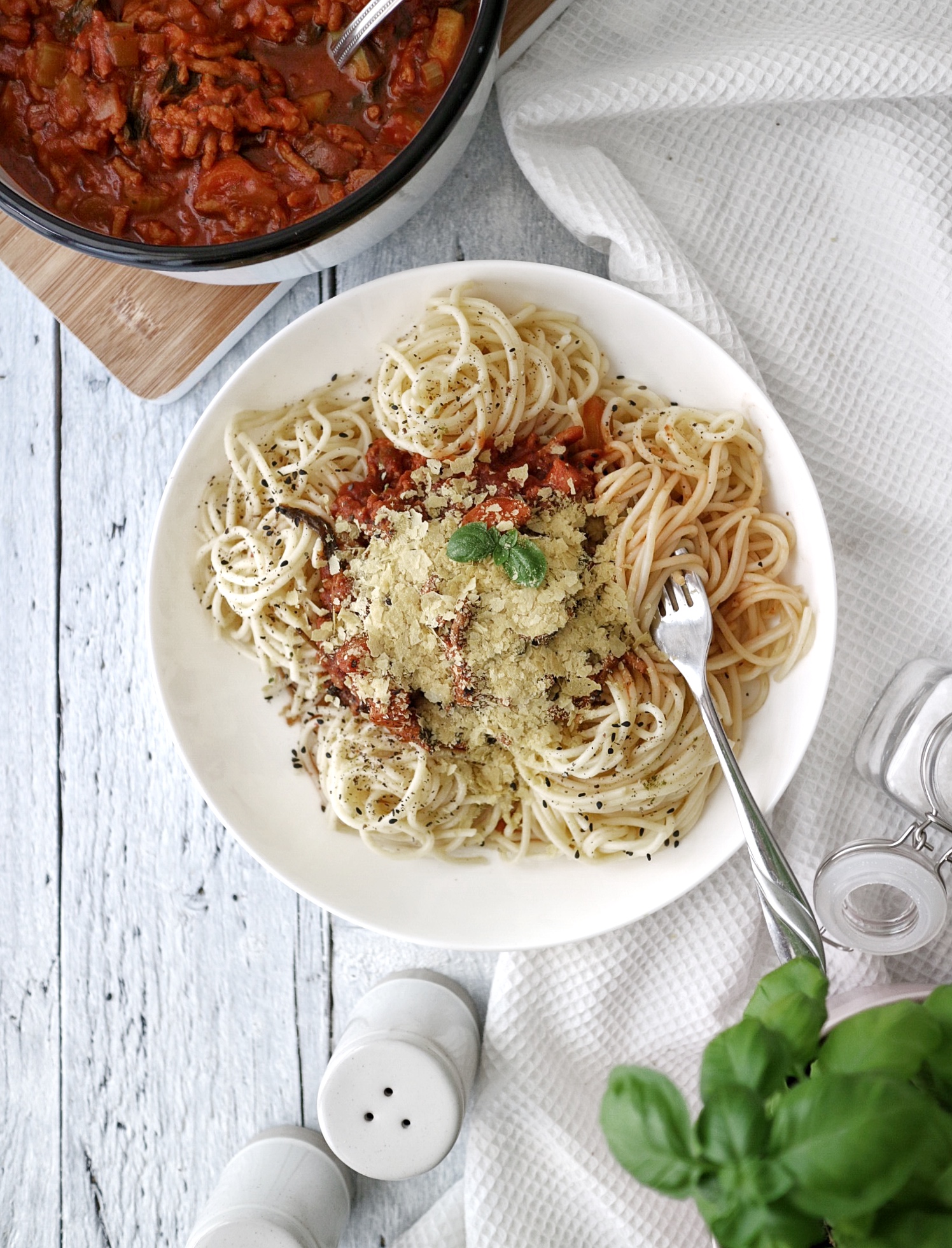 This recipe is:
100% vegan
egg free
dairy free
meat-free
super tasty
really easy to make
an all-time favourite
You might also enjoy these recipes:
If - like me - you love Pinterest, you can find me here & if you like, you can pin any of the images on this page to your boards 😊 
Print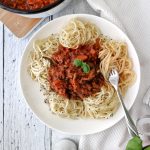 Vegan Bolognese Sauce Recipe (with vegan mince)
Author:

Prep Time:

10

Cook Time:

20

Total Time:

30

Yield:

6

serving

1

x

Category:

Dinner

Method:

Stove top

Cuisine:

Italian

Diet:

Vegan
---
Description
Vegan Bolognese Sauce - This classic Italian dish is just the perfect amount of  'Meaty' and delicious, made with store-bought vegan mince and a flavoursome, homemade tomato sauce.
---
500g

spaghetti

2

carrots

1

courgette

1

yellow onion

2

stalks of celery

1 tbsp

olive oil

1

handful of spinach

500

ml passata

1

pack of Naturli minced

2 tsp

dried basil (or fresh if you have!)
Sea salt to taste

1/4 tsp

cinnamon

1/2 tsp

thyme

1 tsp

black pepper

1/2 tsp

lemon zest

1 Tbsp

sweetener (I used agave, but can be replaced with anything else sweet)
---
Instructions
Start by chopping the carrots, courgette, onion and celery into bitesize chunks. If you're not a fan of chunky onion in your Bolognese, you can of course finely chop it instead.
Cook the spaghetti according to packaging instructions and start on the sauce in the meantime: add the olive oil alongside the onion to a large pan on medium to high heat and fry until the onion starts to become translucent. At this point add the celery, courgette and carrot and fry for another 5 minutes.
Add the pack of Naturli Mince and break it down with a spoon. Fry it for about 5 minutes together with the veggies, stir regularly so it doesn't burn, then reduce the heat to medium and add the spices.
Pour in the passata, then stir well. If the mince comes out a little dry, simply add a little water to the mix. Add the lemon zest & sweetener and combine well.
Cook for about 20 mins on low heat with the lid on the pan and stir occasionally. In the meantime your spaghetti should be cooked.
Assemble on your pasta plate! I personally love adding a little olive oil & some mighty nutritional yeast for a final touch!
Enjoy and watch the happy faces around the dinner table!
---
---
Nutrition
Serving Size:

6 serving

Calories:

359

Sugar:

5.8g

Sodium:

119.6mg

Fat:

6.1g

Saturated Fat:

Fat 0.9g

Unsaturated Fat:

Fat 1.1g

Carbohydrates:

64.5g

Fiber:

4.1g

Protein:

12.2g

Cholesterol:

0mg
Keywords: Vegan Spaghetti Bolognese Recipe, Vegan Bolognese Sauce Recipe (with vegan mince), meaty bolognese recipe, vegan bolognese
Interested in seeing some more tasty pasta dishes? Check out some of my favourites below:
*Disclosure: This page may contain affiliate links that earn me a small commission, at no additional cost to you. You can find more information in my Privacy Policy.
© Romy London / Romina Callwitz | All images and content are copyright protected. Please do not use my images and content without prior permission. If you wish to re-publish this recipe, please get in touch via email. Thank you so much for supporting romylondonuk.com!