Delicious crispy sticky balsamic tofu - the addition you wish you had with every buddha bowl! Quick & easy to create with only a few simple ingredients. Enjoy!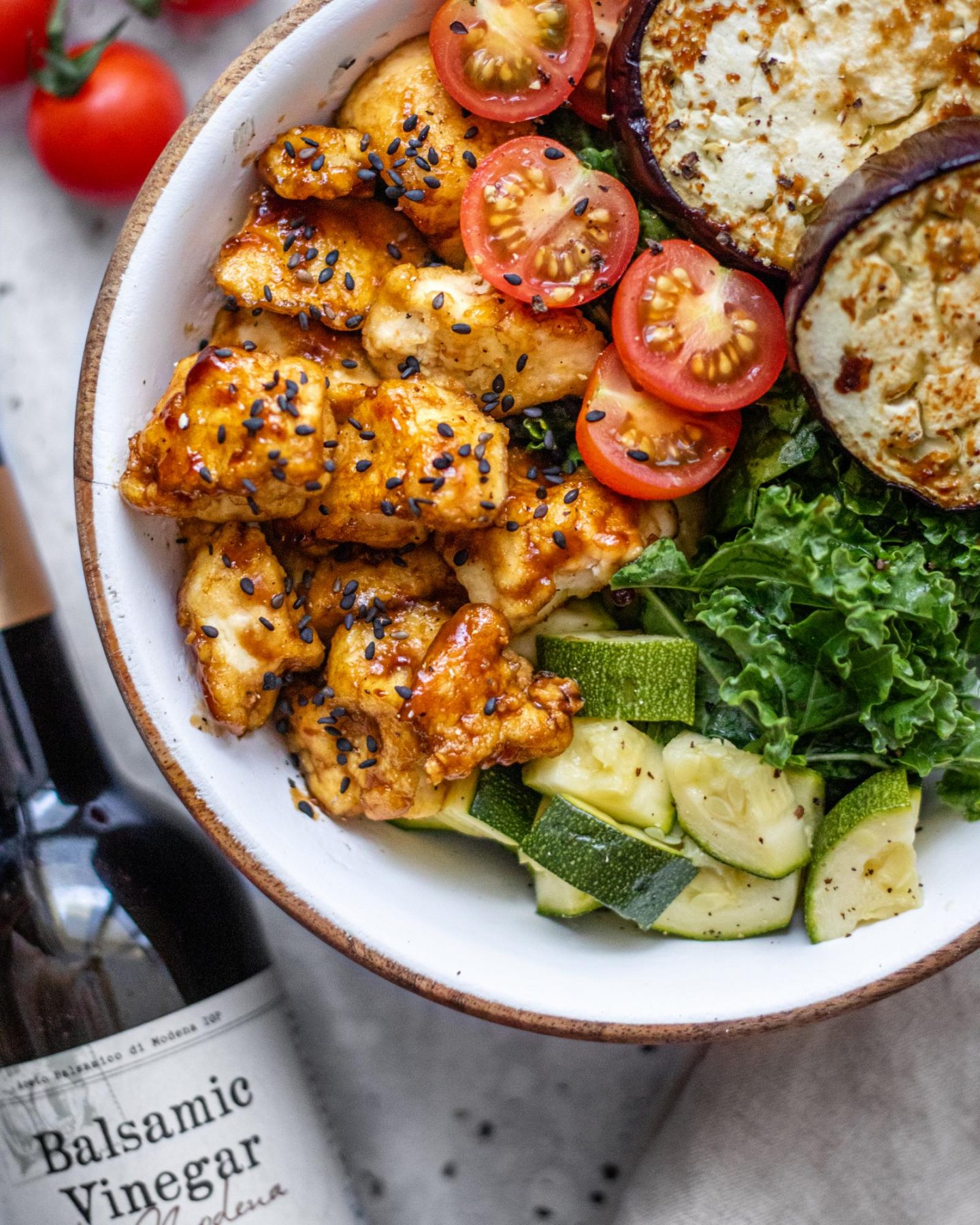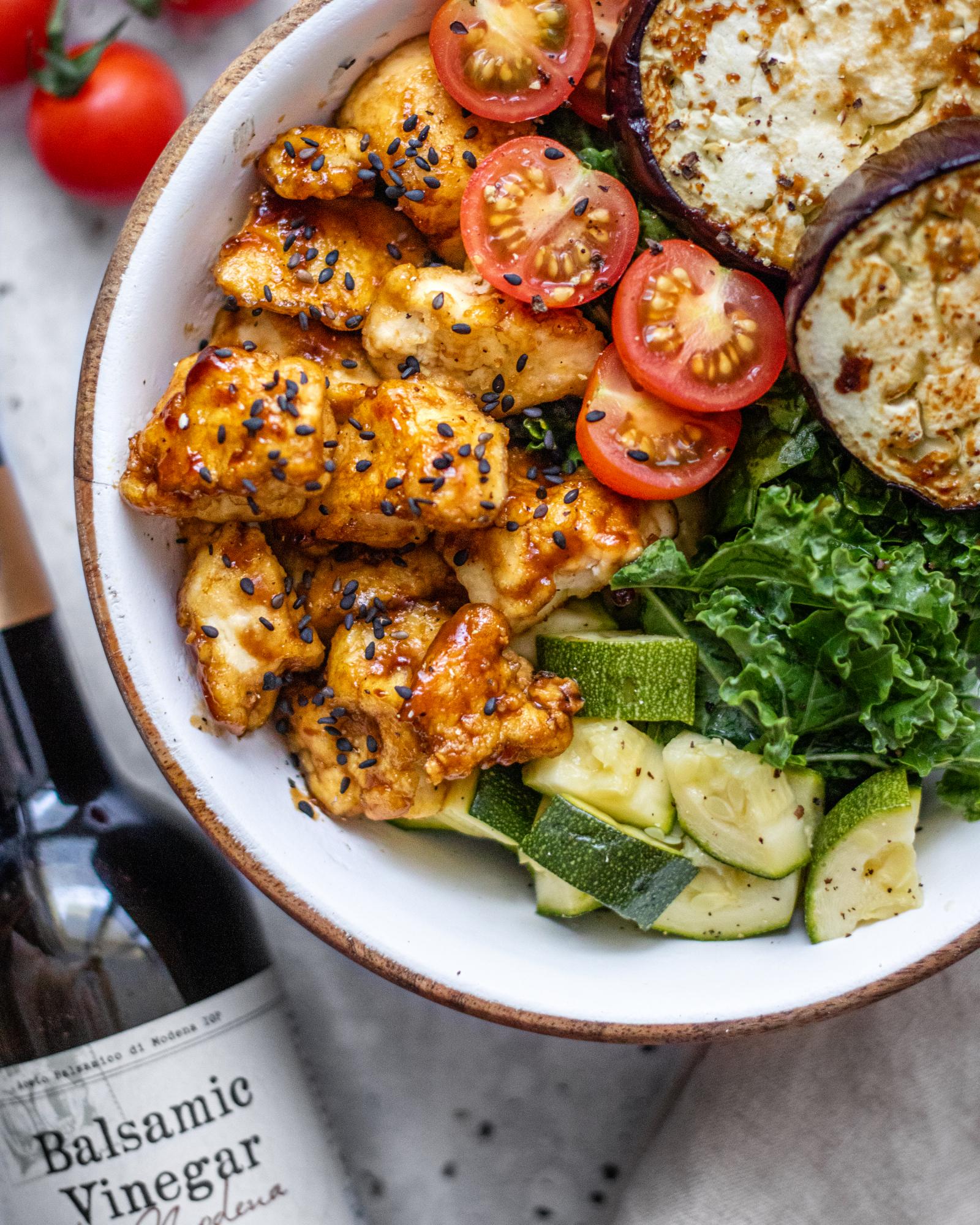 Sticky Balsamic Tofu Recipe
This recipe for Sticky Balsamic Tofu shows you how to create the perfect crunchy consistency for your tofu bites, deliciously drenched in a sweet & salty sauce with a slightly sour undertone.
I couldn't quite believe it myself - so many recipes on my blog and not a single one including tofu! And to be honest: that's quite an oddity. After all, I eat tofu on an almost daily basis, so it was clear that I had to change something about the lack of tofu related recipes on my blog.
Personally, I'm a self-diagnosed tofu addict. I simply love it's versatility as it allows me to get creative and invent the flavour by myself. Tofu can also have so many different textures depending on how you prepare it - and making crispy bites such as these sticky balsamic tofu bites has simply become one of my favourite ways to eat tofu in recent times.
How to create crispy tofu
The secret in getting the tofu crisp just right lies in a simple ingredient: corn flour. Okay, maybe the technique plays a role as well, but the cornflour is what created the crunchy crust on the outside of your tofu chunks, so its importance shall not be missed in creating deliciously crispy tofu bites. I usually stay away from tofu recipes that call for a light 'dusting' with cornstarch as I like to go all out to create the ultimate crisp feast when I cook my tofu. So if you're looking to get it just right, don't be scared of adding a little too much corn-flour coating.
When it comes to the technique, it's important that your pan and the oil within it is at a high temperature by the time to add your corn-floured tofu. You should be hearing an instant sizzle as soon as the tofu touches the pan - and you'll know you've done it all right. What happens if the pan and oil is not hot enough? Well, let me simply tell you: You're gonna get greasy, mushy tofu bites instead - and that's not what you're after, is it?
I love to use toasted sesame oil to try my tofu - I'm simply obsessed with the toasted, nutty flavour, but if it's not your thing, feel free to use more flavourless cooking oil, such as rapeseed.
Throughout the frying process ensure to flip your tofu bites regularly, so they can evenly crisp on all sides. I recommend using chopsticks for the flipping process - they make it so much easier to flip everything in the pan and to ensure no burnt tofu edges.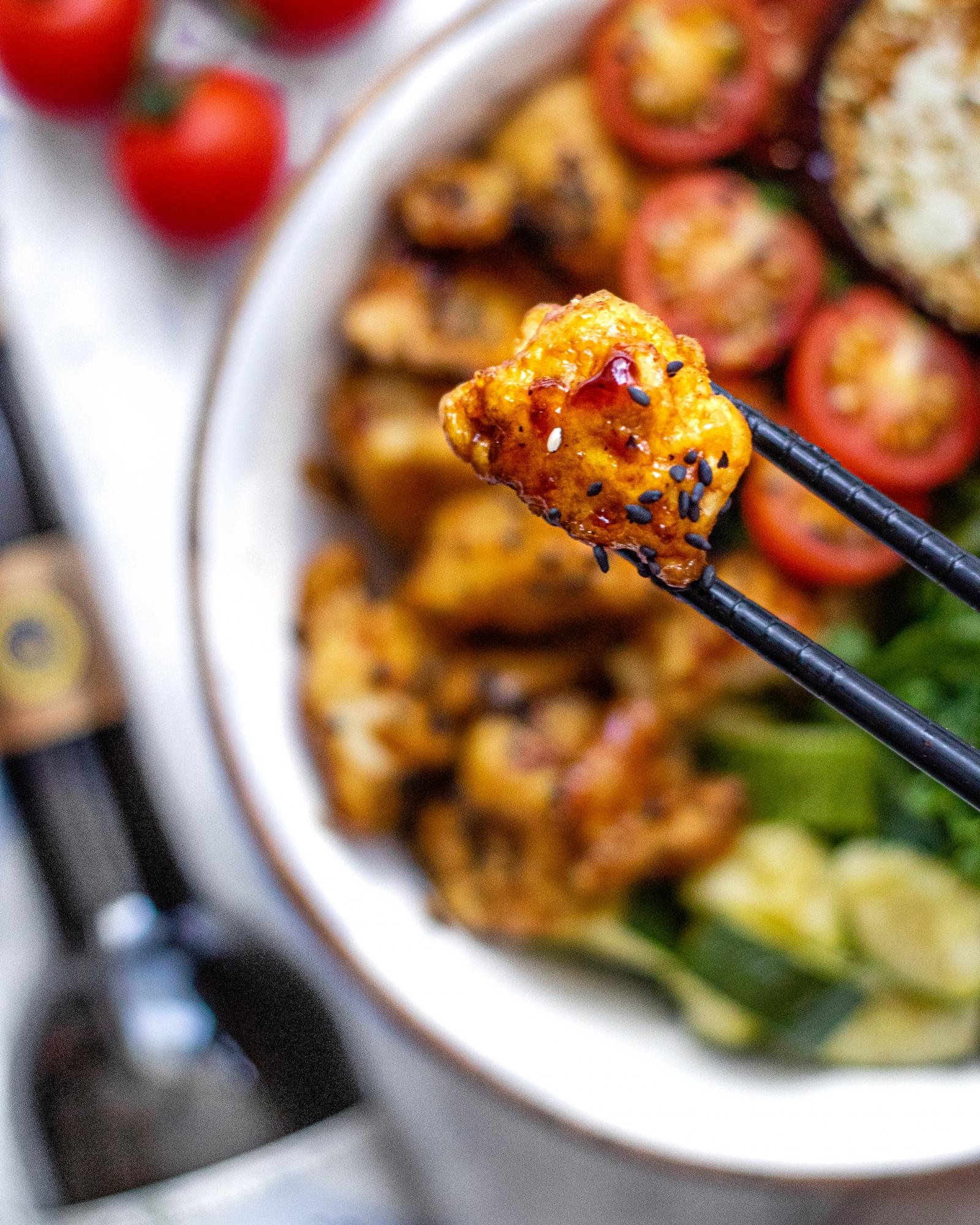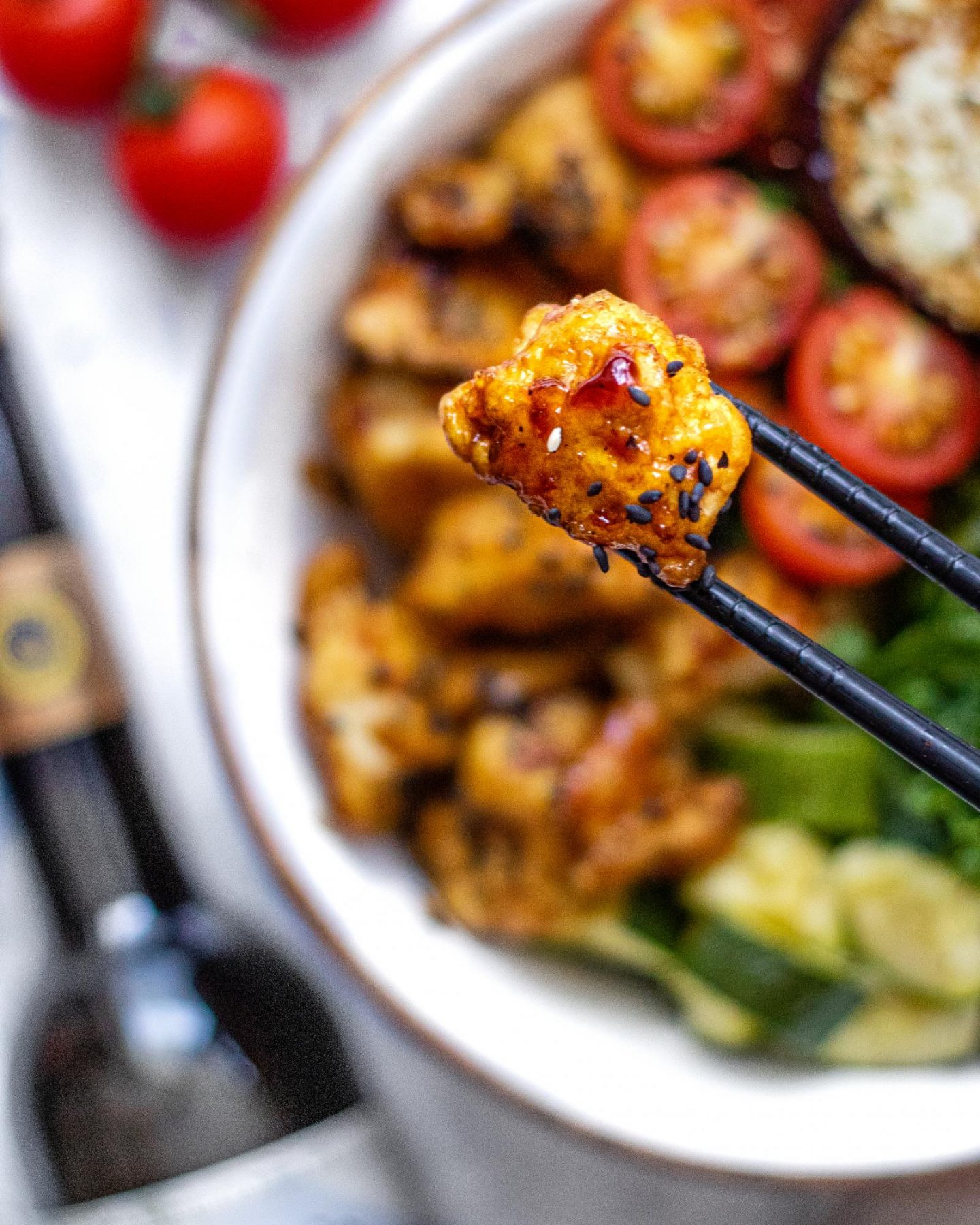 Creating the sticky balsamic tofu sauce
The sauce part of the recipe is probably the simplest: simply combine all ingredients, shake well and add to the tofu. My recommendation for blending the sauce ingredients would be to mix the water & cornflour first, then add the rest of the sauce ingredients - preferably in a small jar with a lid, then shake well until combined.
Once the tofu is crispy and golden all around, simply pour the sauce into the hot pan and turn off the stove. Gently toss the tofu bites in the sauce and remove the pan from the hot stovetop after about 30-60 seconds. You will see the sauce thicken and caramelising, creating the wonderfully sticky & delicious part of this sticky balsamic tofu recipe.
This recipe is:
vegan
gluten free
super crunchy & crispy
simple & easy to re-creating
using simple ingredients
fool-proof
delicious
more-ish
addictive
high in protein
low carb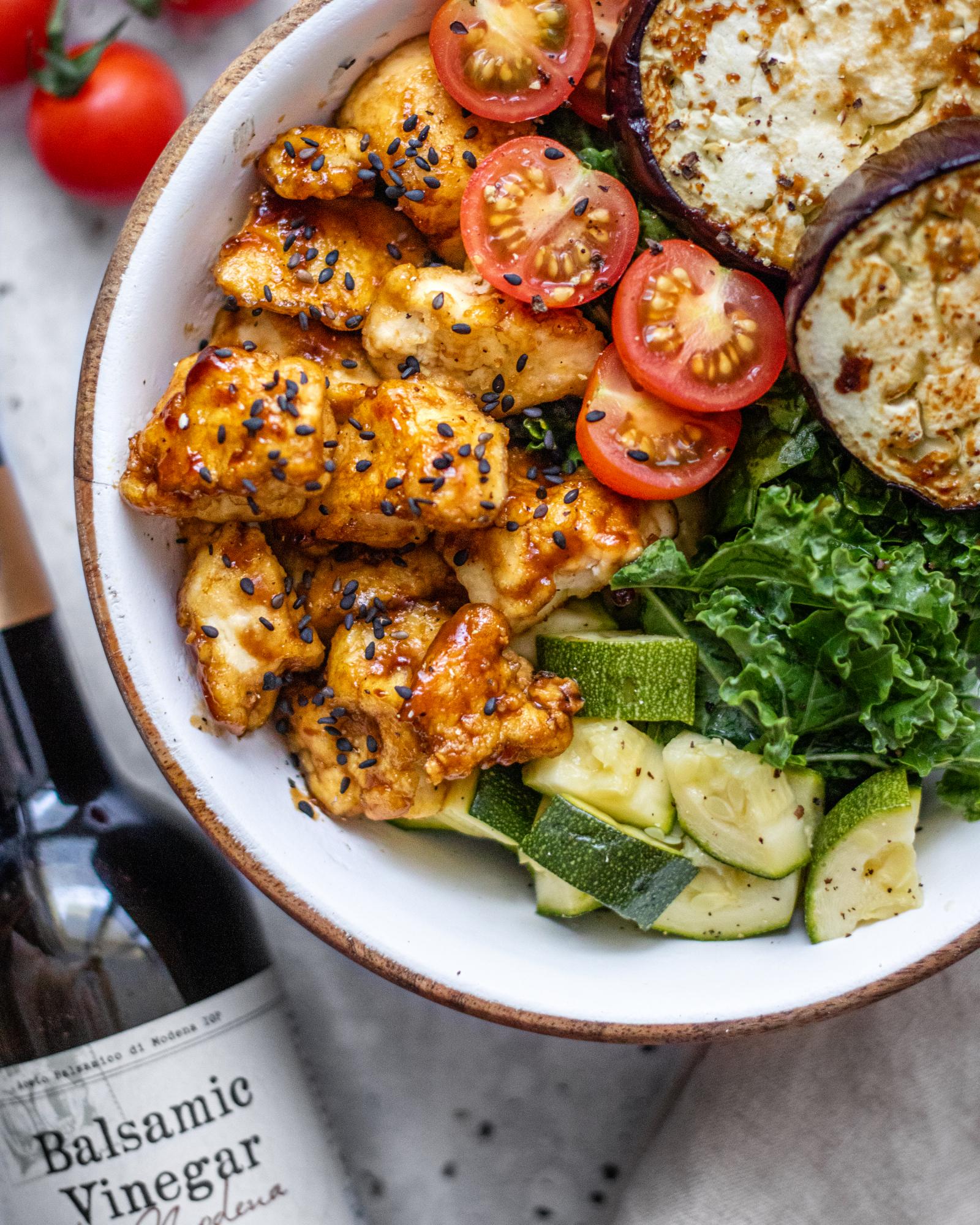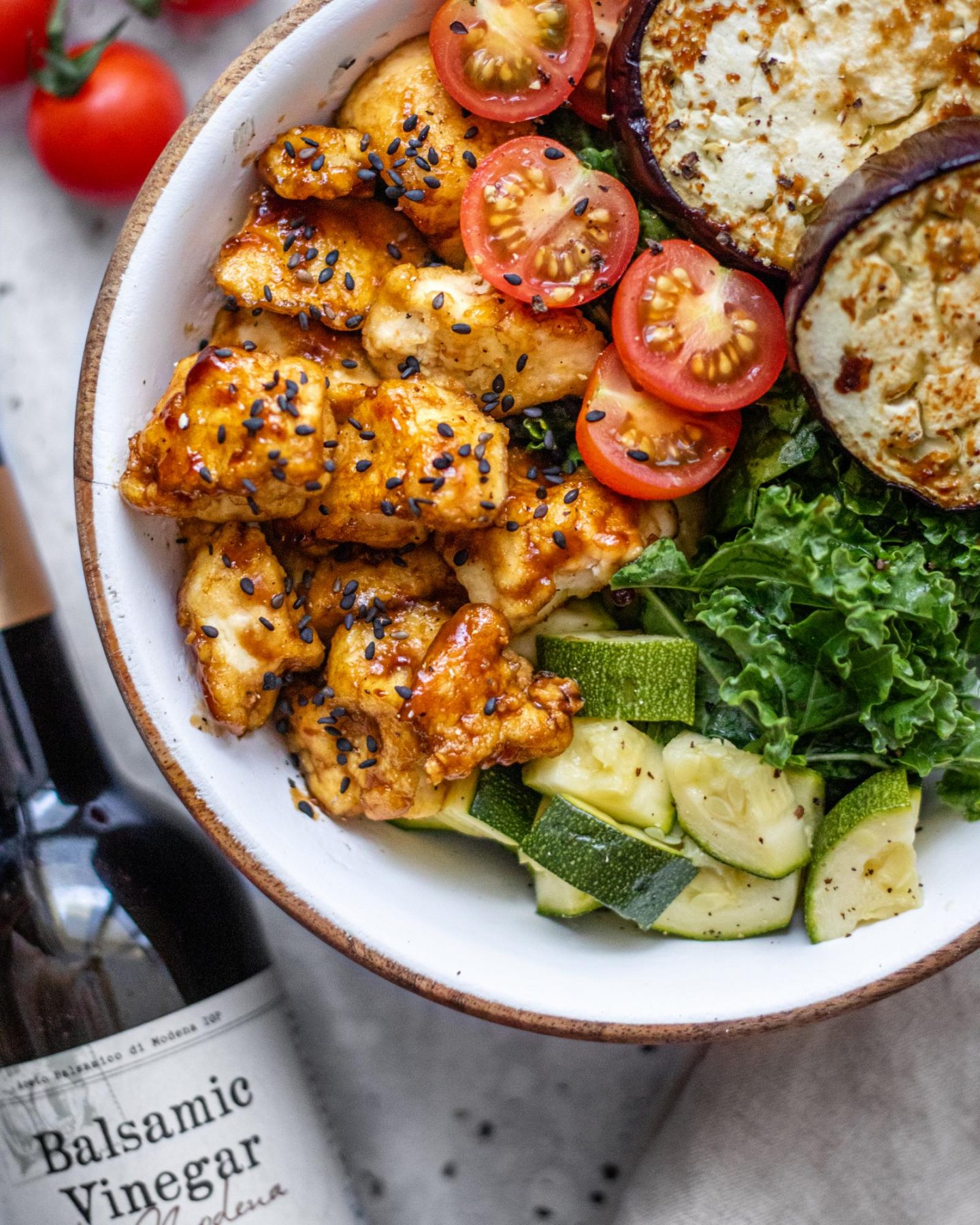 You might also enjoy these recipes:
📌 If you love Pinterest you can pin any of the images to your boards!
Print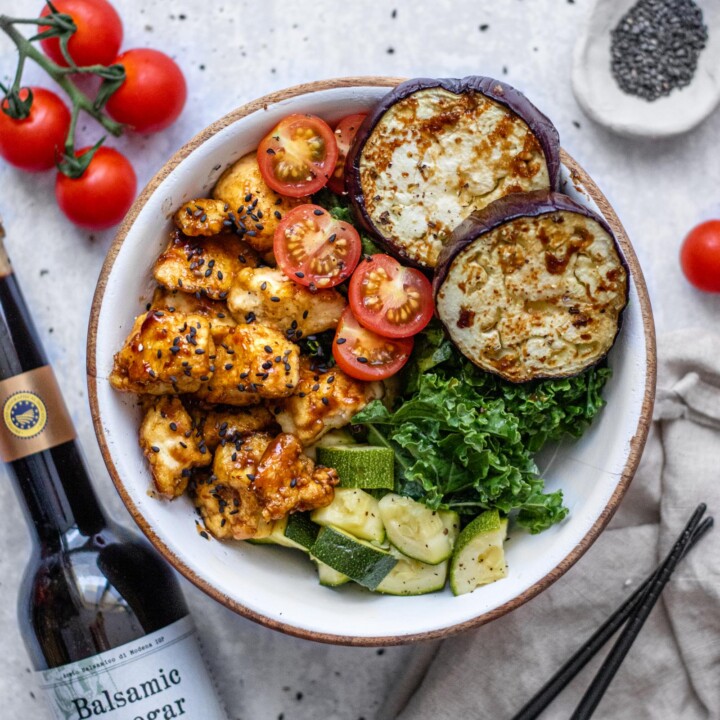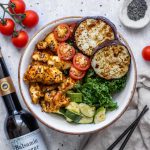 Sticky Balsamic Tofu
Author:

Prep Time:

10 Minutes

Cook Time:

10 Minutes

Total Time:

20 Minutes

Yield:

2

portions

1

x

Category:

Tofu

Method:

Panfried

Cuisine:

British

Diet:

Vegan
---
Description
Delicious crispy sticky balsamic tofu - the addition you wish you had with every buddha bowl! Quick & easy to create with only a few simple ingredients. Enjoy!
---
180g

extra firm tofu

2 Tbsp

cornstarch

2 Tbsp

toasted sesame oil
For the sauce:
1 Tbsp

tamari soy sauce

1/2tsp

garlic powder

1 Tbsp

balsamic vinegar

1 Tbsp

fruit syrup or maple syrup

1/4 tsp

black pepper

1/2 tsp

cornstarch

1 Tbsp

water
---
Instructions
Gently break the tofu apart with your hands into bite-size chunks. In the meantime heat, 2 Tbsp toasted sesame oil in a medium-size pan over medium-high heat.
Add 2 Tbsp of cornstarch to a small bowl and toss the tofu chunks in the cornstarch until lightly covered. The flour will stick to the moisture of the tofu.
Transfer the tofu to the hot pan and pan-fry until crispy on all sides. I like to use chopsticks to flip the tofu throughout the process.
Whilst the tofu is in the pan, prepare the sauce by combining all sauce ingredients in a small jar.
Once your tofu is crispy on all sides, gently pour the sauce over the top (& enjoy the sizzle!), reduce the heat to medium-low and remove the pan from the heat after about 30-60 seconds.
Garnish with sesame seeds & serve immediately. Enjoy!
---
Keywords: tofu, how to cook tofu, crispy tofu recipe, how to make crispy tofu, sticky balsamic tofu, tofu sauce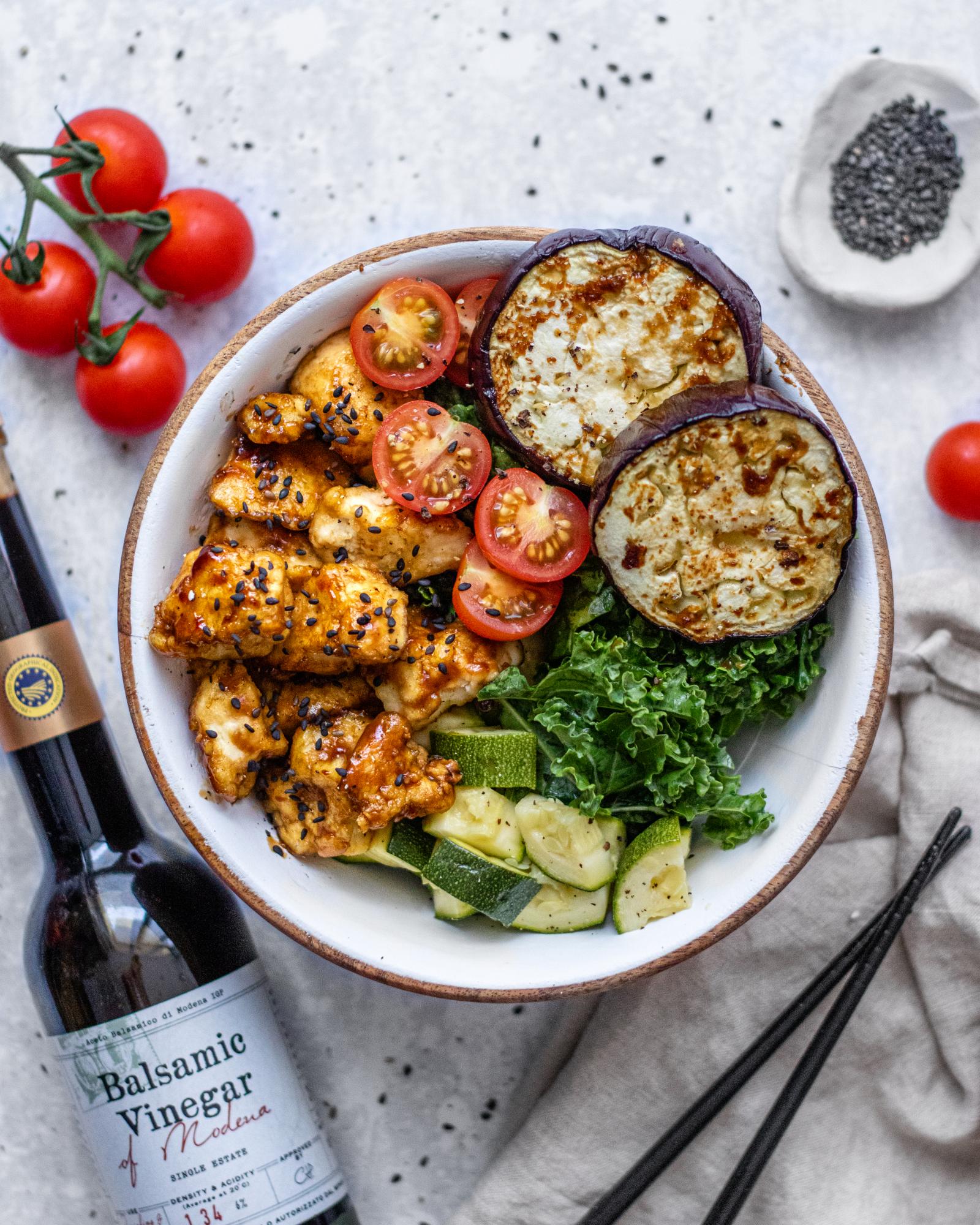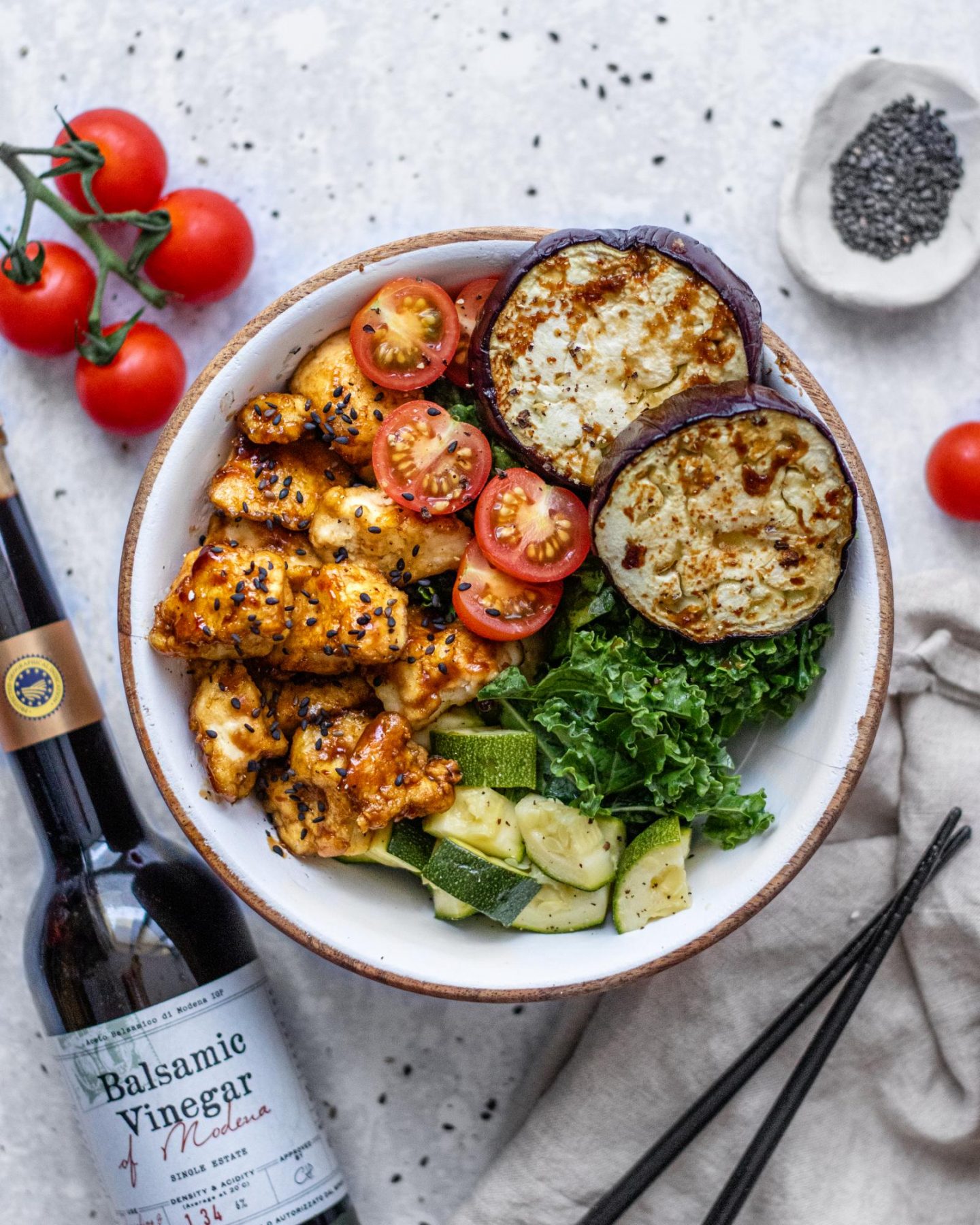 *Disclosure: This page may contain affiliate links and sponsored links that earn me a small commission, at no additional cost to you. You can find more information in my Privacy Policy.
© Romy London / Romina Callwitz | All images and content are copyright protected. Please do not use my images and content without prior permission. If you wish to re-publish this recipe, please get in touch via email. Thank you so much for supporting romylondonuk.com!