Proper 'Italian-style' Vegan Carbonara with Smoke Chickpeas - deliciously 'eggy' and moreish!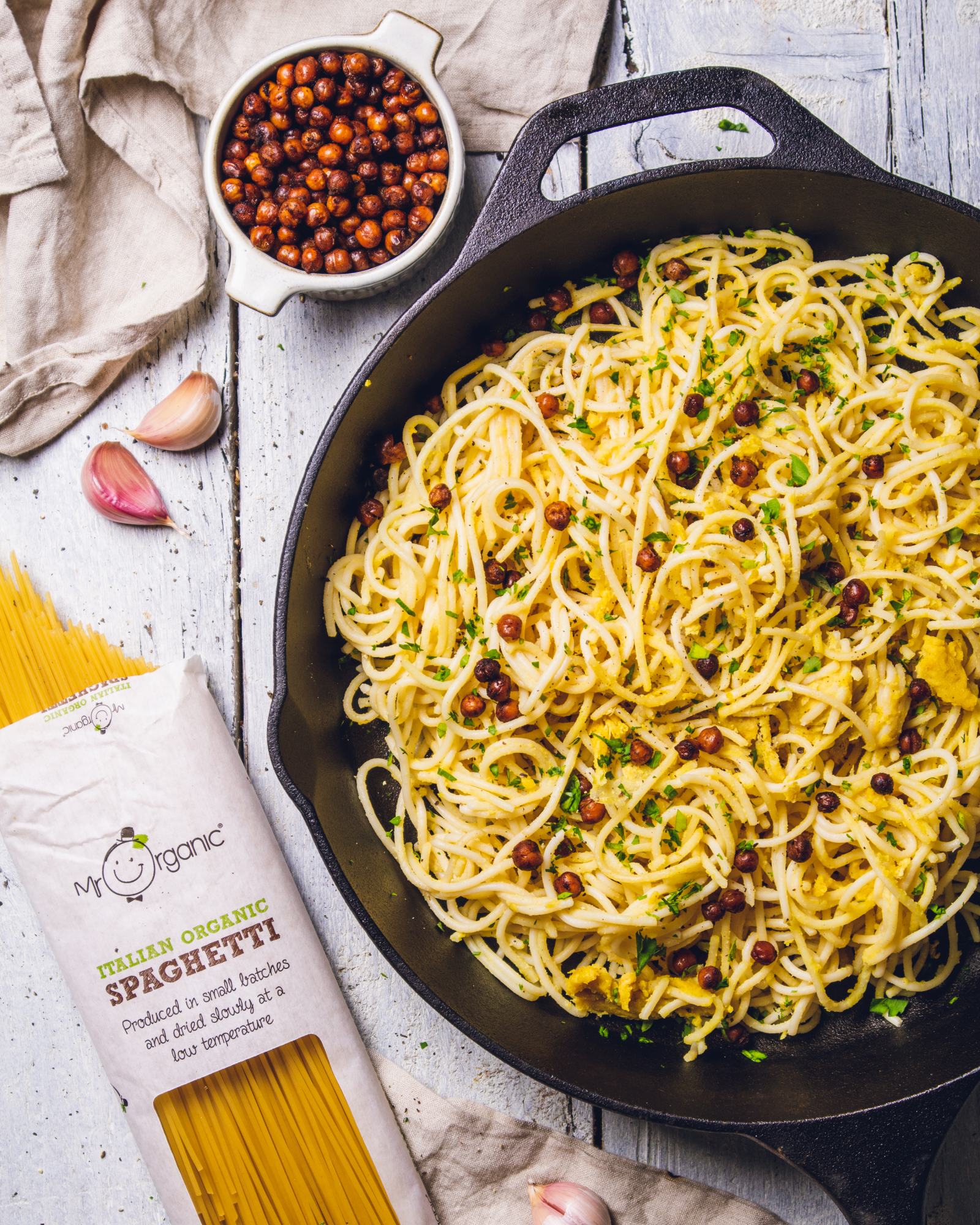 Vegan Chickpea Carbonara
Who could say no to a delicious Vegan Carbonara Recipe? I know I certainly can't! Before going vegan I definitely had my fair share of Carbonara dishes - both the authentic Italian kind (which used to be my absolute favourite dish!) as well as the creamy mess that the British call a Carbonara 😉
After moving to the UK, I have to say I was fairly surprised how much cream Brits used in their Carbonara recipe - it's nothing like the Carbonara I grew up eating - my family was always huge on Italian foods! It took a while getting used to... although I'm not sure whether I ever got used to it.
Authentic Italian Carbonara is actually more eggy than it is creamy and that's exactly what I've tried to replicate with this Vegan Carbonara version.
What you'll need for this Vegan Carbonara Recipe
Ingredients
Spaghetti

Chickpea flour (gram flour)

Kala namak (black salt)

Black pepper

Turmeric powder

Water

Extra virgin olive oil

Chopped Parsley
For the smoky chickpeas:
Canned chickpeas

Sea salt

Smoked paprika

Liquid smoke

Extra virgin olive oil
How to make this Vegan Carbonara (with Smoky Chickpeas) Recipe
Making the Vegan Carbonara Sauce
To get the "egginess" just right in this recipe I've used chickpea flour and added so-called 'black salt' to it. This black salt is also called 'Kala Namak' and it's got a slightly sulphurous flavour to it, which makes it taste deliciously eggy.
To get the colour just right, I like to add a little bit of turmeric to the mix. It also adds a healthy twist to the recipe and in combination with black pepper, the turmeric is easier absorbed by the body. For the liquid of the sauce, I add vegan cream, this gives the sauce the perfect creaminess & thickness for the sauce. It also ensures that the sauce does not get too dry as soon as it hits the pan. In my opinion, it creates the perfect creamy but eggy balance that I'm looking for in a Carbonara Sauce. And I hope you'll enjoy this recipe just as much as I did!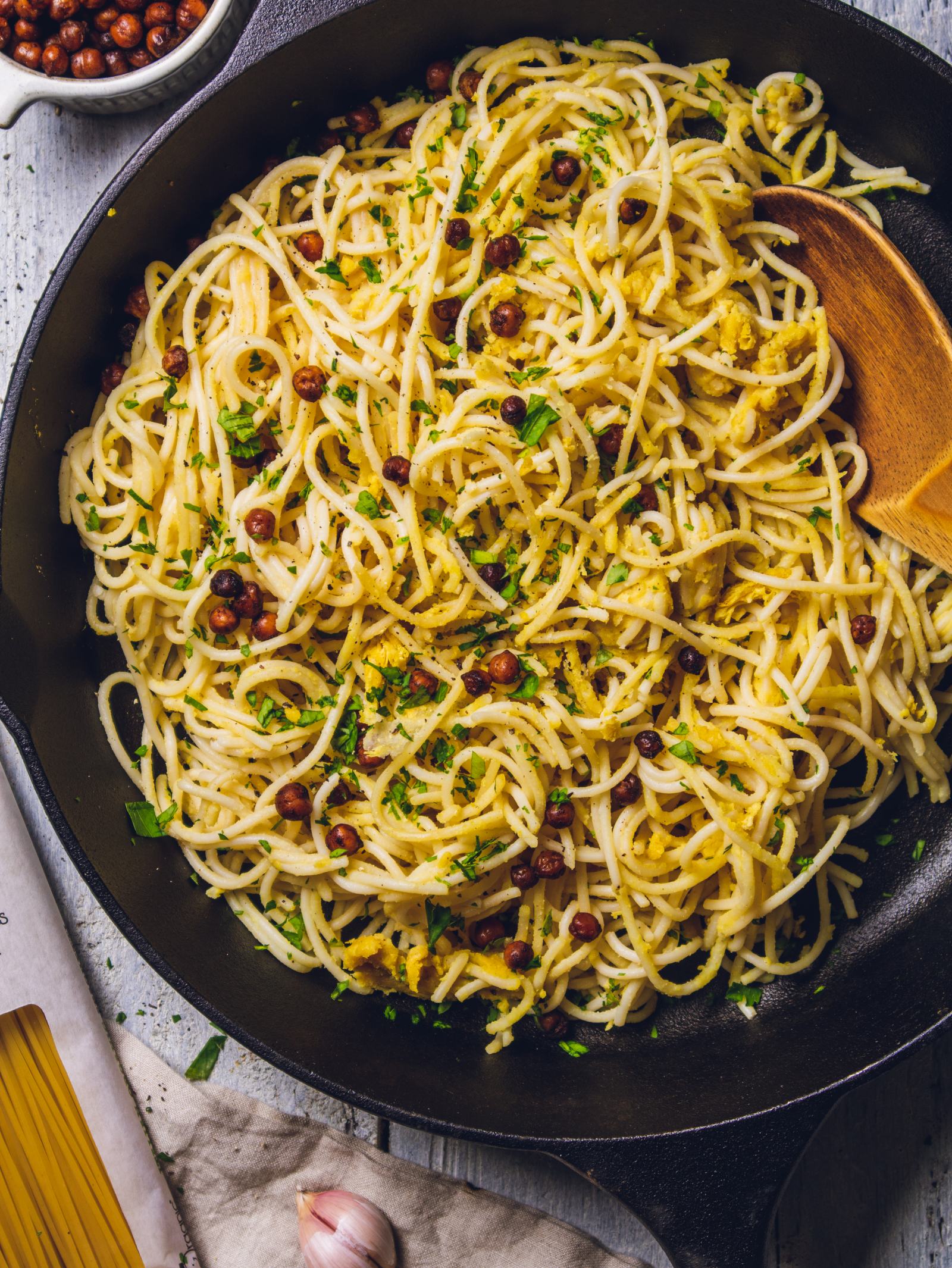 Making your Smoky & Crunchy Chickpeas
A traditional carbonara would usually have cooked ham chunks. In order to make this dish a little more interesting—and add a salty smokiness to the recipe–I've added crunchy & smokey chickpeas. It's obviously not the same as ham/bacon, and it's not pretending to be, but it adds a lovely element to the dish and gives it a delicious crunch.
The smoky chickpeas are super easy to create in just a few steps:
Drain the chickpeas.
Add them to a bowl and add the seasoning: sea salt, smoked paprika, liquid smoke and olive oil. Toss to evenly coat.
Add the chickpeas to a lined baking tray and bake at 160ºC until crispy.
After 10 minutes use a wooden spoon to move and turn them around on the tray.
You can enjoy the chickpeas hot and cold. If you're a fan of savoury snacks (like me), they're also a delicious crunchy treat 😉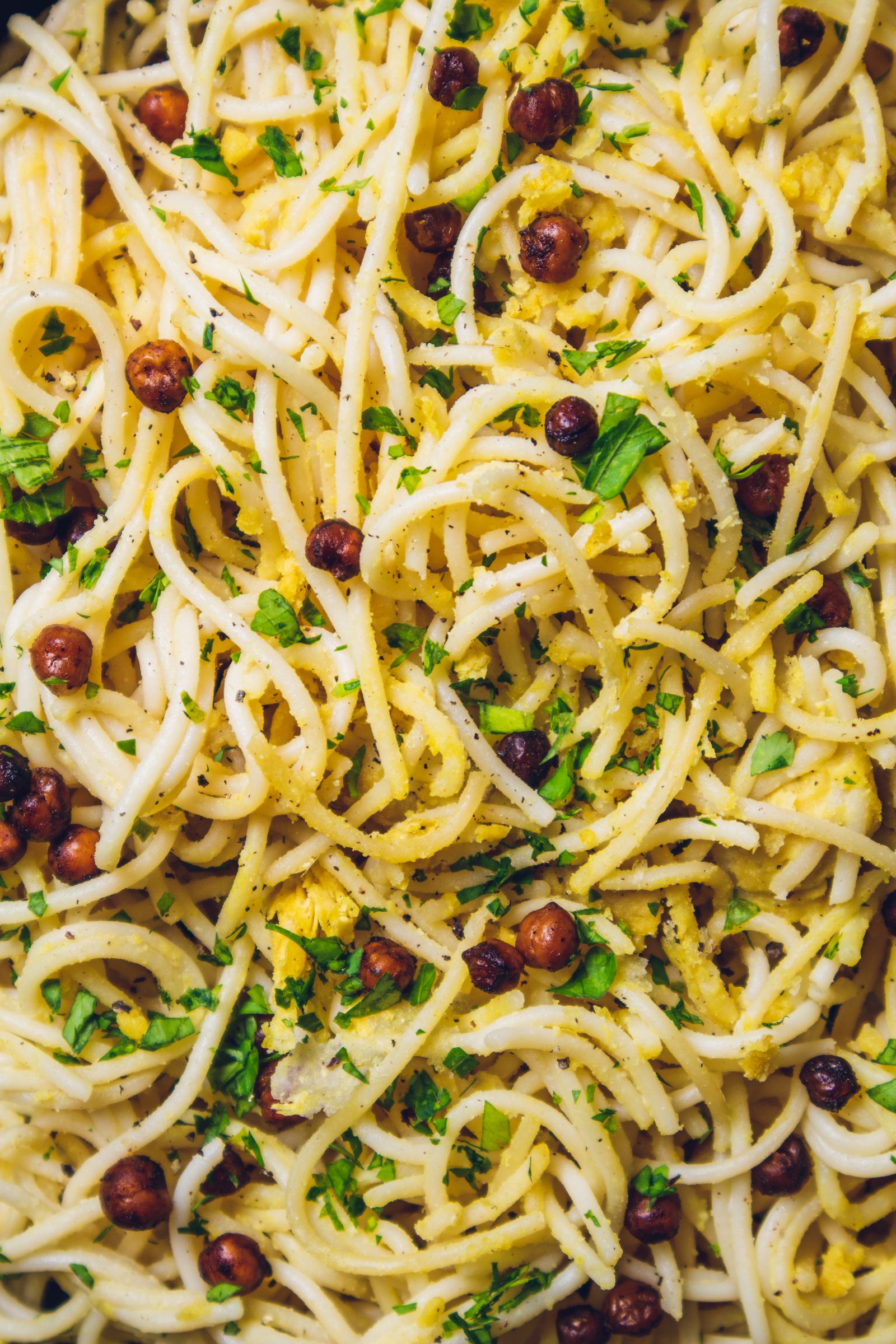 This recipe is:
100% vegan
dairy free
egg free
delicious & moreish
creamy & 'eggy'
inspired by the Italian original
pasta-licious
the perfect dinner to wow your friends & family
as authentic as you can get (whilst making it vegan)
You might also enjoy these recipes:
Also try this fun twist on carbonara - Gnocchi Carbonara! The recipe for the vegan sauce works wonderfully alongside the soft and fluffy texture of vegan gnocchi, making it a perfect midweek dinner.
📌 If you love Pinterest you can pin any of the images to your boards!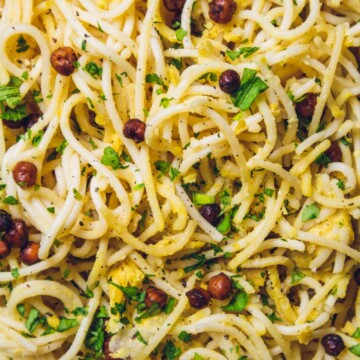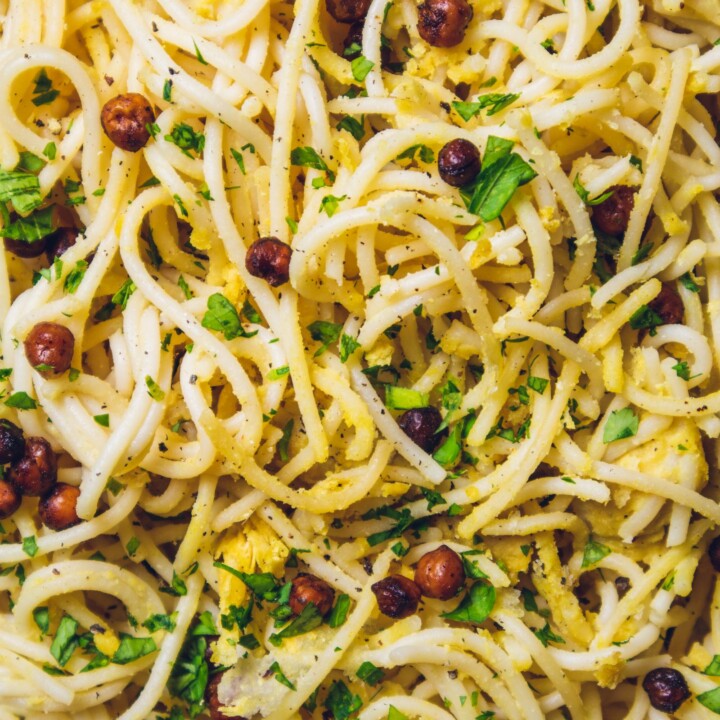 Vegan Carbonara with Smoky Chickpeas
These Vegan Carbonara are proper 'Italian Style' with a thick and "egg-y" sauce and topped with smoky & crunchy chickpeas.
Equipment
1 medium-size bowl

1 lined baking tray

1 small bowl

1 large pan
Ingredients
250

g

spaghetti

3

tbsp

chickpea flour (gram flour)

1

pinch

kala namak (black salt)

100

ml

dairy-free cream

1/4

tsp

black pepper

1/4

tsp

ground turmeric

1

tbsp

olive oil

1

handful

fresh parsley

chopped
For the smoky chickpeas:
1

can

chickpeas (400 g)

drained

1/4

tsp

sea salt

1/2

tsp

smoked paprika powder

1

tbsp

liquid smoke

1

tbsp

olive oil
Instructions
Prepare the pasta according to the package instructions. 

Drain your chickpeas and in a medium-size bowl, toss them in sea salt, smoked paprika, liquid smoke and extra virgin olive oil. Add them to a lined baking tray and bake them at 160ºC for 20-25 minutes or until crunchy.

In the meantime, mix the 'Carbonara' style sauce by combining chickpea flour, black salt, black pepper and turmeric powder in a small bowl. Carefully add in the dairy free cream and stir, then pour in a little water until you get a smooth, slightly runny paste. 

Drain your pasta and add them to a pan with a little olive oil over medium heat, gently pour your chickpea sauce over the top and stir until combined. Cook until the sauce thickens and season to taste with salt and pepper.

Sprinkle your smoky chickpeas & fresh parsley on the top & enjoy!
Looking for more vegan pasta recipes? Look no further and check these!
*Disclosure: This page may contain affiliate links and sponsored links that earn me a small commission, at no additional cost to you. You can find more information in my Privacy Policy.
 © Romy London / Romina Callwitz | All images and content are copyright protected. Please do not use my images and content without permission. If you wish to re-publish any recipes or images, please get in touch via email. Thanks for your support!