Super refreshing and fruity - this thick and creamy Pineapple Mango Smoothie is simply delicious! Made with only natural ingredients and no refined sugar, it's a healthy version of the loved McDonalds smoothie and made with only plant based ingredients.
Pineapple Mango Smoothie Recipe
This recipe is:
fruity and refreshing
easily made in a blender
super creamy
made with frozen mango and frozen pineapple
thick and creamy
only using x ingredients
extra-fruity
made with no added sugar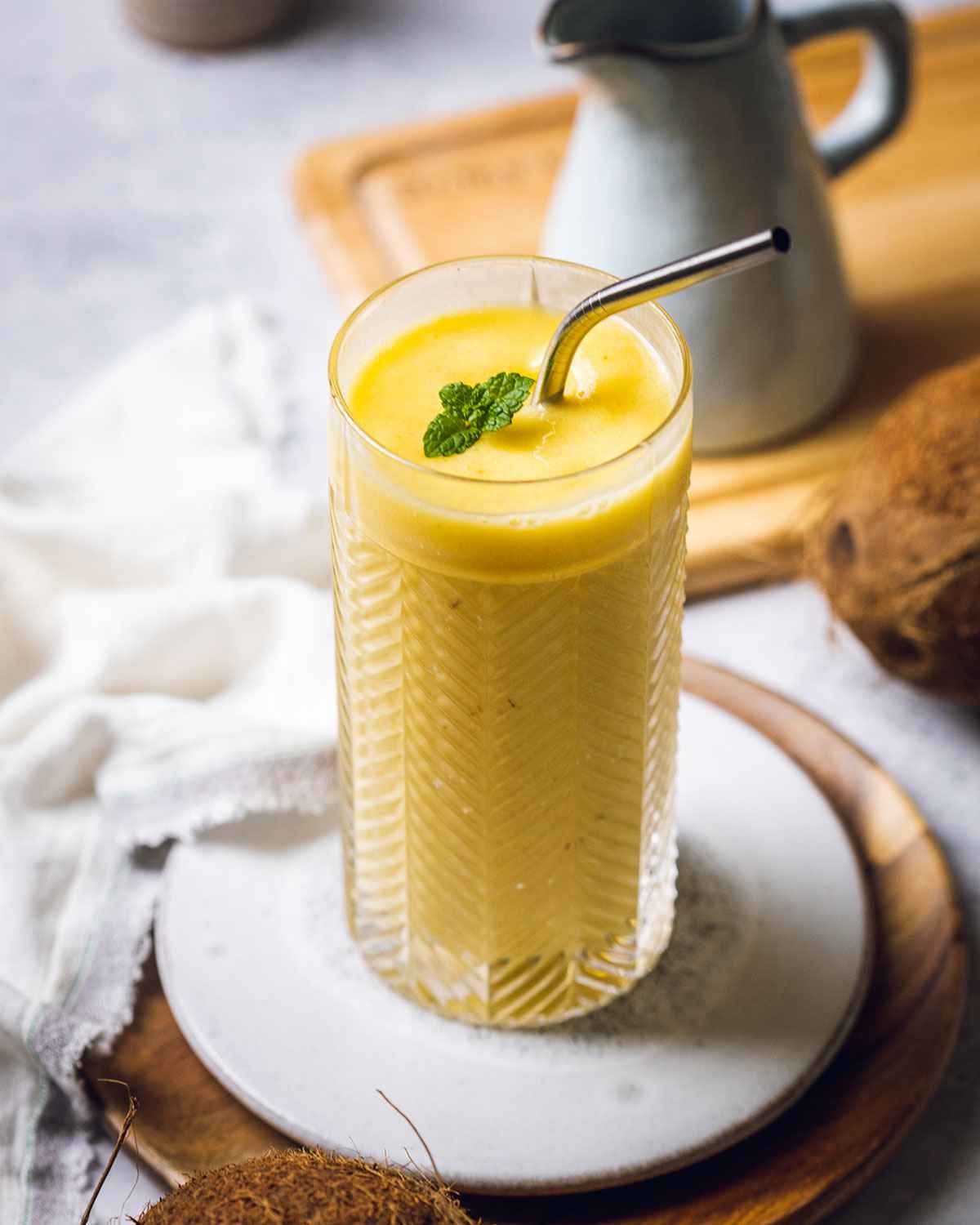 Why this recipe works
There are a few things I really love about this fruity smoothie:
Smoothies are such a great way to start the day! They're easy to digest, fruity and delicious and also quick and easy to make in a blender, making them the perfect breakfast for any day!
It's super thick and creamy and feels more indulgent than the recipe actually is!
This pineapple mango smoothie is simply so refreshing and brilliant on a hot summer day - but really any time of the year if you ask me!
It's ready in just a few steps!
It only uses x ingredients
Ingredients for this recipe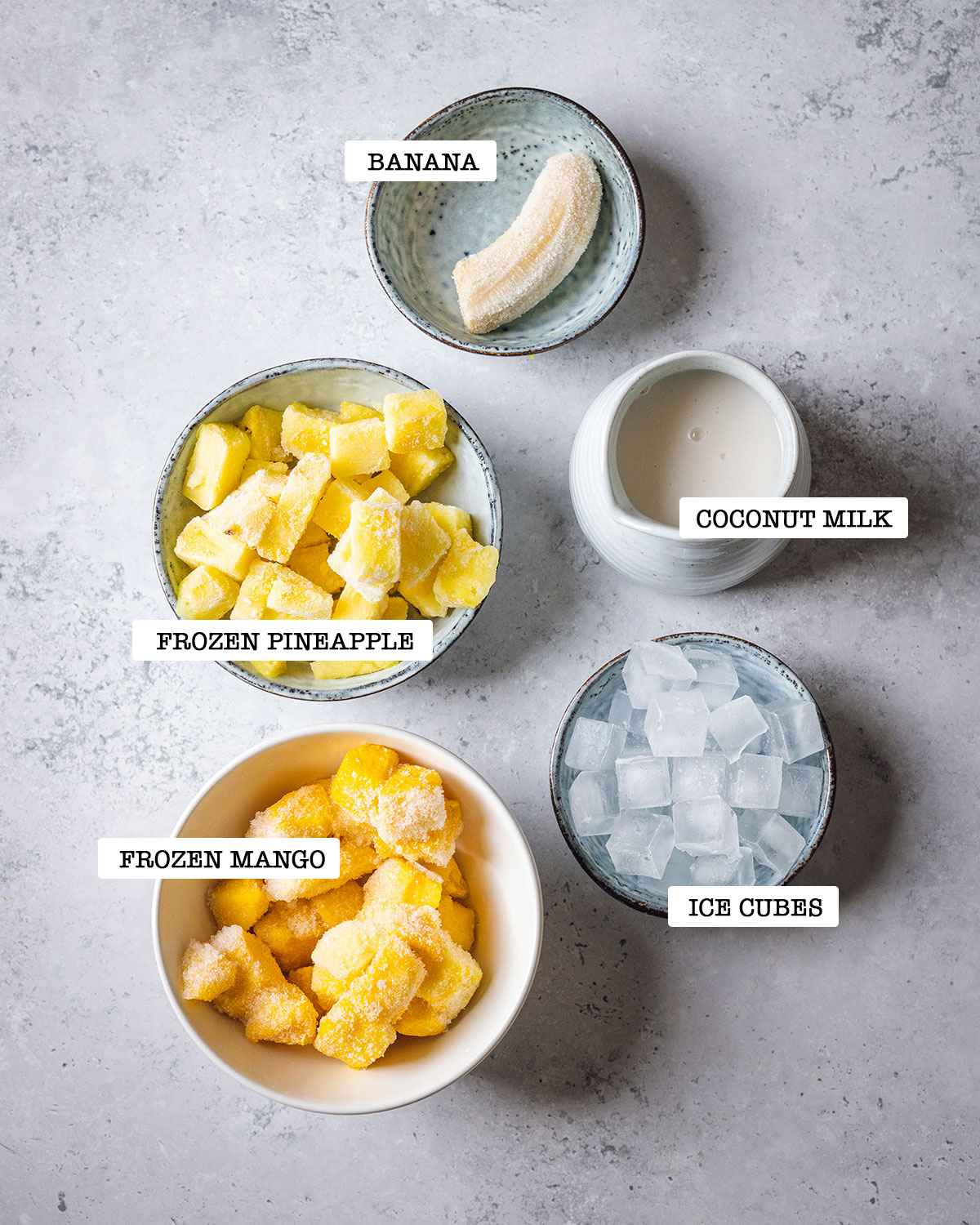 For this smoothie recipe, you only need a few simple ingredients:
Ingredients:
Frozen pineapple: I used frozen pineapple for this fruity smoothie, please read the FAQ below, if you want to swap this for fresh fruit. For this reipce, you can either use store-bought frozen fruit or cube and freeze your own fruit at home.
Frozen mango: Frozen mango works best for this recipe, but check FAQ if you want to use fresh mango.
frozen banana: makes the smoothie super creamy!
coconut milk: works deliciously alongside the mango and pineapple flavors of the smoothie.
ice: helps make the smoothie super thick and slushy-like. Ideally use small ice cubes as these are kinder on your blender.
Equipment:
blender: I personally use a high-speed, high-power blender. If you're looking to buy one then I can't recommend Greenis enough!
How to make a Pineapple Mango Smoothie
This smoothie recipe is super easy to make:
Step 1: Preparation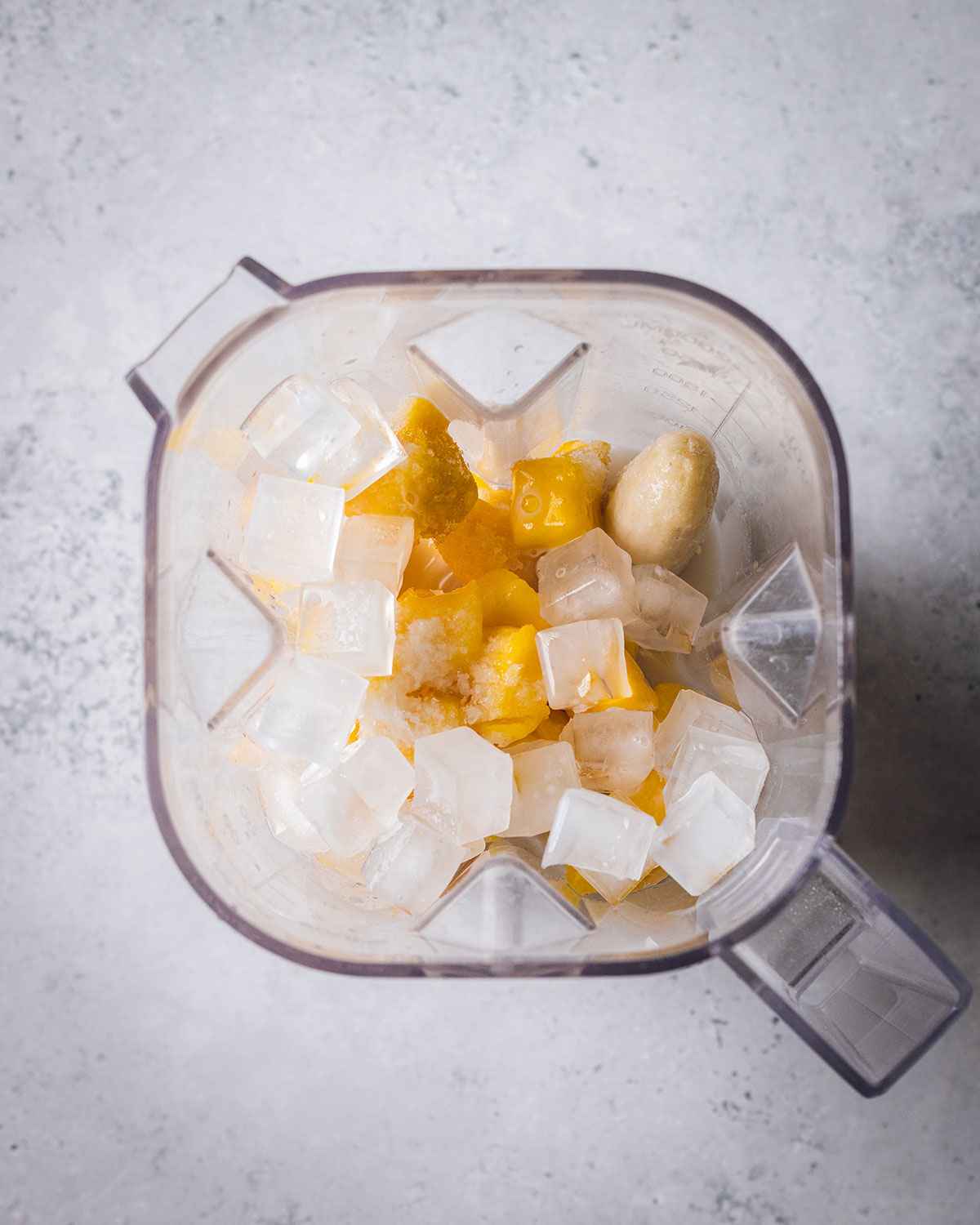 If you're freezing your own fruit for this recipe, then chop the mango and pineapple into small chunks and freeze ideally overnight. Remove from the freezer about 5 minutes before you're preparing the smoothie.
Measure out the rest of your ingredients so you're ready to go.
Step 2: Blend the smoothie ingredients
Transfer the frozen pineapple, frozen mango, frozen banana, coconut milk, and ice cubes to a blender and blend on high speed until smooth and creamy.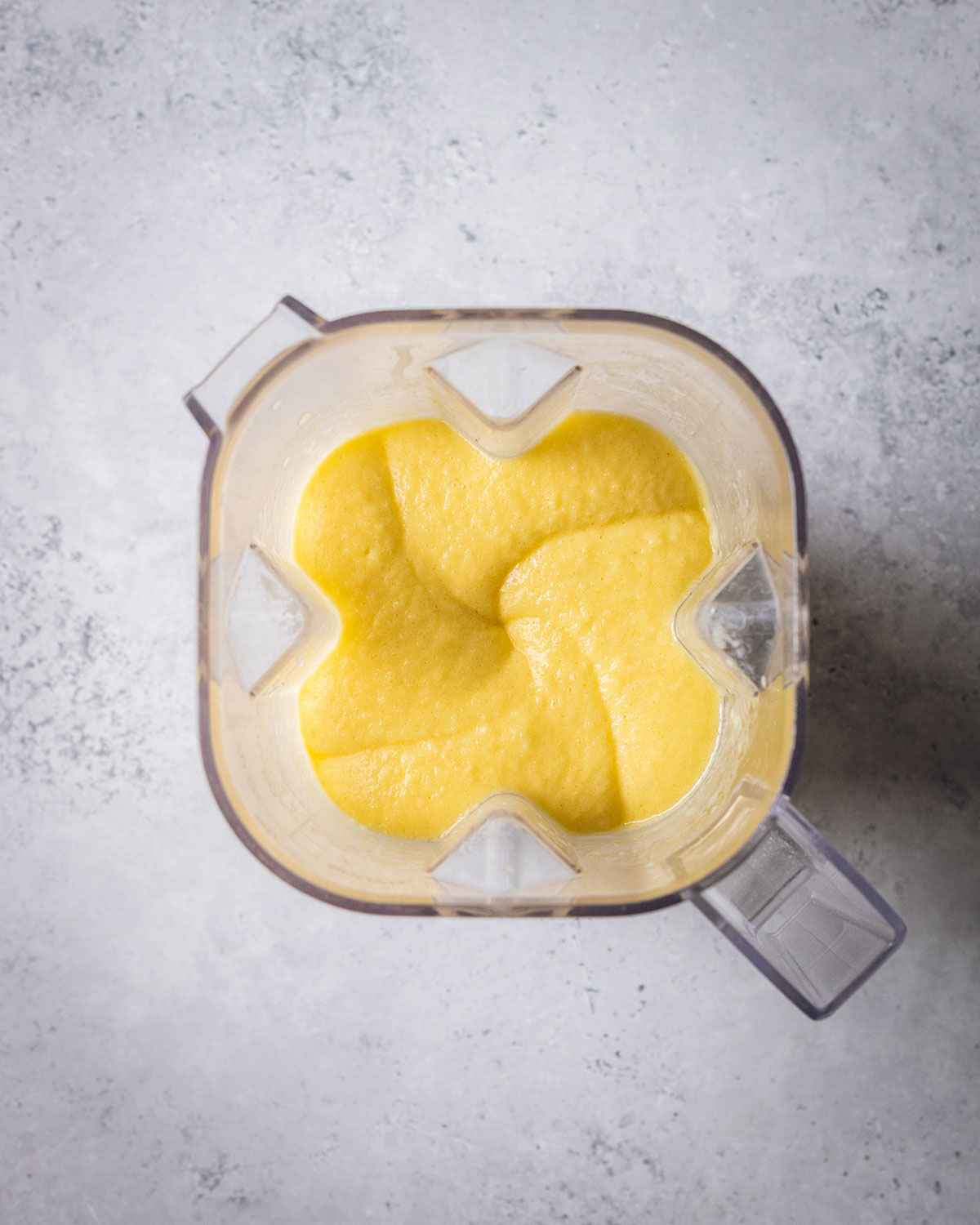 Step 3: Serving the Pineapple Mango Smoothie
Serve the pineapple mango smoothie in a tall glass and over more ice if you fancy!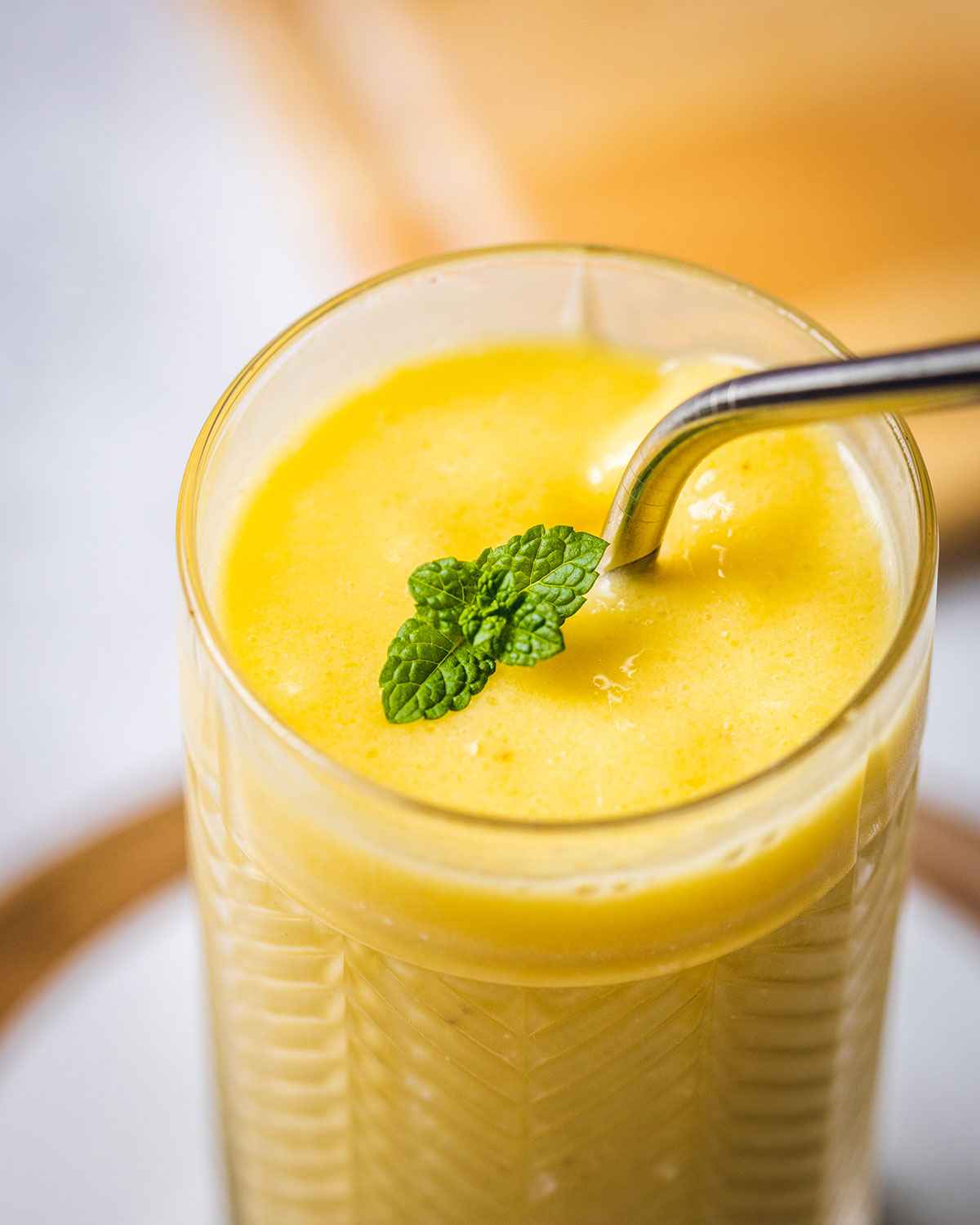 Extra tips for this recipe
For an extra thick and creamy smoothie, use tinned coconut milk instead of drinking milk for this recipe. Ultra delicious!
If you want your smoothie to be more on the runny side, then use fresh fruit instead of frozen, and/or add more liquid to the blender.
Want your smoothie sweeter? No problem at all, add a drizzle of maple syrup to the blender.
Add a small sprinkle of salt to the blender to balance the flavors of the sweet pineapple and mango. Sounds odd, but believe me: it's worth giving this a go!
Serve your smoothie with a drizzle of passionfruit on top to make it extra fruity!
If you love it zingy, then add a pinch of chili powder to the mix, or simply add a small piece of fresh ginger.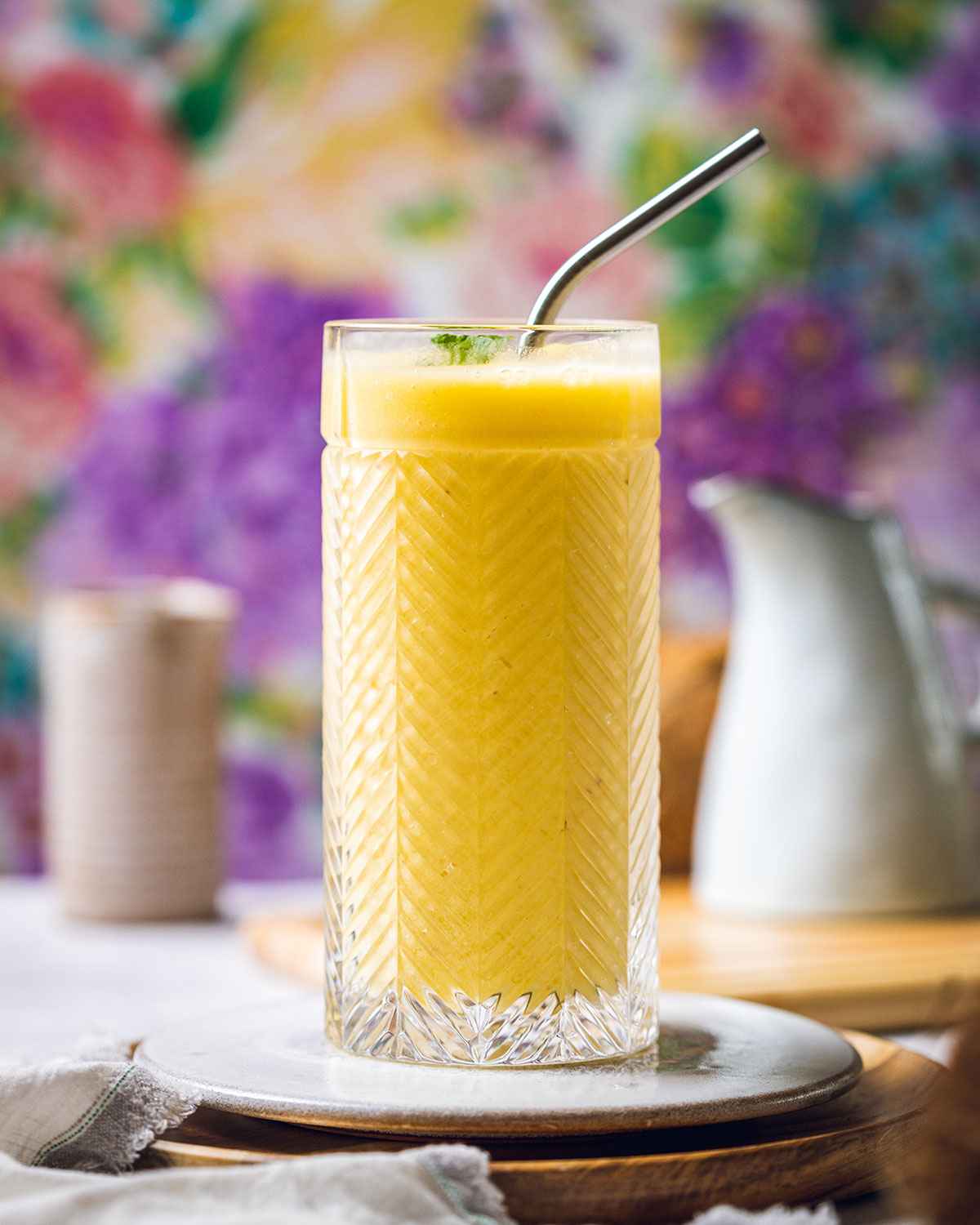 Frequently Asked Questions - Pineapple Mango Smoothie
Can I use fresh pineapple and mango instead of frozen?
You totally can! Using frozen fruit makes the smoothie super refreshing and thick, so if you swap the frozen mango and pineapple for fresh fruit, then add less coconut milk and more ice to the blender to still get a thicker texture.
What can I add to this Pineapple Mango Smoothie?
There are a few delicious options if you would like to tweak the flavor of this fruity smoothie! A few delicious ideas are: ginger or chilli powder for an extra kick, apple juice for a sweeter version, ground cinnamon or chai spices for a spiced version, or fresh spinach leaves to get your greens in.
📌 If you love Pinterest you can pin any of the images to your boards!
You might also enjoy: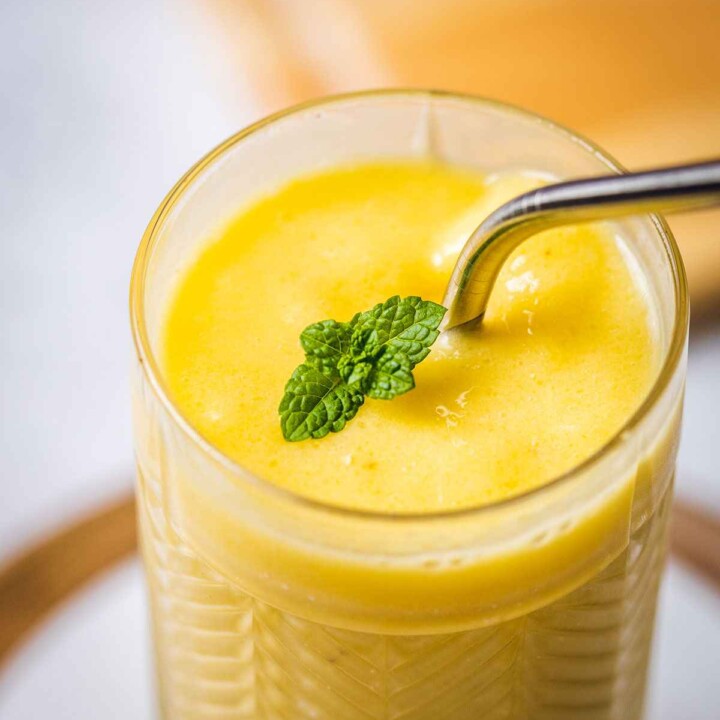 Pineapple Mango Smoothie
This smooth and creamy smoothie is super easy to make! With frozen pineapple and frozen mango, it's fruity and refreshing and easy to make in your blender in just a few minutes.
Ingredients
1

cup

frozen pineapple cubes (220 g)

1

cup

frozen mango cubes (240 g)

1/2

frozen banana

1 1/2

cups

coconut milk (350 ml)

1

cup

ice cubes
Instructions
Place all ingredients in a blender and blend on high speed until smooth.
*Disclosure: This page may contain affiliate links and sponsored links that earn me a small commission, at no additional cost to you. You can find more information in my Privacy Policy.
© Romy London / Romina Callwitz | All images and content are copyright protected. Please do not use my images and content without prior permission. If you wish to re-publish this recipe, please get in touch via email. Thank you so much for supporting romylondonuk.com!