This deliciously refreshing recipe for Iced Ube Latte is super easy to make! With a creamy and frothy base of ube milk and espresso, it's a fun and tasty way to enjoy your morning coffee and also a great afternoon pick-me-up.
This recipe is:
an iced Ube latte
delicious and refreshing
100% vegan
made with plant-based milk
made using Ube powder and espresso
frothy and creamy
easy to make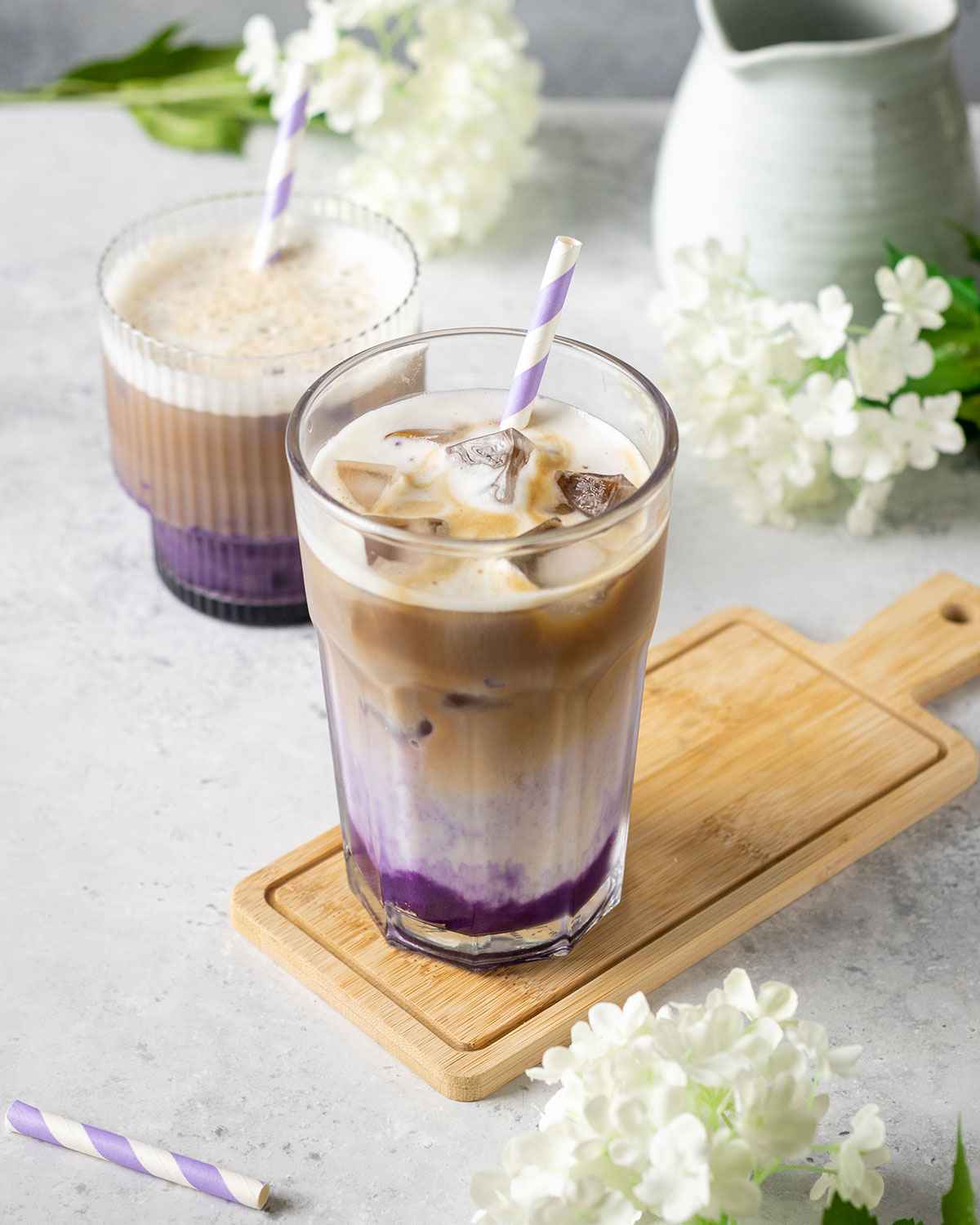 What is Ube?
Ube is also known as purple yam, greater yam or dioscorea alata. It is a yam and therefore classed as a vegetable and it grows as a tuber on perennial vines. Its color can range from a vivid purple to a bright lavender.
It's often confused with taro or the Okinawa sweet potato due to its shape and color and it originates in the Asian tropics, e.g. the Philippines. It's not a recent discovery but has been known to humankind since ancient times.
Over the past couple of years, ube has become more and more popular in the US and beyond, in particular, due to the exciting coloration it adds to recipes.
What does Ube taste like?
Ube has a mildly sweet, nutty and earthy taste - similar to the taste of sweet potato or taro. The vibrant color of the vegetable is often used in cooking to create bright, vivid colors in food, such as this Ube latte. Ube is often associated with traditional and modern Filipino cuisine (where it's often called ube or ubi and is mostly used in Filipino desserts, such as cheesecake, donuts, tarts and pastries.
Where to buy Ube powder?
Outside of Asia, you can mostly find Ube powder or Purple Yam powder in Asian supermarkets or online, e.g. Amazon.
Why this recipe works
There are a couple of things I love about this recipe:
It's a fun and delicious way to enjoy your morning coffee!
it simply looks beautiful
it's a nice change from a regular morning coffee
it's super quick and easy to make
it's refreshing and a perfect afternoon pick-me-up!
Ingredients for this recipe
Here's what you need to make this latte!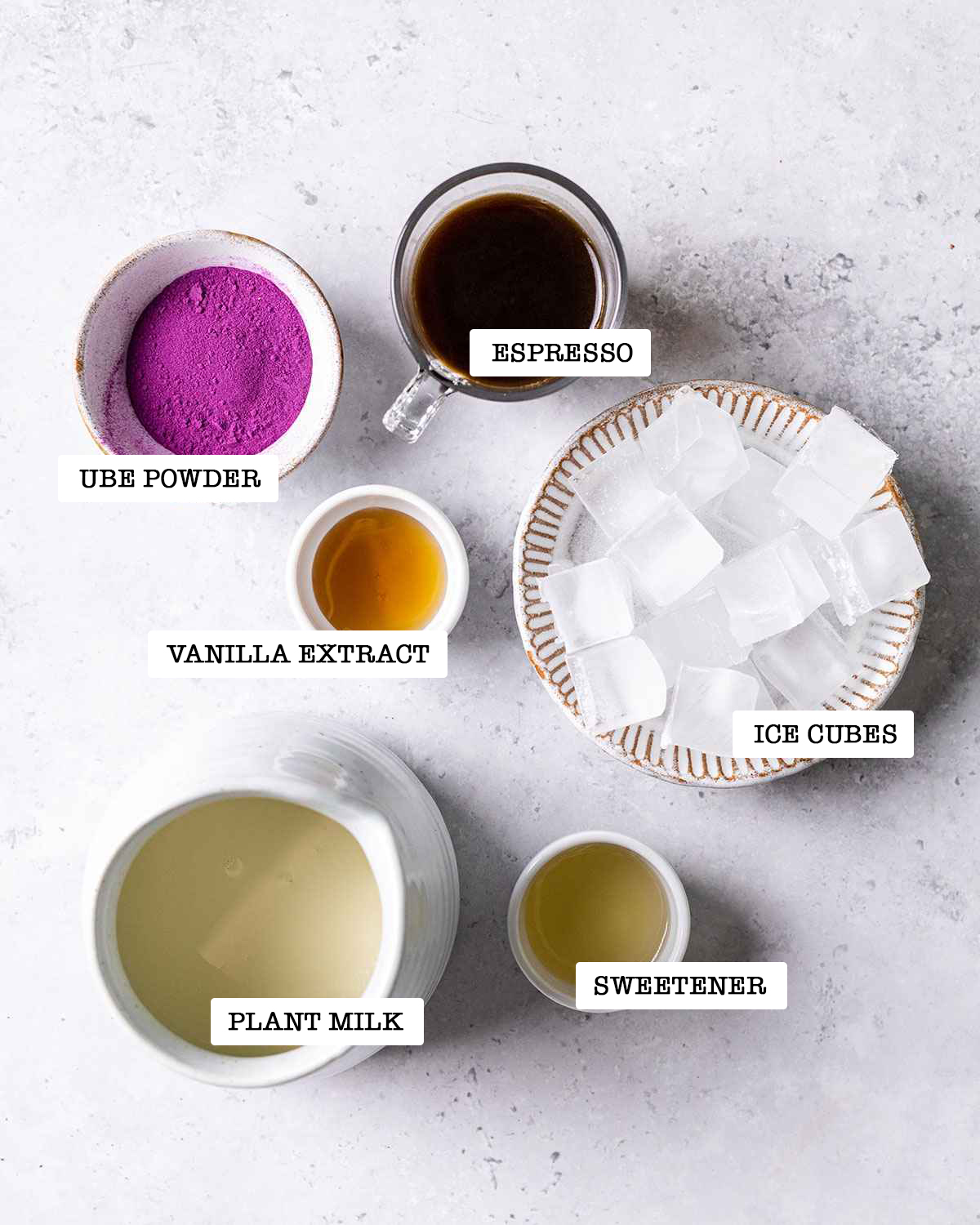 Ingredients:
Ube powder (purple yam powder): You can find Ube powder in most large Asian supermarkets or online. I bought ube powder on Amazon before, which makes it super convenient to get hold of ube powder across the globe.
Plant Milk: You can use your favorite milk of choice for this recipe! My personal favorite go-to is coconut milk - I simply love this flavor in combination with the ube! Homemade oat milk is also a great choice.
Vanilla extract & sweetener: a little vanilla and sweetness works really well with this drink! You can opt for vanilla extract and your favorite sweetener, e.g. maple syrup or agave, or use a vanilla flavored coffee syrup to sweeten your drink. You can swap the vanilla extract and sweetener for homemade vanilla syrup.
Espresso: I like to let my espresso cool down before adding it to the latte, as I love it ice cold. You only need a shot of espresso for this recipe, but feel free to add more if you feel like it!
Equipment:
small whisk
blender (optional)
How to make an Ube Latte
The beautiful thing about Ube latte is the stunning color and watching how the different layers of the drink slowly mix once combined! It's super easy to make, and here's how!
Step 1:
Add the ube powder to the serving glass of your choice and pour in enough water to dissolve it with a thorough whisk.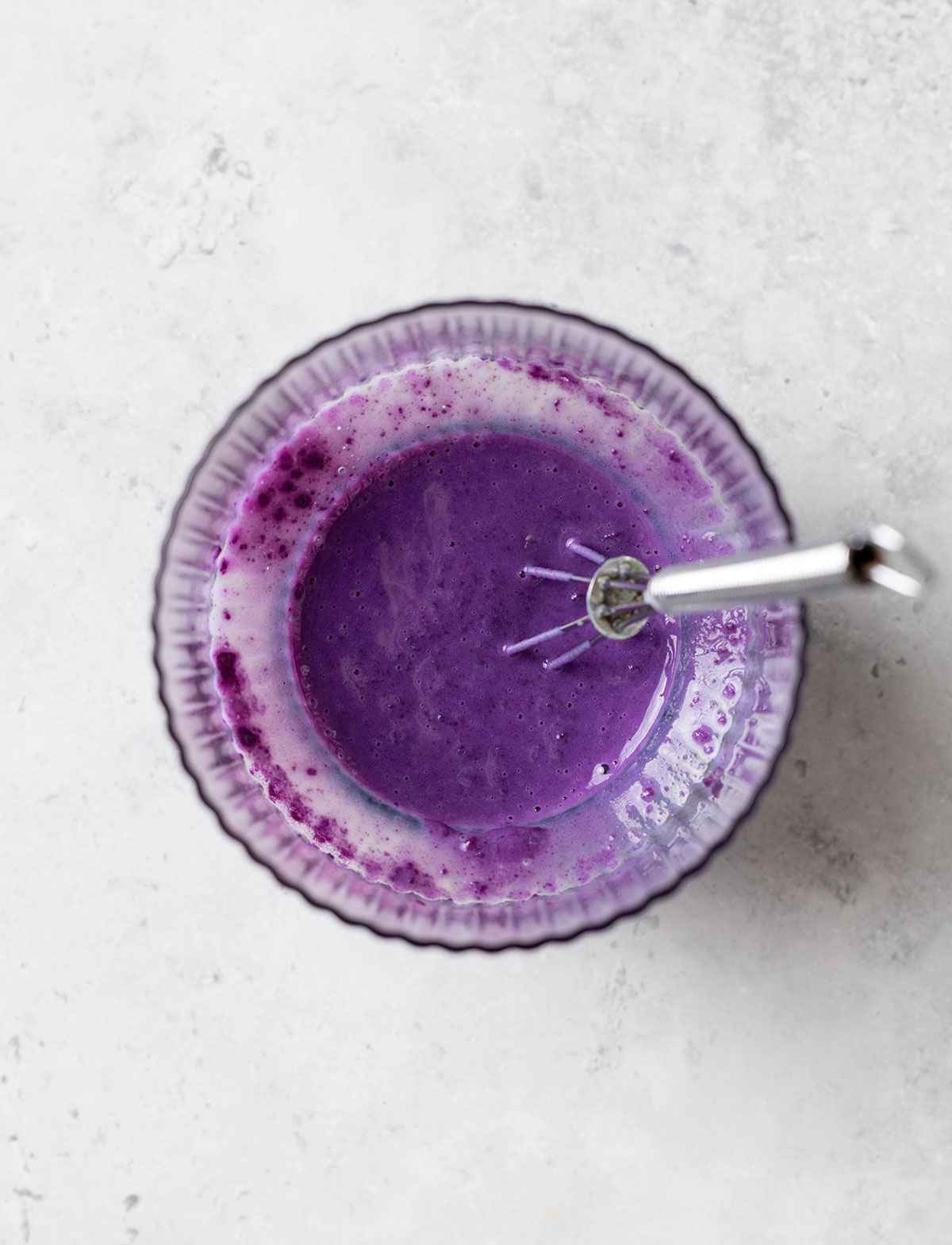 Step 2:
Pour the milk into the blender to make it super frothy! You can also use a milk frother with a cold froth setting or omit this step entirely if you don't want to get the blender out. I personally prefer the latte with a little froth!
Add the vanilla extract and sweetener and blend on a high speed for roughly a minute, or until the milk is slightly frothy.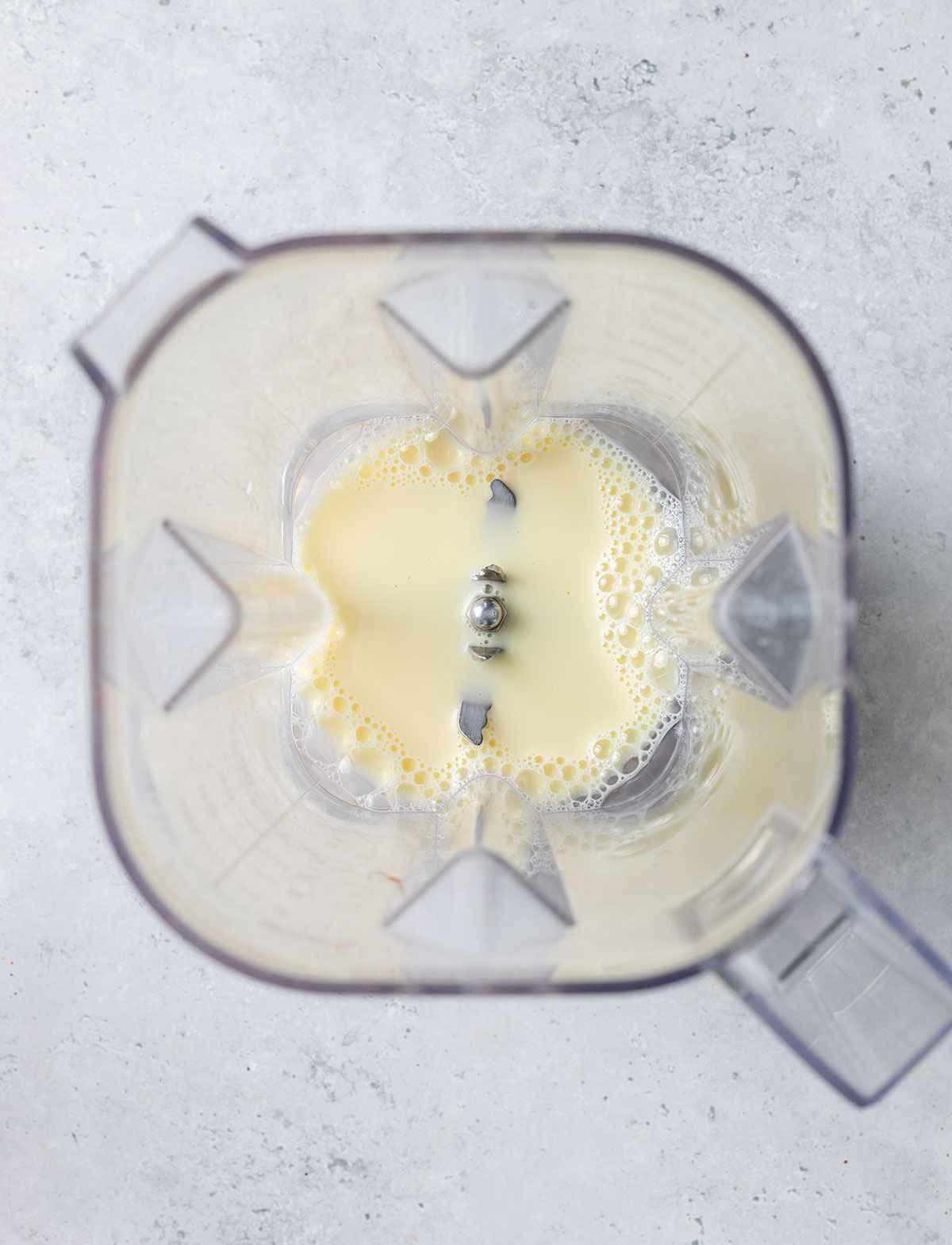 Step 3:
Add the ice cubes to the glass, then top with the frothed milk and pour the espresso shot over the top. Watch the beautiful colors of the drink mix slowly & stir the drink before indulging!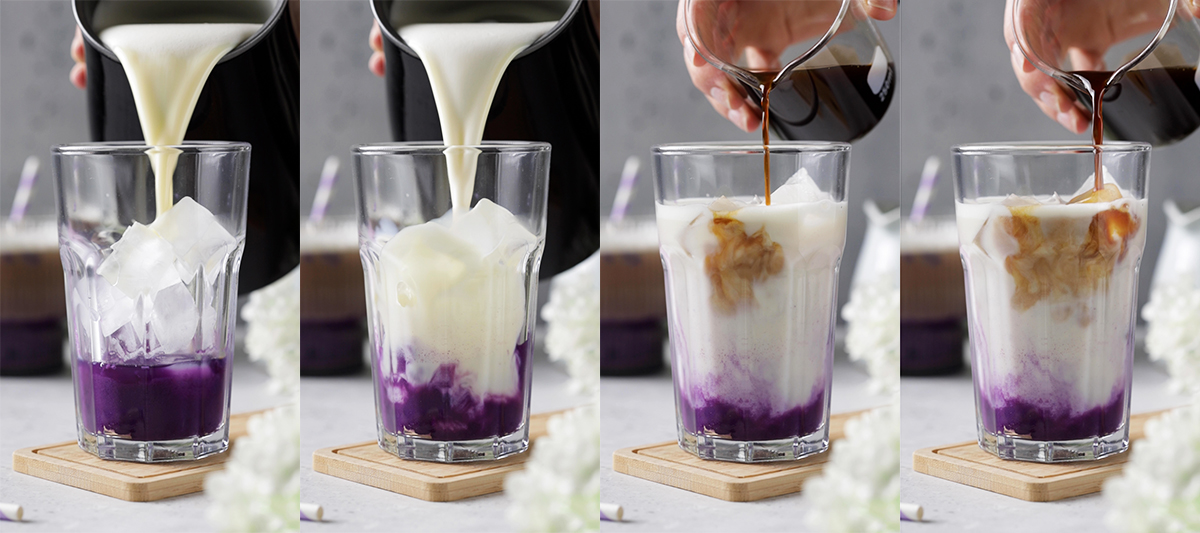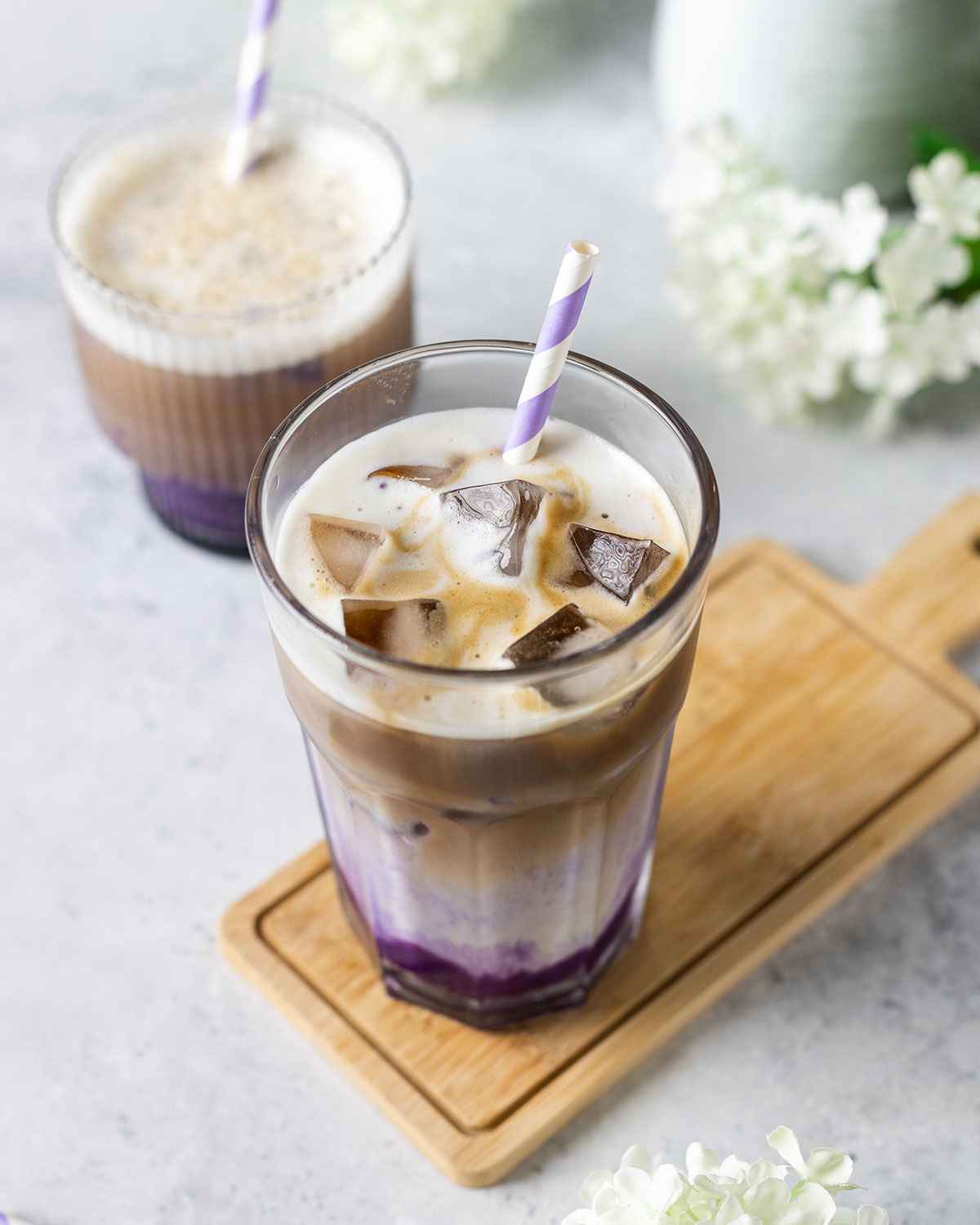 Why not personalize this delicious drink with a drizzle of homemade vanilla syrup?
And if you're looking for something delicious to enjoy alongside, try these Vegan Mochi Donuts by my friend Han from SugarYums!
Frequently Asked Questions
Are ube and taro the same thing?
No, not at all! Taro and ube get mixed up all the time, but they are actually two completely different vegetables. Ube is sweeter than taro, whilst taro is a lot more starchy. Also, their textures are different - taro is a whole lot creamier than the texture of ube.
You can easiest differentiate ube and taro by their color: Taro is mainly white with purple veins running throughout the vegetable, whilst ube is a deep purple throughout.
Is ube a sweet potato?
An ube is not a sweet potato, but a yam - however, it is often also called a 'purple sweet potato' which is a misleading name for the vegetable. The connotation with sweet potato is probably mostly due to the shape and color of the outer skin, which resembles sweet potato.
Is ube a fruit or a vegetable?
Ube is a yam, and yams are commonly known to be growing as a tuber on perennial vines. To be a fruit, the plant must be developed by flowers and contain productive cells, which is not the case for ube, and it, therefore, makes it a vegetable.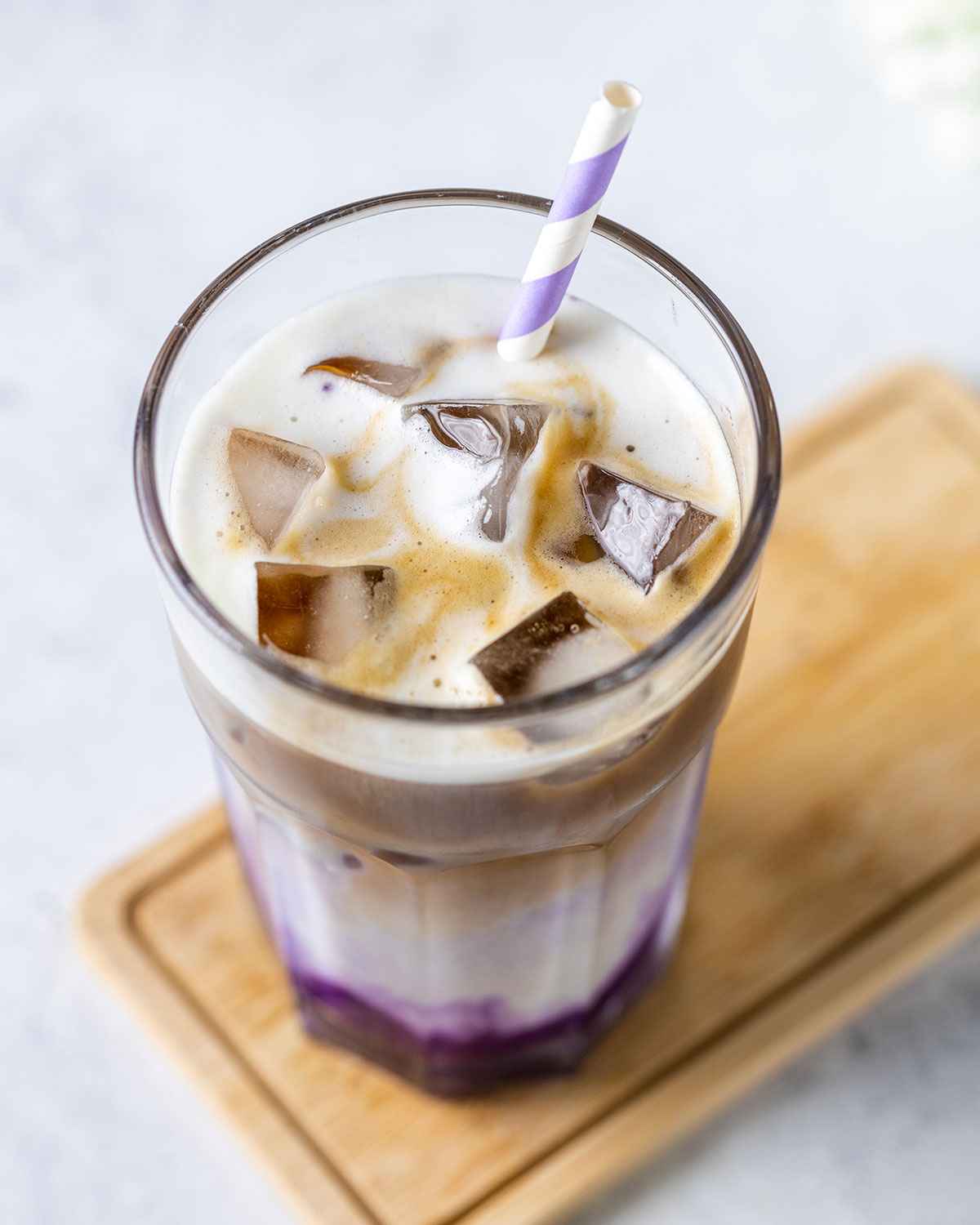 📌 If you love Pinterest you can pin any of the images to your boards!
If you love coffee, then why not check out my other coffee recipes from the blog, such as Iced Vanilla Latte, Coffee & Walnut Cake, or Coffee Chocolate Tart?
You might also enjoy these recipes: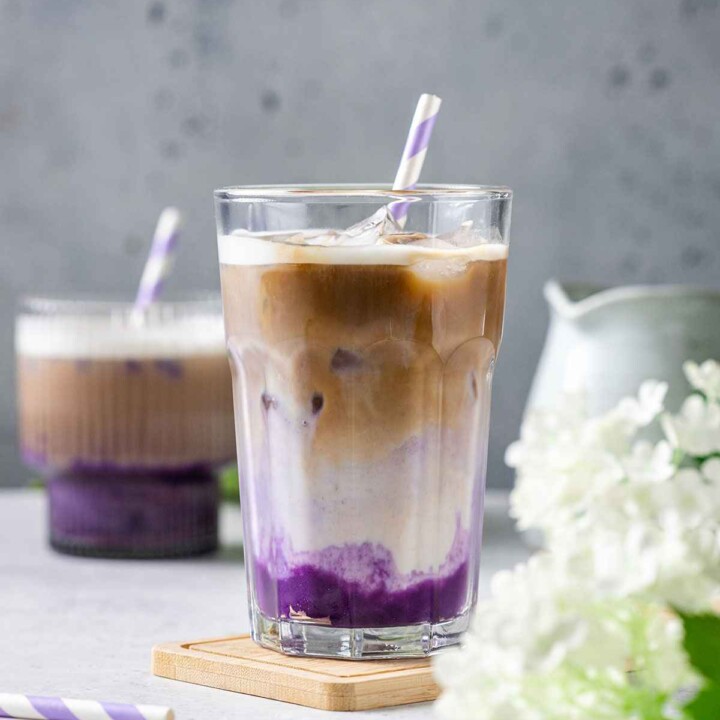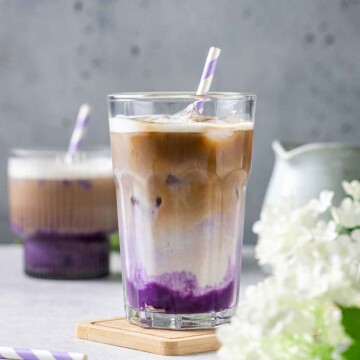 Ube Latte
This deliciously refreshing recipe for Iced Ube Latte is super easy to make! With a creamy and frothy base of ube milk and espresso, it's a fun and tasty way to enjoy your morning coffee and also a great afternoon pick-me-up.
Ingredients
1

tsp

ube powder (purple yam powder)

find it on Amazon

3/4

cup

cold plant milk (180 ml)

such as coconut

1

tsp

vanilla extract

1

tsp

sweetener of your choice

e.g. vanilla syrup, maple syrup or sugar

1

shot

espresso (1 oz, 30 ml)

cold

small ice cubes
Instructions
Place the ube powder into your glass and whisk it thoroughly with enough water to dissolve it.

Blend the plant milk in a high-speed blender with the vanilla extract and sweetener for roughly 1 minute or until lightly frothy.

Place the ice cubes into your glass, pour the frothy milk over the top and finish off with the shot of espresso.

Admire the beautiful color of your drink, and stir before you enjoy your Ube Latte.
*Disclosure: This page may contain affiliate links and sponsored links that earn me a small commission, at no additional cost to you. You can find more information in my Privacy Policy.
 © Romy London / Romina Callwitz | All images and content are copyright protected. Please do not use my images and content without permission. If you wish to re-publish any recipes or images, please get in touch via email. Thanks for your support!