For me, pancakes simply come with that weekend feeling - and these vegan and gluten-free rice protein pancakes are simply perfect to ensure you get some of all your macros (carbs, fats AND proteins!) with this delicious vegan breakfast option.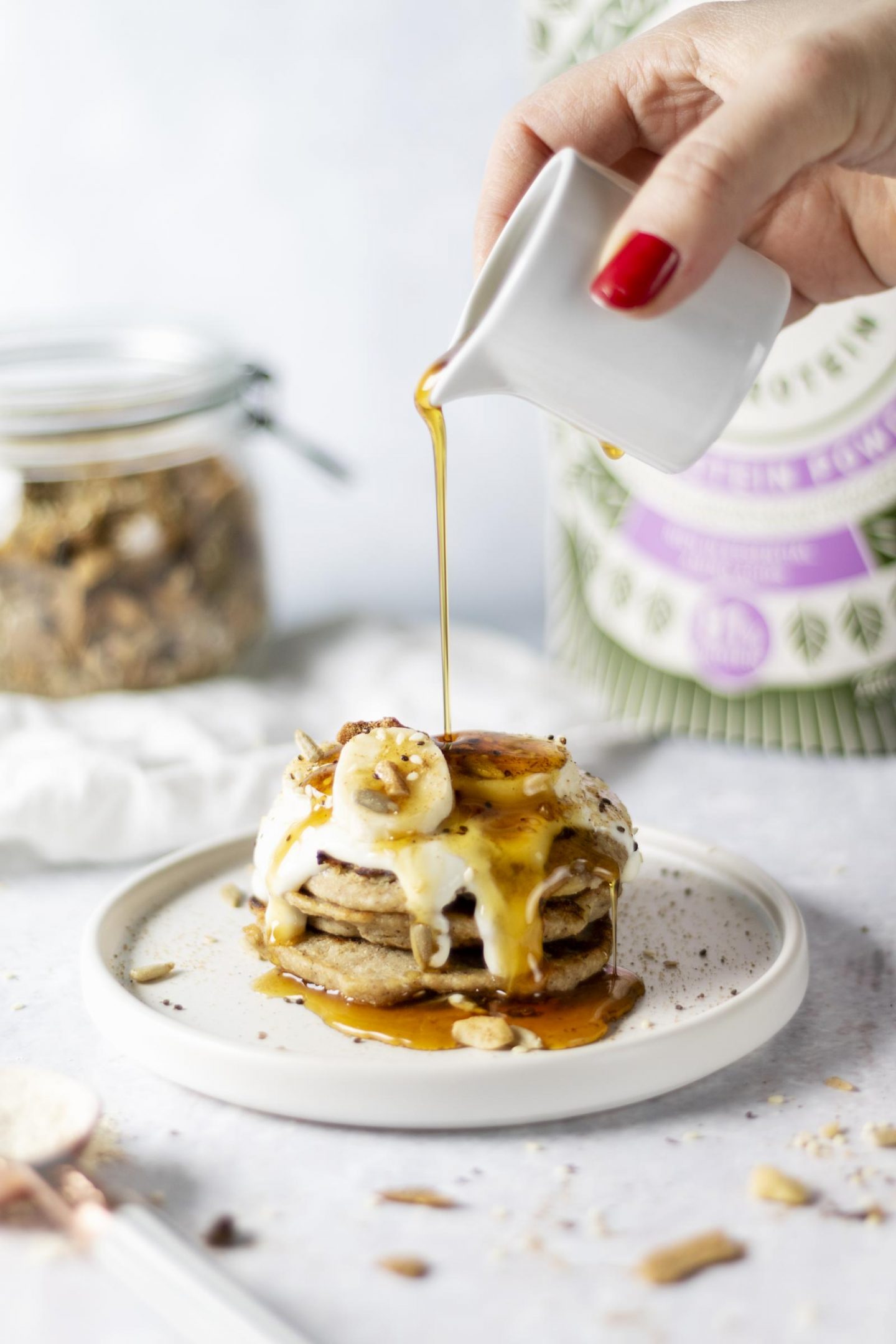 When I first worked on this recipe in early 2019, Pancake Day had only just passed and I simply couldn't help but showcase some vegan pancake magic at my cookery demo at the Vegan Life Live event that year. Collaboration with the protein brand Pulsin, I created this delicious rice protein pancake recipe using the vegan rice protein mix.
I was honestly blessed to have been invited back to create a cookery demo at Vegan Life Live for the second year in a row, and I am grateful that Pulsin have partnered with me for this year. My cookery demo was focused all-around 'Vegan Breakfast Goals' - despite finding out after that my demo was going to take place at 4 pm in the afternoon on a Sunday. But hey: I hope I could inspire one person or another for their Monday morning breakfast goals!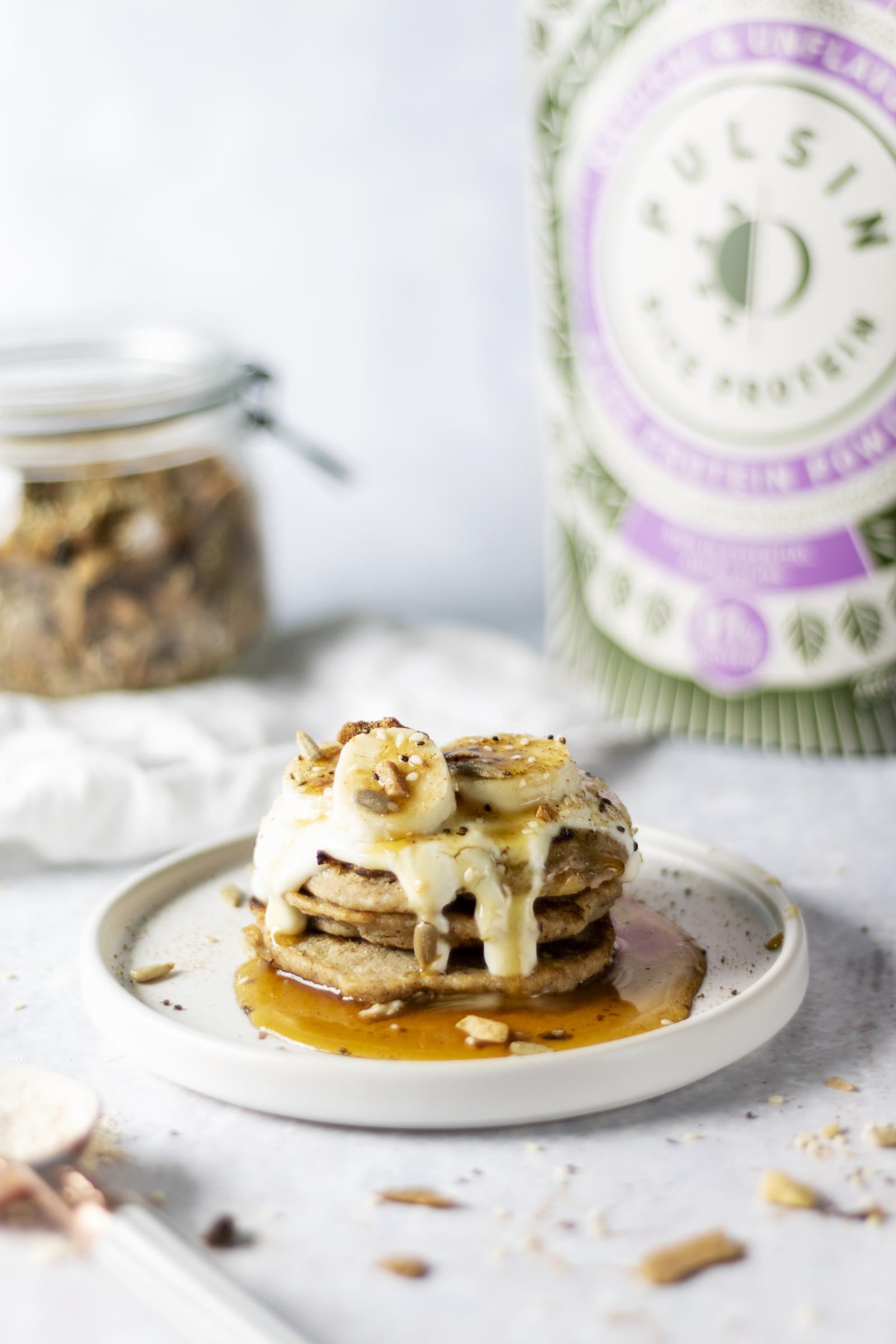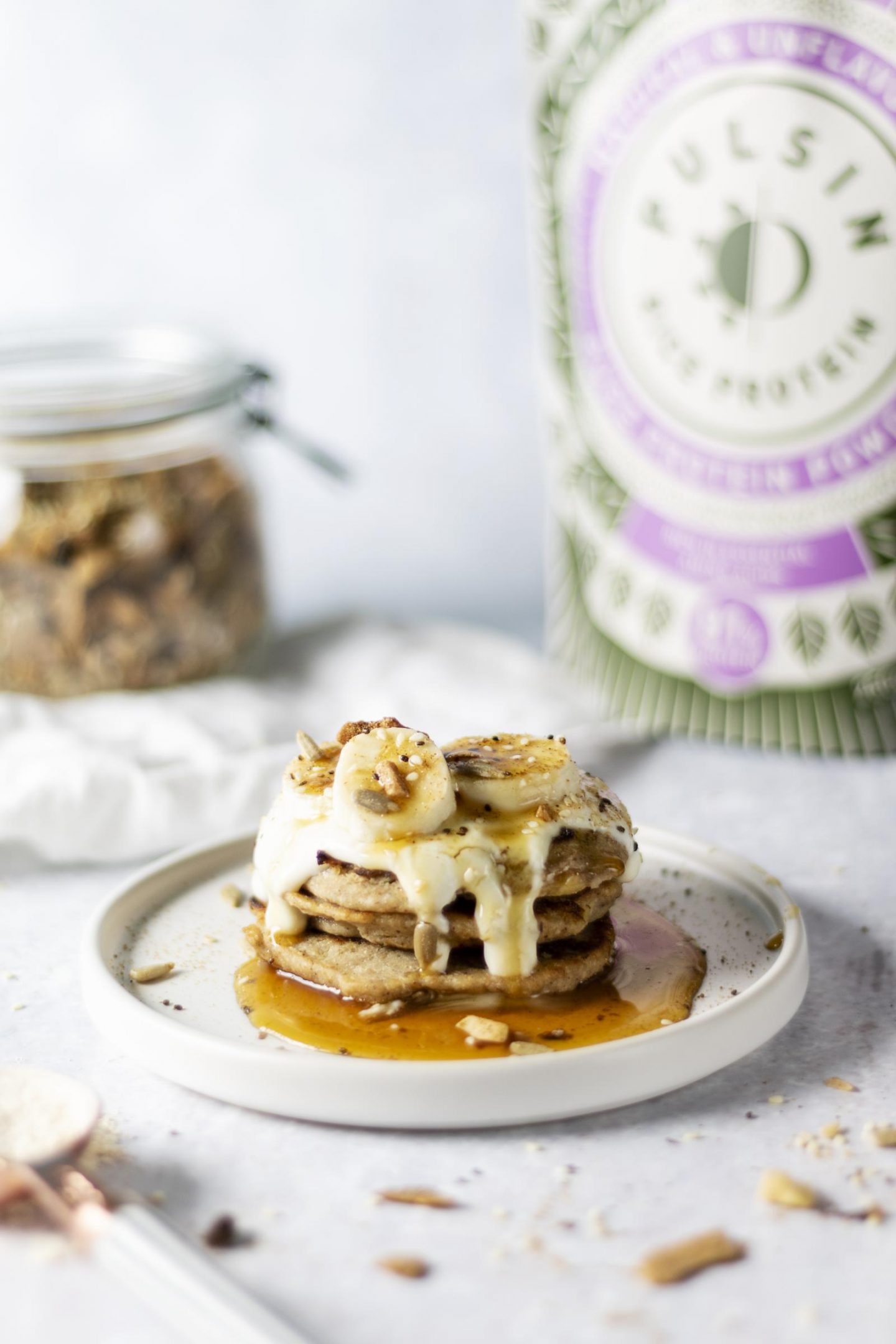 Vegan Rice Protein Pancakes
In creating this recipe, I have experimented a little with different types of protein powder and found that the rice protein held the pancakes together in the best way - and also tasted the best! Of course, depending on your personal preference, you can also use the protein you have on hand, but I cannot guarantee they will hold together as well as this recipe for rice protein pancakes does (e.g. in my experience hemp protein needs more of a binder added to the batter, such as flaxseeds, chia seeds or a vegan egg replacement.
How to replace egg in protein pancakes
Let's talk egg replacements! As you can tell from the ingredients list below, I have not used any fancy egg replacers in this recipe for rice protein pancakes. In fact, in a traditional pancake recipe, the eggs have a purely binding purpose and do not add to the flavour profile of the dish and with the rice protein being perfect in itself to bind the pancakes together, an egg replacement was not strictly necessary in this simple recipe.
However, to make these pancakes a little fluffier, I have used soy yogurt and apple cider vinegar as the liquid components in this recipe. Simply combine the 2 and set them aside for ideally 10 minutes before moving forward. This will allow for the vinegar to break down and curdle the yogurt further and this will create air in the pancake batter later, resulting in softer and fluffier pancakes (it's magic!)
Ingredients for this recipe
How to top your vegan rice protein pancakes
In terms of toppings - you probably know by now that I am a massive fan of extensive topping options.
Some of my favourites include:
more dairy-free yogurt (coconut is a great choise!), I also love mixing flavoured vegan protein powder with yoghurt
fresh fruit such as sliced bananas or fresh or frozen berries
toasted nuts and seeds for an extra crunch, I specifically like toasted pecans
a drizzle of agave or Canadian maple syrup for the most delicious finish!
I hope you will enjoy this simple and foolproof recipe for rice protein pancakes just as much as I did - bon appetit!
This vegan protein pancake recipe is:
100% vegan
Easy to follow
Gluten-free as this recipe uses back with flour instead of regular flour
High in protein
Great as a vegan breakfast, but also as a snack
Easy to make ahead of time
A great use of vegan protein powder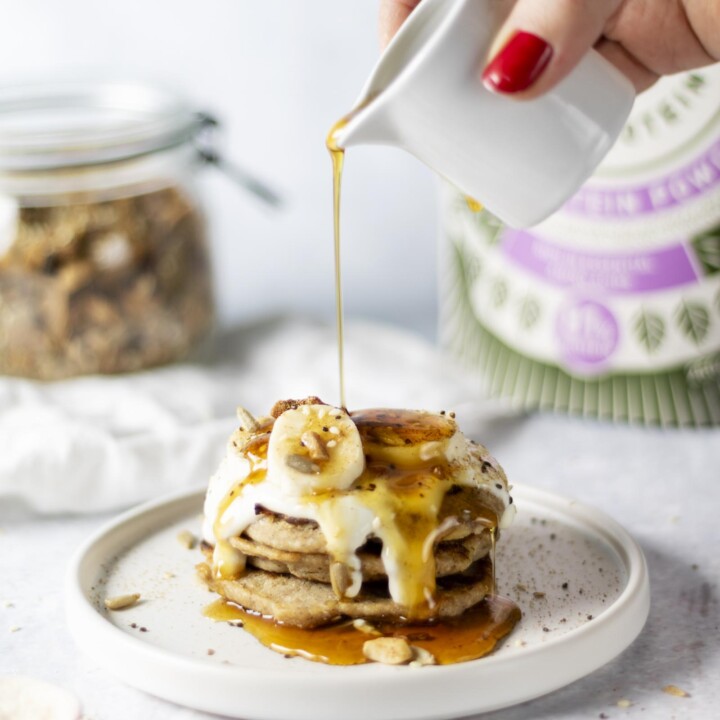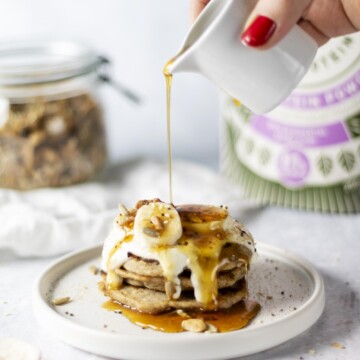 Rice Protein Pancakes
Deliciously fluffy rice protein pancakes - unbelievably both vegan & gluten-free! This is honestly such a simple recipe to create and one of my weekend breakfast favourites!
Equipment
1 mixing bowl

1 fork

1 non-stick pan
Ingredients
1

medium

ripe banana

2

tbsp

coconut yogurt

1

tsp

apple cider vinegar

2

tbsp

rice protein powder

2

tbso

buckwheat flour

coconut oil

for frying
Instructions
In a medium size bowl, mash the banana with a fork.

Add 2 Tbsp Alpro Coconut Yogurt into the bowl, as well as 1 tsp Apple Cider Vinegar. Stir to combine all ingredients and set aside for 5 minutes.

Heat a non-stick frying pan over medium-high heat. Add a little coconut oil into the pan.

Use a tablespoon to transfer the batter in portion sizes to the pan, shape the pancakes with the back of the spoon.

Gently flip the pancakes once the edges begin to brown (4-5 minutes) and cook on the second side for about 3 minutes.

Serve with your favourite pancake toppings!
Looking for more vegan protein recipes?
📌 If you love Pinterest you can pin any of the images to your boards!
 © Romy London / Romina Callwitz | All images and content are copyright protected. Please do not use my images and content without permission. If you wish to re-publish any recipes or images, please get in touch via email. Thanks for your support!
*Disclosure: This page may contain affiliate links and sponsored links that earn me a small commission, at no additional cost to you. You can find more information in my Privacy Policy.