Delicious & simple Vegan Upside Down Plum Cake – a great recipe to stun your friends and family with this easy, yet super tasty creation!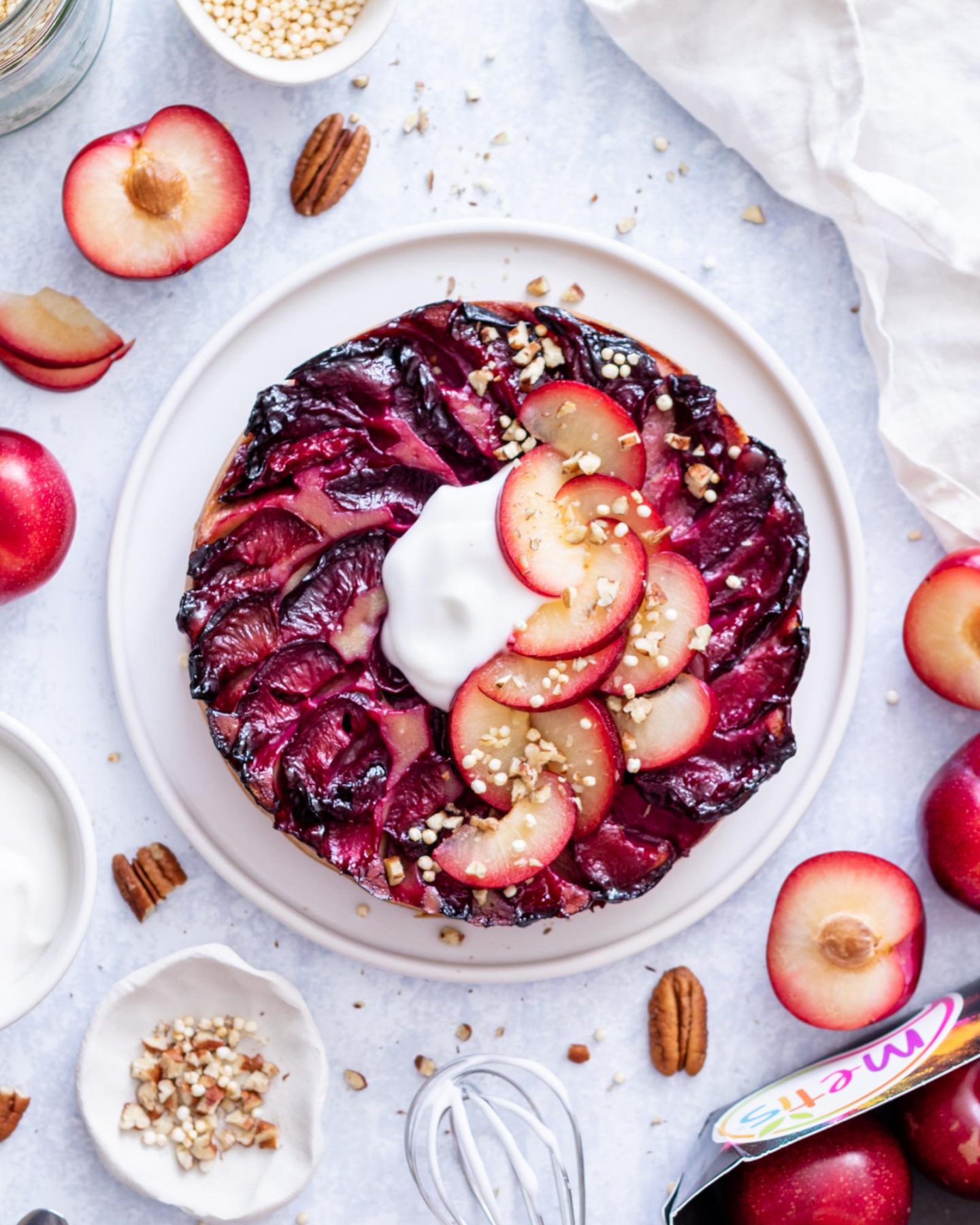 Whilst I'm calling this cake a 'plum' cake, it would probably more accurate to call it a 'Plumcot' cake – as I've used an interesting fruit for my topping (or do you call it the bottom in an upside down cake?): the Metis Plumcot!
If you've never heard of it before, but are intrigued, then read on – however please know that you can make this cake perfectly with regular plums, if you prefer.
What are Metis Plumcots?
Metis are actually a combination of a plum and an apricot – which offer the perfect balance between of sweetness and acidity in a fruit.
They are grown across the Mediterranean – in France, Italy and Spain – from June until November (depending on location). The sunny climate they grow in ensures that these plumcots are packed full of flavour and nutrients.
The Metis come in 4 different types which are harvested throughout different months and vary in colour and the degree of sweetness/sharpness:
Oxy Solar
Sunset Sky
Dark Moon
Safari Star
For this recipe I've used the 'Oxy Solar' variation and decorated with the 'Sunset Sky' (simply for colour purposes) – but you can re-create this delicious Vegan Upside Down Plum Cake with any of the variations.
How to make a vegan upside down plum cake
This endeavour was my first time creating an upside down cake – so I think it's fair to say that this recipe is a great practice for newbies to the upside down cake trend.
The secret in creating a cake upside down, is basically by filling the cake tin with your toppings first, before adding a cake batter. Easier said than done? Well, then let me tell you a little bit more about what you need to know in order to make this vegan upside down plum cake a success.
You need to start the cake tin with a sprinkle of sugar – this will caramelise in the oven and help hold your fruit together when cooling down later.
In creating this kind of cake, you need to be aware that whatever goes into the cake tin first, will be decorating your cake top later. So it's wise to spend a little bit of time arranging your fruit in a nice pattern.
It is important to cover the entire cake tin in a single layer of the fruit – otherwise you will end up with gaps in the decoration.
When you pour your cake batter, be slow and gentle as the fruit can easily move around if you're too enthusiastic with the batter pour.
Let your cake cool down for 20-30 minutes before attempting 'the flip'.
Use a sharp long knife to gently loosen your fruit from the cake tin before flipping.
Use oven mitts if the cake tin is still warm 😉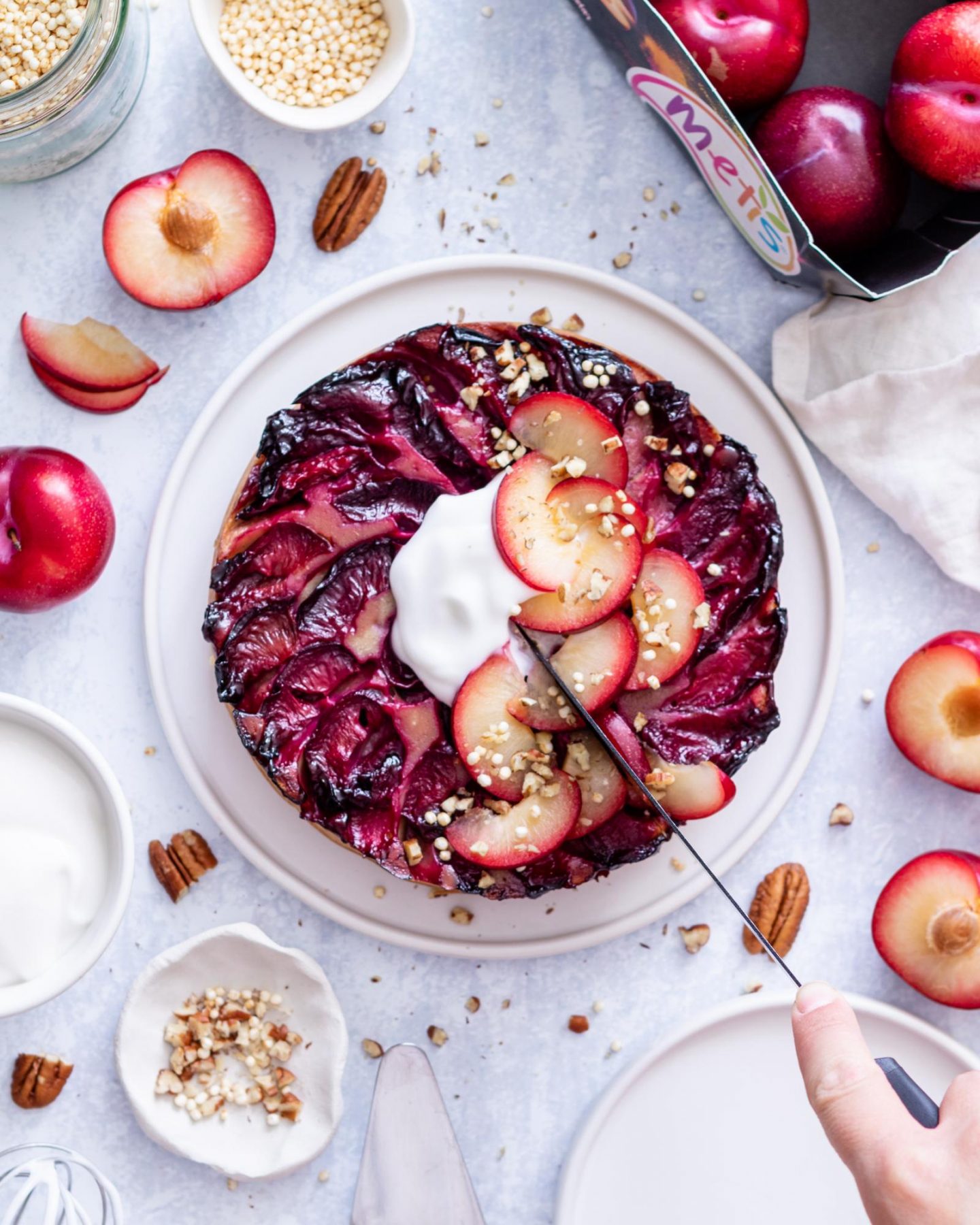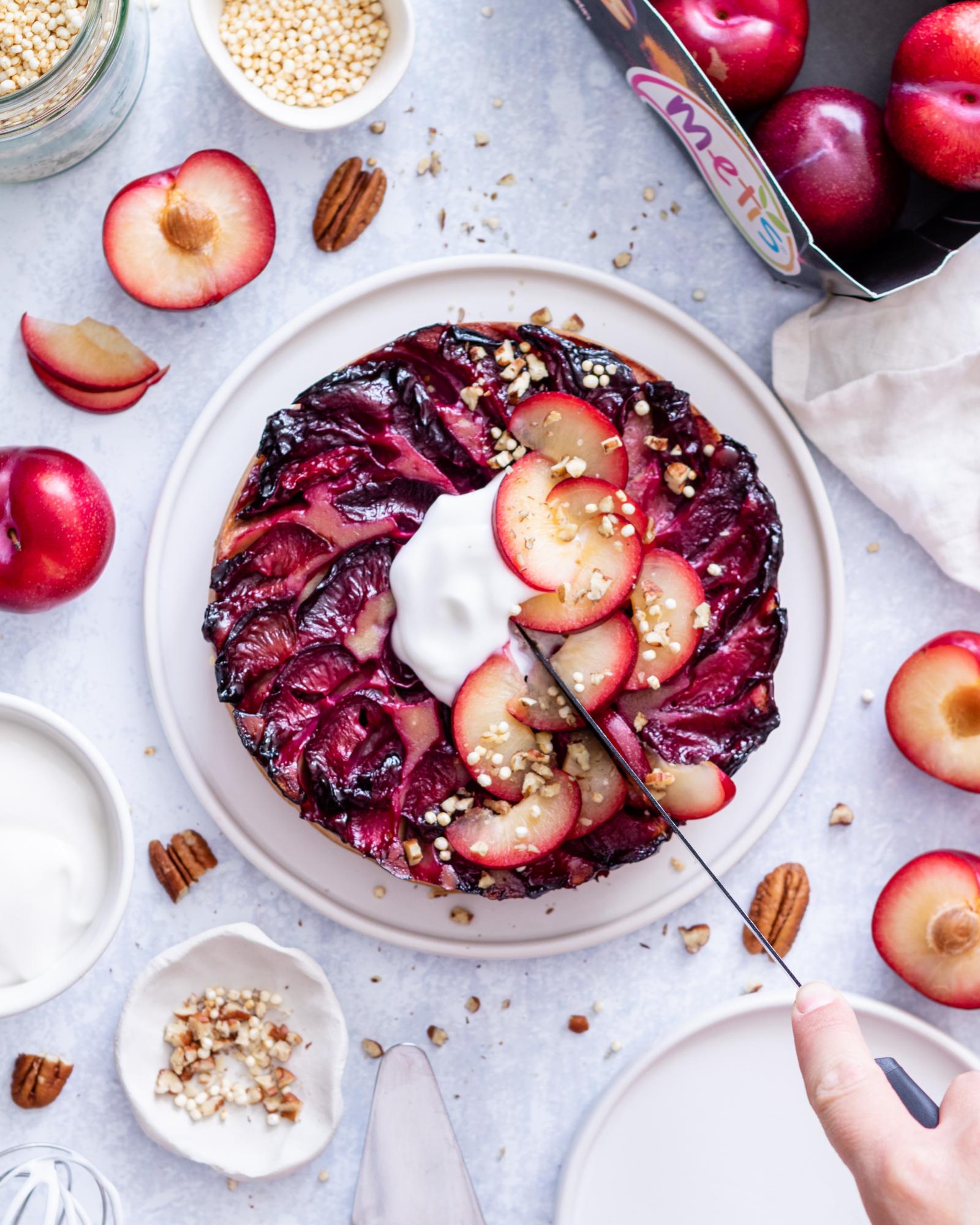 Creating the cake filling
For the cake batter it is important to work with a non-rising flour mix – after all you need the cake bottom to be even afterwards – hence why I use plain flour in this recipe.
I recommend using 2 bowls to mix your ingredients – one for the dry, one for the wet ingredients. This helps evenly distribute the ingredients and avoids any unwanted lumps in the cake.
I particularly love the dense, but moist texture in this cake and I've used aquafaba eggs for this vegan version. If you've never used Aquafaba before: it's basically using the water of a tin of chickpeas (make sure to buy unsalted chickpeas!) and beating it until it becomes fluffy. It's the perfect egg replacer for a variety of baked goods as it stays adds a light texture, and its flavour it easily adjustable by whatever you add to it.
Print
Vegan Upside Down Plum Cake
Author:

Prep Time:

15

Cook Time:

40

Total Time:

55 minutes

Yield:

1

cake

1

x

Category:

Cake

Method:

Baking

Cuisine:

Vegan
---
Description
Delicious & simple Vegan Upside Down Plum Cake – a great recipe to stun your friends and family with this easy, yet super tasty creation!
---
Scale
Ingredients
4

plums (I used the 'plumcots' called Metis)

1 Tbsp

brown sugar

2 Tbsp

vegan butter or margarine (I used Flora)

200g

plain flour

60g

brown sugar

1 tsp

baking powder
pinch of salt

90g

coconut oil, melted

150g

coconut yogurt

3

Aquafaba 'eggs', beaten*

1/2 tsp

cinnamon

1/4 tsp

ginger

1 tsp

vanilla extract
In addition: coconut oil for greasing the cake tin, additional plums & coconut yogurt for decoration.
---
Instructions
Pre-heat your oven to 180C, then start by cutting your plums into thick slices. Lightly grease a 7" cake tin (I used 1 tsp coconut oil to do so) and sprinkle 1 Tbsp of brown sugar across the bottom.
Tightly place the plum slices on the bottom of the cake tin, drizzle with the melted vegan butter/margarine, then place the tin in the pre-heated oven for 10 minutes.

In the meantime prepare your cake batter: Beat the Aquafaba eggs, then blend in the rest of your liquid ingredients: coconut oil, coconut yogurt, vanilla extract. Lastly add in the spices.

In a separate bowl combine the flour, brown sugar, baking powder and salt, then gently combine the dry and wet ingredients and pour them carefully onto the plums in  your cake tin.

Transfer the cake to the oven for about 40-50 minutes. Ideally check the cake with a toothpick after 40 minutes and adjust the baking time accordingly as it can depend on your oven.

Once your cake is done, remove the tin from the oven and let the cake cool down for 10 minutes before carefully removing the cake ring. Place a serving plate onto the cake and swiftly turn the cake around. Use a knife to help remove the bottom of the cake tin.

Decorate with coconut yogurt and plums before serving and keep the cake in the fridge, if you're keeping it overnight for up to 2 days.
---
Notes
For pouring the batter into your cake tin, I'd recommend using a big spoon and adding the batter bit by bit, in order to keep the plums from moving around on the bottom of the tin.
Aquafaba is made out of chickpea water, that is beaten until foamy. Make sure to use organic and unsalted chickpea water for this recipe, as you might otherwise find a salty flavour in your cake (which I wouldn't recommend, ha!)
Keywords: vegan cake, vegan cake recipe, vegan upside down cake, vegan plum cake, vegan upside down plum cake
Check out the vegan cakes & bakes section of my website, if you're feeling inspired to create some deliciousness for friends & family!