So easy and deliciously sweet - Vegan Strawberry Shortcake is the perfect summertime dessert and simply wonderful during strawberry season!
With juicy strawberries, whipped coconut cream and a crumbly vegan shortcake biscuit, this vegan strawberry shortcake recipe combines the delicious flavors of summer.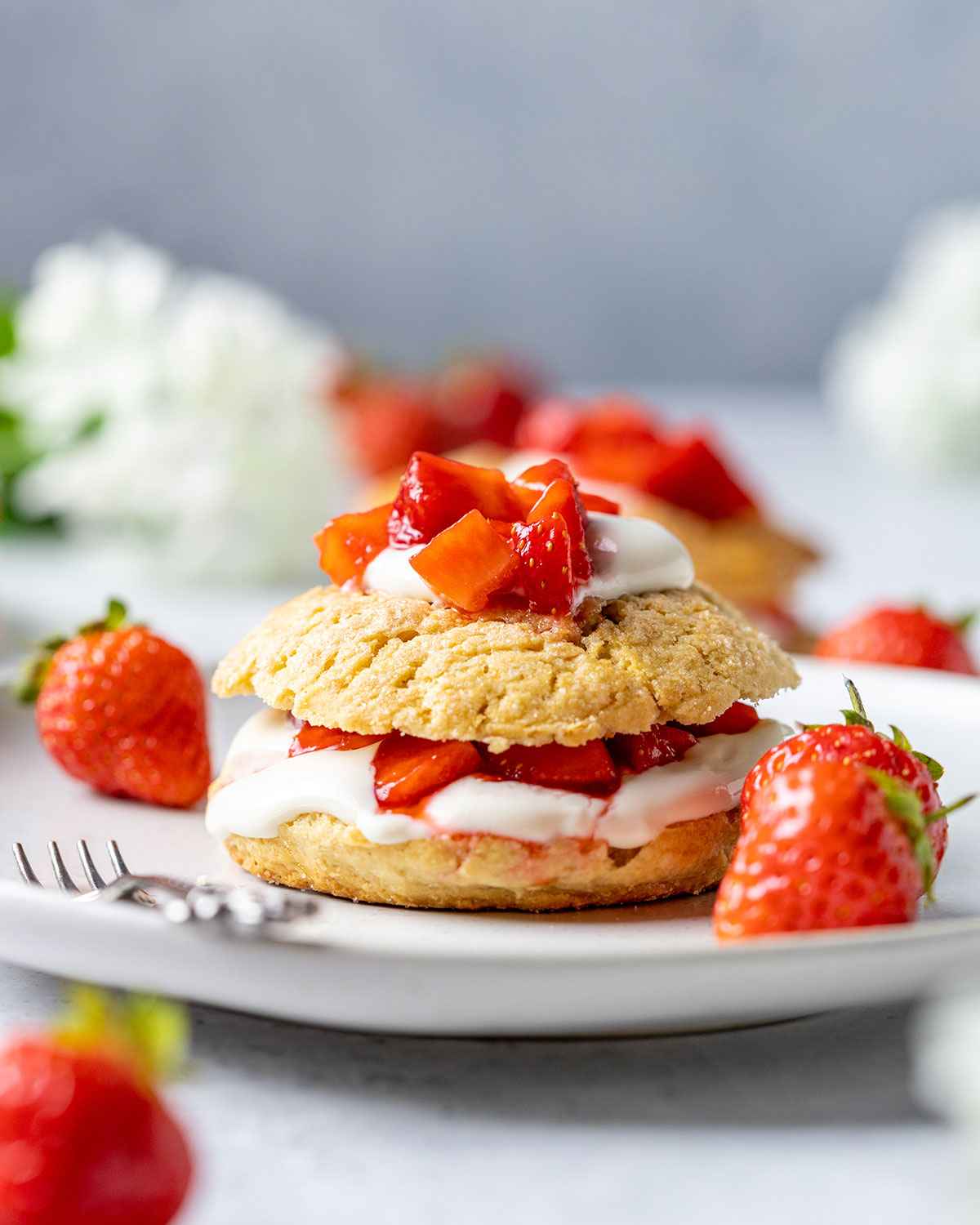 Let me tell you: this recipe is not only the perfect dessert for summer, but delicious any time of the year. For the best flavor, I definitely recommend enjoying these little creations of goodness when strawberries are in season.
You can serve strawberry shortcake on its own, as a dessert or as part of an afternoon tea - or simply as a snack! And if you're a fan of strawberries, also try my Vegan Bread Pudding Recipe with strawberries and rhubarb to get your dose of seasonal fruits!
Jump to:
What is strawberry shortcake?
A strawberry shortcake is usually made of 3 things: shortcake, sweet strawberries, and whipped cream. These are layered, with whipped cream and strawberries sandwiched between the shortcake halves - and sometimes also on top as a decoration.
The shortcake itself is a sweet and crumbly cake or biscuit, and it is thought to be of North American origin.
Ingredients
Here's everything you need for this recipe: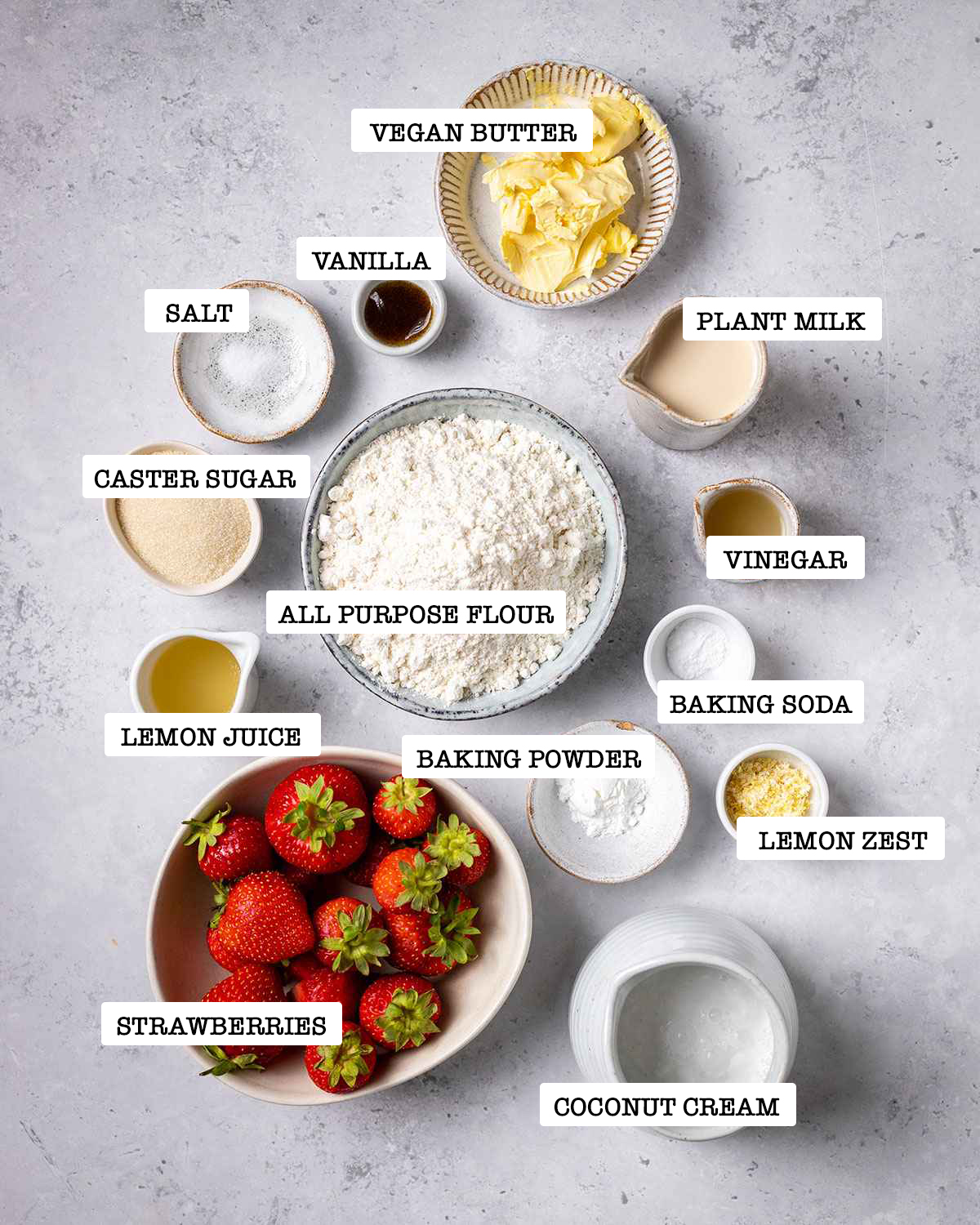 Fresh Strawberries: This recipe is best when strawberries are in season! Use fresh strawberries
Plant Milk: I've used oat milk for this recipe, but you can swap it for your favorite non-dairy milk.
Apple Cider Vinegar: Together with the plant milk the vinegar creates the vegan "buttermilk" used in this recipe.
Lemon Zest: gives the vegan shortcake a delicious, zesty flavor!
Flour: I've used plain all-purpose flour for this recipe.
Baking powder + Baking soda: are needed to give our shortcake the rise.
Sugar: I've used caster sugar for the vegan strawberry shortcakes, but you can use a granulated alternative if you prefer.
Vegan Butter: I used unsalted vegan butter from Flora. The butter needs to be at room temperature for this recipe and is cut into the shortcake dough.
See recipe card for full quantities.
Equipment
There's nothing complicated required to make this recipe. Here is a breakdown of everything you will need:
large mixing bowl
a jug or a small bowl to combine the vegan buttermilk
a medium mixing bowl
spatula
baking tray + parchment paper
oven
electric hand whisk
kitchen scale to measure your ingredients
rolling pin & a flat surface to unroll the dough
Instructions (Step-by-Step)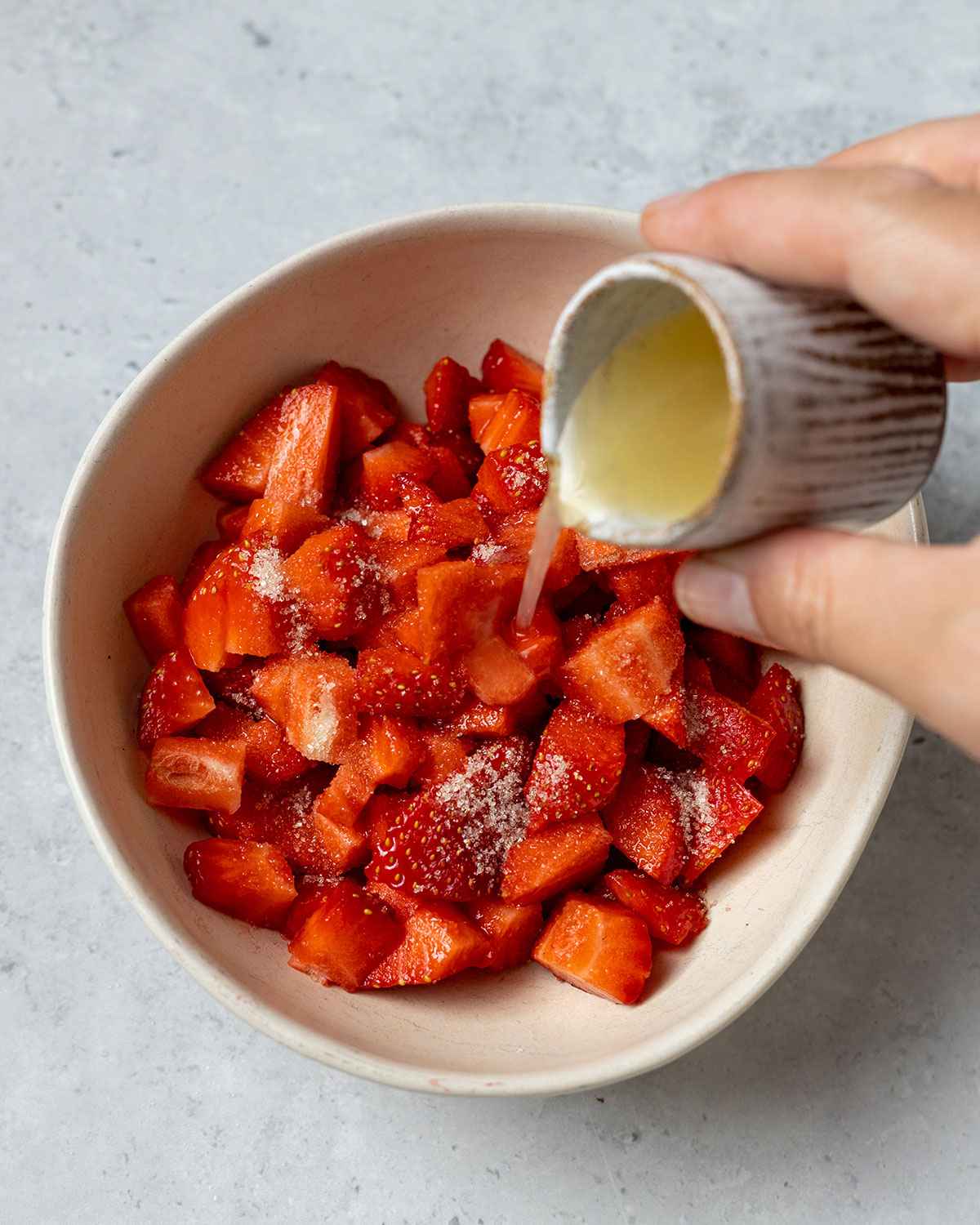 Place the strawberry chunks into a bowl with the lemon juice and sugar. Cover and set aside for at least 20-30 minutes.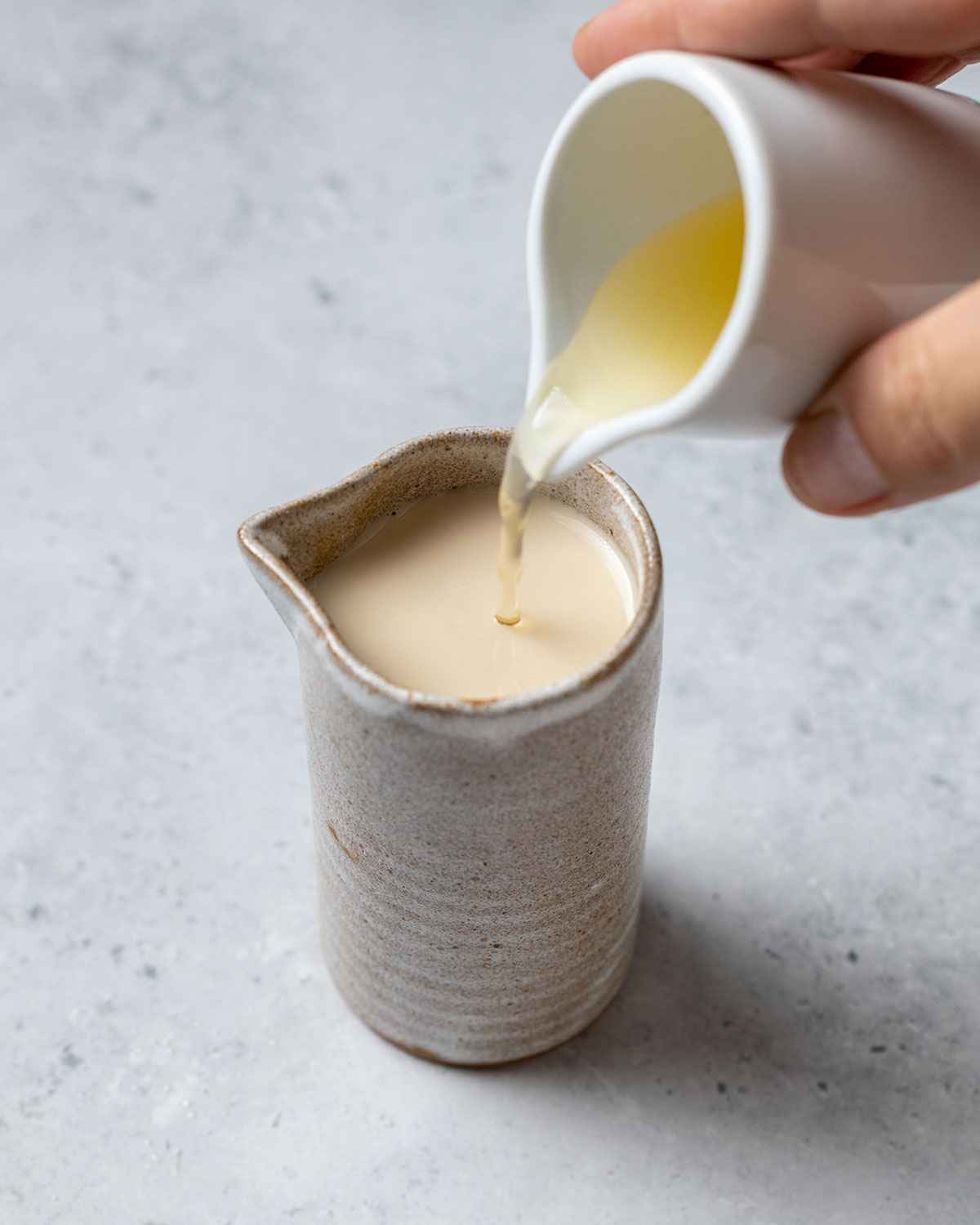 Combine milk and apple cider vinegar. Set aside for 10 minutes, then stir in the lemon zest.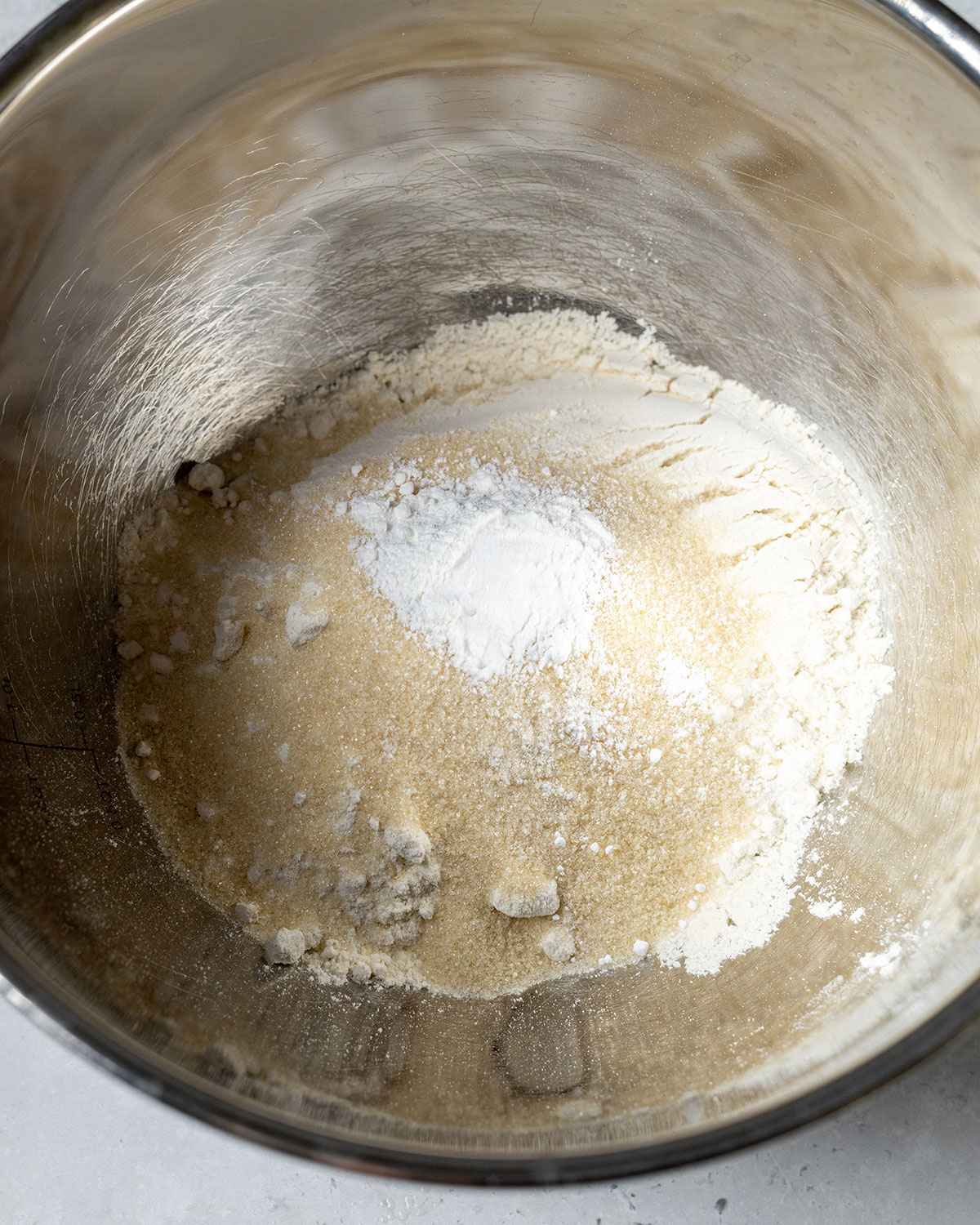 Combine the dry ingredients in a large mixing bowl.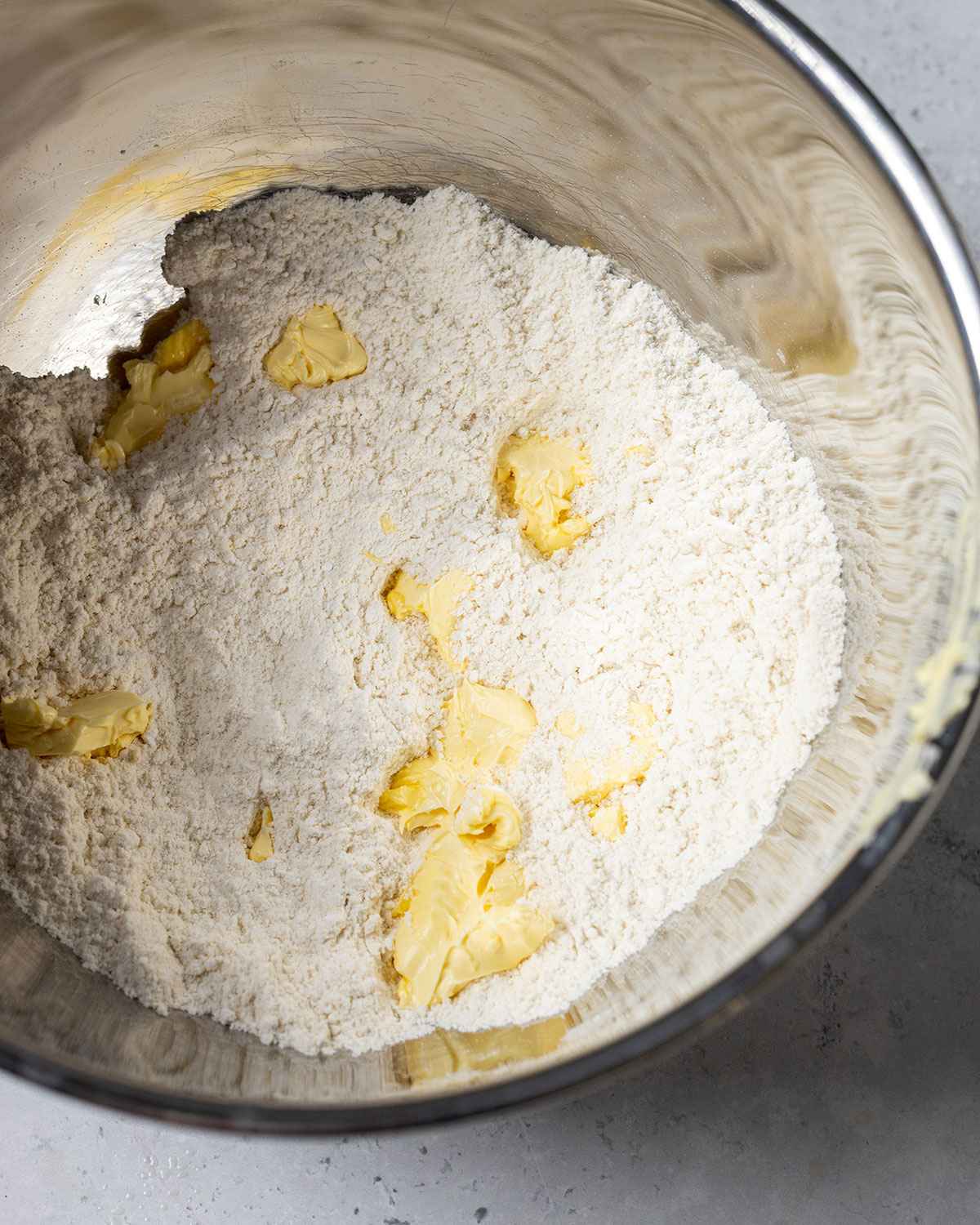 Add the butter in small chunks, mix in with your hands to create a shaggy dough.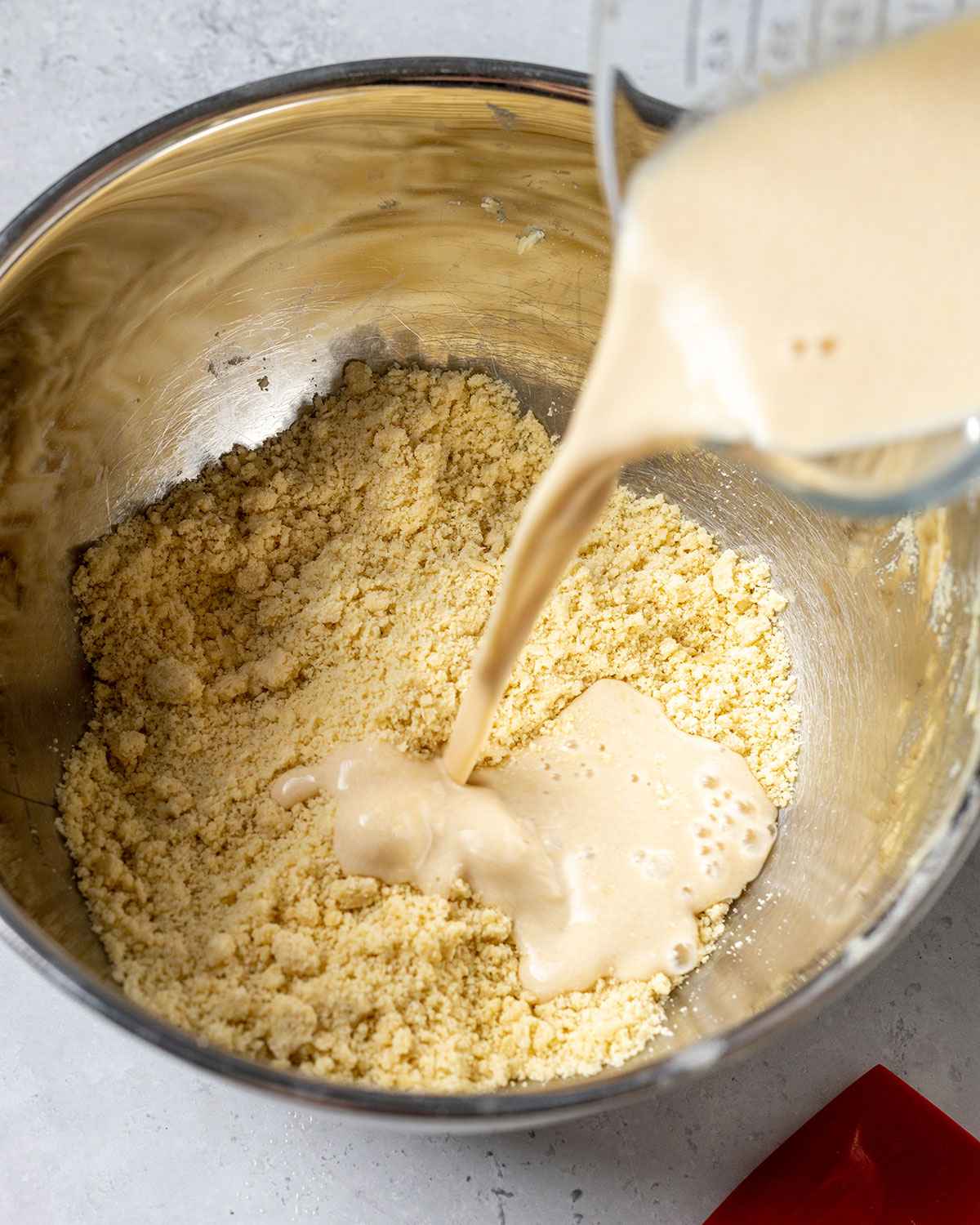 Pour the milk mix into the dry ingredients and combine with a spatula. Do not overmix!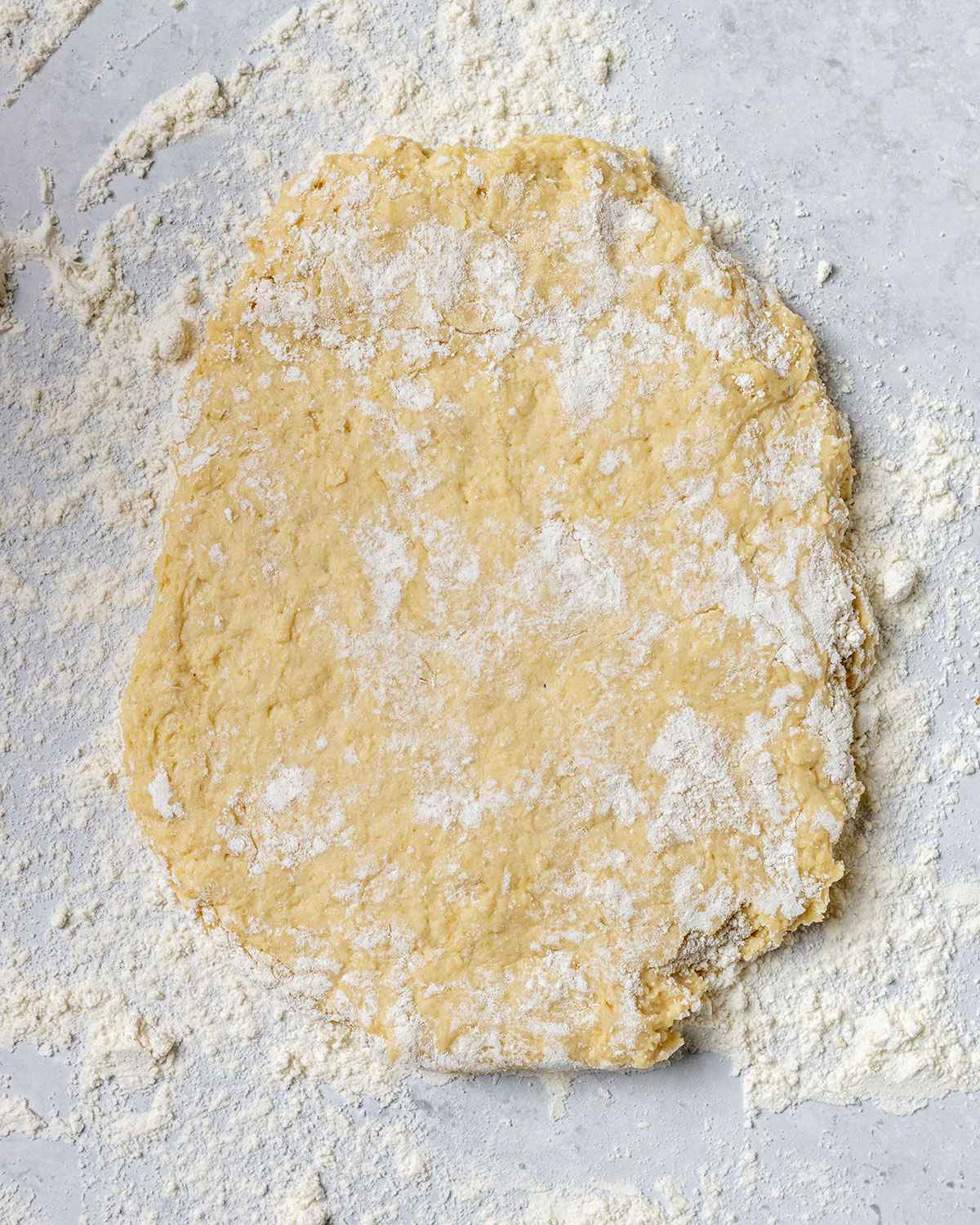 Roll out the dough on a flat surface - lightly coated with flour to 3/4 inch thickness.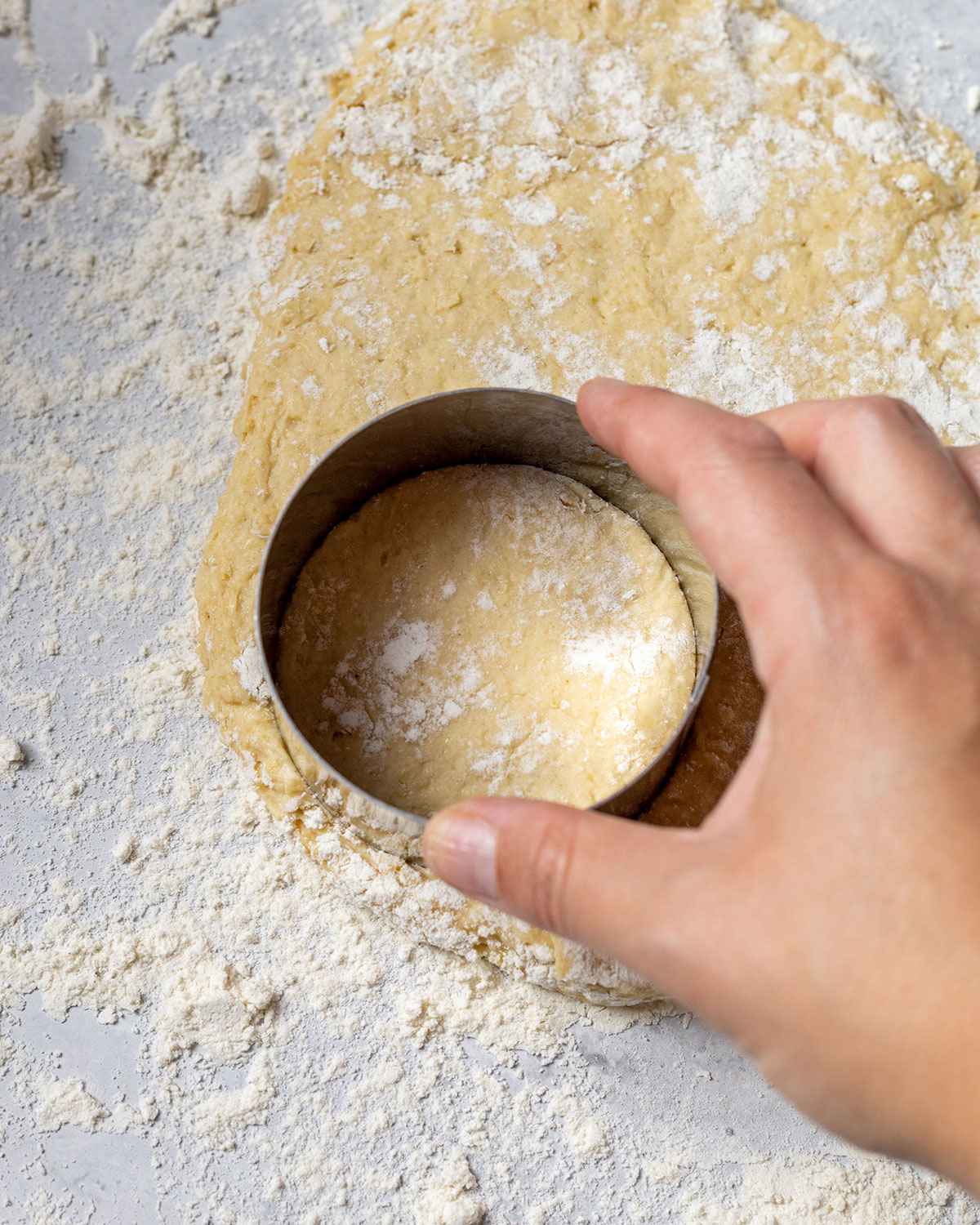 Cut into 4 equal pieces with a sharp knife or a pastry cutter.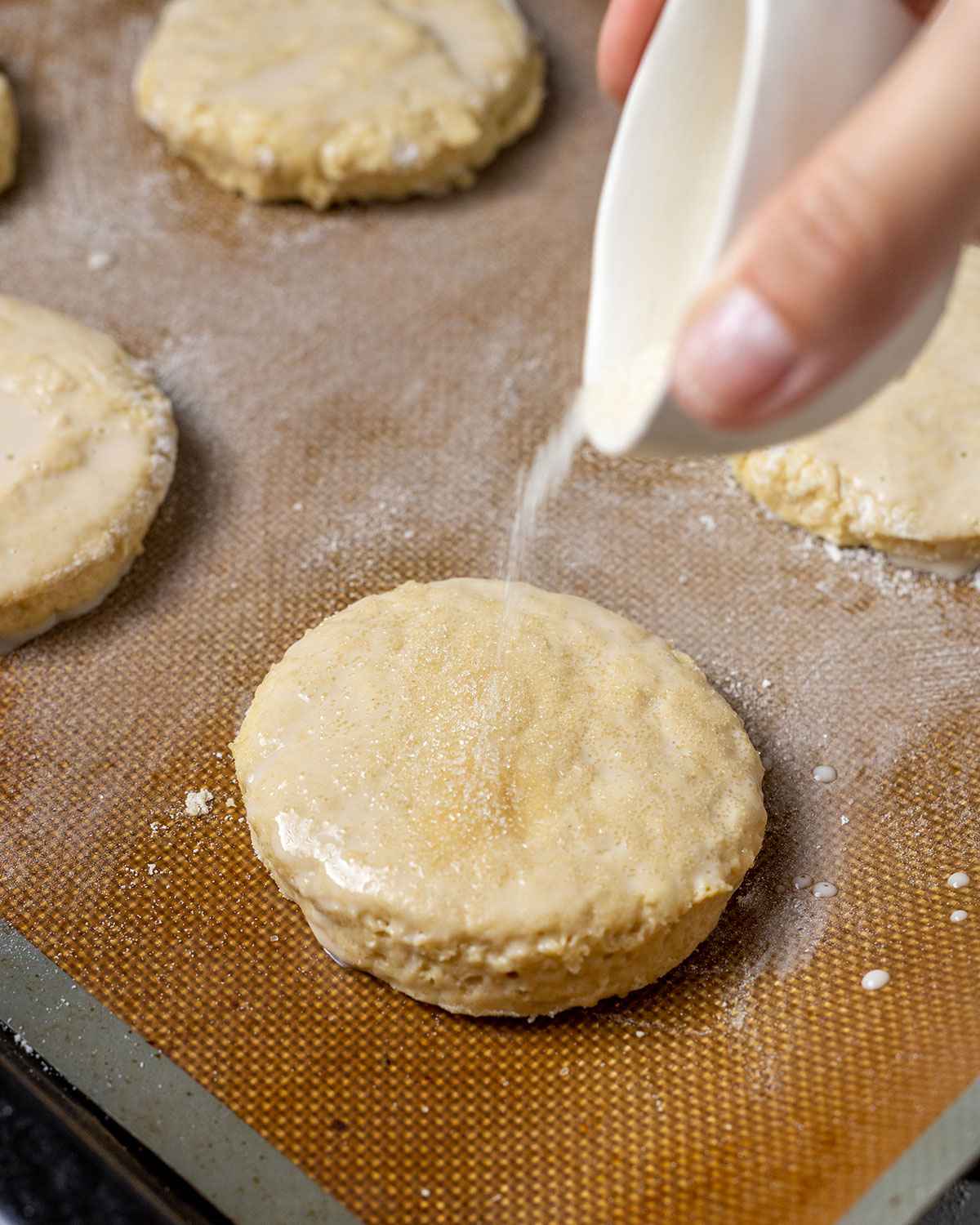 Brush with milk & sprinkle with sugar.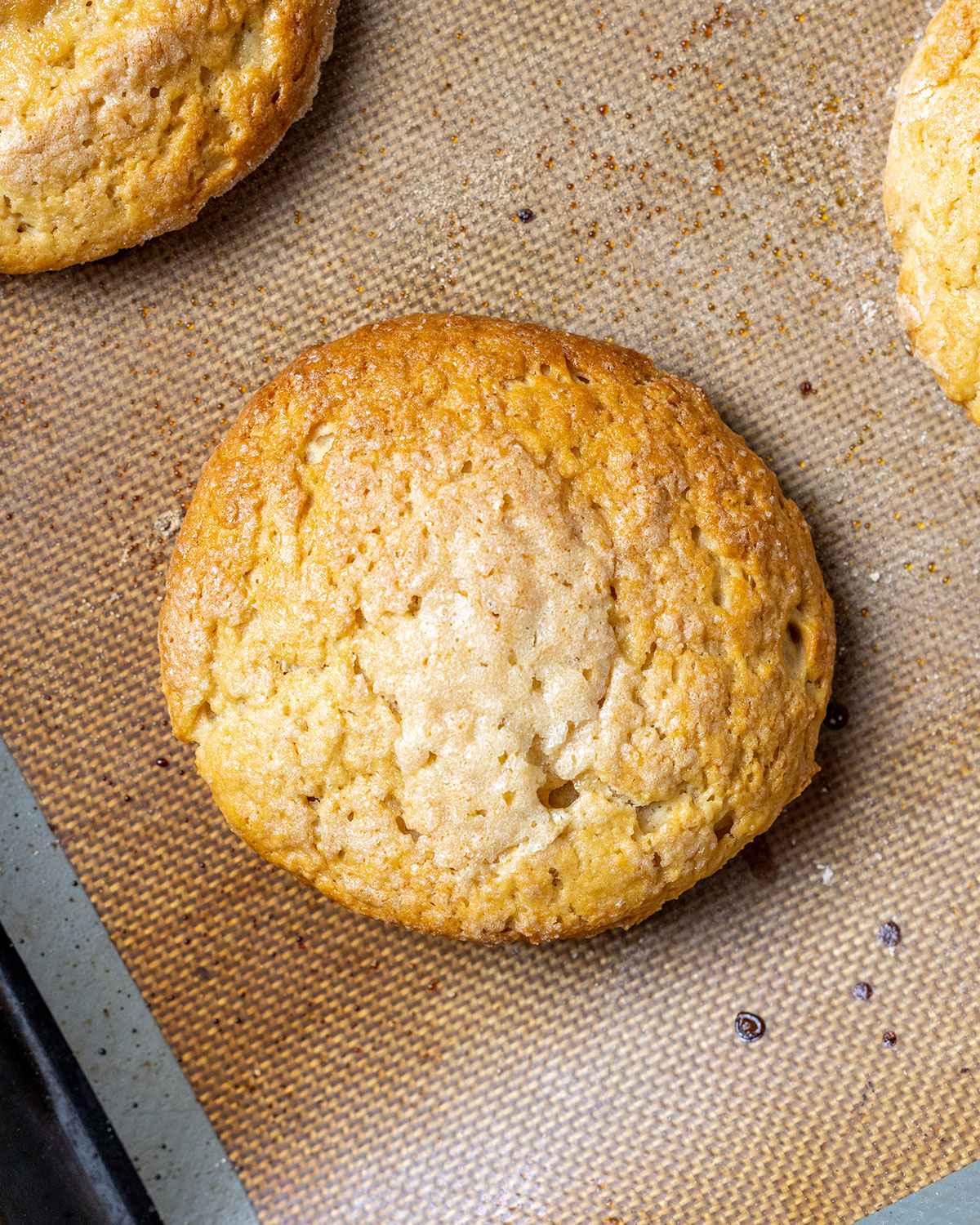 Bake in the oven for 15-18 minutes or until golden.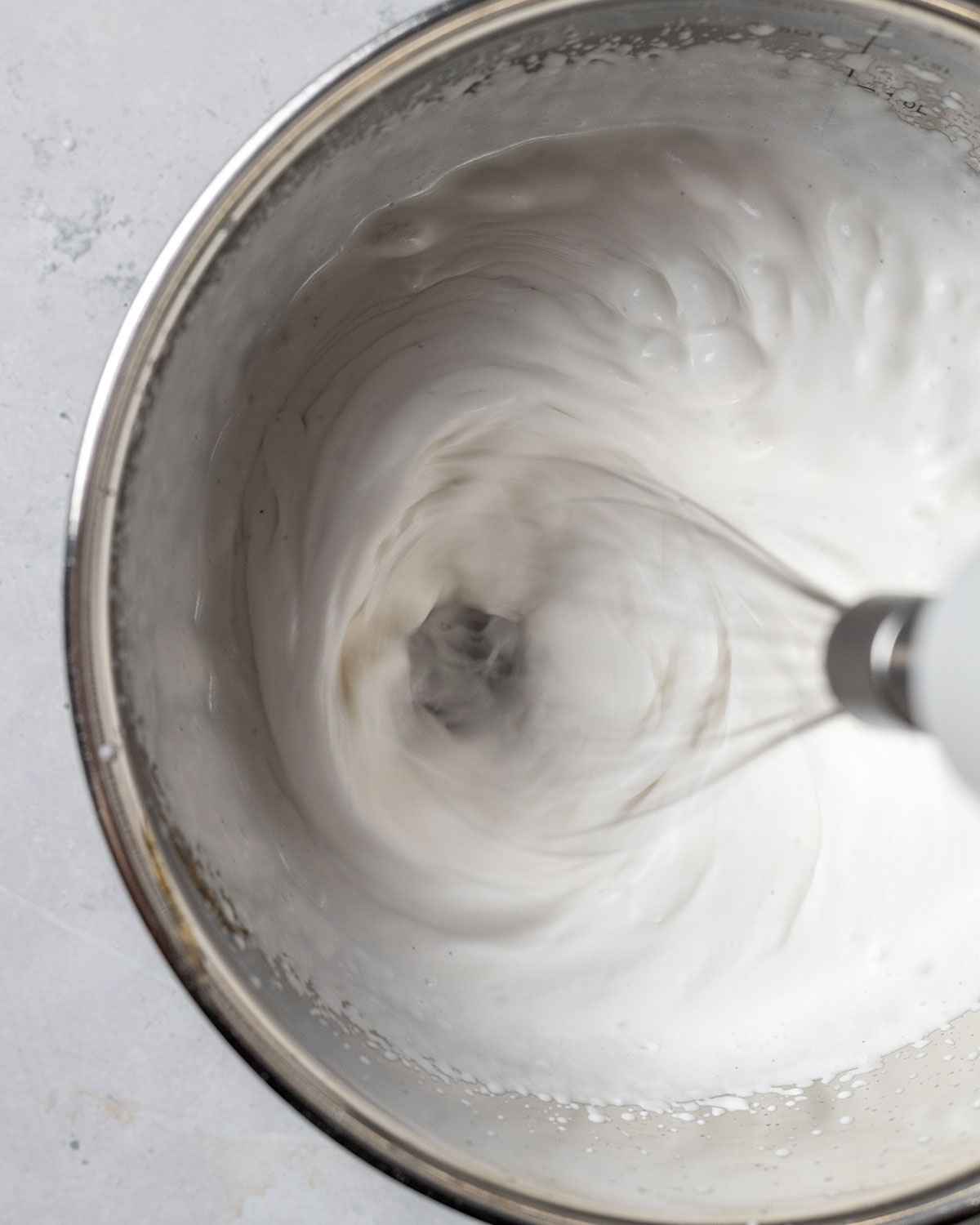 Whip up the coconut cream in a chilled bowl.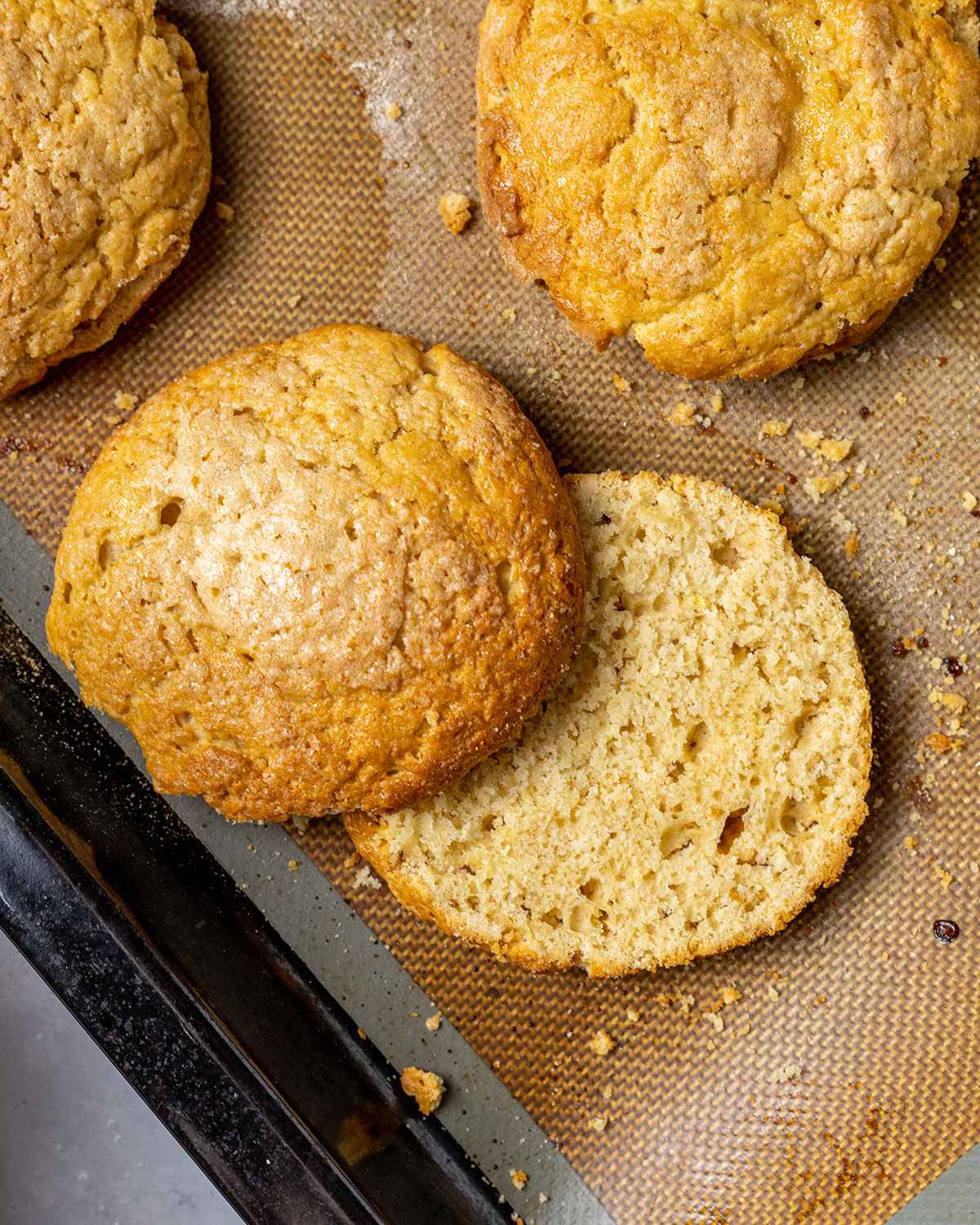 Slice the shortcake.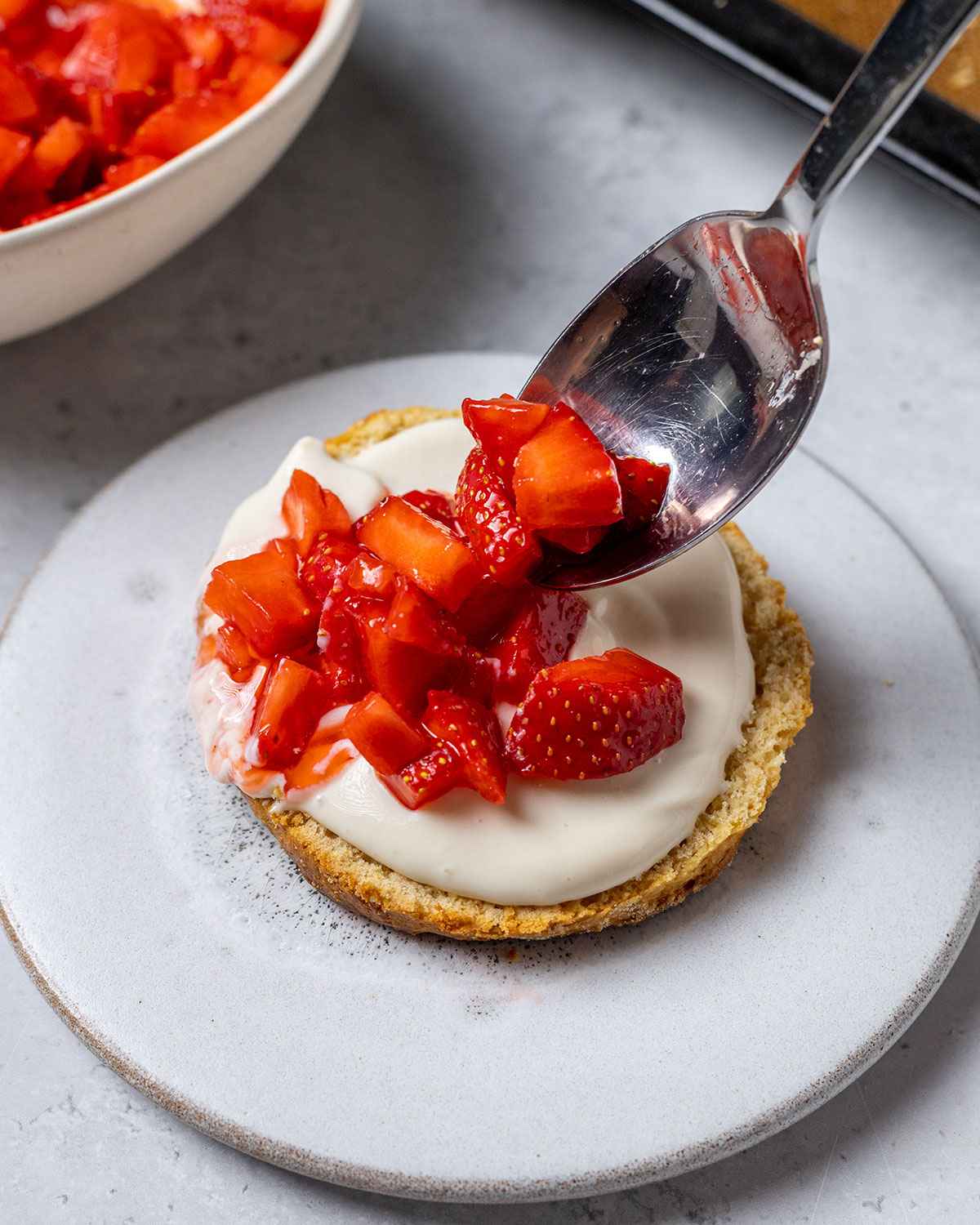 Top the bottom half with whipped coconut cream and strawberries.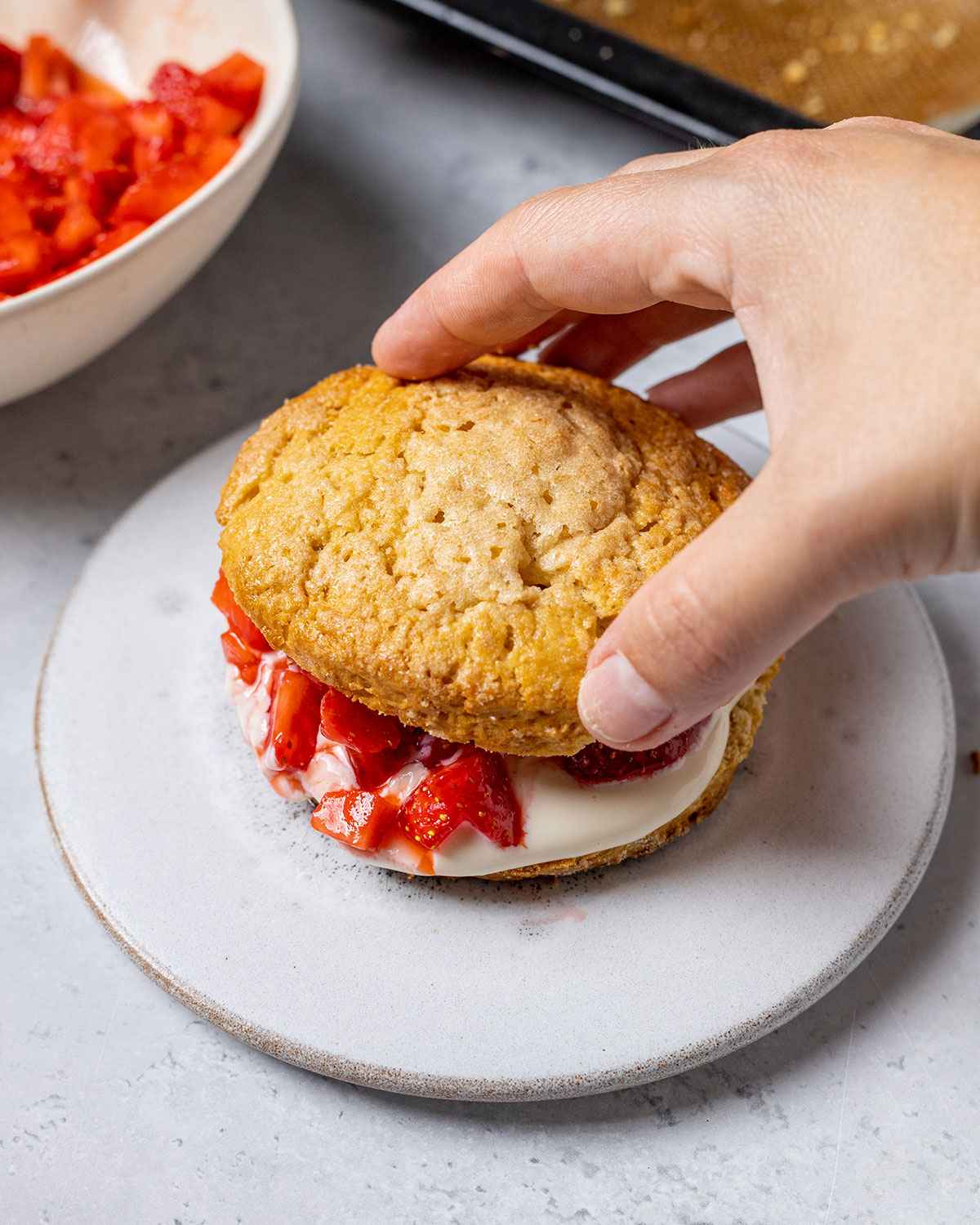 Place the top half of the shortcake on top.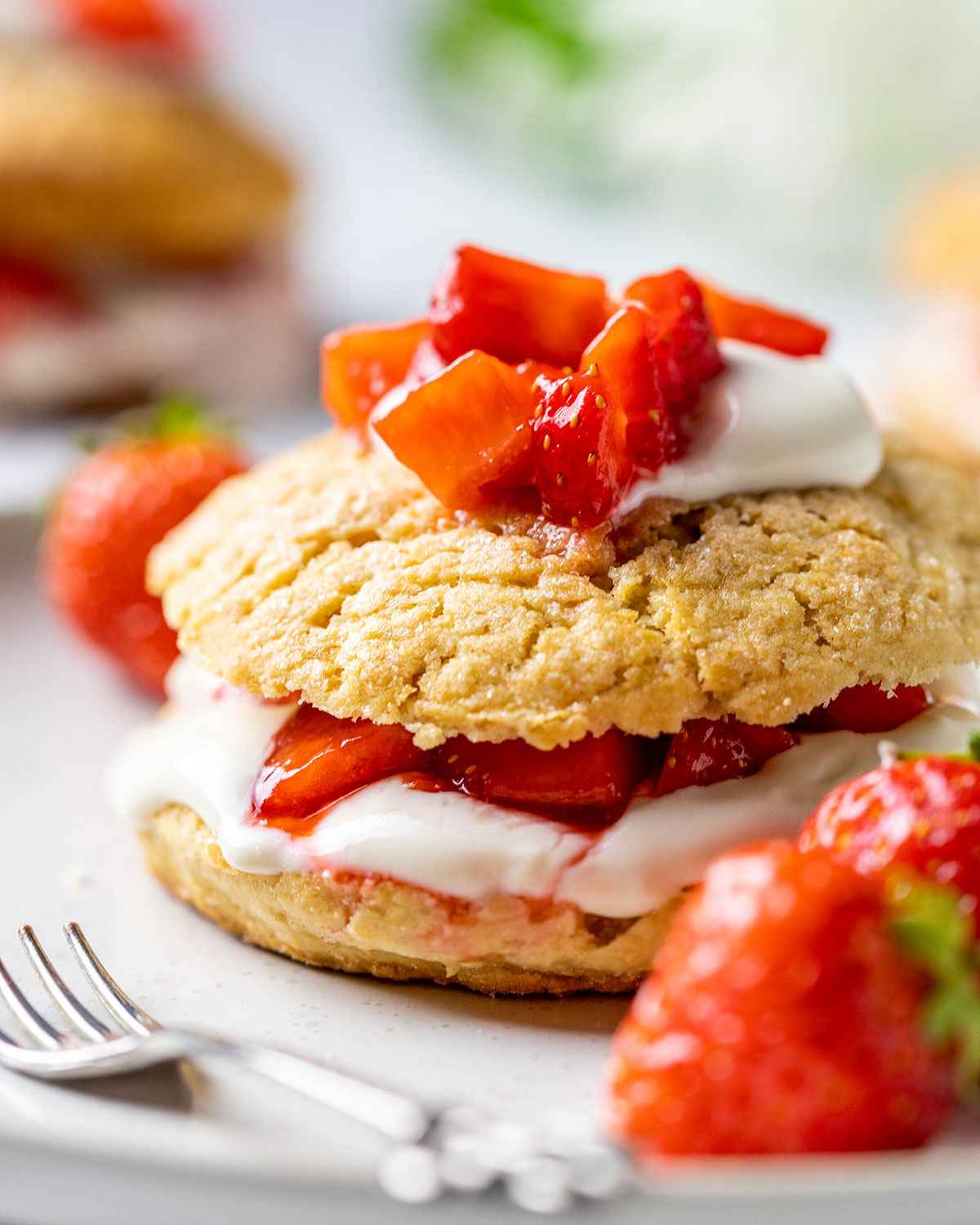 (Optional) Decorate with top with the remaining whipped cream & strawberries.
How to get the perfect whipped coconut cream
There are a few important things to note when making coconut cream at home:
Ideally use coconut whipping cream! There are tinned versions, such as the one from Nature's Charm, that are perfect for whipped cream.
If you don't have access to coconut whipping cream, you can use tinned coconut milk. Make sure to pick a brand that has a high percentage of coconut - this should be listed on the ingredients. Place the tin into the fridge, upright, and leave it there overnight. Carefully remove it the next day and without turning the tin upside down, carefully open the top. The thick coconut cream will have collected at the top of the tin. Remove only this part, leaving the watery coconut milk in the tin and use the cream to make whipped coconut cream.
Make sure your bowl is chilled beforehand! For best results, use a metal bowl.
Use an electric hand whisk! This has far more power and it's much easier to whip your coconut cream.
Start on medium speed and slowly increase it to medium-high as the coconut cream thickens.
Do not whip on high speed! This will break the coconut cream down again.
Once the coconut cream is whipped into stiff peaks, stop immediately! Don't continue whipping or you will break down the cream again.
Store the whipped coconut cream in the fridge until ready to use.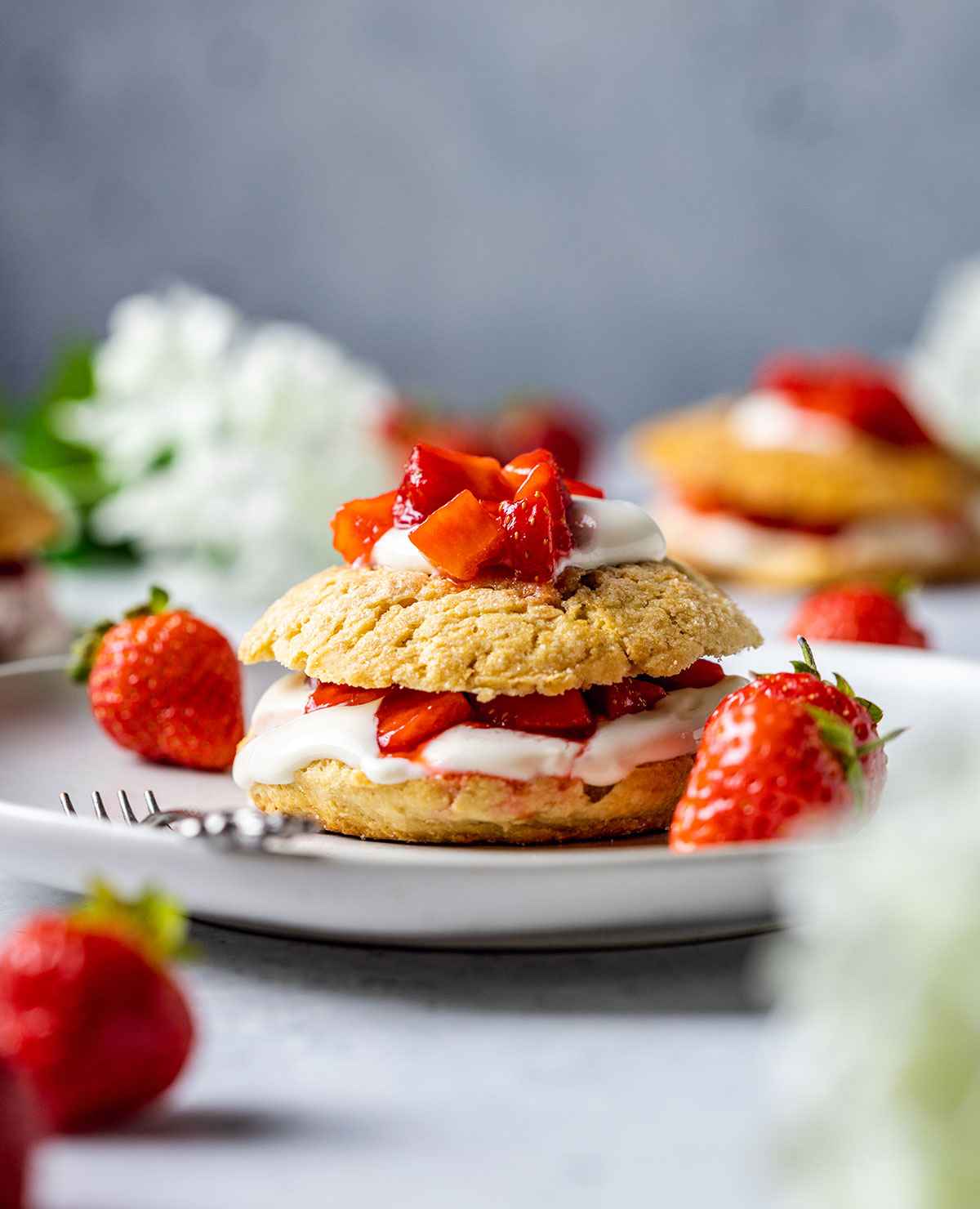 Substitutions
Here are some tips in case you need to swap any of the ingredients used:
Oat Milk - you can swap the oat milk for your favorite plant milk, such as soy milk or almond milk, pretty much any non-dairy milk should work!
Apple Cider Vinegar - the vinegar creates the vegan buttermilk in combination with plant milk. You can use lemon juice instead if you have no apple cider vinegar to hand.
Sugar - Instead of caster sugar, you can also use cane sugar or coconut sugar. Maple syrup, agave nectar or other liquid alternatives are not a great substitute on this occasion.
Vanilla Extract - I love adding a hint of vanilla to the whipped coconut cream, but you can also leave it out or add almond extract!
Variations
There are a few things you and easily adapt to make this recipe your own!
Almond flour: Replace a spoonful of the flour with almond flour or coconut flour for a delicious nutty taste!
Fresh berries: In addition to strawberries you can also add other fresh berries to the mix, such as raspberries or blueberries!
Storage
The individual elements for this recipe - strawberries, shortcakes & whipped cream - are best stored separately. The shortcake and strawberries can be stored in the fridge overnight, and the whipped cream is best created fresh before assembling.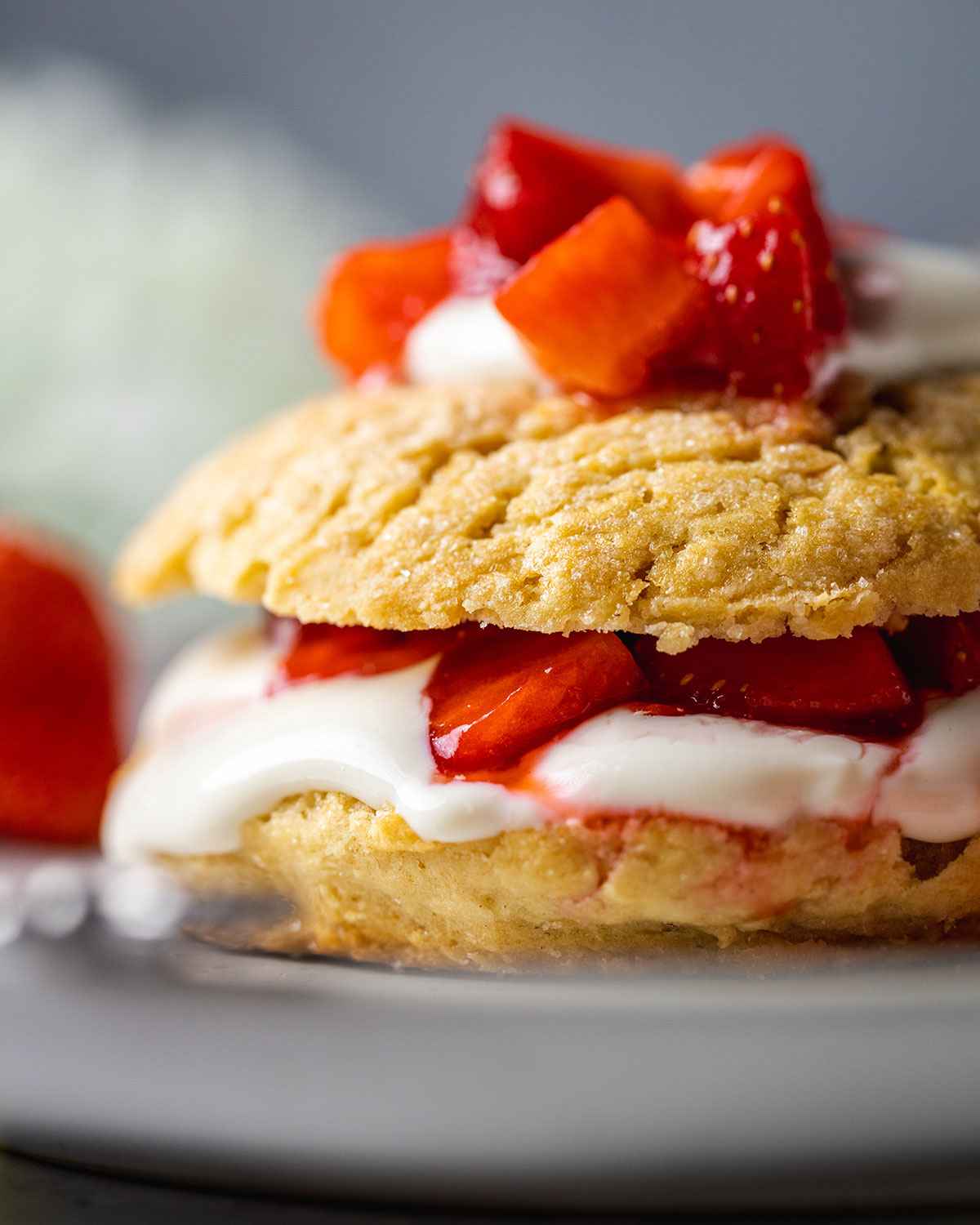 Related Recipes
📌 If you love Pinterest you can pin any of the images to your boards!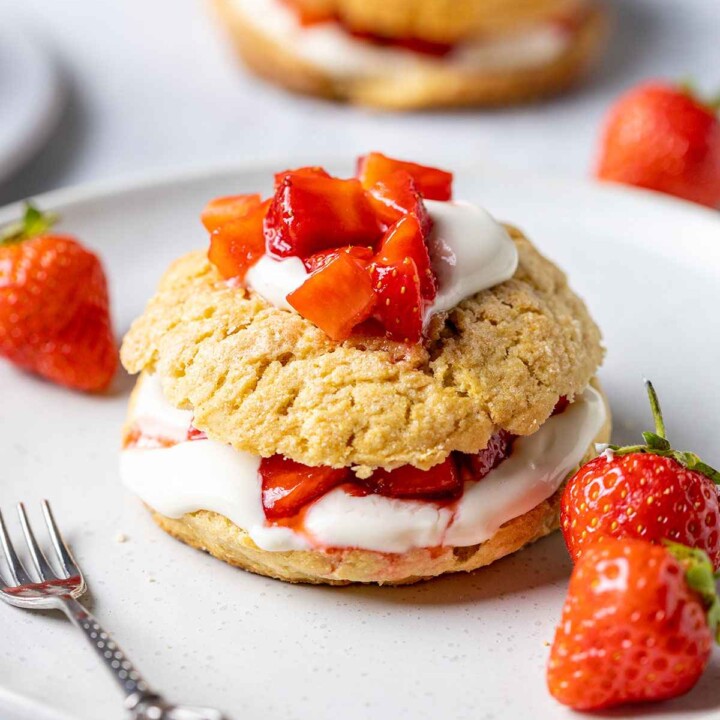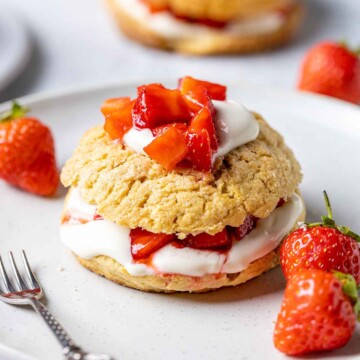 Vegan Strawberry Shortcake
Deliciously sweet and refreshing: this Vegan Strawberry Shortcake recipe is easy to make and simply the perfect dessert for summertime and strawberry season!
Ingredients
For the shortcakes:
1/2

cup

oat milk (120 ml)

1

tbsp

apple cider vinegar (15 ml)

1

tsp

lemon zest

1 + 3/4

cups

all purpose flour (220 g)

1

tsp

baking powder

1/2

tsp

baking soda (bicarbonate of soda)

1

pinch

salt

3

tbsp

caster sugar (40 g)

1/3

cup

vegan unsalted butter (80 g)

at room temperature

a little extra plant milk for brushing + sugar for the coating
For the vegan whipped cream:
coconut whipping cream

2

tsp

vanilla extract

2

tbsp

sugar
For the strawberries:
7

oz

fresh strawberries, diced (200 g)

1

tbsp

lemon juice

1-2

tbsp

sugar
Instructions
Prepare the strawberries:
Remove the leaves from your strawberries and cut them into chunks. Place them in a bowl, drizzle with lemon juice and sprinkle with sugar. Let them rest for at least 20-30 minutes.
Preparing the shortcake:
Start with the shortcakes. Preheat your oven to 400F (200C) and line a baking tray with parchment paper.

In a jug, combine the oat milk and apple cider vinegar. Briefly whisk to combine, then set aside for 10 minutes, this will be our vegan buttermilk.

In a large mixing bowl, combine the flour, baking powder, baking soda, salt and caster sugar.

Cut the vegan butter into small chunks, then add it to the flour mixture. Use your hands to rub it into the dry ingredients and lift the flour/butter whilst you do so to add air to the mix.

Stir the lemon zest into the vegan buttermilk, then pour the mix into the large bowl. Combine with a spatula.

Transfer the dough to a lightly floured surface and roll it out to roughly 3/4 inch height. Divide into 4 equal pieces and gently shape each piece - round or square, to your preference. You can also use a pastry cutter to create the clean sharp edges of a typical shortcake.

Brush the top with a little plant milk, sprinkle with a little sugar and bake in the oven for 15-18 minutes, or until golden.

Remove them from the oven and let them cool down for at least 10 minutes on a wire rack, before slicing.
Whipping up the vegan cream:
Place the coconut whipping cream into a chilled mixing bowl.

Sprinkle in the sugar and vanilla extract, then begin whisking using an electric whisk on medium speed.

Slowly increase the speed to medium-high as the cream thickens until stiff peaks form. Stop whisking immediately and place the whipped coconut cream into the fridge.
Assembling the strawberry shortcakes:
Place a spoonful of whipped coconut cream onto the bottom half of the shortcake.

Place the top half of the shortcake on top.

Optional: you can decorate the top with a little more whipped cream & strawberries to make them look pretty, if you like!
Notes
Whipping cream: When whipping the coconut cream, make sure to not whip on high speed, and to also stop whipping as soon as stiff peaks form. Otherwise you will deflate the whipped cream!
Seasonality: This recipe is truly divine all year around, but for best results I recommend using strawberries in season. For off-season creations, you can dice and freeze your strawberries in advance. 
Storage: The shortcake and strawberries are best stored separately, prior to assembly, and for best results, the whipped vegan cream should be created right before the assembly. 
Latest Recipes
*Disclosure: This page may contain affiliate links and sponsored links that earn me a small commission, at no additional cost to you. You can find more information in my Privacy Policy.
 © Romy London / Romina Callwitz | All images and content are copyright protected. Please do not use my images and content without permission. If you wish to re-publish any recipes or images, please get in touch via email. Thanks for your support!