Delicious Vegan Arancini Recipe, created with flavourful pumpkin and sage risotto, coated in a crunchy crumb. Easy to make at home, no fancy equipment.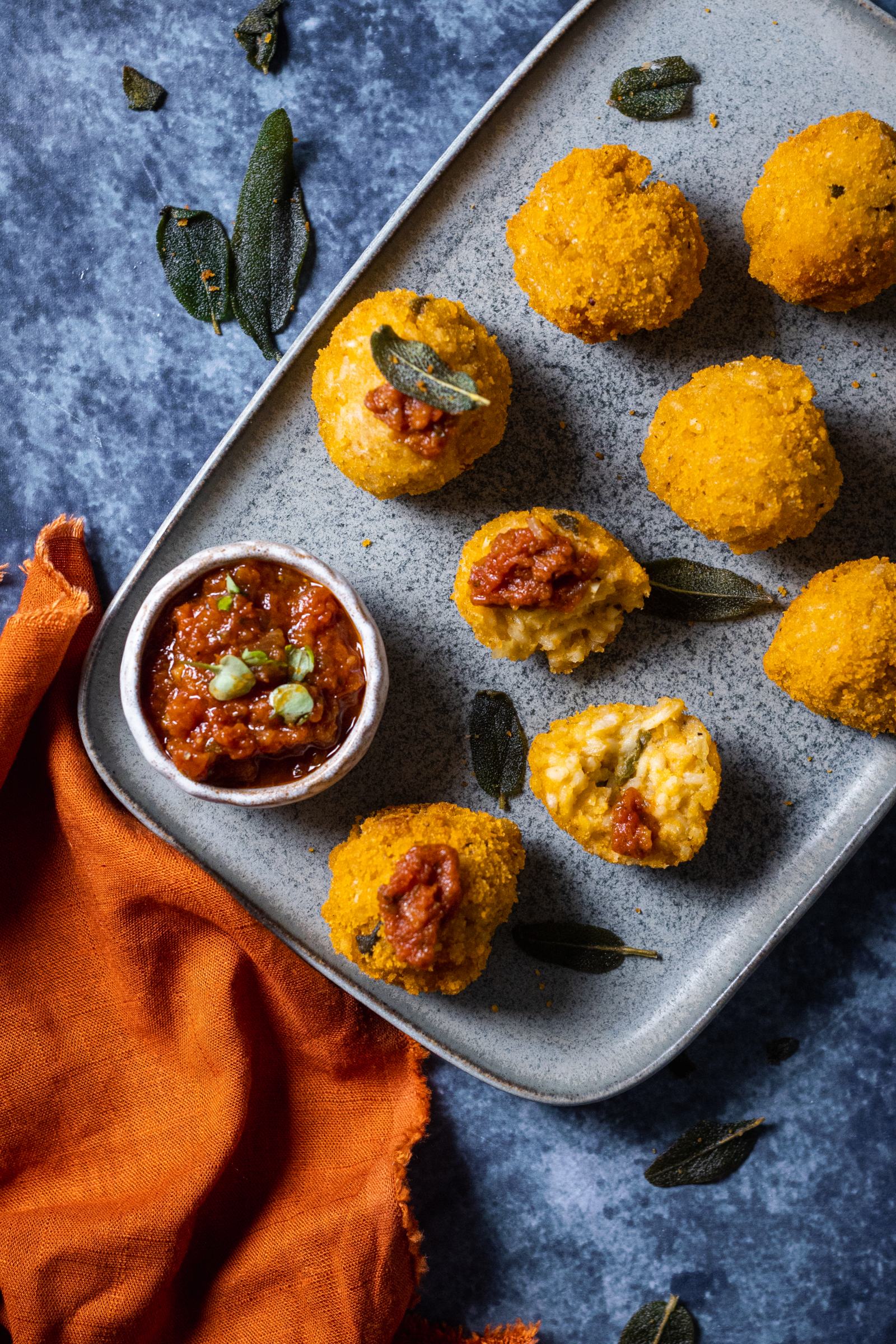 Vegan Pumpkin Arancini
I think I've been in love with arancini since the first time I've tried these little balls of wonder - somehow, however, it's taken me until 2020 to finally try my hands at making my own at home. I was always convinced I'd need a deep-fryer to make arancini as I've always been scared to deep fry in a deep pan - but since I've finally gotten over that fear nothing is holding me back anymore and I've created this delicious vegan Arancini recipe with pumpkin and sage at home to share with you (believe me, it's really not that complicated!)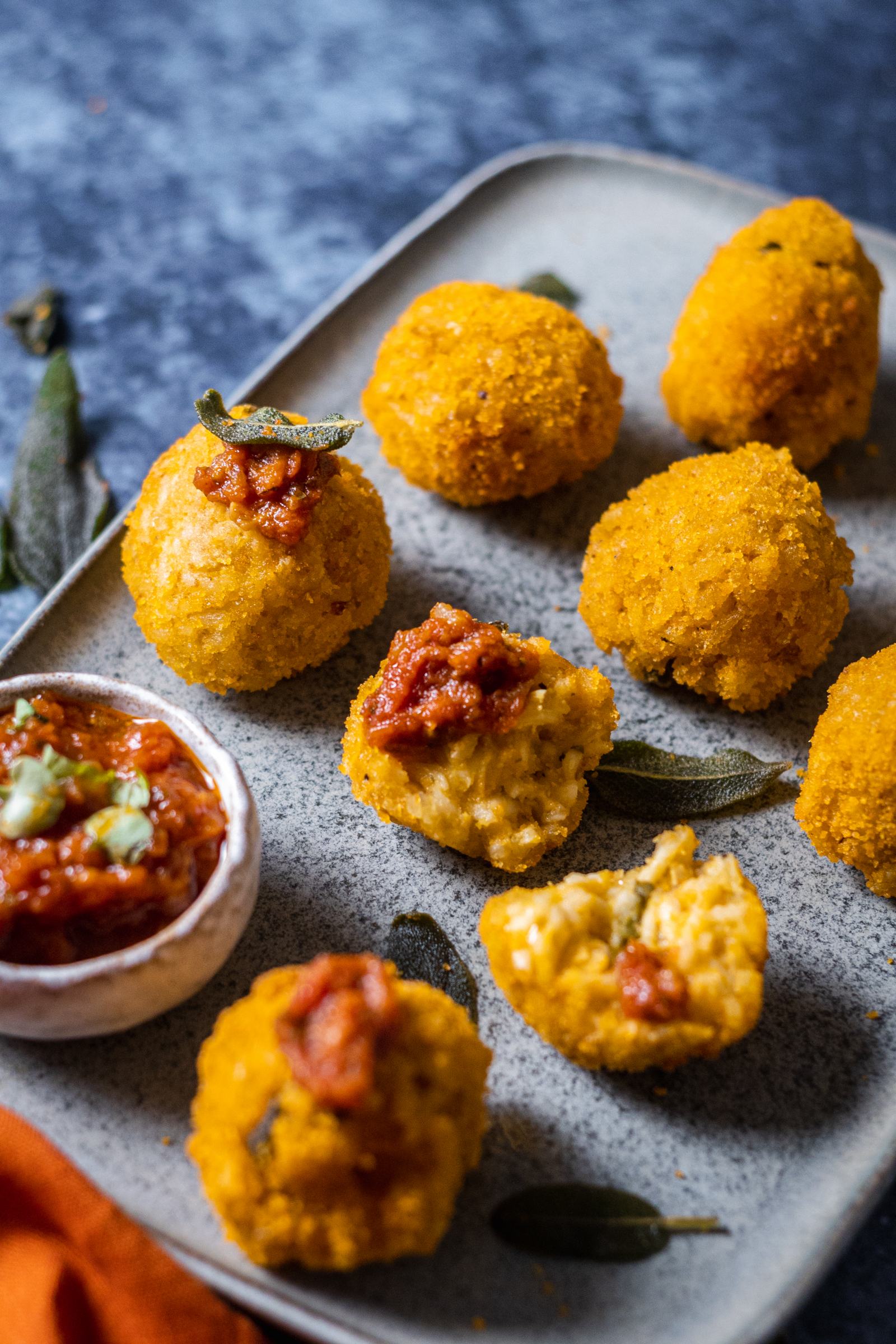 Ingredients
pumpkin, cubed and roasted (fresh or frozen)

olive oil

sea salt

vegan white wine

risotto rice

shallots

garlic

vegan butter

vegetable stock

fresh sage

breadcrumbs

vegetable oil for deep-frying
Equipment
a deep, medium-size saucepan with lid
a large pan
a large mixing bowl
a small bowl
a slotted spoon
a lined baking tray
How to make vegan arancini
Roasting the pumpkin
To create these vegan arancini, we need to start with making the pumpkin risotto. On this occasion I've cubed and roasted my pumpkin from scratch, however, you can also use ready-made pumpkin puree. Add roughly 400g of pumpkin puree, which usually equivalates to one tin-size.
If you're going with the roasted pumpkin, simply place your pumpkin cubes onto a roasting tin or a lined baking tray, then drizzle a little olive oil on top to coat the pumpkin and sprinkle a little sea salt. Place in the oven at 190C (375F) and roast for 25-30 minutes or until the cubes are softened and lightly browned around the edges.
Creating the risotto base
Towards the end of the roasting time, melt a tablespoon of vegan butter in a large pan. Gently sauté the shallots until translucent - this should roughly take 2 minutes. Add the crushed garlic and continue to cook for another minute, then add the fresh sage leaves and fry them until they begin to crisp up around the edges.
Deglaze the pan with a little vegan white wine, then mash your roasted pumpkin with the back of a fork and place the mash into the pan alongside the risotto rice. Stir to combine all the ingredients and cook for 2 minutes before slowly adding a third of the vegetable stock. Continue to stir for 10-15 minutes and gradually add the remainder of the stock to the pan until the rice is cooked, the majority of the liquid used up and the risotto of a thick, but slightly creamy texture. Use a little extra water if needed, but ensure that the risotto is not too watery, as shaping the arancini will otherwise get tricky.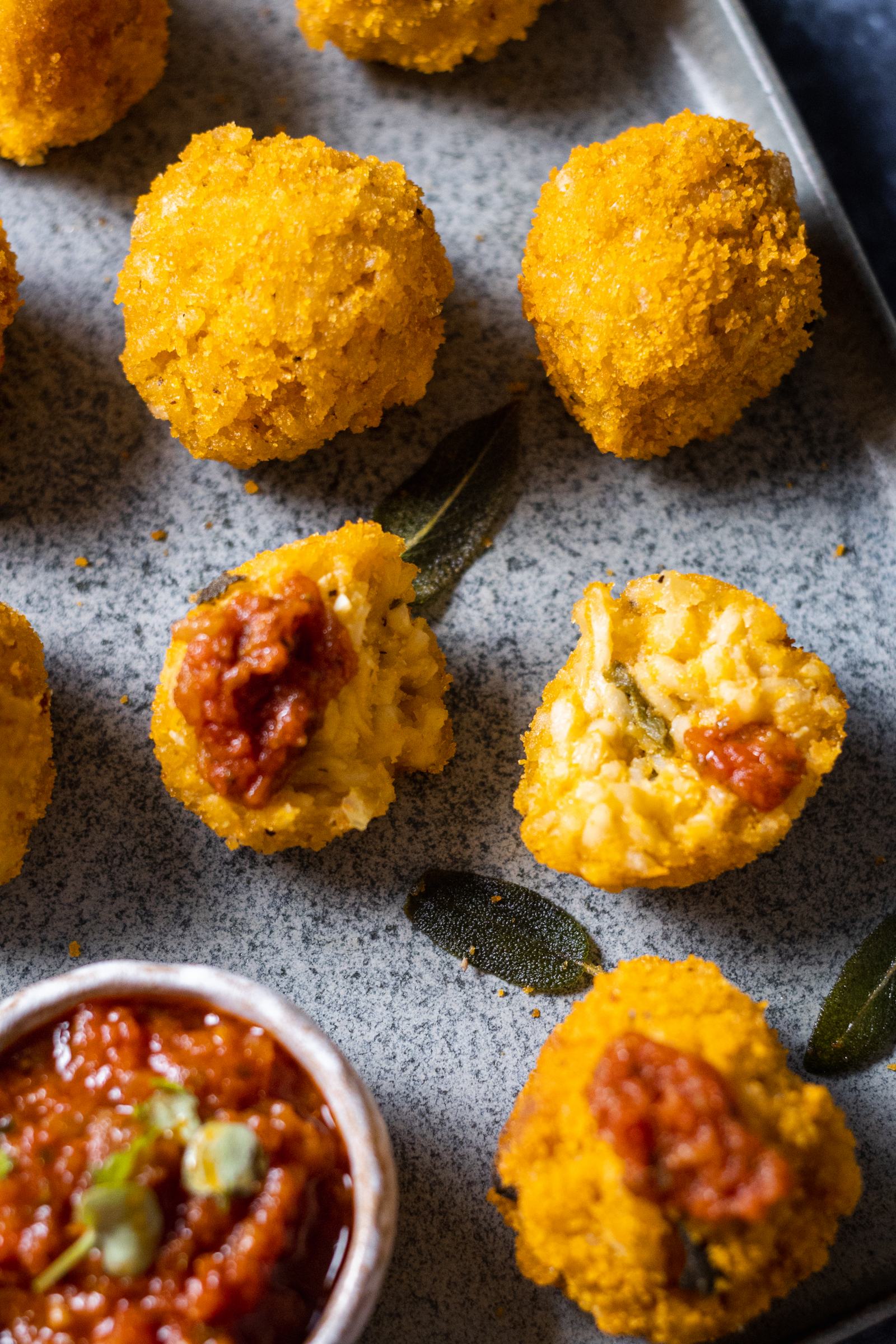 How to make risotto balls
Allow for the risotto to cool down slightly, then add 5 tablespoons of the breadcrumbs into the mix. Place the rest of the breadcrumbs into a small bowl. In the meantime slowly heat your vegetable oil in a deep medium-size saucepan.
Once the risotto has cooled down enough for you to touch it with your hands, wet your hands and gently shape bite-size risotto balls. Place them into the breadcrumbs and gently coat them, then use a slotted spoon to carefully place the arancini into the hot oil - make sure it's properly hot, you can test it by dropping in a tiny amount of the risotto mix - when it instantly sizzles your oil is hot enough.
Fry the arancini for 1-2 minutes each or until golden, repeat until all the risotto mix is used up and place the finished arancini onto a paper towel to drip off any excess oil. I like to set them into the oven at a low temperature to ensure they remain warm & crunchy, whilst I'm preparing the rest of the vegan arancini.
How to serve arancini
As I love my arancini in a handy bite-size, I also love serving them with my favorite sauces to drizzle on top or dip into. Tomato-based sauces fit the flavor profile the best - but you can also enjoy the arancini without any sauce, they're snack-a-licious on their own.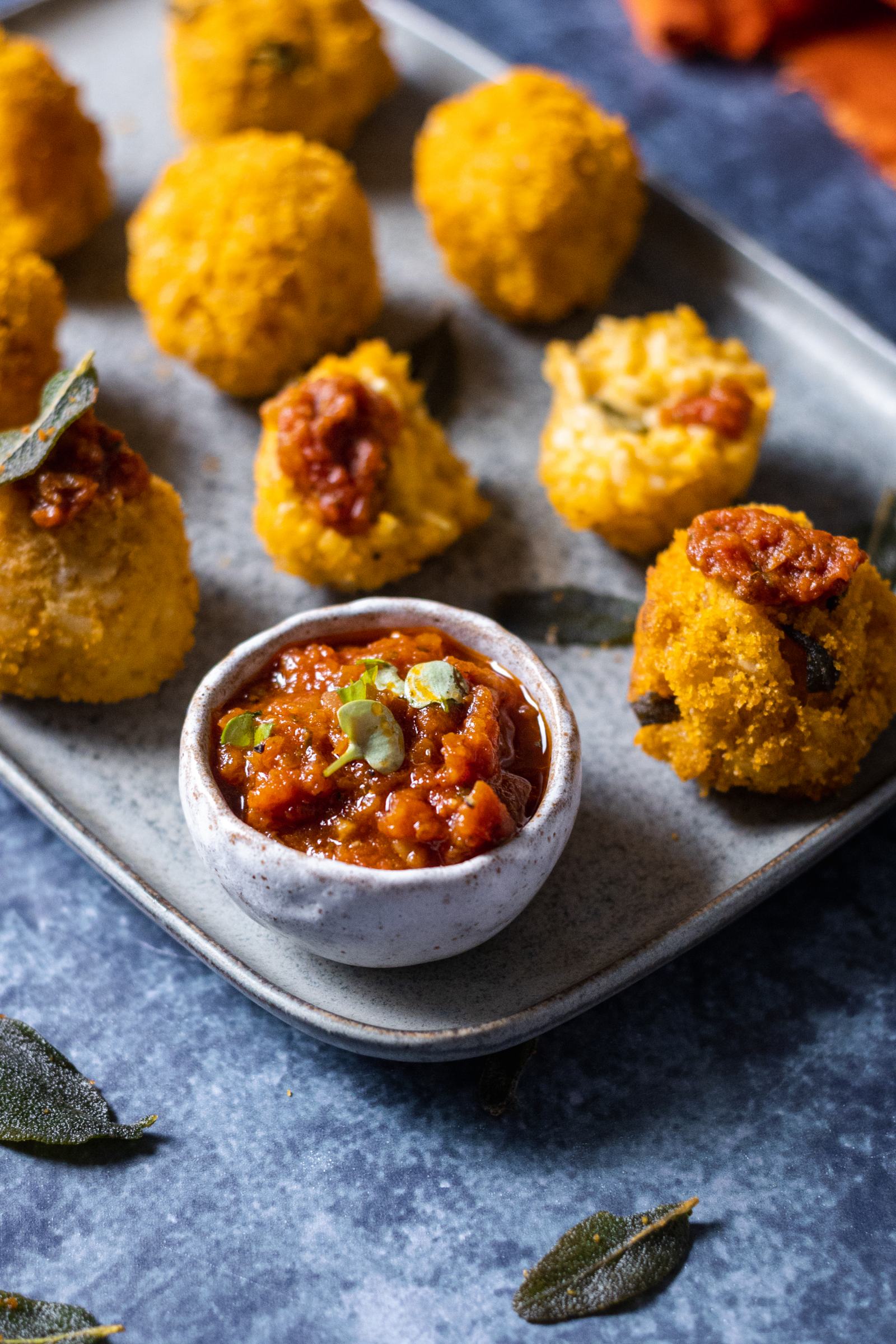 This recipe is:
100% vegan
deliciously crunchy
full of flavour
seasonal
easy to make at home
simply addictive
perfect for dipping
great for a Netflix eve (my favourite time to enjoy arancini!)
You might also enjoy these recipes:
📌 If you love Pinterest you can pin any of the images to your boards!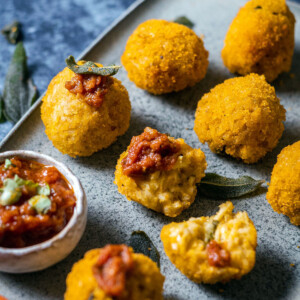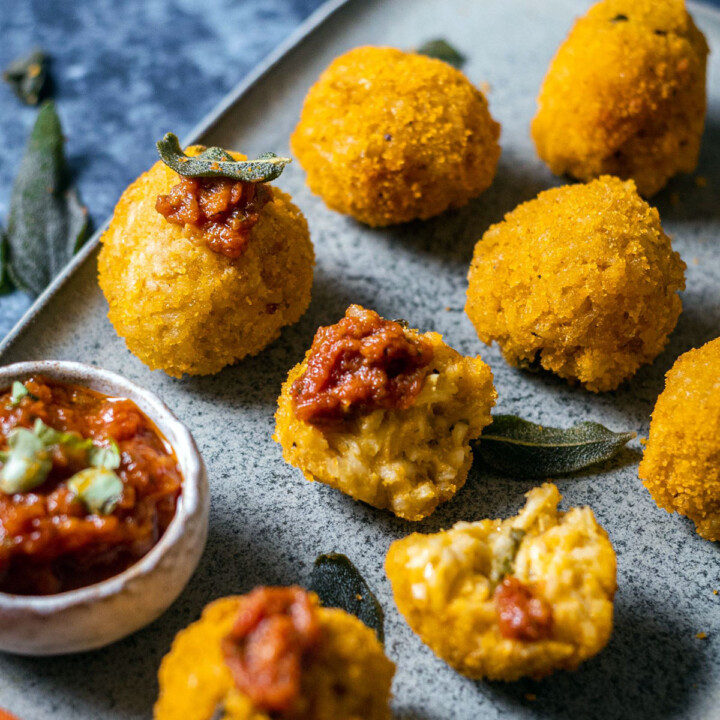 Vegan Arancini Balls with Pumpkin and Sage
Delicious Vegan Arancini Recipe - flavourful with delicious pumpkin and sage risotto. Easy to make at home, no fancy equipment.
Equipment
1 large saucepan

for deep frying

1 lined baking tray
Ingredients
400

g

fresh pumpkin

cubed

1

tbsp

olive oiil

1/2

tsp

sea salt

75

ml

vegan white wine

250

g

risotto rice

2

shallots

finely chopped

2

cloves garlic

crushed

1

tbsp

vegan butter

600

ml

vegetable stock

2

tbsp

fresh sage

100

g

breadcrumbs

750

ml

vegetable oil

for deep frying
Instructions
Peel and cube the pumpkin and place it onto a roasting tin. Drizzle with a little olive oil & sprinkle with sea salt, then roast in the oven for 25-30 minutes or until soft and golden.

Heat 1 Tbsp dairy-free butter in a large pan and sauté the chopped shallots for about 2 minutes or until translucent, then add the crushed garlic and cook for another minute. Add the fresh sage leaves and allow for them to slightly crispen on the edges, then deglaze the pan with the vegan white wine.

Roughly mash the roasted squash with the back of a fork and add to the pan, then sprinkle in the risotto rice and stir to roughly combine everything.

Slowly add about ⅕ of the stock to the pan and stir to combine. Gradually add the stock to the pan whilst stirring continuously for the next 10-15 minutes, allowing for the liquid to lightly simmer until the majority of the liquid is soaked up and the rice cooked. 

Set aside to cool in a large bowl. Add 5 Tbsp of the breadcrumbs to the mix and stir to combine. 

In a deep pan with a lid, slowly heat about 750ml of vegetable oil over low heat.

Place the remainder of the breadcrumbs into a small bowl and shape the risotto into bite-size risotto balls with your hands. Place these into the small bowl and coat with breadcrumbs one by one.

Carefully drop them into the hot oil using a slotted spoon. Fry until crispy - for roughly 3-4 minutes each - then place them onto a paper towel to drip off any excess oil. Place them in the oven at 100C to keep them warm and crispy until all of them are done and ready to eat.

Drizzle and dip into your favourite sauces!
Also, try out these pumpkin recipes:
*Disclosure: This page may contain affiliate links and sponsored links that earn me a small commission, at no additional cost to you. You can find more information in my Privacy Policy.
 © Romy London / Romina Callwitz | All images and content are copyright protected. Please do not use my images and content without permission. If you wish to re-publish any recipes or images, please get in touch via email. Thanks for your support!